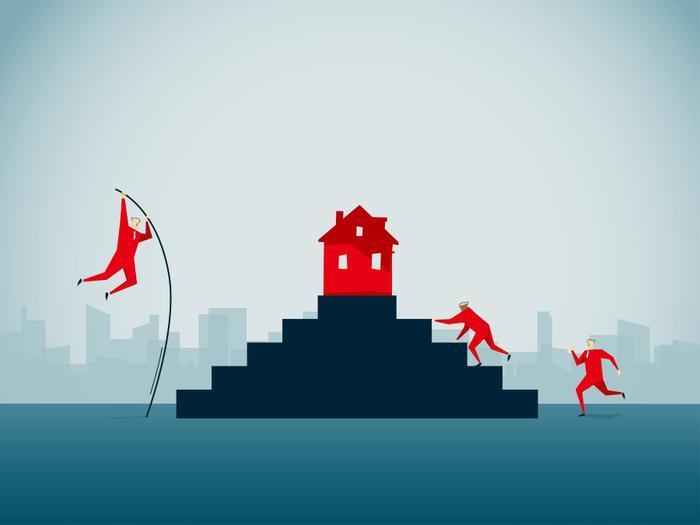 Increases in home prices are accelerating because there still aren't enough homes on the market, industry sources report.
Real estate broker Redfin tracked July sales and reports that the median home price rose 8.2 percent to $323,800. It's the third record high in four months and has been driven in part by record-low mortgage rates. But the lack of inventory is also a major factor.
"The housing market is intense right now," said Jimmy Martinez, a Redfin agent in Albuquerque. "We've got about half as many homes for sale as there were at this time last year, met by a big surge in people moving here from across the country in addition to lots of local homebuyers, all of which has pushed prices up dramatically from last year."
By Redfin's count, home prices are increasing at the fastest rate in more than two years. Prices are rising in all but one of the largest 85 housing markets that Redfin tracks. Honolulu, already one of the nation's priciest markets, is the only metro where prices didn't go up.
Meanwhile, the median sale price surged 16.8 percent in Birmingham, Ala., The price increased 16.5 percent in Bridgeport, Conn., and 14.3 percent in Fort Lauderdale.
Zillow confirms the price acceleration
In a separate report, real estate marketplace Zillow confirmed the price acceleration and reported that newly pending sales are up nearly 17 percent, suggesting demand could push prices even higher.
While new listings increased in July, Zillow's housing experts say it wasn't enough to keep up with demand. Inventory levels have fallen below where they were at this time in 2019.
Zillow reports that demand for homes is at a record pace. Newly pending sales are rising more than 1 percent from week to week. Homes that sold during the first week of August typically went under contract after 13 days, which is 11 days faster than during the same period last year and a new record low in Zillow data that dates back to the start of 2019.
Zillow found the fastest-selling large markets to be Cincinnati, Columbus, Kansas City, and Raleigh. In those markets, the average seller got a contract offer after the property was on the market for only four days.
Home prices are rising to the point that housing experts at the University of Arizona recently warned that today's buyers may not be able to sell their property in the future. Millennials, many of whom are still paying off student loans, may not be able to afford a home if prices continue to rise.