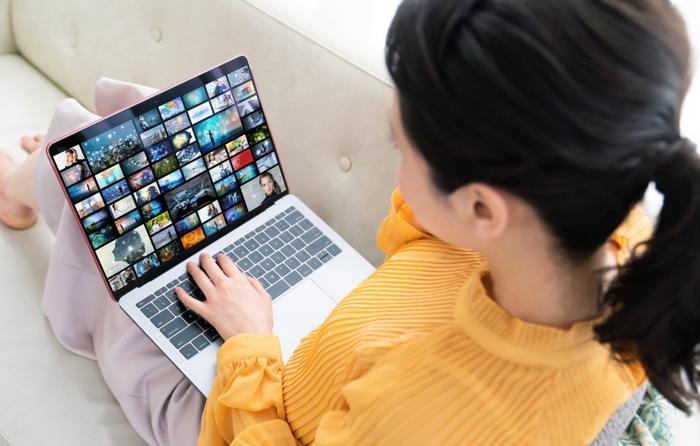 Video streaming has hit a new high in the U.S. A new survey conducted by HarrisX for MoffettNathanson Research shows that 81% of American households did some form of streaming in the second quarter of 2022, up from 75% a year ago. 
With all that extra attention, Amazon and Netflix are making some changes to entice even more subscribers and ensure that they're getting paid what they think they're due.
Amazon Prime
Streamers who have been Amazon Prime subscribers for a while have a pretty good handle on how to get around the platform. However, Amazon felt that it could do a better job and has decided to launch a Prime Video redesign.
Starting this week, Prime Video's updated experience is centered on apps that are connected with other living room devices. Amazon says there are several major adjustments in the redesign, including:
An easy way to watch live and programmed sports. Now that we're close to the kickoff of the 2022 NFL season – which, of course, includes Amazon's hosting of Thursday Night Football – the company wants to make sure sports fans can find their games easily and quickly.
The home screen of Prime Video will now feature a locked-in "Sports" sub-navigation menu. Using that as a hub, viewers can find live sports, events, and sports-centric streaming channels that feature content like game replays and sports documentaries.
A more user-friendly navigation menu. Amazon wants to make it easier for consumers to navigate its menus so that they can find all the shows and videos they're looking for. Fans of shows like The Marvelous Mrs. Maisel or The Boys will now have a direct path to those titles and episodes. 
The new menu will be located on the side of the screen and will contain six primary pages to start: "Home," "Store," "Find," "Live TV," "Free with Ads," and "My Stuff". There will also be sub-navigation options so users can more easily browse by the content or offer type, such as "Movies," "TV shows," and "Sports" on Home, as well as "Channels" or "Rent or Buy" on Store.
A faster way to find the shows you want. Taking a cue from Netflix's Top 10 lists, Amazon's app update will come with new "carousels" that feature the company's own "Top 10 Chart" and a new "Super Carousel" that features its own originals and exclusives.
Other improvements that Amazon says Prime Video watchers will notice are immersive visuals, clearly marked content so a subscriber can instantly see if a program or movie is free or paid for, and a new "Find" page that gives users the option to search for a specific title and get predictive results as they type.
Netflix
In addition to Netflix's recent partnership with Microsoft to offset its recent tidal wave of canceled subscriptions, it's testing out another way to keep red ink off its balance sheet. The company has been grumbling about password sharing for years, but it said in a Q2 earnings call on Tuesday that it is now in the early stages of testing a new 'add a home' option that will charge customers for password-sharing. 
"Over the last 15 years, we've worked hard to build a streaming service that's easy to use, including for people who travel or live together," Netflix said in an announcement. "It's great that our members love Netflix movies and TV shows so much they want to share them more broadly. But today's widespread account sharing between households undermines our long term ability to invest in and improve our service."
The company said the add-a-home option is currently being tested outside the U.S., where 60% of its customers are. If those tests prove positive, the company said it can roll out the feature in all markets in 2023. When it makes its way to the U.S., here's what Netflix subscribers can expect:
One home per account: Each Netflix account - whatever your plan - will include one home where you can enjoy Netflix on any of your devices. 
Buy additional homes: To use a Netflix account in additional homes, the company will ask subscribers to pay a little more. Members on the Basic plan can add one extra home, Standard subscribers can add up to two extra homes, and those in the Premium tier can add up to three extra homes. 
Travel included: Users can watch Netflix all they want when traveling through the use of a tablet, laptop, or mobile device. 
New "manage homes" feature: The main subscriber still has the power to decide who else is using their account and can remove other users and homes at any time.