Consumer Complaints and Reviews

Very disappointed. Spent time, paperwork, phone calls. At the end numbers said originally were higher, and some basic requirements were not disclosed at the beginning. Quicken loan requires minimum 2 yr employment at each job. This information was sent back to me after 2 yrs tax documents page stubs etc. was submitted. Credit check. Despite several phone records should show I specifically said one job has over 10 yrs and one is only 8 months. Don't recommend them. Use other companies that have doorfront grants etc.

I wouldn't use them again if you paid me. The most LOOONNNGGG process I've ever been through and have bought 7 houses previously. They truly don't care whether you get the house or not. If it had not been for my realtor getting someone out to do a second appraisal (which Quicken required) and then the seller fixing what they felt should be fixed within one day I would have lost the house and had nowhere to go. They made my life a living hell, one person for this, one person for that, none of them communicate or are off and no one to cover for them.
Every other loan I've had has run so smooth but there's was the loan from hell. I actually thought I was going to have a nervous breakdown. Had they done what they said they would in the beginning I would have been able to move from my previous home to my new one but because of their "system" I had to put my thing in storage for a week and stay with a friend until they got their ** together. A bunch of stupid noncaring hateful people.

We recently closed a Quicken loan to get a reverse mortgage. Instead of refunding our overage in escrow, Quicken Loans applied it to the payoff. They did not advise us of this practice which they've begun in the past two years nor did they ask our permission to use our escrow funds this way. Their executive client service team advised us that they were allowed by law to do this.

After having $400 charged to my credit card for an appraisal I decided not to go through with the loans because of the less than attractive interest rate and the excessive closing costs. After numerous requests to refund the $400 I finally had to contact the credit card company and they successful in getting the charges reversed. In the meantime, while they were stalling on refunding my money, Quicken was willing to extend the "locked-in" date, reduce the closing costs, and found a lower interest rate. Total scam. Stay away.

Beware! I started my mortgage loan process with Quicken Loans in October 2016 just to see if I would qualify for a mortgage. In December 2016 everything was going very well. I put in an offer on my new construction home and Quicken Loans had every document needed. It started to become very weird because all of a sudden Josh ** (my original loan officer) was no longer contacting me and Eric ** was contacting me. Eric was always very short with me. Every day I would get on myQL and have 10 more things to do. Often times I didn't understand why he wanted me to upload the sellers' signatures to him when typically that information goes through the listing agent. I'd call him to ask questions and he'd be out of the office. He knew I worked until 5 every day as I would make him aware each message, but he'd still call before I was off work. His messages were always demeaning.
My closing date had been set for February 6th, 2017 since December 23rd, 2017. Quicken Loans made me get my current house rented out before they would "commit to the loan." They said I had to have the lease. Never did they say how much or how many months. So I found a great renter and they were wanting to do a 6 month lease. We signed the lease and I sent it in. Well Eric calls and says, "Oh we won't close your loan it has to be a one year loan. We need that by tomorrow." So I call my renter and ask for a one year lease. He agrees, but it makes me look like an idiot. So we changed the lease to a year. I send in the lease. Next day Eric calls me and said I used white out on the lease! Automatically accused me of doing something I would have never have even thought of doing! He becomes extremely rude and says "Well we won't close the loan with that lease." So again to the renter to re-do the lease AGAIN!
Then the next day I get a call "You have to pay off your $155 balance on your credit card." I'm like okay. I did it and sent in proof I paid it. Two days later I get another to do list with the same thing. I call Eric and ask why in the world things are re-popping up on my list. No answers just talked in circles. In the meantime I pay $500 for an appraisal. $400 for the intent to proceed. Just money to proceed. The last 2 weeks have been a nightmare. I get a call saying they cannot verify my employment. Mind you it's actually a really well known school. He calls me and says "I can't verify your employment. You need to get us contacted." I said, "Why didn't you tell me this on December 23rd and not a week before I close?" So I contact someone gracious enough to speak to Eric about my employment verification.
Typically it takes Human Resources about 5-7 business days to correctly give accurate income and employment verification. However, this was just Wednesday, February 1st and I'm supposed to close February 6th, so she gets everything together and sends it to Eric. Next morning he calls me. "We won't process your loan because you lied about your income." I was stunned! I asked what my income was and it was completely wrong and I let him know it. I contacted my Human Resources department and they accidentally, since Quicken Loans rushed then, did my income verification Way low. My employer apologized several times and even contacted Quicken Loans saying they made a mistake. The information was sent to Quicken Loans the next day at 9:44 am.
Eric is nowhere to be found. His name erased from my wall. His last name was like ** but I cannot remember because all forms of communication were blocked. I called his direct line and it says "I'm out of the office from February 2 to February 6." This is after he told me he needed it by the next day. Then all of a sudden I get home and my to do list had re-exploded! I had gone from having 5 to dos to 10! One was to pay off a credit card for $3,336! Which I in fact did not have. Another to do item said to order the "final inspection" in which the buyer typically doesn't set up! There was a message saying they wouldn't give a loan commitment because the house wasn't complete! Well my builders needed a loan commitment to complete the house because of upgrades I had gotten!
The other "to do" on my list was to explain a $2,000 deposit into my account. This did not exist. I even went to my bank to inquiry and Bank of America said it did not exist. Oh AND Quicken Loans made me re-write an Earnest Money Deposit check AGAIN! A check I wrote December 23rd, 2016 was accepted, deposited and earnest money from a salary check. Eric calls and says, "We won't accept that check." This was 1 week ago today on January 27th. So I had to rush to get ANOTHER earnest money deposit check to my builders (keep in mind Eric knows I'm a professional in my community and I typically work late). Then I had to wait for a refund of my original earnest money deposit for 4 days. Eric calls me and demands I get that in my account and send a picture and proof of deposit.
At this point, I'm losing my mind. My listing agent and builders don't understand why Quicken Loans is doing all of this. So as of yesterday, Eric is out of the picture and a new guy "Max" closes out my entire loan and the reason, "excessive debt." I have no debt. I check my credit report. My score is in the 800 range. I have no credit debt, no car loan or any other loan. I was so fed up, I decided to just go to a local bank. Turns out that in just 1 day I'm fully approved for my loan! By going to a local big bank, my interest rate is cut from Quicken Loans rate of 4.75% to a new rate of 3.8%. My closing costs only $2,888 compare to Quicken Loans estimated $6,000!!! My monthly estimated payment almost $300 less than Quicken. Even better, by going to a local bank I'm supporting my community.
Funny thing is today, Quicken Loans realized that they missed the email of my very good salary and realized that I have no debt. Ha! They called me today (2/3/17) and said, "Oh we can get your loan back on track for another application and fee!" No way Quicken Loans! My local bank said that so many people have problems with Quicken similar to mine. Some people have even gotten to closing and had extra costs somehow appear (as they told me, "bring a checkbook to closing for fees or other missed costs"). People are so desperate to get the loan after working so long on getting the loan they give in! Oh also, thanks to Quicken, my credit score has gone down 50 points for 12/23/17 to 2/3/17! Quicken runs hard inquiries on your credit. Anyways, this wasn't all that happened to me. There were several nights I just cried.
The last 7 days have been miserable every day not knowing if I was going to get a loan commitment! Well thanks to a well known, local bank of mine, I got a loan commitment finally!!! I do close 2 weeks from today 2/17/17 but I'd rather wait and be patient, pay less money! The good thing is everything was a learning experience never trust Quicken!!! I'm sure there is more! But BEWARE! DONT EVER FALL INTO THE QUICKEN LOANS TRAP! They are not quick!!!
How do I know I can trust these reviews about Quicken Loans?
697,993 reviews on ConsumerAffairs are verified.
We require contact information to ensure our reviewers are real.
We use intelligent software that helps us maintain the integrity of reviews.
Our moderators read all reviews to verify quality and helpfulness.
For more information about reviews on ConsumerAffairs.com please visit our FAQ.

Was shopping for home loan & gave Quicken a chance as well as a local broker. We had used QL for refi several years ago and process had seemed fine. Our experience was similar pattern to other reviews, everything smooth at first with easy pre-approval and good service. This quickly turns to more pressure as they try to get you to commit. Once I told them I was talking with another company, things got even more aggressive. It was almost impossible to get anything in writing from them explaining fees without committing to them. When I finally did, the fees were higher than I was told via phone.
I went with local lender & when I told the QL rep, he sent me 2 rude & aggressive emails & the kicker was he posted a denial letter on MyQL stating that we were denied loan because of our bad credit, late payments, etc. (both our scores are above 800). When I confronted him about this he claimed it wasn't him, even though his signature is on the letter. These guys can't find work anywhere else and are obviously just pressured to sell crappy loans to suckers.

I was promised a lower mortgage with Erick ** and Nick **. After running my credit they said I now have to pay 5900 dollars, and jacked you the price of my home. Be careful. Quicken Loans have these guys as scammers, then they tried to fix everything in their favor and erased the loan which was also offered to me to correct everything. Be careful with their calls. They are scammers.

Disclosed Confidential Information about my to 3rd parties. Without permission, this firm ran credit many multiple times and damaged my otherwise perfect credit rating. DO NOT DO BUSINESS WITH THIS FIRM! They are completely unethical in their business dealings.

If I could rate zero stars, I would. This was hands-down one of the worst experiences I have ever had with a company. I wanted to do a simple inquiry to see what I qualified for; they did a hard pull on my credit and wouldn't remove it. That would be OK if they had bothered to let me know what I qualified for anyways. But they didn't. NO ONE TOLD ME WHAT I QUALIFIED FOR! They just led me around by my nose. They also screwed up my log-in info and I tried several times to change it and they would not. It was appalling.
Then, MONTHS later, they called me and asked if I was still interested. I said I was pretty ticked, but I wanted to know what I qualified for, at which point they said they would have to do another hard pull. These people are scam artists who take your information, probably sell it off to other companies, and then leave you to twist in the wind. Don't bother with them. Go with a real mortgage company. There is no convenience in this, only frustration.

I called for information about first time home buying and the person I spoke to was horrible. He was far from genuine. I called to asked questions and all he cared about was getting my Social. I asked about the qualifications for the program and he talked about it telling me General Guidelines. So after being pressured to give up my Social Security Number they ran my credit and asked a few other questions and told I didn't qualify because I don't pay rent I just pay taxes on my family's home. I should have read reviews before I called Mr. Tony **.

If I could give a negative star I totally would. This company is just out for money and does not care about its customers. I was told one thing about closing costs and then when it came down to closing I was asked for $600+. Then I was told the closing date was the 30th but when they called to confirm they switched the day to the 31st. If I wanted it back on the 30th it would be an extra $40. If I did not want to pay the extra $40 then they could attach it to my loan. I spoke with a supervisor who was ABSOLUTELY no help and now I am stuck with a 30 year loan with this horrible company.

I have accidentally signed up for a quote from Quicken Loans. I decided not to pursue with Quicken Loans as the rates were not good as I thought. But, as soon as I closed the application, I started getting calls from call centers all over the world with quotes. As soon as I hear my name from the caller, I can figure out that the information was passed from Quicken Loans because I gave my nickname for the application. I never seen a company who plays this much crazy with your personal information. Please be careful with the Crazy company.

I called Quicken Loans because my husband and I are first time home buyers and found a house we were interested in. I called asking if we could become pre-approved. The person I spoke to stated she would be able to do just that. This was anything farther from the truth! The person ran our credit, not for pre-approval to look at any home. She ran our credit for the specific home I told her about. Later in the day, we found out the home we saw on Zillow sold within 5 days and wasn't even available. When I called Tiffany back later that day to ask her what exactly happened when I called and to tell her the home that I was telling her about was sold, it was if I was speaking with a different person.
I asked her if there was any sort of pre-approval number she had available for me (because I didn't receive any email communication after our conversation). She deferred the topic completely and said, "A realtor will be getting in touch with you." I have no clue what she did for me and no written paperwork explaining a thing. The only thing I know is that she put a hard hit on our credit for a house that was already sold. Be careful and do not give information until you know exactly what you are getting yourself into!!!

Their deal looked good in the beginning but everything changed. I gave them $400 for an appraisal that never happened and cancelled my application. From reading other reviews, I'm sure getting my money back is going to be a problem. They've called me three times since trying to get me to proceed. I finally hung up only get an email an hour later asking me to explain again why I wanted to cancel. I replied once again to cancel and refund but got another email an hour later. They won't leave me alone.

I have recently applied for a loan with this company the purpose to pay off some bills and get one payment. They told me FHA would be the one I needed. I said "OK. No problem. You are the experts." However before I could go any further I was charged 400.00 in which I had to put onto a credit card. So I did due to the guy saying credit score was good enough. He said if any liens would come back on my home they would have to pay that one first out of the loan. I said no problem cause it shouldn't. I just did a loan Jan 2016 with another crocked place I was trying to get away from. All has been going fine from November 2016 till yesterday Jan 11 2017. I questioned some of the numbers on the paperwork like the origination fee which my loan was for about 76000 and the origination fee was 1096 which was the same as for a 111000 loan.
Upon questioning them they commence to tell me that because they found a lien against my home, that they will not be able to give me the loan because of my credit score. They would not be able to pay that lien of 1796.00. Within 15 mins of talking with the guy he goes over to the MyQL page, blocks me out of everything but the documents page which I had. Been printing out everything. Anyways I got the one page I needed to prove they were going to pay that lien but didn't get much of the others like all the money they made me spend to get things up to par for the loan. The reason for denial was ineligible for the program requested and low appraised value. I was eligible for the program in Dec of 2016 and the appraisal was also in Dec 2016 so all this time I was eligible for the loan until I started questioning the numbers they had.
They sent for payoffs and they were fine with all this. Then I find out that they are in a lawsuit with FHA due to them not doing loans correctly and that they were considering pulling from the FHA program in December of 2016 however they are still processing loans and taking people's deposits. I guess they need the money for the lawyer's fees. I am not a rich person. I can not afford to waste .50 let alone 400. I am going to consult an attorney now because this has added unneeded stress on my husband who has had a massive heart attack, in fact he was on a roof painting for this loan in 30 degree weather (because they requested it had to be done before they could do our loan) when he had the heart attack. The stress of losing the money we could not afford is not good for him. I think that if everyone would get together and sue these people maybe it will stop them from ripping off anyone else.

Me and my wife applied for a loan in May 2015. I am a Veteran and was told that they could do a VA loan with a lower interest rate. I filled out the application and emailed it back to them. I was asked for all my info which I emailed to them. A week later, I heard nothing so I called by phone and was told they did not get everything I sent. I emailed a second time everything. About 2 weeks later I get an email saying they are working on the loan and will back to me soon. Heard nothing, called again and was told the info I sent them was now outdated and send everything again. I did. I was then emailed a notice that I would have an answer in 1 week. Did not happen. I phoned again then they told me they could not find anyone to do the house appraisal. Now it is the end of June and still nothing. Phoned them again, said they were sorry. Just be patient.
Several days later the appraiser called and set a time to come to the house. At which time she told me that it would be about 3 weeks before the appraisal would be sent to Quicken Loans because she was busy. I waited, heard by email they were still working on the loan. We were contacted by phone the first week in August that a representative would be coming to our house to do the loan closing. A week later he showed up and closed the loan. While reviewing the papers, I noticed that we were charged over $5000.00 which was added to the loan balance. It seems somewhat strange that on a VA loan all these fees and charges were added.

I ask Quicken Loans to please wait for an insurance adjusted payment and not pay the first insurance bill and when I spoke to an insurance person at Quicken, they said it would be no problem to hold off but then they went ahead and paid the payment. It sent my mortgage into a higher monthly payment. They all just lied to me at Quicken and it was very inconvenient and hard for me.

On October 17th, Quicken Loans told me that my husband and I were conditionally approved for the house we planned on buying. Today January 5th, we still have not purchased our home and Quicken cancelled the loan all together, after almost 3 months of being told that Quicken Loans was going to make this loan happen, and we have put money and time into that home to get it up to code per the appraisal company. So not only are we not able to buy that home, we are out about 4 thousand dollars and Quicken Loans destroyed my credit, they did 5 hard pulls on my credit in 2 months. I do not have any money now and my credit is not strong enough to apply for another loan. Thank you Quicken Loans. They knew we had to be out of our we are in by January 9th. Here it is the 5th and I will have no home in 4 days.
Quicken Loans is a joke. They ruined our Thanksgiving, Christmas and New Years. My family has been so stressed. Quicken has not helped us at all. They made things worse for us. I don't understand how they can get away with being a mortgage company but instead of helping us they ruin our credit. I have asked Quicken to write a letter to my credit bureaus and still I have not heard from them. They were in the wrong for telling us we were approved if we weren't. They ruined our credit and had us spend money on a house so it can be inspected, when in all honesty, the house wasn't ours. Who benefited, the house owner. I am beyond upset and have no idea what my family and I are going to do in the next 4 days. We have no money as of now and will not have a home on the 9th. Thank you for the hardship Quicken Loans. Happy 2017 for my family and I.

They sent over a joke of a company to do a new appraisal for a refi. I think they had them intentionally low ball so there would be PMI. I ripped up carpet throughout the house and refinished the hardwood, refinished all kitchen cabinets, put in all new stainless appliances and put in a granite counter top (kitchen was from the 60's). I was told all of these updates did not add to the marketability of the home. That came straight from Quicken. Marketable definition - being in good demand; saleable. suitable for sale.
So Quicken told me that completely refinished floors, new kitchen, neighborhood growth, and new businesses in the area actually decreased the value of my home from the appraisal at my initial purchase. Apparently those updates would not create more demand for the house or make it more suitable for sale. They are crooks and you should not do business with them. Stick to a local credit union if you want good service and a fair interest rate.

Should have gone with my gut feeling... Very unhappy with Quicken right now. During the initial intake we were promised the moon and the stars and a $1500 escrow check that they are now saying was written into the loan and we are not getting. Very disappointed, since the closing specialist said no they never write them into the loans.

I contacted Quicken Loans for refinancing options. The only information they have is my name, my wife's name, and our address. Nothing else. I put in all "1"s for Social Security Number because of security reasons. I will not enter that information online. I get a letter 3 days later (my wife gets an email credit alert) that Quicken Loans runs a hard credit report. They had no authorization. I have filed a complaint to BBB and to the credit bureaus. I spoke with Quicken Loans and the reply was I gave them authority to run a credit report when I filled the information out online. Bogus. When I spoke to the rep I even told him to NOT run a report until I talk to my wife. Then and only then would I provide SSN. They still ran the report based on name and address. STAY AWAY FROM QUICKEN LOANS! The best bet is to look locally.

I was told the appraisal had been waived then a day or two later I was checking my credit card balance and found they had put a $500.00 charge for an appraisal on it... now I'm going through the process of trying to get it taken off. I told them I no longer wanted to do business and they STILL pushed forward.

I was called by one of their agents after a recent inquiry for lowering my mortgage payment. I told the agent that I had a pretty good loan, 3.1%, and based on what he was saying, didn't think he could do any better. He insisted he could but I resisted knowing that a hard credit inquiry would hurt my credit score. He insisted it wouldn't and foolishly I went along with it. Sure enough, his loan offer was $200 more a month with an additional $4500 in closing costs. And, my credit score took a hit and when I went to buy a car caused me a higher interest rate. The only people who should go with these liars are those individuals whose credit scores are so bad they can't go anywhere else as their rates are usually higher and their closing costs are ridiculous. Don't trust the advertised hype as you would be better off with a local small mortgage company than Quicken Loans.

Quicken Loans needs to stop with these fake reviews. No one types in that tone about a product or service received looking to do a deal with Quicken Loans read the "5 star" review see if you don't get weirded out by the intense abnormality of the vocabulary chosen to express their fake service received. DON'T BUY IT!! They are scammers and nothing but liars. Go with a bank or a company you can walk in to anytime, not some out of the state garbage. THEY DO NOT REFUND THE 500 DEPOSIT. THEY SAY THEY DO BUT THEY DON'T... BEWARE.

After getting an approved rate of 3.25% in July 2016 I received 2 additional rate increases and a buydown option on the percent, which had now increased. After endless requests for additional information there was NO quality in their efforts. The process went on and on until I finally had enough as they wanted to extend it into DECEMBER! The first person on the account (Kelsey), she was most helpful and she set an expectation of what I would encounter. Everything went smoothly until someone else took over the account which is where the toilet swirl began.
RUN, don't walk but RUN from this swirl of crap that could not close in 6 months. Every 2 months they needed updated Bank Statements, Pay stubs, etc and when I realized a fourth round was coming I went to a LOCAL lender who is closing after 4 weeks in the effort on January 3, 2017. Their advertising on television sets a totally false expectation that this will take a DAY. Other advertising through internet email indicate rates that I never saw offered 2.75% and up. Their online digital dashboard is wonderful - they even eliminate older documents as they request newer ones. ASK Questions! Get Answers! Get a closing Date! At least get a commitment!

I filled out the paperwork and was pushed to do everything within hours of them asking! I told them I didn't want to do it right now before Christmas but next month would be better and they would not take no for an answer! I gave them a deposit for the appraisal but changed my mind and canceled it before anyone came. I asked for my money back for the appraisal and was told yes, a few days later that changed. They said they would issue me a gift card to cover the cost a week later but they couldn't refund my account while the loan was in process. They still had me doing stuff for the loan like conference calls with my current mortgage company and wanted to be able to talk to my homeowner's insurance company.
I ask them to stop rushing me and still I was getting things to do every day! I told them I don't want to do anything until the new year! Then they got mad at me for canceling my appraisal and said rates were going up. I told them I want a refund and I am not going through with the loan! They stopped responding and sent me a letter that they were stopping the loan progress because I wouldn't fill out any more information about a credit card I had opened for Christmas. I paid for a service that was never done and they will not refund my money. Never again will I fill out any personal information online for a loan!

Tried to refinance into a VA loan. They collected my $500 and then they could not get the job done. I ended up going to Navy Federal Credit Union to get a new VA loan. Quicken Loans were not familiar with the VA Jumbo program and did not discuss the fact that there would be no discount points due to the fact that my veteran wife received a disability when she left the military. My recommendation is use a reputable company that does NOT collect money upfront to get the loan approved. Also check to see if the loan rep is familiar with VA products.

I can't speak for the negative reviews on Quicken Loans. But they are No.1 rated so I read the reviews and they weren't very good. I had already started the process and I got real nervous. But I decided to give it a try. The hard inquiry's on your credit will drop your score some. That's with any lending. Lending Tree dropped my score a lot because they might do 9 at once. Lesson learned with Lending Tree. I must say you will need to correspond with them a lot and be savvy with computers on scanning and uploading. I had a 630 credit score and a Chapter 13, 4 years ago. I'm on light duty at present. I will only post from the start to finish. They communicated very efficiently and almost every day. Make sure you don't have a lot of things in your credit history that they have to jump through. Be honest with them and once you have a to do on your MyQL site, do it.
I had a lot of things come up... Chapter 13, Light Duty, 630 Credit Score and negative comments in my Credit Report. This is what I mean by hoops. You will sign and lock into a rate with a 500.00 upfront cost for appraisal.This is the area where I am an expert. My wife is a licensed appraiser. By law an appraiser is held my high standards. Quicken used a local appraiser whom I have heard of. What you're comparable of the homes that are around has a lot to do with your value. But I already had an idea what my home was worth by talking with my wife. Quickens appraisal matched exactly what my wife had come up with. So if you think that appraiser has anything to do with Quicken, you're wrong. It's against the law.
When you do an appraisal, if it's off by a lot or wrong. They have a check in place where other appraisers check other appraisers work to ensure it's being done right. My wife has had her work anonymously checked periodically.So your appraisal has nothing to do with Quicken. The 500.00 you will get back at closing or credited to your loan. Always talk with them through MyQL chat so everything is recorded. Your loan disclosure will change a lot up until you close. So those are not final numbers. Don't fret. I just went through the whole process. I am closing Tuesday. I got 1000.00 in discounts and my 500.00 appraisal fee back. KNOW what you're doing before you go with any lender. Ask questions and TELL them what you want. They will bend over backwards to accommodate you.
Yes you will speak with normally 3 people. The first person that moves your loan to underwriting. Then you will work with underwriting for sometime. Then the last you will have a closing team. It's a busy process but very easy to upload documents and communicate. Get ready for that phone, email to ring a lot. It's business and I understand them being concerned about lending me 200,000 dollars. Research it, know what your escrow payments are and what your final number will be. My closing costs fluctuated until I was ready to close. They kept their word. I'm just a regular guy who would never write any review on anything or waste my time. But I'm smart and I shop smart. But I'm impressed and locked in at 3.375. I am paying a lower note on a 15 yr fixed that I was on a 30 yr conventional. But again, ask questions and tell them I will not pay more than these closing costs. You're the boss. I am so happy with going with Quicken Loans.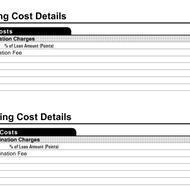 They have one of the higher closing cost that you will find out there. Mine was over 10K. To start, I had an origination fee of over 2k which is just a way of saying commission fee. I was given credit towards this cost in the form of a credit of $1300. They could not close my loan within 30 days, so they extended my closing out. They then missed the 60-day window to close; I was told because of this it would charge me around $200, even though they never charged me a fee the first time. I thought that was odd but ok.
Then they finally schedule my closing and hours before we were to sign, I look at that closing cost, and they removed the credit of $1300 that they had promised me. I refused to sign until it was fixed, and no one was around that could fix it on Quickens end. The next day I was call and told there was nothing they would do about it and that interest rate was going up, so I would pretty much have to sign it or lose my rate. So now I have to sign for an extra $1300 or lose my rate. They are making over $150,000 servicing my loan, but I guess that not enough money for them. If you don't watch every dime and even if you do they will rip you off in the end. Stay away!

We have a log home that we were trying to refinance through Quicken Loans. The initial consult made things sound positive in moving forward. Nobody told us because we have a log home in an area that does not have at least 3 comparisons. The loan would never get approved. We scheduled the appraisal and got that back. Talked to the agent after the appraisal and was told the loan should close in about 14 business days. Great (we thought)! About 6 days later I get a call letting us know we cannot go forward with the loan. They explain. We want the appraisal refunded because of their mistake. Ok, but only on the credit card. We do not use the card often and preferred to have a check. They would NOT issue a check. This is their signature on their e-mail. Every Client Every Time No Exceptions No Excuses. Don't believe it!

ConsumerAffairs Research Team
The ConsumerAffairs Research Team believes everyone deserves to make smart decisions. We aim to provide readers with the most up-to-date information available about today's consumer products and services.
Quicken Loans is an online mortgage lending company. Founded as Rock Financial in 1985, Quicken changed course in the 1990s to focus on online lending and has since become a leading mortgage lender.
Refinance information: Quicken's website has a host of information for consumers looking to refinance their mortgages. A list of frequently asked questions, a direct line to a home loan expert, a list of required documents for refinancing and numerous other bits of advice are all located easily on the front page.
Dedicated HARP page: Because HARP is in effect until September 2017, consumers still have the opportunity to see if they qualify for HARP refinancing. Quicken provides a comprehensive guide to HARP loan modification including eligibility information and answers to frequently asked questions.
Zing blog: Quicken's featured Zing blog contains relevant articles not only about home ownership and mortgage refinancing but also about lifestyle topics like gardening and technology. Quicken regularly updates this blog to keep information current and topics varied.
Online calculators: Whether a consumer wants to refinance their home loan, is looking for a new home or wants to see the impact of making additional payments on their existing loan, Quicken offers free online tools to calculate estimated savings and expenses. The online mortgage, refinancing and amortization calculators are easy to use and provide instant financial estimates.
Mortgage comparisons: Quicken provides a loan comparison chart, so consumers can see the various loans Quicken offers at a glance. The chart has brief descriptions of the loans with links to more information and application pages for each loan.
Best for Quicken is best for consumers looking for instant information about mortgage refinancing.
Compare Harp Loan and Loan Modification Companies
Quicken Loans Company Profile
Company Name:

Quicken Loans

Website:

http://www.quickenloans.com/