Consumer Complaints and Reviews

Their deal looked good in the beginning but everything changed. I gave them $400 for an appraisal that never happened and cancelled my application. From reading other reviews, I'm sure getting my money back is going to be a problem. They've called me three times since trying to get me to proceed. I finally hung up only get an email an hour later asking me to explain again why I wanted to cancel. I replied once again to cancel and refund but got another email an hour later. They won't leave me alone.

I have recently applied for a loan with this company the purpose to pay off some bills and get one payment. They told me FHA would be the one I needed. I said "OK. No problem. You are the experts." However before I could go any further I was charged 400.00 in which I had to put onto a credit card. So I did due to the guy saying credit score was good enough. He said if any liens would come back on my home they would have to pay that one first out of the loan. I said no problem cause it shouldn't. I just did a loan Jan 2016 with another crocked place I was trying to get away from. All has been going fine from November 2016 till yesterday Jan 11 2017. I questioned some of the numbers on the paperwork like the origination fee which my loan was for about 76000 and the origination fee was 1096 which was the same as for a 111000 loan.
Upon questioning them they commence to tell me that because they found a lien against my home, that they will not be able to give me the loan because of my credit score. They would not be able to pay that lien of 1796.00. Within 15 mins of talking with the guy he goes over to the MyQL page, blocks me out of everything but the documents page which I had. Been printing out everything. Anyways I got the one page I needed to prove they were going to pay that lien but didn't get much of the others like all the money they made me spend to get things up to par for the loan. The reason for denial was ineligible for the program requested and low appraised value. I was eligible for the program in Dec of 2016 and the appraisal was also in Dec 2016 so all this time I was eligible for the loan until I started questioning the numbers they had.
They sent for payoffs and they were fine with all this. Then I find out that they are in a lawsuit with FHA due to them not doing loans correctly and that they were considering pulling from the FHA program in December of 2016 however they are still processing loans and taking people's deposits. I guess they need the money for the lawyer's fees. I am not a rich person. I can not afford to waste .50 let alone 400. I am going to consult an attorney now because this has added unneeded stress on my husband who has had a massive heart attack, in fact he was on a roof painting for this loan in 30 degree weather (because they requested it had to be done before they could do our loan) when he had the heart attack. The stress of losing the money we could not afford is not good for him. I think that if everyone would get together and sue these people maybe it will stop them from ripping off anyone else.

Me and my wife applied for a loan in May 2015. I am a Veteran and was told that they could do a VA loan with a lower interest rate. I filled out the application and emailed it back to them. I was asked for all my info which I emailed to them. A week later, I heard nothing so I called by phone and was told they did not get everything I sent. I emailed a second time everything. About 2 weeks later I get an email saying they are working on the loan and will back to me soon. Heard nothing, called again and was told the info I sent them was now outdated and send everything again. I did. I was then emailed a notice that I would have an answer in 1 week. Did not happen. I phoned again then they told me they could not find anyone to do the house appraisal. Now it is the end of June and still nothing. Phoned them again, said they were sorry. Just be patient.
Several days later the appraiser called and set a time to come to the house. At which time she told me that it would be about 3 weeks before the appraisal would be sent to Quicken Loans because she was busy. I waited, heard by email they were still working on the loan. We were contacted by phone the first week in August that a representative would be coming to our house to do the loan closing. A week later he showed up and closed the loan. While reviewing the papers, I noticed that we were charged over $5000.00 which was added to the loan balance. It seems somewhat strange that on a VA loan all these fees and charges were added.

I ask Quicken Loans to please wait for an insurance adjusted payment and not pay the first insurance bill and when I spoke to an insurance person at Quicken, they said it would be no problem to hold off but then they went ahead and paid the payment. It sent my mortgage into a higher monthly payment. They all just lied to me at Quicken and it was very inconvenient and hard for me.

On October 17th, Quicken Loans told me that my husband and I were conditionally approved for the house we planned on buying. Today January 5th, we still have not purchased our home and Quicken cancelled the loan all together, after almost 3 months of being told that Quicken Loans was going to make this loan happen, and we have put money and time into that home to get it up to code per the appraisal company. So not only are we not able to buy that home, we are out about 4 thousand dollars and Quicken Loans destroyed my credit, they did 5 hard pulls on my credit in 2 months. I do not have any money now and my credit is not strong enough to apply for another loan. Thank you Quicken Loans. They knew we had to be out of our we are in by January 9th. Here it is the 5th and I will have no home in 4 days.
Quicken Loans is a joke. They ruined our Thanksgiving, Christmas and New Years. My family has been so stressed. Quicken has not helped us at all. They made things worse for us. I don't understand how they can get away with being a mortgage company but instead of helping us they ruin our credit. I have asked Quicken to write a letter to my credit bureaus and still I have not heard from them. They were in the wrong for telling us we were approved if we weren't. They ruined our credit and had us spend money on a house so it can be inspected, when in all honesty, the house wasn't ours. Who benefited, the house owner. I am beyond upset and have no idea what my family and I are going to do in the next 4 days. We have no money as of now and will not have a home on the 9th. Thank you for the hardship Quicken Loans. Happy 2017 for my family and I.
How do I know I can trust these reviews about Quicken Loans?
671,225 reviews on ConsumerAffairs are verified.
We require contact information to ensure our reviewers are real.
We use intelligent software that helps us maintain the integrity of reviews.
Our moderators read all reviews to verify quality and helpfulness.
For more information about reviews on ConsumerAffairs.com please visit our FAQ.

They sent over a joke of a company to do a new appraisal for a refi. I think they had them intentionally low ball so there would be PMI. I ripped up carpet throughout the house and refinished the hardwood, refinished all kitchen cabinets, put in all new stainless appliances and put in a granite counter top (kitchen was from the 60's). I was told all of these updates did not add to the marketability of the home. That came straight from Quicken. Marketable definition - being in good demand; saleable. suitable for sale.
So Quicken told me that completely refinished floors, new kitchen, neighborhood growth, and new businesses in the area actually decreased the value of my home from the appraisal at my initial purchase. Apparently those updates would not create more demand for the house or make it more suitable for sale. They are crooks and you should not do business with them. Stick to a local credit union if you want good service and a fair interest rate.

Should have gone with my gut feeling... Very unhappy with Quicken right now. During the initial intake we were promised the moon and the stars and a $1500 escrow check that they are now saying was written into the loan and we are not getting. Very disappointed, since the closing specialist said no they never write them into the loans.

I contacted Quicken Loans for refinancing options. The only information they have is my name, my wife's name, and our address. Nothing else. I put in all "1"s for Social Security Number because of security reasons. I will not enter that information online. I get a letter 3 days later (my wife gets an email credit alert) that Quicken Loans runs a hard credit report. They had no authorization. I have filed a complaint to BBB and to the credit bureaus. I spoke with Quicken Loans and the reply was I gave them authority to run a credit report when I filled the information out online. Bogus. When I spoke to the rep I even told him to NOT run a report until I talk to my wife. Then and only then would I provide SSN. They still ran the report based on name and address. STAY AWAY FROM QUICKEN LOANS! The best bet is to look locally.

I was told the appraisal had been waived then a day or two later I was checking my credit card balance and found they had put a $500.00 charge for an appraisal on it... now I'm going through the process of trying to get it taken off. I told them I no longer wanted to do business and they STILL pushed forward.

I was called by one of their agents after a recent inquiry for lowering my mortgage payment. I told the agent that I had a pretty good loan, 3.1%, and based on what he was saying, didn't think he could do any better. He insisted he could but I resisted knowing that a hard credit inquiry would hurt my credit score. He insisted it wouldn't and foolishly I went along with it. Sure enough, his loan offer was $200 more a month with an additional $4500 in closing costs. And, my credit score took a hit and when I went to buy a car caused me a higher interest rate. The only people who should go with these liars are those individuals whose credit scores are so bad they can't go anywhere else as their rates are usually higher and their closing costs are ridiculous. Don't trust the advertised hype as you would be better off with a local small mortgage company than Quicken Loans.

Quicken Loans needs to stop with these fake reviews. No one types in that tone about a product or service received looking to do a deal with Quicken Loans read the "5 star" review see if you don't get weirded out by the intense abnormality of the vocabulary chosen to express their fake service received. DON'T BUY IT!! They are scammers and nothing but liars. Go with a bank or a company you can walk in to anytime, not some out of the state garbage. THEY DO NOT REFUND THE 500 DEPOSIT. THEY SAY THEY DO BUT THEY DON'T... BEWARE.

After getting an approved rate of 3.25% in July 2016 I received 2 additional rate increases and a buydown option on the percent, which had now increased. After endless requests for additional information there was NO quality in their efforts. The process went on and on until I finally had enough as they wanted to extend it into DECEMBER! The first person on the account (Kelsey), she was most helpful and she set an expectation of what I would encounter. Everything went smoothly until someone else took over the account which is where the toilet swirl began.
RUN, don't walk but RUN from this swirl of crap that could not close in 6 months. Every 2 months they needed updated Bank Statements, Pay stubs, etc and when I realized a fourth round was coming I went to a LOCAL lender who is closing after 4 weeks in the effort on January 3, 2017. Their advertising on television sets a totally false expectation that this will take a DAY. Other advertising through internet email indicate rates that I never saw offered 2.75% and up. Their online digital dashboard is wonderful - they even eliminate older documents as they request newer ones. ASK Questions! Get Answers! Get a closing Date! At least get a commitment!

I filled out the paperwork and was pushed to do everything within hours of them asking! I told them I didn't want to do it right now before Christmas but next month would be better and they would not take no for an answer! I gave them a deposit for the appraisal but changed my mind and canceled it before anyone came. I asked for my money back for the appraisal and was told yes, a few days later that changed. They said they would issue me a gift card to cover the cost a week later but they couldn't refund my account while the loan was in process. They still had me doing stuff for the loan like conference calls with my current mortgage company and wanted to be able to talk to my homeowner's insurance company.
I ask them to stop rushing me and still I was getting things to do every day! I told them I don't want to do anything until the new year! Then they got mad at me for canceling my appraisal and said rates were going up. I told them I want a refund and I am not going through with the loan! They stopped responding and sent me a letter that they were stopping the loan progress because I wouldn't fill out any more information about a credit card I had opened for Christmas. I paid for a service that was never done and they will not refund my money. Never again will I fill out any personal information online for a loan!

Tried to refinance into a VA loan. They collected my $500 and then they could not get the job done. I ended up going to Navy Federal Credit Union to get a new VA loan. Quicken Loans were not familiar with the VA Jumbo program and did not discuss the fact that there would be no discount points due to the fact that my veteran wife received a disability when she left the military. My recommendation is use a reputable company that does NOT collect money upfront to get the loan approved. Also check to see if the loan rep is familiar with VA products.

I can't speak for the negative reviews on Quicken Loans. But they are No.1 rated so I read the reviews and they weren't very good. I had already started the process and I got real nervous. But I decided to give it a try. The hard inquiry's on your credit will drop your score some. That's with any lending. Lending Tree dropped my score a lot because they might do 9 at once. Lesson learned with Lending Tree. I must say you will need to correspond with them a lot and be savvy with computers on scanning and uploading. I had a 630 credit score and a Chapter 13, 4 years ago. I'm on light duty at present. I will only post from the start to finish. They communicated very efficiently and almost every day. Make sure you don't have a lot of things in your credit history that they have to jump through. Be honest with them and once you have a to do on your MyQL site, do it.
I had a lot of things come up... Chapter 13, Light Duty, 630 Credit Score and negative comments in my Credit Report. This is what I mean by hoops. You will sign and lock into a rate with a 500.00 upfront cost for appraisal.This is the area where I am an expert. My wife is a licensed appraiser. By law an appraiser is held my high standards. Quicken used a local appraiser whom I have heard of. What you're comparable of the homes that are around has a lot to do with your value. But I already had an idea what my home was worth by talking with my wife. Quickens appraisal matched exactly what my wife had come up with. So if you think that appraiser has anything to do with Quicken, you're wrong. It's against the law.
When you do an appraisal, if it's off by a lot or wrong. They have a check in place where other appraisers check other appraisers work to ensure it's being done right. My wife has had her work anonymously checked periodically.So your appraisal has nothing to do with Quicken. The 500.00 you will get back at closing or credited to your loan. Always talk with them through MyQL chat so everything is recorded. Your loan disclosure will change a lot up until you close. So those are not final numbers. Don't fret. I just went through the whole process. I am closing Tuesday. I got 1000.00 in discounts and my 500.00 appraisal fee back. KNOW what you're doing before you go with any lender. Ask questions and TELL them what you want. They will bend over backwards to accommodate you.
Yes you will speak with normally 3 people. The first person that moves your loan to underwriting. Then you will work with underwriting for sometime. Then the last you will have a closing team. It's a busy process but very easy to upload documents and communicate. Get ready for that phone, email to ring a lot. It's business and I understand them being concerned about lending me 200,000 dollars. Research it, know what your escrow payments are and what your final number will be. My closing costs fluctuated until I was ready to close. They kept their word. I'm just a regular guy who would never write any review on anything or waste my time. But I'm smart and I shop smart. But I'm impressed and locked in at 3.375. I am paying a lower note on a 15 yr fixed that I was on a 30 yr conventional. But again, ask questions and tell them I will not pay more than these closing costs. You're the boss. I am so happy with going with Quicken Loans.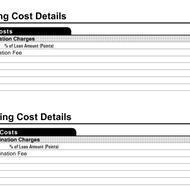 They have one of the higher closing cost that you will find out there. Mine was over 10K. To start, I had an origination fee of over 2k which is just a way of saying commission fee. I was given credit towards this cost in the form of a credit of $1300. They could not close my loan within 30 days, so they extended my closing out. They then missed the 60-day window to close; I was told because of this it would charge me around $200, even though they never charged me a fee the first time. I thought that was odd but ok.
Then they finally schedule my closing and hours before we were to sign, I look at that closing cost, and they removed the credit of $1300 that they had promised me. I refused to sign until it was fixed, and no one was around that could fix it on Quickens end. The next day I was call and told there was nothing they would do about it and that interest rate was going up, so I would pretty much have to sign it or lose my rate. So now I have to sign for an extra $1300 or lose my rate. They are making over $150,000 servicing my loan, but I guess that not enough money for them. If you don't watch every dime and even if you do they will rip you off in the end. Stay away!

We have a log home that we were trying to refinance through Quicken Loans. The initial consult made things sound positive in moving forward. Nobody told us because we have a log home in an area that does not have at least 3 comparisons. The loan would never get approved. We scheduled the appraisal and got that back. Talked to the agent after the appraisal and was told the loan should close in about 14 business days. Great (we thought)! About 6 days later I get a call letting us know we cannot go forward with the loan. They explain. We want the appraisal refunded because of their mistake. Ok, but only on the credit card. We do not use the card often and preferred to have a check. They would NOT issue a check. This is their signature on their e-mail. Every Client Every Time No Exceptions No Excuses. Don't believe it!

Our experience with Quicken Loans was most unsatisfactory. We contacted Quicken in July 2015 to explore the possibility of a refi under the federal governments new home loan program. They determined that we were not eligible, but offered to explore other options for us. We agreed and Quicken soon offered a 30 year fixed rate loan at 3.5 percent. This was attractive so we began the process of refinancing. We provided the usual myriad of information and our credit reports came back with no problems and good scores (both in the mid-700 range).
Everything was on track until time for the appraisal. It came back several thousand dollars lower than anticipated. We argued that the home was appraised in 2009 for FHA and valued at $169,000. We even provided the appraiser with a detailed list of all maintenance and improvements made since we purchased the home in 2002. We were able to account for nearly $55,000 in improvements.
The problem with the new appraisal was in the homes used to determine value. Being in a rural area there are few homes sold, so the appraiser pulled home sales from the west end of the city of Davenport. Still, the new valuation left us short and unable to consummate the loan. At this point the Quicken representatives suggested they look for alternative loan options. Since everything was already in place we agreed. They soon came back with a proposal that would require us to bring money to the table for closing. We advised that we had already provided $500 and were not interested in any options that required more closing costs. We explained that the undue delay in consummating the original loan had resulted in diminishing returns for us, requiring several years before we would begin to realize any financial benefit. The Quicken staff continued to contact us and offer more loan alternatives, none of which met our needs.
Finally, in October we informed Quicken in writing and verbally that we no longer wished to pursue refinancing and we ceased providing any further information. The Quicken representatives continued to contact us and request information, advising that our original credit application had expired and would require resubmission. Since we were no longer interested in obtaining a loan we ignored their requests.
Finally, in January 2016 we received a letter stating that they were unable to offer us refinancing due to our incomplete credit application. This final determination by Quicken is inaccurate in that we had advised them we were no longer interested in refinancing and it was the persistence of their staff that caused the issue to remain open until January. Hence, they also retained the $500 earnest money we paid. All in all, our experience with Quicken Loans was not pleasant and we could not recommend them to anyone considering mortgage.

BUYERS BEWARE! Good luck sorting/dealing/fending off multiple daily phone calls to lure you further into the scam. Immediate deposit promises nothing but BS. Home appraisal guaranteed under market by THOUSANDS in attempt to extort more money under guise of higher rates. CRIMINAL. Save yourself unnecessary aggravation. Go elsewhere.

Quicken Loans is a big waste of time! I tried for a home loan starting in May 2015. After 3 attempts and a HUGE amount of paperwork, letters, and pay stubs they always seem to find a way to tell me the loan was dropped. So after 2 appraisals the only thing Quicken Loans did for me was cost me $900 (first appraisal was $400, second was $500) and a lower credit score for inquiries (5). It's now December and yet again they find a way to drop the loan. Wish I had never contacted them in the first place! If you are considering them for a home loan... DON'T!

We started the refinance process with Quicken right before we went on vacation because we wanted to get in on the low interest rate. We had used them before and were very happy. We were told we would save X amount of $ and pay off our loan 18 months sooner. Win! Win! We were excited and jumped the gun and paid for the deposit that would be refunded at closing.
Once we got back from vacation and I took a closer look at the figures we were not saving any money. Even though we would be lowering our interest rate, we would also be adding 10,000 debt and starting a new mortgage. So that was a no! Now we are also out $500 bucks for the appraisal. Shame on me trusting the figures given to me and not doing my due diligence. Shame on them for not giving accurate information. Make sure you do your own numbers and amortization schedules for your current loan to decide if your refinance is really worth it or not!

Stay far away from this company. They run your credit, not once, not twice, but four times in one month without your consent/authorization. Then when you dispute with their credit team (or whatever it is they do) they say they cannot research anything past six months back. Right... great excuse. This is a highly unethical company that should not be doing what they do (ruining people's credit reports). Tip: go to TD Bank instead of this awful company!!

We started a refinance with this account. At first put us into a loan process for over 5 weeks and we were not eligible for it. We constantly was asked to pay some debts off and we did it. We were jumping through hoops with the company. Now within 7 weeks and a lot of aggravation and stress, we decided not to go through with the refinance due to things keep changing and they keep coming up with different things they want us to. We have went through a loan process before with our local bank and it's never taken more than 4 weeks to get the loan processed. This is ridiculous. I think this is a scam so they can take funds from you called the earnest money.

I have finally refinanced my home mortgage and escaped Quicken Loans. They are great at advertising their JD Power awards, however, in my opinion, that is all fluff. They will dig the applicant for atrocious costs, conveniently adding it to your loan so there is minimal out of pocket. Also, they are quick to offer FHA financing, but God forbid you have to have Mortgage protection insurance at the rate of nearly $200 per month. My refinancing required MPI and that was a whopping $28 per month. When I refinanced, Quicken Loans made sure to grab an extra month of MPI fee even though they rolled that fee into the loan payoff figures.
When I received my Quicken Loan payoff figure, there was an MPI payment included because it is paid in arrears. The November 2016 MPI payment was actually for October. I understand that November had to be paid and why it was included in the payoff calculation. Then on December 3rd, Quicken Loans took an MPI payment from the escrow funds to be sent to me, stating that they have to pay for November.
When I questioned why that was the case when it was calculated into the payoff, they sent me a very condescending letter stating it would not be refunded because the MPI is paid in arrears and the payment was actually for November 2016. They completely ignored the detail that the payoff included the payment for November. When they write "Every Client, Every time, No Exceptions, No Excuses"... there is no doubt in my mind that means finding a way to grab every penny you can from the client in every way possible, every time you can without failing to do so. Quicken Loans is a horrible company.

I had been frustrated by being stuck in an FHA loan with PMI insurance so I thought I'd check around for a refi. Quicken beat the competitors rates and got me into a 15 yr conventional loan within 45 days. They made the process easy and didn't waste my time. I paid $500 in good faith. Of course, they have expenses up front including the credit check and appraiser so it is only fair. They refunded the $500 towards closing costs and I ended up getting $1200 cash back at closing and no mortgage payment for 2 months. So, in short they quickly and easily cut my rate in half and kept my mortgage payment the same. The only difference is now I will have my house paid off 12 years sooner so I'm a very happy customer. :-)

They are actually really bad. Unhelpful and very cold. Very unpleasant to work with. They advertise all of these excellent reviews and top awards but they are worthless. All of it is untrue. They don't provide any better savings than you would have by going to your local bank. That is what I would recommend - stay local. Definitely stay away from Quicken Loans - I could not be any more direct. They're bad news.

We contacted what we thought was a VA mortgage. Was contacted by Quicken Loans. They said they needed to pull our credit. And now we have had 2 charges on our charge card. One for about $15 and one for almost $100. They said they would take off but didn't. Now in dispute. Stay away. Also you end up talking to so many people. If they don't like what you're saying they hang up on you. RUDE.

I contacted Quicken Loans about a refinance and declined to continue when doing the analysis. Within weeks after declining, my email account was flooded with information emails about refinancing my property, listed in the email by address and to me by name. The timing has to be more than coincidence. I would not use or recommend this organization to anyone who has any interest in privacy.

Started looking for a refi loan in October 2016 with a fico score 818/822/816, fielded 84 phone calls in 3 weeks from 20+ lenders without success (was told I don't qualify for a mortgage, don't make enough money). Now after 18 fico searches by Castle Mortgage corp. and others my fico scores are under 800.

I applied for a partial loan release to sell some land behind my house. I was assured that this is exactly what partial loan releases are for and was assigned a person to work on my account. After over a month of supposedly not getting what they said they needed (all the information sent them was on the land survey that I sent them originally), I was told I needed to have an appraisal done.
I agreed and said OK even though the price for an appraisal was $850. I started to give them my credit card info; they said, "No, we need your checking account # and your routing #." That to me is so unethical. I am not going to give them that information so they can go in and "rape" my account which is what has happened to other people who have dealt with them. It wasn't that way a few years ago when I initially dealt with them. It appears that QL's emphasis now is to bleed anyone who calls them of all the financial assets they can. Do yourself a favor and do not deal with this company.
Compare Harp Loan and Loan Modification Companies
Quicken Loans Company Profile
Company Name:

Quicken Loans

Website:

http://www.quickenloans.com/