The carrier's CEO said the new T-Mobile will offer the same or better prices as those offered currently by T-Mobile or Sprint
02/05/2019
|
ConsumerAffairs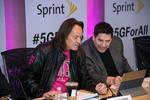 In a letter to the Federal Communications Commission (FCC), T-Mobile CEO John Legere vowed not to increase prices for three years if the carrier's $26 billion merger with Sprint is approved.
"To remove any remaining doubt or concerns about New T-Mobile's prices while we are combining our networks over the next three years, T-Mobile today is submitting to the Commission a commitment that I stand behind – a commitment that New T-Mobile will make available the same or bette...
More
Both of the companies' CEOs are set to testify at a joint hearing in February
01/29/2019
|
ConsumerAffairs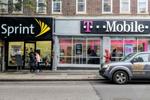 On Wednesday, February 13, two U.S. House panels will hold a joint hearing to discuss the proposed merger of T-Mobile and Sprint.
The hearing will "examine the merger's potential impacts on consumers, workers and the wireless industry," the House Energy and Commerce Committee and the Judiciary Committee said in a press release.  
T-Mobile CEO John Legere and Sprint CEO Marcelo Claure are both set to testify at the hearing.
"A merger between T-Mobile and Sprint would combin...
More
Sort By