---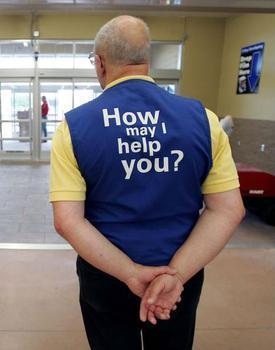 The Walmart greeter is headed back to the front door after an absence of several years. The retailer, which shifted greeters to other duties in many of its stores a few years ago, announced their return in the company blog.
"We've been working to welcome customers to an improved Walmart for some time now, and of the countless details we've taken a look at, a key piece has been better utilizing an important role – our greeters," the company wrote.
The return of the greeters has been preceded by a pilot program in some stores, where employees were redeployed from aisles to the front door, but in an expanded role and with a new title – "customer host."
This employee will not only make sure customers feel welcome when they arrive, but also make sure they don't leave with items they didn't pay for. The company says the hosts will also assist with returns and police the entry way areas of the stores. They'll also trade in their blue vest for a distinctive yellow one.
In all U.S. stores by mid-summer
"This pilot program was successful so we'll begin rolling out these changes to all of our U.S. stores by mid-summer," Walmart said.
The company said different stores will have different requirements, so it is using data about safety, security, and shrink risks – the loss of merchandise through theft – to decide which stores have the standard greeter and which will have the newly created host position. 
Theft, in particular, is something that Walmart is looking to rein in. Fortune Magazine reported last year that Walmart had made reducing its estimated $3 billion loss to shoplifting a key priority.
It said the data will dictate where hosts will be deployed. These personnel will get additional training to greet customers as they enter and also help deter would-be shoplifters.
Part of company culture
"Greeters are a big part of our company and culture, and that's why in the majority of our U.S. stores we will continue to rely on them to be the helpful first face customers see," Walmart said.
Where stores are switching from greeter to host, Walmart said it is allowing current greeters to apply for the new roles, or to move to other nearby Walmart stores. It said that more than 80% of displaced greeters were able to find new positions during the pilot phase.
---