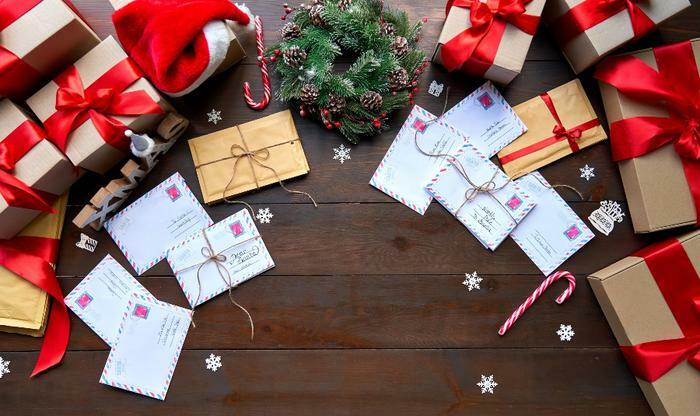 With the holidays less than six weeks away, U.S. mail carriers and package delivery companies are getting out in front with their recommendations for consumers who want their gifts to arrive on time.
Overall, things are pretty much the same as 2020's holiday schedule for UPS and FedEx, but the USPS has moved its first-class and priority mail ship-by dates up by a day. 
Shipping breakdown by carrier
USPS: If you're taking the U.S. Postal Service route, here's what you need to know. The USPS recommends that anyone who wants to have their package delivered on time for Christmas Day via ground service should ship it by Dec. 15. For those who don't hit that cutoff date, they can still use first-class mail, which gives them until Dec. 17 to send their package. The deadline for priority mail is Dec. 18, and the deadline for priority mail express is Dec. 23. For international and military shipping, the USPS also provides a list of shipping dates here.
While the USPS doesn't make specific reference to Hanukkah or Kwanzaa mailing date suggestions, shipping two weeks in front of those holidays is likely a safe bet. The agency also reminds consumers that mailing rates have changed and that they should be prepared to spend more than they have in the past. 
Another consideration that consumers should take into account is that slowdowns at USPS may have an additional impact. ConsumerAffairs reviewers like Henry from Waterbury, Conn., have already been impacted by slower service times.
"I sent my package on July 7th 2021 and I was promised delivery on July/12th/2021," he wrote. "I have tried to call but I can't get to someone. I went to service center in Waterbury and they gave a number to call Hartford consumer center. I called the number, every time I call no one answers, the recording asks for your number and name and promise to call you back in 24 hours. I have called for 12 days and every time the system will ask you for name and number and no one has ever called me back. My documents had personal information and now I don't know what to do."
UPS: UPS says consumers will want to schedule their packaged delivery by Monday, Dec. 20, to get it by December 24. For those who miss that cut-off, there are other, more expensive, options. Those include:
Dec. 21: UPS 3 Day Select

Dec. 22: UPS 2nd Day Air

Dec. 23: UPS Next Day Air
A complete list of UPS shipping dates and services is available here.
FedEx: FedEx says the last day to get a package out for Christmas is Dec. 15 if you're going the ground shipping route. For the less expensive ground economy packages, consumers will need to ship the package by Dec. 9. 
FedEx can still deliver packages for those who wait until the last minute, but it will charge a higher rate. A full list of FedEx shipping dates and available services is available here.
Be careful of order confirmation scams
The Postal Service reminds consumers that scammers have recently been using the order confirmation scam. If you receive a text message from a number you don't recognize saying you need to confirm a delivery by clicking on a link, the USPS says you should stop right there. The scam — called "smishing" — starts with the pretense that it's from Walmart, Costco, Target, or Amazon and that you need to confirm a recent purchase you supposedly made. 
"Customers are required to either register online, or initiate a text message, and provide a tracking number. USPS will not send customers text messages or emails without a customer first requesting the service with a tracking number, and it will NOT contain a link," the agency said. "So, if you did not initiate the tracking request for a specific package directly from USPS and it contains a link: don't click the link!"