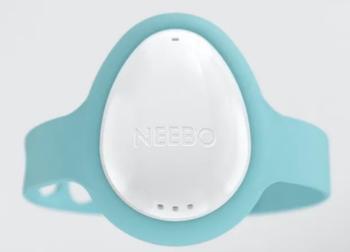 Peace of mind is often rather elusive for first time parents, who might find themselves constantly checking to make sure that the baby is breathing or wondering whether the baby is too warm or cold.
There's seemingly no end to the amount of baby-related questions that can evoke worry, but a new wearable called Neebo may help to reduce the amount of worry that parents face.
When placed on a baby's wrist, Neebo sends an "accurate infant data stream" from a baby to its parents via Bluetooth Low Energy, according to Daatrics Ltd., the Czech Republic-based company behind the wearable.
The egg-shaped wearable, which was designed for children up to 24 months, works by measuring a baby's heart rate, oxygen saturation, thermal state, and sound in the baby's environment. The wristband itself is safe for the baby to chew on and features a child-proof clasp.
Accurate monitoring
In addition to keeping parents apprised of their baby's temperature and other health vitals, the device can provide early warnings of heart disease, immunodeficiency, or respiratory problems. It also sends parents an alert when the baby is waking up.
Neebo's measurements are within 1% accuracy of medical-grade systems, Andrey Khayrullaev, founder and CEO of Daatrics, said in a statement. He says the device can also keep false alarms from getting through to over-anxious parents.
"It's built around the idea that parents don't need a lot of extra alerts," Kharullaev told MobiHealthNews. "These are smart alerts. If it cannot deliver to mobile, it goes to the charging station and it produces . . . an audible alert, but only in case of emergency, such as abnormal heart rate or a high or low temperature."
Eventually, Kharullaev and his team want to obtain FDA approval. The company also hopes to incorporate AI to give Neebo the ability to notify parents if a caretaker or person is harming or yelling at the baby.
"With the final iteration, it will start to educate the AI and detect baby abuse – slapping, yelling, pushing – and will start to analyze the audio environment to detect patterns," said Kharullaev. "We want it to be able to detect the event and confirm with other sensors to work with higher accuracy."
Neebo is available for pre-order now. The device will retail for $199.