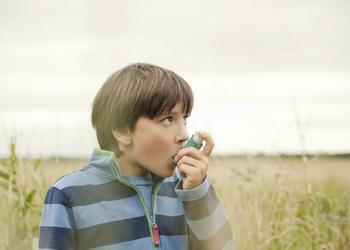 Hot and humid summer weather can trigger asthma symptoms, which can quickly turn an afternoon on the playground into an evening in the emergency room.
About every 20 seconds, someone is rushed to an emergency room in the U.S. to be treated for asthma. And half the time, it's a child.
Managing asthma effectively is possible, but it requires some level of organization. In addition to remembering to take medications, asthma sufferers must follow a schedule and plan for emergencies.
Now, a new doctor-developed app called AsthmaCare is helping pediatric patients track and manage their asthma symptoms.
Sends reminders
"It's hard for anybody to remember to take medications every day, especially when they're feeling well which is often the case with asthma, so we wanted to create something to help people better self-manage their condition," said David Stukus, MD in a statement. 
Stukus, who developed the app with colleagues at Nationwide Children's Hospital, adds that the app is designed to help children stay on a schedule with their medicines and follow a plan if symptoms occur.
AsthmaCare can send reminders to take medication, track symptoms in a symptom diary, and even help users stay one step ahead of allergens. 
Tracks environmental triggers
The app is also connected to pollen stations via Wi-Fi, which enables it to give users data on allergen levels. It can even notify users of nearby triggers such as dander, dust, and cigarette smoke.
And while an app isn't the only way to manage asthma, it seems to have an edge over traditional, written care plans -- especially in the eyes of teens.
In a study, teens used the easy-to-use app every day. Eighty-one percent of the time, they used it more than once a day.
The app can also help make life easier for parents. Joyce Kelso, mother of a 3-year-old with asthma, says the app has helped her and her child manage the condition.
"It's changed our lives in the fact that my child's not going to the ER constantly, she's not having as severe of asthma attacks, and it's kind of keeping me on top of medicine."
The free app is available on iPhone and most Android devices.