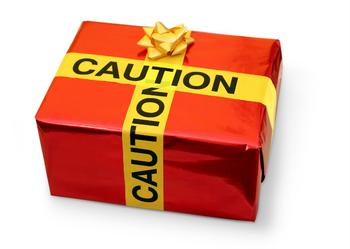 If you did your holiday shopping early, it's possible that you may have unwittingly purchased a recalled item for your child.
Recalled toys and garments can put your child at risk of being seriously injured. While you may not have intended to purchase an unsafe toy for your child, recalls happen all the time.
To help ensure the children on your holiday shopping list aren't put in harm's way while using a gift you purchased, it's important to make sure you didn't accidentally bring home a recalled item. Here are a few recent children's product recalls consumers should be aware of.
Recently recalled children's items
Purchasing safe toys
Toy safety experts say vigilance is critical when buying toys for kids, even if the item hasn't been recalled.
"Consumers need to be vigilant when buying toys and know what hazards to look out for," Joan Siff, president of World Against Toys Causing Harm (or W.A.T.C.H.) told ConsumerAffairs.
To do so, she recommends becoming familiar with the categories of hazards that reappear year after year.
"Some of the recurring classic hazards we see include small detachable parts that can be easily removed on toys sold to young children, toys with warnings that may be impossible to follow in the real world and don't take into account how children play, and projectile or airborne toys that could lead to eye injuries," she said.
Additionally, consumers should recognize that a toy's safety isn't guaranteed just because it's popular or manufactured by a well-known company. The "10 Worst Toys" list recently released by W.A.T.C.H. is "by no means an exhaustive list of what to watch out for," said Siff.
However, it's "illustrative of the types of potential hazards parents and other toy shoppers may encounter this holiday season and year round," she said, adding that it's always a good idea to inspect a toy and its packaging before giving it to a child.