---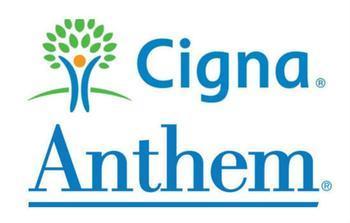 The U.S. Justice Department has announced it has gone to court to block two proposed health insurance mega-mergers.
The suits seeks to stop the proposed merger of Anthem and Cigna, and of Aetna and Humana, arguing that the consolidations of the four giant health insurance providers into just two would upset the marketplace and harm consumers.
"Anthem's purchase of Cigna likely would lead to higher prices and reduced benefits, and would deprive consumers and healthcare providers of the innovation and collaboration necessary to improve care outcomes," the Justice Department said in its complaint.
The Anthem-Cigna merger was proposed last year with the expectation that it would close by the end of this year. In a statement, Cigna concedes that outcome now appears doubtful. It said the merger would be delayed until at least 2017 and raised the possibility it might not happen at all. In fact, its statement reads like one from a company that expects to remain independent.
"Since announcing the transaction, Cigna has remained focused on delivering value to our clients and customers, building on our track record of strong financial results and growing our businesses in the U.S. and abroad," the company said.
The company also said it is currently evaluating its options consistent with its obligations under the agreement.
"Unfortunate and misguided"
Anthem was a bit more combative in its reaction, calling the government's suit "an unfortunate and misguided step backward for access to affordable healthcare for America."
"Anthem is fully committed to challenging the DOJ's decision in court but will remain receptive to any efforts to reach a settlement with the DOJ that will allow us to complete the transaction and deliver its benefits at a critical time when American consumers are seeking high quality healthcare services with greater value at less cost," the company said in a statement.
The Justice Department also sued to stop the proposed merger of Aetna and Humana, pointing to the same issues that have troubled the government about the Cigna Anthem merger. Critics have pointed out that the deals would reduce the number of major U.S. health insurance providers from five to three.
Thanks
Keep an eye on your inbox, the lastest consumer news is on it's way!
Unsubscribe easily whenever you want
---