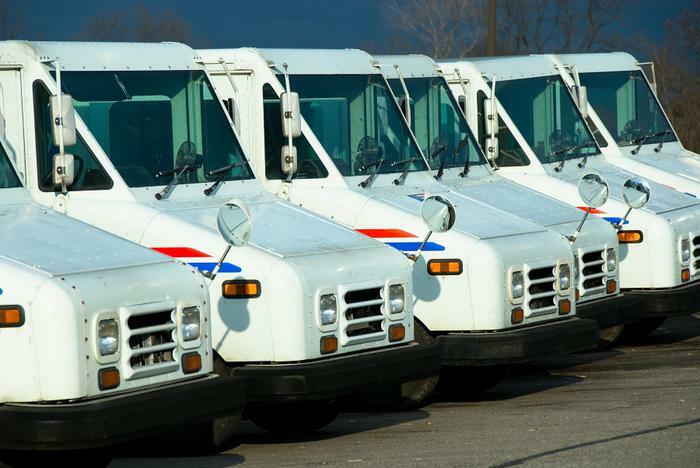 A month after President Biden moved to replace the federal government's 650,000 unit gas-powered fleet for electric vehicles, the U.S. Postal Service (USPS) says it can't afford to make that change. 
That's a pretty big stone in the path of Biden's initiative since the Postal Service has nearly a third of the total federal 650,000 vehicle population.
Optimism replaced by outrage
All seemed good when Postmaster General Louis DeJoy announced that he had inked a deal to replace many of USPS' older, gas-powered vehicles. He said a recent $482 million contract would allow the agency "to order electric powertrain vehicles as well as traditional internal combustion engine vehicles." 
"This is great news because we are committed to move forward a more environmentally sustainable mix of vehicles in our fleet," DeJoy added.
DeJoy was applauded by clean energy groups for the move. Gina Coplon-Newfield, director of the Sierra Club's Clean Transportation For All campaign, says postal delivery trucks are the "perfect use case" for electric vehicles.
"They don't travel far distances on any given day. They sit idle overnight when they can charge," she told NPR. "And they travel through neighborhoods exposing people to air pollution. So shifting to a 100 percent electric USPS fleet should really be a no brainer."
However, the hoorahs sent DeJoy's way may have been in haste. He later explained to lawmakers that only 10 percent of the agency's new vehicles would be electric due to financial constraints. Coplon-Newfield told NPR that the move simply isn't good enough. 
"Electrifying just 10 percent of the U.S. fleet, as the postmaster, DeJoy, has suggested, is really shortsighted and not acceptable," she said.
Congress steps in
Members of Congress then entered the fray after finding out that DeJoy passed over Ohio electric truck manufacturer Workhorse for Oshkosh Corporation, a Wisconsin company that builds defense, fire and emergency, and commercial vehicles and access equipment.
A group of congressional members, including U.S. Senator Sherrod Brown (D-OH), U.S. Representatives Tim Ryan (D-OH) and Marcy Kaptur (D-OH), were irked by DeJoy's deal with Oshkosh. Their collective opinion was that it was in "stark contrast to Biden's Executive Order on Tackling the Climate Crisis at Home and Abroad and his public calls to transform the federal vehicular fleet to electric vehicles." In turn, they asked Biden to review the contract award that DeJoy signed.
"Furthermore, this contract is not only an investment in America workers and our domestic manufacturing sector, but it is an opportunity for our nation to regain its role as a leader in clean technology manufacturing. This contract will have consequences for decades to come and, as such, we have serious concerns it could be a wasted opportunity to address the climate crisis and the reindustrialization of our manufacturing sector," the lawmakers wrote.