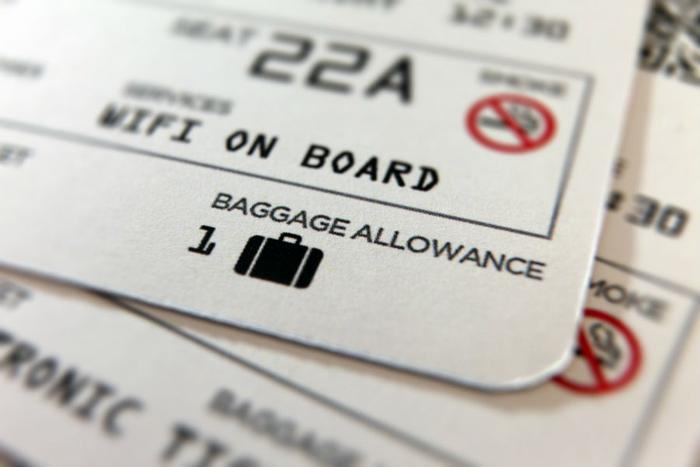 If you're a traveler, take note of this figure: $28.1 billion.
Now you know why airlines charge baggage fees.
The annual baggage fee review from IdeaWorksCompany -- an airline ancillary revenue consulting firm -- and online technology and travel platform CarTrawler is out, and it's an eye-opener.
That $28.1 billion number reflects the worldwide billing-for-baggage component. The baggage revenue stream got a nice 19.07 percent bump in 2018 according to the survey, accounting for 3.2 percent of the total global airline revenue.
"Stringent baggage fee policies are hallmarks of top revenue-performing low-cost carriers," writes Jay Sorensen, president of IdeaWorksCompany. "The surprising development within the last two years is the implementation of bag fees by some of the world's leading global network airlines."
Short of Southwest Airlines and its "(two) bags fly free" promise, domestic U.S. travelers don't get the same type of bag fee waiver that most of the Asian and Middle Eastern-based airlines give. All European-based carriers, except for Turkish Airlines, typically charge for baggage as well.
"The abundant reliance upon bag fees in Europe and North America occurs largely due to the presence of a very significant low-cost carrier industry," Sorensen said. "Elsewhere in the world, traditional airlines include baggage benefits for all fares and have not yet adopted basic economy fare strategies."
"One thing to look out for going forward is dynamically priced bag fees, meaning that the price will vary according to demand. Spirit is a leader in this innovation," adds Robert Silk, Airlines Editor for Travel Weekly. "Still, flyers shouldn't forget the big picture, which is a combination of your all-in cost for flying and the service you're buying. A higher bag fee can be offset by a lower ticket prices or a better seat and connection."
Any way around paying baggage fees?
One of the best ways for consumers to get around the bag fee issue is to apply for a co-branded credit card. Having one of those cards will usually get a fee waiver for the first bag checked, but only in the U.S. and Canada.
As an example, UpgradedPoints reports that consumers holding the Citi/AAdvantage Executive World Elite Mastercard can get one free checked bag for you and up to eight companions on your itinerary, but it's only valid on domestic flights.
"The sure-fire way to avoid this fee is to travel with a carry-on bag only," advises Momondo's Samantha Fanelli.
"However, if you simply cannot do without your checked luggage, try to pay for the bag online, as it is typically much cheaper to purchase your bag on the airline's website rather than pay up front at the check-in counter. Be aware that maximum carry-on size varies from airline to airline, so to avoid having to check and pay for your bag in case your suitcase is too large, always make sure to check the luggage rules of your specific airline."
One important note: Bag fees like anything else related to airline travel can change without a moment's notice. It's always smart to check the airline's current policy regarding luggage and, if there's something you don't understand, give them a call and ask for clarification.