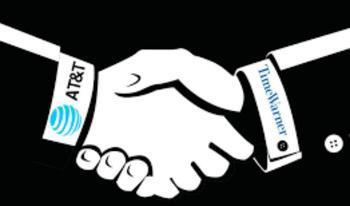 Back in October, when AT&T announced an agreement to purchase Time Warner, candidate Donald Trump blasted the proposed deal, saying he would do everything he could do to block it.
The deal was also greeted with various degrees of hostility in Congress, including from Sen. Bernie Sanders (I-Vt.). It led some industry analysts to speculate the deal could be dead on arrival.
But when executives of the two companies went before a Senate Judiciary subcommittee Wednesday, the tone from both Republicans and Democrats was noticeably softer.
While Congress has no say-so in the matter, Subcommittee chair Sen. Mike Lee (R-Utah) assured the executives that the Trump Administration Justice Department would only look at the facts and would seek to protect consumers, not necessarily AT&T's competitors.
A transformative and disruptive time
"No doubt, this industry is going through a transformative and disruptive time, and consumers are enjoying the ride," said Sen. Chuck Grassley (R-Iowa), and Chairman of the Judiciary Committee. "So we want to make sure that this revolution in technologies and content continues to thrive and evolve to the benefit of all consumers, all over the country, including in rural communities in Iowa."
Rural internet service providers have voiced concern about the deal because AT&T will be able to offer its customers unlimited streaming of its own content, while the smaller ISPs will have no such advantage.
"This proposed massive consolidation of distribution and content raises serious questions," said Sen. Patrick Leahy (D-Vt.). "The impact of this transaction on competition, consumer choice, and privacy across the media, pay TV, wireless and broadband industries must be carefully analyzed."
But while lawmakers in general voiced caution about the proposed deal, no one blasted it as anti-competitive.
'Reshape the competitive landscape'
AT&T CEO Randall Stephenson sought to reassure the lawmakers that consumers would benefit from the combination of the two companies. He said it would lead to innovation, offer more pricing options to consumers, and "reshape the competitive landscape."
There's no doubt that AT&T customers would stand to benefit, since they would be able to stream AT&T-owned content without it counting against their data allowances. But regulators will also look at how customers of small, independently owned ISPs will fare.
The Consumer Federation of America (CFA) released a report at Wednesday's hearing showing four telecom firms dominate the market and makes the claim that the average American household is overcharged $45 a month. The group urges regulators to reject the merger.
Trump, meanwhile, has said little about the proposed deal since the election. His stated objection in October was that it would place too much media power in the hands of one company.