---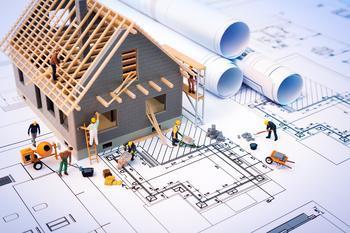 The construction of privately-owned homes took a hit last month, tumbling 8.8% to a seasonally adjusted annual rate of 1,089,000.
The decline, according to the Commerce Department, was punctuated by a slide of 9.2% in single-family housing starts to a rate of 764,000. The rate in March for units in buildings with five units or more was 312,000, down 8.5% from February.
Even with the march decline, the rate of housing starts was up 14.2% from the same period a year ago.
Building permits
Building permits for privately-owned housing, an indicator of developers' plans in the months ahead, were down 7.7% to a rate of 1,086,000, but still 4.6% above the March 2015 rate.
Authorizations for single-family homes dipped 1.2%, while permits for construction of units in buildings with five units or more plummeted 20.6%.
While the housing sector has been one of the silver linings of the U.S. recovery, Stifel Fixed Income Chief Economist Lindsey Piegza wonders if this can continue.
"With a lackluster manufacturing sector, faltering consumer spending and negative business investment,'" she said, "any further weakness in real-estate activity could serve to exacerbate the forecast slowdown at the start of the year, as well as undermine any improved growth profile April-June.
The complete report is available on the Commerce Department website.
---