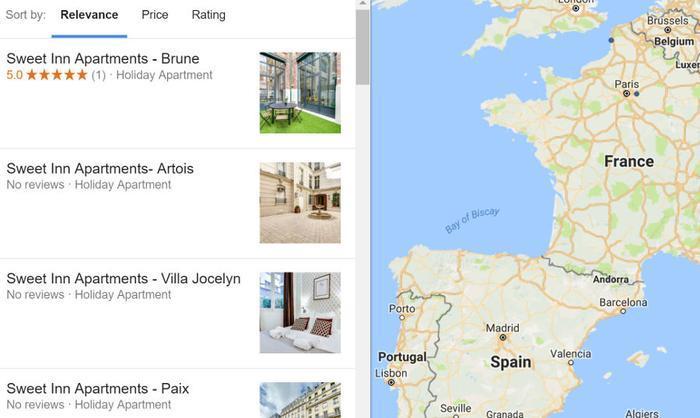 Airbnb has had a pretty good thing going for quite a while. Like Uber and other peer-to-peer connectors, it has made scads of money simply connecting people with other people -- namely, those with spare rooms and apartments and travelers looking for something cheaper or homier than a hotel room.
One problem with being successful, of course, is that you attract competitors large and small. There've been reports that other travel groups like Expedia and Priceline are looking to expand their share of the vacation rentals business, but perhaps the most ominous development involves Google, the ultimate disrupter.
A recent report by the travel site Skift finds Google running comparison shopping searches for peer-to-peer rentals in Europe, in popular destinations like Rome, Venice, and Frankfurt. The listings appear when you click "Accomodation Type." There didn't appear to be any listings from Airbnb, TripAdvisor, or other established peer-to-peer sites. 
Google has not commented on what it's doing, but Skift notes that Google has conducted similar public but unannounced tests prior to barging into other markets. 
Other players expanding
Add to that the formidable players Expedia and Priceline. Both may have been feeling a bit pinched lately by the growing popularity of peer-to-peer rentals, which now account for as much as one-fifth of the short-term rental market.
Expedia flexed its muscles in 2015 when it bought HomeAway, picking up about 1.4 million listings that it is now displaying on Expedia and Hotels.com. Priceline has added more than 600,000 listings, according to a report in the Wall Street Journal. 
"It's not so much that people have changed. I believe technology has enabled this type of rental property to be so much easier for people to find," Priceline CEO Glenn Fogel told the Journal. 
Google aside, the vacation rentals business faces increasing pressure from cities and grass roots neighborhood groups who say the short-term rentals attract strangers in what are normally quiet neighborhoods and buildings. Cities from New York to California have passed ordinances and homeowners associations have imposed rules restricting the rentals.
One condominium association in Palm Springs, Calif., now imposes a $1,500 fine for any homeowner found to have rented a unit for less than a month. Fines for subsequent violations rise quickly. Residents had complained about noise and trash left by renters who blew into town to attend Coachella and the many other festivals staged in and around the desert resort city.