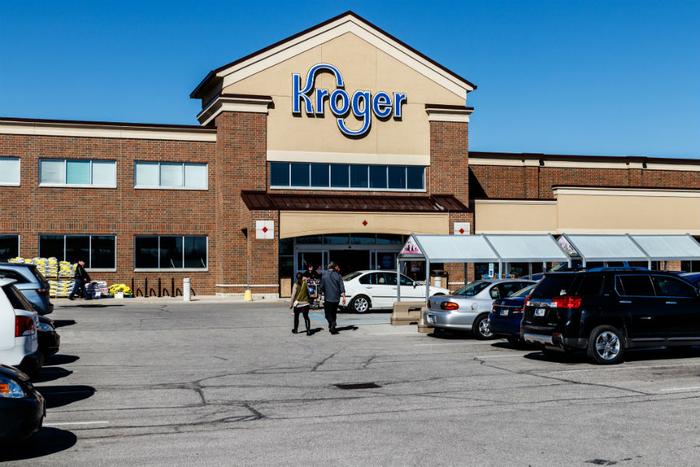 Kroger announced today that it will begin gradually phasing out plastic bags and transitioning to reusable bags at its nearly 2,800 locations. Doing so will eliminate 123 million pounds of garbage that's sent to landfills every year and will quadruple the amount of plastic the company currently recycles.
"We're the first major retailer in the U.S. to do this," said Jessica Adelman, Kroger's vice president of corporate affairs.
The company is the country's largest grocer, as it owns a number of supermarket chains, including Ralphs, Harris Teeter, and Fred Meyer. QFC, a Seattle-based supermarket that Kroger owns, will be the first store to eliminate plastic bags, and they'll be gone by 2019.
"As America's largest grocer, we realize we have a responsibility to cut down on unnecessary plastic waste that contributes to litter, harms the environment, and in some cases, endangers wildlife," Kroger CEO Rodney McMullen wrote in an editorial.
"Collectively, we use 100 billion plastic bags a year in the U.S. That's a lot for something that's almost always used once before being tossed into a landfill. You could take all those bags and fill three Houston Astrodomes from top to bottom, year after year, with nothing but plastic bags."
Reusable bags
Kroger currently sells reusable bags in its stores for $1 each; under the new plan, Kroger will begin ramping up the availability of those bags. As it stands right now, shoppers will still have the option to ask for plastic bags.
"There are less wasteful ways to ensure shoppers can safely and conveniently transport items back to their homes, and Kroger is committed to presenting better options to our customs," McMullen wrote. "Our ultimate goal is to shift completely over to reusable bags."
McMullen also noted this change cannot happen overnight.
"More than nine million people walk through our doors every day, and what works for one person will not necessarily work for another," he wrote. "That's why we're giving our customers plenty of time to adapt to a new way of shopping."
Company-wide policies
Kroger's long-term goal is to be a completely sustainable company.
To help it achieve that mission, the company plans to implement new training procedures for employees who are responsible for bagging in an effort to reduce the need for bags. Additionally, stores will continue to have recycling services for plastic bags and other plastic films, so customers can be active participants in the company's recycling efforts.
"We want to be a trusted recycling partner for our customers, but we recognize merely offering such services is not enough," McMullen wrote. "Kroger is committed to making a difference that cannot be measured."