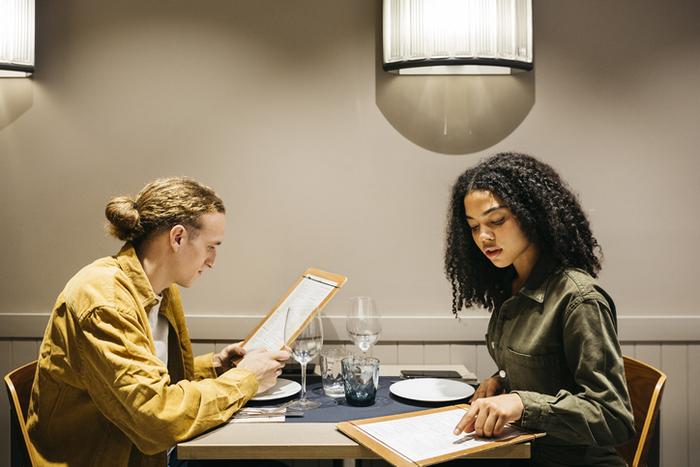 The menu prices these days continue to make diners' eyes pop out of their heads. Prices at restaurants are rising faster than those at grocery stores and now, the average menu price is up 15.6% over a year ago.
Among the biggest hikes in the average cost of a popular meal can be found at Panera Bread, with a price of $14.76; Chipotle at $14.34; Shake Shack at $13.50 a meal; Blaze Pizza at $13.72 and Jersey Mike's at $13.23.
And with "dynamic pricing" being bandied about, consumers might have to play games with menu prices that change depending on how many customers they have at any given hour.
And that's just in the fast-casual world. To make matters worse, some upline "fancier" restaurants have decided to take a cue from Airbnb hosts and add some extra charges. Consumers are sounding off on social media.
"Looking to [take] my wife out to dinner in SF. On a restaurant's website they list: 20% mandatory tip (they call it an equity fee, whatever that means). 5% San Francisco health care tax. 8.625% sales tax. That's an extra 33% on top of your bill. Looks like I am cooking at home," John Savage tweeted.
Is this ethical? Restaurants can do whatever they want, but diners are pushing back. A recent study found that only 42% of consumers are willing to cough up and pay full price to eat at their favorite go-to restaurants. 
Insider tips on saving at restaurants
To see how the other 58% can keep the menu price mongrels at bay, ConsumerAffairs asked a group of discount-thinking, food-loving experts for their personal tricks.
Share and share alike: Nina Swasdikiati, owner and founder at Ping Pong Thai in Las Vegas, told ConsumerAffairs that if she were looking for a way to save money on dining out, she would look for restaurants that served "shareable" portions. 
There are lots of restaurants that have family-sized meals for carryout – e.g., Olive Garden and Panera – and the one chain that has built its reputation on shareable, family-sized meals is classic Italian family-style eatery Buca di Beppo.
There are also tons of BBQ joints where platters of ribs or wings can be shared, but other than that, it takes a little work to find dine-in restaurants where a family can get the same thing.
Doing some homework on what options are available, ConsumerAffairs found that Foursquare.com does a version of tracking down where shareable meals can be found city by city. The best search term ConsumerAffairs found to make that happen is "The 15 Best Places for Big Portions in [name of town]."
Googling for discounts: ConsumerAffairs recently did an article about where to find the "cheapest eats," but in updating our research, we found that Eater.com also curates a list of budget-friendly restaurants for major cities. Just search for "[name of city – e.g. "Detroit's"] Best Budget-Friendly Restaurants" to find recommendations.
Search for restaurant-specific discounts: For example, when we searched "discounts at Outback Steakhouse," there were bundles, day-of-the-week discounts, happy hour specials, and every day full meal discounts for military veterans, medical professionals, and state or federal service members.
Search for "free meals for kids": An additional search tip came from Andrea Woroch, a consumer and money saving expert, who told ConsumerAffairs to look for free kids' meals. "If you are dining out with children, check with local restaurants to see which ones offer free kids meals," she said. And she's right – ConsumerAffairs found a whole slew of chains that offered that perk, but to each their own. For example, on Tuesdays, if someone orders at least $15 on the Bob Evans app, they'll get a free kids' meal (one per customer).
Buy gift cards in bulk: Woroch also suggests that if a family has a favorite restaurant, they should buy a lot of gift cards from there. "Warehouse stores like Costco sell restaurant gift cards in bulk at a discount. You can get $100 worth of gift cards to California Pizza Kitchen for $80," she said.
Skip the extras: "No, you don't need that extra portion of fries, a diet Coke, or dessert," says Derek Sall, founder and lead of Life And My Finances​​. "These can add up really quickly, and then you'll end up paying more than you were prepared to. Besides, water is usually free at restaurants; not only is it cost-effective, but it's also healthier." 
Stick to iced tea: Alcohol can add a lot to the final tab. Since the markup on alcohol at restaurants runs 400-500%, one option may be to pass on the restaurant's wine or cocktail list. If you are going to imbibe, it's much more economical do to so at home.
Stop "splitting" the bill: "If you're tired of always feeling like you're overpaying when you dine out with friends, consider paying for what you order," UNSTUCKKD CEO Kahlil Dumas suggests. "If you're out at a restaurant or bar with a group of people, don't just split the bill evenly. Instead, pay only for what you consumed. This will ensure that you're not paying for someone else's expensive meal or drinks, which can add up over time."