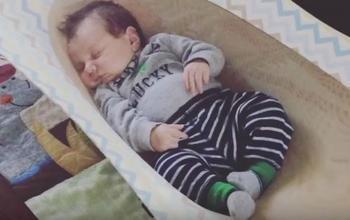 Ninety-one percent of parents are still putting their babies in cribs with unsafe bedding, according to a recent study. The same study also found that 14% of parents placed babies on their sides or stomachs at some point during the night.
Both the use of unsafe crib bedding and the practice of putting babies to sleep in positions other than on their backs can increase the risk of sudden infant death. The rates of accidental suffocation and strangulation in bed have been on the rise since the 1990s, according to the CDC.
Now, a new sleeping device may help minimize the risk of sudden infant death syndrome (SIDS) while simultaneously increasing the comfort of a sleeping baby.
Helps spine development
The Crescent Womb, created by a Florida dad named James Spencer, is an elastic bed which attaches to the corners of a baby's crib.
When babies are suspended in the hammock-like structure, they are in a "healthy, soothing breathing position," according to a report by Fox News. Babies are also, importantly, elevated and away from crib rails, excessive blankets, and bumper pads.
Beyond promoting safe sleep, the Crescent Womb may aid in the healthy development of babies' spines. Because the device cradles babies in a fetal position as they sleep, Spencer says their spines will be able to develop in a more natural way.
C-curve Vs. flat surface
However, not all experts believe the fetal, womb-like sleeping position is best for babies. Christina Rolles of The Lullaby Trust says no product can reduce the risk of sudden infant death syndrome. In a report by the Daily Mail, Rolles cites medical evidence that shows that firm, flat surfaces are best when it comes to reducing the risk of SIDS.
But Spencer says the product, which has been tested on CPSC standards, addresses the instinctive need of an infant to be embraced by a parent. The elastic material of the bed "replicates the support of a mother's womb," which could help babies self-soothe.
He also argues, citing research backed by the American Academy of Pediatrics, that a crib which conforms to the natural curve of babies' backs is less stressful on their spines than the flat surface of a crib. 
The product has garnered more than $110,000 in funding on its Kickstarter campaign, far exceeding Spencer's original goal of $30,000.