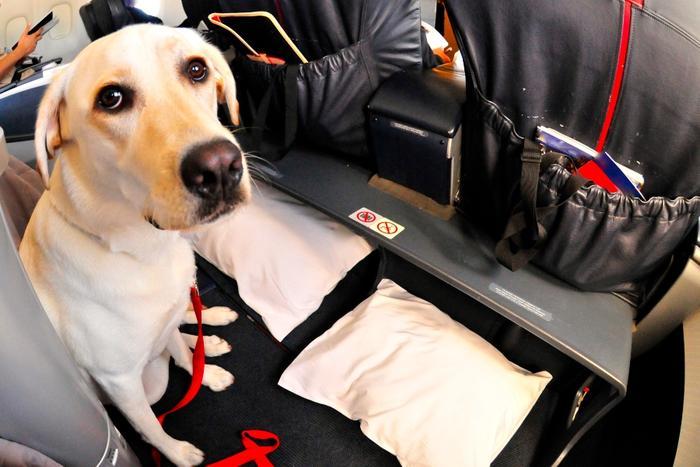 The U.S. Department of Transportation (DOT) is considering changes to its Air Carrier Access Act (ACAA), which regulates service animals on flights.
Over the past two years, Delta Airlines, American Airlines, and others have made sweeping changes to their service animal policies to accommodate travelers and establish some guidelines for what is and isn't acceptable.
However, there were several incidents in which airline employees were bitten. A number of fliers have also tried to push the limits by insisting their pets were necessary, but they were unable to prove that. 
United Airlines, for example, tried to shore up the gray areas by mandating that passengers have to provide a letter from a licensed medical/mental health professional, a veterinary health form documenting the health and vaccination records for the animal, as well as confirming that the animal has been trained to behave properly in a public setting. That's a lot of paperwork for anyone to fill out.
"Today's Notice of Proposed Rulemaking (NPRM) is intended to ensure a safe and accessible air transportation system," the DOT wrote. "It addresses concerns raised by individuals with disabilities, airlines, flight attendants, airports, other aviation transportation stakeholders, and other members of the public, regarding service animals on aircraft." 
What's being proposed
Here are the specifics the DOT is considering: 
Modify the definition of a "service animal" to read "a dog that is individually trained to do work or perform tasks for the benefit of a person with a disability;"

Separate what is considered to be an "emotional support animal" and what is considered to be a "service animal;"

Review whether a psychiatric service animal qualifies as a service animal and, if so, require the same training and treatment of psychiatric service animals as other service animals;

Permit airlines to require forms developed by DOT that verify a a service animal's good behavior, health, and in cases of long flights, whether the service animal has the ability to either not relieve itself or can relieve itself in a sanitary manner;

Permit airlines to require passengers with a disability who are traveling with a service animal the opportunity to check in at the airport an hour prior to the departure time. The DOT's reasoning here is that it doesn't clog up the check-in process for the general public and it also gives the airline time to observe and further evaluate the animal; 

Grant airlines the permission to limit the number of service animals accompanying a single passenger with a disability to two;

Empower airlines to require a service animal to fit within its handler's foot space on the aircraft;

Continue to allow airlines to require that service animals be under the control of its handler, whether harnessed, leashed, or tethered;

Allow airlines to refuse transportation to any service animal that shows aggressive behavior and, therefore, potentially poses a direct threat to the health or safety of others; and

Continue to prohibit airlines from refusing to transport a service animal solely on the basis of breed. For example, Delta forbids pit bull type dogs.
For the good of all
The DOT senses that there might be some blowback on these changes, but it thinks too many travelers are trying to work the current system in their favor.
"The Department recognizes the integral role that service animals play in the lives of many individuals with disabilities and wants to ensure that individuals with disabilities can continue using their service animals while also reducing the likelihood that passengers wishing to travel with their pets on aircraft will be able to falsely claim their pets are service animals," the agency said.
The American Kennel Club and Assistance Dogs International are on board with these changes, too. "We recognize the wonderful service that all dogs can provide to comfort their owners, however we support the ADA definition of service dogs,"  American Kennel Club's Vice President of Government Relations Sheila Goffe told ConsumerAffairs.
"[We believe] these proposed rules represent a real step forward for assuring the safety of both the traveling public and individuals with disabilities who rely on service dogs to perform tasks that enable them to carry out their daily activities."
"This is a major step forward for airline accessibility for those with disabilities that travel with Service Dogs that are necessary for their wellbeing," added Sheila O'Brien, President of Assistance Dogs International, North America, in a statement to ConsumerAffairs.
"By aligning the definition of Service Animals with that of the American's with Disabilities Act, the 17,504  actively working Assistance Dogs International teams in North America, will be able to travel safely to their destinations."
Comments on the NPRM must be received within 60 days of the date the notice is published.  The NPRM can be found at regulations.gov, docket number DOT-OST-2018-0068.