Baggage issues have become a major thorn in the side of travelers. In August 2023 alone, the U.S. Department of Transportation (DOT) reported that 253,824 bags were "mishandled." 
But there's a thornier issue brewing that is starting to really get heated. What is and what isn't a "carry-on" and what airlines will let you bring a "carry-on" for free and what airlines won't?
If it were only that simple. 
When it comes to ConsumerAffairs reviewer comments, it's a cornucopia of hot messes. Delta has its issues. Then, there was Spirit, which one reviewer claimed charged them an additional $99 for a bag that they had already checked online and carried with them on a connecting flight. 
United racked up several baggage-related complaints – one of which raises the warning flag for anyone who's flying United anytime soon. "UA requires Economy passengers to check in their carry-on bags and pay $35 each for them --- we ended up paying $105 for one suitcase and 2 carry-on bags!" the traveler claimed.
Jetblue has issues with "defective" baggage check-in kiosks.
Allegiant allowed one traveler a free carry-on for the "to" leg of their trip, but charged them $50 for the same carry-on on the "return" portion.
And American? One reviewer claimed that despite their carry-on fitting in the bag-fitting thing, they were forced to check the bag.
A traveler who flew Alaska Airlines felt they were indiscriminately asked to check their carry-ons when others with larger bags were allowed to take theirs on-board.
But the hottest of messes belongs to Frontier. In comparison to its peers, the airline received 39.6% of the baggage-related complaints ConsumerAffairs reviewers have written about carry-ons, baggage, or luggage, including trivial things like telling one woman that she couldn't carry on her small purse. 
Now, the airline is facing a lawsuit from a Florida-based passenger who is suing the ultra-low-cost carrier (ULCC) Frontier Airliners over the additional $100 that they had to pay for a carry-on bag right before they were about to board a flight, despite the traveler's belief that the bag was within the airline's published size and weight limits.
The reason Frontier staff gave the passenger was that they couldn't fit it in the bag sizer – and that got the traveler's attention. So much in fact that they're claiming that the bag sizer available at the gate was smaller than it should have been.
This could get worse before it gets better
Airlines love, love, love bags because there's gold in those bags. The Department of Transportation shared information with ConsumerAffairs showing that U.S. airlines hauled in $1.85 billion worth of baggage fees in the second quarter of this year alone, making a projection of $7.2 billion for the entirety of 2023 a very real possibility.
And one travel expert suggests that it might be "game-on" for airlines trying to find ways to twist things to their advantage so the traveler is forced to pay more in the baggage department.
"A couple of major airlines – Delta, United, and American – recently changed the size limits of carry-on luggage slightly," Brittany Mendez, CMO of FloridaPanhandle.com, told ConsumerAffairs. "The change in dimensions (in inches) went from 22x15x9 to 22x14x9. That's an entire inch less for the width of suitcases, and many people have found that the suitcases they used to bring on are no longer being allowed."
Fortunately, travelers have a little breathing room for the time being, Mendez says, because some airlines are checking those bags free of charge, since most people don't know about the change.
Anton Radchenko, CEO of Boston-based AirAdvisor, told ConsumerAffairs that the shift in dimensions has shown up at Allegiant too, where it now stipulates that personal item bags must be 16 by 15 by 7 inches, which is on the smaller side.
'Personal Items' games are being played, too
Most airlines leave it to the gate agents' discretion to enforce size and weight rules for carry-on bags.
"Budget airlines like Allegiant, Frontier, and Spirit [not only] charge a fee for 'carry-on bag' [but also] enforce a very strict free 'personal item' that has to fit in a specific container at the gate to not be charged," Ben Beck, director of Marketing at Tortuga Backpacks, told ConsumerAffairs.
"We are starting to see this trend of charging for carry-on bags spreading to other airlines like JetBlue whose Blue Basic Fares are cheaper but do not allow you to have a free carry-on."
Beck was kind enough to offer Tortuga's guide to sizes for both carry-ons and personal items that might come in handy, too.
Can consumers play the game their way?
If the airlines can play games, does the traveler have the right to play their game, too? You could try, but you've got to be careful, Radchenko said.
"We have been made aware of instances where passengers have tried to pass off larger bags as personal items, which we strongly advise against. Airlines have safety obligations to meet, in terms of the size of bags that can be placed in seating areas - and they take these obligations seriously."
"Trying to get away with using a large bag as a personal item can result in passengers having to pay high on-the-day airport prices for an additional cabin or hold items, which they will also not be able to access easily, or at all during a flight," Radchenko commented. 
And, those on-the-spot fees can be rather high, too. ConsumerAffairs heard from one United traveler who said they were interrupted at the airline's ticket counter and militantly told not to bring their carry-on to the gate. United said he had to pay a $30 fee right then and there even though their carry-on was the usual size of a rolling bag you normally either bring on the plane or an airline will check for free at the gate when the overhead bins are crowded.
All of this means one thing: the onus is on the traveler to know what's what when it comes to bags and carry-ons because the rules and fees can be different from airline to airline and even trip to trip.
Katy Nastro, a spokesperson for Going.com said there could be a payoff for reading the fine print in the "terms and conditions" of your ticket.
"If a carry-on is necessary, paying for the bag earlier during the check-out process can help you avoid getting hit with an even higher price at the airport," she said.
Low fares may not really be that low
"Low-cost carriers like Frontier and Spirit advertise incredibly low fares, but in reality, there are many additional costs associated with those fares,"Nick Ewen, director of Content at ThePointsGuy told ConsumerAffairs. "And there's rarely an opportunity to evade them, as they play a key role in these airlines' financial performance."
Ewen indicated that while Spirit and Frontier may be the chief boogiemen in this situation, the major carriers like American, Delta and United also include similar restrictions that were largely developed in response to low-cost carriers. 
"In fact, Delta limited the rollout initially to markets where it competed directly with Spirit — and even called them 'Spirit match fares' in a 2015 earnings call," Ewen said. "Again, customers should carefully read the restrictions on these tickets prior to booking to make sure they're fine with them."
Ewen says there's one other thing that travelers who are nervous about the whole "terms and conditions" gotchas should do is book directly with an airline rather than through a third-party site like Expedia or Travelocity. 
"An airline will typically disclose these restrictions very prominently and may even prompt you to commit to the restrictions during the purchasing process," he noted, sharing a screenshot from Delta's website suggesting one gotcha some consumers may never see.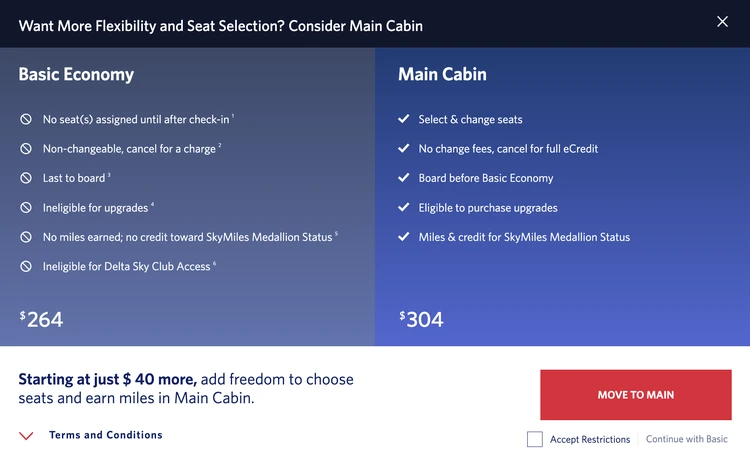 "Note how prominent the 'Move to Main' icon is, whereas you'd need to check the box and click the small 'Continue with Basic' to commit to the basic economy fare," he said.