Consumer Complaints and Reviews

Horrible customer support, misguided website, took money out of my account instantly within three seconds. Try to cancel my reservation, took $180 penalty to cancel all within 3 seconds. Waited half hour on the phone, rude customer service, gave me only partial refund. No wonder why these airlines are making cheating honest customers.

I was scheduled for a very early morning flight from Atlanta to Houston in February. I had a situation that caused me to get to the airport much later than I needed to be, and after being in line for 30 minutes the plane was boarding and there was no way to make it to the gate. I don't blame the airline - this was my fault. It was Super Bowl weekend and I didn't see the email from the previous night warning me about the extremely long lines and I missed my flight. I blame them for the incredibly rude and condescending way the agents spoke to me. Even before I found out they weren't empowered to help me salvage the situation, they were unprofessional and stood around the counter chatting and arguing about who was going to help the next customer.
I spoke to two people because I left to think about what I could do and I came back. Neither employee was helpful at all and could only book me on a flight the next day that would get me to Houston less than 12 hours before my return flight. There is no policy whatsoever to help you find another flight even if you are willing to pay for it. There is no partial credit or coupon for a bottle of water. I went to the United desk and they found me a flight for a great price that wasn't offered online. They were helpful and informative. The exact opposite of what I experienced with the nickel and diming at Spirit. I will never buy another ticket with them.

I took the flights from Chicago to Houston, Spirit Airlines lost my checked bags, for this bags I paid 52 dollars, and next day when I call them they just told me to wait. After 12hours they said found the bags, they will let delivery company send to me, and told me will take 8hours, that's sucks, from airport to my place only take 20 minutes, they said take 8hours, and then just hung up my phone. They even don't care my feelings, no matter how many times I call, just hung up my phone. Spirit Airlines is worst airline in the USA.

Where do I begin!!! My wife and I travel all the time up to three times a year. My wife is a smart shopper in that she tries to obtain the best possible fares for our travel. Spirit Airlines seemed to offer the best price and a direct route to our destination - Boston to Las Vegas. Little did we know that that was just a bait on the hook. First, and because of family issues, my wife tried to go online to make some changes. Their site is not consumer friendly and it was impossible to do any changes. After an hour of frustrating trials online, she decided to call customer service. The wait was over an hour, and then the rep had such a strong accent, that she had him repeat himself numerous times to try and understand the reason behind the hundreds of dollars charges for the changes.
All the while the CS rep kept repeating the same thing, like a parrot; definitely reading out of the policy book, word for word. It seems Spirit Airlines, have people in the far east to act as their CS, who knew nothing about the Spirit scam except to read out the policy book and no explanation as to why the difference of price. A $750 round trip for both of us winded to be $1500 when all was said and done. Ridiculous and outrageous how they conduct business in this matter, and still remain operating.
Second, we could not check in online unless we create an account. Ok, so we did after half hour of site instructions that was very confusing. Then we found out that it was going to cost us to check in bags. Regardless, we tried to check in our luggage online, but to no avail, because the site said it is cheaper. Apparently, they want you to get to the airport and charge you the higher price. What a scam. At check in it cost us $105 to check in one reg size bag and one carry on. Mind you it was cheaper to check in a carry on than to take in on the plane. Weird! Now both suitcases were put on the scale and both weighed 87lbs. To our surprise, the weight limit is 40lbs. The only airline with this limit, all the rest are at 50lbs!
Therefore, attendant make us take out 7lbs from either of the bags, where the total of the two would add up to 80lbs. Ridiculous! Can you imagine if we had checked in two regular size bags, weighing at 50lbs, per their info on the website, 10-50lbs, we would have been screwed and paid an arm and a leg. At this point, we just wanted to get it over and fly away. So we paid for the two checked bags and removed the excess in my wife's personal item. Third, getting to the gate, the flight was delayed 2 hours. There was a maintenance issue. Then we find out that the flight was overbooked and wanted volunteers to get off this trip. Instead of 8pm departure, we left at 10pm EST. It was past midnight when we arrived Vegas time.
Fourth we were the last couple by the belt that kept rotating empty, waiting for our bags. The small carry on arrived but the larger suitcase never left Boston. They had us fill out a complaint form and promised to get the bag to our hotel as soon as it arrives. Two hours later exhausted, frustrated, and mentally and physically drained, we made it to our hotel. So much for enjoying a drink and a couple of hours before we retire and call it a night. With no change of clothes or sanitary products, we crashed hoping that we'll wake up with a call from Spirit Airlines informing us of the arrival of our bag. Regrettably that was not the case. We called the number they gave us on the form every hour on the hour, only to hear the same excuse, "Oh no answer from Boston yet", or "Boston are asleep now. We'll try them in the morning".
The next day wearing the same sweaty clothes, we went to the mall. It was a day wasted shopping. We had a show to attend to that evening and dinner plans. By the end of that night our suitcase was still not here. We went to bed and the 3rd day the bag arrived at midnight. It was only a 5 night 6 day vacation that turned into a nightmare. It seemed that we flew all the way to Vegas to go shopping, because the last day we spent the time we had in the morning at the mall returning some of the stuff with tags still on them that we didn't wear.
Fifth, departure from Vegas to Boston departed at 10pm Vegas time. 15 mins into the air, there was an announcement of engine malfunction and that the pilot had to circle around to empty the fuel. What a scary moment. Three hours later we landed safely, thank God. Now it is almost 2am and all of the 200+ passengers were frustrated and anxious to get to the bottom of the situation and get themselves re booked. Yelling, screaming, and annoyed passengers did not make a difference. The manager on the floor was not helpful and was very unprofessional. She sent us all down to the check in counters where we first started earlier that evening at 8pm.
The line was out the door and was moving an inch an hour because of lack of reps behind the desks. First people in line were heard saying that they were given hotel vouchers and $21 for food for a couple. We spoke to the manager, who informed us that Spirit is not affiliated with any other airlines. We realized that by the time we get to the front all the next available flights would be booked. My wife then called on her cell phone CS, and we were able to get on a non direct flight out at 9:30AM. We still had to stay in line to obtain the food voucher, and a letter to my wife's work, in the hopes that she doesn't get ducked and lose a day of pay. The hotel voucher was of no use, since the check out was at 11am that morning. Mind you, by the time we got to the front of the desk attendant, it was 5AM.
Fifth, amazingly the flight took off on time and there was a layover of 3 hours in Colorado. $21 voucher got us some coffee and food from Dunkin Donuts. That's about it. No decent meal to brag about. Instead of arriving on Wednesday July 5th at 7AM and go the work on the 6th, we arrived at 10pm that Wednesday and didn't get home till midnight after the right back home to Rhode Island. Sixth, exhausted and tired without sleep for 24 hours, we didn't go to work until the 7th. We lost a day's worth of work and pay.
Seventh, all of that aside, the uncomfortable and tight seats that don't recline is another story. The passenger next to my wife was a big fellow and was almost spilling over onto my wife's seat. Sitting uptight and upright for 6 hours was the most excruciating experience ever. Not to mention Spirit is a la carte so to speak. You have to buy your beverages whether it's water or soda. Nothing is offered on the plane ride throughout the 6 hours flight.
The next day after our arrival back home, we received an email from Spirit Airlines apologizing for the cancelled flight from Vegas because of the engine malfunction, and offered us $300 voucher for both of us to book a flight before 9/1/17. Nice gesture, but never, ever, in our entire life will we ever fly Spirit Airlines. If they offered us free airfare around the world, we would not take it. They are not trustworthy or reliable. They are liars and their website is misleading. We advise everyone out there to pay the little more for a decent airline, because it would be cheaper in the long run. This airline should not be conducting business in such manner. Where are the feds, the government, the FDA, etc... someone, has to do something about this airline. Looking forward for it to be shut down, and we'll be the first in line among all the above sour reviewers to voice our concerns and frustrations.

My cousin has been travelling the past year with Spirit and never had a problem until tonight. We checked her in for her flight to Honduras and the lady gaves no problem. She paid for her luggage and we were or so we thought. When it came time to go through security there were 3 women at the door checking the boarding pass and very rudely told my cousin she had to go back and pay for the backpack. Meanwhile other passengers were passing without paying or being checked. We asked to speak to the manager. They told us in a very nasty way to go back to check in.
We asked for the manager and while we were waiting the employee told us that if the bag fit in the personal item slot my cousin could take it without a problem. When the manager came she already had an attitude and we explained what happened but she didn't even apologized and clearly didn't care that her employees all had different answers regarding the policy and I told her it was not our fault if they keep giving us wrong information and the rules should be applied to everyone. She threaten my cousin with not getting on the flight and called the Spirit agents at the gate and lied saying my cousin was causing a scene. After everything we got my cousin through. She left her backpack and we watch for a moment how they pick and choose who to charge and who not to charge. Oh and we also have video to prove all of this. I recommend for people to never travel on Spirit. It's never cheaper!
How do I know I can trust these reviews about Spirit Air?
825,614 reviews on ConsumerAffairs are verified.
We require contact information to ensure our reviewers are real.
We use intelligent software that helps us maintain the integrity of reviews.
Our moderators read all reviews to verify quality and helpfulness.
For more information about reviews on ConsumerAffairs.com please visit our FAQ.

1. When you purchase a tickets and 2. Have been cancelled because of cancelled flights, later look at your credit card statement. Somehow I was charged for 4 tickets, all for the same dates and credited a lot less than what I paid. My friend took me to Chicago for my morning flight departure from Spirit Air Chicago O'Hare to Las Vegas for my nephew recital and other nephew's graduation. When I arrived at my gate around 6-7 am I was told my flight was cancelled, I had already gotten my booking ticket before I left home, still no call, text or email telling me my flight was cancelled, so I went to the ticket area to cancel my reservation and refund.
At that time my friend needed to get back to pick his children up and I was hopeful in getting another flight out that evening as not to miss my nephew's recital the next day. I purchased another flight with Spirit Airlines. That evening I drove back to Chicago and the flight was about 8 pm which when I got there was cancelled again, I had never been so upset in my life. No phone call, no text and no email, back to the reservation desk to cancel for refund.
What the hell is the problem with communication? With all the running around and being on disability I could not find anyone with a wheel chair, I could no longer move. I then went over to Frontier Airlines that evening and purchased the only ticket they had which was leaving the next day (20th) day after my nephew's recital, I got there around 10:30 pm and could not rent my car because I was a day late. What a miserable mess. Not only that when I tried to figure out charges to my card v- charges on the reservation, nothing matched until I finally called Spirit and made them go through every transaction, they said "I will look into this matter and call you back", still no call after 3 weeks, it's just a waste of time and if you purchase the flight insurance like I have, it gives you another option, I have not heard anything back yet and my flight was in May 19-20 to May 24.

This is the worst experience I have ever had in my life! First, let me start by emphasizing that I cannot believe this airline is still in business after all you're doing to so many people at the same time. I had two flights canceled. I had to wait over three hours in line to find out my second flight was also canceled. When I got to the counter the customer service rep told me she would be giving me my money back since there were no more flights going out that day. I have been waiting for an entire week and no refund has reflected on none of my statements. I called you and now I am finding out that this request was never processed, and to top it all off, I am being told that I have to wait another seven days for you guys to process my request and refund my two accounts.
I cannot believe no one contacted me in regards to this and that you care so little about your customers. I disputed the charges already with my credit cards. I cannot allow your airline to play with my money and my time any longer. I am never flying with your airline ever again. I hope you get this addressed as I am sure there are way too many people right now complaining about your poor customer service. It is a shame that you are allowed to do this to people and nothing happens about it. You have lost a customer Spirit Airlines. Please get it together!

Had a flight canceled two hours before a flight out of Houston on a holiday. Upon contacting Spirit customer service I was offered a flight out the next afternoon or the following day. I had work meetings beginning the next morning and plans for that evening in my destination city. I had to get home that night. Requested the airlines book me on another flight that evening with another airlines (there were 10+ flights leaving the same airport that day with availability) was told that Spirit does not do that for customers. I cancel the flight and book with Southwest, for an additional $100 - on top of an $80 flight.
My traveling partner calls the airlines, they book him on a flight that evening with another airline - no charge to him. I called the airlines, who was now unwilling to help me out since I canceled my flight reservation, with no response regarding why I was informed that they were unable to help me out. Airlines offered no additional assistance since I was provided incorrect information, and was generally un-apologetic. The end of the day the amount of stress, lost time in traveling, time lost dealing with customer service and difficulty with setting up new reservations makes it well worth the additional expense to fly with a more reputable airline and avoid Spirit in the future.

When departing out of the Houston International Airport on 7/5/17, I experienced terrible customer service from both Spirit Airlines ground staff at the baggage drop off and TSA. The Spirit staff were not polite when asking for help and didn't provide accurate information when asking for assistance with baggage information. TSA was unwilling to accommodate my pleading request to use priority check-in to avoid missing my flight. Getting to the airport at 5:25a should have been enough time to make a 6:30a flight. The service and attitude of the Spirit ticketing and gate support as unacceptable. Spirit should learn better CRM. Spirit should inquire with United on how to provide better customer support.
I arrived in Houston last week using United Airlines. My experience was completely different. The United staff was much more accommodating. I arrived to the airport an hour prior to my flight departed and was able to get an upgrade in seating! I will never use Spirit Airlines again. I will certainly not be recommending Spirit to any friends or family regardless how cheap their flights are. You get what you pay is a true statement.

I booked a trip to Las Vegas as my first vacation in 5 years. My brother was getting married so I took my son, boyfriend, and mother. It was the cheaper option by at least $200 but PLEASE don't let that fool you. The listed price may LOOK cheaper but with sneakily added on fees it's not even close. Let's start with baggage, $30 each way for luggage under 40lbs (most airlines allow up to 50lbs and if they charge it's much less that that). I waited until about 3 days before my trip to pay for my baggage and they charged me an extra $10 each way. So for 2 suitcases I had to pay $160.
Next the planes, dirty, small, and they charged for everything. Even water cost. Not to mention flying with Spirit takes about 30 minutes longer than other airlines because of the size of the plane. Now I put up with all this without complaint because it was my fault for not doing my research. But 7 hours before my flight was scheduled to leave I got an email saying my flight had been canceled. It said to click the link to reschedule at no cost. When I clicked the link nothing came up. I called Spirit and waited on hold for an hour before I finally talked to someone. They said they could change my flight to a later date, but refused to pay for my hotel to extend my stay. And since I thought that was my last night staying there I was broke.
After crying on the phone for 20 minutes I decided to try and go to the airport in hopes I would have better luck. Turns out the pilots went on strike and 18,000 people across the US were out of a flight. I had to wait in line for 3 hours to speak with someone. When it was finally my turn the cashier was very polite and helpful. She rescheduled us to United (much nicer planes, free drinks, more room, faster flight). We still had to pay for another night in a hotel. She told me to keep all my receipts and they would reimburse me. When I got back home I emailed them with all my receipts. They said it would take about 30 days. It took 6 weeks but they finally reimbursed me for my food and hotel thankfully. As a gesture they offered each of us $150 in vouchers for a future flight.
I didn't want to deal with them again but I figured if I could get a cheap or free flight it'd be worth it. But no. If the flight was too cheap I couldn't use the vouchers. Every flight I tried it would only apply a portion of the vouchers. About $75-100 instead of the full $150. So any trip I picked I still would have had to pay $300. Spirit is an awful, unfriendly, unhelpful airline. Do not choose them because of the low ticket price. It will not be worth it.

I was attempting to book two flights but didn't correspond simultaneously... I booked the first flight. Then upon booking the second flight... I realized it wasn't available. I called customer service to cancel the initial flight since my associate was travelling with me. Customer service issues me a 60 day credit in lieu of a refund. I felt the credit time was too limited but was reassured that an extension could be granted. I called to book my flight today expecting to redeem my credit. Customer service informed me that because of the one week discrepancy... My credit is null and void. This company is definitely a scam and lacks the moral compass needed for success.

Spirit cancelled my connecting flight (along with ALL of their flights that day) from Ft. Lauderdale to St. Thomas due to "bad weather"... funny all other airlines were managing to get out that day! Then they say they will refund you but can't tell you the amount. My BF and I had to pay another $711.00 to book with Jet Blue (super nice company) in addition to the $1300.00 we already paid to Spirit. We were stuck in Ft. Lauderdale for 2 more days before we got out (another $140.00 to stay at a Days Inn).
When we finally get $351.24 back, I ask for a break down - how did you determine how much you are refunding? "Go online and look at your reservation under more options and it will show the refund breakdown" was the response I got. Well guess what - there is no explanation. They just pulled that amount out of nowhere and wash their hands off you. Terrible company, terrible service (obviously middle eastern call center and you can barely understand them). This was a lesson learned - you get what you pay for. I will book with any other airline besides Spirit going forward!!

While flying with Spirit on June 24, 2017 was the worst experience of my life on a flight. Customer while checking in was the worst. The customer service workers were rude and un professional. They speak to you with such rudeness!! I paid $222 for bags and the worker tried to charge me another $136 for the same bags. The flight attendant which was male was also rude. Before I could finish talking to him he walked away. I tried a second time and he did the same thing. The flight was freezing and of course no blankets. Couldn't sleep due to the seats didn't recline. Can you imagine a 5 hour flight sitting straight up the whole time. My luggage was ruined and my shoes.
My bottle of alcohol was missing from my bag. My bottle of mouthwash was opened and not screwed back on, so it spilled all over my bag ruining it and other personal items. Why would they open mouthwash??!! I've tried to contact someone about this to no avail. I will never in my entire life fly Spirit again and will not recommend Spirit to anyone. Spirit staff need better customer service training and the baggage amount should be dropped. I paid more for my luggage than I did for the flight. I have never been on a flight where you have to pay for water and sodas. What about your customers that your putting in this terrible situation!! I'm hoping with this review and others that Spirit will make some changes. Even if they do I will never fly Spirit AGAIN!!!!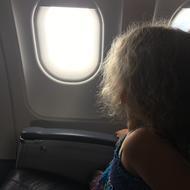 We were very nervous given all the negative reviews but I have to say we were pleasantly surprised! The cabin crew was very nice and although we had a booked flight other than the crew asking for volunteers no one was booted off the flight. The planes we took were very clean and I watched the attendant frequently check the bathrooms to make sure those were kept up to order as well. We paid for bigger seats so I recommend that highly! I would definitely fly with them again! Very pleasant all six times over an 11 day trip.

My wife and I booked a round trip from Philadelphia to Dallas on June 17, 2017 to June 24, 2017. Both flight were cancelled. On the 17th there were nine, yes nine delay notices then on the following Saturday the 24th there were 5 delay notices until the dreaded cancellation. Our checked bags were paid for but never saw the inside of the plane. Spirit rebooked us on American Airlines both times and we had to pay their baggage fee. I inquired at the airport about a refund. The Spirit employee said the baggage fee it's non-refundable.
When I complained, I got attitude. Paying for a service you don't receive is very upsetting. We had to get our bags, check in with American and go through security, again. Two full days of our vacation were wasted at the airport. We were offered vouchers that are totally useless to us. Spirit prices will never be low enough for me to ever book with them again. Pay a little more to have a pleasant flying experience. If it wasn't required I wouldn't give this company even one star as I am beyond very dissatisfied.

OMG!!! The only reason this company can offer better fares "initially" is because they charge you for every single thing after you book your flight!! Seriously, would have been cheaper for me to change my flight to any other airline than to continue on this road of "VISA charges"!!! When I went to "check-in online", I had to create an account, a pain, but I couldn't get past the screen without giving them all of my info. NOTE - as I am writing this review... They just announced delayed another 2 hours!!! OMG!!!
Once I finally "created an account" and clicked to "check luggage"... The fare is $42 a bag NOT a NORMAL $25!! Then, I went to select the seats to sit make sure I could sit next to my 15 year old daughter. The options, choose "random" for free... Or select seats ranging from $9-$43 per seat!! Seriously!! Chose 2 - $12 seats, ching ching another $24!! That's a total of $108 and that is just "check in" online!!! Got here to the airport to check our luggage and the lady looks at me to confirm, "So, our weight max is 40lbs, not 50lbs like normal airlines... You know this, right??? I was like, OMG, NO!!! Asked to see a manager, who was not helpful at all. So, my options were to take out 22lbs of items from our suitcases or pay another $55!!! OMG, ching ching!!! Another delay to leave about 20minutes later. And NOW, another 2 hours delayed!!! If you want a day a from hell, book this airline!!!

If I had the option to give negative stars I would have. I have never in my life experienced such a circus of an airline. And frankly not sure how they are even in business. Upon arriving to check in almost 2 hours early. The line to check in and check baggage was out the door, in short making me late to get to gate. Having obtained my boarding pass, the flight left 20 min early!! They never announced flight departing or my name for that matter over loud speaker. Flight left with my luggage but not me. HORRIBLE customer service! Spend the extra few dollars - save yourself the headache. Not worth it.

Flight via Dallas to Panama was delayed 2 hours due to God knows what which would have been all right except it made us miss our flight from Fort Lauderdale to Panama with nothing else available. They said they were not affiliated with any other airlines so could not help us get another flight. Left us two seniors stranded at the Fort Lauderdale airport where we had to fend for ourselves to spend the night and rebook on United Airlines to get there the next night. No offer of a hotel room, no cup of coffee, no help of assistance, no nothing. Only God may help you if you fly on Spirit. They have got to be rated the worst airline in the US.

I was very disappointed the Spirit Airline lied about their cancellation of my flight from New York LaGuardia to O'Hare, Chicago. 1st I was told by the counter employee that the flight was cancelled due to thunderstorm in Chicago. Then right the way I called my wife & told her about the cancellation. She told me there is no thunderstorm now & predicted no thunderstorm or rain later. I also called the farmers market manager that I will not be able to open the market tomorrow because of the flight cancellation due to the thunderstorm. She was very surprised & told me there no storm now & later.
I went back to the counter & told the Spirit Airline employees to tell them there's no rain & thunderstorm now & later. Then they told me another excuse that the control tower in LaGuardia airport instructed Spirit Airline were not allowed to have plane to fly out because the airport is so small that cannot allowed too many planes to fly out. Finally they said can book me next day & same time flight out. I came back to the airport next & found a lot of people there. The plane is not full. Also l was told many passengers were also cancelled yesterday without compensation. The rumor spread around was Spirit did not have enough passengers for the plane. Therefore they have to consolidated the passengers to next day flight. I am very bitter, disappointed & angry. I had to paid the extended hotel stay, taxi, parking & loss of business income. I will never fly Spirit again. This is the first time at my lifetime ever happened to me.

I had a Spirit flight from Newark to Houston cancelled two days ago for no reason. I re-booked for today. It was cancelled again as they said plane could not get there due to weather. Anyway, I am out $1,100 for 3 nights hotel, $1,500 for having to re-book a one way fare to Houston tomorrow and $150 in car rental extensions. Next Spirit available was Thursday. This would have meant 3 more hotel nights. They have refused to pay for anything other than offering me a couple of $50 vouchers. Spirit Airline is Anti Consumer. This company is a loser and I will not fly with them anymore.

These ** have a business model designed to harass any customer that requires any sort of assistance. They say that they encourage "self-service" for customers to reduce customer service cost. So they charge $25 for any changes done through customer service. So to avoid those charges, customers will do them online. Then there are things that the customer is NEVER able to do themselves online -
1) like applying existing credit to reservation changes, 2) partial cancellation of an itinerary 3) using credits from multiple sources to book a single ticket. So they will call customer service to get it done. Customer service charges $25 for the "extra service" which was never available to the customer. I had to pay them to use my own voucher credits.

I had booked my flight more than month ago so we can have our son's first birthday party and enjoy the vacation time with family and friends who were flying from other states. Unfortunately, the birthday boy and his parents couldn't make it because the SPIRIT decides to cancel their flight at the time we arrive to the airport.
When we get to the airport, we see an email from Spirit that our flight is cancelled, I tried working with the staff over the phone and at the airport customer service and I got two options from their staff. 1 to get a refund, 2nd to book a Tuesday flight (from the airport staff) OR Sunday flight (from the phone staff). Don't know what to believe. When I spoke to a manager in a loud voice at the airport, I was told to learn how to talk in my inner voice and not to talk loud and she was THREATENING me to call those police officers to be involved in this. Mind you not that the police officers were listening to our conversation for more than half an hour and knew exactly why people were mad. I offered the manager to involved those officers but she knew nothing would change and she backed out.
The supervisor I talked to at very last over the phone tells me she will have to hang up as they got other customers to answer. Well, if you were only providing two options to people, why don't just post it on your site that "We have two options for your flight cancellation AND CAN'T DO ANYTHING MORE THAN OUR GUIDELINE SUGGESTS. WE DON'T CARE ABOUT OUR CUSTOMERS."
Finally, I gave up. Got my refund OVER THE PHONE AFTER 2.5 HOURS, book another flight. Will never fly this airlines. This was my first experience trying to fly with SPIRIT. Never again even if I got a free ticket. This Airlines should not be in the business to get people from point A to point B. Non-Reliable, they cancelled the flight because their planes weren't fully booked as I noticed many empty seats during my check-in. They were blaming on the weather while other airlines were flying before and after to same destination as we were supposed to be.
This is a scam...good way for them to cancel the flight claim that in their insurance that they refunded all the passengers and claiming tax credits by showing loss for the wrong reasons. If you can't be reliable, don't be in the business where you are in charge of getting people from point a to b. I will do my best to put this out in the news channels. Good luck! Hope I see this airlines being banned. Will never fly you and hope no one even books this flight.

We arrived to the Ft. Lauderdale from our house to get to Atlantic City, because that is the only airline that flies there. As we arrived everything was normal as the airport goes. As we were awaiting to board our flight that we were supposed to board at 2:18 and leave at 3:03, the name was magically removed from the departure list and the gate led TV (that says the flight info). As people were beginning to get confused. They started to go up to the gate to ask where it went. But all they got was a trashy woman on her phone with her BOYFRIEND! She told everyone in a bad tone that it was canceled. So five minutes before departure and we all still weren't on the plane that was actually there and they just told the customers awaiting to actually board the flight.
They finally announced it on the intercom, that it was canceled, there was a stampede of people running to the rebook desk. As soon as we got there the line was a 1 to 2 hour wait. They told everyone to call their number for faster help and it was an hour wait. You won't believe this, when we got the operator she got "tired" and "was ready to go on break" she put us back on hold.
When the hour was up again we got an operator again and they said there was no refund because it is not their fault the weather is bad. Btw it was partly cloudy and sunny at both the arrival and destination. But other flights were leaving so that doesn't make sense. We ended up getting out of line to find other flights close to our destination, but there was none for a week except Spirit which was backed up for more than two weeks. We ended up going back home and missed our three week vacation and didn't get to see our sick grandfather before he went into surgery. Thanks a lot Spirit!

I just want to give Spirit a great review. I was afraid to ride them but if they so bad why are they so full, the flight was on time, my one personal items made it. I was worried about that it had wheels. Also staff was awesome, friendly, cheap flight, clean plane, seats awesome for the money. Don't believe all the bad stuff.

At first flight was delayed due to bad weather at place of destination earlier. Then the crew was unable to flight us back so they lied saying a different crew was going to flight the plane once the required paperwork was done. We sat in the plane for over 2 hours before they decided to inform us that the flight was cancelled. When we asked why the flight was cancelled, every employee including the supervisor in duty were all rude. Some blamed the other airport while others blamed their corporate. Once all this mess was over, it was past midnight. No hotel rooms were available and many of us had to sleep at the airport. Some of us had small children, but they could care less about the inconveniences they were causing their customers. This was my first and last traveling experience with this company.

On 6/15/2017, Spirit Airline suddenly cancelled my minor child ticket home. Customer service hung up on me and refused to help get her home by any other route. Spirit wanted rebook her on 6/19. I guess it acceptable for a 17 year old to live in airport for 4 days...alone. This is unacceptable.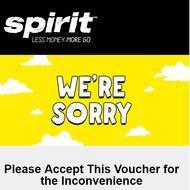 Had an early morning flight to Las Vegas for a weekend. Flight was canceled 4 hours before the scheduled departure. Spent 2 hours on the phone with a customer service department that could barely speak English. Only to find that their fix was to put me on a flight the next day with a 5 hour layover in Detroit. So we ended up going to the airport where the airport staff was far more helpful. They were putting people on different flights from different airlines and got us to Las Vegas the same day. Turns out they had made some staff cuts to improve customer service and then did not have the staff to fly. Then Spirit sends out a "Sorry for the Inconvenience" email offering a $50 voucher valid on the next flight in the next 60 days. Seemed like a joke!!!
Honestly what are the odds of the general population to fly the same airline twice within 60 days. Not very likely, maybe for the business man/woman that makes the same flight every week but overall a small percentage would actually use. Well I thought I could just use it on my flight in a month back to Vegas. Called customer support; was told that the voucher is not valid for my trip that is in the 60 day window because it was already paid for. I had also asked if they could remove one of the checked bags because I was able to fit everything into one bag. They said they could not because it was already paid for. So I asked them to refund the $50 for the voucher and cost of one checked bag. They said that they could not do that.
Initially it seems like Spirit is a good bargain or cheap flight. It very well may be if you can pack everything you need into a backpack. You certainly do not want to check bags as it will cost you $ hundreds extra. I would just save yourself the hassle and fly anything else. If you have to check a bag you will likely pay more than just flying Southwest, United, American, Delta and etc. I know I will NEVER fly Spirit again!!!

I am appalled by the deceptive policies listed on the Spirit Airlines website. We needed to cancel a flight and the manner in which the "refund" policy was written it initially looked as if I would lose $90 for cancellation so that I would at least get a portion of my money back; however, when I continued with the cancellation process I discovered that an additional non-refundable fee of nearly $40 was not going to be refunded and the proverbial icing on the cake was that the refund wasn't even a refund. It was a credit for another Spirit Airlines flight that would expire in approximately 60 days.
Calling it a refund on the website is more than deceptive. It's a lie and it took me more than 10 minutes on the telephone with a representative to lose the sophistry and flatly say yes to me when I asked him if I'd just have to eat the two-hundred plus dollars. I am disappointed and angry and will never consider booking a flight with Spirit Airlines again and I plan to actively tell as many people as possible about my experience...

OMG! I have traveled all my life. Some pretty sad airlines, one that even allowed farm animals on board. But I have never had as bad an experience as I did with Spirit Airlines! If I didn't know better I would have thought I was being pranked. Pay for our seats, pay to select your seat, paid in advance to check bags and paid for TSA PreCheck to zip through the lines. I knew Spirit was a discount airline so I was not expecting much, in fact I prepared myself for a crappy flight. Figured I would get on board, put my head phones on and recline the seat and ride it out. How bad can it be?
Get to the airport knowing being the smart guy I am with all my prepaid services I was ready to board the aircraft! First stop, curb check my prepaid luggage. But no curbside baggage check! Ok, guess I need to drop off inside. But wait a minute, I have to stand in line with a bunch of MS-13 gang members! Notice the line is not moving. That would because not one airline employee is at work yet, 30 minutes before the flight. Stand in line for 30 minutes only to be sent to a different line to check my bag. I am now informed flight is late an hour. Finally check our bags an hour and a half after arriving at the airport and off to the dreaded TSA line.
The TSA was the best part of the trip! After getting through the TSA my wife and I had to walk for what seemed like miles. Spirit gate is nowhere near the check in counter. Spirit uses whatever gate is available. Finally at the gate! MS-13 gang members are starting to realize customer service sucks. After a circus at the gate finally on the aircraft. OMG the seats are more comfortable on any NYC subway car! Put my headphones on, sat down, waited another 45 minutes so the flight attendant could calm down the rightfully pissed MS-13 gang members.
After we roll down the runway to the ski I reach for the recline button to take the nap. Guess what. The flipping seats don't recline! And don't buy a drink, there is no place to put it. The seat back tray is the size of a credit card. An hour and a half into the flight I was in massive pain from the hard ** seats. Seeing I could not sleep I counted every second of this miserable flight! I have never wanted off an aircraft so bad in my life! I could go on and on. You could not pay me to fly Spirit again. Stay away. Sad day when the MS-13 members treat me better than the flight attendants.

I started receiving (by email) flight delays at 1pm the day of my 7:40 pm flight out of Atlanta to Philadelphia. In the emails I was directed to still arrive at the airport an hour before the original flight time. I arrived at 5:30 even though the flight was delayed by 2 hours. Once at the airport the delays kept coming by email. Every delay got later by an hour for six straight hours. The gate attendants said it was due to weather in Tampa or Ft. Lauderdale Florida. But all other airlines were coming and going out of the same hub. They were rude and uncaring.
Finally the fight was cancelled at 1:30 am. Come to find out the same plane had been cancelled the day before due to lack of pilots and staffing. (I found this out through social media not customer service, which had me on hold for 30 minutes.) They had no compensation other than to refund my money in 5 to 7 business days. Nothing for my time, expense of booking another airline or even to offer lodging or another flight, not that I would have trusted them to book me on any plane they were running. This airline is a complete disaster! Don't fly them ever! Unless you want to be lied to, treated as if you are not paying for your flight or just want to sit in the airport cold, hungry and tired. Did I mention everything was closed at 1 am so we couldn't even get anything to eat?
Spirit Air Company Profile
Company Name:

Spirit Air

Website:

www.spirit.com