Consumer Complaints and Reviews

I was travelling from Detroit to Atlantic City on September 2. This was my first visit to the US. I had to check in my baggage. There were a few people assisting in filling the forms at the computers installed for the purpose. I gave my Centrum Card for payment and it was announced that I had to pay a whopping $315 excess baggage. However, at that time the computer did not accept it is what I thought and one more lady assistance helped me to again check-in and I paid $110 for both my friend and my luggage. I was happy that I was saved paying $315 and as $55 is the baggage charges for one bag I thought I had paid it and promptly forgot about it.
But to my utter shock and dismay when I returned to India and checked my Centrum Card statement of accounts I find that the Spirit Airlines has collected $315 apart from an extra $110 which is nothing but fleecing the customers. It is also nothing but daylight robbery played on trusting unsuspecting passengers like us who come from far off places believing that everything that is good is in America. The flight no was NK341 and confirmation code ** in the name of **. I only hope in good "Spirit," the Spirit airlines will refund the $315 which they had taken deceiving a trusting gullible customer. Otherwise, I have to take legal recourse.

I had no problem flying from ATL to Las Vegas this week. I read the FAQ section of their website, I read reviews here and on several other sites (mostly bad), I reread all the rules and baggage information on their website. Then and only then did I book my flight. No problems whatsoever. All airlines get delayed sometimes. All airlines cancel flights sometimes. All airlines have issues come up that don't please everyone. That being said if you are an adult and you can read, why are there so many complaints out there for issues that are perfectly spelled out for you on their website? Both flights left a few minutes early, the flight going arrived early. The flight coming back arrived on time and the pilot told us before lift off that there were some weather issues over Texas so we would have to take a slightly different route to avoid any trouble and that could possibly make us a little late into Atlanta.
The pilot then came back on to inform us that traffic at Atlanta was very heavy so we were forced to slow our arrival down a bit. We still landed on time! I get that things don't always go as planned, but it can and does happen with every single airline out there. I felt like it was important for me to write this review because if you read the rules and follow them this airline is just like any other, at less than half of the cost.

I have been flying for years and I have never experienced anything like Spirit. I am supposed to be traveling to Mexico for a friend's wedding today and Spirit Airlines canceled my flight. I get they "have smaller planes" so they are doing it for my safety but they won't rebook us on another flight until Sunday even though they are not canceling their flights tomorrow or Saturday. I have flown with other airlines that cancel flights and they find a way to get you on another flight of theirs or they rebook you with another airlines within 24 hours but Spirit has NO options for me except give my money back or fly on Sunday... 4 days later! Oh and I am on my 3 over 1 hour wait time holding to get my money back because their customer service ALSO is the worst.

The extra time taken out of your life by dealing with these bozo's is not worth the proclaimed savings. I would never, ever do business with this company again in my lifetime and I will be sure that anyone I know does not do business with them. They are just so bad that I couldn't even imagine how bad this place is but now I'm stuck. Do not be taken in by the claims of this place, they suck the life from you if you have any issues and then they nickel and dime you to death.

I bought a friend a round trip ticket and she had to cancel a flight to DFW due to illness related to a disability. She immediately purchased another ticket on the same airline to fly a few days later. Yesterday, when she tried to check in for the return flight, she found her return reservation had been cancelled because she had not 'called', even though she purchased a second ticket in the same direction as the flight she missed. They would not reinstate the reservation even with offer of a Dr note or explanation that she is disabled and could not travel that day (nor make extra phone calls) solely due to her disability. They also did not warn her that her reservation was cancelled. We understand airlines do this to prevent abuse of the airfares from people trying to save a few bucks, however this is clearly and provably not a case of that.
In addition, we were on the phone for 45 minutes with an Indian woman who kept telling us the reservation would be reinstated and we would get an email in 15-20 minutes - obviously an attempt to get us off the phone. We kept asking her to confirm the email would allow her my friend to fly and she kept saying she would "rebook on a different aircraft for the same flight time", well this made no sense as there is only one flight from this airport at that time. What she was really NOT saying was we were going to get an email stating that we would have to purchase another ticket for the reservation that had been cancelled - except she lied to us for 45 minutes straight and had to come clean when we refused to end the call without seeing the email.
We went through two "supervisors" who just kept explaining how they screw disabled people over and in the end were told our next level of complaint was to wait for "an email from corporate' - of course because "corporate" has no real people we can speak with as it is an "online" company. I think now, do we want to trust an airline not run by real people but only some imaginary "corporate" group who, if they can do this to a disabled person do you think they care about compensating their employees fairly? Do we trust these employees to maintain their aircraft to the highest safety standards? The first plane I flew on was beat to crap, filthy, worn, broken seats and tray tables. Worn and torn seat covers.
Do I have reason to believe this airline takes any better care of the airplane itself? Ya know, the part that keeps it in the air and everyone alive? I think not... From now on I am a firm believer that you get what you pay for and this airline has such a high disregard for its passengers that eventually they will kill a planeload of people. Mark my words.
How do I know I can trust these reviews about Spirit Air?
608,728 reviews on ConsumerAffairs are verified.
We require contact information to ensure our reviewers are real.
We use intelligent software that helps us maintain the integrity of reviews.
Our moderators read all reviews to verify quality and helpfulness.
For more information about reviews on ConsumerAffairs.com please visit our FAQ.

Beware of Spirit Air's involvement in illegal and fraudulent business practices when it comes to refund of your fare and cancelled tickets. I bought for the first time a ticket from Spirit Air over the Internet based upon price based comparison. Little did I know that everything has a price tag in Spirit Air. After buying, I got scared based upon the Internet review of their flying reputation and inconveniences they cause to customers. I called them to cancel the ticket after 3 days. I was told that money cannot be refunded after 24 hours, and has to be used. The flight was still 40 days away. They never advertised this ill policy on the Internet or on the ticket. They charged my credit card. Now they are trying to collect money through my credit card company. I have cancelled the credit card. Any advice will be helpful.

I usually refrain from criticism. I always fly with Spirit but, because of this experience I do not plan to fly with this company again. First, as I waited at check in the ladies were standing there ordering Starbucks. Then the ticket machine was not printing. Instead of informing me of the issue they continued to get Starbucks orders correct. I said "excuse can someone please tell me what is going on". I was then informed there was no reservation for me??? Then I was informed my bag was overweight and would have to pay $55.00.
Put in mind that my bag was weighed when I flew into Vegas and it passed. No issues. Then I was asked to take something out. I asked if I could put in my purse. I was told it would have to be thrown away. I ended up taking out some items and one agent speaking in Spanish said "bieno, bieno" (GOOD GOOD). I hope they enjoy. Customer service was horrible. Security was even worse. I WISH I COULD GIVE A ZERO!!

I needed to make a change for a return flight. Well, their website did not work! "Try again, if the error persist contact the airline." I tried more than five times using different browsers and computers and the result was the same. My credit card was always denied. I even called the credit card company and they told me that there was nothing wrong with the card. They never received any charges that were declined... So I called the airline and I was told that they were going to charge me $25 for the change. I explained that their website was not working and the girl even said to me that they tried it with their computers and there nothing wrong with the website... "Of course there's nothing wrong with the website until you put the credit card information and click 'continue'!" I told her. And of course, she didn't get to that point!
Even though it was their website, they did not waive the charge. How come I was able to buy a ticket but not to change it and save $25? I stopped using this airline, because they're dishonest business, long time ago. But because it was the only airline that had a seats left, and I had an emergency, I had to use it. But this corroborates, years later, that their abusive dishonest practices get worse by the days!

My son and I were flying from Kansas City to Los Angeles. We arrived at the airport at least 30 minutes before the plane was scheduled to leave. After going through security, the customer service rep. told me we were too late to board the plane. The plane was still there. They offered no alternative options, kept my money and basically told me I was SOL!!! I spoke to a supervisor on the phone and he said the same thing. I will never fly Spirit again. They are the absolute worst airline.

I was at the Gate in Las Vegas with my wife. They gave her a seat and nothing for me... They said in a very brutal "go and wait... You will be our last concern and if you continue to complain we will call the police." I told them I am a passenger and they have to find me a seat since I have a boarding. They came back and told me they find a seat but not next to my wife. But the boarding is close and I have to stay in Vegas 48 hours at my expenses. I WILL TAKE THEM IN COURT. I have not been able to go to work and spend $800 to buy food, clothes (my luggage was sent without me) and Hotel. I will take them to court and will file a complaint with department of transportation... DO NOT FLIGHT WITH THIS AIRLINE.

I'm extremely disgusted with how heartless, un-empathetic, or understanding Spirit Airlines was in regards to my boyfriend being randomly shot causing him to miss his flight arrangements. I contacted Spirit Airlines at 7:30 am on 9-19-16 to inquire about the possible options available when someone is not able to make their flight. However, as you can probably tell this situation is not any normal excuse for missing a flight. My boyfriend's flight is not scheduled to depart until 9-21-16 at 4:55 pm, so it's not as if the call is last minute, besides the shooting took place just 2 days ago and we have been in the hospital every moment since.
I informed Spirit Airlines that my boyfriend was the scheduled passenger and that he had been randomly shot nine times just two days ago and is currently still in the hospital. I also informed Spirit Airlines that I was not trying to obtain a refund but possibly a credit towards a future flight or even the ability to reschedule the flight for a later date. I was so grossly disturbed by Spirit's lack of empathy and complete disregard for human life displayed during this call that I informed Spirit following the cold response that I would leave the currently scheduled arrangements as they were and decided how to address the issue at another time.
This experience has shed a new found light on Spirit Airlines as a whole, so much that I will NEVER allow myself, any of my family members, friends, or associates to place their lives in the hands of a company that has no regard for human life, nor will I allow them to continue to spend their hard earned money with such a dehumanized robotic organization as Spirit Airlines. I believe if my boyfriend had died following this random shooting Spirit wouldn't have even conjured up a vapor of an emotion to even offer their condolences. I don't know about anyone else but I definitely will not be spending my money or placing my life in the hands of a company that has no regard for human life whatsoever.

Paid $130 for my flight to NY from Ft. Lauderdale FL... then had to pay an extra $80 round trip for 1 piece of luggage? Would not be using this airlines for any more of my trips up north. Sticking to Delta, Jetblue or American Airlines instead.

Today September 18, 2016 I was about to board the plane when the steward advises me that they change my flight because it was overbook not for tomorrow but for Wednesday. So because of Spirit airline negligence I will be missing three days of work. On top of the people on the counter were very rude and disrespectful. Spirit have the worse customer services in the world.

Please do not fly this shoddy airlines. Had a 1 hr wait on my departure flight due to a brake line leaking and to top it off had 4 email alerts on my short vacation of progressively longer departure delays. Calling customer service is like speaking to an Indian call center. Lots of "I'm sorry" from the call center folks, but ABSOLUTELY no resolution. Please choose your airlines because saving $50 on Spirit is not worth missing a day of work.

Initially I placed my reservation through Expedia.com in December 2015 to travel from Denver to San Diego, CA. Then the nightmare began. After reading the reviews about the airline, I contacted them to cancel the flight. I was concerned about my trip. When I called their 800 number, I received a recorded message to call an 801 number -- Long Distance. I called, and was put on hold twice, with no resolution to my situation. I checked their ridiculous website, and there I found all of their hidden charges. Condemned to the flight, I went ahead with it, mailing my clothes via USPS, saving $60. The return trip was a nightmare. Inexplicably, the flight was three hours late departing San Diego. Several times we were advised that, if we followed directions, we could board the plane promptly and might make up some lost time. That didn't happen. A flight due to arrive in Denver about 11:00 pm arrived about 2:15 am.
Spirit Air sent me two emails, the first asking my opinion of the "service" I had allegedly received. I tried repeatedly to respond, but the email never got through. The second email offered me a $50 discount on a future flight. I attempted, many times, to use their promo code. It didn't work. I emailed this failure to them, even with the error message, and was informed that I was entering the information incorrectly. I was told that I should enter the promo code on the Purchase Page. There was no place for this.
I emailed the airline back, and was informed that I should call them, and they would book the flight. Remember: Long Distance? I have ceased any further communication, as time is money, and I've wasted enough attempting to communicate with them. I think they know how bad they are, and don't care. Once they have payment for the flight, the money is theirs -- not even Discover Card could get it back for me. I fairness, the plane was clean -- the attendants came by with trash bags for us to dispose of our trash, and the toilets were free. However, I would NEVER fly Spirit Airlines again.

Originally I was scheduled to fly on September 17 on flight 868 leaving 6:25pm from Los Angeles when a business emergency required me to fly back on September 15 on same flight. For my flight on 17th I had paid additional $80 for the first row seats. When I changed my flight to 15th on spirit.com there was a flight change fee of $180 which I took care of it and the new reservation was confirmed but I could not print boarding passes since there was no printer available to me. At the airport the ticket agent got our bag and gave us boarding passes. Assuming my paid seat selection was good I didn't check the boarding pass until the gate when my wife noticed that our seats were on row 28.
I immediately went to the gate counter and waited for 10 minutes before the gate attendant appeared and it was 30 minutes to departure. After she mingled with her supervisor for couple of minutes she asked me what I wanted. I told her that I had paid for the two front seats but my seats are in the back. She checked her computer and said "you didn't pay for the seats". When I pulled my email from Spirit and told her this shows that I paid for them. She didn't look at the email and said "no you didn't pay for them". When I said "The email from Spirit says different than what you say," then she turns to the next customer and said "What is your question." Then I said "You have not answered my question yet. Please look at this email from Spirit," but she acted like I am not even there and said next in line.
Then I got agitated and loudly said "look at this email and tell me why I am not getting the seats I paid for." Then she picked up the phone and said "I am calling the police!" I politely asked to talk to the supervisor and she said "no, I am calling the police." "Why don't you call the supervisor and let me talk to him?" "I called the police," she said. Police came and I explained everything and the fact she refuses to even look at the confirmation email her company sent. One of the officers pulled me aside and told me this was the fifth time since morning they have been called here and "This is the price you pay for flying Spirit!" Then the supervisor showed and I explained the same to him and he asked to see the email and then he explained that since the flight was changed I lost the two seats I paid $80 for! Of course it was not ok but she could look at the email and said the same without all the drama.
On top of everything at the time of boarding the supervisor informed us that his employee (the original gate lady) does not want us boarding the plane since I raised my voice! I said I will apologize to her if needed but since my two granddaughters were coming to spend the night we'll be stranded and all of our belongings including my wife's blood pressure medicine were in the checked bag. I had to get on that flight. I asked the supervisor to talk to her and let me go and apologize. He went, talked to her and and told us she doesn't want to talk to us and will not let us get on that plane. What a supervisor who leaves the faith of an airline in the hands of hard headed, unfriendly, power hungry gate attendant.
I was offered seats on a flight the next morning which I had no choice but to accept it. Got a hotel at the airport with no change clothes and my wife could not sleep the entire night not having her medicines all because of an employee who treats Spirit's customers like herds of sheep and goats who she can rule and whip at her wish and a unqualified supervisor. I will NEVER FLY SPIRIT airline again even if it is the last airline in the world. Customers are not animals and should be treated accordingly. She not only cost me and my wife grief and money but also cost her company the two seats they could sell instead of re-booking us only because she refused to look at a simple email from Spirit that could take her less than 30 seconds.

I am extremely unhappy with the service provided by Spirit Airlines (SA). After paying an extra $35 for check-in baggage, an item from my baggage was stolen. I handed over my baggage to the Spirit Airlines representative, so there was no other middlemen involved. Why do you SA collect the extra amount if we passengers cannot get our baggage contents in order. When I complained about this to Spirit Airlines- I was told they could do nothing about it and responded with this answer: "To provide fair and consistent service to all our customers, Spirit Airlines follows specific guidelines when issuing compensation for mishandled baggage. We received your claim requesting compensation for your item unfortunately, this item is not covered under our Contract of Carriage, so I am unable to issue compensation as requested."
When a passenger's checked bag is opened a 'Customs Form' is left explaining the reason why it was opened. But I did not find any of that. My item that was stolen was just worth $50; I am not upset about the item but the act of stealing is what is upsetting me. It could have been an item with sentimental value attached to it. I will never ever go with Spirit Airlines ever again...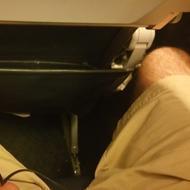 VOMITED on at gate. Forced to fly in it. Plane delayed 4.5 hours. No communication from airline. Did not receive any compensation. Airline lied. 5 hour delay. No reasoning at all. No communication from Airline at all. While at terminal they offered $14.00 food vouchers that had to be used at terminal. ALL STORES WERE CLOSED due to it being middle of the night. Did not receive ours anyway... Allowed 3 drunks to get on plane. Guess they got drunk during delay. Was VOMITED on before plane even left the gate by one of the drunks. Spirit then removed them. Ruined my clothes, phone, and food. Spirit partially cleaned it up. Flight attendant used scented hand sanitizer from her purse to try and clean seats. Smell was terrible. A large pile of pukey rags sat in seat for entire flight. Vomit on floor.
Being made to ride in a plane with body fluids on seats and floor and myself is unacceptable. Nobody from spirit will respond to my complaint. I want my things replaced and my money back... This happened before we were even in the air but flight was so late they didn't want to delay any longer. Never did get reason for delay as all other planes were flying. Being puked on and being forced to sit in it for a 3 hour 40 min flight is a problem. Especially when it was obvious to everyone they were drunk. They were yelling for beer to be served before they were even seated. Tried to speak with Spirit employee at Denver and was told to contact them via Facebook. I did many times over last several days and they will not respond. Not getting response via phone either... No legroom either. I'm only 6'.

I booked a flight with Spirit because I thought I would save some money. I was heading to Las Vegas from San Diego on a Saturday afternoon to attend a concert on Saturday night. I checked in a couple hours before my flight was scheduled to leave, and I get to the airport 35 minutes before the flight and I try to print out my ticket at the kiosk. A ticket prints out but says they couldn't provide me with my ticket, and to speak to an agent. I go to the agent and I give him the paper that I was given at the kiosk and he looks at it and nonchalantly says, "oh you won't be able to board the plane because you are late and we close the doors 45 minutes before boarding, and you still have to go through security."
I looked at security and there was 3 people in line. He said, "you should've read the fine print". I asked if he could call his supervisor and he literally picked up the phone and immediately started talking and said, "I have a lady here, could I let her through? Ok thank you." Then he looks at me and again nonchalantly he says, "I talked to my supervisor and he said no, there's nothing more I can do, but I can get you on a flight tomorrow morning, and there's no refunds or credit I can provide because you showed up late." I was like what? Who closes their doors 45 minutes before a flights leaves?
I received an e-mail that stated the gate closed 20 minutes before the flight leaves. I was there with more than enough time to get to the plane before it left. He had a "not my problem, I don't care attitude." He said, "or you can try another flight with another company." No duh I can go with another airline. I ended up losing my flight and didn't go to Vegas after all. It was the worst customer service experience ever! Never again. Then I received two emails asking me to fill out a survey. You bet I filled it out and let them have it. Not that they will do anything about it, but I had to give them a piece of my mind.

I spent 4 hours just trying to get the electronic tickets that my confirmation assured me would be issued. However, the consensus was there are no electronic tickets; there will never be any electronic tickets... Ever. They insisted that my itinerary was an electronic ticket, but that if I did not want to print my boarding pass I could do it at the airport. Over and over this litany was repeated, and there was no attempt at understanding me. I BEGGED to speak to a supervisor, but they won't let you. There may not be any. I was warned my conversation was being recorded for quality assurance. Oh, if only... I have not even stepped foot on a Spirit Air flight but I already know I will never, ever fly this airline again. Any money "saved" by flying this airline is money wasted on frustration and an inept and robotic staff incapable of addressing any issue that isn't in their script. Please fly a real airline and not a livestock cargo enterprise.

Spirit rep cancelled my flight via my debit card without a confirming my information. I was charged approximately extra $400 for this mishap. What's worst is that Spirit lied and said they have me on recording/record cancelling my flight. Spirit does not have me on recording and they sent the cancellation to a different person but will not take responsibility. I sent the info to the BBB and Spirit still is lying stating that they have me on recording. Big mistake lying.

When I flew Spirit from Washington-IAD to Detroit-DET, my drinks cost an extra $1 because the steward ** said that they were all out of apple juice, which made my 2 year old son throw a HUGE temper tantrum. Apparently a uncontrollable child is worthy of a fine. Also I witnessed ** pick up my son by the shirt and call him a **. How would you feel, **, if you were a mom and a steward did that. Not to mention our drinks took 30 mins to make, and it was a 1hr 45min flight. Our bags did not make it off the plane. When ask ** why, he says it was just a mistake. HOW??? You really need to go to a mental hospital, **. Spirit Air was sooo bad, we had to fly Delta home.

They lost 2 pieces of luggage on a simple flight from Denver to Fort Lauderdale and to Punta Cana, DR. There was a 5 hour layover in Fort Lauderdale and they still couldn't find people smart enough to make sure the bags made the connection. I have a claims report given to me by a person at the airport. I asked to speak to the man's supervisor as he seemed insipid but he claimed everyone else was off.
Furthermore when I go to this company's website to find out the status it asks for an incident #. And guess what? There is no incident # on my report. Finally, the local Spirit office number on the report answers and says no one is available and hangs up. So, now I have no dive equipment, no clothes for a 2 week stay. Thanks for ruining my vacation Spirit Airlines.

I thought I landed a good deal. Unfortunately, this airline company is a scammer. They will charge you for every penny they can get. I was charged $65 for a luggage. A tiny luggage that could be my personal carry-on. The agents are no help, unprofessional Russian mafia and they are just horrible to be a customer service agent front line. I will never fly on this company anymore. It's obvious they're getting bad reviews from everyone. By the way, their lavatory is extremely disgusting and filthy.

When I checked in to check my bag in, I went to the kiosks to print my ticket, it asked if I wanted to purchase a SEAT! I opted out and it was like ok here's your ticket enjoy your flight, I get to the terminal and I'm told that the flight is over booked and I'll have to wait for the people who purchased seats. So the ** did I pay for? So right now they are trying to find me a flight in another airline, but I doubt that seriously! They let me sign the voucher before laying out all my options that are available to me. So if they don't have another flight tonight which I was promised, I can't say I want a refund, because I already signed a voucher stating I want another flight! I got an email to check in online last night but in order to do that you have to pay a $9 membership to do it, so I opted out. I really can't believe this is legal??? I'm reporting this to the Better Business Bureau!

Far from being a reasonably priced travel option, Spirit ambushed my son at the airport telling him his bag was 1" too tall and he had to pay$55 now or $100 at the gate. This is a carry on bag I've used for countless business and family travel events without ever having a problem. Oh, this is on top of paying $299 for a round-trip ticket to Orlando. So much for cost effective!
On his way back home, Florida was having a tropical storm with some pretty intense weather hitting Orlando. Flooding caused some significant traffic issues and upon arriving at the airport 40 minutes before his flight, the ** at the counter told him he was 2 minutes late and would not issue the boarding pass but that he could get a flight the next day out of TAMPA! He literally sat there for 40 minutes while his plane that he paid for was sitting there at the gate waiting to board the passengers.
Long story short, I called Spirit, (who by the way does not have a toll free number... Very professional there!) and was told he could take a flight out of ORLANDO the next morning. All I needed to do was pay another $300 dollars. After arguing my case that he was there and they would not let him board to the customer service lady and her supervisor, both of whom kept repeating policy, I told them I would first pay any other airline a premium instead. Spirit will never see another fare from anyone in my family or anyone I let know of this experience. I look forward to seeing this airline go out of business. They are a complete rip-off.

I received a sorry certificate from Spirit for 50.00 because both flights were very late. The certificate had no expiration date and the list of requirements kept referring to the expiration of the certificate. That it had to be used by expiration date. Then I tried to use the certificate and it said it had to be used with-in 60 days. Then you cannot combine certificate with miles. The lies about miles to fly is a whole new story. I talked at length to someone trying to book a flight and after 30 min. I gave up. They won.

My official complaint letter to Spirit Airlines for my worst airline experience ever. Their response was refunding me my checked baggage fee. I cannot fathom how they stay in business. Friday, August 19, 8:00 am PT - On Friday, August 19, I received a phone call that I needed to travel to Detroit, MI urgently as my mother was being moved to a hospice situation and I needed to be there as quickly as possible as she was not expected to last possibly even a few days. After fumbling on your website for more than 30 minutes to change my flight that was originally scheduled for September 4, and my credit card processing getting 'stuck', I was forced to contact your agent directly. Eventually, after paying an additional $460 on top of my original $320 airfare, and listening to your agent's promotions, my flight was changed to depart on the redeye back to Michigan, to arrive at 6 am the next morning, Saturday, August 20.
Friday, August 19, 8:00 pm PT -At 8:00 pm Friday night, I happen to check on my 10:30 pm flight online before leaving the house, only to realize that it had been changed to now depart at 12:40 am on Saturday, August 20. No email was ever sent notifying me of the change. I was dropped off at the LAX airport by a friend and waited at the gate for my 12:40 am flight to board.
Saturday, August 20, 12:40 am PT -After taxiing out to the runway and almost near take-off, our plane was forced to return to the gate to understandably allow a sick passenger off the plane. After an hour? Hour and a half? our plane finally attempted to take off again, only to realize that our auxiliary motor would not work properly. After another hour? Hour and half? of maintenance attempts and no air conditioning, the passengers on our flight were deplaned to sit at the gate to see if maintenance could continue to fix our plane.
Saturday, August 20, 4:00 am PT -Now we are sitting at the gate, wondering if we will ever get on our flight. People around me telling stories about weddings, funerals and family reunions they will now miss. I begin to panic, wondering if I will make it back to Michigan before my mother dies. Our flight crew walks off the plane, past all of us sitting at the gate, without a glance or a word or an apology, and leaves the airport because they have "timed out" and can no longer fly the plane.
Saturday, August 20, 6:00 am PT -We all begin to search for alternate flights. There are none that are convenient or inexpensive. A line has formed at the Spirit Airlines gate, supposedly offering refunds. Not sure if that means I'll get my original $320 back? Or the additional change fee of $460 back? But it doesn't matter. There isn't another flight available for less than $700 on any other airline or anything that will get me to Michigan quickly.
Our flight is now changed to depart from LAX at 1:00 pm, 14 ½ hours after its original schedule. No one is communicating with us unless you stand in the hour-long "refund" line. We had to ask for accommodations or food vouchers so that we could stay in the airport for the day. We are instructed to pick up our checked baggage, check back in on the new flight, and go back through TSA a second time. I had no other option than to stay in the airport, wait out the morning and cross my fingers that after almost 15 hours from my originally planned flight, I would be able to get on a plane and make it to Michigan in time to see my mother. At this point, I was scheduled to arrive in Detroit at 8:00 pm -- 14 hours after my original arrival time.
Saturday, August 20, 9:00 am PT- The gate agent makes an announcement that our 1:00 pm scheduled flight is now again delayed and is scheduled to depart LAX at 3:00 pm because they are waiting on a full crew for our flight. How can this be? What was happening from 4:00 am until 9:00 am when the crew walked off the plane? Why wasn't Spirit Airlines working to get us on alternate flights or bring in a different plane altogether? Or delay other flights to get us out of LAX as a priority? Or communicate other possible options for the hundred passengers that were still roaming the airport? Obviously, no one at Spirit Airlines cared about taking care of their paying customers and trying to accommodate for the inconveniences we had been dealing with for the last 12 hours.
Saturday, August 20, 10:00 am PT -The gate agent doesn't care about my story. She is casual, seems annoyed, a little rude, and is making excuses as to why the situation is out of her control and she cannot help me or any of the other passengers who are now gathering at the gate. "Corporate this, and Corporate that" … how it's "not her fault" … and how she "just showed up to this situation". Her words did not matter to any of us. She is representing Spirit Airlines, and not very well. We do not have access to anyone else who will listen. So, unfortunately she was the recipient of our stress, impatience and anger. Security was called. How does an airline even let things get to this point?
It all came down to me to having an emotional, sobbing breakdown at the gate to get someone to listen to me. My mom was dying. I couldn't get there any sooner than 12 hours from that moment. Somebody PLEASE listen to me!!! The gate agent finally did listen, at the urging of my sobs and other passengers. The gate agent booked me on a DIFFERENT airline. Delta Airlines. She made sure to tell me she was doing something "special" and "unauthorized" and asked me to quietly leave the terminal. How is helping your customer get to their destination "unauthorized"? I had to get my luggage again, leave the terminal and walk to the new airline. No one apologized to me for my experience or asked if there was anything else they could do to help me. I received via email that morning two $50 email coupons from Spirit to be used toward my NEXT trip with Spirit airlines. And a customer feedback survey. Not very helpful. At all.
Saturday, August 20, 12:00 pm PT- I gladly walked the ten minutes from Spirit Terminal 3, to Delta Airlines in Terminal 5. I was greeted with a "good morning", a smiling face, and an atmosphere of professionalism and care that my journey to Detroit would be a good experience. And it was. Delta got me to Detroit as promised, on time, and without charging me for my 36-pound, checked baggage. They thanked me for choosing Delta. They gave me free orange juice and water on the flight. I was grateful for the experience after many hours of feeling helpless and alone, and under already emotional circumstances. Delta Airlines will be when possible, my airline of travel choice. I was able to get to my mother's bedside before she passed away on Sunday morning.
Monday, August 29, 12:00 pm PT- I am now back in Los Angeles, after an extremely sad and stressful week planning and attending my mother's funeral. While I am grateful that my return flight with Spirit was uneventful and got me back home as scheduled, I cannot and will not ever forget the airline experience that I had. I wish I had a dollar now for every story I have heard along the way, during this last week about Spirit Airlines and how they just "suck". If given the option, I will never use Spirit Airlines again. I will not recommend you and will ensure that every friend, family member, work peer or acquaintance knows my story. Your "cheap" prices do not accommodate for your lack of care, sensitivity, quality or results. You do not deserve to call yourself an airline.

I fly Spirit pretty regularly, mainly because it's dirt cheap, and I pack light. This lets me get out of home inexpensively to the Caribbean where all I need is my swim trunks, and I'm able to travel frequently at their prices. Most of the reviews knock Spirit because they were unaware of their baggage policies. A backpack will fit on the plane (a reasonably sized one, not a multi-day backpacking bag). Then you can avoid any charges. Spirit is the weekending airline of choice. I regularly find flights from Chicago to LA for less than $120 roundtrip. Now, I live in LA and find flights to Mexico at incredibly low prices. Spirit clearly marks all their rules and applications. The keys to being happy on Spirit are pack light, understand the charging policy, and if you can, definitely book the Big Front Seat. If I'm flying more than 5 hours though, I will stick to United/Lufthansa (when available). So, book a flight and go somewhere.

Well thanks to all the reviews. It help my feelings to now see that Spirit is really just out to get you and misleading gimmicks... Please don't be fooled. I normally don't say much. I'll just walk away. I don't normally leave reviews but!!! I had to too this experience. I don't mind paying to learn to be wiser... In life the best fare is not the fair ones.
On 26 August I flew into PA. Got to Fort Lauderdale airport early but it was a mess at the lines. It was even outside the street. Oh boy. Spirit have a few working kiosk and broken ones and out of paper and no agents to assist. I checked in, but it didn't allowed me the self check in. I tried 4 times. Until I was able to pull up my ticket with my credit card which later on I realize they then charge me $55 for a backpack... DIDN'T give a receipt either, but it gave a pass, strange... I had went through the boarding gate and would have lost flight trying to fight with them... Not a good idea to debate it there. I ask a floor agent he said call customer service. Backpack was free as I read the screen and measures. It contains 2 jeans pants, 1 polo shirt, 2 T-shirts, and toothbrush with 2 socks and 3 underpants. Tell me where I have to pay $55 fee?
NOW HELL GET OPEN, ON MY WAY BACK SAME ** I CHECK IN. Printed my pass. Says no bag. Got to the gate after a delayed late flight by Spirit. Agent now telling me, "Oh you have no bag, you have to pay $100." Is this a place to argue when you are boarding? They well know it and if you return to check in at kiosk you consider late arrival at departure. Scammers. I travel monthly and have not flew with Spirit from 2002. FULL OF ISSUES. This was a new hit by price matching. It wasn't the lowest. Really wasn't.
I operate a public business for years and have integrity of how I handle customers and my employees follow the same trend. MONEY IS IMPORTANT BUT THE CUSTOMERS ARE THE IMPORTANT ASSETS TO MY DAILY BUSINESS... $155 IS A + BUT ALSO A SUM OF ÷8 tell me the total eventually it must fail. Who loses? The ones at the desk doing the job... As machines taking over with the excuse of self-service... I'll seek alternative support in this matter as soon as I complete posting this helpful hint. I'll stick to British Airways and US Airways, Southwest and a touch of Jet Blue maybe...
Spirit Air Company Profile
Company Name:

Spirit Air

Website:

www.spirit.com