Consumer Complaints and Reviews

I love Spirit Airlines. I always use their round trip flight service from Chicago to Houston. As of January 2017 I have flown Spirit 20 plus trips back and forth. And, have never experienced any problems. Usually, Spirit is much cheaper than other airlines including Southwest. I've paid as low as $34 each way. I also joined the Fan Fare Club for the first time last year ($59). Only negative is... Spirit charges for everything. But, that has never been a problem. So I would suggest reading all the print in their website concerning travel guidelines and making sure to follow them to eliminate any surprises.

Spirit canceled my flight in just the last minute and they kept saying that all they could do is refund my money back. I already booked the hotel, car reservation and now my trip got canceled in just the last minute. And the worst part is their irritating customer service. All they said was: "we are sorry, however it's nothing more we can do". I have never reviewed any business in my life but because of their "unique" service, I have to create an account and give them 1 star. Save yourself and your money. Don't ever fly with Spirit.

I booked with Spirit Airlines and they charged me two times for my reservation. When I tried to ring them to get it fixed, the Customer service number 801-401-2222 is saying "Not available. Try again later." I am suppose to fly on Sunday and don't know what to do. I had to e-mail them. REALLY? If I have my bank reverse charges, I take a chance of them canceling my flight. What a nightmare. I tried to ring the local office in Vegas and no answer. This is the worst airline ever!!!

I booked a flight from PHL to ATLANTA to LA and we (me and my wife) carried 2 personal items. We checked and confirmed with PHL staff to ensure that these are fine to carry as personal items and those bags were allowed till LA but when returning back from OAK to LA, we were charged $65 for one bag that exceeded by 1-2 inches. Me and my wife stressed that I was allowed the same bags as personal items from PHL to LA but the gate person (appears Asian) was very rude in considering our request and he was warning us that flight would leave anyway if I get in or not.
Moreover, from LA to PHL they did not even looked at the receipt for the baggage. I immediately called an online agent to resolve this but they kept saying that they can't refund as these were charged at the gate. Overall the practices are very very inconsistent at different airports and staff are unprofessional and horrible. I think once the bag is cleared as personal item, they should mark the same so that everyone will be on the same page. In addition, we need to be considerate sometimes in the same way passengers cooperate/considerate when there are flight delays, missed layovers and cancelled flights.

Let me start by letting you guys know that I kinda regret the day I gave Spirit Airlines a chance. Here is why... Spirit is the kind of airline that is getting away (craftily) with scam. In one way they make you think you are getting a good deal, but that is not the case. I booked a "ROUND TRIP" flight, they charged me for seats for both flights, and what really got me is the fact that after luggage and seat prices it came up about the same price as JetBlue. I didn't notice at first, (I had a heavy situation in the family and I was overwhelmed) but after I bought it I was a little surprised to see that in reality it wasn't what they say they were.
It's not a big deal you might think but here is the thing, the real reason I chose Spirit besides JetBlue, (although JetBlue arrival airport was 2 hours closer to my destination because Spirit don't arrive there) was because of the "good deal"...and again at first it looked like I was going to save $110. Little I knew that after taxes, seats and luggage I spent $95. Now I have to travel 2 hours from the airport to my destination, plus Uber or taxi services...all of that because I "wanted to save money". So give yourself a favor, don't make the same mistake I did please. Go with a trusted airline, like JetBlue, Southwest or something please. I don't know you but this is my contribution to a better and happier world.
How do I know I can trust these reviews about Spirit Air?
668,849 reviews on ConsumerAffairs are verified.
We require contact information to ensure our reviewers are real.
We use intelligent software that helps us maintain the integrity of reviews.
Our moderators read all reviews to verify quality and helpfulness.
For more information about reviews on ConsumerAffairs.com please visit our FAQ.

Arriving at the terminal 2 hrs + for a flight to Las Vegas, I was in line for 15 minutes before the Spirit rep attending to the line decided to curtail her conversation with one of TSA finest and direct me to the Kiosk that were across the corridor, announcing that I needed to check in there before proceeding to the ticket counter. (Minus 2 points). Once through the Kiosk I got back in line several place behind the original location and waited for the next ticket agent, a very helpful and friendly young man, who checked my bag. (Plus 2 points - now even again) Checking in at the gate went relatively smooth. (Still even) once on board the personal loading went average until I tried to get into the space allowed for a "Little Person". I am average male 220 lbs and 6'0", most difficult on the A320 with every inch taken out of the leg space, knees against the seat ahead, most uncomfortable 3 hrs and 52 mins ever in an airplane.
Return trip went the same with the exception that when arriving at the ticket counter I encountered an agent with a periodic attitude who charged $52.00 for the same bag that had flown for the advertised $30.00 just a couple of days before, even though it was now 11 lbs lighter than on the outbound flight. Was fortunate to be able to request an "Exit Row" this time and not encountered to same bruised knees. I have now had 2 experiences with Spirit, FIRST and LAST.

We had the bad luck to depart from BWI to FLL on the morning there was freezing rain. I understand that this is a situation that is out of their hands. Subsequently, we knew we would miss our connecting flight. The only solution Spirit Airlines offered was to book us on a flight 8 days later. During the Holiday Season. I do not understand how anyone could make such an offer with a straight face. This of course came after their indifference when we also wanted to check in a baby car seat. They do not provide a plastic bag to put them. The first airliner we experienced this lack of service.
We were able to find a new flight for our second leg. In FLL Spirit Airlines said they were able to cancel our second flight of the day, but no other flights would be affected. It appears we were gullible to their behavior, I can only describe as sadistic. They also cancelled our returns flight without informing us at all. As we were on a location with no internet access, we were unaware of our cancelled flights and we went about our holidays as if nothing was the matter. We should have checked what Spirit Airlines had done to us, but we didn't. When it was time for us to check in for our return flight, we were blindsided. Our return flights were cancelled. Leaving us scrambling to find a return flight last minute, of course ignoring the many thousands of dollars of extra cost we have to endure because of Spirit Airlines reckless behavior.
As you can imagine, we cannot on good faith, ever suggest anyone to fly Spirit. Rather, I would suggest you avoid this airline at any cost possible. I have never seen or experienced an airliner as callous or reckless with their passengers as Spirit Airlines. That after decades of flying across the world with various airliners. I am beyond disappointed.

First, Spirit Air was the worst flying experience of my life. I tried to check in online but your website couldn't find my reservation. I called your customer service but no answer. When I got to the airport and explained the situation, they put me in the wrong line. When I get to the right place, you reps refused to help me as they were showing off and discussing their newly done nails - no joke! When they got to me, I was literally one minute past the check-in deadline. They then forced me to pay $99 and I spent the next 28 hrs in the airport. At least refund me my $99.

Our family of 4 was traveling from Chicago, O'hare airport to Fort Lauderdale on Christmas Day to be with another family member. When we arrived to the Spirit kiosk at 4:38AM to print our tickets a receipt was printed that stated our tickets were unable to print so we took the receipts to the Spirit counter. The employee said he could not issue our tickets because we were 3 minutes past the cutoff of 40 minutes before takeoff. The next available flight was two days later. There was no one else at the Spirit counter and no wait at the security line. We asked to speak to the supervisor and 10 minutes later a supervisor came out, looked at the screen and said our seats were gone. I asked to see the screen and she refused to show us. She asked the original worker, "Are their seats gone?" He would not answer. Not only was she lying but she was very, very rude.
She then said she didn't have to, but refunded us a portion of the cost, which has yet to show up on my credit card 5 days later. In panic mode we rushed to American Airlines which was able to book 4 new flights for us leaving 15 minutes later than the Spirit flight. The bad news: American socked us for a round trip ticket of 930.00 each, which was over three times the cost of our Spirit tickets. All of this could have been avoided had the Spirit supervisor tried to work with us, rather against us, to get us on our purchased flight. My lessons learned are: fly American Airlines, arrive early, and never fly Spirit Airlines.

People sleeping on the floors with babies. No accommodation of hotels and only a 14. food voucher when water is 4. by itself for 2 meals. This was the worst experience I ever had with an airline. They did not offer any kind of help. Attached is only a few of the horrific conditions. We were made to sleep on the floor.

This story is fairly simple. On Dec 23rd, Spirit notified me that my flight from LA to Seattle was delayed to take off at 7pm. That's was fine by me, only an hour. Then I showed up at 5:45pm to check my bag, which I had already pre-paid. At 5:50pm, they emailed me again and told me the flight was back on schedule, and was schedule to take off at 6:23pm. So, as you can imagine, I'm now actually late for the flight was previously delayed. I went to check my bag, and the guy said my plane was taking off in 20 minutes. I explained to him that the flight was delayed, and I HAVE NEVER HEARD OF A flight delayed, to be expedited to take off on time. I told him I showed up late, because Spirit emailed me about the delay, which was the only reason I was arriving at 5:45pm for a 7 o clock flight.
Our voices were raised, and I asked him what else was available. He said he had a flight the next morning at 9am. I told him I'll take that flight. We continued to argue about how they delayed the flight, then moved it forward. Then he said the flight in the morning was now booked too. In short, he took it personal then decided to not let me on the next flight either. So now his next available flight is for Dec. 25th, two days later, at 6pm. I told him I could not miss Christmas with my family. He did not care. So I left after calming down, then I booked a new one way ticket on American Airlines. So I made it home via American Airlines.
Now, I need to head back to LA from Seattle today. I just got an email notification that this flight is delayed. Of course I don't believe them, so I'll be showing up as if it's the normal departure time. They are honestly the worst airline of all time. I have never missed an flight until now, compliments of Spirit. And they're actually not cheaper. Always add 100 dollars for each way, that's how to calculate the fair with Spirit. So if you book a flight for 375 dollars, that's actually 575 dollars round trip. Always add 100 dollars to each flight, then expect the worst experience of your life.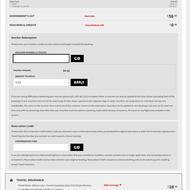 After our flight was delayed over two hours we were emailed two vouchers for a $50 credit on future flights. We had from the date of our flight October 31, 2016 until December 28th, 2016 to book a future flight with the vouchers. When we tried to book online it stated that each voucher was only good for a $0.02 credit each towards the flight. I called thinking this was a simple mistake. Nope. That was it. Of the entire purchase price of $92.00 apparently the flight portion was somehow only $0.04. The rest was made up of fees that we couldn't use the voucher to cover. I was told that in order to be able to use the whole $50.00 I would have to book a much more expensive flight. Which would ultimately cost me way more than the $50 voucher. So basically the vouchers are useless, just like the customer service of this airline.

After I booked a flight for my mother and father from Detroit to New York and back the next day, I was satisfied because I thought they were getting a good bargain. I didn't expect them to have a luxurious flight with tons of leg room but they didn't care considering it was a less than 2 hour flight. Then I find out they have to select and pay for their seats and bags before the flight so I did that online a day before. I was not too upset but I don't get why I couldn't do all that as I was booking the flight. So I drop my parents on time and go home. They call me later telling me they missed their flight because their itinerary number could not be scanned and the line to obtain another one was LITERALLY a hundred something people. They would not compensate for the missed flight and said we could either A) cancel the flight which would return $222 but then cancellation fee would then take $224 and therefore pointless or B) Do nothing.
I spoke to a customer representative and a supervisor and they were not listening to the fact that even though there was a line to get another itinerary they still made it to the check in at 5:33 and the flight is at 6:00 (with no passengers on board after 5:45). The supervisor even confirmed the time of check in but claimed they were late and their policy is "No refunds on missed flights". Poor customer service. Poor policy. Poor everything. I am never booking another flight with Spirit Airlines and I will never recommend it to anyone. I would give them a 0 stars if possible. If you are reading this and planning on booking a flight with them then please DO NOT!

This company is total waste. I do not know how they got authorization to work in the US because they do not seem to be serving people! They made me miss my flight because they misidentified my name from the check-in document and did not pass by the homeland! I needed to go back to the company for them to correct! I had to run to get on board and even then I did not succeed because they saw me running and still closed the boarding gate! They do not respect the tourist. They do not respect Americans and they respect no one! In the end they did a rebooking quickly because I called the police! I will never fly with Spirit again or with any low-cost company! They've managed to leave me with blood in their eyes of dissatisfaction! PS: The treatment is the worst possible!

I've flown quite a bit, but have never even heard of what happened to me. I was flying from Seattle to Kansas City with a layover in LAX. My flight was delayed which caused a mixed connection by 20 minutes. There were 8 of us, including a family with a toddler, that were left behind. They wouldn't wait 20 minutes for us. What did the Spirit attendant tell us? Wait until Christmas night, 4 DAYS LATER, or find a flight on another airline at our own expense. I couldn't afford the $1,200 for a same day ticket from another airline or an LA hotel for 3 nights. I was essentially marooned. I had to track someone down to find my luggage, which was on a plane about to go God knows where. Insane.
Customer service hung up on me when I calmly insisted on hotel compensation. Have you even heard of an airline ditching people at a connection like this? How is this even legal? Most gate attendants were overworked and wouldn't even look me in the eye. I eventually was able to use that ticket to another city where someone was driving across 3 states in order to make it by Christmas Eve night. Of course THAT flight was delayed for 2 hours.

Flying Spirit: Day 1-They don't care if a group of passengers has already checked in and have boarding passes. They will close the door regardless 15 minutes before the departure time. Day 2-They said the flight was "delayed" till the next day because they didn't have a crew. They wouldn't cancel the flight cause then we could get on flights from other airlines. They don't care if it's Christmas and people have connecting flights or that everybody is crying on the phone. Then the staff was mad they had to Take the time and give me a refund.

The flight was supposed to leave at 7:20. I was told by the agents at the gate the flight was behind and wouldn't begin til 7:40. I arrived at the gate at 6:20. I arrived back to the gate with 18 other passengers asking to get on the plane because there was no boarding call. I called customer service and they said I missed the flight, tough luck, buy another ticket and hung up on me.

To All, Spirit Airline is one the most disappointing airlines that uses the friendly skies. My recent situation, Confirmation Code **, the return flight from Orlando to Detroit was canceled due to bad weather. Spirit Representative stated they could get me on another flight but it will be 3 days later or refund my money and then I'm on my own. So me having to be at work the following day and not being able to afford 3 more days off of work, I opted to find me another flight with American Air, which cost me close to a $1000 one way.
I was told from Spirit that my refund will take 5 to 7 days. I contacted Spirit today to find out that Spirit wants to issue me a credit for $200. I find this very unacceptable. I was told because I used credit to pay for this trip, which I did. I used the credit from the previous trip that Spirit canceled on me and not refund my money in October. I find this to very poor customer service.
I will never use this Airline again, I don't care for the credit, this credit will not help me recover that $1000. I'm an average working person and can't afford to just give up a $1000. I'm planning to reach out to Social Media, local media and everyone that cares to report this situation. I'm sure I'm not the only person that Spirit has done this too. This airline should be ashamed of how they treat their valued customers. You don't just leave a custom in another state and tell them they are on their own, find your own way back home. The other Airlines would have work with their customers to find them a way back through other Airlines. Spirit is a disgrace and should not be able to use the friendly skies because they are not friendly at all.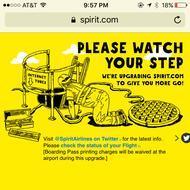 I had a flight on Dec 2. So I tried to online check-in a day before but their webpage was not working! I waited until the day of the flight, and tried to check in with a carry-on bag before I leave my home (FYI if you check in online, a carry-on is $40 but if you do it at the airport it's $55). After I put my credit card info, Spiritairlines.com gave an error and said my order was not processed, I have to check in at the airport. Because I didn't want to pay extra $15 by checking my bag at the airport, I didn't end up getting any carry-on or any other bags, in other words I only had my personal bag which is free. However, in my credit card, now I see a charge of $40 from Spirit airlines. Even though their web page gave an error and told me that my check in did not worked, obviously it worked but still showed an error to me.
Now they won't refund my money. I did not have any kind of bags with me and the only thing customer care agents can tell me is 'As our policy, we cannot refund charges for bags'. I DID NOT HAVE ANY BAG, DID NOT RECEIVE THAT SERVICE, AND I AM NOT PAYING FOR IT. Even if you are price sensitive, DO NOT USE SPIRIT AIRLINES! They charge for every single thing they can and as you can see, now they are trying to charge for things they should not be charging also! Now they are offering me $40 credit for my next purchase??? Oh no thank you, that was my last time using this worthless airline.

The first time I flew on Spirit I had a bad experience but I thought it was a one time thing so I gave them another chance. Even with the charges for everything! Water, soda, carry on... but my experiences this trip were even WORSE! My connecting flight to Vegas (through Minneapolis) was delayed 2 hours then another hour once we boarded. They offered us free WATER. My trip back to Atlanta (through Detroit) was delayed at least 3 hours (still sitting at the airport). They do not update you in the terminal. They do not offer any apologies, comps, or alternatives even though the website says you can choose another flight if your travel plans cannot be changed. DO YOURSELF A FAVOR AND PAY EXTRA MONEY TO FLY ON A REAL AIRLINE!!!

Last time I flew Spirit was 4 years ago. They missed their connecting flight and the next available flight they gave me would have left stranded in Florida for three days and then take three different connections to reach NYC. Luckily I complained and got on the next standby flight the same day. I swore never again would I fly Spirit. Well here I am again giving Spirit a second chance and they canceled my flight for no reason. The next available flight is in a week. It's so ridiculous. It's laughable at this point. I waited 45 minutes on their customer service and spoke to a supervisor who finally reimbursed me. Now I'm stranded at the airport again.

One word to describe Spirit Airlines. NIGHTMARE. I would not put my dead dog on a spirit airline to be sent off for burial. On June 16 my boyfriend paid $422.36 for our airline tickets to fly to fl for a cruise I had planned for my 30th birthday this year. The flight was scheduled for Nov 19th. We get to hartsfield airport Nov 19th, check our bags in at 9:00. Our flight was scheduled to depart at 10:15am. We get to the gate only to have their worker (employee id # **) tell us that she had given our seats up to two standby passengers. I thought surely she's kidding. I said we'll switch our flights to the next departing one. She states that all flights are booked and she has one departing at 5:00pm. I inform her my cruise departs at 4. There's no way I can leave Atlanta at 5:00pm. Her exact words were to find another airline to fly with. So now I'm stuck in Atlanta after having paid $422 for flight tickets and $160 to have our bags checked.
We then were able to get last minute flight tickets with delta which cost us $800.00 only to get to fl to find out that my cruise I paid $1700 for had just departed 10mins ago. I then buy 2 American airline tickets to fly us back from fl to ga which cost $350. I get back to Atlanta. Call spirit airlines to try and get a refund for the flight tickets. They refused to give me a refund and stated they have me scheduled for my returning flight on Nov 26th. I stated "I'm back home. Because of your worker I've just missed a $1700 cruise that's non refundable." The supervisor then stated that there was nothing he could do. I RECOMMEND SPIRIT AIRLINES TO NO ONE. There only goal is to overbook flights and take your money and tell you there is nothing that can be done. A complete and utter NIGHTMARE.

Everything charged an expensive fee; no service almost at all; online self service, even print the boarding pass doesn't work after you already paid the money for seats and baggage. I guess just to force you to print at the airport to charge you an additional fee. This airline is a joke!

Right now Spirit Airlines owes me money from a credit card charge that was made when I was hacked. They fought and won it when my bank tried to dispute it. These people will accept any credit card, even if it's stolen. They don't seem keen on responding to someone in my situation and God knows if someone else went through this before me. I'm never flying with this company.

A seasoned traveler. MVP Gold Alaska , and Hawaiian. Thousands of miles in the air all over the world. My single Spirit Air experience is enough to last a lifetime and make me run in terror from their Logo. Could not choose a less comfortable seat. Staff is rude. Schedule was delayed by MORE than 2 hrs with no compensation. Clerk clearly stated that delays under 4 hrs are not even addressed. No partner airlines to shuffle flights. Other words, flying Spirit? You're on your own. Waited 30 minutes whistling Dixie on my checked bag that oh by the way cost me 60 dollars. I almost had to ask if someone was playing a joke on me when the clerk charged my card. I was speechless. If you are a seasoned flier expecting Alaska quality or Hawaiian Quality service and punctuality.... RUN FROM THIS AIRLINE. It will leave you entirely disappointed and feeling like a chump who has just been ripped off.

We just completed a trip to Florida to visit relatives in Florida, and we found Spirit to be a very good value and the flights were pleasant, and their on board crews polite and competent. That said, this is not an airline for those who are needy (in many ways), nor for those with an inflated sense of self. The Spirit Airlines website makes it very clear what costs they charge, so anyone with a brain can figure out if this will work for them. The boarding pass (that you print at home) clearly states what time you need to clear security and what time that you need to be at the gate by (how much easier is that people). What we liked was by not having people trying to bring over-sized carry-ons with them, our plane was ready for take off on-time, and we actually were cleared to go 10 minutes early. The seats were comfortable, and the on board snacks were cheaper than buying them at the terminal. I enjoyed Spirit better than Southwest.

I was promised 2 R/T vouchers on their airline for giving up my seat on a flight. At no time during this discussion of vouchers and at no point in the documentation they gave me and had me sign about vouchers, was I told there was a monetary limit on the base fare amount to be covered. However, when I attempt to use the voucher, it only covers a portion of the base fare, though the documentation tells me it should cover ALL of the base fare. My interactions with their customer service department provided no useful feedback, and they refused to send me any sort of documentation about the vouchers which confirms that only a portion of the base fare would be covered. They are as deceptive about their vouchers as they are about their marketing in general.

Spirit Airlines: This has been happening many times, something has to be done about this Spirit Airlines and their bad attitude towards customers. All they need is money from people. I told a friend last time on the flight that "they have started charging for everything. Wait till they charge for air as well, that we breathe in their flight?" In my last flight from New York they gave me a voucher to be used for the next flight because I had applied a Mastercard inside the flight. I tried the voucher. It NEVER worked for my future flight.
Today, (November 29, 2016) I tried to book a ticket for my interview in NY, and then everything went well when the prompt of signing up for a mastercard will help me save 100 dollars, I was very happy, so my ticket was 99 dollars going and 99 dollars coming. I was happy to receive 100 dollars off and would pay only 99. Several times I tried to pay, there was an error message, then I called the customer service. The agent who answered the phone was ANNA **, she was charging me 199.98. I insisted on getting the 100 dollar off, as mentioned on the booking page (web page) asked for Bank of America Mastercard. She did not agree and give me the discount. She said "you will get in on your next bookings." I said, "why not on this booking?"
I have a voucher you guys gave me on my flight to use it. It did not work. This thing on your web page is fake to apply for a mastercard and using the Bank of America login. They can get all our information through our Bank of America account, and still nothing that was promised happened. I never got the booking. I never got the discount. I never could use the voucher and as per the promise if we sign into our Bank of America account and they can gather our basic and sensitive information, and then refuse the 100 dollars off as promised, and upon requesting online help in booking our tickets, they charge extra, and when asking to cancel the booking the whole amount is forfeited.

My family is in the process of relocating from Atlanta GA to Detroit MI. Some of our family decided to come visit us on our first weekend in MI. We advised them to fly Spirit to save some money (we have flown in the past with no problems at all). They booked their flights and all was well... so we thought! We were scheduled to close on our new home in Michigan on a Monday with our family flying in on the Thursday of the same week. Our closing got rescheduled due to Thanksgiving week and we are now scheduled to close on Friday. We thought it would be best for our family to reschedule to the next weekend. It was here that we found out that spirit was going to charge $90 per ticket to reschedule the flight. We would also have to pay luggage fees and the additional difference in the price of each ticket.
I'm not too upset that they charge to reschedule. But, I am completely pissed off because they were unwilling to help (at all!) by offsetting the cost of the reschedule charge. I spoke with 3 representatives and all of them told me that there was nothing they could do. At this point I realized that they do not care about their customers. They only care about money.
Please do not fly with this company!!! After all the fees and the new flight, my family was going to end up paying almost $600 for this flight. I was trying my best to stay loyal to this company because of our past flights. But this one crossed a line for me. If your company is not willing to "try" and keep your customers, I am not willing to stay. Good bye Spirit Airlines!

Spirit made me miss a flight, because they said I had an infant to check in and made me wait in a 45 mins line. I had inform them that I stop making kids a long time ago and I did not start my first leg of a round trip with any infants. They refuse to correct their mistake, claiming the manager was on an hour break. I had to pay over $400 to another airline to get back from MI to FL. Then they had the nerves to send me an email four months later stating get to your flight early expect delays. Not only their customer service suck, their computer system too. They also did my mother the same, had to pay extra. No more Spirit Airlines for me and my family...
Spirit Air Company Profile
Company Name:

Spirit Air

Website:

www.spirit.com