Consumer Complaints and Reviews

My wife and I made the mistake of booking our flights through American Airlines this time, rather than through Delta, which we average 10 to 12 flights a year on. What a mistake! Flight 1, on September 27, 2016 was delayed on the ground for 2 hours in Panama City, Panama while maintenance was performed on some part of the aircraft. Sat in the plane roasting for the entire 2 hours.
Flight 2, on September 29 was delayed on the ground for 1 1/2 hours in Raleigh, NC while the aircraft returned to the gate for aircraft maintenance. After 1 hour the pilot announced that the maintenance had been deferred, as in no work was actually done on the plane! However, he went on to say that phoning AA Headquarters and refiling required paperwork would take a few more minutes. It actually took 30 more minutes... Flight 3, today, October 16, our flight has been delayed in Miami because of aircraft maintenance. We are here at Gate 60, which you may know leads to an outdoor boarding area. American employees passed us all through the gate to the outside where they left us standing for 30 minutes waiting for a plane to roll up.
It began to rain, and became quite miserable, so after everyone slightly damp from the blowing misty rain, they allowed us back inside the building, where we were told that if the plane could not be repaired, they would try, as in attempt to, to find us another plane. Seriously! The incompetence of American Airlines has left me extremely disappointed and dissatisfied. As there appears to be no accountability for this very poor service on the part of the airline, next time I will vote by avoiding American flights completely. You suck, American Airlines.

Terrible in-flight service and I use the term service reluctantly. When I arrived at my destination my brand new, 180 dollar suitcase had a huge gaping hole in the side of it that you could put your hand inside of. I went to the customer service desk and showed them the obvious damage and they looked at me as if there was something wrong with me to even suggest that they look into the matter, much less compensate me for my luggage which was no longer usable. HORRIBLE people and not even an apology which would have been something... anything.

Starting August 2016 American Advantage program does not give the miles that you flight to your account. They put 5 miles for each dollar you paid!!! Crazy! I flew from Miami to LA and LA from MIA and they put 1030 miles in my account and the total miles flew were 2341 miles each way. Do not join the Advantage program!!! It was good before, but now I recommend to use Delta or another. This is the only program that does not give you fair miles.

We booked 4 first class tickets for a family trip to Maui in Feb 2016 with a departure of Dec 23, 2016 on AA. After 3 time changes on our reservation, during the year, on Oct 12, 2016, AA split the family in separate reservations and thru different cities with arrival times 3 hours apart. The explanation was that (with 2 months to go) AA dropped a flight from Boston to Dallas and they only had limited seats, so they split us up, 3 family members on a flight arriving 4 hours later, after a sole family member that leaves 3 hours before the others.
Do I believe that a flight is cancelled 2 months before departure is scheduled. NO. Do I believe that they change reservation for financial gains??? YES. Do I believe that AA is behaving like the "old" US AIRways??? YES. Is this AA going down the tube in customer satisfaction and treating Platinum level customers like dirt (JUST LIKE USAIRWAYS DID) YES. Shame on you Mr. Parker and tour executive team. You lost me as a customer, and I will only use Emirates, Jet Blue, Virgin America etc (that is why the legacy airlines are losing customers and revenue is decreasing) and NEVER again will use AA.

American Airline flight 5359 on Sep 29 was to depart from Reagan National Airport at 8:15 pm. We started getting text messages, the first at 11:28 am delay depart 9:13 pm, the second at 3:27 pm delay depart 9:38 pm, the third delay depart 10:01 pm, the fourth delay depart 10:21 pm, the fifth delay depart 10:49 pm, the sixth delay depart 11:09 pm, the seventh flight to Jan canceled. They boarded us on the flight and then the pilot came from the cockpit and said the flight was canceled because he had reached his maximum capacity for flight hours and due to federal regulations, he wasn't allowed to fly.
The flight was canceled because AA did not have a pilot to fly us to Jackson, Ms according to AA's pilot. But that's not the worst part. When we get back into the terminal, after deplaning, the agents at customer service told us that the flight was canceled because of the weather. Now your pilot stood there and told us you didn't have a pilot, there wasn't anything going on with the weather. They stood there and outright lied to all 47 of us. But you know they didn't have to put people up in a hotel if they said it was the weather. I have put up with a lot of crap from AA but this was just the worst. When they told that lie, it made me feel like someone had taken a crap on me. Oh, there is so much more to tell but I am just tired. How do they stay in business? They are like the worst.
How do I know I can trust these reviews about American Airlines?
608,728 reviews on ConsumerAffairs are verified.
We require contact information to ensure our reviewers are real.
We use intelligent software that helps us maintain the integrity of reviews.
Our moderators read all reviews to verify quality and helpfulness.
For more information about reviews on ConsumerAffairs.com please visit our FAQ.

On 1st of Oct. flying back home to Budapest from LAX to LHR with American Airlines a passenger got a special seizure on board. He lost his consciousness, became into a sick, potentially very dangerous status until landing. As a Neurologist of course I helped him at once. A kind stewardess of the crew was one of my helper to care and treat the patient. A steward also came to help us, he might be the supervisor or the head of the flight attendants, I do not know exactly because I concentrated to the patient. I do not know the uniforms, the ranks or badges. We could take care of the patient at the emergency exit because I had to ensure the perfect position of his body, I had not to let him falling asleep again protecting him against other repeated seizures. There was no time to note or write the names and contact details of the stewardess and steward because they're busy work on board and my responsibility.
The crew asked me how they could thank for my help, so I asked them to let me talk to the Captain about the engines, the flight maneuvers, etc., so he answered me some questions about the measuring equips, the landing techniques, etc., my loved themes. After this possibility to spend some minutes in front of the dashboard I had to say goodbye and hurry due to my early connection to BUD.
I lost my new friends :(, my "team". I could not note their name. :( I wrote more than 3 emails to the AACustomerRelations, but the administrator only promised me to fwd my msg, request, but I feel nothing happened, no response, no feedback from nobody indeed. Only promise from the administrator. I can't believe after such special situation this can be happen, like nothing as I feel. I understand Privacy Policy is very important, but I feel after my active help why they stop the possibility of communication, why they forbid me to make a contact via email with my new friends. Hope somebody can help me here. The flight number was: AA108. Departure: from LAX at 6:00 PM on 1st of Oct., Arrival at LHR 12:25 PM 2nd of Oct. Many thanks for you.

I didn't fly American. The customer service is terrible so I didn't get the chance. I booked an American flight back in May 2016 to fly on Dec 24th, 2016. It was a non-stop flight. 5 months later in October, 2016, I get notification the flight I booked was "rescheduled" and I'm not on a non-stop flight. I'm now on a flight with a 3 hr layover. When I call to find out why and what my options are I get hung up on. I am gladly paying the $400 extra buck to fly Delta, non-stop! Other than Delta I highly recommend JetBlue whenever possible. Thanks for nothing American Airlines. You almost ruined our family holiday trip!

My son booked a flight for two Oct 6 online for Oct 7 early morning flight. The tickets was charge to my credit card for the RT $1,800.96. They drove 1 hr to the airport and got to Reno, Nevada airport one hr before the flight. They went to check in to get their tickets. The front desk had trouble with her computer and they waited. The agent after her computer was on she told them "You are late" and can not issues their tickets and "NO REFUND". They were not even boarding. They ask to talk to the supervisor and then told he can't do anything about it. They told them can book for next day flight for an extra fee of $400. It was unfair.
I immediately called my credit card to dispute the charges which they already paid the AA. It is under dispute for fraud charges. They went to Southwest and book for same day flight and had to pay more. Southwest agent could not believe what AA did. They told them they could have given them their tickets for there was lots of time. I wish that this airlines will be investigated and file a huge lawsuit.

Filed a complaint with American Airlines, this is what was said to me in reply: "Dear Mrs. **: Thank you for contacting us again. I have received your latest email. I have reviewed your reservation and see that you have been ticketed for tomorrow's flight. Regrettably I am unable to assist you and push your flights back to a later date due to our travel advisory policies. I am so sorry that I am unable to honor your request. Mrs. **, I do hope you and your daughter have a safe trip and we do look forward to welcoming you onboard. Thank you." UNBELIEVABLE - IT WAS AN UNFORESEEN ACT OF GOD, NATURAL DISASTER AND YOU WANT ME TO TRAVEL WITHIN 5 DAYS OF THIS OCCURRING.

Shame on American Airlines for not being pet friendly. I have a 5 lb. Chihuahua & will be moving from Hawaii to Nevada & of all airlines AA does not allow a pet in cabin to travel from Hawaii to Nevada. I hope I never have to fly AA.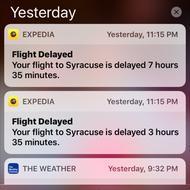 Worst experience ever, day started boarding our plane which after sitting for about 30 minutes realized there was mechanical issue. Kept us on the plane for over 2 hours at which time they unboarded us for a new plane which also took some time. Taxied to runway at which time pilot timed out and had to turn around and went back to gate. Unboarded us again and now they were unable to find a new crew. Left us sitting in the airport for 9 hours with no restaurants or vending machines available. Treated us like caged animals.

We had to cancel a trip to Florida due to bad weather and since the return flight was not in the duration when the hurricane was predicted. We might only be canceling a family trip but someone else might really be worried of getting affected by the hurricane and canceling their flight because of that. Is this how they would treat them as well, saying the flight is not scheduled on the day of hurricane? This is not how they should be showing solidarity with people at the times of calamity like this. Absolutely insensitive behavior from a major airline like American Airlines.

I booked a flight with American over Christmas... After I picked my rate I went through another 20 minutes of putting my family's names in and reading all insurance. The site kept warning me to continue booking so I don't lose my rate. After selecting my family seats on the first flight I got to the next and the only free seats available were about 10 middle ones!!! So my 4 month old and my 2 year old can't sit with us unless we pay another $150-$250 for seats!!! They had about 5 rows open of seats forcing us to pay!!!
I called to complain and they were terrible! They said I didn't have to book with them but I already put in the time when I chose my rate so the CONTRACT WAS AT THAT POINT FULFILLED especially when the website forces me to keep moving on... I do not know what to do and I ask HOW THE HECK IS THIS ENTRAPMENT LEGAL??? Can someone please file a huge lawsuit on these crooks that call themselves American Airlines??? Please!?

I took American Airlines with my two small children, ages 19 months and 4 years old. I purchased roundtrip tickets online to travel from Sacramento to New York City and back again. When I arrived at the SMF Airport to pick up my tickets they printed me two tickets, one for me and one for my 4-year-old, to go from SMF to LGA. I asked about my return tickets and was told I would be issued the return tickets at the LaGuardia airport.
Nearly a week later when I arrived at 10 AM at New York LaGuardia Airport to prepare for my 11:30 AM train from JFK to SAC, I was told that the computer showed my tickets had already been printed in SAC. I explained there had been a mistake, that I was not issued the return tickets. The American Airlines ticket agent, Barbara, was VERY rude to me. She said she could not print me another ticket. When I asked to speak with someone else, a manager or someone higher-up, she absolutely refused. She rolled her eyes a lot at me and walked away when I begged for help. She told me that all she could do was sell me another two tickets. I explained that I didn't have the money and it was too late for me to find a way to get the money.
I explained that I had no friends or family in New York, I had been there over a symposium, and I asked if American Airlines was going to kick a mother with two small children onto the streets for a mistake THEY had made. I was told by Barbara and later told by an AA employee over the phone, yes. Barbara told me he would not print me a fake ticket and implied the whole time that I was trying to scam American Airlines! I have never been treated so rudely in my life! I ended up having to call my husband and desperately find a way to buy two additional tickets so I could get home! Every course of action I have tried to take has gotten me nowhere. When I arrived in CA I waited in the SMF airport for over an hour, pouring sweat (no a/c there) waiting for them to look for my tickets. They told me of course that they couldn't find them.
My children and I have been nothing short of traumatized by this experience. I cannot even look at an airport employee without having a post-traumatic stress reaction. I cannot even begin to explain how frightening it is to be in a weird, unsafe city, late at night, in a filthy airport, with two small children, and to be told that AA doesn't care, that they sold me a ticket they didn't give me – I was going to either come up with another $271 or be spending the night on the ground on the side of the street!
Both my children, and especially my 5 year old, were very extremely traumatized by this event, because we ended up having to sleep on the ground outside, like a homeless couple before coming up with the money. They were scared they wouldn't be able to get home and my 4-year-old son still has nightmares about the event. Barbara deserves to lose her job for this (for traumatizing my kids, dumping me and my kids out on the street like hoboes, and charging me extra even though I paid for a ticket going home.) I am NEVER flying American Airlines again.

I will avoid American Airlines in the future if at all possible. Terrible onboarding management, mismanagement of overhead space, insanely rude attendants, and uncomfortable seats. Despite paying extra for more legroom, distance in front of seat ahead is barely enough to use my laptop. I'm a small woman--I feel terrible for those even a couple inches taller. But the attitude of this airline is the worst of it. I've never written a review, negative or positive, but my hope is that somehow AA leadership changes course.

Booked and paid for first class seat from Phoenix to West Palm. The Phoenix to Charlotte leg was flight 1976. The flight was delayed and passengers held back while the middle aged flight attendant in first class pre-boarded two parties she seemed friendly with. Upon boarding she checked names, when she asked how to pronounce my French name and I told her she rolled her eyes and said "well aren't we fancy." Seriously. every interaction was met with total nastiness and contempt. Asked her if they had rolls with lunch and she snapped "can I finish serving first before you beg for rolls."
I spilled a bit of my drink and went up to this flight attendant, who was sitting in the jump seat reading a book. I asked for assistance. She stomped over to the bathroom, opened the door, pulled out some paper towels and shoved them at me. She then sat down and kept reading. The level of her hostility made me wonder about her mental health. There are several interactions just like this. When we landed I thought we were at the gate and I stood up to get me things. The kind gentleman behind me said we were still moving. I could not feel it but I immediately sat down. The FA stood up and started screaming at me and I explained I'm handicapped and have tactile issues, neuropathy etc. And I APOLOGIZED.
She kept ranting about how I put my fellow passengers in danger and even if I'm "going to use my handicap", "you can read English right? Then did you see the pilot light up the sign about seatbelts?" She was screaming the entire time. I was physically scared of her. She ranted until I was off the plane. One gentleman came up to me after we got off the plane and said he was glad I said nothing because he felt she was trying to provoke me so she could call authorities.
The last insult of the day was after I hurried to my connecting flight. Her "friend" who was comped a first class seat on 1976 walked onto the new flight and yelled at a man in the front row "thanks for taking my seat". She snarled at him. He was horrified and said he was on the list for upgrade and they offered it to him. Then, as this women passed me she yelled "oh look there she is!" and glared at me. To add insult to injury, I sent a letter to AA detailing this sad story. I got a standard form response and 5000 frequent flier miles. Seriously not a very sincere apology for being abused, humiliated and for my handicap to be mocked.

I was seated in first class (5B) and started to feel like I could not breathe and my eyes were watering, then I looked over to see the passenger in (5E) smoking an e-cigarette. I got up and alerted the flight attendant servicing first class and her response was, "Oh **, she's doing what?" She was then showed pictures and a video of the passenger smoking. When I left the plane at LAX myself and 2 other passengers (One was an asthma patient) immediately told the American Airlines person at the door in the terminal the same thing we told the in-flight attendant. She called "Lana **, Operational Supervisor," and we showed her the pictures and video, at which time Ms. ** went to the plane and talked to the flight attendant.
Ms ** then returned and told us that the flight attendant servicing first class did not inform the captain that the passenger in 5E was smoking or informed the captain that we had told her about the incident and showed her pictures. Ms ** told us that she couldn't do anything about it because the passenger had left the plane, to which I replied, "She is picking up her dog at the baggage claim." She repeated that there was nothing she could do and for me to contact customer relations. I then reported the incident to customer service agent Jonnie (Employee # **).
The safety of my life and hundreds of passengers was put at risk by one selfish passenger and then overlooked and excused by a series of American Airline employees. As a company you say: "At American Airlines, we are continuously advancing our safety and security practices to provide our customers with a travel experience that is safe, worry-free and reliable. A safe, reliable, hassle-free trip is critical to the satisfaction of our customers." Well that was not the case on this flight. I received a extremely lame attempt from customer relations to justify the passenger's actions. To date no action has been taken by American Airlines.

DOUG PARKER needs to re-configure a NEW business strategy that FOCUSES ON BUILDING CUSTOMER RELATIONSHIPS AND SATISFACTION! Every customer-employee interaction I've experienced with this company has been horrible, time-consuming, stressful and unenjoyable!

American Airlines does not want your business! Please read the whole story! The original gate changed the marquee to Boston and DID not even make an announcement as to the new gate. Watching the departure board for the change we went to that gate. Same thing the DTW marquee changed to "Denver". Again no announcement to a new gate. We watched the departure board again to a 3rd gate and when we got there, DTW was not on the marquee. So I show my ticket to the agent and she said we are at the correct gate to wait till they cleared that flight out. So the flight was delayed further. Once we pushed back from the gate and inline to take off - we got out of line and waited inside the plane for an hour to get a gate to deplane.
The pilots missed their window of flight hours by 10 minutes for a 25 minute flight because of all the gate changes and delays. After 30 minutes or more sitting in the plane at the gate, it was announced that our flight was canceled because they were no available pilots. No help was given except a card with a number on it. No getting us on Delta DTW hub because thew me there to ord to get on an american flight out of the country.
The managers were rude and said no lodging given because it was a weather related problem. After a fuss from me they said the could fly me to Texas to fly back to Detroit or wait 2 days!!! I had to rent a car and drive back to Detroit for 6 hours when I was dead tired from 30 hours in planes and layovers with no sleep. When I made a big fuss online to American Airlines, they sent me a $100 online voucher good for a year. I will never fly American Airlines again!!! Should you???

On Aug 28, 2016 my husband and I were starting our long awaited trip to Alaska for a land/cruise option. The flight was AA1772 (seats 18A/18B ) out of Ft Lauderdale, Fl at 6:10 am to Charlotte. Keep in mind when I was younger I was a flight attendant so I do know a thing or two about procedures. As we were taxing down the runway, strapped in our seats, a gray mist started coming out of all the overhead vents, with a distinct chemical smell. It made a noise when it started and like an idiot I look up with my mouth open like a baby bird and sucked down an entire lungful. Myself, husband and the rest of the passengers left the plane coughing. Nothing was said about spraying the plane and I know there is a "Zika" scare but no airplane should be sprayed with the passengers in it. We were not informed they would be spraying and they never admitted anything.
The next flight we boarded was AA1912 at 9:35 am out of Charlotte to Seattle (seats 26A/26B). This time when I heard the "woosh" coming from the air vents I did not look up but could not help breathing in some of this toxic spray. Needless to say when we arrived that afternoon in Fairbanks, Alaska we were both sick, coughing and hard to breathe. It definitely impacted our trip as both of us were to sick to eat anything but soup (so much for the beautiful food on the trip and ship!) We were actually so sick with phlegm, coughing, and flu-like symptoms we slept two days of our trip because we had no energy.
On arriving home I went to my doctor who gave me a ** and **. When those didn't help he had me do a chest x-ray and I have an appointment with a pulmonologist. I am told I have bronchitis. I thought spraying while passengers are IN the plane was illegal?! Does the FAA know about this or the EPA? I will never fly with American Airlines again. I do not trust them.

I will never fly American. I will make a point to avoid them for all my work travel and I would never suggest American Airlines to anyone. I traveled from Chicago to Athens for vacation- 10 days. They lost my bag. We stayed home all day as they said they would deliver it to our local address there (a rented apartment). They never came. We then left that local address (as we informed them) to travel to the Greek Islands. They wanted to deliver the bag to the island (HAHA. If they can't deliver a bag from Chicago to Philadelphia and on to Athens, you think they can deliver it to a random Greek Island?)
We submitted a claim for $1500, which for 2 people, 10 days in Europe is pretty reasonable. They ended up saying they tried to reach us 3 days after the bag was supposed to be at our final destination and couldn't reach us (because we had continued on with our vacation at that point). So they only refunded us $900 for the first day of expenses. They also claimed that they never heard from us again, but I have several emails proving otherwise of multiple times I tried to get in contact with them. Their customer service is the worst I've seen.

Booked my flight well in advance to avoid high ticket prices. 6 hours before take-off my flight was cancelled. I booked another flight and sent in refund request when I arrived at my destination. The next day I did receive a notice of refund. American Airlines was graciously refunding the $102 I originally paid for my flight instead of the $287 the new ticket cost me. So they made an additional $185 off me for cancelling the original flight. I have been trying to speak to a person since 8/22. I finally did speak to someone on 9/21 who literally yelled at me while I was talking, put me on hold for 30 minutes, and then flat out refused to let me speak to their supervisor. I have filled out every form that I can find to try to get someone to contact me... still waiting.

My son who is a marine flew on their airline to a base in North Carolina. They lost his bags. They put him up in a hotel and then delivered two out of three bags the next day to the base. The third bag is not due to be flown into North Carolina and till 48 hours later. At that time it will go out for delivery within 3 days. He will now have to resign from his current platoon and have to join another platoon extending him one more week at the base. This is how American Airlines treats a military personnel.

AA has not good customer service and Lost & Found is horrible. I never will recommend American Airlines. I flew from San Diego/Dallas/Austin on 6/10 and left my Son Pictures (he graduated as a Marine) the Big yellow envelope on the seat in the air plane. I checked with a customer service once I get out from the airplane. I was unable to return and get in there. I received instructions to submit a claim online and I did. They told me will take up to 30 days. I was sending emails to follow up and the last time I received a respond prior to today was from Joan ** (Lost & Found specialist) on 7/7/16 stating that they are very backed up and it looks like it will take some time. I sent a follow up email today and she told me we have not come across any military pictures. That means they trash my son pictures. This is so sad. I never will recommend to fly with this airline.

On 12 Sept 2016 I boarded flight AA3130 from Montreal (YUL) to Chicago (ORD). I checked one bag. The flight arrived on time. My next flight was supposed to be AA3390 from Chicago to Tulsa, Oklahoma (TUL). As my next flight was in the same terminal, I arrived at the gate almost one hour ahead of departure time. As I already had my boarding pass printed for the second flight, with a seat assigned, I waited for boarding instructions. When boarding was called, I went to the boarding agent. She informed me that I did not have a seat on this flight. She informed me that according to the American Airlines computer system, I had never boarded the first flight. Therefore, they gave away my seat to a standby passenger. I note that at no time did they page my name to confirm whether I was in fact waiting to board, even though I was seated in the departure lounge for almost one hour prior to departure.
I asked what had happened to my checked bag from Montreal. They confirmed that it had been loaded on the flight. I asked if according to their procedures they were allowed to load a bag that (according to their computer system) had arrived on an international flight without a passenger on board. They confirmed that they were allowed to do so. They further confirmed they were allowed to board the bag onto the second flight even though I was not on board. They then booked me onto a later flight to Tulsa, AA2852. This flight left at 13:18, over three hours after AA3390 (which departed at 10:00).
I asked what compensation American Airlines was legally required to provide for a passenger bumped off a flight: with a valid ticket, with a valid boarding pass, with an assigned seat, who was waiting in the departure lounge well in advance of boarding, who was not informed and did not give permission to be bumped, who was delayed for over three hours. At this point they offered me a $12 meal voucher (which I accepted). They suggested I continue this conversation with a manager. When the manager came over to the gate, he refused to answer my question about compensation. He offered me a $100 voucher, but told me that if I accepted it, I would have to waive all rights to any further compensation. I told him that I could not waive my rights as he had refused to tell me what they were.
I asked if there was a customer representative that I could talk to. He informed me that there was no-one that I could talk to in person, and that I would have to call the Customer relations line. He provided me with the phone number. When I called the Customer relations line, the representative identified my file in their system. She confirmed that I had accepted the $12 meal voucher and refused the $100 voucher. I asked her the same question: What is the minimum compensation that American Airlines is required to provide to a passenger in my situation that it had bumped off a flight without permission. She replied that it was $100. This is clearly not true! I then called my company Travel Service provider, American Express, and told them about the problem. I provided the agent with a copy of the boarding pass, with seat assignment printed on it, so she could follow up.
In summary, I tried very hard to be polite and respectful to the American Airlines representatives at all times. I did not raise my voice, use profanity, threaten or use any abusive language. I mainly asked questions. However, I have to say that I do not feel that I was treated well at all by the American Airlines representatives. I did not get any impression of regret or empathy for my situation. They were unwilling to reply truthfully to what I thought were reasonable and relevant questions. And I am sure that they did not fulfill their responsibilities to the full extent of their legal obligations. All in all, I am very disappointed by the whole problem, and especially by the way American Airlines responded to it. Considering that I did everything properly, and the problem was entirely of their own fault, they did not seem interested in any effort to make it right. This is a company that just doesn't care how much it inconveniences its passengers!

We've all had poor experiences with airlines, but overall, I feel like the air industry has made great strides in reducing delay/wait times, bringing back some services, and optimizing the check-in process. However, I noticed that AA has started a new scam. They tend to have last minute gate changes WITHOUT adequate notification. For example, other airlines will send you an email, text, and/or make the announcement at the gate. In the least, they should have a sign at the gate. AA does NOT have a print or digital sign at their gates. AA does NOT email, although they have your address on file from the purchase, and they do NOT announce changes at the gate. This is from my recent experiences traveling on the same flight, multiple times (over 6+) within the last few months. In addition, I noticed that AA frequently changes gates, over 75% of my flights. Coupled together, and what do you get? A perfect combination of missed flights.
Why would AA do this? Well, because they make more money this way. Here's why. When you buy a ticket for a flight earlier in the day (purchasing extra leg room or even fully upgraded seats), you lose your seats and benefits when you 'miss' a flight due to a gate change w/o the appropriate notification. In that case, you get bumped to the next flight or the flight thereafter, filling up vacant seats there weren't previously sold. At the same time, it allows AA to gain a prime seat (with associated benefits previously reserved for you) that is now available for purchase. Last minute customers can now purchase those seats/benefits, resulting in AA getting double the revenue.
One problem - the original customer now get bumped, delayed (possibly multiple times), and has to wait on standby, riddled with anxiety, on whether they'll simply have a seat on the next flight. The original customer never gets what they paid for and probably ends up with leftover seats, after hours of delay. And that's exactly what happened to me. A military mom, traveling with a baby and toddler. We actually managed to find out what happened from another agent at a gate 2 booths over so made it to our flight in time, about 20 min before its departure. When we reached the new gate, its agent, Anna **, did not acknowledge my greeting with eye contact or verbal response. Instead, she continued typing.
When I repeated my question of, 'may we board?', she exasperatedly said 'no' and apparently had heard my initial question but was already typing and putting us on standby for the next flight. We were confused because we clearly made the time, but she berated us in front of everyone for not checking the monitors, 'sitting around doing nothing', and being slow. I explained that all of those were her own assumptions as I actually did check the monitors after passing security, but without knowing if/when gates changes are coming, I had no other indication to check the monitors after that. The onus is on the airlines to adequately notify passengers of changes - otherwise passengers don't know what they don't know.
Eventually, a manager came over and explained that Anna had already given our tickets away. That's when I realized what had really happened. She made a huge mistakes. She was not supposed to upgrade anyone on standby until the full flight boards, but she did, and she also boarded early. I noticed she was taking an exceptionally long time to bump us to the next flight and realized why. She was waiting for the clock to tick down until the final 10 min of boarding because only then are passengers not allowed to board the flight. That day, we got bumped from 2 flights and were finally called off of standby for the 3rd flight. It took us over 10 hours of delay to get to our destination. Why Anna did this to a mom with a lap infant and toddler is beyond me.
Furthermore, after speaking to multiple agents after, they all explained to me that what Anna did was wrong. They directed me to file a complaint online, which I did. However, they refused to refund my flight or give a voucher for our trouble. The only thing they could supposedly refund was the upgrades that I had paid for but weren't rendered. We paid for upgraded seats but ended up hours later on literally the last row of seats. So when I asked for that refund, they replied with a request for more information. Basically everything I had already entered into my complaint. I obliged once again, and after that, no response. So they make you jump through hoops, hoping you'll give up on getting your money back. And even if you do jump through hoops, they still won't give you money back.
Despite what the gate agent did, I'm more shocked by AA's behavior of switching gates w/o notification and not refunding services that weren't rendered. This reminds me of the time when Whole Foods would 'accidentally' mislabel prices (lower) but when you checked out, they rung up higher. Most folks didn't check their grocery bill that closely until someone started noticing. Then it became a major fallout and WF had to roll out a corrective action. Interesting thing is, I noticed a couple times when my bill was mislabeled and wondered if it was a trend. Having traveled on AA repeatedly w/in a few months and contrasting that to my experience on United, Delta, Frontier, Spirit, and Southwest, I am almost certain that there is some kind of scam that AA has set up with the gate changes. Flyers, beware of AA!

I booked two flights 7 months ago. At that time, on AA's website, we were not able to make our seat selections. We were merely told that we would select our seats at check-in. Today I got a reminder from AA that our flight was upcoming and that we had still not selected seats. When I went back to AA's website, I was presented with a seat selection chart that showed that only premium seating was still available. All other seats were marked as "unavailable". Concerned that we didn't have seats, I took 4 of the available seats and had to pay an additional 110.00.
My wife called AA and was told, that we didn't need to have done that but was also told they wouldn't refund the 110.00. I called a second time, and the customer service person (who could barely speak English) told me she could refund our 110.00, but couldn't guarantee we would get seats on the flights unless we kept the upgrades. She claimed she couldn't tell me which seats were no longer available and which were available. Seems to us to be just another ripoff by the airline industry.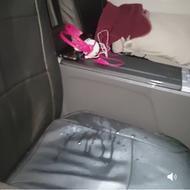 I had to travel for a bit of work to Kauai so figured I would take my family on to have a family trip as well. Since I have 2 children, one only 8 mos old I decided to upgrade to first class. On the flight to Kauai I arrived in line 1 hr 47 mins before the flight took off, and after waiting for the attendant to assist me they advised me that I missed the plane. At the same time I received a text message from AA letting me know that the flight had been delayed, but still they insisted they had no room for me. This is very disappointing after waiting almost 2 hours in the first class line just to check in to my flight; then they stated they would have to get me on another flight and refund the difference of the fairs as I was bumped from first class to the back row of the plane.
Once boarding the plane I noticed there were still 2 first class seats available that I was never offered, this seemed a bit disturbing to me but I went on my way to try and enjoy the trip. Thinking that was the end of the poor service, on the way home my family and I got to the Airport in plenty of time and went to our first class seats. Once we sat I found out there was no entertainment system, at that time they stated an agent would come talk to me to see how I could get compensated. Instead of an agent coming down the stewardess came down and stated there is not much that could be done I would have to reach out to the AA.COM site to register a complaint. Pretty disappointing for paying a decent amount for a first class seat and there is no entertainment.
I wish I could say the issues stopped there but on top of everything the stewardess who was assisting me in first class way the most RUDE individual I have encountered in many years; I'm not sure if she is aware she represents the American Airlines but if she was aware something is definitely wrong. My 4 year old daughter had to go to the restroom 2 times on the plane; the first time I had to walk all the way to the back as there was a line for the restroom up front, and the second time was much worse as the stewardess blocked the first class bathroom and the back bathrooms were being used so my daughter had an accident and peed her pants and a little on the floor as she could not hold it.
At that time the stewardess asked "Did your daughter pee on the floor", I said YES twice with disgust, then she said "You seem upset?" I said "Of course I'm upset. You blocked the restroom and wouldn't let my daughter go and she peed her pants", then she just walked away from me. A bit later before we were about to land I asked the stewardess if she could pick up the 2 glasses on my wife's side as she had gone to the restroom and then she spilled the drinks on my wife's seat and didn't apologize or clean it up (pictures are attached). Then I asked her about it and she said "Sir I'm Done with You". I then had to wipe up the mess with the blanket as there was too much spilled for the napkins provided by American Airlines. Seriously you consider this first class service??? I could only say that I will be looking to fly any other Airline besides American as this is the worst experience I have ever had with any airline.

So, I booked a flight from LAX to ABQ and it was a non-refundable ticket. I understand that non-refundable means I don't get my money back. I ended up having plans change and needed to find an earlier flight that same day. Well, a month before my trip I called and asked to get an earlier flight that day and the grumpy gentleman told me it would be about $300 to change the flight and I asked if there were any cheaper options. He said I could do a same day flight change 24 hours before my flight and grab an earlier seat for a "small" fee of $75. I couldn't cancel my flight because of the lovely $200 cancellation fee so I figured the lovely same day flight change would be my best option. And holy-MOLY-GOD-ALMIGHTY was I wrong wrong wrong.
The day came around to change my flight. I call AA to make the change and the lady says there is only one flight available all day for a guaranteed seat change. The catch is I have to book it exactly 24 hours before. It was about 8:30 am and I needed to book it at exactly 9:59 am. Okay, no big deal. So at 9:59 am I went online to book it and the only thing available was stand-by for that flight. So I read on the website that you can refund the 75$ if you don't make the stand-by flight. I simply shrugged and decided to go with the stand-by flight as it was risk free. Well I noticed later on that it was a connecting flight so I would have to stand-by on not only one flight, but two. So I could potentially get stuck somewhere for who knows how long. So I called AGAIN and told them I wanted to cancel the stand-by. The lady said that the "charge never went through. Don't worry, I'll cancel the stand-by though".
Well, later on that day I ended up cancelling the whole flight because I was so fed up with AA and couldn't afford to fork out all this extra money to get on an earlier flight. I wasn't refunded my flight charge. No big deal I understand, but the 75$ I am supposed to be refunded. After calling 7 times, multiple people, nobody could refund my 75$. They said even though the website says it's refundable, it's not anymore. Okay so I basically gave you 200$ and now you won't give me my refundable 75$ back?
The whole experience was extremely stressful, my whole trip is canceled and ruined, and I'm out about 300$ because AA won't work with their customers or give correct information. So I highly advise you, use a different airline. I used to like American but this is it. Never again. TL; DR - AA said they would refund my stand-by ticket, they ended up not giving me the refund. Rude customer service, not willing to work with customers, false advertising, and hidden (possibly untrue) policy all add up to one horrible company.

3 of 3 flights my husband had to take inside of 3 weeks for business were delayed more than 2-3 hours. Due to "something minor that needed to be fixed or resolved"... HORRIBLE maintenance of these planes. It's ridiculous the fares we fork over and yet the planes are in such poor condition... And the staff is not very empathetic either. Most recent flight is listed.

Erika ArmstrongAirlines Contributing Editor
From the front desk of a busy FBO to the captain's seat of a commercial airliner, Erika Armstrong has experienced everything aviation has to offer. She is the author of A CHICK IN THE COCKPIT and her aviation articles can be found at Consumer Affairs, Plane & Pilot, Flying.com, Disciples of Flight, NYC Aviation, Contrails, Mentor, General Aviation News and Business Insider. More about Erika→

American Airlines is the world's largest airline by fleet size and revenue. With headquarters in Ft. Worth, TX, they have an extensive international and domestic network with 953 aircraft making it the largest commercial fleet in the world.
Track your bags: From check-in to carousel, you can track your bags from your smartphone, laptop or tablet.
Business Extra: Travel reward program that earns your company points toward traveler awards while the employee continues to earn his or her AAdvandage miles.
Oneworld: American has an alliance with the world's leading airlines which gives their customers access to 1,000 destinations in 150 countries.
Global Support: If your flight is delayed and your connection is in jeopardy, the Oneworld Global Support will do their best to allow you to use dedicated fast track lanes through immigration or security.
Travel with your pet: If you follow the rules, you can travel with your pet to all 48 contiguous United States.
Best for International travelers, vacationers, business travelers, pet owners and frequent fliers.
American Airlines Company Profile
Company Name:

American Airlines

Website:

https://www.aa.com/homePage.do