Consumer Complaints and Reviews

When traveling with my boyfriend, he booked all of our flights together online. On our way to our destination the experience was average short delays due to unforeseen circumstances. Also, we were on a 6 hour flight and being in the very back of the plane when food was passed around and they finally got to us, there was no food left. Really should consider stocking enough for all of your passengers. Now, on our return flight we were not even seated together. As a matter of fact several people we spoke to on the plane were seated apart from their traveling parties. I find that to be ridiculous. People who plan trips and flights plan to be together. It really took the fun out of this trip.
Aside from that, our layover was extended but was updated numerous times with widely varying time frames for our next departure. No seats were assigned and no one can give us any info about the seating. We were told if there are any seats left, we will get them. What on earth does that mean? We booked and paid for a flight that may or may not have seats for us, as we sit halfway across the country from our home? I find this to be a horrible disservice to your patrons. I do not think I will be flying United again. Now that I'm researching (shame on me for not doing this prior) I see that thousands of people are also unhappy with service here and United has some of the worst ratings. I definitely understand why. United needs to implement ways to rectify these issues. They are unnecessary and are very irritating for travelers to deal with. I have never had such a disappointing flying experience as I have this time.

I will never book a flight with United Airlines, in fact I much rather cancel my vacation or drive instead of taking the chance and traveling with them. They have absolutely no regards for the time and comfort of the passengers. I had a nightmare traveling from USA to Toronto Canada, worst customer service both in person and online. Please do yourself a favour and find an alternative. These guys are so big with money, they do not care about customers at all. Let the competition drive them out of business.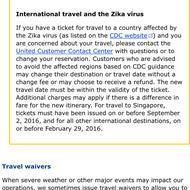 My family booked a vacation to Cabo San Lucas shortly before I found out I was expecting our second child. As our travel dates grew closer, a friend asked me if I knew the CDC recently added Cabo to their list of Zika affected areas. I had not heard that, but sure enough, CDC's website was updated in March 2017 to reflect this new information. Upon finding this out, of course, my husband and I did not believe it was safe for us to travel there while I was pregnant. My OB strongly agreed, and was happy to provide me with a note explaining it was too risky for me to travel there.
United's Zika policy says you can only get a full refund due to Zika IF your tickets were issued before Feb 29, 2016, but the area of Mexico we were traveling to was not added to CDC's blacklist until 13 months after that. What about all of the new Zika infested regions that CDC has added over the last 16 months? The options for expectant mothers who planned a trip before they knew they were pregnant are to A) go and hope you don't get bit by a mosquito that will give your unborn baby microcephaly or B) lose over $1,000 because you're not willing to risk it, which is the boat I'm currently in.
This is so unreasonable, and quite frankly, unethical. I am simply abiding by my doctor's and the CDC's recommendations in order to keep my baby safe from Zika. How can this not be considered a legitimate reason for a refund, United Airlines? If this doesn't qualify me for a refund, then what does? I understand that you are a business and you want to make money, but do the right thing. This is despicable.

First I'd like to say, I have never written a bad review on a business although having bad experiences, but this was a must for me. Purchased round trip airline tickets through FlightHub. My departure was through American Airlines and I had such an awesome experience. I couldn't wait for my return flight on United as I hadn't traveled in some time that the comfort and experience seemed all new to me again. On my return flight with United, I was stopped at the gate as I tried to board because apparently my ticket was a Basic ticket and did not allow for overhead baggage. Excuse me?? Yeah! So they charged me $110 for 2 overhead bags!!! On the flight if I wanted to watch TV it was $8 per person. AWESOME right! After I already paid $25 at check in for my large luggage and $110 at the gate for 2 overhead luggage, now I have to pay $8 per person for my family and I to enjoy some television on our 2.5 hour flights.
BUT... try to call them for a refund! A JOKE!!! I've spent about 2 hours total on the phone trying to get assistance in requesting a refund that of course can only be done ONLINE, on a Refund request form, that SHOCKINGLY, WILL not go through because it won't accept my luggage number that THEY have provided me!! OHHH, but wait. You can't get anyone to help you on the phone either! There's NO department for that!! SO CONVENIENT right? Worst experience and customer service.

I booked a flight from ALB to RDU on 6/23/2017 for a flight on 11/23/2017. It is now 7/13/2017 and they have changed the flight times for the third time in 1 month. I hate to see how many times they change the times over the next 4 months -- maybe 12 times. Who knows. Is this a way to run an airline? I cannot plan travel if the airline changes the times all the time. I guess I have to fly another airline -- with all the problems with United. Who would fly with them. I got my money back and now flying American.
How do I know I can trust these reviews about United Airlines?
824,103 reviews on ConsumerAffairs are verified.
We require contact information to ensure our reviewers are real.
We use intelligent software that helps us maintain the integrity of reviews.
Our moderators read all reviews to verify quality and helpfulness.
For more information about reviews on ConsumerAffairs.com please visit our FAQ.

I tried to make reservations on UA 9470 & 9261 for 2/28/18 today. At first I did this online, and received a message that my reservations could not be completed, and I must call UA support. I called two times! First time I gave all this info to an Indian person who was nice, but she was unable to complete the transaction. I tried to make them again online, and received the same comment about not being able to complete the reservations. I suggested that because my UA credit card expires on 3/18, maybe that was the problem. I had proposed this to the first person, and they both said this would not be the problem. But with another card it went through!
While the second person was making my reservations I asked 2 times for the extended room seats on ALL flights, and she assured me that the cost would be $2241 for both my wife and me. I gave her my credit card (not the UA card) and she booked my flights. I then went on the UA site to book my seats for the 2 UA flights. When I tried to book my flights on flights 9470 & 9261, I was shown an extra $290 for extra legroom seats. This is exactly what I asked about with the second person two times, and she assured me that the total cost for my 4 flights would be $2241!
I then went on my credit card site and noticed that I was charged $34 more than quoted! I understand that this might be a charge for using a reservation agent, but certainly not when I am told by the UA reservations system to call for help! Frankly, I am upset that I was not given correct info by your reservation agents, and that they did not explain that they do not charge for the extra legroom on the last two flights because they are not UA flights. This is simply WRONG. I have heard reports of UA mistreating customers often on the news, and this is just another time that UA, through its employees, has mistreated a loyal customer! I understand that I have 24 hours to cancel my reservations and without a reply, I am considering this.

I arrived at O'hare airport on June 26, 2017 and checked in at the United Airlines check-in counter to flight 391 to Toronto, leaving at 09:18 PM. I had the Canadian Electronic Travel Authorization (eTA) I received by email on May 15th, the same day I purchased the ticket online, in accordance with the instructions given on the website. I paid the required fee as required and immediately received a confirmation email from the Immigration, Refugees and Citizenship Canada with the following details: Status : eTA approved. Name : Elina ** Passport number : ** eTA number : ** Expiration : 2022/05/14.
The email also specifically said. Quote: "Airline check-in staff and the Canada Border Services Agency will have electronic access to your eTA status using your passport." The check-in process went uneventfully and I assumed that the eTA had been checked and confirmed by your check-in staff. I had a copy of the emailed eTA on both my laptop computer and my cellphone but was never asked to provide the eTA email message or eTA number and naturally assumed that the check-in staff had access to the eTA number as stated in the email eTA message and that all was in order.
However, when I arrived at Gate C29, the UA gate attendant asked for the eTA number. I was not prepared for the request and tried to locate the email message on my phone but the pressure from attendant was overwhelming and the search of Gmail didn't run so well. Knowing that I will be denied boarding, and in order to resolve the issue, I entered the Immigration, Refugees and Citizenship Canada website, paid the eTA fee again and received a second eTA by email, all this in front of the attendants telling me they were closing the door and I am not boarding, although the airplane was waiting in sight with doors still open. After a minute or so, and although the attendant was aware of my efforts, the attendant denied my boarding, requested my baggage slip and had my luggage removed from the plane.  
Details of the second eTA: Status : eTA approved. Name : Elina **. Passport number : ** eTA number : ** Expiration : 2022/06/25. The attendant then immediately issued a boarding pass for the next flight (UA 467, on June 27, 6:47 PM), without asking me for my preferences. In addition to missing my flight, which was stressful enough, there was a huge chaos with my suitcase. I was told that by removing it from the flight it was also deleted from the system and could not be located.
The gate attendant, to whom I handed the luggage slip which she required and which was used to locate and remove my luggage from the plane, rudely, deviously and stupidly claimed she had never received the slip (although it was used to locate my suitcase and remove it) making it extremely difficult for me to later locate the suitcase. It took an hour and a half at the customer service desk (at terminal 1) to actually find it and provide me with a new tracking number after locating it by calling the person who actually removed it.
I still had no idea where my luggage was. When finally, I got the tracking number for it, the UA attendant claimed that the suitcase was in the "baggage claim" facility which was closed for the night and there was no one that could hand me the suitcase which carried all my warm clothes and minimal needs, back to me. Since it was already 11 PM, (the next flight was at 06:47 AM, and the customer service advised that I should be early to handle the suitcase problem, there was no place for me to go, and I had to spend more than 7 hours in the cold, deserted airport.
It was a horrendous nightmare. I was deeply humiliated and embarrassed, missed my flight, lost the paid hotel reservation in Toronto and had to wait for the night at the airport without any warm clothing and replacement underwear, etc. The UA crew suggested that I be at the gate as early as possible to make sure all was well with my luggage, so there was no point leaving the airport and going back to the city. I did not have anywhere to stay, did not know any hotel and the time it would take to go to and from the city would make any hotel reservation and stay very short and ineffective. I did not have any warm clothings, blanket and essentials and nowhere to buy ones in the closed and deserted airport. All this due to failure of your airport staff at either check-in or at boarding gate.
Further, when requested a written explanation of why the boarding was denied, the gate attendant refused and said it was not her duty. Opposed to item 250.9 (a). It is quite clear that the fiasco was the direct result of failure by either the check-in staff who should have checked for the eTA as part of the check-in process or the gate attendant who refused to let me finish the process of providing her with the eTA number instead of helping me resolve the situation. She acted rudely and in no manner appropriate for a service providing organization such as UA. It looks as if the attendant was deliberately trying to prevent me from boarding the plane for reasons I cannot even guess. Further, after they closed the gate right in my face, she refused to answer my questions about the luggage, sending me to the customer service desk.
Stressed and humiliated as I was I failed to take down the attendant's name or ID, but I believe she can be traced from UA's work schedule of June 26 2017 (It was the female not the man). Important: On my alternative flight the next morning, I was NOT even asked for the eTA during the boarding at the gate. From this I understand this is not a consistent policy of the company.
I have to point out that the staff at the next flight, UA 467, June 17, 2017 at Gate C22 assisted me in any possible way to follow up on my suitcase and making sure it is on the flight with me. Anja went out of her way to help. Which only points out how the attendant who denied my boarding could have acted. As I mentioned, all my travel documents were in order, and I have fully complied with the Canadian government requirement to apply and receive an eTA prior to my flight. I have operated according to the instructions provided in the email I received, trusting United Airlines would do the same. I was denied boarding in direct violation to UA's contract of carriage.

My luggage was to be with me on board - overhead, plus I paid extra when booking (new rules). They took my luggage and boarded it. When I explained it was wrong, they responded by saying, "Nothing can be done." If I didn't like it they can throw me off the plane. So now I am going to be late with my appointment upon arrival. Why don't they care? What is happening to United Airlines? I will never book with them again. So sad of the way treated, what is happening with these people?

On Friday, May 5, 2017, my husband and I were passengers on United flight 31 from Munich to Newark. We are elderly travelers. After lunch an announcement was made that ice cream was being served. The flight attendant serving the ice cream attempted to pass by our row so I spoke up and politely requested one cup of ice cream. The flight attendant told me there was no ice cream. Then after extensive mumbling she told me it was sorbet. I told her that was fine and I would like the cup. She refused to hand it to me and pointed her index finger toward her temple and began to make a circling motion. I told her she was being unprofessional and she began to make a low whistling noise as she continued to make the rude gesture.
Another flight attendant arrived and the flight attendant with the ice cream turned to her and pretended that I was arguing with her about whatever was in the cup. She then reached over my husband and attempted to force me to take a bottle of water. I told her I had water and again asked for the ice cream. She handed one cup to my husband. My husband asked both flight attendants to send a supervisor to talk with us as we were unhappy with the unprofessional behavior of this one flight attendant.
Eventually a woman who said she was the supervisor came back to talk with us. The supervisor stated the flight attendant accused me of throwing ice cream at her and the pilot had been advised I was a problem. The supervisor continued to talk and attempted to provoke my husband and me so that she could substantiate what she was told. I told her it was impossible for me to have thrown ice cream as it was still unopened in my hand. Based on the flight attendant lying about my behavior and escalating the situation, I requested that the supervisor move that flight attendant to another section. I handed the unopened ice cream container to the supervisor. I asked the supervisor for the name of the flight attendant but she stated that was against FAA laws. She still wanted to argue and provoke so I put the ear buds on and turned to the movie screen.
Later the same flight attendant came by and was angry that I had requested she be moved to another section. She said we had broken federal laws and would be handcuffed, taken off the plane, and arrested in Newark. Later the supervisor and a woman who identified herself as the purser came back to talk with us. The same pattern emerged with the two women continuing to use provoking statements. My husband and I remained calm and attempted to defuse the situation.
This was a humiliating and intimidating situation. Due to our advanced age and health conditions, our physicians tell us we should move about while on a plane as much as possible and to not stay seated too long. We both knew the flight attendant and supervisors were watching us and attempting to escalate the situation so we only stood up one time on this nine-hour flight.
I believe we were singled out for this abusive behavior due to our age and disabilities as the flight attendant commented more than once that I was elderly. I also believe the abusive flight attendant should not have been allowed to work that day due to her very poor appearance. She looked as if she had been on a three-day drunk and just rolled out of bed and came to work.

I'm currently waiting at the airport in NJ. We were suppose to leave here at 8:29. They've cancelled the flight, went back and said it wasn't cancelled, and they've re-adjusted the flight 10 times within the last few hours. We called customer service to see if we could be compensated for this major inconvenience and they say "Well you're still leaving tonight". They offered no compensation at all. Now they claim we are leaving at 2:09 am!!! This is ridiculous and unprofessional!!!
I had a 4 hour delay with Southwest before and they actually compensated everyone on the flight and we didn't even have to ask them. They did it on their own accord. My husband waited on the phone with them for over an hour just to be told that they aren't going to do **. This is why they're always in the news for their bad customer service. I hope the other airlines take over. This is by far the worst service I've ever had with any airlines!!! And this was not a weather related incident! Yes their plane is pretty and modern but I'd prefer to be on a older model plane with better service that cares about customers instead of a company that couldn't give 2 ** about the customer!

I purchased 3 flights from Los Angeles to San Antonio. For flight 9:20 am 6/22/2017. Customer service from gate Mr. ** took extra charged 110 for the carry on. He was very rude and not able to know how to talk to customers. He even offer us to miss the flight. Hope supervisors know and find out what type of employees they have. Worst company ever. I used American Airlines always never had this kind of issues. So poor and worst service and very unpleasant experience.

I fly a lot. I try to give airlines the benefit of the doubt, as it's a tough business. Nevertheless, I'm consistently surprised by the poor level of quality demonstrated by United across almost all aspects of its business... Online experience, customer service, friendliness of staff, on time arrivals, flying experience, extra fees, flexibility in adjusting to travel complexity like availability of crews, readiness at the gate, plane and weather adjustments. On almost any measure you'd have to rate this business at the bottom of the barrel. My suggestion is to pay more and fly with other airlines if at all possible, you'll be glad you did.

My Husband and I made reservations to go see the Kids. We entered a Credit Union Debit card and a message came up that the card had to be verified. After waiting for the system another message came back that the card could not be verified. I tried another credit union card with another bank, the card went right through and I received confirmation we had been booked. It was a holiday week-end - we booked economy with travel insurance. On Tues, after the holiday, I checked my bank accounts and we had been double booked and a charge for $744 was made to both accounts. I called United and they would not refund the amount because we booked economy and only had 24 hours to cancel a flight. If anyone can help us we would sure appreciate it. $744 is a lot of money to us... I have written customer service department and still no response...

We were flying on United Airlines flight 192 bound for Koror, Palau on June 13, 2017. That was the end of our happy family trip but was spoiled on that night while on board the craft. I understand and I guessed everybody does, about safety regulations inside the aircraft particularly fastening seatbelts at all times. But I guessed ours was an exception.
My daughter (2 yrs old) was sleeping as soon as we got board the aircraft. She was too tired from our road trip since morning that day and eventually she slept on my lap and hugging her with my seatbelt on. The aircraft is soon to take off and one of the attendant approaches us and insisting on putting my daughter to her assigned seat with her seatbelt on. And I refused because I knew as her mother that she eventually will cry and get grumpy and probably it will caused her discomfort. Well, I won't mind putting her to her own seat if she is widely awake. But the attendant was so unkind and even raising her voice to us and finally saying if something bad/problem happens that's up to us and turned her back.
I was so disappointed and embarrassed esp other passengers heard for sure what she did to us. I was about to complained but my husband stop me so as not to caused more trouble inside the aircraft. It was just so humiliating. My husband just comforted and said "She is maybe just old" and don't understand the feeling of having a baby. :( Tears drop from my eyes and I tried to keep calm during the whole flight. I was writing this review hoping to let go of this very bad emotions even until we got back home??? Maybe it's just a minor incident but I was really hurt and hoping that it won't happen again and to all other passengers esp. with children with them!

I was scheduled on Flight #UA6280 from DFW to IAH departing at 12:30pm arriving at 1:43pm on Sunday, June 4, 2017. Here is the issue in a nutshell ---
CUSTOMER SERVICE FAILURE! From the PILOT, to the flight attendants to the desk agents! Boarded the plane, taxied down the runway and stopped, pilot came on said,"Air Traffic Control said there was too much traffic and we would be delayed taking off by 30 mins". 30 mins later pilot again says, "Bad weather in Houston" and we were delayed by 40 mins. 40 mins later pilot comes on says still delayed for 15 mins. 15 mins later pilot comes on says, "We've been lied to before but it looks like we will take off in 30 mins." 30 later another announcement pilot is calling "his company" to get further information. Pilot comes on and says we will be returning to the gate (by this time I've missed my connecting flight to Seattle).
20 mins later haven't moved and pilot comes on and says, "Nope we are going to take off". 20 mins later haven't moved. Pilot comes on and says we need fuel and will be returning to the gate. We get back to the gate and flight attendant say, "If you want to get off and stretch your legs feel free but do not go far from gate because we can be cleared for take off at a moment's notice." I decide to stay on the aircraft because I had no reason to get off. 30 minutes later a voice comes on and says, "GET YOUR BAGS AND GET OFF THE AIRCRAFT NOW!" in a very upset tone. The remaining passengers grab their stuff and deplane - but now remember the passengers that decided to get off to "stretch" their legs - their luggage is still on the aircraft in the upper bins.
I get off and get in line to speak with the ONE AND ONLY agent at the desk - it took ALMOST TWO HOURS of standing in line to speak with ANYONE and NO UPDATES WERE GIVEN AT ALL, no water offered, no snacks. Approx. 5 mins before I got up to the counter a lady showed up to help the lone agent... she was clearly stressed out. I get up there. She is still very nice and professional and says, "Plane to Houston is going to take off" and that my connecting flight is rescheduled. Right before I leave I hear a crew member say, "We are timing out and there is no back up crew for this flight." WHAT! DID! YOU! SAY?!?
Thankfully I was still because if I had to stand in line AGAIN I never would have gotten home. Stacey the agent is very helpful and understanding and gets me on a American Airline flight direct to Seattle at 8:35 pm that night - it is currently almost 6pm -- by this time I have been at the airport since 10:30am --- but happy to get a flight home. I walk the mile to my new gate and jump on the skytrain. AA got me home and delivered me on time.
HERE IS WHERE UNITED WENT WRONG in the first place--- Once we were ordered to deplane there was absolutely NO COMMUNICATION. Having 1 agent to assist all of us passengers was BEYOND ridiculous and disrespectful... I understand mother nature and weather can't be helped but what can be helped is to treat your passengers as you would expect to be treated... communication is key! Help so that passengers who have already been on this flight merry-go-round for the past 6 hours know what the heck is going on and feel assured. Solutions... offer stinking solutions quickly!!! How about some water? How about a bag of nuts? I mean really??? WE could not leave the area... we DIDN'T KNOW WHAT WAS GOING ON. Clearly we were starving, thirsty, had to use the bathroom.
Where United went wrong in the second place --- Crews and the scheduling team knows when they time out. Clearly this crew and the scheduling team knew they were on borrowed time and to allow them to time out with NO BACK UP CREW is beyond cruel to all of us who desperately needed to get home or to a wedding, funeral, career changing meeting... whatever the reason we all CHOSE to fly on United... I mean come ON! I tried to send this to United without going through this channel but guess what... I could not find a way to do that??? So, so, so disappointed!!!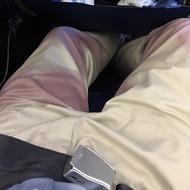 On my recent flight from Munich to Newark, the air hostess mistakenly spilled a full glass of red wine over my business Brooks Brothers trousers and shirt while trying to place it on my tray. Not pleasant, but I remained understanding. She was very apologetic and did the best she could, along with the passenger next to me, to clean up etc. Later she provided me a travel pack from business class and a "We're sorry for the inconvenience" with unique serial number card to use online to make a claim. She indicated United Airlines would replace the stained trousers and shirt if the stains did not come out - which they have not.
I have now tried multiple times on different days to get this form to work. All fields are completed correctly, a brief description of the problem entered, and then on clicking the blue summit, NOTHING happens!! It feels like a joke - perhaps this is the new reality for United Premier, Gold Star Alliance, travelers? Of course there is no contact number or any way to follow this up. Unhappy traveler.

United cancelled the flight due to weather in Houston from Austin to Los Angeles on 6/4/17. The flight was going from Austin to Houston to LA. Since I had basic fare seating, they would not put me into next flight and they will put me into flight 3 days later. Please be aware of basic fare implications. United has become one of the cheap airlines' behavior. They won't do anything for me nor give me any compensation. They said, "Come back after 3 days" and that's it... What a poor and sad behavior... They are becoming one of the worst airline in American history. I had purchased it for my son. Now he is going through pain. I would not fly United Airlines anymore. And I would not buy any tickets to fly United unless I have no choice.

United Airlines today proved how bad they are. I'm a premier member, fly a decent amount. Usually monthly or more. Usually first class. My business partner the same. Long story, read on if you'd like. My father just passed away Saturday morning. Some of you follow my social media and know this Pearl Harbor veteran was in hospice after months of decline. I flew monthly to Omaha to spend time with him. I planned the past week with him in hospice, leaving Sunday back home of course always knowing it could change with circumstances.
He passed early Saturday. So I decided to fly home Sat instead of Sunday. I had a business trip planned Sunday to Monday to San Jose. So I called United, telling them I want to move up a day to go see my wife and kids one day before business trip. They said it would be the trip cost of $294 plus $200 change fee. I responded "why would I do that? I can buy the ticket Saturday one way to Denver for the $294 online, why pay the extra $200?" After 19 minutes on the phone and no help from United on airfare, which is their call, I just bought the ticket for $294 telling the customer care person it just makes more sense. So I go home and get a day with my wife, leave and go to airport Sunday 9 am.
I checked in to my flight and saw that I needed to check into the original Omaha/Denver flight as it was connected. Get through security, get to gate and I'm first in line to board. Beep! Beep! Not accepting my boarding pass. "Please step aside sir" I was told. Another person helping me now. I'm like "what's up I have a seat assignment." She said "no you don't". "It's right here on my phone, yes I do!" She said "you were a no-show for earlier flight so they cancelled your next trip. I'm like "wait a minute! I called! I asked for help and was told no! So I bought a ticket." She gets nowhere. So a supervisor comes to help. She's a pip. She tells me I needed to cancel the earlier flight. I needed to tell them. They sold my seat. I said "mam, how do you suggest I tell United?". She said I needed to call. So I show her my 19m call in my phone log yesterday 5:30 am.
She said "well sir that's not what my screen says"...so now I'm on my 4th customer service person. Plane is now loaded up. The guy who is my seat tells my partner he got upgraded 20 min ago. So there's a seat in coach open. Middle seat in back. They offer it to me for $200 charge. OMFG! I'm pissed beyond belief. I stay calm, tell them there's only one way to fix this; move him back to his original seat and give me what I paid for. They say "that's not fair to him". Unbelievable customer service right there. Anyway, I'm gone and so is my partner. You lost two first class, monthly or more flyers to American or somewhere. They don't care.

I flew UA 888 from Beijing to Philadelphia and had a layover in San Francisco. I had the worst experience ever on the flight. I was treated so terrible that I could not believe I paid my money to get treated like that. It was Racist and Not reasonable to treat anyone like that!! Not too long before we arrived to International airport of San Francisco, they started to serve food. I put the tray on my seat and my braces on the tray I had to run to the restroom. But! When I came out my food was gone. I haven't even touched it. The flight attendant took the tray away. So I went to one of the lady, said I have the braces on the tray, please help me find it. She said: "I DON'T HAVE TIME FOR THAT!!" She was almost yelling at me.
I was like... What? I explained to her my braces was on the tray. And she turned around to another blonde flight attendant said, "She puts her braces on the tray", and she replied, "That's so stupid, why did she do that!!!" They were laughing and throwing the tray around, I was so upset and cannot believe what I hear. I said to her "I have to find my braces, it's very important." She seems so impatient and annoyed. Then she throws the tray to me... With my braces. Her attitude was so rude and impolite. I am a 26 year old Asian girl speaking English with accent. I look young and petite, so I was supposed to get bullied on the flight by the flight attendants? The United airline's service was absurd and rude. I will never buy their tickets again. I will also tell my friends and family not to buy either.

I think she should learn some manners on how to speak to customers. I was calling in to change my flight and explaining how 30$ raise in the fare amount doesn't make sense with paying 200$ of change fee. She was in no mood to listen and was not allowing me to speak by saying read the terms and conditions continuously for around 10 times. If you are not in a goddamn position to at least listen to what the customer is saying, I don't think people like Debrah deserve a position as customer representative and I pity United for having such lousy and ill-mannered customer representatives. Shame on you Debrah.

My wife traveled from Atlanta to Hartford CT approx. three months ago. During that flight the flight attendant asked her to check her carry-on since the flight was already full. My wife handed her carry-on to the United personnel and boarded the plane. When she landed and retrieved her carry-on, she noticed it's open and all her personal valuables stolen. We are talking about jewelry and two brand watches. She immediately placed a complain and got her ID # to follow up. Three months later we received a joke email from United that they were very sorry although they have searched thoroughly, and that they will contact her when it does.
Clearly this company is a joke as we have seen on the news; they expect that stolen items like jewelry and watches will just walk to them! Base on United policy, we are demanding the reimbursement of the covered items stolen and an action plan to accomplish that. We are still waiting for a phone call or email... but none can be expected from a circus company.

I have now had three exceedingly negative experiences in a row with United. They never even addressed my first two complaints (one in 2013, and one in 2015). I will no longer try to deal with them. I will now deal with the rest of the world and hope to get their attention. Sunday, I booked the same trip I book every year to visit family in Michigan. Just like every year, I chose the cheapest "non-refundable" ticket. I didn't anticipate having to change it, and figured if I did, I'd just have to pay to do so. That's how I've always done it. It turns out I DO have to change it, but I can't. Now, United's "lowest" fare is non-changeable, even though my trip is more than a month away.
I spoke with Micah, who is supervised by Angelo in customer service. She was condescending and rude. She was also completely unwilling to help me. I would NEVER have booked a ticket I couldn't change. I would have just done FareLock if I understood that the ticket was non-changeable. Now, they get to keep nearly $500 of my money and I get NOTHING in return. This is the wrong way to treat customers. It is SO very wrong!
Here is my 2015 complaint: On July 4, 2015, I embarked on a journey to visit family in Traverse City, MI. My itinerary was from RDD to SFO, to Pittsburgh, to Chicago, to Traverse City. The first flight was lovely. The second flight, from SFO to Pittsburgh took off as planned. I had a five hour layover in SFO, which I anticipated. Once on the plane, it seemed all was well. However, it turned out that some flap was not working, and there was too much drag on the plane to make it to Pittsburgh. We needed to land back at SFO. We circled SFO for nearly two hours to burn off fuel. We were greeted on the runway by fire trucks.
Next, we were told that we would be put on another plane and sent to Pittsburgh. We waited patiently at the gate for the new plane to be readied and the crew to arrive. The crew never arrived, and we were told at 1:30 a.m. that the flight was cancelled. Your agent Tamika (spelling?), was lovely, and booked me on a flight to Chicago leaving at 5:52 a.m. By the time I was booked on this flight it was too late to go to a hotel, just to turn around and return to the airport. I semi- slept (and was freezing cold) in the terminal.
After 3 gate changes, I finally board my plane to Chicago. Once in Chicago, the jetway, that allows us to disembark the plane, was not working, so we spent an additional 20 minutes on the tarmac on the plane waiting for it to be fixed. Once off the plane, I was optimistic that things would get better. The plane to TVC appeared to be on time. However, a woman from the incoming flight wanted her wheelchair instead of the airport wheelchair, so we waited 45 minutes for her wheelchair to show up. Then we were further delayed by the Traverse City Airshow. This is a completely foreseeable delay! Finally, the plane was overfilled with fuel, so we had to sit on the runway for awhile and let the fuel burn off before departing.
When I finally (over 24 hours later) arrived in Traverse City, I got a text saying that my checked bag would be arriving on a later flight. No specifics about when. I asked for my luggage to be delivered to where I'm staying. I was told no. At this point I politely told the agent my story, and that I was at the end of my rope. She said she would have the luggage delivered. So, here I am. I am where I want to be with no clothes. As I write this, I receive a text, United bag update for file **. We are working to locate your baggage and will keep you updated every 6 hours until we do. I have no clothes, no clean underwear, and am completely dismayed at the incompetence displayed by your airline. I fly this airline regularly, and am shocked at all of the foreseeable issues I encountered on this trip. This is completely unacceptable. Not one of these problems was anyone else's fault (or an act of G-d) but United's.
I eventually got my bag, but I never did hear from United about my horrible flight (I sent them the above letter). In 2013, when my leg was broken, I needed to use a wheelchair to fly on United. They left me sitting facing a wall (they locked the wheels on the wheelchair) for over 2 hours. I couldn't move, and nobody would help me.

United Airlines has a new policy to charge $25.00 for a second carry on bag. That's bad enough. I was flying from Geneva to Michigan with a layover in Newark. In Geneva the United Airlines employee kindly printed both my boarding pass from Geneva to Newark and my connecting boarding pass from Newark to my final destination. The staff in Geneva were very helpful. When I arrived in Newark, I went to my gate to board my connecting flight.
The staff at the gate charged me $50.00 for my second piece of carry on luggage! I protested, saying that the charge should be $25.00. She said that because I was paying at the gate I had to pay $50.00. It is entirely unpractical for United Airlines to expect their customers to exit, check back in at the check in area (when I already had my boarding pass). They have lost my business for life. My small suitcase and the pair of jeans, sneakers, t-shirts and bath bag were not worth $50.00. This is an outrageous way to treat customers.

"Fly the friendly skies", ha ha, yeah right. I had flown on a flight from Edinburgh, Scotland to Newark New Jersey and was supposed to get a connecting flight in New Jersey to Detroit, Michigan. The flight to Detroit was on Thursday night at 5 until they delayed it about 5 times before cancelling it. They then told us we were not going to be able to get on a flight until Monday. They made us sit in the food court, one person with us went up to a worker to see if we could get blankets and before she even said anything the worker turned around and screamed, "I can't answer any questions right now." We fought all night to try and get a flight before Monday. We had finally gotten one from Jersey to Chicago then from Chicago to Saginaw. Before getting on the flight we got breakfast and even the workers at the food places were extremely rude.
Once we were part way on our one to Saginaw we all of a sudden had to fly back to Chicago and had to get another flight to Saginaw which luckily didn't take long. After finally arriving in Saginaw they said our bags were in Detroit and some were still in New Jersey. We gave them our addresses to ship them to us and they said it would be later in the day today but this morning they were dropped off to my house and it turns out they were in the Saginaw airport the whole time and could have gotten them right after our flight. They don't know what they're doing!

I travel 4 times a month. I use Delta because they are 98% on time and they are kind. I was placed on United this week by my company. Because I was in group 5 I was not allowed a carry on bag and I had to pay for checking my bag which added 50 to the flight. Not one person employed by United greeted or spoke any friendly words on either flight, most were rude. To top it all off both flights were delayed. Dissatisfied. Never again. Fly Delta!

I left DFW so early that I had to park in the outer parking lots. I did this no problem. Get to the TSA to have one guy do it all - so stand in line an hour. I did. It have a problem. To get to Houston to book it to another terminal in 30 minutes to be told cancelled. No problem still, taking it in stride. I do not know how I can still be in this terminal over 4 hours later and be pushed back and back and back and back. I start to have a problem. People sleeping on the floor - a young girl with no money for water even. My problems are growing. No sees that this problem that you are creating. When we ask why we can be discarded and other people go to the place I want to go and not be bumped. To be talked to that it is not their fault. Someone is responsible.
If it was not feasible to fly us few then why not book us on another company that can do the job in a timely manner. I know this is not profitable but at what point do people matter. If even one person takes my warning and does not fly with a United - a company that actually does not keep what they promise. Then I have done something. I will not ever use UNITED AIRLINES again! Cheaper ticket is not worth what I am still going thru! P.S. one star is too much!

I traveled from SJC to EWR. My flight number is G4MBE2. In my ticket allowed carry on bag and laptop bag. I carried 2 bag. One is laptop. And second one is carry on bag which is free. And they charge me 25$ for my carry on bag. When I'm entering in flight I seen more than 10 travelers they have more bigger carry bag than me. And on that time I feel too bad like why they charge me for my carry on bag. And I have my blanket on my carry on bag which I'm going to use during my flight but I can't because they took my carry on bag just for 25$... I never seen thing like this. After that I called customer care but they also didn't reply properly. Hope I got good response from here.

United Airlines is based in our city so we end up using often. It has gotten worse and worse. Today, first mechanical issues, then told a re-route. So had to re-park for more fuel. When we finished refueling, mind you we would have still been in flight. We were told to deboard because first officer had timed out due to working too many hours and we all would have to wait until they could find a new one. Seriously? That means he would have "Timed out" while flying... Making us all unsafe? Or total BS? It is the most unorganized, unprofessional, rude and dishonest business I know of.

I had an awesome once in lifetime experience at the Uvalde, TX proving grounds through huge tire company... A trip that I qualified for through work. Flights, hotel, and track time were all scheduled, and I arrived for my 6:50 am flight at 5 am. Surprise... that flight was cancelled. Next available flight - 12:08. Needless to say, I came back home (20 minute drive)... No need to stay at the airport when I couldn't even board for 6+ hours. Now, I got up at 3:30, to get ready and make sure I was there by 5, so I came back a laid down for a few hours.
When I got up at 8:30, I found out the flight was delayed again (12:40). Over the next hour, the flight was delayed a total of 3 times, finally departing at 1:15 and arriving at 7:24 to Houston. That left me a total of 1 minute to make my connecting flight to San Antonio. That didn't matter much, though, as the flight was delayed, again. And again. And again. The last update was for the flight to leave at 2:45 (7 hours + later than my original flight). This put me into Houston at 9:21, missing my connection (left at 8:15). Now, it's possible I could've made one of the other flights to San Antonio, but my 8:15 flight didn't even show a seat available. So, if I could've ever made it to Houston, what's the likelihood that I'd ever get a flight to San Antonio.
Oh, and the mandatory reception for the event kicked off at 6:30 (which would've been fine, had I made my original flights). So, I'd have missed the reception, had to arrange my own transportation to the hotel (since the rep. at the airport would be long gone by that time), and if I was laid over in Houston til Mon. morning, I would even miss the event. I finally called the rep. for the tire company and cancelled. No reason for me to try to even get to TX if I couldn't possibly get to the end point. Oh, and here's a kicker... my flight home? Got a notification on one of those flights being delayed, already (got that yesterday... Sunday... that flight isn't till TUESDAY). United Airlines, thanks a lot. You SUCK!!

I booked a flight with United Airlines for 4 pm on a sunny Monday afternoon. Showed up to the airport and through security to find out my flight is cancelled. I called customer service to get no help whatsoever. The woman on the phone told me the next flight out was not until the following day. I was upset but what can you do, so I accepted the fact that I had to take yet another day of work off for United Airlines mistake.
Then I told them I was in a foreign city and do not live there so I would need a hotel or taxi. They refused to give me any sort of compensation for the taxi, hotel, or food I would have to pay for. The delay was not due to weather, it was for "traffic control issues". There was multiple other flights out of the airport to my destination so I'm not sure what the issue was. I am appalled that this company is unable to provide me with at least a taxi ride to a hotel or a small fast food meal to keep their customers content when they screwed up. At this point, unless I hear back from United I will not be buying flights with them and will surely tell my friends and family to stick to American who at least provide taxi service. Ridiculous!

Erika ArmstrongAirlines Contributing Editor
From the front desk of a busy FBO to the captain's seat of a commercial airliner, Erika Armstrong has experienced everything aviation has to offer. She is the author of A CHICK IN THE COCKPIT and her aviation articles can be found at Consumer Affairs, Plane & Pilot, Flying.com, Disciples of Flight, NYC Aviation, Contrails, Mentor, General Aviation News and Business Insider. More about Erika→

With 723 aircraft in their mainline fleet and an additional 510 aircraft operated regionally, United Airlines has one of the largest passenger fleets in the world.
Easy rewards: United Airlines has one of the most comprehensive and easy-to-use rewards programs out there.
Tiered seating: Business-class, first-class and business-first-class seating is available to let travelers relax and stretch out during a flight.
Free checked bag services: Business- and first-class passengers fly with no additional fees for a checked bag, barring oversized luggage.
International travel: In addition to offering domestic flights, United Airlines travels to 57 different countries and offers services such quick checks on visa issues related to travel.
Flight info on the go: United Airlines has an app that lets users book flights, check in, follow flight status info, see seat maps and more.
Best for International vacationers, business travelers and frequent fliers who want more travel options and upgraded service.
United Airlines Company Profile
Company Name:

United Airlines

Year Founded:

1926

Address:

233 S. Wacker Dr.

City:

Chicago

State/Province:

IL

Postal Code:

60606

Country:

United States

Website:

http://www.united.com/