Consumer Complaints & Reviews

I compared prices when I bought a ticket and went with United because I thought it was cheaper. But then, lo and behold, they added $60 in taxes and fees (the other airline included this in their price). Don't fly United.

You have got to kidding me! I have been a United Mileage Plus member for almost 30 years and have in the last two months used United solely to travel to 4 countries (43K miles in the last 4 or 5 months). Had a business class ticket booked from Chicago to Seoul tomorrow morning ($8000 ticket booked 6 months ago) for a very brief 4 night business trip and received a text at 1 am (11 hours before the flight) this morning saying the trip was cancelled and rebooked for the next day. Are you kidding??? Now on my 3rd hour at 3 am (on hold for the 5th time) and the person I was working with just hung up on me!

I don't have the words to express all my frustration against United. I called to ask if I could book a ticket and use mileage to pay for part of it and if I could use a certificate as well. The agent told me I couldn't combine both (so why bother saving them anyways?). We looked for the ticket price and then I asked to see how much would be deducted if I use mileage to pay for part of my ticket.
Surprise, surprise, the game changed. I was informed that I couldn't have 2 modes of payment (mileage and credit card, which apparently was fine 5 minutes earlier, since I was very clear when I asked if I could pay for PART of the ticket with mileages and the answer is yes). If I could pay for PART of the ticket with mileage, how would I pay for the rest? Sure enough it would be with credit card. Either United mileage is a scam, or the agent is unable to understand plain English. Either way, I am very frustrated and I was given one more reason to avoid using United.

I had a horrible experience with the Airline and its employees. On May 16, 2016 I booked a flight with this airline to go to UK for an emergency with my daughter. I had one suit case and 1 carry on. I was told when it was booked this would be covered but ended up paying to have bag stored. I flew from Richmond to Dulles for my connecting flight to UK with United. I got there and all was delayed by 4 1/2 hours. I was going from Dulles to Heathrow and transport had been booked and paid for in advance to take me from Heathrow to my daughter's flat. I was to land at 10:30 pm but due to delays and other reasons the flight was slower than should be. I did not get to my daughter's until almost 3 am. I could not let my family know what was going on in UK or here in Virginia due to no phone service in airport. They were extremely worried about me as I am 63 with some health problems. The crew on this airline were unfriendly almost rude.
Due to the stress I was forced into due to the above I was unable to sleep on the flight. Nothing better was offered by the airline to make things right the day I flew. When I complained via phone I received an email stating that they would offer me $100.00 on my next booking which to me was a slap in the face and they wanted me to agree to not lodge a complaint if I took advantage of that $100.00 offer. I would never fly with them again due to all of this. What little food they offered was disgusting and I could not eat it. I landed in Heathrow tired and hungry. There was nothing else offered that would even begin to ease what happened.

Flight was 5.5 hours late - issued connection. Because of this we missed the interior land portion of our trip. This was a bucket list trip to years in planning. Flew us out in economy class - charged us for first class. Refused give us back difference. No customer service employees. Do not care about customers.
How do I know I can trust these reviews about United Airlines?
593,279 reviews on ConsumerAffairs are verified.
We require contact information to ensure our reviewers are real.
We use intelligent software that helps us maintain the integrity of reviews.
Our moderators read all reviews to verify quality and helpfulness.
For more information about reviews on ConsumerAffairs.com please visit our FAQ.

I purchased a ticket for my 15 year old son to visit with family in Chicago. As we all know, when booking a flight you need to include the date of birth for the traveler. When I tried to check in I was told I needed to check in at the airport. When I got there I had to see an agent who informed me that United's policy for unattended minors traveling is no longer 12 years old but now 15. They asked me to pay an additional $300 - $150 each way. The agent told me this was due to all the airport bombings - REALLY? Well, I refused to be held hostage and pay another penny. I could have flown with him for $300. His airfare was less than that.
I googled age for unaccompanied minors and some airlines have changed the age to 13 or 14 - even the federal government's website noted no airline using the age of 15. United Airlines - stop gouging your customers and trying to hold them hostage. This was a very disappointing experience for my son and the family he was meant to visit.

My new surf board had been broken during the flight. I packed it in a special travel carrier bag for surf, in bubble paper and in duvet. On it there is written FRAGILE FRAGILE FRAGILE. I took the plane with several companies (American Airlines, DELTA) and that never happened before. United makes me paid 150 dollars to break my board. I don't know how it is possible to break it after all the wrapping precautions I took. Certainly the carrier has been throw with violence. I filed a claim in San Diego. I called the UNITED services to know the status of my claim. The women told me that she could not do anything - didn't try to help me finding a solution and hung up. For the return I took American Airlines. I also paid 150 dollars and my board was okay when I got it at the airport. I am never going to take UNITED again. Client service is the worst I have ever experimented. I lost 500 dollars of surf board. 300 dollars of oversized fees for NOTHING.

I was humiliated, embarrassed, for one of the airplane attendance: we boarded the aircraft in the last moment, we decide to sit in the very first available seats. A stewardess approached us asking if we want something to drink. After we tell her yes, she asked for our boarding pass, she immediately ask us to leave. We felt horrible, since she did not gave us the chance to pay for the seat at the first. It look like she was enjoying our humiliation.

I have only once traveled with United 3 years before and I wasn't a fan of their service then also. Now recently I booked a flight with them and called up to confirm their baggage policy. First of all, their baggage policy sucks as only 1 free checked-in bag for international flights doesn't come up to our expectations with this popular airline. Dozen other airlines offers 2 free checked-in bags. Secondly their customer service is not cooperative. Instead of convincing me about United service when I wasn't very happy with their baggage policy, they came right down at me saying, "It's your choice to leave us".
I asked them, "If other flights offer something more than your flight then why should I be even travelling with United?" And they said, "It's up to you" (to leave our customer base forever). Well guess what I did, I cancelled my flight and will never ever book from United again and would highly recommend to others not to too. After this experience I was afraid that how they may behave on flight and I really want to have a pleasant experience on such long journey.

Twice now United has taken off 30 minutes to an hour late with the explanation that "paperwork" had to be completed. This last time, we deplaned, and then we were re-boarded. Apology from the pilot. That's it. No smiles from the flight attendants. Most have been unfriendly. I will avoid this airline in the future.

Over the years, I have travelled to New Zealand and Australia over 12 times and Europe twice. Domestic USA too much to remember, always for personal travel. I figured flying DEN to SLC would be... well... "seamless". HA! My days of air travel has been greatly curtailed due to health issues. I am on oxygen 24/7, so went to the expense of buying a Inogen portable oxygen concentrator approved by United. I called the United Accommodations Desk to make sure I was "allowed" to bring this on and was REQUIRED to get a UNITED FORM filled out by my doctor. I had a prescription slip and wasted NOPE. Filled out form was required!! I chased around and got this done. TIME to FLY! I bought First Class for more room; requested a wheelchair online and, went to check in with ONE bag checked that contained my CPAP medical device required for when I sleep.
I asked about wheelchair... "HUH??" Not available! So, I was able to walk slowly to the gate. FLIGHT STAFF were GREAT and arrival to SLC was good UNTIL... I looked for my bag... It looked like an oversized shaving kit bag! NOPE. Missing! Checked with Baggage Control... OH! It's right... HERE STILL IN DENVER!! So, it's MIDNIGHT. Waiting on WHERESMYSUITCASE.com to deliver my luggage at THREE THIRTY AM!! YES!! 3:30 AM!! YUP, a 65 minute flight, FIRST CLASS and could NOT get it right!! I think NEVER AGAIN! Back to SouthWest I go!! How would you feel??

After arriving 2.5 hrs late in San Francisco due to some sprinkles in DC - found out we had missed our connector and had a 10 hr wait in the airport for the next connector to Reno. We were already paying for an expensive hotel in Tahoe, but they really don't care - so we had to beg for our baggage so we could pay even more for a filthy local hotel. Then found out our connector was in coach (we paid dearly for business class!) After complaining we received a $54 refund!

I booked a flight to take my daughter to Spain and Portugal this Christmas as her college graduation present. One flight option was a 24 hour layover in Amsterdam. Since we had never been to Amsterdam we chose this option. Four days later we get an email saying they cannot issue out tickets; to please call them. I am now on my 5th phone call; over 2 1/2 hours on the phone/hold. After explaining my situation I get told that it's not their fault; it's their partner airline. Their solutions are not viable and they appear not to be listening.
I asked for a supervisor and was put on hold. When the agent came back she said she had the supervisor on the line and was connecting me. Bingo - HOLD music again for another twenty minutes until I hung up. That phone call lasted one hour and sixteen minutes. Called back and immediately asked for a supervisor. She is very helpful but tells me that the amount I was charged did not include the Lisbon to Amsterdam segment and now the tickets are an additional $1200. Had to ditch the whole Amsterdam segment much to my dismay. I haven't even left for the airport and I hate the airline!!! I've now been on the phone over 3 hours total and I'm on hold again.

When I arrived to the airport, I could see that many United flights were delayed because of an error in getting planes to gates. I called an agent and asked if my flight (which was delayed an hour) actually had a plane heading toward our gate and if it would leave at the new time. She assured me that it would, and I thanked her and hung up the phone. When the plane arrives at the gate, it turns out that they don't have any crew to serve on the flight, leading to another delay. I get that things happen, but how can a major airline be this disorganized, and if there wasn't any staff for the flight, why did the customer service agent tell me that it would leave at the new time? I honestly think this will be my last time flying the "friendly skies" with this airline. Don't even get me started on the change fees and baggage fees...

WARNING: I used to travel only with Continental Airlines and had accumulated 54,632 miles. When United purchased Continental they started a new program where if you didn't use your miles every year they would expire. I was never contacted and told my miles would expire and expected my miles back. They did not care that I was a loyal customer and expected me to buy my miles back, which I found outrageous. I will NEVER fly with United again but wanted to warn other people of their new practices. A side note: They showed I had only 40,840 miles and I asked for a mileage history which they would not give me.

On Monday, 15 August 2016 I was traveling on a flight (UA 1860) from San Juan to Houston on route to Johannesburg, South Africa. The flight attendants on that specific flight were extremely unhelpful and just plain rude. When serving the snacks the attendant was raising her voice at me when I asked her if they sell any sandwiches. She was frustrated and yelled that I must look on the menu in the pocket in front of me. Clearly no one on that flight wanted to work the early shift. When I offered to pay cash she said that they only accept credit cards. Very irritated she waited until I produced a credit card to pay.
On my arrival at Houston airport I learned that flight UA 373 to Washington was delayed indefinitely which means that I would miss my connection to Johannesburg later that day. I was then booked on a flight later that evening to Frankfurt. The flight to Frankfurt departed only at 18:30 that evening and arrived on 16 August at 11:30 am. The connection flight to Johannesburg, South Africa departed at 20:45 and arrived in Johannesburg at 07:25 on 17 August on SAA Flight SA261.
I had two long layovers in Houston and Frankfurt and had to pay ridiculous airport prices there for food and beverages. United Airlines made no attempt to supply anyone with meal vouchers or some sort of compensation whatsoever. The staff at the customer desk in Houston were at least helpful and friendly but they had no authorization to try and resolve the matter. I travel to the States often but United Airlines will not be my first choice after this bad experience. I was not forced to use United but chose to do so, yet the staff treated the customers as if we were doing them a huge favour.

Trying to book a flight from FLL to Calgary through Houston I noticed a 45 minute connection time. Sounds great but it's Houston and that seems very close. Reservations says it should be 60 minutes but they sell these tickets with less as if they expect us to miss the flight and hope there is room on the next. Same thing on the return through Houston. The website says risky connection with 50 minutes connection time. Losing that connection creates a huge problem in getting to Canada and holidays but United does not seem to take note. Shame on them.

United Airlines is a ** fraud. I bought a ticket with them and I tried to cancel my flight. They told me I couldn't get my $250 back because I did not cancel the flight within 24 hours even though I cancel the flight 20 days before. They have agencies in India stealing from people and United Airlines is backing the ** up. United Airlines customer service is like some ** from a third world country. ** UNITED AIRLINES. If you are reading this please don't fly with them. I want my ** money back United Airlines and my email address is **.

This airline rarely keeps its flights on time. I was re routed 3 times in one airport, on the same day, and all were delayed due to airplane maintenance. Do they have any planes that work? No communication as well. We sat on the plane for over an hour! I will now miss my connecting flight and will have to drive 5 hours, via rental, to get to my final destination! This has happened over 4 times in the last 1.5 years. I will be making a hard campaign for delta to start flying into san Luis to avoid ever using this airline again! I have had it and are truly surprised they are still in business. Absolutely the worst I have ever flown and I travel a lot.

This woman was trying to charge me for my luggage from the minute she saw me, even though I showed her proof in writing from the United web page, that clearly confirmed that I was right about my luggage allowance and she was wrong. Instead of being helpful and try to resolve the misunderstanding she was trying so hard to charge me and dishonor the proof on my hand and dishonor the statement of one of the agents on the phone. It was not pleasant at all to start my day at 5 am with someone like her giving me such a hard time. Cris you should work in the back, talking to machines or luggage. YOU SHOULD NOT BE TALKING TO PEOPLE. YOU ARE THE WORST CUSTOMER SERVICE EVER.

I had my first, and probably last experience with United Airlines in July, 2016. I visited San Diego, my departure from IAH was very please tell but the return trip was a nightmare! July 16th, I checked in at SAN to return to IAH. I arrived at the appropriate gate for my flight wearing a pair of tights with a sleeveless body shirt and a long sleeve sweater. The agent loudly stated "you can't get on the plane dressed like that. You will have to put a top to cover what you are wearing or I can't let you board the plane." I thought Anissa (the agent at gate 37) was kidding, but she stated United had dress codes. I told her I had a long sweater to cover my arms on the plane, it was tied around my waste. She said that was not acceptable, directed me to a shop to purchase a top.
I am 73 years old and have been flying 40 years, surely I know how dress appropriately! I have address this issue with United Airlines via phone and in writing, since July 18th, as of today I have not received a respond from United, but I will not go away nor will I be swept under the rug. United Airlines appear to have no respect passengers of color.

My wife and I travel a great deal for business and for pleasure and have never had an experience with any other airline like that we have had with United Airlines. Last year I had booked a trip from Calgary, Alberta to New Orleans, Louisiana for my wife's 40th birthday to leave on October 9, 2015. Unfortunately due to personal family reasons I was forced to cancel the flight.
At the time the airline booking agent told me that although my flight was non-refundable that it was eligible for a flight credit that could be applied to a new flight if I used it up in one year, what she failed to mention is that it had to be used up within one year of the booking date (July 1) and not the date for the flight, which is what I assumed she meant. But when I called today to book a flight (Aug. 22, 2016) I was told that my ticket had been cancelled and that United would not give me a flight credit or a refund for the $1200 spent for the tickets, I told the agent that that is equivalent to theft, she told me that it was not, to which I replied, if someone pays for a product but never receives that product for which he paid that is indeed THEFT... Thanks for nothing United Airlines, that will be the last time you get any money out of me.

We were supposed to get a 9 am flight. We arrive 1.5 hours early to check in then realize we got bump out 2 hours later due to overbooked flight. I would never fly again. We did not complain because we are just too excited. But while waiting we receive another bad news. Our flight is delayed again another 2 hours because of airport traffic and we will end up connecting the next day to our final destination due to the airline overbooking. 1 day lost of our vacation due to their inefficiency. I would never use this airline again.

Flight 569 ORD - PDX on 8/18/2016. My concern is the conduct of one of the two flight attendants. She was rude and inappropriate with myself and other passengers. At one point I got up to use the lavatory and the seat belt sign came on when I was already up. When she saw me hesitate in front of the lavatory, instead of politely and professionally asking me to return to my seat she said, "The seat belt sign is on, you're not supposed to be up".
I started to turn around, but someone behind me wanted to use the lavatory. The flight attendant said, "You're not supposed to be congregating here either. So what's it going to be?" (loudly). I said, "Well I thought I wasn't sure if it was occupied." She said "Well it's green!" and slapped her hand on the "green" window. (Some people are color blind, which is probably why every airplane lavatory I've seen has the words "occupied or "unoccupied" on it, not a color alone.) This is inappropriate, unprofessional and unacceptable conduct. Her words and raising her voice and slapping the lavatory are actually signs of someone escalating toward violence. Yet who could I ask for help?
THEN within seconds after I left the lavatory (and the second person) we saw the two flight attendants crowding the aisle as they collected trash. If the seat belt sign was the priority why were they out and about themselves? HOW do you propose people determine if the lavatory is not occupied if they do not sit right next to it (rule "do not congregate in front of it")? I overhead the same flight attendant make harsh comments about people putting away their luggage, "Move forward. I said FORWARD. There's no room back here!" My flight was delayed and other problems that I can forgive but this unprofessional behavior I cannot and I will not fly United ever again.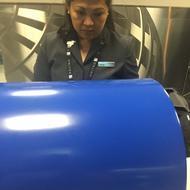 Another Huge disappointment with United. I was traveling to Sao Paulo on Saturday August 13th, flight 105. I understand the weather related issues and the 1 hr delay but once again the communication with United is just terrible and don't get me started on the attitude from the United personnel. They kept us on the plane for more than 1 hour because they couldn't move the gate bridge and maintenance was working on it. After weather and Gate Bridge delays, we left 140 minutes late but the problem is that 40 minutes after takeoff, pilot announcement was extremely disconcerting. Ladies and Gentlemen, we have a problem because we are getting some warning signs and the Autopilot doesn't work so we will have to get back to the closest major airport BUT we will not declare any emergency REALLY, isn't the plane supposed to be checked before we leave.
Once again having problems, I don't know if it's just me that I travel too much or just bad luck. Unfortunately I have had more and more issues with United and for once I realize status doesn't mean anything as some United representatives as extremely rude and disrespectful and they can't resolve problems. I guess I didn't get any compensation because I decided to cancel my trip as I was only going to be in Brazil for 36 hrs after all of this issue. I had 3 customers by themselves in Brazil and this was really costly to the company but I guess United doesn't really care about it. We are looking into options for legal representation but of course once again, I don't think it matters for a company like United.
If this was a onetime thing, from time to time, it would be fine, but it's almost every international overseas flight a take (7-8 a year) and then, several domestics as well. Attached a picture of the wonderful United representative whom started to raise her voice to me in front of everybody when I was just trying to understand what she was explaining.

My son and I decided to take a vacation to NYC. We flew from SMF to EWR on Saturday 8/13 and had a connecting flight in ORD. The flight out of SMF was over 30 minutes late to mechanical issues (front lavatory was out of order). This concerned me and several other passengers as we had less than hour between flights even before the delay. We managed to still make it to ORD on time, and my son and I ran from one end of the terminal to the other, just in time to board. A few other people barely made it on. When we arrived in Newark around midnight, several of us passengers discovered that our baggage did not make the flight and they were still in Chicago. The first flight from ORD to EWR was to land at 9 a.m. and the woman at Baggage Claim said it should hopefully be there by 11 am. I filed a claim and got email and text updates. I stayed in Newark that night and the next day went to my rental in Harlem.
After no updates for several hours, I managed to get a hold of a real person in Texas around 4:30 pm Sunday, who said the bags arrived around 9 am in Newark but didn't get confirmation from EWR. He called and they didn't answer, so he sent a notification. I called again around 7:30, after calling several numbers to try and reach a United employee at EWR. I was told they had no direct number and could only communicate electronically. I finally get an update at 7 am this morning (Monday) stating they got my bags, they were scheduled to go out around 7:30 pending a delivery driver assignment, and estimated delivery time was 1:30 pm. They contracted this service out, and the new website again had no updates. I can only email them, so I sent a request to contact me around 12:30.
Around 1:30, the driver called and said delivery would be between 3-7 because he had to go to Staten Island first. I asked why the delay, and he was very rude, saying, "Do you want your bags or not?" My son and I have been wearing the same clothes since Saturday and have wasted 2 days of our vacation on this ordeal. United's "customer service system" has made it difficult to contact real people, and they pass the blame on to someone else or refuse to answer my questions. The only apologies I got were clearly read off a script. I am tempted to make other arrangements for my flight home.

I send this email with tremendous disappointment for the way we were treated by the United Airline on our last trip 8/9/16. It is totally unacceptable that the employees behaved the way they did. We had our reservation from Canada to Jacksonville with a stop at Newark (4391) departure time 6:05 am. We left on time and arrived at Newark approximately 35 minutes before our next flight (4391) departing at 7:57 am. We went straight to the assigned gate. We waited there about 15 minutes and decided to ask at the customer service desk, as they were not calling for boarding at that gate. The customer service lady pointed at the gate next to them and told us to go there, that the gate had been changed.
We walked and stood there for approximately 5 minutes. Since we didn't see a line of people getting in, we decided to show the tickets to the lady at the boarding entrance. Her response was, "I have already given your seats to standby customers". I was completely in shock What do you mean, you gave our seats, we are right here waiting. After we told her that we had been there for the past 5 minutes we looked at the computer and it showed last call for the flight. I told her to give us our seats back, because the plain was still open, and also asked her that why she didn't page us before giving our seats to other people. She said that she paged with the flight number and that we had to go to customer service, because she couldn't do anything about it.
When we asked the customer service lady, the only thing she said was that we would have to wait until the third flight, because the second was full, that the 3rd flight was leaving at 8:59 pm. I was losing it at that moment. You are telling me that I have to wait 13 hours? She said that it was our fault, that we must be at the gate 15 minutes prior to boarding or they can give away our seats. I told her, "you know we were here asking you with enough time for us to get in, and you didn't even advise us to go straight in that they have already called for boarding at that gate." I told her, "you should have known we were here as this is a connecting flight that got here on time." She said, that they don't look at that or page when there is gate changes. That is our responsibility.
I couldn't believe after being left behind, I'm also being blamed, for their negligence. In my mind of course you don't page names, you have already sold that ticket, you rather sell it again to another person. A courtesy call with our names would have avoided all of these. She gave us new tickets for flight 4222 departing at 8:59 pm. We went back to request standby tickets for the 2nd flight 4377 departing at 3:45 pm. We got the SBY tickets. On that flight the gate was changed (no announcement). It was boarding time and the monitors didn't show the flight information. Instead it has another closed flight. Since we had the above experience, at 3 pm we started asking for the gate number and asking the boarding lady if we were at the right gate.
At one point the monitor showed the flight, and there was our names plus 5 other names for standby. Minutes after the monitor was showing the previous message, with another closed flight. I asked the lady, why it was not showing the Jacksonville flight if it was boarding time. She said, she didn't know. I saw she called a few names. I'm thinking it was the standby people, because earlier they had offered $150 certificates to people that wanted to give up their seats. I approached the lady and ask if she was calling the standby, she rudely said NO. After everyone boarded the airplane, we showed our tickets, and she said "sorry we have no seats for you." With all the standby process I realized that they don't call names, they don't mention gate changes, monitors are no help, as they started showing the flight right at the boarding time which was after the scheduled time, and last they don't care about their customers.
For the 3rd flight 4222, gate was changed again, nothing was said. 15 minutes passed boarding time, they announce a non-guaranty 15 min delay. Monitors didn't show anything related to that flight on the gate monitor, until a few minutes before they started calling for boarding. We departed at around 9:35 pm. We had to do a long line to get our suitcases back in Jacksonville, as they left on the first plane. We incurred in an extra day off work, an extra day of parking and extra expenses at the airport and hours of exhaustion just for not having a courtesy call of their passengers. I will never, ever use this airline unless EXTREMA.

First time flying I was 4 minutes late the first day - lost a day on my vacation. The plane was over crowded not comfortable. Then sat in Houston airport 6 hrs to get back to Amarillo - still having to drive An hour home only to find my luggage missing. They said by 11 am they should have it but still nothing.

I was scheduled for the 455 flight to Detroit on August 12. The flight had been delayed for 30 minutes so I went to the food court to get lunch. While there my friend in Detroit texts me to say my flight has been canceled due to "air traffic control" -- I get the notification text nearly 20 minutes later. I go to the gate hurriedly and find about 15 other passengers waiting; a stewardess tells us the attendant will be out to talk to us, and then leaves.
We wait... and wait... and finally an attendant comes out and ignores all of us. One woman goes up to the attendant and says "hi;" the attendant shouts, "What you want?" We tell her "we're on the canceled flight." "What flight? I can't help you. You gotta go to customer service." Rude employee right there. We all walk to the other end of the terminal to a line that, I'm not kidding, is nearly 75 people long.
While in line -- for nearly 90 minutes -- I manage to call United Airline's number and reschedule a flight the following day at 630 pm (you're telling me that there are NO flights at all before then?). The line increases to a further 200 people at least; it stretches across the aisle of the airport. And to help all of these people? Four attendants, who seem required to take coffee and water breaks every fifteen minutes.
When it's finally my turn the attendant greets me with, "What do you want?" And when I ask him to check for earlier flights, "I already done that for the forty people ahead a you, man." I urge him; he finds an earlier flight, lo and behold! I have yet to get onto that next flight. In the end I was schedule for a Delta flight at 530 pm the following day. But thank you, United, for making this one of the most tiring, stressful, and worst days of my life. This has been one of the worst customer service experiences I've ever had. I will never recommend your airline to anyone, and I will never take a flight from your airline again.

I am writing you for not getting any support from United Airlines. This is Vijendra and I have raised a complaint against ticket number ** taking help with United Airlines executive and then to supervisor – John **. Please refer the same and help me out in getting compensation for the pain I have undergone. I took the United Airline flight number UA988 from Frankfurt connecting via Bangalore to Frankfurt and then From Frankfurt to Washington IAD. The flight UA988 got delayed and they were supposed to leave the flight at 12:20 CEST (Central European Summer Time) and they left Frankfurt at 13:45 CEST and when UA988 flight came to Washington IAD it was 16:45 EDT (Eastern daylight time) and my connecting flight was at 17:05. It was just 20 minutes time for me to come out farming a line system from 240 + passengers in UA988.
After that I have to undergo filling the US Non-residence form and clearing the POE (Port of entry); also requesting few passengers to put me first, so that I should not miss the flight and collecting my baggage from the baggage claim and put them in domestic flight and started running to connect Cincinnati flight and I was not able to connect the flight; the time I reached almost the doors was closed just before 10 minutes. Then they asked me to go to customer care of United Airlines. I was the 8th person to attend the Customer care of United Airlines and later there were 100 + for different issues, they hold me for more than 4 hours telling the connecting fight will be next day that is on 07/17/2016 17:05 EDT.
I was agreed for the same and later they told me they will not be able to provide any kind of accommodation like hotel, food, Taxi (Airport to Hotel and then Hotel to Airport) facility to stay for more than 24 hours. I was totally helpless and the United Airlines called one of the Manager called Alan **, he was so arrogant to everyone and for me also, couple of the passengers had taken a video of mine and Alan ** (and I have the video too) and again spoke to Supervisor – Josh ** and he also didn't help me (explaining them about my travel time back from India to Washington IAD; it took 24 hours). They didn't help for all such pain I had and they only valued money and they didn't care about the time and Humanity.
I have to keep all those voice recording of Josh **, United Airlines executive and video recording of Alan **. Later I have to call up help desk number and spoke to them for almost 1 and half hour and got connect to one of the gentleman called John ** (and got ticket reference number **). He told me that they will get me some compensation up to $400. I want to claim for whatever I have gone through. It made me a worst day all over in Washington IAD and they was no such responsible person; but just misguiding me.
I wanted to claim my baggage; they said the baggage is already in Cincinnati, which was wrong information. I got to know the baggage status only after I collect the ticket next day and the baggage was still in Washington IAD. They said it will go along with me on 07/17/2016. I really got disappointed and the way of communication and services given by the United Airlines to the customer. I really want to share the same with Media; what I have (Audio and Video) to all over the United States. And again I was misguided by the Executive in the front desk. I have to wait in D20 and not in D30, later the same got missed by 5 minutes. I have request for the D30 counter to arrange the next flight and I got it at 22:00 EDT. After which I had too many problems including hotel stay.
I had booked the stay in Staybridge, Cincinnati. They had canceled my booking on 07/16/2016 with "No show" and upon request they re-booked; with higher price and also with cancellation charges. I had to mislay 30 hours in Washington IAD, doing nothing. I had big time responsibility coming here and it made my fail and I have to compensate every second thereafter; this is insane and I don't believe; and this should not continue.
Next time I will not suggest any one to take United Airlines and it better to have Delta Airlines, American Airlines and South west airlines. I will share the same feedback to Lufthansa. I had the same problem return back there was delay Flight number - ** to Chicago and had to change timings for next connect flights to Frankfurt and Bangalore. This was my 8th trip to United States and I didn't had such kind of experience. Note: My total travel hours start from Bangalore, India to Cincinnati, United States of America was more than 60 hours. And the waiting hours was more than 35 hours.

Erika ArmstrongAirlines Contributing Editor
From the front desk of a busy FBO to the captain's seat of a commercial airliner, Erika Armstrong has experienced everything aviation has to offer. She is the author of A CHICK IN THE COCKPIT and her aviation articles can be found at Consumer Affairs, Plane & Pilot, Flying.com, Disciples of Flight, NYC Aviation, Contrails, Mentor, General Aviation News and Business Insider. More about Erika→

With 723 aircraft in their mainline fleet and an additional 510 aircraft operated regionally, United Airlines has one of the largest passenger fleets in the world.
Easy rewards: United Airlines has one of the most comprehensive and easy-to-use rewards programs out there.
Tiered seating: Business-class, first-class and business-first-class seating is available to let travelers relax and stretch out during a flight.
Free checked bag services: Business- and first-class passengers fly with no additional fees for a checked bag, barring oversized luggage.
International travel: In addition to offering domestic flights, United Airlines travels to 57 different countries and offers services such quick checks on visa issues related to travel.
Flight info on the go: United Airlines has an app that lets users book flights, check in, follow flight status info, see seat maps and more.
Best for International vacationers, business travelers and frequent fliers who want more travel options and upgraded service.
Basic Information
Company Name:

United Airlines

Address

233 S. Wacker Dr.
Chicago, IL 60606
United States

Year Founded:

1926

Website:

http://www.united.com/