Consumer Complaints and Reviews

When flying from Denver to Newark, United shipped out bags on an earlier flight and stored them in the luggage room at Newark. However they decided not to inform us, so we watched the baggage carousel spin for 1.5 hours until we finally gave up hope and asked. United wasted hundreds of hours on our flight alone, and dozens of people lost nearly 2 hours of their lives. Furthermore, nobody from United could find out what happened to EVERYONE'S skis. They told everyone they arrived and for us to wait. Then they told us the skis were still at Denver. Then they told us, "no wait they are here." Please do your best to visualized a mob of people being run in circles from the United desk to the ski pickup over and over again. All in all, flight landed at 11pm, nobody left the airport before 1am. I am never flying United again.

Planning to visit my brother and his wife at Cameron, Texas (an hour and a half drive from Austin). I had confirmed reservations on United flights 4338 (CMH to IAH) and 771 (IAH to AUS) from Columbus, Ohio, to Austin, Texas, on 10 March 2017. After boarding, we had to wait 30 minutes on the tarmac while they checked to see if we had enough fuel to fly from Columbus to Houston! We were thus late getting into Houston, arriving at 5:15, rather than the scheduled 4:45 p.m. I and several others literally ran and took the tram to the connecting gate, arriving ca. 5:35 for a flight that was to depart at 5:45 p.m. When we arrived, we were told we could not board the flight to Austin: United had already given the seats WE HAD PAID FOR to standby passengers! Moreover the agent, a certain Val **, if I heard the name correctly, was UNBELIEVABLY rude.
We were told we would have to fly standby on the next flight, UA 6252, leaving at 7:41 p.m. At the customer service desk, another customer and I were told we'd be numbers 1 and 2 on the standby list. When I got to the gate, though, I had been moved down to number 11! Since there were only 3 seats available, I had to wait until the final flight that night, UA 1234, which left at 9:45. Thanks to the help of an agent at the customer-service desk, I was able to board that flight, which arrived in Austin at 10:42 p.m. My brother and his wife had been waiting in Austin since 6:00 p.m. By the time we got on the road, it was past 11:00 p.m. We arrived in Cameron at 12:30 a.m.
I find it ABSOLUTELY UNCONSCIONABLE that customers who have reserved seats on a specific flight, whose connecting flight lands well before the second flight leaves, should be bumped off that second flight. I have never had this experience before. When I had a similar delay on a connecting flight from Nuremberg to Munich recently, a Lufthansa agent met our flight and escorted me and another passenger to the gate of the next flight, which had been held for us. Lufthansa did it right; United did it wrong. Shame on United.

Flight 1470 Newark to SDQ on the 13/2/17 UA. Saying that I was dissatisfied is an understatement. We were held in the plane from 8-9 am when it was supposed to leave at 8:15. No food or water or being able to do anything until at 12:34, more than 4 hours delay. I spoke to two of the UE flight attendants and one of them said that they weren't obligated to provide food or water. The other gentleman gave me some juice after I said I wasn't understanding her response. I had explained that I was getting nauseous due to the high heating and dehydrated due to the fact that we were not provided any liquids. When the gentleman was pouring the juice she requested my seat and said she had to confirm with the supervisor in this respect. After about 10-15 mins they gave us a cookie and a glass of water about 10 mins after that.
The reason provided for the delay was that they were waiting for the paramedics (who came about 15 mins or so before we departed.) I even recall someone complaining and saying that he works for the US gov or something to that effect and that he has never seen, etc. Extremely odd since to my understanding they should have escorted said person to the airport to get assistance and we would be able to take off. Due to this, a "jam" was formed (announced at 2:15pm) and therefore creating further delays to leave (after that we were told we were number 16 to depart). It wasn't until 20 mins before we departed that they asked that anyone who was sick come forward and they'd be placed on a later flight. This, I honestly don't understand at all. I was never offered a Welfare Package.
When we got to SDQ they said not to get up or move anything because the aircraft exceeded the maximum allowed weight and the plane could tilt. Said both in Spanish and English. I have no words... I contacted United Airlines and they said the delay was due to bad weather (which is untrue) and they keep denying everything and denying my right to compensation. They offered a US$200 voucher then a US$400 voucher. I explained I do not intend to fly with them again and I know I am entitled to more as per the Montreal Agreement. I would appreciate anyone that could represent me to contact me asap.
The absurdity of it all is that they must have records of every event and I even sent them a print screen of the delays that I found online. And the airport should have the time when the paramedics went and records of said event. I am not aware if aircrafts have cameras inside but I feel that everything can be verified. And I bet if they contacted the passengers on that plane they would all say what happened/matching my experience... I had a meeting and work related commitments that I missed due to this negligence directly caused by UA.
Details of the flight: Departure EWR: 8:13 am (Reality: (i) boarding at 9:45 am approx and they say the flight was on time yet I have the ticket that says otherwise; (ii) we departed at 3:30 pm approx. Arrival SDQ: 1:48 pm (Reality: we got to SDQ at 6:58pm). Meaning: a total of 5h+ delay. After two hours the airline must provide food and drink (did not happen) and access to phone calls and emails (they insisted over and over to keep the mobile and devices on airplane mode); after 3 hours we were entitled to compensation. My experience was, to say the least, horrendous and to the best of my knowledge my details above. I would appreciate the help.

I was 6lbs over today as I was coming from Cancun to LA... they suggested that I move my things to do the carry on which I did with no problem... yet while I was doing this United Airlines "staff" were laughing and sarcastically saying it was impossible. I felt humiliated. On the other hand... they don't offer food on international flights, blankets or any other type of comfort. They charge $120 for flat 10lbs even if you are just by 5 lb... $26 per luggage even on international flights. 2 bags - $75. Not a good deal regardless. Don't let them fool you. And btw the staff does NOTHING TO HELP YOU AT ALL!!!

Booked a flight, it had change of airports. I called within 24 hours to know if they covered it, and how it was supposed to be done. They promised the taxi reimbursement if I kept all receipts. I could, at that moment, could have picked any of other HUNDREDS of options, longer flights, more stops, whatever. Flew, kept all receipts, and when I went to ask my money back, there is no place to do it, got a tracking number from the phones.
This call disappeared from the log, had to fill forms on the customer care are of the site, and here I am, 3 months later, knowing that the only way to do it would be suing them, which would cost me more money because the taxis are only about 350 dollars. And... the trip was horrible. ME AND MY FAMILY WILL NEVER USE UNITED AIRLINES AGAIN!
How do I know I can trust these reviews about United Airlines?
720,415 reviews on ConsumerAffairs are verified.
We require contact information to ensure our reviewers are real.
We use intelligent software that helps us maintain the integrity of reviews.
Our moderators read all reviews to verify quality and helpfulness.
For more information about reviews on ConsumerAffairs.com please visit our FAQ.

Just arrived in Jacksonville after a very trying day of flying. I went through an awful experience with the United Airlines gate agent in Newark who I believe singled me out because of my race. This is NOT my America! Waiting to hear from United Airlines Corporate. Stand by for more details and let's all be prepared to take action! He tried to get me thrown off the plane for speaking with a fellow passenger who was "Global Services". I interrupted our conversation "Speak to me. You can't speak to him." "He is Global Services and one of our most valued customers..." What am I, chicken liver???

I had a 6:30 a.m. flight from Vancouver to Houston. I booked business class, first row. I paid full fare - this was not an upgrade. When the flight attendant brought breakfast, I asked for a glass of milk. Flight attendant said there was no milk in the galley and he would check the back galley. The attendant never checked the back galley and my milk never arrived.
Six month ago, I paid full fare business class ($7500) for a flight from Houston to Frankfurt Germany. I chose seats 2D&E (middle section) both seats have access to the aisle. Unknown to me, without my knowledge or permission, and because of a "computer glitch" our seats were reassigned to the back row next to the bathroom with only one seat having aisle access. I called the agent, spoke with a supervisor, who said the seats could not be "reassigned" and that I should contact "customer care" to lodge a complaint. Customer care is non-existent with United. After many calls and e-mails, the only answer I ever received was that my seats could not be reassigned. I absolutely HATE United Airlines! They are the worst in the industry and have lost me as a customer. I will pay full fare with another airline to avoid flying United.

Since I departed from my small regional airport on a 50 passenger United Express plane, and know that TSA searches checked in bags, I didn't lock mine. (TSA leaves a card in your luggage that's it been searched, and locks will be cut). When I arrived at my destination of San Francisco, I discovered that the small plastic bag containing some costume jewelry and one turquoise/turquoise ring, was missing from my checked bag. I doubt TSA took it since the card left in my bag was initialed, so it had to be a United baggage handler. I know United will never compensate me for the theft, and I will not be checking luggage the next time.
I have no choice in carriers going south from the south Oregon Coast to California, as United Express is the only one, unless I want to pay lots more to fly to Portland and south from there. Don't trust your checked bags to United baggage handlers! In addition, the economy seats are horribly cramped, and if you put a small bag order the seat in front of you, your knees will be bent very uncomfortably, and elbow room is nonexistent. Being a retiree, Economy is all I can afford, but I didn't think I'd be a victim of theft.

This is the experience I and my friend had travelling with United on 9th Dec 2016. The flight was from Chicago to Newark and connecting to Mumbai from there. The layover was close to 2 hours. When we reached the airport, after checking in the luggage, while we waited near the gate, it was announced the flight is delayed by 40 minutes. And then after a while further delayed by 60 more minutes. At this announcement, we contacted customer service at Chicago airport to change our itinerary, with our urgency to reach Mumbai the very next day and we were sure of missing the connecting flight with this kind of delay.
The customer service at the airport took quite a while to understand the situation and eventually after a lot of talking amongst themselves suggested us to take the delayed flight to Newark and promised that we will be assisted with another connecting flight if at all if we miss that one. And with this they rejected our request to change the itinerary to Chicago to Frankfurt and then to Mumbai. Still trusting United with this suggestion and no other options helped with, we had only to board the same delayed flight at the last minute.
After getting in the flight, we had requested the flight attendants to let us out of the flight first as we had the fight very next minute. Since this was no luck, as we landed the same time the connecting flight was supposed to take off, as predicted we missed the flight. Had nothing else to do, we went to the customer service at the airport. So with all hopes we explained them our real issue and the urgency of taking the next available flight to India, even if with any alliance. Just to let you know here, it was my friend's wedding (flying with me) in two days. The customer service lady, with no response to our request and helping us with no options, directly, without asking us, printed us boarding passes for the same flight the very next day. 24 hours delay!!!
Again, we thought it was some misunderstanding. We explained her the urgency and told her to help us with the situation. But to add to our misery, she decided not to respond to us at all. She just told us this is all she could do and responded no further. And the remaining staff there, listening to the conversation as well, chose not to come up with any help at all as well. We requested like a million times but United Customer Service was extremely rude not responding to any our questions.
Tired of this, we tried calling the customer service which eventually was of no help. Nobody was ready to understand our issue and help us. Even if you check the call records, I am sure you will find two numbers (I & my friend's) calling for the problem's solution. Since we realized that United's any service (call or airport) is not going to help us with an alternative. We had another problem to find ourselves a place to stay. We are international students and had no friends or family in the US to go at that odd hour in the city of Newark.
Again the horror of asking United of any accommodation option if they could provide us with started. And, not of any surprise, it was denied by that lady at the counter, telling us, "We will not provide it as there is some climate issues" and some excuse we did not understand. Here again, the customer service did not seems to care about us as customers at all. She did not bother to ask anything at all other than denying any request we made. She herself didn't know that it was United's aircraft delay and we were entitled to get an accommodation from them. Instead she questioned us with travel plans. She asked us in exact these words "Why do fly today if it is your wedding in two days?". Even if this was none of her business, we still did answer thinking she might help in anyway. This was ever the most rude treatment we had ever experienced. Since, talking to her made no sense anymore, we decided to collect our baggages.
When we went to collect the baggages. We decided to ask if they can keep the baggages as we had no place to stay. There was the only sign of relief that we got after talking to the lady at baggage counter. She told us that we will get an accommodation option, if we would like one. After hours of requests and helplessness, this was the only good news to our ears. We do appreciate the stay arrangement made. Since we are students and could not afford to spend thousands of dollars on a new ticket just like that, we requested United's people for all the help we could. Our aim to write and bring this to your notice is only to understand where did we go wrong with these requests, else choosing United Airlines again becomes quite impossible for us. Looking forward to your reply.

I left my new iPhone on a plan on February 24th close to midnight, flight 1730 from LAX. When I was on the way home from the airport I realized what I had done. I immediately tracked the phone and it showed me it was on the plane or as close to it as the finder would show. The next morning I went to the airport and was directed to the baggage department. I told them what happened and showed them to where the phone was being tracked. They told me they could do nothing to help and told me to go online and fill out the lost item form. They said that my phone was likely taken to a supervisor's office where it would sit until they got around to taking it to the baggage (lost and found) office. I asked what time frame was typical and was told that there is no criteria in place. They then told me that it just wasn't a priority and I would probably get it back eventually. So, I did what they said and heard nothing for a few days.
Then I called and gave my report number and explained what had occurred. I was told that the cleaning crew would have likely found the phone and would taken it to the baggage (lost and found) office. Again I was told that it would happen when they got around to it. There is no process in place and no concern for passengers. A member of the cleaning crew is not required to immediately turn in the phone?? This makes no sense. What is to prevent them from stealing it?? Why can no one attempt to get items back in a timely manner? Why is there such a flipid attitude? I realize it was my mistake. However, I am a repeat customer and should be treated with more respect and concern. This is a $600 phone and I don't think I should have to wait until someone "gets around" to taking it to lost and found. Do they take it home? Where is it?? So frustrating!

As a long time flyer I have often questioned the location of the reservations and support centers as often language becomes an issue. I recently received a flight credit from United after we were unable to use our return flight (3 of us). I was told I had one year to use the credits toward purchase of a future flight. I had assumed the specialist I was speaking to was in India (since corrected). The specialist had asked me what new flights I wanted to take were and I told her a flight in February. She said after much back and forth "ok just call and you may have to pay a change fee"...ok. I checked my United app and online account to see the electronic tickets and receipt. I was able to change the seats etc. I called United the night before asking to receive my boarding passes. They said I had to go to the airport to retrieve but everything was ok.
At the airport (4:45 am with 2 kids in tow a wife on another flight) we attempted to check in when the Lufthansa (code share) attendant dismissed me and told me that United had not released the tickets and I had to call them. HUH? Where? They do not have a full time desk in Oslo. "Not my problem, we have nothing to do with them other than share flights" and he could not even give me their number. Ok 6:35 am flight, 2 kids it is now 5 am. I call reservations and reach what I thought was India. 1 hr 21 minutes later, she tells me the seats are full on the plane (yeah they are my 3 I reserved last night but she could not see them as they were on Lufthansa and she could not contact them). Flight leaving she tells me she cannot help as my credits were not good now but she could sell me a new flight. NO...NO. NO.
She then tells me I have to pay the difference in flight costs but could not issue as Lufthansa and United well do not really communicate and I had to contact them. NO NO NO. Long story short I as my wife was now off to New York without us ordered 3 tickets for 4k. I could have bought them online last week for 1500 for 3. I return home to wait for the next flight 5 hrs later and call United again.
Now I wait 1 hr 15 mins, and basically telling the lady in Manila (yes I found out) the same thing 10 times (yes I was at the airport; yes I was at the airport; yes I was at the airport) and she tells me..."well I cannot see Lufthansa seats". Yeah I get it. At the airport I paid 4k on the phone for tickets, agreed to the itinerary (so we are on the same return flight with my wife) and I get my reservation...and she has us on a different flight with 8 hrs in Munich...HUH? I call again...and she tells me I have to pay to change again!
Long story short. United sucks. They use foreign call centers with people that can barely speak English and have no authority to help. I am very disappointed and will contact them directly about this. I wasted nearly 5k, had a terrible experience and to be honest will fly Norwegian, SAS and others from now on unless they come to bat.

We upgraded at Dulles airport going to Cancun. No problem. Coming back called UA from hotel requesting upgrade to our fly back to Dulles airport. The agent quoted same amount as we paid going to Cancun $476.00. But were charged 4 times this amount. Disputed with Am Exp. They came back declined and advised to contact UA. Written 3 times they decline credit. What to next.

I booked flights from Toronto to Charlotte and then a flight on United from Charlotte to Montreal for business meetings. A few hours before the flight from Toronto to Charlotte departed United Airlines cancelled the flight to Charlotte. I therefore could not get to Charlotte for my meeting, and therefore could not get to my flight that afternoon from Charlotte to Montreal.
Neither Expedia nor United will refund my money for flights. I was told it would be a credit on United. I didn't have an opportunity to flight on United until I went to book a flight a few days ago. Expedia who I paid for the original flights say that United will only honour the credit for the original flights for 1 year. And it is now just over the 12 months. So United and Expedia got my money for flights United cancelled. This is a pure rip off.

I cannot be more dissatisfied with the United Airlines Pet Safe Program - it's anything but safe for pets. My cats were properly labeled to travel from Iowa to New Jersey this morning, but they ended up in Houston due to the airline's negligence. Do not trust your animals to this airline!

Several passengers, including myself were told we had to check our bags because there was no overhead bin space. I counted at least 10 empty spaces on the way to my seat. There were probably more in back. My next flight was delayed so I was stuck without my bag, carrying cumbersome items & because of the delay have to pay for Uber instead of being picked up! So angry. My bag better get there! Screw United Airlines! Liars!!! Will not fly them again.

The website will not let you pick a returned flight in the same month. Customer service is terrible. The foreigner that works for you do not understand English, and can't comprehend pass the script that is given them. When you ask to speak to an American supervisor you are put on hold indefinitely. They keep picking the lineup and not saying anything, hoping that you will hang up. I was charged an extra 200.00 because of the error with website. This service sucks.

No Customer service contact available. I had to open this account to give a rate. :( I tried to call United Airlines using all different numbers. No Customer service contact available. Worst thing is I am a member of United Mileage Plus. :( Waited for over 1 hour and 2 hours again, and Gave up... This is so ridiculous.

I have been a loyal customer of United for the last 20 years. I was in the Premier Silver status 2016 and needed to have 50,000 premier qualifying miles (PQMs) and spending $6,000 premier qualifying dollars (PQDs) to upgrade to Premier Gold for 2017. By the end of 2016, I had 82,241 PQMs, or 32,241 miles over the minimum requirement. But my PQDs was only $5,902, or $98 short of the requirement. Now United made an offer that I pay $399 to united to upgrade to Premier Gold. I just called United Custom Service and tried to have them explain to me the rationale for such a deal. They could not explain anything. The rep told me that is their offer and I can either take it or leave it! A very arrogant attitude and a very absurd business practice!

Flight Crew Racist! I was traveling from Las Vegas to Newark on January 30th, 2017 returning from my birthday weekend. I arrived at the airport on time had no issues going through TSA security, went through the boarding gate with no issues again and into my flight. Boarding was ending at 5:56 am and the flight was departing a 6:11 am; We arrived inside the plane about 8 minutes shy of boarding closure. I was traveling with my boyfriend (who is **) and we took our seats located at 24D and 24E. As we sat waiting for take off we were having a conversation and in the middle of our conversation my boyfriend used a cuss word (mind you this was a conversation between us) the stewardess was walking by turned over and said to him, "That language isn't allowed in this flight leave that for the **!"
I was shocked by her comment as it's very stereotyping but I didn't respond to her, I commented to my boyfriend "What the hell is her problem?" Shortly after (please keep in mind we weren't boarded long as we got there minutes before boarding was closing) the captain walks over to us and tells us to get our things and get off the plane! He didn't ask questions just aggressively directed us to leave.
I asked him, "Why are we being told to leave?" He refused to respond to my question just responded to get our stuff and walked away. I was in disbelief as I didn't understand what was going on. Seconds later a female United airlines employee came over to us and asked us to remove ourselves from the flight, again I asked, "Why am I being asked to leave the flight?" She responded by saying if I don't remove myself from the flight the authorities were going to be called and I will be arrested! Flabbergasted by her response I stated, "Why would I be arrested? Can I receive an explanation as to why I am being asked to get off?" She just said again that if I refuse to get up the authorities will be called and things will escalate. I waited for the authorities as I was seeking an answer or explanation as to why I am being asked to leave.
When the authorities arrived they also could not give me an answer as they didn't know what happened and escorted me politely off the plane. I was so mortified as I had no idea what I have done! As I was being escorted off the plane I can see the stewardess whom made the comment about my boyfriend referring to him as **, laughing as I cried hysterically asking what did I do wrong? It's obvious that the stewardess and flight crew decision was not only discriminatory but arbitrary and capricious! I have never felt so demeaned and mortified in my life! I never received an explanation and displayed my concerns with the authorities which they then obtained a card for me with United Airlines customer care so that I may file a complaint. I was booked on a flight for 4 hours later. I just cried my flight home afraid of saying anything or moving and being told to board off the flight! I just wanted to get home safely.
I filed a report with both the airline and the Federal Department of Transportation in hope of receiving an explanation and hoping that no one else of ** or Hispanic descent will endure the horrific traumatic experience that my boyfriend and I endured. I am hoping that anyone who has gone through this will stand up and file a complaint against this company that is supposed to provide its consumers with outstanding customer service, but instead couldn't care less about the way it treats its customers! Completely appalling and disgusting!

In April 2016 we booked a flight to Chile. We had to cancel this flight. We knew airfare would be banked and that we would have one calendar year to book, use the airfare dollars or lose the dollars. We also knew there would be a $200 change fee. This information is published on United's website. This month we booked another flight but this time to Los Angeles using the banked airfare. United took $200 from the banked airfare (we were okay with this as we knew about this fee). United then proceeded to charge me another $300 on my credit card for this flight. I have yet to understand why this fee is here.

Made a reservation for a flight with United in December using money and a 'customer appreciation voucher' I received due to previous issues (which itself was a hassle). The flight was cancelled due to 'weather' and none of the available re-booking options worked so I asked them to cancel the entire trip and was told it was already canceled. Expected a refund. Also dropped United a note asking about Gold status for the next year as cancellation left me 700 miles short of 50,000 (a light travel year for me). No response from United.
Now I find out that they have issued a travel credit, subject to 'service fees', it appears that my voucher is 'gone' and they have downgraded my frequent flyer status. Still awaiting a reply to my third written request for help from United. United works okay if there are no hiccups. It is just as good/bad as the other US carriers. Good luck in getting any kind of satisfaction if something goes wrong. As the previous posted notes, the product is mediocre as well and customer service is horrible. If they treat someone with 900,000 lifetime flight miles and 9,000 flown miles last month alone this poorly, you better believe that a one time off flier will get zero assistance from United.
United was a good airline ten or fifteen years ago. The new CEO seems to want to improve the carrier but it looks as if the rot resulting from the Continental takeover and actions of the prior CEO is so deep that it will take years to correct things if the new CEO is successful turning the ship around. I would avoid United right now and for the foreseeable future. I will be switching to American for my domestic travel from here on out and using foreign carriers for my other trips.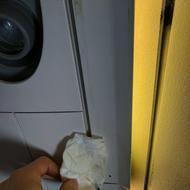 I flew United 5242 from Colorado Springs to Denver on February 4th on a Canadair jet. During takeoff and ascent, a yellow fluid dripped down on me from the ceiling. I had to hold tissues in place to stop the dripping. Once we had landed in Denver, I alerted the flight attendant, who told me that this was a known issue and that it was "deicing fluid, essentially antifreeze," that had dripped on me. I told her that it had gotten on my skin and asked if this was safe. She replied yes.
About aircraft deicing fluid, Wikipedia states: "Thickened fluids typically use alkylphenol ethoxylate (APE) surfactants, the biodegradation products of which have been shown to be endocrine disruptors, and as such these are banned in Europe and are under EPA scrutiny in the U.S. A number of fluids also use benzyl triazole or tolyltriazole corrosion inhibitors, which are toxic and non-biodegradable and thus persist in the environment."
Once I was in the Denver airport, I spoke with United customer service representatives at the United desk in B concourse and showed them the photo of the fluid dripping from the ceiling. I told them that the flight attendant had told me that it was a known problem when I was deplaning. They told me that the seat should have been marked as unavailable prior to the flight, that this shouldn't have happened and that I should get a refund. However, they told me that they couldn't do anything there at the desk and that I would have to contact United through their website to request a refund.

I was unable to print my boarding pass from home as I usually do with every airline I fly. United requires that you scan your passport with a United app on an iPhone or Droid. I use an iPhone but refuse to provide my credit card information required to create an account for apps. The United app is free but still you must create an account. I was directed to use the airport kiosk in order to print the boarding pass. The kiosk was likewise unable to print a pass for unknown reasons. I was directed to wait for a United rep for assistance. An agent never showed up thus I finally gave up and stood in line at the counter. This appears to be nothing short of a prejudice against older passengers who have no interest in a smartphone or like me refuse to put credit card data on my phone.

We had a trip planned to Hawaii. Our flight got cancelled so we called to reschedule. United Airlines they don't speak ENGLISH. They were awful. They were from India. I was put on hold for 30 min and then disconnected from. I called, asked for a supervisor but they put me on hold again. I had paid for Economy Plus but they would not honor that for new flight. AWFUL. STRESSFUL!!!

I purchased 2 tickets (wife and myself) online. We found that they were inappropriate near the departure date. I purchased 2 new tickets online. I then figured that they could transfer the tickets for a fee so called an agent instead of a direct new purchase. She informed us we could be charged a transfer fee of $200 each and charged AmeX. She also said she would remove the charges of transfer fees x 2 and the new tickets from my Visa card. In fact all charges remained - 4 tickets and 4 transfer fees.
I then called an agent for assistance regarding the fees who was of no help. She referred me to the online service for refunds. I was able to received $400 back on my AmeX card. I sent another online refund requesting either full payment for the new tickets or refund the transfer fee. They sent a terse note that my refunds were settled. I do not think I should have paid for a second pair of tickets as well as the transfer fee -- one or the other. The whole refund experience was one-sided and unfair. I feel these people are like insurance agents who underpay for services because if they pay up too often and cost the company money they will be not be promoted or even fired.

United Airlines is the worst airlines. I have always been tried to support our U.S. carriers. However, United Airlines obviously does not care about its customers at all. My original reservation was to return from Singapore to Buffalo, NY on December 22. However, I needed to be back earlier and hence changed the return flight to December 19. United charged me $300 to do that. Yet, they were unable to get me home on that date through a combination of actions that United had control over. The hardship of that trip is significant.
Here is the account: The flight UA896 from Singapore to Hong Kong was delayed by more than 5 hours. This was due to mechanical problems. In Hong Kong, the plane to Chicago was delayed by 3 hours. The plane then made an UNSCHEDULED stop at San Francisco. The reason is to pick up new flight crew to adhere to the law. We waited on the tarmac for nearly 2 hours. As such, I was not able to make that connection from Chicago to Buffalo. This meant that I had to stay a night in Chicago and United put me on the early morning (7 am) flight on American Airlines.
Now, when I checked in with American the next morning, they charged me $25 for my one check-in bag - even though I told them that this was part of an international flight that United put me on, they did not care and said to refer it back to United. I returned home to Buffalo on December 20th despite paying United the additional $300 to move my return date to the 19th. Plus, I was out of pocket for $25 for the check-in bag. United's response to this when I wrote them a very polite letter was simply to reimburse me with $300. That is unacceptable. United has certainly not admitted their fault in the mechanical and personnel problems that had inconvenienced a whole plane full of travelers.

United Airlines ridiculously poor mobile site bounces you into purchasing tickets for dates you didn't intend. Then when you call them immediately, within the 24 hour Federally protected credit card purchase cancellation period and sit on hold for 30 minutes to an hour, they tell you that they will cancel the flight, but it will take 7-10 to refund to your card. A month later, you get billed, then dispute with the credit card company, and they lie saying that you never cancelled. It's fraudulent and pathetic. I would never recommend them to anyone based on this experience. Until they make it right and stop stealing money, I won't fly them or tell anyone I know to fly them.

This experience at Minneapolis International Airport will be the reason I boycott and never fly United Airlines again. I will also tell all my family and friends to never fly them again because to them I am just a number and don't matter to their business. We were traveling during new years eve and the airport was overcrowded. At the United Airlines check in station there were no organized effort to get people in any kind of line. It was just a slow crawl to the front to drop our bags off. When we finally reached the front the line had gotten even longer but we were patient and understood this happens on holiday travel. I went up to one of the terminals to do a self check in in order to get our tags and boarding passes, then onto dropping off our bags.
Right after I got all my documents a United Airlines woman came up to me and told me that she is organizing the line and once I received my tickets and passes I was to go to the end of the line to wait again in order to drop my bags off. The previous customers had done the exact same thing I had done and were not asked to go to the back of the line. I refused and told her we been waiting over an hour and our flight was departing in the next hour. Forcing us out of line would make us miss our flight and it was not right that she did not ask anyone to go to the back. She persisted to sending us back and even got the customers in on it saying exactly this "these people are cutting you in line are you all ok with that?" Granted at the time we were the only ** family in the crowd and this was an older ** woman who looked disgusted the very minute she interacted with us.
The other ** folks in line told her that we were there first and they had no problem since we all were waiting together for so long in line (kind of restored my faith that not all people are racist bastards). I told her I wanted to speak to her manager and she said she was the manager. I said I wanted to talk to her boss and she replied there is no one higher than her and walked off. When we reached the bag drop off she hovered over the check-in employee and said out loud if any of our bags are overweight we were to be sent to the back of the line or denied passage to our PAID FLIGHT. We are a family of 6 and had 4 bags to check in, all of which were under the weight limit except one bag which was 2 pounds over weight. She immediately pushed the bag off the weight scale and said "go back, go to the back now".
At this point I started losing my cool. I don't know why this United Airlines Manager was so hostile to my family but I couldn't take it anymore and started firing back. Tensions rose and I accused her of being a bigot/racist and she went off also getting trying to get the crowd of customers on her side again. This time a few ** men from the middle of the line stepped up and asked if I was a problem and if she wanted them to "take care of me". She finally got her wish and a full on riot was about to occur.
Long story short no physical fighting happened as I said basically all we want to do is get to our destination. She threatened to call airport security and have me and my family removed and I happily insisted that she does so I can report counts of racism and rudeness I've never experienced in my life. I've always experienced small counts of racism being a minority in the USA. It's not prevalent and majority of folks are kind and nice, but there are just those chosen few that decide to remain ignorant in this great country of ours.
The manager walked off to get security (as she stated) but went off to a corner and didn't do anything. She knew if she had went further this was going to court, and she would most likely be out of a job. The employees tagged our bags and let us through to security but not without ruining the entire trip to see my family for Christmas.
I wrote a formal letter of complaint to United on their website and it has been about one month with no reply. Clearly they don't give a crap about racism among their ranks nor do they care to address an issue that might have been manageable if they just reached out. I will never recommend flying United Airlines ever again and will ensure all my family, friends, and relatives never fly with this company again. There were good united airlines employees that day and bad employees, but unfortunately the bad employee was the person in charge and no one challenged her in order to help us pass through. Merry ** christmas United Airlines. I hope you file for bankruptcy soon because as this review site shows, I am not alone in the horrible service your employees offer their customers.

I've been a loyal United flier for many years, consistently logging close to 100k miles per year on both business and personal travel. Last year I reached 95,566, in other words less than 2500 miles short of the 100k status, and qualifying on all other grounds. United made me an "offer" to pay $1399 to close the tiny gap to get to 1k status. When I called to protest this exorbitant amount and request relief I was passed on to a robotic "supervisor" who told me I didn't qualify for any reduction and thanked me for my feedback. So United and I are done... And btw no great loss for me as the cabin amenities and service are mediocre at best and the new "Polaris" class is a joke, same old lousy food etc. But the branded teddy bear makes all the difference. Not.

We decided to fly with United for the first time in 4 years. BIGGEST mistake I have made in a very long time. I had a speaking engagement to attend and allowed myself 8 hours to get from Las Vegas to Fresno (connecting flight in San Francisco). Our flight in the morning was delayed 1 hour due to what United called "weather affecting traffic control". This plane was coming from San Francisco and the weather was partly cloudy at the time. We end up missing our connecting flight by 2 minutes. The text we received notified us that the connecting flight was departing at 2:30, and when we got to the gate at 2:20, boarding was already closed. They were unwilling to accommodate us on another airline that could've gotten us to Fresno in the time necessary to speak at my engagement and wouldn't pay for a rental for me to drive the 3 hours from San Francisco to Fresno. So we bite the bullet and wait for 6 hours at the airport for the 7:55pm flight...
Well guess what? That flight gets delayed an hour and 15 minutes due to the same "weather affecting traffic control". The plane was coming from Burbank California and when we checked the weather in Burbank, it was 55 degrees, cloudy. I am convinced that United blames all of their delays on "weather" so they don't have to accommodate the people they screw over by missing flights and spending 12 hours at airports all day. Please pay the extra $$$ and fly an airline that has some sense of customer service!!
United Airlines Company Profile
Company Name:

United Airlines

Year Founded:

1926

Address:

233 S. Wacker Dr.

City:

Chicago

State/Province:

IL

Postal Code:

60606

Country:

United States

Website:

http://www.united.com/