Consumer Complaints & Reviews

When checked our flight arrangements this morning for our flights to and from Albany, NY I was shocked to see that our seat assignments that I had so carefully chosen 4 months ago were no longer there for both of our return flights home! My wife and I are both seniors, so I was careful to book us both aisle seats as the planes have the dreaded three row seating as well as I had selected and paid for their "economy plus" seats for our cross country flights. We were given NO NOTICE that they had taken away our seat assignments. I did notice that United had refunded some money to my credit card a week or so ago, but there was no explanation of what it was for. I have been trying with both the credit card company as well as United to try and find out the reason, but as yet they have not responded other than the credit card company said United would have to tell me why.
So, of course I called "customer service" to find out what happened to my seats and they had no idea... But they could not give us seats, not in economy plus and not really together... In the back of the plane just in front of the toilets! I hate to think what would have happened if we had shown up for our 6:00 am flight to check in to find we were now stuck in middle seats for our cross country flights! Customer service... Hah! All they did was what I could have done myself on their website and offer obviously weak apologies but not reason how this happened or why!
I suggested that since they caused this problem that perhaps they should do the right thing and at least offer to move us up to some of the AVAILABLE first class seats... NOOO!! Can't do that!! Not authorized. Nobody is authorized to do that... Take what we are offering (nothing) or good luck! I have been a United Mileage Plus member for 30+ years, but that means nothing these days. Unless you are a corporate flyer and a gazillion mile a year flyer. I think I am going to cash in the miles on my account after this and the hell with them!

Flight from Denver to NYC. Flight was overbooked. Paid $100 more for an upgraded seat but was last boarding group. At that point there was no room for carry on so was sent to back of plane and made to wait there stuffed in a small space with others. They then made us come to front & check bags. Several people did not have seats and were stuffed in front & aisles. Flight then delayed on runway without any services or Wi-Fi. The seat I was seated in had an airline employee in it and steward proceeded to have conversation while standing over me. Value paid for service rendered was much too high. Very poorly managed flight.

United employees from check-in service to flight attendants were apathetic, discriminatory and without regard to any concerns about welfare of travelers (adults and children). If you do need want to provide a service to others recommend them seeking employment elsewhere. I know I will be seeking to spend my money and time with another company. United employee was given special treatment. She did not have to follow the rules. We are beholden too. i.e. luggage storage. Shame on you as a company that you allow such apathy to grow within your organization.

I do not understand how United can charge you outrageous fees??? I had to fly from Reno to San Fransisco for a connecting flight on Philippine air. Philippine air allows 2 check in bags. So, why would United charge me 60.00 dollars for that second bag? Lesson learned! I used a travel agent for this and you would think they would look out for such things? The whole Reno airport experience was stressful. I will never fly in or out of it again. I will never use United again. They made their last baggage fee off me. I will be wiser in my choices next time and ask more questions. Lesson learned the hard way.

I booked tickets for my husband and I in April for a flight to California. Since we were on a Red eye coming home, we paid $299.00 each to upgrade to a 1st Class pod on a 777. I guess they couldn't fill that flight so they switched planes to a 737. Now, we've paid the price of a third ticket to sit in a crappy, regular United 1st Class seat. No notification, no compensation. My husband was a very frequent flyer with United so it's been our go to airline. This will be the LAST time I fly with United! Such a greedy airline.
How do I know I can trust these reviews about United Airlines?
552,954 reviews on ConsumerAffairs are verified.
We require contact information to ensure our reviewers are real.
We use intelligent software that helps us maintain the integrity of reviews.
Our moderators read all reviews to verify quality and helpfulness.
For more information about reviews on ConsumerAffairs.com please visit our FAQ.

Numerous times my flight has been cancelled with no explanation!!! Newark customs are thieves!!! They went through my luggage and stole souvenirs!! Sickening how people are treated nowadays!

It has taken me two days to get from Chicago to New York. Day three and I am still not home to New Orleans. Multiple delays and cancellations. I had to spend the night in Chicago and the airline would not pay for the hotel. Customer service reps are very rude. One told me to go away because she was "busy working". I made it to Chicago from Paris in less time than it is taking me to get to New Orleans from Chicago. I will never fly this airline again. Honestly, I don't understand how they are still in business.

I have traveled with United, formerly Continental, for 12 years, with over 700,000 miles. Today I am done with them. I am in Boise. I booked a 8:46 AM flight. However, they have no crew to fly the flight I paid for. So I have to sit in Boise till 11:30 AM till they get that flight crew in. I called United. I was able to talk to a supervisor, Susan, who offered a different "option" flight for me that would get me in an hour later. That was her solution.
When I told Susan that "solution" made no sense, she was condescending to me. So I told her I wanted to talk to her supervisor. She told me there was no one else for me to talk to. I asked, "Do you not have a boss?" and she said, "Not that I could talk to. They don't talk on the phone. You have to go on United.com." I told her I was going to slaughter United on social media and that's what I am doing. 700,000 mile member, and that's how they treat you. If you have to fly, I encourage you to fly any other airline than United.

United knew that flight 851 was not full. They allowed passengers to be stuck in the airport for the entire day before telling them that they were not flying. They postponed every hour. Finally they said weather was bad. It was clear. United is run by money hungry executives. Inconsiderate. Racists.

I received text messages that said there was delay after delay and nothing but aggravation both going and coming home. Flight numbers were changed, and flights were always delayed and/or cancelled. I never had a single leg of my journey that wasn't delayed/cancelled. I received a text message that my flight from DCA to Denver was delayed – 45 minutes – 'awaiting aircraft.' This meant that I would most likely miss my connection which was scheduled to leave Denver for Bozeman (my destination) at 7:40 MT. I was almost leaving my house for the airport (shuttle had just arrived to pick me up) when I called United customer service to find an alternative. After 30 minutes on hold, I finally spoke to someone. I had to change airports in the DC area. I was rerouted and went to IAD (Dulles) to fly into Chicago and then on to Bozeman. Shuttle driver drove to IAD instead of DCA as planned.
At 6:53 CT, I received another text message, saying that my 7:40 flight to Bozeman is delayed out of Chicago to 8:45 "due to awaiting aircraft." This is inconvenient as my friend is picking me up to then drive over an hour away; in the dark now, oh and by the way, she's 85 years old. Then, at 8:28 CT, I receive yet another text that my flight to Bozeman departs at 9:04 arriving at 11:21 MT. Finally, I am able to get off the plane at 11:45 and meet my friend. Exhausted, hungry, tired and fed up, I was not offered any compensation for my travel's trouble – instead I walk away with the feeling of dread that I paid all that money to have this happen.
On my return trip, I received a text message at 9:21 am that my flight at 12:30 to Chicago is "delayed due to awaiting aircraft." It is set to take off at 1:13 and arriving in Chicago at 4:47. Again, I knew that my connection to DCA from Chicago would be missed due to this delay, so again, I invested 30 minutes on the phone and spoke to a customer service operator who rerouted me from Bozeman to Newark NJ and then on to DCA. I asked for an upgraded seat for my troubles but did not receive one. I lost my TSA pre check in status on the new flight. No meal served, problems with the WiFi, hot temps inside the plane, two dogs barking along with a screaming child did not add any zen to my flight.
Finally reached Newark airport, the flight attendants asked that everyone remain in their seat to let us with connections get off first. Several first class patrons were upset by this request and let us, in line to exit the aircraft, know of their disgust as we waiting and walked by. Went to the gate for my connection flight on the complete opposite side of the airport (took over 20 minutes to get there) knowing that it was going to be tight timeline as I only had 35 minutes from time of landing. I receive text message saying that the flight to DCA is "delayed due to awaiting aircraft" and now departs at 9:22. So from 8:40 to now 9:22. I received another text Update that the flight will now depart at 9:45. 8:40 to now 9:45. I receive another text update that the flight will now depart at 10:04. 8:40 to now 10:04.
For over an hour with no update, at 11:00, United cancelled the flight completely. We were told that there was no crew to fly us to DC even though the plane had just arrived and the passengers were disembarking. No crew. What??? Everyone rushed to the kiosks to make other plans, get a hotel room and be scheduled to take another flight out in the morning. I was given sketchy directions to catch a shuttle to another area to take another shuttle to a hotel. I was handed the voucher for the room but no meal ticket, no nothing. Others received $10 vouchers for food but couldn't use them due to the restaurant was closed. By the time the shuttle got to the hotel it was 12:30 am. I was unable to sleep more than 3 hours as I was scheduled for the first plane out – boarding at 5:55 am – meaning I had to be at the airport gate by 4:30 am.
I had to take the 4:00 am shuttle from the hotel to the airport in order to arrive on time for the flight. It was 15 minutes by shuttle bus to the shuttle at the airport. Then we had to wait 10 minutes for one of those to take us just to Terminal C where we had to exit the tram and wait another 10 minutes for another one to take us to Terminal A. My TSA Pre check never followed me. Then I had to walk to the gate (another 15 minutes and through security) from where it let out. All told, it was over 40 minutes to get from the hotel to the gate, at four in the morning with less than 3 hours sleep. I get to the gate, there is no coffee shop open yet, no one is there at the gate.
Then I'm told someone has to give up their seat so I can fly home because the flight was OVERBOOKED! Then, waiting around for a plane that then has instrumentation issues and is again delayed 40 minutes. It was the tiniest plane and I was stuffed into my seat, no overhead compartment for my carry on. I checked a bag for an additional $25 – no allowance from United for all of the grief they caused. I missed a business meeting, missed a day of work, and inconvenienced a lot of people.
I am appalled at the lack of consideration of my time – you all are in business because of hard working folks like me. I don't think I deserve this kind of treatment. I even tried to leave a voicemail feedback as was part of the directions on the website but was unable to do so because the mailbox was full and could not handle another voice mail message. Gee, I wonder why? The Customer Care form only allows for so many words and so much happened to me, that it wouldn't all fit in their tidy field. Airlines are not all the same - I fly all the time with the others and never have these problems.

We scheduled flight with United in October 2015, but was unable to go due to medical emergency involving our son. Documented by hospital. We were told we could use "credit" for tickets (2) at later date. When attempting to secure credit on 2 tickets in June 2016, we were charged extra for new tickets, $456 extra, and they kept our original fee of $379.20 from Oct. booking. Called, wrote, e-mailed constantly and was told today those charges would stand! Plane trip from San Francisco on United was terrible, crowded, uncomfortable. Plane flight from Washington, DC to Columbia, SC, was worse! Plain, old, rusty, paint peeling, felt unsafe! We had a credit from Delta for same cancelled flight and had no PROBLEM rescheduling, no extra charges, and even had seating upgraded! DELTA is BEST! We will never use United again. They will rip you off.

7/7/2016 Terrible day. Waited for my flight in Houston from 10:55 am flight to Rio schedule to board at 8:35. Received an announcement it will board 1 hr late, maintenance problems. Finally got called aboard around 9:45 and from that moment we just sat with the intention we was pulling off which we didn't. At 1 am they final announced the flight will not be leaving and speak with customer service. One thing you cannot do is get your time back. Customer service seemed unbothered that over a 100 or more people have to rearrange their entire trip. My trip just went down the drain.

Customer service rep Luis, working at gate C15 at ORD at 6:20 pm on 2016-07-08 is one of the rudest United employees I've ever encountered. He literally scowls at anyone who dares ask him a question, avoiding eye contact, and in some cases literally turning his back to customers while they're speaking to him. My experience was not an isolated incident. His attitude is uniformly negative toward everyone he encounters. He clearly despises his job and wants the world to know it. I'm a regular first class flyer (**) but being forced to deal rude, arrogant employees like Luis causes me to question whether or not to continue on with United.

My 3 sons and recently traveled on United Airlines from Phoenix to Dublin Ireland with a stop and plane change in WA DC both ways. I paid nearly $6000.00 for these flights. This is just regular old cattle economy. I feel fed up with how badly we as consumers are being both taken advantage of and badly treated by airlines as a whole. My direct experience this time was with United which I chose feeling a sense of security and comfortability being a well known airline.
I had an overall terrible experience with the service of United as a whole. The attendants all seem to be miserable and greatly lack empathy towards the public who are out of their element, shoved in close quarters, given little choices, and 9 times out of 10 there are delays etc... I understand the flight crew's number one priority is safety but secondly they are in a customer service role. Consumers are paying large sums of money, many times people have saved years for these trips.
We deserve to be treated with dignity and respect, and stop making everyone out to be a criminal or a burden. Go get a job behind a computer if you are incapable of dealing with the public in more extreme situations. Reading the general reviews United Airlines is clearly lacking in their customer service training. They are actually setting up a perfect storm for disaster if they continue to keep treating people like they are just a number.
On one red eye flight DC to Dublin the flight was so ice cold it felt as though we were aboard a flying frozen locker. Passengers had to wear coats and hoods and cover up with blankets. It was 7 hours of misery. The seats are so cramped and uncomfortable I truly think that the cost for economy and what you get in return is absolute robbery.
The flight from Dublin to DC many passengers tv entertainment was broken, 7 hours is a long time with no entertainment when you are expecting there to be some. The attendants were dismissive and bothered by our dissatisfaction. They gave no real alternative and no solutions. They were just rude and when I asked for their names I was told they do not give out that information. Are you kidding me? What kind of customer service operation is it that the servers name is confidential!
Every flight before boarding they would announce the flight is completely full and not enough room for all carry on and could people please check bags. Well for crying out loud stop charging for check bags and maybe this won't be an issue every single flight! Stop booking flights to the max because of the financial greed.
Between the ongoing security lines, the over packed airlines, the terrible treatment of consumers this is truly headed for disaster eventually. Think housing market crash 2007/2008. That's what greed and the abusive treatment of millions of people will buy you. Never again with United and I will share my feelings with all who will listen. Consumers need to take back our choices and stop being taken advantage of.

Flight information: Saturday, July 02, 2016 at 8:05 AM; Flight #: UA0463; From: NY (LGA-LaGuardia) Depart: 8:05 AM; To: Chicago, IL (ORD-O'Hare Intl.) Arrive: 9:37 AM; Equipment: Airbus A320 Jet. I would like to put a formal complaint against this airline due to a horrible experience that occurred on Saturday, July 2 and almost caused us to miss our best friend's wedding on Sunday. On July 2nd my husband and I got to the airport and found out our flight was cancelled which we were told was due to the weather but that was highly unlikely. The night before NY did have some rain and lightening but that ended around 11pm the night before. There was no rain before our flight in the morning and on top of it, it was even sunny!
In any case, we were flexible so when we saw that we could possibly get on the next flight out to Chicago at 9:25am on July 2, we booked it. Basically when that flight started to board and we learned that the flight was completely full and they couldn't take us, that's when it went completely downhill. How could you cancel a flight AND not try to accommodate or secure another flight for your passengers??? The United workers did nothing, absolutely nothing for us and made us feel like we were beggars. It was totally demoralizing. They told us that all flights were full this weekend and we could be on standby for the rest of the weekend! I booked this ticket back in April to attend our friend's wedding and celebrate my husband's birthday. Several passengers were visibly upset and still your staff did nothing for us. It was disappointing and poorly handled.
I spoke to other friends that went through this, this weekend but American Airlines was able to secure them a flight for the next day and worked very hard to accommodate them. Our mini vacation was completely ruined as we planned to spend a day touring popular landmarks in Chicago. I don't get that many days off from work, PLUS this was our first time traveling without our 2 and 4 year children so that day lost is a lot. Several seasoned travelers we have spoken to have asked that we post our complaint on social media but I would like to take this route first in hopes of 1) ensuring you improve the passenger experience and process and procedures around handling "cancellations" and 2) ensure that everyone on this flight not only had their money refunded (unless they found another means to be accommodated by this airline) but also receives hotel/flight voucher for a future trip to Chicago.
The reason United leaned on the weather as a reason for the cancellation is so that they didn't have to pay for hotel accommodations and that was outright wrong. Again there were no weather disruptions for our flight to be cancelled. A delay from the night before I would have accepted but to cancel a whole flight and put everyone on standby for the rest of the weekend was wrong. I would appreciate a response within 24 hours and hope there is a quick resolution to this.

I purchased a flight to Hawaii for $945 rt via Priceline on United. My flight began to depart and returned to gate because of a computer/mechanical problem delaying departure by 2-1/2 hours where we stayed on a hot plane. I signed up for their frequent flyer mileage plus program and was denied mileage credit because the airlines claims I received deeply discounted flight and withdrew mileage credit. There was no indication at any point that this was the case, until after the trip was over. While booking I could have flown Delta for the same amount and received credit therefore I am no longer interested in flying United: 1st) because of many delays while I was the airport due to mechanical difficulties; 2nd) unless you book directly from them it appears that there is no guarantee that the consumer will receive mile credit; and 3) their solution was for me to apply for a United Visa to receive credit in the future.

Flew with United, 07/03/2016 from Narita, Tokyo to Washington Dulles flight #804. Flight from Tokyo delayed about an hour and 20 minutes, so by the time of arrival at Washington, we were left with approximately 40 minutes to go through customs, secondary screening, and from gate C to A. The secondary screening process line took about 40 minutes to go through alone, so a lot of us obviously missed our flight home (Columbus, Oh). When we spoke with UA customer service, they were firm when saying neither the delay nor the long lines were their faults, so there was absolutely nothing they could do except for put us on the next flight out, which was the following day. Handed us a piece of paper to call for "discounted hotel rooms for distressed customers" and sent us on our ways.
After the 11.5 hour flight from Tokyo to Washington, I was beyond exhausted and ready to be home. I was extremely disappointed in the way the situation was handled, considering it was not our fault the flight delayed or because we did not ask to wait in a long line. If UA knows there are usually long lines for secondary screening, why would they schedule the transfer flights so close together? Why couldn't they at least be courteous enough to pay for our hotel room for the night?
Each and every employee was talking to us like we were dogs and as if it were our own fault we missed the flight. I saw two employees raise their voices at two foreigners who did not speak English very well. English is not my parents' primary language, so when I witnessed that, it was very upsetting because I couldn't imagine my own parents being talked to in that manner. I will be sure to never fly with UA ever again, and I will let all my friends and families know about this situation to make sure they won't have to go through the inconvenience I had to go through.

We had a flight out this morning at 8:05 am to Chicago. No notification!!! Had to pay $140 for car service and pay again to come back home, and again have to pay in the morning to come back! That's a lot of MONEY! SO DISSATISFIED! LOST A WHOLE DAY OF VACATION!!! WOULD like some kind of compensation! Also would like to change my date of return from 7/7/16 to 7/8/16!!!

After boarding the plane we were told to disembark with no explanation. After I asked what was going on the counter person April was very rude. Apparently I wasn't listening to the pilot, she stated and I wasn't listening to her 30 years of experience. I have never had to deal with such rude people. My flight has been delayed twice and it seems my job doesn't matter. United is the worst airline with the worst customer service.

I had a flight out of Aguadilla Puerto Rico with a scheduled departure time of 1:57 am arriving Toronto, through a Newark connection. The flight was one more time delayed to where I could not make my connection in Newark. This is business as usual for United. Last year out of 5 different flights, 4 were delayed. I have made complaints with the FAA on three of those occasions, open files with no feedback. I believe most passengers that travel once a year would not realize that this is just business as usual for United with absolutely no regard for the customer. Because I have to fly so often, I can assure you this is completely unacceptable business practice. No company should be allowed to treat their customers with such disregard.

I was waiting on my flight, they kept delaying the flight for different reasons. When asked if anyway I could transfer planes or airlines I was told no and I would miss my connecting flight and I would have to sleep in the airport. When I demanded my tickets back the female employee slammed my tickets in my hand. When confronted about how she hit me she and another employee claimed I hit her. I was about to call security and they said they would have me arrested for assault. NO OTHER CUSTOMERS BOTHERED TO HELP EVEN AFTER SEEING THEM SLAM MY TICKETS ON MY HAND. I will never fly United or American Airlines again.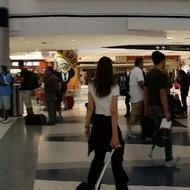 Absolutely destroyed our first vacation together without kids since we had kids. Stood in "customer service line" twice for 2.5 hours each trying to find what happened to a checked bag when United cancelled flights out of Houston and other airlines were still flying. Tried to get help from 2 different gate personnel at 2 different gates. Rude, racist, and pathetic. Talked right over me in Spanish to next customer after telling me he couldn't help me. ** UNITED. I've been flying for years for work and never experienced this before.** YOU UNITED. NEVER AGAIN.

I am a United Mileage Plus credit card holder as well as a frequent flier member. I wanted to put some of my well earned miles to use this past week to attend a family vacation. The flight out of Cincinnati was good. No issues. However, upon reaching O'Hare I had an email stating my connecting flight was delayed. Then I got another email and another and another. When it was all said and done my flight out of O'Hare into Norfolk had been delayed four hours. When I finally arrived in Norfolk it was almost 0100 hours and the rental car company (Budget) had closed. This forced me to rent a car from the only company open with cars available (National). Instead of paying $155 for the rental I had to pay $365. In addition, the luggage was delayed coming off the plane.
The return trip was even more aggravating. I arrived at the Norfolk airport for my 11:10 flight having checked repeatedly to see if there were any delays or cancellations. At no time did I receive any notification my flight out of Norfolk had been delayed about an hour. Upon landing at Newark NJ, my flight was delayed numerous times. There was a plane with no crew I was finally told. I was supposed to be back in Cincinnati at 1555 hrs. But didn't land until after 1930 hours. On top of all of this, my luggage was on another flight and I was told to, "hangout at the airport until that flight lands at 2040 hours". After this experience I will be canceling my credit card and giving my business to another airline.

I was flying from Chicago ORD to Hong Kong here at United Flight 895. I politely asked an attendant for a bassinet for my baby who is 7 months old. But the attendant said there was no bassinet available. They knew the baby can't be in my wife's arm along the way for 19 hours and most importantly, the baby could fall without it. They knew it was a baby, so we expected a bassinet.

Last June 11, 2016 I flew with United flight 129 from Houston to Rio de Janeiro. I had an event at 1:00 pm on the next day and booked an Economy Plus seat - 21 J to have more space and to sleep better. Inside of the airplane I realized that my seat was broken and asked two flight attendants for help. One tried to fix the seat without success. Both gave me the same answer: "I cannot help you," and disappeared. I could not sleep and was very tired and upset. I wrote United asking for compensation. I would like at least to have the amount paid for the Economy Plus seats back. I also told them that I am (after this experience I was) a loyal customer. Last year I flew at least 8 times to Brazil and Germany and within the US with United, this year 3 times. My husband flew with them too. I am a Miles & More Silver member and was pleased to have the miles of a Star Alliance Partner.
Once I saw another passenger, next to me, complaining the same, and the reaction of the flight attendants was the similar!! Today, United Refunds wrote me back (no name at all) telling me United cannot refund the Economy Plus seat amount, because... I WAS seated in an Economy Plus (BROKEN) seat??? I am Brazilian and have never heard a lot about American companies being great at customer services. United Airlines do not seem to be aware of it! It was the last time my husband and I flew with United.

Not only was I treated with disregard I was shoved by one of United Airlines TSAs. This is already bad, now let's add on the fact my 7 month old was strapped to me and I was overloaded a backpack, diaper bag and tote in hand. I'm going to file suit, I feel I was mistreated due to racial profiling. I'm from a biracial background and have never personally experienced bigotry. I was embarrassed disrespected and furthermore missed my flight.

I flew from Chicago to Newark on May 18, 2016 on United Airlines. When I arrived in Newark, I received a text stating that my luggage had arrived on a flight different from mine and I was directed to a specific carousel. My bag was not there. When I went to the Baggage Information Desk. They were unable to locate it, and they filled out a Delayed Baggage Report and gave me a number to call and directed me to a website. I kept calling and checking the website and I received updates via text every 6 hours.
After 5 days, they said they couldn't find it. I was directed to fill out a Claim Form. I had lost very valuable jewelry, an ipad, clothes, shoes, etc. I attached receipts and mailed it back. Weeks went by and I didn't hear anything. One day I received a call from Raymond in Houston, TX. He informed me he was in the location where all the lost bags ended up. He asked me some questions, and gave me his number. Two weeks have gone by, and I tried to call him, but the number is always busy. It's now been over 6 weeks since they lost my suitcase and I've had to replace many of the items. Still no word from United Airlines.

I live in Costa Rica & am disabled. On 5/11/16 I flew to Florida to be with Mom for the anniversary of Pop's death. I came with one checked bag, & United charged me $225 to take it (one checked bag has always been free). When I arrived in Fort Myers, Baggage Claim was a mile or more from my gate, & there were no golf carts, no wheel chairs, & no one from United or the airport to ask for help. When I finally arrived to get my baggage, United had gone home & locked my bag in their office. In the past they sent my bag to New Orleans or Puerto Rico--then delivered it in a day-or-two.
When I called United in the morning & requested they deliver my bag, they responded: THAT IS NOT OUR POLICY. When I finally got my bag, a brand new $400 portable drill had been stolen. I have been trying unsuccessfully for over a month to contact United. It has been impossible--but now they say I can talk to a real person in Customer Service for a $20 pre-payment.

There is not enough space to describe the overall horrible experience my family had with American. It's sad that while we had a wonderful cruise, all my 8 year old daughter will remember about our vacation is the horrible flight home. Our flight was suppose to take off at 4:20. At that time there was not even a plane in the gate. People went up to the desk but the agent had no information at that point. About 15 minutes later there was an announcement that a plane was en route from Orlando and was expected to land at 5:11 and then they would turn it over and board us and we would be leaving by 5:35. NOT a chance in hell they could turn over that flight in 20 minutes. We had a connecting flight in Dallas and it was clear we were not going to make it. We booked another flight out at 8 that night but were told we would have to go get our luggage and recheck it for the new flight!!!
We waited at carousel 25 like they told us and NO luggage. We went to the information desk and were told the luggage was redirected to our new flight- they assured us it was. So then we had to go back through TSA. Arrived at the new gate with what we thought was maybe 45 minutes to spare. NOPE- there was a flight to Jamaica waiting to go out- Late. Asked if we were at the correct gate, met with rude answers saying they are only dealing with the Jamaica flight. It was obvious our flight was going to be late as well. How late- another hour and a half. Flight was uneventful because I was so exhausted I slept the entire way. Missed our landing because the pilot came in too high and had to circle back around. Finally landed in Phoenix at 11:30 only to find out luggage never even left Miami- despite being assured it was on our plane.
Every person we dealt with at American during this ordeal was rude and incompetent! I am still trying to figure out the number of times we were lied to or if these people were just passing along their lies they were told. Flying is already so unbearable. American has taken it to a whole different level. I seriously do not think I want to get on another plane for a long time after this.

The refund that never happened. I Booked a round trip flight: Providence, RI to Lincoln, NE. Initially, due to past flying experiences, I was pleased to get the United booking. I felt the ticket price was high, but thought this was the best price I could obtain. $903! Yikes! Due to sad and unfortunate events, I called to cancel the round trip ticket. Well in advance of the flights I dealt with an agent that seemed to be top notch. He advised that I would be refunded the $900-plus cost of the ticket but when I booked again with United Air, I may be charged a fee for re-booking.
Financially strapped, I was not in a position to ask for more. I thought this was equitable as there was sufficient time to fill my now vacant seat on what was a very popular flight, according to the agent. I waited for the refund to post in my bank account. Nope. Nothing. Nada. I understand processing time. It was time. It did not happen.
Today, I called to inquire about when they would process the refund to my bank. I was told, "There is no refunds." Grammar?! United Air negated and denied what I was promised 13 days ago by their agent. I will bet the planes were filled to capacity. Thanks for the seat I cancelled, someone else was able to fly United Airlines. United Airlines double booked my cancelled seats but I have to eat the $903 ticket charge that allowed United Airlines to fill my seat. I think this is disappointing and dishonest. I will never use United Airlines again. I will inform my friends and community of United Airlines' poor customer service.

Erika ArmstrongAirlines Contributing Editor
From the front desk of a busy FBO to the captain's seat of a commercial airliner, Erika Armstrong has experienced everything aviation has to offer. She is the author of A CHICK IN THE COCKPIT and her aviation articles can be found at Consumer Affairs, Plane & Pilot, Flying.com, Disciples of Flight, NYC Aviation, Contrails, Mentor, General Aviation News and Business Insider. More about Erika→

With 723 aircraft in their mainline fleet and an additional 510 aircraft operated regionally, United Airlines has one of the largest passenger fleets in the world.
Easy rewards: United Airlines has one of the most comprehensive and easy-to-use rewards programs out there.
Tiered seating: Business-class, first-class and business-first-class seating is available to let travelers relax and stretch out during a flight.
Free checked bag services: Business- and first-class passengers fly with no additional fees for a checked bag, barring oversized luggage.
International travel: In addition to offering domestic flights, United Airlines travels to 57 different countries and offers services such quick checks on visa issues related to travel.
Flight info on the go: United Airlines has an app that lets users book flights, check in, follow flight status info, see seat maps and more.
Best for International vacationers, business travelers and frequent fliers who want more travel options and upgraded service.
Basic Information
Company Name:

United Airlines

Address

233 S. Wacker Dr.
Chicago, IL 60606
United States

Year Founded:

1926

Website:

http://www.united.com/