Consumer Complaints and Reviews

I flew from MSY (New Orleans) to JFK (NYC) in May 27, 2017 and the flight was delayed by over an hour for no reason. There was no weather. JFK was down to one runway. Jetblue offered us no compensation for causing us to miss our train. Fortunately Amtrak is awesome. On May 30, 2017, my two year old son and I were supposed to fly back to MSY. We had one checked bag, which contained my son's nebulizer and allergy medication in it. The flight was scheduled to leave at 3:53 PM. The flight was cancelled. Jetblue automatically put us on the next flight which was to leave at 9:18 PM. I asked for an earlier flight with another airline, but they don't book with other airlines. A new flight out with another airline would have cost me around $1,000. Jetblue refused to issue me a voucher, or a refund, or any sort of compensation for this delay. I then get a text that the new flight is delayed two and a half more hours.
I started demanding a hotel room, and my luggage back so I could give my son his medicine. Because we were made to wait so long, all the other flights to MSY were gone. I tried to get one to Houston, as I have family there, but no dice. I found out that there was a Delta flight to MSY which left at 5, that they could have put us on had they bothered to run a freaking Google search for flights. Right as I was losing my ** with the "Just Ask" people, they got a message that another plane was coming to get us at 9:25. We took that flight home. We got home after 2 AM, which is A LOT for a little kid to deal with. They are still saying that the flight isn't eligible for any compensation, which is **, because their Customer Bill of Rights has a compensation chart based on how long your delay was. We're eligible for a $200 credit per that. Don't fly JetScrew. Southwest is infinitely more reliable.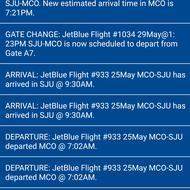 On May 25, 2017 Jetblue flight 933 from MCO (Orlando, Fl.) to SJU (San Juan, PR) was supposed to depart at 9:10 PM. The flight was delayed 18 times from 9:00PM to 7:00AM next day. The people working at the customer service counter they were giving us excuses all the time not telling us what was going on. At the end they said they were waiting for a crew to flight the plane. They gave us a flight voucher of only $100 dollars for the inconvenience. In addition to this, on May 29, 2017 the return flight was delayed too, giving us excuses again. They keep changing the gate and departure time. I don't know what is going on with Jetblue because in the past they were excellent but one thing I know for sure, I will not flight again using JetBlue and I am going to spread the word about their delays and poor service.

First time I ever booked a flight with JetBlue. My flight was cancelled the morning of. I already had my bus paid for and scheduled to get me to the Airport. I had to book with another airline with no flights going to the city I was going to. Had to get family to drive six hours at midnight to pick me up in the closest city I could find. Needless to say I will never book with JetBlue again. Happy Mother's Day Jet Blue!!!

We were scheduled to leave Daytona Florida at 1:23 on Monday May 15, 2017. At 9:00 am that morning we received an email from Jetblue notifying us that the flight was cancelled and we needed to call to reschedule. Ours was the only flight out of Daytona so we were forced to find a flight out of Orlando. When we spoke to the customer service representative not once did they apologize for all the inconvenience. The gentleman from Hertz was more apologetic when we had to call to meet modify our car reservation. We were rebooked at 10:23 that evening, which was extremely late for my 3 year old.
When we arrived at the airport after driving an extra hour we were told they didn't have three seats next to each other. So my 3 year old and I were in row 31 and my husband was in row 22. After takeoff I was surprised to see empty seats directly across the aisle from me, in front of me, and diagonal from me. I would think that customer service could see from their seating charts the available seats and placed a family together. The flight attendants were nice enough and the flight itself was good. However, I was supposed to be arriving at 4:30 pm and instead arrived at 1:30 in the morning. The lot we parked our car at had closed and we had to take a taxi when we arrived.
Jetblue cancelled the flight, not due to weather, and we were stuck paying extra for our rented car and parking. They offer no type of compensation because they cancelled it 4 hours prior to takeoff. They were not apologetic in the least. My suggestion is not to fly in to Daytona Florida. They only offer one flight and if they cancel it you will end up paying with money and time.

May 17, 2017 I was scheduled to take my international trip that had already been rescheduled by JetBlue a month after I made the original reservation. After changing all of my hotel accommodations from my original reservation on May 17, my flight was rescheduled two times while I was at the airport on the day of departure. When I asked for assistance to address my concern regarding my connecting flight I was told they could not inform my connecting flight of the delay due to their famous weather lie that only JetBlue was experiencing today in JFK. I called JFK they said no weather delays in their city. After running through the terminal and getting on a tram I made it to the gate but they would not let me board because the airline did not notify them of any delays.
Not only was my departure city JetBlue plane leaking in the back of the small plane and the TV didn't work. Now I was stuck in JFK and my next connecting flight doesn't leave until 2:25 pm the next day. A few very nice ticket agents from my connecting flight from another airline apologized they could not help me get on the plane and went on to offer me advice, "Ask them for a ticket on the international airline leaving in an hour and you will get to your final destination by tomorrow on time", or "ask them for a hotel voucher." They showed me more respect and consideration than the airline I bought the ticket from "JETBLUE".
My contact with the supervisor from JETBLUE on the 1800 did not improve my experience with JETBLUE. I explained my pre-paid final destination hotel charges, my now shortened visit stay, my pre-paid events I was scheduled to attend tomorrow and pleaded with her to get me on the International plane leaving in an hour. Her ridiculous response was they have a partnership with this airline but she couldn't see it on her screen. When I didn't buy that she said, "That airline is a partner but they can't buy tickets from them." With the least bit of an apologetic tone she told me my only option was to go ask for a hotel voucher and take my flight tomorrow at 2:25.
Since when did my purchasing a ticket from "JETBLUE " whose motto is "to put the humanity back into flying"!!! warrant my being treated like this was a problem I created and "here is some charity we can give you if you really want to make a big deal out of it"!!! Unbelievable, unprofessional, the worst customer service I have experienced for something I paid for. Report to BBB or anyone you can think of. This is unacceptable, will never fly JETBLUE again and will make sure friends and family boycott as well.
How do I know I can trust these reviews about Jetblue?
789,262 reviews on ConsumerAffairs are verified.
We require contact information to ensure our reviewers are real.
We use intelligent software that helps us maintain the integrity of reviews.
Our moderators read all reviews to verify quality and helpfulness.
For more information about reviews on ConsumerAffairs.com please visit our FAQ.

On a weekday evening flight from Ft. Lauderdale to Los Angeles, my 67 yr old wife & I were assigned seating in the row ahead of the emergency exit. Those seats do not recline. My wife who suffers from sciatica, but is otherwise quite fit, requested that we be allowed to sit in seats that recline.She was told that it would cost an additional $80.00 per seat. I counted 12 empty seats in the 4 rows directly behind us. There were more throughout the plane. Seems that they deliberately assign seating to inconvenience passengers & enrich themselves. They really don't give a damn about customer comfort!

My flight leaving late out of Las Vegas for no reason other than the airplane coming in arriving late, lead me to miss my connection flight the next morning and spending four hours in Logan airport without even a breakfast voucher or any sort. JetBlue stated they don't have access to rebook on another airlines nor were they willing to compensate any way and even for a cup of coffee. I don't fly JetBlue, and this experience confirms I would never fly them again.

The plane was clean, staff was friendly and helpful, beverages selection and snack selection was good added cost for other boxed snacks. Not crazy expensive. Airport accommodations for the terminal were nice. Clean and a good selection of stores. Take off and landing was on time. Loading the plane was cumbersome. There was an issue with a passenger that seem to hold up the plane loading. The TVs need to be upgraded and the headphone jacks need to be repaired.

Jetblue looking to become the next United. Horrible flight experience where they closed the gate on two women who had confirmed boarding passes because they were in the bathroom. For a delayed flight that ended up taking off 30 minutes before the scheduled departure time. There were empty seats on flight. They would not open the door for them. I refused to sit for takeoff. While we waited they did open the door to let a random stand-by passenger on to take my colleagues seat. Jetblue reasoning paperwork was closed. Why did this other woman get on? She had a seat - SO DID MY COLLEAGUES. Jetblue's approach, call the police on me because I was delaying the flight, rather than accommodate paying passengers with confirmed seats. I emailed customer service and they basically said, "Too bad, we stand by our crew members (more than we care about our passengers)."

On Monday May 1st 2017 I boarded my plane heading to Salt Lake City from Long Beach. The flight I boarded was flight #2132 that left at 8:23 PM. After the plane was boarded they announced there was an electrical issue with the plane and that plane would no longer be able to leave. I was seated on the very last row (Row 25) in the aisle seat. When they announced that the flight would not be leaving any longer I pulled my phone out to communicate to my father that we wouldn't be making it home. I took a photo of myself and was getting ready to send it to my Father.
Moment later the flight attendant (Woman) came screaming up to me demanding that she see the photo I took. I was caught off guard and was confused why she insisted on seeing the photo, I wasn't happy about doing so but I proceeded to show her the photo. Come to find out she was in the background of the photo. In A very disrespectful manner she then told me I would need to delete the photo because she didn't consent to a photo of her being taken. I explained to her that I was not taking a photo of her. She did happen to be in the background. I then deleted the photo like she asked and went on to leave the flight. When I went to board our delayed flight two hours later my ticket didn't scan, a manager pulled me aside and told me that the flight attendant filed a complaint and that I would not be allowed to take the flight. I was forced to miss the flight and was forced to take the flight the next morning which caused me to miss the whole day of work.
It is absolutely absurd that this flight attendant would file a complaint against me using my own phone to take a photo. She thought I was going to post it to social media. I deleted it when she asked me to and she still had the audacity to kick me off the next flight. In this day and age there are so many horrible stories of customers being wrongfully by flight attendants and other various employees and I will not tolerate it. I will not be flying Jetblue again in the future and will pass this horrible experience along to everybody that I know.

Horrendous customer service and nonexistent accountability and leadership culture. This airline has stolen and breached consumer privacy, purposely overbooked and displaced passengers and apparently this is so common as to make it a regular business practice. Here's my latest experience with Jetscrew. Flying from San Diego to Buffalo, connecting through JFK. Flight from San Diego to leave at 1 pm. The morning of I get a text that the flight won't be leaving until 3:20. Land in JFK and my connecting flight has left as have the flights for about 500 people. Agent at the gate denied assistance and promptly disappeared. Mind you this is Jetblue's flagship terminal at JFK, also home of their company headquarters.
We land at 12:30 a.m., all these people displaced and missing flights, not a single customer service agent available and only people in the bags dept... Those employees can't won't help you and will lie just to get you to stop asking questions. Everyone says call the 1800 number, first call I get told to talk to the people at the airport. Baggage people say call the number, 2nd call they will rebook ok. Rebooked for a flight six hours later. Sleep in terminal. No hotel. No nothing. The reason for the delays, air traffic control, runway construction, weather, everyone of those a lie. But the reasons are specific because if they tell you that they run their booking software to do this on purpose so they maximize their profits, that is illegal.
So, after listening to the agents lie, tell people to different reasons for the same flight being delayed and they have absolutely no motivation to solve the problem, but you can see that they know exactly how to disappear so that people just give up and manage the costs of the delay themselves. Renting cars, etc... The kicker they rebook on the phone but when you go to get the boarding pass they make you pay extra for the seat. Then the 6:00 a. m flight to Buffalo they are rebooking because again same deal. This airline is, has, and will continue to be a garbage airline until they have a massive leadership change.
As I'm undergoing this nonsense, listening to ever more absurd fibbing by the airline, I decide to take a running poll of the people that work in the terminal. They will tell you exactly what I just recounted. I asked how often does this happen? Answer - a lot. What does that mean? 1x-2x a week? The employees say "all the time". What does that mean? That was the answers I got. No one would say how often but, I gathered that all the time means more than 2x a week. The best part is they have the gall to rewrite their terms and conditions, so that when you buy a ticket you are forced to agree that you are willing to have the airline screw you. The lying is what drives me nuts, that is willful fraud. So, since I have time I look up JetBlue class action lawsuits. What do you know, this airline has been doing this for years and they have gotten away with it so it continues. Same pattern and practice, same lies, same horrible customer service. Disgusted.

On April 27, 2017 traveling from Florida to New York on JetBlue was the worst experience ever. My flight was at 3:18pm and they delayed it all the way to 9pm. Mind you when I got here at 1:30 I had to stop at Burger King and feed my kids which cost me 30 dollars. So when the flight got delayed I notice people were getting accommodated on a different flight but not going my way. So I asked the lady at the front desk if there is anyway of them accommodating me with a voucher to feed my kids later and I was suppose to be at a sports event by 8pm and they don't provide food on the plane as it is. She came at me with an attitude stating that is not her problem and for me to take a seat. I then asked her can I speak with her supervisor. She rolled her eyes was when I asked her what's her attitude. She called a man named Leroy. This is at Florida airport-mco who was no help at all.
While I explain how rude she was she turned and snapped at me stating, "You can be removed or go take another flight." When I turned to her I told her, "Make me." Instead of her supervisor reprimanding her he then tells me I need to be quiet or "I will have you removed." I told him, "You have rude workers who I refused to let them speak to me in that manner. What you need to do is check your workers." Jetblue is no longer my airline. I'm going back to American Airlines or Delta. I strongly recommend this airline to teach their workers about customer service, accommodated their customers with better service and get better planes. The ride to Florida was delayed and was shaking all the way there. Now heading to New York it's been 5 hour delay. This is insane. I'm traveling with 3 kids and they don't care so from now on NO MORE JETBLUE. WORST AIRLINE EVER!!! - A very unsatisfied customer.

Jetblue has TV in front of each seat, free movies, free wifi, good free snacks, comfortable seats. If you have a Jetblue Credit Card (No annual fee) onboard purchases of food, beer, wine, blanket, headset, are 1/2 price. If you need to change a flight, however, there is a $150 change fee.

Flight 2509 from JFK on April 7 2017 was canceled saying it was due to weather. I kept looking at the weather app to understand where the severe weather condition was at the cause a flight to cancel. The fact that it was cancel and they decide to accommodate me to a flight on Sunday is making lose two days when I had to go for a family event that started the next. They of course only offer me my return money but would not help me find a flight on another airline. To make matter worst Jetblue had the 11:50 pm which was the next flight to the same destination leaving on time with no delay. Why they completely cancel that flight only and not other airlines was not grounded on JFK for same reason. Putting me on a Sunday flight not giving a discount so could be able to fly in the future or try to negotiate with other airlines.
Jetblue was not right in doing this change of giving me a 48 hr flight as their next flight for something that I did not cause is horrible. This airline charges for bags. No food on all international flights and delays even after them having their own terminal. I'm certainly not flying Jetblue anymore. This has been the worst experience with them and is very unacceptable. I'm very annoyed and dissatisfied long time client with Jetblue. I would rather go with Delta than fly with this unprofessional airline.

I tried contacting JetBlue before writing this, but their contact page does not display a valid e-mail address for customer complaints. In short, I attempted to ask the lead flight attendant a question about unfair treatment to passengers. The attendant could not hear me so I decided that I would contact them after the flight as to not disrupt others, I asked the attendant not to worry about it. She continued to raise her voice at me, until I finally asked her to please move on and forget about it. This made her extremely upset, she yelled at me during an overnight flight because I did not want to raise my voice. She walked away and returned two minutes later, while I was trying to fall asleep, and exclaimed "I solved the mystery!"
At that point I was speechless and listened to her as she went on a loud rampage that did not answer my question. She deliberately came back to my seat to start a scene and the mystery comment is plain ridiculous and will not help deescalate situations. I agreed with her because her stance was very threatening and she was yelling at me once again. I felt uncomfortable and scared being verbally abused while flying by myself, by the person that I trusted to be knowledgeable. Then she made an announcement that it was 7:45 pm, when the Sun was just coming up. Passengers laughed but she did not correct herself.
I also observed another flight attendant verbally abuse another woman of color that was carrying with her baby and wanted her other child to sit by her. After being extremely hostile to her, he added "so no more moving", which is unprofessional and a disrespectful way to talk to an adult that has paid to have an at least acceptable flight experience. I am questioning the sobriety and mental clarity of this crew, as their reactions were so exaggerated and overly defensive. I understand that customers are annoying a lot of the time, but I felt like I was the one trying to calm the flight attendant down. I was also not offered the complimentary snack. I will not be traveling with this company again, and will file a formal complaint with DOT if JetBlue does not attempt to contact me. This happened on flight 602 Phoenix-Boston on 4-7-17.

I am Louise **. I am 86 soon to be 87 on April 9th grandmother of 13 grandchildren. I live in Florida and on numerous occasions travel to the West Coast (San Francisco) to visit my son, his wife, and children. I like to fly JetBlue because it is a direct flight and I have always had a good experience. Today I had a very upsetting experience with a JetBlue employee. Let me also mention that I am handicapped and must use a wheelchair to board and to deplane. I had one regulation suitcase I carried on. I also had my purse and my knitting bag which contained my glasses my medicines, and my lunch.
I was asked to check in my small bag the size of a small tote. I tried to explain to her that I needed my personal bag and it wasn't a question of the $25 but her rude attitude. She wouldn't even listen to me. I complied with her request but was quite upset the whole trip. I am writing to you to please have your employees take sensitivity seminars and try to handle each case on an individual basis. Thank you for listening to my complaint.

During the month of February 2016, I went to St. Lucia and returned a week later. As always, I called JetBlue Customer Service, shared my confirmation code and dates of my flight in order to receive my TrueBlue points for the flights. The representative took the information and told me that I received 938 points for each flight and asked me if there is anything else she can help me with. Well I took the rep's word for it, not knowing that I can check behind her. Well here it is 13 months later when I had to call JetBlue to cancel a one way flight (cancellation fee 90 dollars for a 174 dollar ticket).
While on hold I decided to look at my profile and flight history and noticed that my departing flight in February 2016 was missing. After speaking to the rep, I inquired on my TrueBlue points and learned that I did not receive TrueBlue points for my departing flight, only the returning flight. I gave them my confirmation code but they said its too late to give me credit because more than a year has passed. Well that is not my fault if I called it in and the rep forgot to give me credit for the departing flight. It is obvious that I called because I received points for the returning flight. I have flown with JetBlue for more than 10 years and I am extremely disappointed with how they handled this matter. When the customer makes a mistake or cancels, we have to pay a penalty, yet when JetBlue makes a mistake we receive NO COMPENSATION.

I am very disappointed with this company because they would not allow me to take my brake pads on the plane to my cousin in the Bahamas, as so they told me I would need to call the 800 number to get a refund. After calling the 800 number, I was told that since the airport did not put any notes in the computer, The only thing they could do was issue me a $35 credit. Who the hell says I want to fly on Jetblue again after all of the crap I've been through? Not to mention they sent me a text and email saying that my return flight was cancelled. Then that night after I ended up going to the airport to see if I can catch an earlier flight, the idiots send an apology email saying the cancellation was sent in error. Too many stupid mistakes for me. I cannot deal with mistakes and stupidity from any company!!!

Flight 1118 delay is evening. The crew kept saying weather in New York but my weather app says different, my wife at home says different and also video chat back to New York shows different. Three hours and to send flight delays due to weather. JetBlue crew comes back and tell us it may be a mechanical issue as well. JetBlue me to fix this. This is horrible. I am disabled sitting in the airport at least see Charlotte Douglas Airport and I also found out TSA closes so what is a person supposed to do. I feel like I'm kidding and I'm being held hostage. To make sure it's my business never to fly JetBlue again. I'm uncomfortable and dissatisfied. Horrible situation for bereavement family.

The plane design is not friendly. Not sure why they did it? I keep pressing my right side passenger video control as it is on the armrest. Unbelievable. I just came from Delta and they served some food and drink. But this Jetblue flight for 6 hours from SFO to JFK is pathetic. Will never book here.

Flight on 1/27 5 pm from Aruba to JFK: It was a horrible experience. The aircraft was extremely old, felt like it was 100 years old and it can fall apart. Everything looked ripped and broken, dirty and filthy, very worn out and overused. The minute people got on the plane, everybody got very nervous and concerned of the idea of flying on this old thing. The plane was making very loud noises before taking off once we were driving to the runway. The service was very poor, the flight attendants looked and sounded very frustrated and unprofessional. In the beginning of the flight, they said that they will offer a complimentary coffee, but they never did through the entire 4.5 hr flight. They only passed one time offering the soda and juice in the very beginning of the flight and then we didn't even see them for 4 hours straight. They were sitting back.
Once I got up asking for a cup of coffee, the flight attendant shouted back 'no time for coffee no more, we are landing soon'. The TVs weren't working most of the flight. They showed one very old movie with every 15 minutes interactions and connection issues. Nobody bothered to complain because people were very nervous through the entire flight hoping that they will arrive safely. And I must add, it's just that flight that was horrible. When we fly a week earlier from JFK to Aruba, the flight was great! The plane was new, the service was excellent. So, JetBlue, please overlook the flight 1058 on 1/27 5 pm. The crew and the aircraft needs to be changed. Thanks.

The domestic first flight TPA to JFK was serviced by Jetblue in cooperation with EgyptAir. Jetblue airport crew on TPA ripped us off with $2600 on our credit card for extra baggage fees that are not disclosed anywhere in their website and doesn't match what Jetblue or EgyptAir confirmed when we called prior to flight. When I tried to complain they called the Police for me. When Police came he told crew manager that I wasn't doing anything against the law and asked if any charges will be refunded but unfortunately when I came back I found $2600 charge on my credit card.
Jetblue have treated me like a criminal when only I was asking not to overcharge me. I guess they thought I am not worthy or dangerous cause I am from and traveling to Middle East. It was a horrible experience and I will dispute those charges that I didn't even sign for or authorize and will take it all the way to court if needed. Will never fly Jetblue again.

This is a review of the airline not the flight as I was not allowed to fly. I had an 8 AM flight to San Fran in their version of Business Class, Mint. When I tried to check-in online it would not allow me so I went to the airport and at the kiosk I was also told to see someone. I stood in line for 30 minutes and was refused a ticket despite having paid for the ticket in advance on my frequent flyer account on JetBlue site.
I had a charge from JetBlue on a previous family trip that I was disputing with my credit card company as fraudulent. Although I had not received notice it appears the credit card company agreed that the charges were fraudulent and reversed the charges. Despite selling me a ticket JetBlue would not let me get a boarding ticket without paying the fraudulent charges that were in dispute. The shift supervisor, Jillian, said that I could not do anything but pay and that there was no one else to talk to about it. In short I missed my flight and had to rebook on a real carrier later, and missed important meetings. Very unprofessional and despicable that they would book a ticket and not honor the transaction with no notice otherwise!

I had a flight that was delayed over 2 1/2 hours, not only was the flight attendants spacey and not focused they were a little rude. First time flying and last time flying. I could get better service from a pack of wild boars.

When you pay extra to get a better service and be on time seems like this is not the case since JetBlue delayed their flight over an hour. On top of that I was given a seat next to an exit door with no windows. Also I'm carrying my Xbox console worth 600 in a bag saying I cannot have the bag in between my legs. When I turned to my right I see a gentleman with a huge backpack between his legs. When I present that to the flight attendant she argues with me back and deny that stating that he had it away before airplane took off. When her coworker came to me because she told her that she can't deal with me I'm like I just want my bag and she was all in my face. I'm taking this to the news and lawsuit. This ghetto low-pay disrespectful individuals ruin my vacation for no reason.

JetBlue is my airline of choice because of its availability and cost. I never fly longer than a half hour to hour to get to my destinations. I travel only during the week and it's for pleasure. The stewards are always very kind.

Simply the best airline this country has to offer, bar none. Been flying JetBlue for at least 12 years and have had few issues to report although there have been some. My last flight with Delta was nightmare, and American Airlines was average at best.

I took a Jetblue flight out of JAX with my 3 children. We each had a carry-on and when we got to the plane door the crew member told the guy in front of me that there was no more room in the overheads for his bag and that it had to be checked. He complained and he was singled out to be removed from the plane with his child. I also said it was not fair that we had to check our bags but complied. When I got in the plane the overheads were empty except for passengers' jackets. This guy lied to us and he had the other passenger removed from the flight. It was a horrible experience and unfair since I paid for a ticket and was allowed one carry-on. I had to wait 35 minutes at baggage claim and 30 more minutes while Jetblue removed the other passenger and his child. Jetblue should not allow people to put jackets in the overhead and then tell people they can't bring a carry-on. Never fly Jetblue again.

Not as good as they used to be but still very customer-oriented. Booking is easy, communication is good, personnel friendly and helpful. Rewards program a little confusing. They should go back to first bag is free policy.

I bought my ticket mid-Dec. for a flight Dec. 30th as it was an emergency visit to Trinidad. I checked in online 24 hours on the 29th. I got to the airport at 9 am for a 10:30 am flight. I got my boarding pass and the kiosk and after waiting 10 mins in line to drop off my check-in, they said I need a bag tag. Went back to the kiosk, they said I needed to go to special services. When to special services, waited in another line and by the time got to the front which was 9:31 am they said I missed my flight. Bags must checked in 60 mins prior. Now I'm going to be on the next flight which is 10 pm. Absolutely ridiculous! I'll never use Jetblue again.
Company Name:

Jetblue

Year Founded:

1999

Address:

2701 Queens Plz.

City:

N. Long Island City

State/Province:

NY

Postal Code:

11101

Country:

United States

Website:

http://www.jetblue.com/