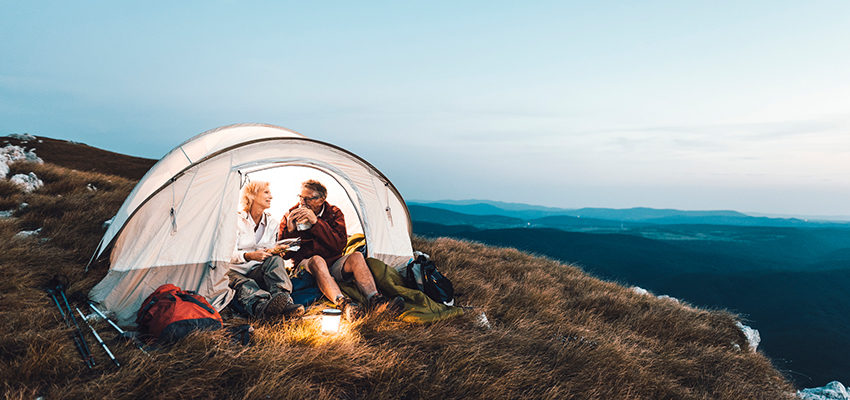 Now is the time to take full advantage of the cool weather to get out and explore. Even if you've never camped before, you can have a fantastic experience with just a little bit of gear and some preparation. Below are some of our favorite camping essentials to get ready for a few nights away from it all.
1. Quality tent
Let's start with the obvious — the tent is important, especially if you're camping in the fall. We like that the Marmot Limelight has good wind protection and steep walls. Depending on where you use it, it could be suitable through the winter.
2. Camping chairs and table
A good table makes for more convenient cooking, card games and happy hours. In addition to camping, you can use it for tailgating, cookouts or any other occasion that calls for a convenient outdoor setup.
3. Cozy sleeping bag
There's nothing better than snuggling into your sleeping bag after a full day of outdoor adventures. We like that this Rogue bag has a durable cotton-canvas shell on the outside and a soft cotton-flannel lining on the inside.
4. Pocket knife
A reliable blade comes in handy dozens of times over a day of camping. If you can, bring a good multitool with at least a knife and scissors. We like that this Leatherman comes with those and more, including bottle and can openers, a screwdriver and wire cutters.
5. Compass or map
Even if you bring your smartphone, it's a good idea to have a compass or map on you. You can find a quality compass for around $20 or less, but we like how the pocket compass below has a little more style. You could get it as a gift if you're camping with a sweetheart. That way, they have a sentimental reminder of your trip together.
6. Firestarter
If there's not a fire, are you even really camping? We like that Western Red Hot Fire Starters are made with food-grade wax and dried hardwood sawdust. They're suitable to use for campfires and wood stoves for cooking. Whatever you do, just don't forget the campfire safety rules.
7. Versatile light source
A lantern or flashlight is handy to have to light up your campsite at night and during early mornings before sunrise. Just remember to stock up on fuel or batteries.
We like that the Goal Zero Lighthouse battery can be charged by USB, hand crank or solar panels (not included). You can also use the USB port to charge small electronics.
8. Water bottle and extra water
Even as the temperature gets cooler, it's important to stay hydrated. Bring at least 1 gallon per person for each day you plan to camp.
We like that this Hydro Flask is made with a slip-free design that's easy to hold while hiking. You can also use it to carry coffee and other beverages. It keeps liquids cold for up to 24 hours or hot up to 12 hours.
9. Toiletries and meds
Nature can get dirty, sweaty and sticky. That's part of the fun, but you don't want to be totally uncomfortable over your weekend getaway. Be sure to bring toilet paper, a toothbrush, toothpaste and any over-the-counter or prescription medications you'll need while you're gone. Combat Wipes are an excellent multipurpose cleansing cloth that you can use on your face and body.
10. Insect repellent
Don't underestimate what a nuisance mosquitoes can be into the late summer and early fall; those pesky buggers are enough to ruin your weekend. A good insect repellent can help keep your campsite free of pests.
11. Camp cookware
Even a simple camp cookware set can make your meals a lot more interesting with soups, steaks and coffee. The GSI cookware set below comes with a pot, frypan, strainer lid, two mugs, two bowls, two tops and a folding pot gripper. The welded stuff sack can also double as a sink.
12. First-aid kit
Sure, this one might seem like a no-brainer -- but don't forget to pack a first-aid kit for the scratches, falls and other minor scrapes that will inevitably come with a weekend camping trip.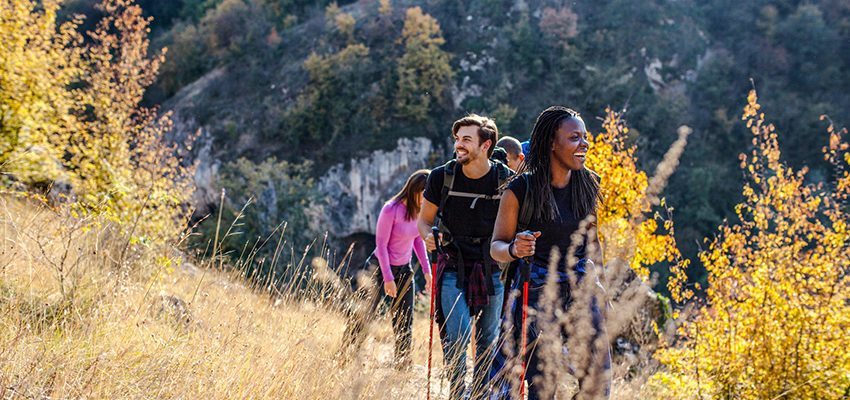 Getting out of the house might seem like a lot of work, but a weekend camping trip might be exactly what you need to recharge. Whether you want to do some hiking, go fishing or just hang out, now is the time to take full advantage of the new season.
Check out our tips for glamping if you like the idea of nature but want to spice it up with a few more amenities.