An advocacy group says travelers with severe nut allergies should be able to board early
01/17/2017
|
ConsumerAffairs

By Christopher Maynard
Christopher Maynard is a New York-based writer and editor who ... Read Full Bio→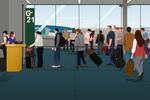 Boarding a flight can be an arduous and time-consuming process for air travelers. After waiting in long security lines and finding their gate, the last thing consumers want to do is wait even longer to take their seat.
However, being able to board first can make a lot of difference for some people. Those with disabilities often need the extra space and time to make sure that their flight is safe and comfortable. But one advocacy group says that one type of impairment is ...
More
Ft. Lauderdale shooting raises the issue once again
01/09/2017
|
ConsumerAffairs

By Mark Huffman
Mark Huffman has been a consumer news reporter for ConsumerAffairs ... Read Full Bio→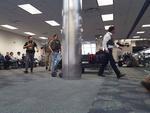 The fatal attack at the Ft. Lauderdale, Fla., airport Friday has sparked new concerns about passenger safety, with passenger groups, TSA officers and lawmakers all calling for tighter security in non-secure areas -- the parts of airports that are accessible to the general public, which includes baggage claim areas in many airports. 
Five people were killed and eight others wounded last week when a man opened fire in a baggage claim area. Authorities say a 26-year-old Ira...
More
Sort By