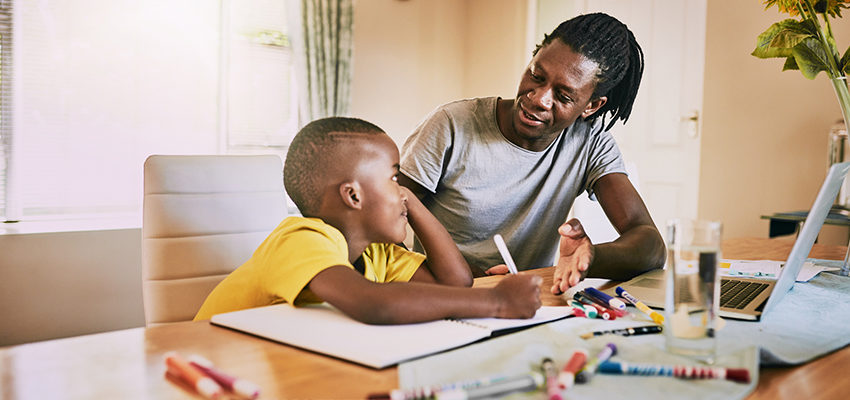 Just like mothers last month, the dads of the world are anxiously awaiting Father's Day this June — perhaps more so than ever due to the pandemic. With kids' schools, daycares and after-school programs mostly closed nationally, they have put in more hours without much rest over the past few months. It's time to say thanks to their tireless efforts.
If your dad is tough to shop for, we're here to help. Rather than blindly suggesting ideas we think the father in your life might enjoy, we went straight to the source and polled the dads here at ConsumerAffairs to find out what they want this year. Curiously, not a single dad mentioned any electronics, typically a safe standby gift for any dad — not AirPods, not a soundbar, not a new TV. So, what do these dads have in mind instead?
R&R
A day off
One dad summed it up in three short words — a day off — to which many others agreed. What does a day off look like for the dad in your life? For many, that could mean others are pitching in for a day while dad lounges in the backyard hammock, relaxed, refreshed, recharged and ready to jump back into action on Monday.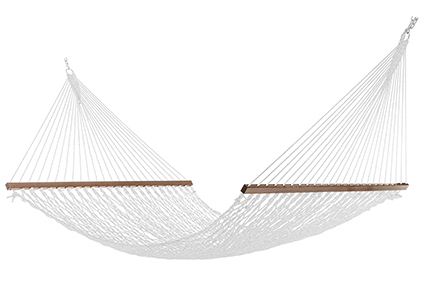 59" wide x 78" bed length
Soft polyester rope
A solo hotel stay
A solo stay takes the "day off" idea a step further. One dad has an agreement with his wife that each year on Mother's and Father's Day, the parent of honor will be sent away for a night to a local 5-star hotel. Dad can order room service, crank the AC down as cold as he wants, turn on the TV and unwind. He is guaranteed to be uninterrupted, then sleep in the following morning before returning home rejuvenated.
Dad gathering
Similarly, one dad is considering a safe, socially-distanced boat outing with some other dad friends. Renting a boat and heading out on the water might be just the refresher he needs after months of exhausting quarantining.
Quality time
Food and drink
BBQ set
One ConsumerAffairs dad is looking to up his grill game with a new deluxe BBQ accessory set that includes a spatula, scraper and tongs. Are grilling utensils a stereotypical Father's Day gift? Sure. But it turns out, he'll probably like them a lot, and they will no doubt get plenty of use. It's also a win-win for the rest of the family, as dad can prepare delicious meats for everyone to enjoy.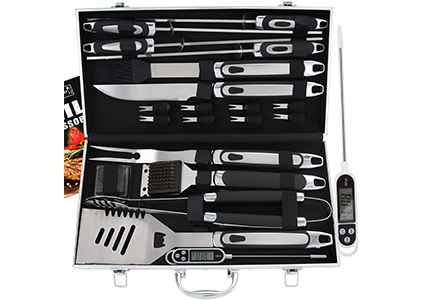 21 pc
Durable stainless steel
A good meal and favorite brew
The best way to thank several ConsumerAffairs dads is in the form of food and their favorite beverage. One employee wants nothing more than to bite into a "nice, thick-cut ribeye" and to wash it down with their beer of choice. Multiple ConsumerAffairs dads mentioned that they would love to receive top-shelf liquors. If you're familiar with Parks & Rec, you'll likely remember Leslie's winning gift for Ron's birthday. She set him in front of a TV with his favorite movie, a giant steak and a bottle of Scotch, plus, she ensured he was uninterrupted.
Fun and games
Cornhole set
For the dad who enjoys backyard or tailgating games, look no further than a quality cornhole set. The popular game involves tossing bean bags onto a slightly elevated board with a hole in it. Land on the board and get one point; sink a bean bag into the hole for 3 points. If you're handy with a saw, you could try to make a set yourself. Otherwise, sets can be found online, many with team colors or logos.
Guitar
A musically inclined father is always trying to get his hands on a Gibson Les Paul guitar. However, few families have several thousand dollars to commit to a Father's Day gift. Otherwise, a less expensive guitar or maybe even lessons could be a delightful gift for the dad looking to take up a new hobby or resurrect an old one.
Motorized skateboard or scooter
The dads in our office have mentioned that they would love one of the small motorized scooters we all see zipping around. Motorized skateboards or even scooters are fun and surprisingly fast, reaching top speeds of 18mph. Such a gift might be ideal for the adventurous dad looking for some fun, or an energy-efficient way of getting around.
Practical and useful gifts
Tools
One of our resident ConsumerAffairs' dads also asked for tools. Before buying tools, it's best to get a feel for what exactly he needs. If you want it to be a surprise, try scouring the garage or tool shed to see what he already has. Most dads probably have essential tools, so something a little more specialized like a specific power saw or impact drill may be high on his list.
Lawn tools
If the dad in your house enjoys an immaculately maintained lawn, he may be happy to receive an upgrade to his existing equipment. One dad cited "new lawn tools" as his go-to gift. Left to interpretation, that could mean anything from a push mower to an edger to a leaf blower. Many consumers with smaller, urban yards enjoy the battery-powered tools from Greenworks, which come equipped with a reasonably long-lasting rechargeable lithium-ion battery.
Auto tools
For the do-it-yourself car maintenance dad, consider items that can help him around the shop. One dad needs a new creeper — essentially, a board on wheels that allows a mechanic to slide underneath a car on his back — and a reliable floor jack.
Home upgrades
Another dad had a very unusual, specific request — 6 ½" round gutters in black. Although your dad will most definitely have a different request, items that make some of his chores easier can make excellent gifts. Simple things like energy-efficient light bulbs, a stockpile of various batteries or even a new garage door are great options.
Garden aesthetics
Along the same lines, one dad is asking for a new oak tree to be planted in his yard to replace one that had recently died and been removed. A tree can be one gift that will never be forgotten years down the road.
Health and hygiene
Home gym
One ConsumerAffairs dad is missing his gym during the pandemic, so he decided to build a home gym instead of returning to his fitness center when it reopens. There are dozens of possibilities to begin a home gym without breaking the bank. A good starting point might be some dumbbells of various weights or even a punching bag.
Running shoes
On the same wavelength, another dad is interested in upgrading his very worn running shoes. If you're going to buy shoes, you probably want to do your homework. Not all running shoes are created equal, so it might be best to ask what shoes he wants before ordering. One ConsumerAffairs dad mentioned you can find a great shoe for under $60.
For the bearded dad
Did the dad in your life grow out a quarantine beard and decide to keep it? One ConsumerAffairs dad mentioned he would enjoy a beard grooming kit from his kids. Most bearded men love beard accessories, from balms and leave-in conditioners to combs and clippers.
Permission or sign-off
Sign-off on dad's project
One thing that stands out between our Mother's Day and Father's Day lists is that the dads seem to ask for more "outside the box" gift ideas. This one barely qualifies as a gift at all, but one dad mentioned he'd love his wife to sign off on a landscaping project he conjured up. This dad is happy to do all the work himself; he just wants an okay to move forward with the project.
A round of golf
Along the same lines, another ConsumerAffairs office dad asked for, "A leisurely morning on the golf course." Unless you want to add a new club or two to his bag, this gift requires little effort or monetary commitment on your part, just the thumbs-up to get away for a few hours. If he is a beginner golfer, or perhaps in need of a whole set of clubs, Callaway's entry-level brand Strata is a great way to start.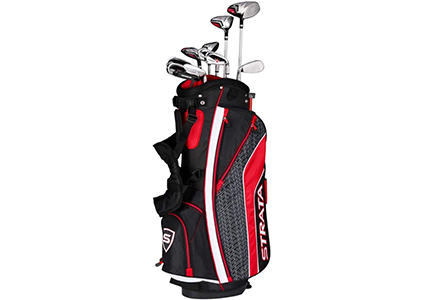 Complete golf set
Financing available
Handmade gifts
Memories to cherish
Moms aren't the only ones who appreciate a handmade gift. One dad suggested he wanted, "A framed document listing all of my fatherhood achievements from the past year." Joking or not, the idea could bring a chuckle to the dad in your life. It may take some brainpower to formulate a list of his achievements, but it may be a winning gift.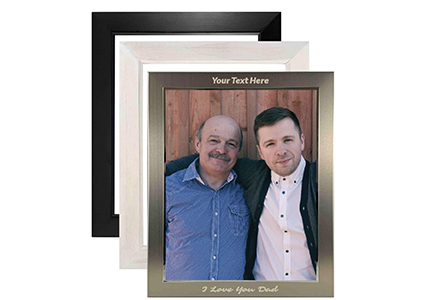 Free personalized message
8 x 10 pictures
Surprise!
Sorry, this one isn't going to be helpful for those looking for inspiration. Not every dad had something specific in mind. One dad, tired of making decisions, said he doesn't want to have to think about a gift request. The idea of having to put hours of thought into a "perfect day" or ideal gift can be stressful for some. Put your heads together and surprise him with a gift you think he'd like.
Keep it simple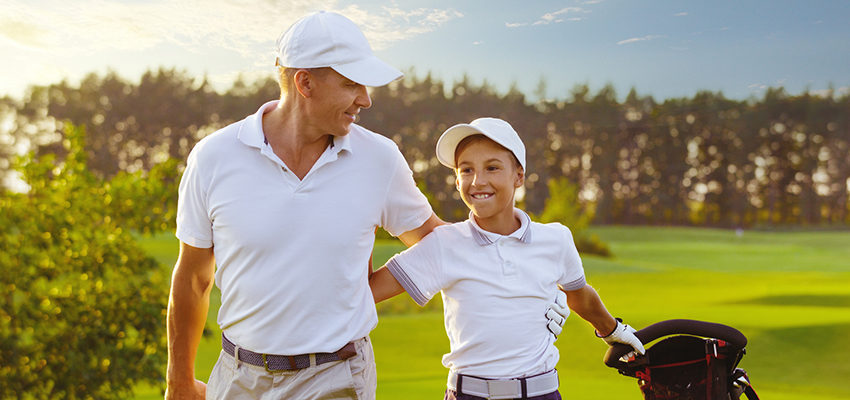 Sometimes, you'll hear dads say they don't want anything. If your dad's response to receiving gifts is often, "I told you not to get me anything," consider perhaps a simple card. Dad may just want a mere acknowledgment of the day.
So, now that you know what the dads of ConsumerAffairs want this Father's Day, will you follow their lead or go your own way? Tell us in the comments what you're getting Dad. For more great advice on Father's Day gifts and many other consumer decisions, check out our podcast The Confident Consumer.