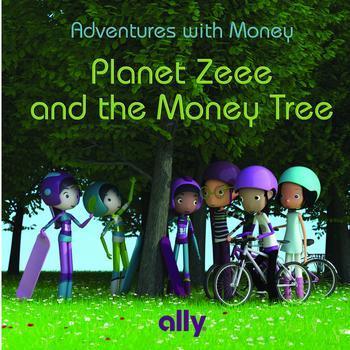 Arming children with a solid financial education can set them up for a more financially secure adulthood. However, a new study finds that few parents actually make time to talk to their children about money matters.
Findings from a new survey commissioned by digital financial services provider Ally showed that although 83% of parents believe saving money is one of the most important money skills children should learn, only 13% of parents regularly talk to their kids about financial matters.
In an effort to help parents educate their elementary school-aged children about money, Ally Financial has launched a free digital children's book with a storyline that reinforces basic financial concepts.
Building financial literacy
"Planet Zeee and the Money Tree" is a tale about three children from another planet who come down to Earth and can't quite seem to grasp the concept of money. Fortunately, the aliens meet children from Earth who teach them how money is earned, used, and why it's important to save and give back.
The e-book and its accompanying resources for parents are an extension of Ally Financial's Wallet Wise program, which offers tools to help consumers better manage their money. In creating the new materials for families with kids, Ally hopes to teach kids money skills and concepts that will come in handy in adulthood.
"Ally believes that learning about money and building good habits from an early age can help young people make smarter money choices and feel more empowered over their personal finances and their lives in the future," said Jacqueline Howard, director of corporate citizenship at Alley.
Teaching money skills to kids
Ally's research revealed that 33% of parents actually felt uncomfortable talking to their kids about money. But financial literacy isn't a topic parents should shy away from; fostering good money habits in childhood will help kids better manage their finances when they're older. 
Here are a few concepts parents should strive to help kids understand, according to the financial experts American Consumer Credit Counseling (ACCC).
Where money comes from. When kids see their parents pay with plastic, they may not realize that money is being withdrawn from a finite source. Parents can teach kids about the concept of working for money by helping them set up a bank account for saving and allowing them to earn money by doing chores.
How to spend wisely. To help kids learn to make smart money choices, parents can have their child make a list of items they need and rank them in order of importance.
Importance of saving. After kids have learned the importance of spending wisely, they can be taught the importance of saving money. Parents can demonstrate this concept by having their child set goals with savings, such as saving for a new toy or game.
The concept of credit. Parents should also help kids understand that credit cards aren't a source of free money. The ACCC recommends helping children under 18 learn the basics of credit by having them practice using credit by borrowing money. If they miss a payment, don't hesitate to charge a small late fee.