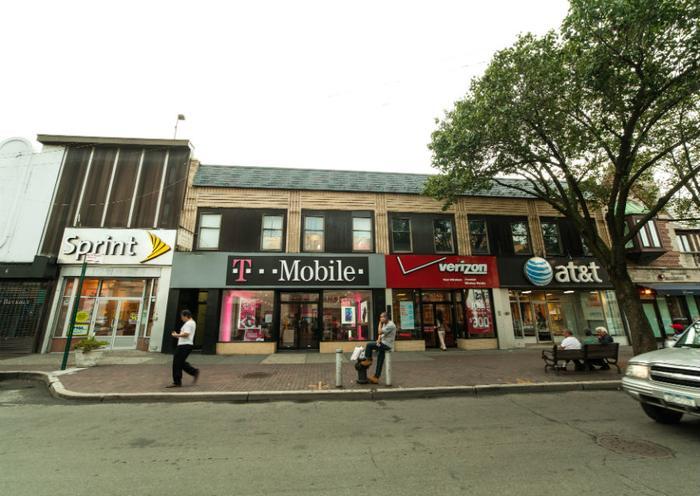 By now, just about everyone on the planet has a cell phone or smartphone. For wireless companies like AT&T, Verizon, and T-Mobile to gain new subscribers, they usually have to take them from their competitors.
All three companies offer generous sign-up incentives and make boasts about their coverage area, but is one of these companies better than the others? When we checked the overall ratings ConsumerAffairs reviewers gave the big three, we found that not a lot separates them in their customers' eyes.
Based on 693 reviews, ConsumerAffairs reviewers give AT&T a rating of 3.2 stars. It's slightly ahead of Verizon, with 3 stars based on 961 reviews. Both trail the newly combined T-Mobile and Sprint entity with 3.3 stars, based on 704 reviews.
With the big three virtually neck-and-neck, we decided to do a deep dive into the reviews to see what reviewers like and dislike about the companies and see if any themes emerge.
AT&T
Farhad, of Seattle, was a very unhappy AT&T customer when he posted a 1-star review to our site in April.
"After almost 18 years with AT&T wireless service, I am forced to cut the tie," Farhad wrote. "The reason is pretty simple. It is due to their poor customer service, un-helpful management and not to mention their outrageously high service rates. While their service is ok, their agents mislead customers to add plan that supposedly would reduce my monthly cost, instead it went up."
There are several 1-star reviews in which the main grievance was a promotion not living up to how it was presented. While it's possible that customers misunderstood how it worked, it does suggest that the pitches often lead to misunderstandings.
"I transferred cellular service from Verizon wireless August 5, 2020, enticed by a $700 offer to trade in my and my wife's cell phones and port our numbers to AT&T wireless," James, of Covington, Georgia, wrote in a ConsumerAffairs post. "The offer was supposed to go into effect 60 days from the date I signed up. I have made numerous attempts to get AT&T to resolve this issue, they even gave me a case number and promised it would be taken care of by January 4, 2021. I am getting the runaround but not the credits for moving my services to AT&T."
But Sonia, a reviewer from Houston, gave AT&T a 5-star review after she switched from another company.
"I have great service," she wrote. "I used to have another provider but I used to lose signal all the time and it wasn't cheap. So now with my provider, I have service and haven't had any issues on signal or anything. Plus I get my devices and on a way that I can afford to pay. Am happy with it."
Patricia of Warrenville, Illinois, found something to complain about even as she gave AT&T a 5-star review.
"I love the service, have never had any problems," she wrote. "Very few calls dropped. However, I do feel their plans are expensive compared to others. Customer service is also good. Selection of phones is very good."
Verizon
Verizon has its share of 1-star reviews, with common problems being mistakes on bills and issues with customer service. Charles, of Clarks Summit, Pennsylvania, said he liked the coverage area Verizon provided but finally couldn't put up with the level of customer service he received.
"It is impossible to get through to a person who can actually do something about Verizon's mistakes," Charles wrote. "And when you try it will eat up gobs of your time and leave you frustrated and defeated."
Charles wrote that the last straw was when the company billed him $13,000 instead of his normal $124 a month. He said customer service reps he communicated with agreed it had to be a mistake, but no one could do anything about it. 
Misty, of St. Augustine, Florida, had just the opposite experience. She wrote in a 5-star review that she called Verizon in tears about her bill.
"I spoke with Shantelle," Misty wrote. "She listened to me cry as I explained my situation. Before anything else she made sure I was ok and spoke to me in a calm voice. Once I was ok she went on to address my issues. So many times she assured me it would be ok. She took care of every single issue and even a few I myself didn't see! I truly felt cared about by the end of our conversation. She definitely changed my feelings."
There appear to be very few issues with Verizon's coverage area. Most of the dissatisfaction appears to stem from frustration in trying to resolve some kind of issue with a phone or plan.
T-Mobile
Customer service is a common topic in 1-star reviews of T-Mobile, which recently merged with Sprint. Sometimes we'll get bad reviews about a particular store from one reviewer, but then we'll receive a positive review from someone in another city who will praise the local store in a 5-star review. Like the other two major carriers, misunderstandings about plans show up in some T-Mobile reviews.
"T-Mobile ran a promo to receive free phones, via monthly credits for every old phone number ported in," writes Erick, of St. George, Utah. "The T-Mobile rep confirmed our phones were eligible and ported the numbers for us."
Erick said the first bill was correct but that the second one included a charge for one of the "free" phones.
"Subsequent follow-up was told we weren't told, though should have been, that our phones weren't eligible for the free phone promo," Erick said.
Rona, of Lancaster, Pennsylvania, gave T-Mobile a 5-star review in which she said she's happy with both the service and her plan's terms.
"All unlimited, no slowdowns or sharing for considerably less than any other provider," Rona wrote in her ConsumerAffairs post. "They are always willing to change us to the best available deal all with no contract. They don't need to lock you in. You stay because your bill is always right, perfect connection anywhere."
Do your research and choose the best plan for you
When it comes to the big three wireless providers, some consumers have encountered problems while others haven't. Problems with customer service appear common in all three.
When it comes to selecting a wireless provider, give strong consideration to the monthly cost and the provider's coverage area where you live. If you are considering a special promotion, make sure you completely understand it and ask questions.
As you do your research, be sure to check out ConsumerAffairs' guide to wireless services, which also includes reviews for some independent providers.