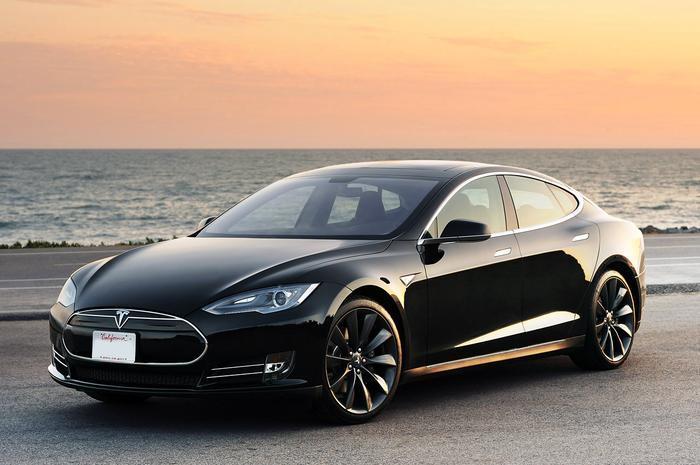 Tesla owners are saving money on gas, but they may soon be spending more for insurance. Automotive News reports today that AAA Insurance is raising its rates for Tesla Models S and X, based on data showing the electric luxury cars have abnormally high claim frequencies.
AAA says that based on the number and severity of accidents, premiums on the cars should go up 30 percent. Tesla disputes that.
"This analysis is severely flawed and is not reflective of reality," said the electric-vehicle maker, according to the report. "Among other things, it compares Model S and X to cars that are not remotely peers, including even a Volvo station wagon."
An AAA official said the firm noticed the high claim rates in its own data and then investigated other sources, including the Highway Loss Data Institute. Finding a similar pattern of elevated claims there, AAA instituted the rate increase.
The institute classifies the Model S as a large luxury vehicle, in the same class as the Volvo XC70, Audi A6, Mercedes-Benz E class, and BMW 5 series. Comparing claims for cars in that class, it found the frequency and severity of Tesla claims to be "much higher than usual."
More claims, higher costs
In other words, there are more claims than for similar cars and the repair costs are higher than normal.
This fits with the experience of ConsumerAffairs reader Thomas of Thousand Oaks, Calif., who said in a recent review it's "worse than you can imagine." 
"I've owned a Tesla for 3 months and was hit going about 2 mph -- scratched the front bumper and wheel and tire went flat," he said. 'Tesla Centinela' connected me to DC Autocraft. I asked for an estimate. They said they couldn't, as they had tow charges (tire flat), costs of storage, and other charges. I texted them notifying them that I'd pay for tow if they provided an estimate. They agreed. It's been two weeks, I still don't have an estimate but they're indicating that it would be more than $10,000 to fix - crazy ripoff."
Thomas found that Allstate's experience with Teslas was similar to AAA's.
"I spoke to my Allstate agent and filed a claim. The Allstate adjuster said that Teslas are a big problem. The lowest estimate that he'd approved is $7,000 and it takes weeks or months more to fix a Tesla -- the 'approved' body shops are all backed up and have no parts."
Bevila of Tucson had similar issues with her Tesla.
"Our car was damaged in an accident (I fully believe it was a car malfunction versus "driver error" even though they refuse to accept responsibility) and has been in one of their approved auto body shop for over a month and a half for repairs," she said. "The auto body shop says they have received 2 parts so far and hasn't started work."
Tesla's rejoinder
Tesla said the high rate of acceleration in both the Model S and Model X make it "false and misleading" to compare against vehicles such as the XC70, adding that the Model S also holds the lowest likelihood of injury, according to an evaluation by the National Highway Traffic Safety Administration.
That may well be, but for consumers like Thomas, who have invested a lot more in their Teslas than just the purchase price, such promises may come too late.
"To prepare for electric, I've spent $8,000 rewiring my house, putting in a Wall connector and getting ready to put in $70,000 of Tesla solar panels. After this experience, I'm selling this Tesla and getting a real car on which I can depend -- not a toy," he said.