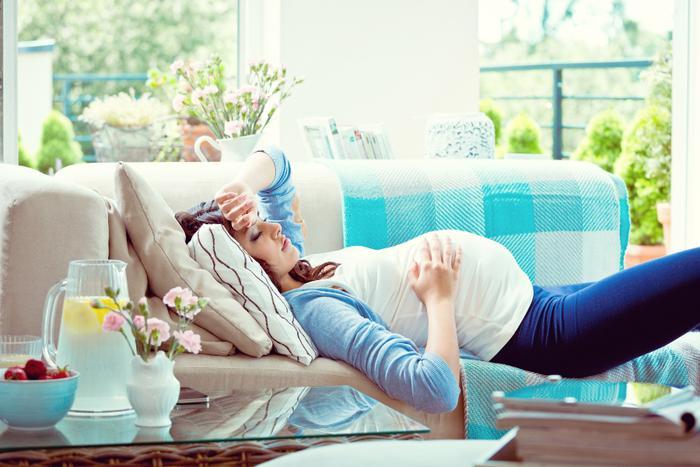 Researchers from the University of Warwick believe they have found the best way to predict when pregnancy sickness will start -- and they say it is closely tied to ovulation cycles. The team explained that most doctors use the date of women's last menstrual cycle to determine the start of the pregnancy; however, this isn't always the most accurate measure because cycles can change from month to month. 
According to their findings, pregnancy sickness starts much earlier in pregnancy when looking at the date of ovulation rather than the date of the last menstrual cycle.
"In the past, women suffering with nausea and vomiting in pregnancy have had their symptoms trivialized and overlooked because it was thought there was a psychological basis for the symptoms," said researcher Roger Gadsby. "This research further enforces that nothing could be further from the truth, that this is a biological problem related to the development of the early fetus."   
Knowing when to expect pregnancy sickness
To come to their conclusions, the researchers had 256 pregnant women report on the dates of their last menstrual cycles and ovulation; the participants also kept diaries throughout their pregnancies to record their symptoms. 
The researchers found that nearly 95 percent of the women experienced sickness during their pregnancy, but the dates of their ovulation and menstrual cycles revealed very different experiences. When using the date of the participants' last menstrual cycles as the start of the pregnancy, nausea and vomiting began nearly a month into pregnancy. However, using the ovulation date as the start of pregnancy pushed those symptoms up to just over a week into pregnancy. 
"The precise course of pregnancy sickness is unknown, but this research shows that it occurs at a specific developmental stage, in a specific time slot," said Gadsby. "For researchers, it narrows our focus in terms of where we look for the cause. If we know that symptoms occur in a very narrow 8-10 days after ovulation, researchers can concentrate their efforts on that particular stage of development to find the cause of the condition, both anatomically and biochemically." 
These findings are significant because the date of ovulation provides a much smaller window of when pregnancy sickness symptoms should appear. As Gadsby said, the women reported experiencing nausea and vomiting eight to 10 days post-ovulation; however, when looking at the date of the menstrual cycles, the window of symptoms appearing widened to 20 to 30 days. 
The researchers hope these findings can be beneficial from a research standpoint and help women better understand their bodies and know what to expect during pregnancy.