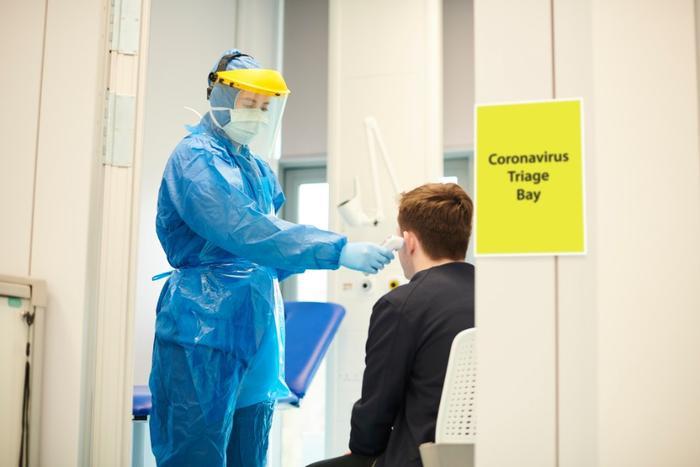 As some states begin to reopen businesses, White House health advisor Dr. Anthony Fauci is warning that reopening too soon could lead to "little spikes" in coronavirus cases that could turn into further outbreaks. 
Fauci, the nation's leading infectious disease expert, told Congress on Tuesday that he's concerned some states may be easing measures to curb the spread of the virus prematurely. Failing to adhere to the White House's multi-phase plan for gradually reopening could be a step backward for the nation in combating the outbreak.
"My concern [is] that if some areas, city, states, or what have you, jump over those various checkpoints and prematurely open up without having the capability of being able to respond effectively and efficiently, my concern is that we will start to see little spikes that might turn into outbreaks," Fauci said in response to a question from Sen. Patty Murray (D-Wash.).
Fauci raised these concerns during a videoconference hearing before the Senate Committee on Health, Education, Labor and Pensions. 
Slowing the spread
In addition to expressing concern about future outbreaks stemming from opening back up too early, Fauci discussed the likely timeline for the rollout of a vaccine. Fauci said he was optimistic that health experts will find a vaccine to stop the spread of the virus, but schools shouldn't expect a vaccine or widely available treatment for COVID-19 by fall.
"Even at the top speed we're going, we don't see a vaccine playing in the ability of individuals to get back to school this term," he said.
In the meantime, the nation's COVID-19 response is "currently focused on the proven public health practices of containment and mitigation," Fauci said. 
"If we skip over the checkpoints in the guidelines to: 'Open America Again,' then we risk the danger of multiple outbreaks throughout the country," Fauci wrote in an email to New York Times health policy reporter Sheryl Gay Stolberg. "This will not only result in needless suffering and death, but would actually set us back on our quest to return to normal." 
Vaccine progress
More than 100 potential vaccines are being looked into as potential treatments, but Fauci said "there's no guarantee that the vaccine is actually going to be effective." He noted that two vaccines have produced a "suboptimal response." 
"And when the person gets exposed, they actually have an enhanced pathogenesis of the disease, which is always worrisome. So we want to make sure that that doesn't happen. Those are the two major unknowns," he said.
The U.S. Food and Drug Administration (FDA) recently gave the biopharma firm Moderna "fast track" status for its experimental vaccine, mRNA-1273. The drug entered Phase 2 clinical trials last week. 
The number of COVID-19 cases has exceeded one million and the number of deaths is now at least 80,684, according to data compiled by Johns Hopkins University. U.S. health officials say the figures are likely much higher as some people with the illness are asymptomatic.