The Federal Trade Commission (FTC) isn't one to make its bloodhound's agenda public, but over the past few years, it's been doggedly hunting down companies that use "dark patterns" to try to trick consumers into doing things they probably wouldn't do otherwise.
Publisher's Clearing House found itself in the agency's dog house recently. So did Amazon, Credit Karma, Vonage, and the makers of Fortnite. 
The FTC's sister agency – the Consumer Financial Credit Bureau (CFPB) – is also gunning for dark pattern users, accusing TransUnion. And as consumers started to pick up on these tricks, they headed to the CFPB's complaint desk, too, filing grievances against Bank of America, Experian, CapitalOne, and others.
Needless to say, "dark patterns" have become the scariest elephant in the room right now.
What do these look like and where do you find them?
Researchers at Stanford University's Dark Patterns Tip Line (DPTL) say that the inherent dangers lie in five basic consumer categories: social media, financial and insurance, education, smart devices, and health and wellness. 
As to how you spot them, Mark McCreary, co-chair of the Privacy and Data Security Group at Fox Rothschild, told ConsumerAffairs that these dark patterns are "intentional design choices" -- little tricks that companies use to nudge consumers into agreeing to terms or services they did not intent.  
"Identifying dark patterns can be difficult, but there are some things to watch," he said. "For example, if you go to a website and try to cancel a subscription, they may ask if you really are sure you want to, or offer you a discounted rate or free month. When you try to opt-out of promotional emails from, they may ask if you are sure and says you can change my mind by just closing the page."
McCreary said that what got the FTC's attention with Amazon was that users could not close their account easily online, but had to send a request to Amazon to have them close it.
"At that point, you have to complete a form that contains the many reasons you should not close your account, and only after navigating that can you proceed by again asking Amazon to close your account."
'Do this first, please.'
A good number of dark patterns are hidden in processes. For example, a dark pattern that financial and insurance companies might try is getting someone to input their personal and payment information for a "free trial" and, then, once that trial period is over, the company automatically starts billing users without notifying them that the free trial is ending and payment is set to start. 
Another questionable process the DPTL recently uncovered was with PictureThis – a supposedly free app but one that uses "a very deceptive means of tricking users to upgrade" to the paid version of the app which runs $29-49 a year. 
Cancel? You must be kidding.
The most egregious dark pattern is probably the one where it's darn near impossible for a consumer to easily cancel a service or subscription.
In addition to the FTC's recent fervor over cancellation hurdles, DPTL's research turned up several big brands using this tactic. Probably the biggest was AT&T, which the researchers said made it "incredibly difficult" for a customer to cancel, forcing them to pore through a laundry list of "how-to's" which did not include how to cancel.
Rather, the company pushed that option to another section, telling the customer that they have to call a phone number and speak to someone in order to do that. 
The Stanford researchers said consumers many also find cancellation challenges with DirecTV, Wall Street Journal, MyLife, Hello Fresh, Stamps.com, and 1-800-Flowers.
You don't really need that purchase expedited, do you?
One DPTL tipster recently reported that the NFL was taking advantage of the dark patterns opportunities, too, with a "tricky design choice." One that denies the consumer a choice, not to mention costs them money if they don't need an item rushed their way.
"When you purchase merchandise from their website, they default you to the expedited shipping fee, tripling the shipping cost, and you have to decline it rather than choose it," the tipster wrote."If you don't catch it, you just paid a lot more in shipping fees than you should have to get your items."
Is this for real? Yep. ConsumerAffairs tried it out on NFL.com when attempting to purchase a Josh Allen Buffalo Bills jersey. This is what we saw when we went to check out and, indeed, the default shipping setting was "expedited shipping" and $10 more than the "standard 3-7 days" option.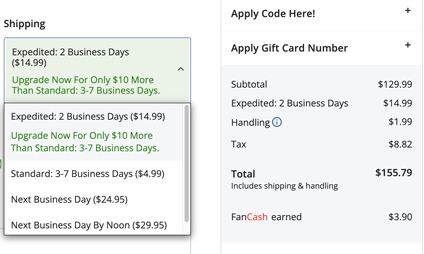 ConsumerAffairs reached out to the NFL to ask its reasoning for taking this posture, but did not immediately get a response.
How you can help
The FTC and CFPB are doing all they can, but staying informed and sharing what we know can go a long way in keeping dark patterns from creating expensive headaches.
If you notice a website or app that's up to something suspicious or you feel forced into giving personal details or discover hidden fees, sharing that with DPTL and other consumer forums like ConsumerAffairs will help the cause and give federal agencies some added firepower.
To file a DPTL report of a dark pattern, all you have to do is go here and share some pertinent details.