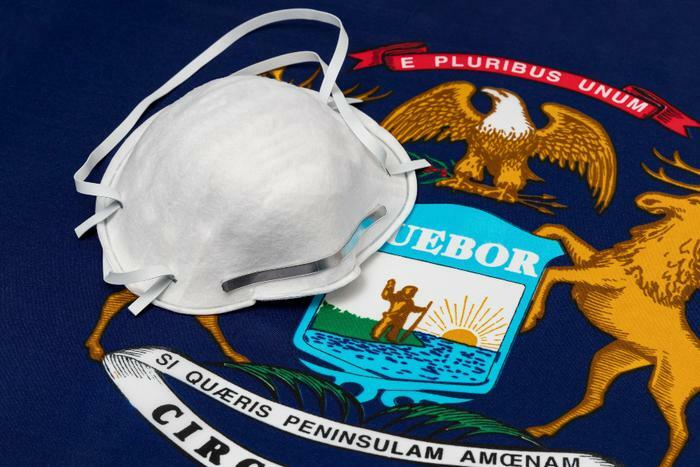 Coronavirus (COVID-19) tally as compiled by Johns Hopkins University. (Previous numbers in parentheses.)
Total U.S. confirmed cases: 31,871,390 (31,802,046)
Total U.S. deaths: 569,518 (568,572)
Total global cases: 144,025,288 (143,128,250)
Total global deaths: 3,062,087 (3,047,754)
Michigan's surge in new cases finally slows
Despite some of the toughest coronavirus (COVID-19) restrictions in the country, Michigan has recorded a surge in new cases just as the national trend began to fall. Fortunately, the latest numbers suggest the rise may have peaked.
The Centers for Disease Control and Prevention (CDC) reports that the seven-day average of new cases in the state fell from 551.8 per 100,000 people on April 14 to 483 per 100,000 on Wednesday. Meanwhile, health officials are trying to learn why the state has been hit so hard this spring.
In an interview with Scientific American, Dr. Benjamin Stix, an anesthesia critical care medicine fellow at the University of Michigan, said he thinks the surge was related to timing, not behavior. He said the state began to open up right as the U.K. variant became widespread. 
"There was, all of a sudden, all these people who were, right as the state was opening up, exposing themselves to the community more, essentially. And now we're in a really bad, bad situation," Stix stated.
New jobless claims go down again
Despite an uptick in COVID-19 cases around the nation, the labor market continues to improve. The Labor Department reports that initial claims for unemployment benefits fell again, dropping more than most economists expected.
There were 549,000 new claims for benefits last week, 39,000 fewer than the week before and the lowest number since the pandemic began in March 2020.
Last week's total is part of an improving trend. The four-week moving average was 651,000, a decrease of 27,750 from the previous week's revised average. 
Cigna rolls out vaccination incentives
Cigna, a health services company, has introduced what it calls "a broad range of new initiatives" to encourage and expand access to COVID-19 vaccinations. As many other corporations have done, Cigna is offering paid time off to receive the vaccination.
The company is also offering an incentive award for employees who are fully vaccinated and transportation to vaccine appointments at no cost for most Medicare Advantage customers.
"Even as vaccination rates increase, we are in a race against more contagious variants, and we must remain vigilant," said Dr. Steve Miller, Cigna's chief clinical officer. 
Survey shows 90% of nurses have been vaccinated
As the COVID-19 vaccine rolled out late last year, a surprising number of health care professionals expressed skepticism. A large number of nurses at a Houston hospital told pollsters they weren't going to get the shots, giving a variety of reasons.
Attitudes appear to have softened. Feedtrail, a service provider to the health care industry, has released a national survey showing that 90% of nurses have already been vaccinated. Another 82% said they were willing to urge others to be vaccinated.
Meanwhile, the White House has announced that the Biden administration has reached its goal of having a total of 200 million Americans vaccinated before the end of April.
Pandemic-led camping trend may continue
With bars, restaurants, and movie theaters mostly off-limits over the last year, millions of Americans rediscovered the great outdoors. Sporting goods manufacturers and campgrounds reported a big increase in camping, and sales of recreational vehicles (RV) surged.
Now that the economy is reopening, a new survey suggests that camping enthusiasm may stick around through most of 2021. New research from Kampgrounds of America (KOA) shows a strong outlook for both the RV and camping industries, with more people identifying as RV campers, more people buying RVs, and a very strong increase in interest year-over-year.
"One of the most encouraging trends of this year's data is the continued growth of diverse communities engaging in camping for the first time and becoming even more engaged, like Black campers having the highest intent of all camper sub-groups to purchase an RV this year," said Toby O'Roark, CEO of KOA.
Around the nation
Virginia: Colleges in the state are planning to reopen campuses in the fall but are undecided about whether they can require all students to be vaccinated. Legal advisers have pointed out that the vaccines don't have full FDA approval -- only emergency use authorization.

Arkansas: The state legislature this week took steps toward prohibiting any requirements to show proof of vaccination or to impose mask mandates. The GOP-backed bill cleared the Senate by a wide margin.

Vermont: Vermont has some of the strictest COVID-19 restrictions still in place, but some may be loosened as the summer tourism season approaches. However, visitors who have not been vaccinated must show proof of a negative COVID-19 test taken three days prior to arrival.