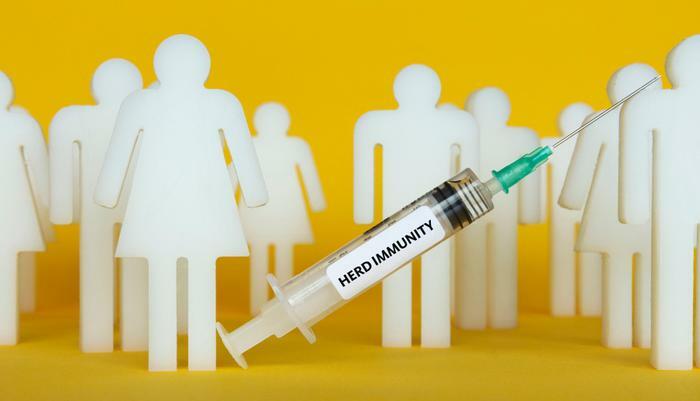 Coronavirus (COVID-19) tally as compiled by Johns Hopkins University. (Previous numbers in parentheses.)
Total U.S. confirmed cases: 27,901,914 (27,832,979)
Total U.S. deaths: 493,501 (490,875)
Total global cases: 110,476,945 (110,064,878)
Total global deaths: 2,445,673 (2,434,048)
New cases decline in 43 states
The coronavirus (COVID-19) vaccine, combined with the fact that 27 million Americans have already been infected, appears to be slowing the virus' spread to a crawl. The U.S. has experienced a decline in the seven-day average of new cases in 43 states, according to a CNBC analysis of Johns Hopkins University data. 
The analysis shows Nebraska, New Hampshire, North Dakota, Vermont, and Wyoming are the only states reporting an increase in the seven-day average of new cases. Hospitalizations have fallen in 49 states.
Writing in The Wall Street Journal today, Dr. Marty Makary, a professor at the Johns Hopkins School of Medicine, said COVID-19 cases are down 77 percent in the last six weeks. He predicts that the U.S. will achieve herd immunity -- and return to normal -- by April.
Feds say virus likely doesn't spread by food contact
Two government agencies have wrapped up a nearly year-long investigation, confirming previous findings that there is no credible evidence of food or food packaging being associated with COVID-19 transmission.
"Our confidence in the safety of the U.S. food supply remains steadfast," said Acting FDA Commissioner Dr. Janet Woodcock. "Consumers should be reassured that we continue to believe, based on our understanding of currently available reliable scientific information, and supported by overwhelming international scientific consensus, that the foods they eat and food packaging they touch are highly unlikely to spread SARS-CoV-2."
Woodcock said the principal reason for the agencies' conclusions is that COVID-19 is a respiratory illness that is spread from person to person through the air, unlike foodborne or gastrointestinal viruses. 
Pfizer seeks permission to store vaccine at higher temperature
The need to keep the Pfizer vaccine at extremely low temperatures has presented logistical issues that have complicated the vaccine's rollout. Now, Pfizer is asking the U.S. Food and Drug Administration (FDA) for permission to keep the vaccine at a higher, easier-to-manage temperature.
The drug company has submitted supporting data to the FDA, including stability data generated on batches manufactured over the past nine months of COVID-19 vaccine development. The current standard for storage is between minus 112 and minus 76 degrees Fahrenheit. However, Pfizer says the vaccine is stable between minus 13 and 5 degrees Fahrenheit.
"We have been continuously performing stability studies to support the production of the vaccine at commercial scale, with the goal of making the vaccine as accessible as possible for healthcare providers and people across the U.S. and around the world," said Albert Bourla, Pfizer's CEO. 
Walgreens expands its vaccination rollout
Walgreens says it has administered more than 3 million COVID-19 vaccinations, mostly in  long-term care facilities, and is now ready to expand its vaccination availability to more retail pharmacies.
The company said it expects to receive nearly a half-million doses of the vaccine each week as part of an effort to increase vaccination at pharmacies in more than 20 states. The extra supply is expected to begin next week.
The expansion is currently targeted for Arizona, Alaska, California, Chicago, Connecticut, Delaware, Georgia, Illinois, Kentucky, Maine, Maryland, Nevada, New Hampshire, New Mexico, New York, North Carolina, Ohio, Oregon, Puerto Rico, U.S. Virgin Islands, Utah, Vermont, Virginia, West Virginia, Wisconsin, and Wyoming.
Is it safe to travel once you have been vaccinated?
Millions of Americans have received both doses of the coronavirus vaccine, and many are eager to get back to normal activities. But what kind of normal activities are safe?
For those ready to take a trip, Merck Manuals, a provider of health care information, echoes recent guidance from the Centers for Disease Control and Prevention (CDC). Travel can increase exposure to risk.
"The vaccine has been shown to reduce the severity of illness if you get COVID-19, but it is not perfect in preventing you from getting infected," the editors warn. "It's not clear whether someone who is vaccinated can feel fine but still be infected enough to transmit the virus to someone else. That means that it's essential that all people — even individuals who have been vaccinated — continue to wear a mask, wash their hands, and social distance for the foreseeable future."
Around the nation
Florida: Health officials in Orange County say two young women used makeup and vintage clothing to disguise themselves as seniors and cut in line to get the COVID-19 vaccine. It apparently worked, at least once. Police say the women were exposed when they came back three weeks later to get the second shot.

Oregon: Gov. Kate Brown says most elementary school students in the state will be back in the classroom by April. She noted that classrooms have been reopening over the last few weeks, with the number of students attending in-person classes doubling since Dec. 23.

Minnesota: State health officials say they were forced to postpone vaccination appointments at two community venues in the state on Thursday and today because of shipping delays. They report that severe winter weather in much of the country prevented the expected delivery of the vaccine.