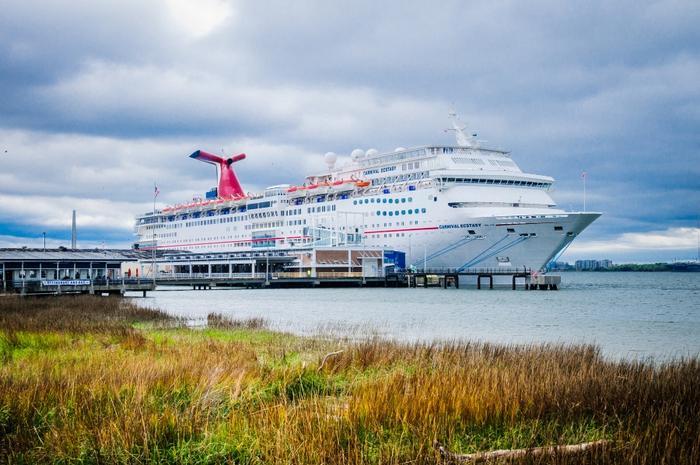 Cruise lines were some of the first businesses caught in the eye of the coronavirus storm, but Carnival Cruise Lines is hoping to reverse course by offering its ships to be used as temporary hospitals for non-coronavirus patients. The company says the move would allow hospitals on dry land to focus on patients with COVID-19.
President Trump announced Carnival's offer at a press conference on Thursday, praising the gesture as a welcome add-on to the Navy ships that were previously deployed to help reduce the pressure on hospitals and physicians. Carnival's offer includes selected ships from its brand network, which includes Holland America and Princess Cruises.
"In addition to the big medical ships that you have coming, if we should need ships with lots of rooms, they will be docked at New York and Los Angeles and San Francisco, different places," the President said. 
Carnival's offer can't come at a better time. The U.S. is in a jam when it comes to the number of hospital beds available for virus patients. According to statistics from the Organisation for Economic Co-operation and Development, the United States is woefully lacking in terms of number of beds per 1,000 people. 
There are only 2.8 beds per 1,000 people from sea to shining sea -- putting the U.S. in 31st place behind much smaller countries like Latvia and Slovenia and miles behind the metric's leader, Japan, with 13.1 beds per 1,000 people.
What Carnival is offering
The cruise line's Roger Frizzell told ConsumerAffairs in an emailed statement that medical services aboard ships "would be provided by the government entity or hospital responsible for fighting the spread of COVID-19 within that community." He also said that the ship's crew would operate maritime operations, which includes food and beverage and cleaning services.
"If needed, cruise ships are capable of being quickly provisioned to serve as hospitals with up to 1,000 hospital rooms that can treat patients suffering from less critical, non-Covid-19 conditions," Carnival Corp. said.
On top of the 1,000 staterooms, Carnival is also offering to upgrade its existing hospital rooms so medical personnel on land can monitor patients on the ship, covering health aspects like oxygen and cardiac functions. Typically, ships have around seven intensive care units on board as part of their normal set-up, and that alone is a huge plus.
Strategic value for Carnival
Market watchers like the Motley Fool are giving Carnival a standing ovation for this move. The publication thinks it's a definite win-win for both the company and the public.
"There's also strategic value for Carnival," Fool's Jon Quest wrote on Thursday. "Many of the company's cruise lines have paused operations for one month. Its Princess Cruise line is on a two month pause."
"In short, Carnival is in a difficult situation with no income. In this way, it can help slow the spread of the coronavirus, and also find a way to generate some non consumer-discretionary revenue."