The right-front seat belt may not restrain occupants adequately
07/15/2019
|
ConsumerAffairs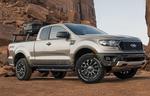 Ford Motor Company is recalling 7,600 model year 2019 Ranger SuperCabs.
The right-front seat belt may improperly assembled improperly and may not adequately restrain occupants in a crash, increasing the risk of injury.
The automaker says it is not aware of any reports of accidents or injuries.
Dealers will inspect and, if necessary, replace the right-front seat belt assembly.
Owners may contact Ford Customer service at (866) 436-7332. Ford's reference number for this recall...
More
Service performed in an earlier recall was incomplete
07/10/2019
|
ConsumerAffairs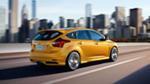 Ford Motor Company is recalling about 58,000 model year 2012 and 2017 Focus vehicles with 2.0-liter GDI engines, and model year 2013-14 Focus STs with 2.0-liter GTDI engines.
The powertrain control module software used to service these vehicles in accordance an earlier recall was incomplete.
The recalled vehicles did not receive the intended calibration software that will detect a malfunctioning canister purge valve.
When the canister purge valve is stuck open in these veh...
More
Sort By