Compare Reviews for Online Flowers
Flowers are a popular way to express love, gratitude, sympathy and a wide variety of other sentiments, so it isn't surprising that they generate nearly $35 billion a year in business revenue. Flower delivery services are an important part of the flower industry, allowing you to let someone know you're thinking of them even if you're far away or if fresh flowers aren't blooming where you live.
Online flower delivery companies are an especially convenient way to order flowers. Numerous websites allow consumers to search their inventories and put together flower arrangements from anywhere in the world.
Top 10 Best Rated Flower Delivery

Founded in 1998, KaBloom offers floral arrangements, shipped fresh nationwide. The bouquets are delivered in their patented technology, which seals the stems in water to improve the quality and guarantee freshness for seven days.

Read 22 Reviews

BloomNation connects local florists and consumers. Customers can order bouquets online, which are then arranged and delivered by a local florist. They serve approximately 3,000 cities. The company was started in 2011.

Read 6 Reviews

Blooms Today offers special packages for birthdays and holidays. They are one of the few flower delivery companies to offer a money-back guarantee on same-day deliveries and a refund if a recipient doesn't like the flowers.

Read 108 Reviews

The Bouqs Co. sells flowers that are grown by environmentally-conscious farmers. Artisan florists arrange the bouquets, and recipients receive arranged flowers in a shipping box. Displayed prices include shipping and fees.

Read 74 Reviews

Ava's Flowers opened a brick-and-mortar florist's shop 30 years ago. Today, customers can buy flowers online, by phone or from the shop, and can get custom bouquets, unusual flowers and quick turnaround after placing an order.

Read 421 Reviews

From You Flowers has 35 years of experience with floral design. They work with over 20,000 florists around the world to ensure hand-delivered flowers arrive on time. Consumers can also order plants, balloons and gift baskets.

Read 687 Reviews

Teleflora has been delivering flowers for over 81 years. It partners with 13,000 florists in the United States and Canada and more outside North America. Consumers order from Teleflora, and a local florist makes the delivery.

Read 229 Reviews

ProFlowers picks flowers the same day consumers order them so that they always get a fresh bouquet. They offer worldwide service, picking flowers from local fields in various countries, and deliver flowers door-to-door.

Read 979 Reviews

FTD has been in the floral industry since 1910. Consumers can order fresh flowers and other gifts on the company's website. Fresh flowers may either be delivered by a florist or by a shipping company like UPS.

Read 746 Reviews

1-800-Flowers is one of the best known flower delivery companies. They offer same-day flower delivery and online ordering in addition to a toll-free phone number that allows users to order from anywhere in the U.S.

Read 1605 Reviews
What features matter when sending flowers?
How will the flowers be delivered?
Some companies need a considerable lead time for floral delivery while others can get bouquets delivered within hours.
Same-day delivery: Many flower delivery services offer same-day delivery if consumers order early enough in the day. Flowers delivered the same day they were ordered will often be delivered by a local florist, even if you order them online from a national company.
Hand delivery: If you want the recipient to receive their flowers already arranged in a vase, look for a company that partners with local florists who deliver the bouquets.
Shipping service delivery: Some companies ship flowers directly to the recipient from exotic locations, and these may offer a wider variety of choices than local florists. Flowers shipped from a long distance usually arrive in a well-insulated box and are delivered by a shipping service like UPS or FedEx.
International delivery: Some online flower delivery businesses serve many countries. These companies will be helpful if you have loved ones or business associates overseas.
Temperature control: To be their freshest, flowers should be shipped in a cool environment, and many flower delivery companies also offer food items, like chocolate or cookies. Ask about refrigeration during shipping to make sure your gift arrives in its intended condition.
Will the flowers be fresh?
Freshness plays an important role in how long bouquets last and how they look when they arrive.
Locally sourced: Locally-sourced blooms tend to be fresher, smell sweeter and last longer than flowers shipped thousands of miles because they're more likely to arrive soon after they've been cut. If you live in a warm climate, look for a florist that sources its flowers from a local grower.
In-season blooms: Out-of-season flowers must often be shipped long distances, which means they aren't as fresh. Do an Internet search for in-season flowers and then select a bouquet that uses those types.
Shipping procedures: Most flowers will be grown in warm climates and shipped many miles before arriving at the flower shop or being delivered to the recipient. If you order flowers that will be delivered by a shipping company instead of a florist, make sure the company will either refrigerate them and/or ship them in an insulated box.
How much will a bouquet cost?
Shopping for flowers online will give you the chance to compare prices to find the best deal. Several factors will affect the final price of the bouquet.
Bouquet size: Many online flower delivery services offer multiple sizes of the same bouquet at varying prices. These websites typically provide an estimate of how many flowers are included in each size, and some include pictures of how the various sizes will likely look.
Discounts: Many florists offer regular discounts, so certain bouquets may be on sale at different times. Holiday-themed vases and other gifts will likely be discounted close to the actual day. Consider subscribing to the company's email list to receive promotional offers in your inbox. Also make sure to do an Internet search for promo codes before checking out.
Delivery fees: Make sure to note whether the delivery fee is included in the price shown on the website. These fees can add $15-$25 to the price, and you don't want to be surprised when you're ready to check out. Some companies sell membership programs that provide free shipping on deliveries during the membership period. Consider one of these if you send flowers regularly.
Add-ons: Expect to pay for anything you'd like to send in addition to the flowers. Many companies allow consumers to send a variety of other gifts, such as live plants, stuffed animals, candies and chocolate, cookies, fresh fruit and even champagne.
Does the company have good customer service?
Choose a company with a reputation for providing excellent customer service so you can get help if there are any problems with your order.
Satisfaction guarantee: Some delivery services offer a satisfaction guarantee. If your flowers look bad when they arrive or don't arrive at all, these companies offer a refund or replacement.
Reviews: Look at online reviews to see what other customers have to say about their order. These reviews can help you determine how the company handles problems.
Contact options: Even if you order flowers online, it should be easy to speak to a customer service representative. Make sure you can find a telephone number or participate in a live chat before placing your order.
What flower bouquet varieties are available?
With online options available, you'll have many choices of bouquets. You can browse websites to see examples of what all the options look like.
Florist's choice: Some sites have special prices if you allow the local florist who will deliver your flowers to design the bouquet. You won't have a choice about what types of flowers they include, but you will be able to select the general size of the arrangement.
Custom bouquets: Some florists and delivery websites let you create a custom bouquet using only the flowers you specify. These will likely be more expensive than a standard bouquet.
Exotic blooms: You can order any flower you want for your recipient, but exotic flowers may not be available unless you order well in advance. Consider using a company that ships flowers directly from the source to the consumer for the freshest exotic options.
Flowering plants: If you'd prefer to buy something that will last, consider ordering a live plant. Most flower delivery services offer potted plants in addition to cut flowers.
Do they fill bulk orders?
Businesses often need many more bouquets than individuals. A florist who offers bulk pricing and can fill multiple orders is a better partner for a business.
Multi-order discounts: If a business orders several bouquets, it may request a discount based on volume.
Priority shipping: For a large order, same-day shipping might not be available, but it should be a priority to get that order out as soon as possible.
Repeat business discounts: When customers come back again and again, they may be looking for a discount on their future orders.
When should you send flowers?
Romantic gifts
Flowers are a classic gift for romantic partners and significant others to send one another. Bouquets can be sent on special occasions, like anniversaries, or just to remind your partner that you value and appreciate them.
Congratulations
Bouquets and balloons are a suitable gift for birthdays, the birth of a child, graduations and other events that you want to celebrate. Most florists have a variety of vases, balloons and other gifts to fit all celebratory occasions.
Thank you
Sending flowers is a nice way to express your gratitude to a friend or thank someone for using your business. Nearly all flower delivery websites have a section of flowers that are appropriate to send as a thank-you gift.
Sympathy
Flowers and plants are commonly sent to show you're thinking of someone during a time of grief. Sympathy flowers can be sent directly to a particular recipient, while funeral flowers can be sent to a funeral home.
Holidays
Many people order flowers when decorating the home and garden in preparation for the holidays. Floral centerpieces are a lovely addition to a table, with seasonal blooms and themes to commemorate the holiday.
Who sends flowers?
Significant others
Significant others and romantic partners can send flowers to express their love and appreciation for their partner.
Friends
Friends can send flowers to congratulate those they care about, express their sympathy, say thank you or just remind someone else that they care.
Adult children
Flowers are a nice gift for adult children to send to their parents for birthdays and other special occasions.
Companies
Companies buy flowers to decorate offices, congratulate employees and express condolences.
Company reviews
KaBloom is a floral delivery company based in Massachusetts, with franchise store locations throughout the United States. and an online store, KaBloom.com. Established in 1998, KaBloom offers contemporary and traditional floral arrangements, bouquets and gifts. KaBloom partners with floral farmers around the world to provide freshly cut, seasonal varieties with a week-long freshness guarantee.

Guaranteed for a week: KaBloom guarantees their flowers will remain fresh for at least seven days after they are delivered, and they offer to replace any bouquets that don't last. Simply call or email customer service and they will send a replacement.
Same day delivery option: For those times when your floral gesture can't wait, KaBloom offers a same day delivery option on a select portion of their products. Choose from themed bouquets and arrangements at their alternate site, http://kabloomtoday.com, for a quick delivery when it matters.
Support sustainable flower farming: KaBloom's Sustainable Floral Fund is an independent, non-profit organization dedicated to providing assistance to their partner farms as they seek Sustainability Certification. KaBloom is also dedicated to reducing packaging and shipping waste by increasing the use of recyclable packaging.
Opt for a plant: While KaBlooms traditional bouquets and arrangements are popular, you can also opt for a seasonal plant when available. These plants come with care instructions and free two-day shipping.
Best for significant others, friends, adult children, companies and those concerned with the environmental impact of their floral purchase.

In business since 1976, 1-800-Flowers sells a wide variety of gifts, including gift baskets, keepsakes and bouquets. The company offers standard bouquets and bouquets with fair-trade flowers that can be scheduled for same-day delivery or delivery at a later time.

Best for significant others, friends, adult children and companies.

JustFlowers.com, based in Los Angeles, has been in business for more than 16 years. The company partners with local florists to offer hand-delivered flowers to consumers around the world.

Best for significant others, friends, adult children and companies.

ProFlowers was founded in 1998 to connect flower buyers directly with growers. The company is now a part of a larger family of brands, including ProPlants, gifts.com and Sheri's Berries. It offers a wide variety bouquets, delivered by florists and by shipping companies.

Best for significant others, friends, adult children and companies.

Blooms Today serves customers in every state, with quality bouquets from FTD, 1-800-Flowers and Teleflora as well as directly from growers. The company has been in business for over 15 years and now offers flowers, live plants and gift baskets.

Best for significant others, friends, adult children and companies.

FTD was established in 1910 when 13 florists joined together to offer flowers across the country that could be ordered by telegrah. Today, the company delivers flowers and other gifts around the world. Orders can be placed by phone or on the company's website.

Best for significant others, friends, adult children and companies.

From You Flowers has a large network of local partners, working with more than 20,000 florists worldwide to provide the freshest blooms on demand. The company also offers other gifts, like stuffed animals and fruit baskets, to be delivered with or instead of flowers.

Best for significant others, friends, adult children and companies.

In business more than 78 years, Teleflora is an experienced flower delivery service. The company offers same-day delivery on many flowers, but also allows consumers to schedule their orders up to three months in advance.

Best for significant others, friends and adult children.

Flower Delivery Express is an international clearinghouse that uses local florists to fill orders worldwide. Flower Delivery Express prioritizes customer service.

Discount pricing: Discounts are available on new orders, same-day delivery orders and birthday orders.
Same-day delivery available: Consumers can order in the morning, and their flowers will be delivered later that evening.
Platinum-level arrangements: To make a big statement, sometimes you need a big bouquet, and platinum flowers are designed to say a lot.
Corporate gift arrangements: This florist caters to business companies with an entire category of arrangements at a variety of price points.
Fill up a basket: In addition to flowers, it also sells cookies, candies, balloons, stuffed animals, fresh fruit and other extras to make a stunning gift basket.
Best for significant others, friends, adult children and companies.

Family-owned and operated, Amy Florist is dedicated to customer service and providing the little extras that leave customers with a smile.

Dried-flower arrangements: Most floral companies only offer fresh or live flowers. Dried arrangements last longer and provide a wonderful aroma.
Silk-flower arrangements: Cut flowers can last several weeks, but silk flowers can last forever.
Late same-day delivery: A late cutoff of 3 p.m. allows even the most forgetful person to arrange a last-minute order.
Closed for the holidays: Be sure to get your holiday order in early, since Amy Florist is closed on eight major holidays.
Price: Find arrangements for under $20 at this boutique florist.
Best for significant others, friends and adult children.

Avas Flowers started with a single brick-and-mortar location in New Jersey over 30 years ago. Today it is an affiliated partner of FTD Florist, Teleflora, 800Flowers and others, providing fresh and fun floral arrangements.

Best for significant others, friends and adult children.

FlowerPetal.com offers fresh flowers, gift baskets and floral centerpieces for all occasions to consumers throughout the United States. Offering a secure process for ordering flowers through its website, FlowerPetal.com provides same-day delivery for most of its arrangements.

Best for busy professionals, online shoppers, significant others, friends, adult children and companies.
Bouquets deconstructed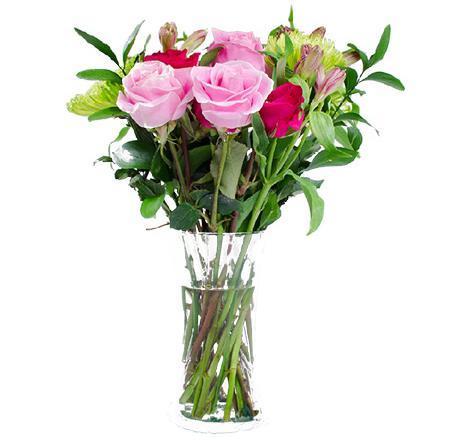 #2
Awarded "Most Romantic" among the five bouquets we ordered, the ProFlowers "Deluxe All the Frills" bouquet definitely sends a message of love, beauty, friendship and devotion. The bouquet we received was not as artfully arranged as the example on the retailer's website, but with the right vase and a quick rearrangement, this would be a good choice to your romantic interest, spouse or partner. Some of the blooms may not be fully opened upon arrival, but over the course of a few days they should open nicely and give a fuller, more luscious appearance. However, you might think twice about sending this bouquet to your mother. Lime green Spider Mums traditionally mean, "Elope with me," and that's probably not the message you want to send.
Mouse over each flower for more information.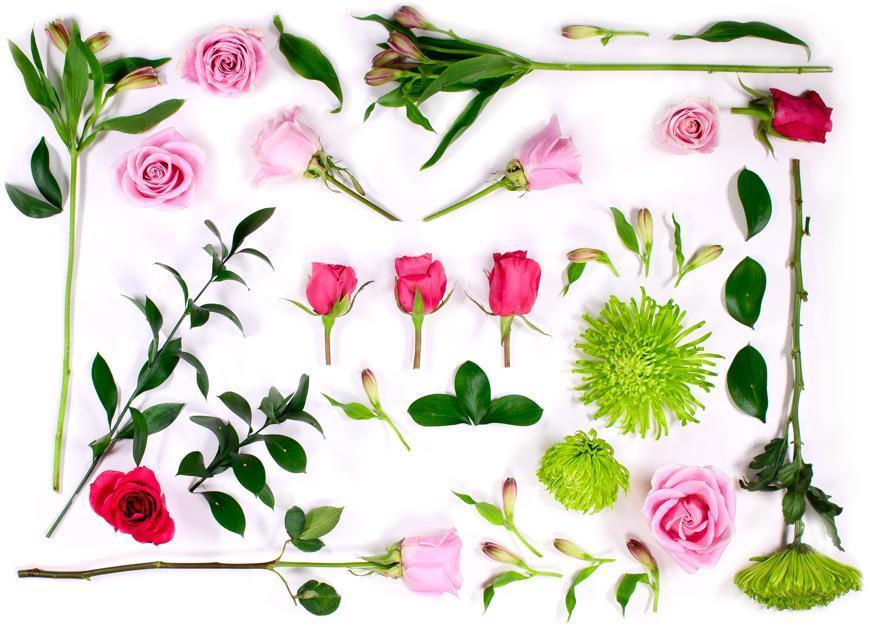 See all bouquets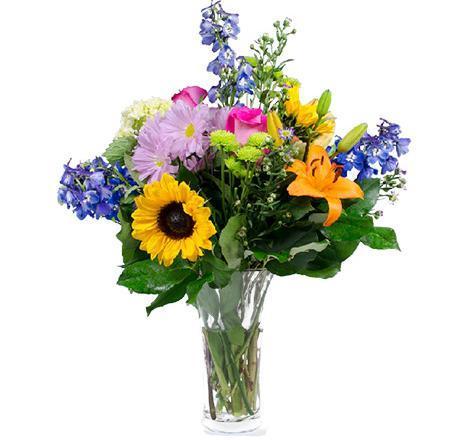 #3
Sold By:
1-800-Flowers.com
The Floral Embrace bouquet from 1800Flowers did not disappoint. The arrangement was delivered by a local florist and was full of colorful blooms with minimal filler. In fact, if we had purchased each stem from the local grocery store and arranged the flowers ourselves, we would have spent an extra $20 on the bouquet - without the delivery and professional arrangement. As for the true "meaning" of the bouquet? This one represents passion, friendship, rest, lovliness, grace, patience, purity and innocence making it a safe choice for a non-romantic recipient.
Mouse over each flower for more information.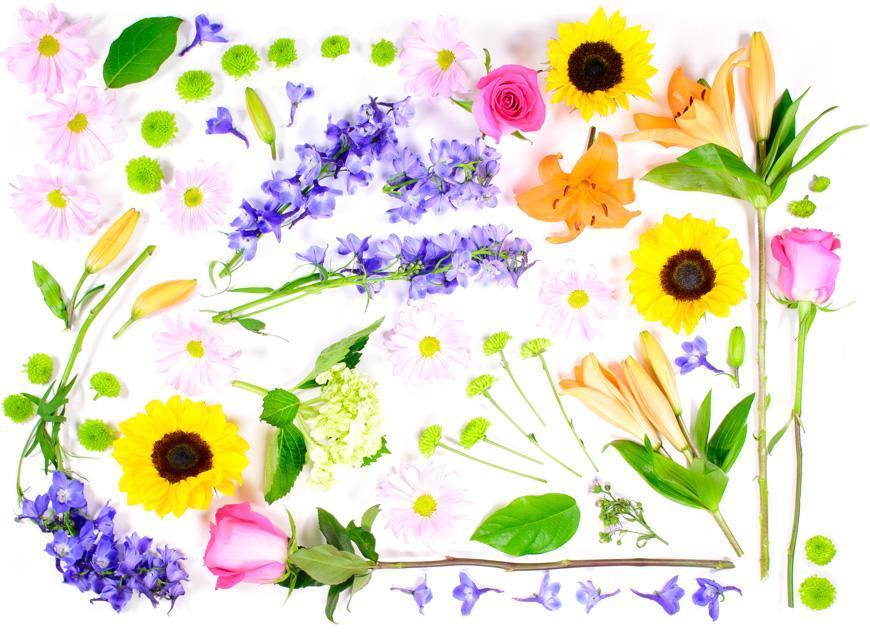 See all bouquets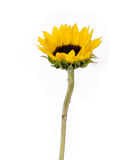 Interesting fact
Sunflowers can grow 8 to 12 feet tall, in rich soil, within six months.
Meaning
Bright, bountiful and always seeking out light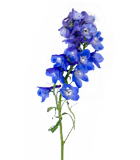 Interesting fact
The Larkspur plant is toxic.
Meaning
Symbolizes an open heart and ardent attachment; conveys a feeling of lightness and levity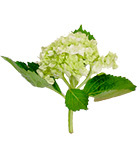 Genus/Family
Hydrangeaceae
Interesting fact
It is possible to change the flowers' colors - but not instantly.
Meaning
Symbolizes grace and beauty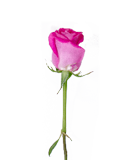 Scent
Damask, nasturtium, orris, violets, apple, clove, and lemon; less common odors include honeysuckle, moss, hyacinth, honey, wine, marigold, peppers, parsley, and fruits such as raspberry
Interesting fact
The fossil is not only in the form of animal. It was discovered in Colorado that a rose fossil was in the age of 35 million years.
Meaning
Symbol of love and beauty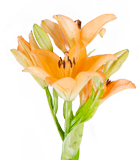 Species
Derived from hybrids between species in Lilium section Sinomartagon
Scent
Spicy or fresh and sweet
Interesting fact
Lilies are toxic to cats, if ingested
Meaning
Orange lilies represent passion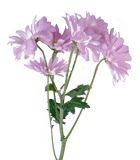 Flower name
Lavender daisy
Interesting fact
Daisy leaves are edible, high in Vitamin C and can make a tasty addition to salads.
Meaning
Purity, innocence, loyal love, beauty, patience and simplicity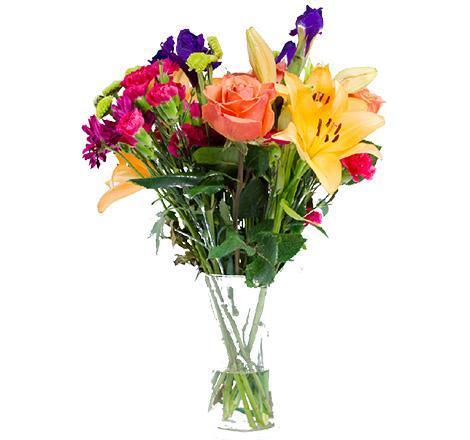 #1
The Vibrant Garden bouquet from BloomsToday did not disappoint in terms of matching the picture on the retailer's website. Flowers in this bouquet symbolize a variety of emotions including passion, friendship, beauty, patience, courage and admiration - making this a safe choice for sending to a friend or loved one on any occasion. You will spend more money ordering the bouquet from BloomsToday than you would buying each stem from your local florist or grocery store and arranging it yourself, but overall the bouquet was well-put-together and delivered on time without issues.
Mouse over each flower for more information.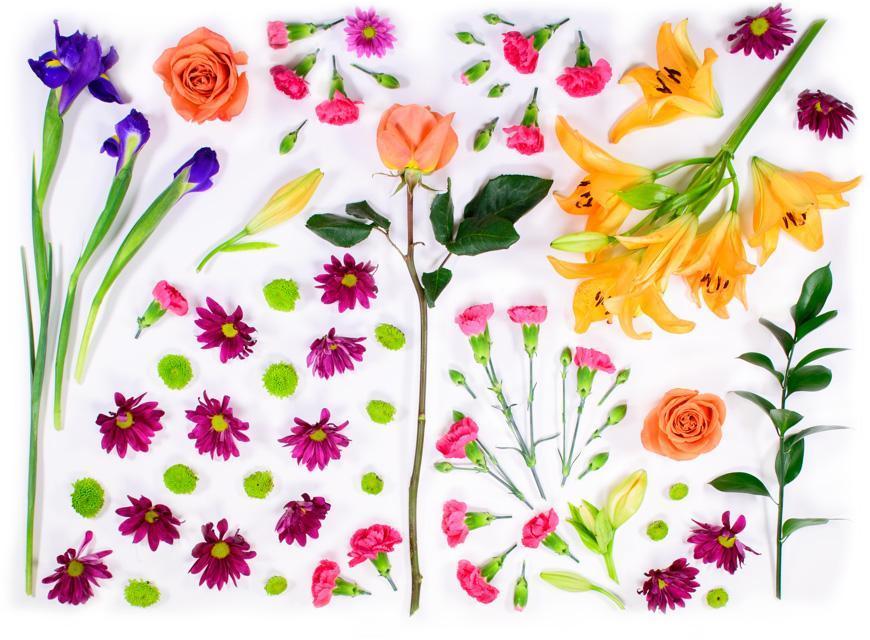 See all bouquets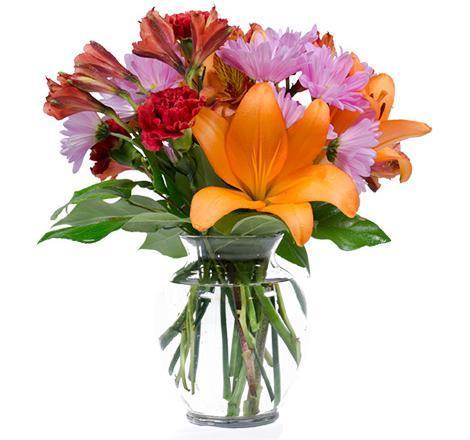 #0
Flowers in The Light of My Life™ Bouquet by FTD® symbolize love, friendship, devotion and optimism. This arrangement is a good choice if you're looking for a bouquet to brighten someone's day. This combination of blooms creates a spicy, fresh and sweet aroma. However, if the recipeint is a cat owner, you may want to choose a different option; lilies are toxic to cats, if ingested. Overall, the margin on this bouquet was slightly higher than other retailers, but FTD has a wide range of price levels to fit any budget, and it arrived on time.
Mouse over each flower for more information.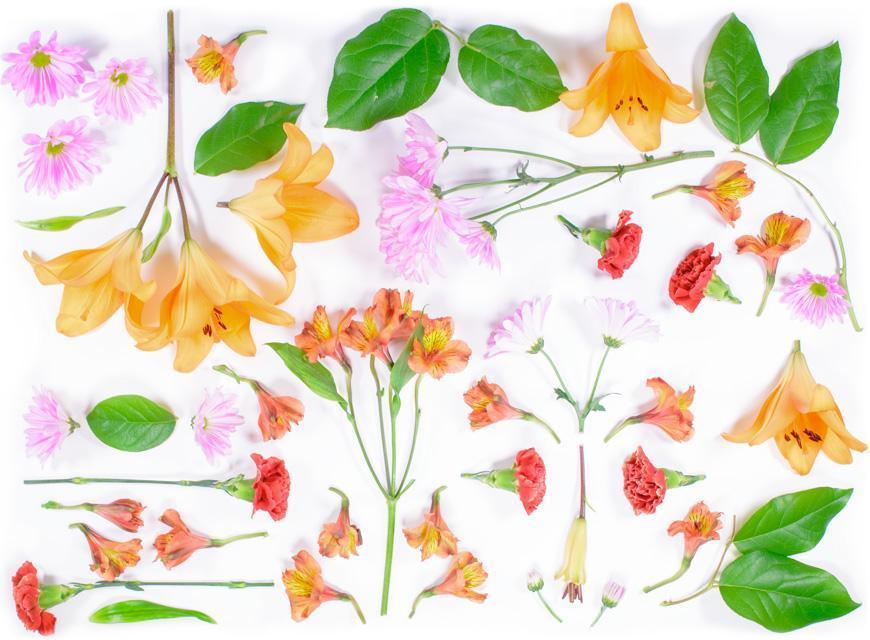 See all bouquets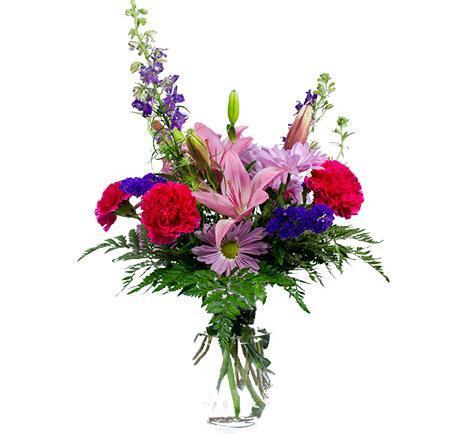 #4
The Bright and Beautiful Bouquet from JustFlowers didn't exactly match the picture on the retailer's website, however, we were not disappointed with this bouquet. The margin on this bouquet was not particularly high, so we felt like we got a good deal for what we paid. Although some substitutions were made in the arrangement, the flowers we received still symbolized an open heart, a feeling of lightness, innocence, patience and remembrance.
Mouse over each flower for more information.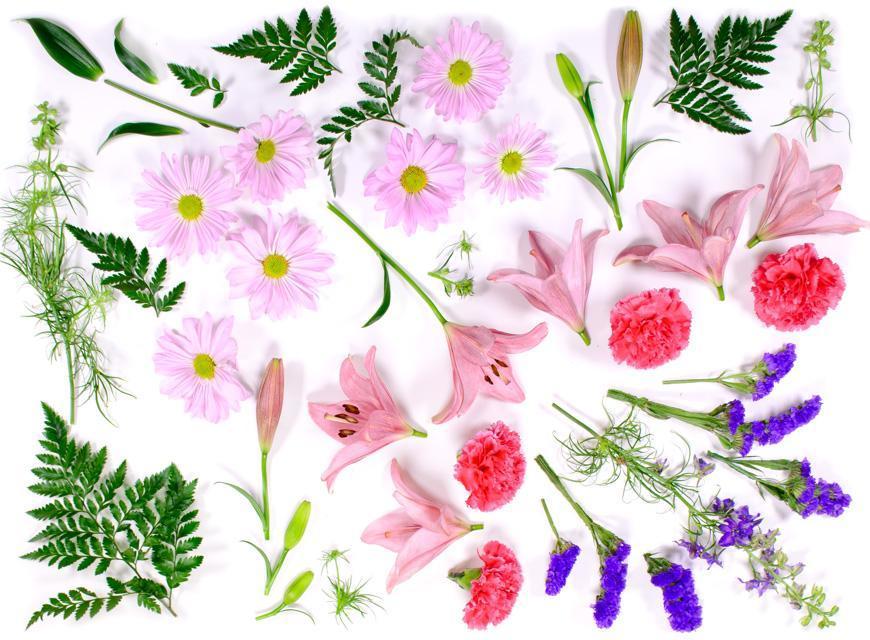 See all bouquets
Want your company to be on this guide?
---
Disclaimer
Information in this guide is general in nature and is intended for informational purposes only; it is not legal, health, investment or tax advice. ConsumerAffairs.com makes no representation as to the accuracy of the information provided and assumes no liability for any damages or loss arising from its use.
11 – 12 Best Rated Flower Delivery

JustFlowers puts together gift baskets and flower bouquets for nationwide delivery. They operate out of an L.A. headquarters, but deliver flowers throughout the United States, offering door-to door service and custom bouquets.

Read 788 Reviews

FlowerPetal.com provides online access to fresh flowers with same day delivery. Customers can track their floral arrangement or gift basket orders through a free account profile or contact customer service during business hours.

Read Reviews