Consumer Complaints and Reviews

I ordered a lovely peaceful wishes basket worth over $100 for my sister's funeral. The order was taken and card processed as usual and in the end said "you will receive email confirming this order." No confirmation came so I became suspicious and googled this company. When I called the tel number it would not go from Australia. I asked a friend to call from USA. It was unsuccessful. Order was placed on the 12th for the 16th. No flowers were delivered whatsoever. There is no message box to send them this complaints. Googled to find out this company had over 850 complaints. I would like a refund so had to email them not on the site as this is unavailable. They should be out of business. I have written to them.

I ordered flowers for my sisters birthday the morning of her birthday because their website said "SAME DAY DELIVERY", later that afternoon I received an email saying they could not deliver the same day. I called very upset and they said they would deliver the next day, waive the shipping charge and upgrade her arrangement. The next day I receive another email stating the flowers cannot be delivered because they do not have a florist available to deliver. TOTALLY UNACCEPTABLE and UNPROFESSIONAL!!!
When I called I was on hold for so long waiting for a manager with no one coming back on the line so I hung up and called again. After spending another 20 minutes and still no manager available I just cancelled my order. They offered to take an additional amount off and to send her free flowers next week but WTF, I needed them to be delivered yesterday. I refuse to deal with a company that thinks they can screw up and then offer you another discount. No that is not ok, it is not acceptable and I do NOT recommend doing business with this company. I too wish I read reviews before placing the order. Tonight I called 1-800 FLOWERS and they confirmed with a local florist the arrangement will be delivered tomorrow. Going forward... Always read the reviews first, there are just too many companies out there today.

I will NEVER order from this place again. I ordered a flower arrangement for a funeral, which I upgraded to have my flowers guaranteed for the time I needed, delivery was awesome, but the flowers were buds. They weren't even bloomed. The day after the flowers were delivered it looked as if they were blooming, but only 5 had bloomed, and died within 4 days. I called customer service which was not helpful whatsoever. THE LADY ASKED IF I WOULD LIKE NEW FLOWERS TO BE DELIVERED, are you kidding me, did you miss the part that I told you it was for a funeral. NO.

I ordered flowers on a Sunday morning for same day delivery. Order was accepted, but several hours later I received an email stating flowers would be delivered the following day. By then, it was too late to order through another company. At 6:30 pm the following day, flowers were still not delivered. I received no communication stating there was a further delay, so I took the initiative to call customer service. The CS rep, who I could hardly understand because of a heavy Indian accent, said they thought the flowers would be delivered by Tuesday, but couldn't be sure. Despite some resistance, I cancelled the order, but had to wait almost 10 minutes on hold while they processed the cancellation. An overall negative and very unprofessional experience. I definitely suggest using a different company. I know I will in the future.

I placed an order for my brother's wife. He could not be there and it is a very special time for them, he asked me to send a nice card and flowers. They processed my card, charged extra for next day, then canceled saying they couldn't reach me. Blamed me for not answering my phone (there is no missed call) told me I should be bothered to answer! No email. Nothing. I believe they were unable to fulfill the next day order and left us high and dry. At 5:30 pm it still says the order is in transit but they canceled it. No apologies! Just blamed me. No explanation as to why a confirmed order still showing is in transit was canceled.
Spoke to "Denyse" rude, cold and offered no compassion. These flowers were so important to my family! He dictated a very romantic card that I added as well. I now have to wait for my money to be returned, she has no flowers or card and if you need a company that cares, delivers what you paid for please LOOK ELSEWHERE. SO VERY MANY BAD REVIEWS. I wish I had checked first!!!
How do I know I can trust these reviews about fromyouflowers.com?
855,731 reviews on ConsumerAffairs are verified.
We require contact information to ensure our reviewers are real.
We use intelligent software that helps us maintain the integrity of reviews.
Our moderators read all reviews to verify quality and helpfulness.
For more information about reviews on ConsumerAffairs.com please visit our FAQ.

I purchased flowers for my Mother's Birthday a week ahead of time, on August 10 they were supposed to be delivered, of course they were NOT delivered. When I called to complain, I was told they would send out a upgraded arrangement the next day, which was okay, but still NOT on the day it was supposed to be delivered! The more I thought about the amount I paid for the arrangement and the delivery fee. I called back and told them I wanted a full refund, they did authorize the refund and said they would send a complimentary arrangement the next day-Which I really doubt is going to happen! I will never use this company again, and I will tell everyone I know not to use them! On their website it states best overall price and quality by CNBC. I will also be sending them an email to let them know they are standing by a crap company!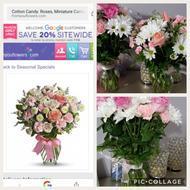 I ordered two arrangements to be delivered on different days - my daughter's birthday and my mom's. I paid extra for a bigger arrangements, my daughter's flowers looked like someone just stuck the flowers in the vase, they sent me another which was better but neither one came close to the picture they advertise. Then to make it even worse they delivered my mom's the day before her birthday. When you buy something because you like it and they send something totally different especially that's totally unacceptable.

Ordered the deluxe basket of goodies with 5 balloons. Called from VT at 8am, ordered what I wanted to be delivered to WI before 1pm. It was there by 12. Though there were only 4 balloons, I still can't complain. Big balloons played music, basket was huge and, had everything imaginable. Customer service was fabulous and, extremely accommodating. I will definitely refer friends and, order from again. Thank you FromYouFlowers. You made a person right out of surgery so HAPPY!!!

I recently placed an order for delivery to be made to my girlfriend on Friday, paid for same day delivery. I got the email stating it was delivered, I asked her if she liked my gift she said she never got it. So I called and they said they would reship it and upgrade and guaranteed delivery before 2 pm. I go to her house at 6 to pick her up, still no flowers. So I called them yet again. Their response was it was delivered because the email says it was. After about 20 min of constantly explaining it was not delivered they said, "We will need to call to make sure they was not delivered." I said, "So the fact that I just told you that they're not here is not good enough," and he said yes.
Then he said he would have to call me back in an hour. I received no call. Fast forward to today Monday, I called them and they said, "Well we can send them again," I said what sense does it make to send flowers to the same place that they obviously didn't get to the first 2 times, so I told them to just change the shipping address to my address. They have not yet been delivered.

I purchased flowers for same day delivery. Their online calendar showed delivery date available, I picked the date, paid extra for same day delivery, paid for the arrangement, and received a confirmation email showing my purchase as well as delivery date. Then later in the day I received an email stating the arrangement would not be delivered the same day but rather the next day. By this time it was too late to go with another florist. When I called to inform Flowers To You that the next day wouldn't work I was put on hold for 6 minutes while the customer service rep checked on canceling my order.
When she came back on the line her exact words were "They won't be delivered today or tomorrow," and nothing more. I had to ask to ensure that the order was actually cancelled and that the arrangement would not be delivered at all as well as inquiring about my purchase being credited back. I felt like I was the service rep. Overall it was really easy to purchase the Flowers but unfortunately the rest of the sale and delivery Flowers To You couldn't fulfill as promised. As well they made it difficult to cancel my order and receive credit after they dropped the ball.

Online, this company misleads customers with same day delivery, to get businesses. I placed an order yesterday, just to get a call in the evening that they failed to deliver and that it will be today. My delivery was time sensitive, so I did not want to do that. After offering a discount and a promise to deliver in the morning, I accepted. It is now 3:50 pm the next day. I just got a dry similar call as yesterday. They were not able to deliver today and it will be tomorrow. I asked for my money back. I now have to wait 6 days to get reimbursed, oh flowers were delivered and it's too late to find an alter vendor for today. This is absolutely ridiculous. Don't order from this place!

This place is without a doubt horrible. I placed an order for same day delivery. SAME DAY DELIVERY MY ASS!!! I kept calling the customer service number to track if my order was complete. They kept telling me to hold to verify with the florist. I literally called them 6 times to see what was the status of my order... All times, customer service told me the florist didn't answer. So I was pretty much **. They then told me that I had til 5 pm to see either my order went through or not. So I wouldn't know til they closed the actual flower shop... no pues wow!!! NEVER AGAIN.

Placed an order Saturday night. A calendar popped up to ask when I wanted the delivery to be made. It gave Saturday night was still open. I then received an email stating they could not place the order until Sunday. I accepted that because it was so late. Sunday came, received yet another email of apology stating the order would not be delivered until Monday. I called and asked what was up with the emails with no delivery? I also stated that because they were so late with delivery the recipient was leaving the hospital and I had to provide them with a home address that was now 45 mins from where the hospital was. They took the information and I waited. Monday got yet another email stating the delivery was made to the HOSPITAL not the home of the recipient and that the order was cancelled. OMG!!! I called them back and said "** are you people doing"???
I gave a new address because this company kept delaying delivery and they delivered it to the wrong address. Unbelievable! So now they won't deliver until Tuesday that will be 4 days after the original delivery date. Never again will I order from this company. Not to mention it's obvious they outsource their customer service to places like India. If I could have given no stars that would have been my option. They don't even deserve a 1. I also requested they deliver for free and reimburse my delivery charge. Supposedly they agreed. We will see.

Despite the bad reviews, I actually had a pretty good experience from the company. I ordered flowers for my significant other Saturday and picked Monday for delivery. However I did pay extra for delivery before 12. It did not get there before 12. More like 1:30. The company kindly refunded me the 5 dollars I paid extra. Other than that everything was great. Flowers, balloon and card all arrived in good condition. She was very happy. I would recommend this service.

Ordered a beautiful arrangement for my girlfriend, paid the extra money for the premium option. What was delivered was not even close to what was advertised. Called customer service, got promised a redelivery that never arrived!!!

This company is the worst ever. I have been on the phone with them for nearly two hours trying to straighten out an order. On the first order I was promised to get $10.00 off on order number 2. Of course that did not happen and I was on the phone forever trying to get the promised discount. I have no idea how the flowers are going to look but am very pessimistic based on the service level I received. I had to speak with two supervisors and am not sure I ever got the credit but could not stay on the phone any longer.

My husband ordered me the Pretty in Pink boxed bouquet. Never arrived. Called 3 times and finally the day after they said they were delivered to my doorstep, my mailman noticed my name on the flowers sitting at neighbors house 3 houses down and they were out of town so they were sitting in the hot sun for some time. Also, the picture they show of the Pretty in Pink was not the same as the one I received. Will not use them again!

FromYouFlowers got my order wrong twice. I ordered Rose & Lily Celebration for same day delivery, and they looked nothing like what I purchased. I called and they told me they would send the correct ones the very next day, however the ones they sent were wrong again! I paid $60 for those flowers and am very disappointed.

For my wife's birthday, I ordered the "Sugar and Sweet" Premium arrangement consisting of 6 pink roses and at least a dozen white "lily like" Alstroemeria in a pink fluted vase with ribbon bow. Cost was over $65 for same day delivery. What arrived was totally substandard in every respect. The arrangement was the smallest "basic" version consisting of 3 roses and 5 small white flowers definitely not alstroemeria in a very small clear bulbous vase with a cheap ribbon tied around it. So failure on a number of counts: number of flowers, type of flowers, and size of arrangement. I would never order from them again.
I wrote them through their "please rate your satisfaction" request and never saw a response. I then called. On the first call, they hung up on me mid-conversation. Second call they at least listened and looked up my account number, and after an extended conversation they said they would refund 30% of my total cost. I explained that anything less than a full refund would result in my complaints on several online sites. The rep said he would "talk to his manager". After a very long wait, they determined they would refund the total amount. We'll see.

Ordered "sympathy" flowers (kind of time critical), paid extra for same day delivery. Flowers did not arrive, they claimed delivery attempted and door hanger left - neither true. Called "contact us" repeatedly - don't bother. You get same recording "press 1, etc." and when you choose an option, recording starts again. Virtually NO customer support, very difficult to contact, poor service and mediocre (at best) product. My second adventure with From You Flowers.com (I know, stupid, right?). First one they delivered dried up poor flowers - I assumed related to local florist. Second order (different state) even worst experience. NEVER DEAL WITH THIS ORGANIZATION - they do not do what they say they will, and you cannot contact them to complain. $80 for a mediocre arrangement, arriving a day late and after numerous attempts to contact them. Very bad people.

So just want say this place absolutely sucks. They call you one lousy time in private to confirm the order. I guess even though they gladly took my money idk who answers private calls certainly not me but I had ordered some flowers for my girlfriend's birthday only to track my order and find it was canceled. They completely ruined my plans. I want my full refund so I could order from a way better place than this.

Do not use this company! I will never again order from fromyouflowers.com EVER and will never forget the EMPLOYEE who VERBALLY ASSAULTED me on the day I buried my mother! Urn flowers ordered on July 17 for my mother's memorial services on July 22 with a requested delivery day of July 2. The flowers did not arrive on July 21. While at the funeral home on July 21 in the midst of final preparations, I spent TWO hours on the phone (most of the time on hold and passed around) to determine the whereabouts of the flowers. After speaking with several staff members I was assured that if the flowers did not arrive within the hour they could be re-sent for same day delivery. Since the flowers did not arrive within the hour I called back-more hold music, more call transfers and finally spoke with a representative for another hour. I requested the flowers be resent and at 3:04.
The rep stated 3 pm was the cut off for same day delivery and therefore I had missed the window! At my request I was transferred to another supervisor who assured me that the flowers would be delivered in time for the service tomorrow at 10 am. Of course, no flowers arrived at 10 am. AND THIS IS WHERE THE CALL GETS REALLY INTERESTING. On the morning of my mother's services-July 22 10:15 am, I called back and spoke with the supervisor who guaranteed the 10 am delivery. He proceed to apathetically tell me that he had no idea why the order was never placed the evening before and he needed to know when what time the services were.
I reminded him of the 10 am delivery time to which he committed just the day before. He proceeded to tell me that I needed to provide him with the correct information as he had called the funeral home and there were no services at 10 am so if I wanted his help I need to be honest and forthcoming with information. I again reminded him of his commitment of 10 am. He glossed over his guarantee to continue to berate me about my inability to GIVE HIM a straight answer. When I asked for his supervisor, he declined to provide it. At the writing of this review I am awaiting my refund!

Wanted to cheer up my granddaughter after she broke her arm playing laser tag. In ER I looked for a same day delivery and seen fromyouflowers.com guaranteed it. This was app 1 pm. Then I receive an email saying they can't deliver till the following day. Wasn't happy. Next day we waited and waited. I contacted them and was told it was to be delivered. 6 pm came and left. Now I am told they couldn't find a florist that could deliver but not to worry it will come the next day. At this point I CANCELLED. NEVER heard such a thing. Ended up taking my granddaughter out and we made our own. Don't use this company. They definitely don't stand by their word.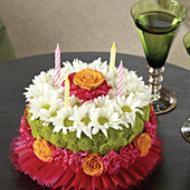 The first day, I ordered by the deadline to have same day delivery and I asked the recipient if she was going to stay home and she said yes. So that inconvenienced the person I was trying to do something very special for. Then I got an email that they were unable to deliver that day, but it will get there tomorrow. So then I had to ask the recipient if she was going to be home the next day and she said yes. So that made TWO DAYS that I inconvenienced the recipient who I was TRYING to do something nice for!!!
Then, the second day I got an email that they weren't going to deliver but they could deliver something else. No mention of a discount! Well, I don't want anything else but the exact thing I ordered! In the meantime, my bank account has been withdrawn for $75 for NOTHING! Then, I called up and they told me they had no florists in the area that had those flowers or could make that flower cake or some EXCUSE they gave me. Well, if the florists in her area can't deliver then they shouldn't have that arrangement on their website! So I told the woman on the phone I didn't need to hear any excuses and then she HUNG UP ON ME! Forget about ordering the flower cake!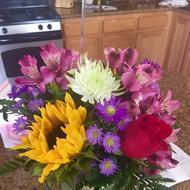 DO NOT ORDER ANYTHING from this company!!! I ordered this beautiful arrangement called the European floral garden that I saw on their website for my mother in law's bday. We live in Washington and she lives in Las Vegas. The arrangement was full of sunflowers and tulips and other pretty things which are her absolute favorite. Ugh!! When I got the picture of what it looked like after she received it I was so pissed and embarrassed. It had one sunflower that looked like it was dying. There were a few lilies, one rose and random other things. They also did not include the card. It literally looked like a 5 year old went and picked a bunch of random flowers.
I am so livid I paid all the expedited fees etc to make sure she got this beautiful arrangement and then that!!! After calling and getting disconnected once I finally got through to someone who spoke better English than the first male. After explaining my story they offered me 30% of the price of the flowers, I said that was not acceptable at all. The last thing he told me was if they gave me a full refund then the florist would have to come and take the flowers back lmao... I said, "You mean you're going to repo the crappy flowers you guys sent?!" Ugh I'm so mad. Use proflowers.com. They're great and I should have used them again. The arrangement she got is pictured below. You can see from the arrangement on their website are significantly different.

The flowers I ordered were so-so, they say they're handpicked by a florist to be pretty but they looked faded and not that great, but that wasn't my biggest complaint: THEY SIGNED ME UP FOR A FULL YEAR OF ENTERTAINMENT WEEKLY WITHOUT MY PERMISSION. Maybe it's hidden/written in very small letters somewhere, but they were NOT upfront about it and don't give you the option to opt out. Very dissatisfied, I will never use their service again. Was a hassle to figure out how to cancel.

My experience with this organization has been HORRIBLE to say the least. My fiancé ordered flowers for me for my birthday of which was on July 12, 2017 and I have yet to receive them of which is now July 17, 2017. They stated they were delivered of which they have NOT BEEN. Had I read the reviews on this company I would have shared with my fiancé not to order through them. It seems as though all of the clients that have ordered with them thus far, have experienced lack of service as promised. I am not the one. I will receive my flowers or legal action will take place...

I ordered "Sugar and Sweet" bouquet for my sister's birthday, she lives in New Jersey (I live in Germany). "Sugar and Sweet" described as beautiful pink roses paired with white alstroemeria. Delivered in a unique pink vase, which is wrapped with a decorative pink ribbon. Price: $ 67.97. Instead of the ordered bouquet was delivered a miserable thing, consisting of three half-withered roses and a pair of very sad chamomiles. HANDS OFF FROM fromyouflowers.com!!! RUN AWAY AS FAST, AS YOU CAN!!!

I ordered flowers for my wife at 8:36 am. I paid the 4.99 for guaranteed delivery service within the next 4 hours, she should had received the flowers at 12:36 pm. I called at 12:40 pm and the guy from customer service told me that the flowers are in the truck to be delivered already. At 3:30 pm no flowers delivered yet. I called the company and the lady from customer service told me that the flowers are leaving now from the flower shop because there was a problem in the delivery which means the guy from the first call lied to me saying that the flowers were in the truck already. Now I received a call from the truck guy saying he is delivering the flowers and the flowers that suppose to be in my wife's hand at 12:36 pm will be arriving at her business at 4 pm where probably the office will be closed at that time. DO NOT USE THIS COMPANY TO SEND FLOWERS TO ANYBODY!!! WORST SERVICE IN THE NATION!!!

SO DISPLEASED I COULD SCREAM! I paid extra for expedited shipping and it never arrived. I called to see what was happening and they said that it was delayed because they still hadn't contacted a florist (5+ hours later). It was a birthday gift and they didn't even bother to tell me it wasn't going to be delivered!!! Absolutely LIVID! If they were closer I would drive there and tell them how unprofessional and ridiculous this service is!!!
fromyouflowers.com Company Profile
Company Name:

fromyouflowers.com

Address:

143 Mill Rock Road East

City:

Old Saybrook

State/Province:

CT

Postal Code:

06475

Country:

United States

Website:

http://www.fromyouflowers.com/