Consumer Complaints and Reviews

I was so deeply disappointed in this company. I picked out a beautiful bouquet Online to send to my Mother for her birthday and I received notification that the flowers were delivered at 5pm. When I called my Mom she said she never received flowers. I called the company and they told me I would receive the delivery notification when the flowers were out for delivery, even if they hadn't arrived yet and that they would be delivered by 6pm. My mom let me know that they were not delivered by 6pm. And by the next day had still not been delivered. Really disappointing. Obviously cannot depend on this company at all. They did issue me a refund the next day, but my Mother didn't get her flowers for her birthday!

My parents sent me flowers on a special occasion using fromyouflowers.com. This was the first time they were using this service. I did get the flowers but not on the date requested by my parents. The delivery was done a week later. During this period, my parents got confirmation of the delivery without the actual delivery being made. Since my parents do not live in the states, they gave my phone number for being contacted. There was no attempt to contact me to indicate delivery delays. The flowers were beautiful when I received them but if they had informed me or my parents of the status correctly and given proper reasons, the delay would have still been acceptable. Did not appreciate the false delivery status which was given.

Please please please save yourself some time and DO NOT order flowers from this company. Honestly, we not only had the worst experience with customer service, we didn't even receive our flowers! They were supposed to be delivered on a birthday and even though we got an email confirmation stating that our flowers were delivered - nothing came! When I called to follow up the next day, they talked in circles and finally told me that the flowers would be delivered in the next 2-3 days. How does that work? What's the point of ordering flowers from them for an event if they don't even deliver when they are supposed to. And what's up with sending a false delivery confirmation email? Shady business. Shady company. DO NOT USE.

I have ordered hundreds of dollars worth of flowers from this site, and was very happy with the service, and selections. Boy was I WRONG!! I received pictures of 2 orders I had sent, and was appalled at what the actual item sent to the receiver. They were not even close. I had received phone calls in the past about nonavailability, but nothing with these 2 orders (only orders I got picture back). I don't know if they have all local florists deliver, which is fine, but it should be noted in the description. Their selections are wonderful, which is why I used them in the first place (unique, different...), but the finished product is not even close.
I contacted the company, was given the "handling fee" credit on the one, and the second one was 'redelivered', but again, not what I ordered. I don't blame the local florists, but I will NEVER order from the company again. VERY dissatisfied! If they would have at least have informed me the flowers would come from a local florist, I would have contacted the florist myself. PICTURE #1 IS WHAT I ORDERED. PICTURE #2 SECOND DELIVERY. PICTURE #3 FIRST DELIVERY. UNABLE TO SEND RECEIPT.

I have been a loyal customer for years with this company. This year I've spent more than $350 for unacceptable quality, service, wrong arrangements, and no delivery. They delivered the wrong flowers to a funeral this week. I ordered flowers a day ahead for next day delivery anytime. Today Sunday, June 11, 2017 a delivery for a birthday I was told could not be done until tomorrow. I received the email at 8:30 am the day of supposed delivery. Not allowing me any options or choice to make other plans. Their customer service were rude in their email replies and the phone message they left did not make any sense. They had the wrong persons name stated in the email for delivery. I'm extremely unhappy. I will never order from them again.
This was the voice mail they left: "Hi this message is for Nancy **. This is From You Flowers calling concerning order number **. We did receive your email that you're said that we were unable to accommodate the delivery and you did not have a chance to go ahead and contact anyone else. I definitely do apologize that our force advised that they were not accommodating this particular Sunday. We did try to contact you this morning at about 8:30 at the email address provided. To advise you that we were unable to accommodate any case you had wanted to go ahead and make alter(?) in archery(?) of move. So that you can see if there's something else you could do..." Emails.
How do I know I can trust these reviews about fromyouflowers.com?
794,387 reviews on ConsumerAffairs are verified.
We require contact information to ensure our reviewers are real.
We use intelligent software that helps us maintain the integrity of reviews.
Our moderators read all reviews to verify quality and helpfulness.
For more information about reviews on ConsumerAffairs.com please visit our FAQ.

I ordered a beautiful hydrangea plant for my sister to be delivered to the hospital where she was recovering from surgery. She loves hydrangeas and I thought this would be appropriate so she could plant it in her garden upon leaving the hospital. To my dismay, when I called her to see if she'd received the hydrangea, she told me she had received an orchid! I also ordered a balloon, which was not delivered either! This really irritated me because I know my sister does not like orchids. And while she was very appreciative of receiving a plant from me, she was puzzled why I would send her a plant that she knows that I know she doesn't like!
I called up Fromyouflowers.com and they assured me they would call the florist and have the correct order re-delivered. Since it was Sunday, the florist was closed, but they did give me their assurance that the correct plant (hydrangea) would be delivered. I will check with my sister tomorrow. I will be writing another review if this is still not corrected!

The first time I used fromyouflowers I have to say I was impressed. Flowers were exactly as the website described, they were delivered on time and price was very reasonable. So I used them again to send flowers to a friend who had just found out that her dad has cancer. Well they were never delivered! No email, no call... nothing. I called and they said they were re-delivering. Again they never arrived. After the second irate call they finally got delivered.
I then figured maybe it was a fluke so I figured I would try again. Ordered an arrangement for a friend's birthday (who also happens to live next door to me). Once again they never arrived. I got an email stating that they would try the next day. The next day they were not delivered. I then got an email stating that "due to the remoteness" of the addressee they couldn't deliver the flowers! I live in one of the most populous villages in Orange County in NY and there must be at least 10 florists within a 15 mile radius! They made it sound like they were being delivered to the North Pole! I will never order from this website again.

Found a selection under the "Guaranteed Same Day Delivery", placed my order in the morning. About 4pm I receive an email stating, "Sorry, we can't complete your order, here is your $2.99 delivery fee back." I live in Denver, complete with MILLIONS of people and HUNDREDS of florists. Their web site promised a guarantee of hand delivery within 4 hours. I placed and paid for the flowers in the morning. About 10 a.m. $72 - nothing fancy, merely white flowers for a sympathy delivery. No phone call, no attempt to get in contact with me, merely an email about 4pm stating the same day delivery fee was being placed back on my card. Oh, and "Sorry. We'll do it tomorrow." DO NOT PLACE YOUR TRUST in this company to convey your sentiments with a flower delivery. RUN - DO NOT WALK AWAY from this business! Absolutely Outraged!!

I ordered balloons to be delivered this morning until 12PM and it is 4PM now and it still has not been delivered. The balloons were for my grandchild party and the party is now over!!! I called 1 hour ago and the customer's assistant told me that the balloons were being delivered in 5 minutes. Total lies!!! Never uses this site again!!! I am sorry I didn't read the reviews before I placed my order - because the reviews are all bad.

06/01/2017 - I wanted some flowers delivered to someone that I know in the Opelika, AL area. I'm in NC. So after a quick search, I find several florist. After looking at their products, I choose fromyouflowers.com because they offered a Rose and Lily combination that I found appealing. So I place the order. After the order was placed, which included product and delivery fee, a hidden handling charge was added on of an additional $14. No problem, right? Well, as promised, the flowers were delivered the next day. Only problem, it was not the flower arrangement I ordered.
A mild complaint was issued, with the promise that the following business day, the situation would be rectified. Well, today is that said day and it wasn't. Another delivery was made and again it was not the agreed upon arrangement. So placing a final call, what I was offered was a 50% refund and a $20 gift certificate that never expires. Like I'm going to use them again. I've submitted the images of what I ordered and of what was delivered. People, save yourself the hassle. Go elsewhere. I do not have the receipt but I did copy and paste the delivery message below:
"Thank you for your recent purchase with From You Flowers! Our records show that your order has been delivered to Vonda ** on 06/02/2017. If you have any questions regarding your order and would like to speak with a Customer Service Representative, please email us at wecare@fromyouflowers.com or dial (800) 838-8853. We are here to assist you 24 hours a day, 7 days a week. Thanks again for your business. We look forward to serving you again soon!"

Worst experience sending flowers... EVER! I ordered flowers for Mothers Day, for my Aunt and my daughter. My aunt's were delivered late, and the arrangement looked as if someone went to a field and picked some weeds, threw in a few spray roses and stuck them in a vase. I was mortified when my Aunt put a picture up on social media. I complained several time without response from the company.
My daughter's flowers were NEVER delivered. Despite the fact that I got a notification that the flowers were delivered. It was to be a special Mothers Day for my daughter and it was ruined. There is a lot of sentiment involved with sending flowers to someone who lives out of state, and if it is ruined, it cannot be recaptured. I understand that it is a busy time for flower delivery, and accidents happen. I could accept that if the issue was addressed and made right. IT WAS NOT. NOT EVEN ATTEMPTED. I will have to dispute charges with my credit card. IT has cost me more in time and effort to try to resolve than any bouquet is worth. DO yourself a favor, do NOT order flowers from this site!

I paid the expedited fee and same day/weekend fee but flowers never received by the recipient. I called the customer service twice (11 am and 2 pm) and was told that the florist is not answering and possible that they are already out delivering the flowers... 8 pm I called again and customer service hung up on me!!! Last call I cancelled the order--NO APOLOGY!!!... I should have read the reviews of this business first.

Promise same day delivery and did not comply. After reading all these reviews this site should be shut down. I should've read these reviews first. My bank has not been charged, but they told me that they will cancel this order, charge my bank and then credit me within 3-6 business days. That's not going to happen. I will pay whatever fee this entails to stop payment. How can they charge me for something that has not been processed?

Looked up "same day flower delivery" and this company was advertised as such. Spent extra for "express delivery" which was advertised as morning delivery. The total for 24 roses in a bouquet was $150. Got no emails, no phone calls. Called at 7 pm only to be notified upon MY INQUIRY, that "they were having trouble locating a local florist" and that it would be delivered tomorrow when the person's birthday was the day I ordered the flowers. They wanted to give me a $2.99 refund so I put them in their place and demanded a full refund, vowing to never do business with these absolute morons again. I will tell everyone I know about my experience.

Total disappointment! Made the order at 1130 am. They email me at 330 to tell me they were not going to be able to make the delivery! Not cool guys. Get your stuff together. Same day means the same day not the next day! Customer service seemed to be good and took my cancel request right away. Please read reviews before dropping $50+ on flowers!!

I ordered my niece 12 rainbow roses for graduation. I paid for next day delivery. They were delivered on time but they were not at all what I expected or even what the picture looked like. They were supposed to be rainbow. All she got were pink and yellow half dead roses. Yes when she received them they were almost dead. Fifty dollars and a dozen dead roses later. I will never order flowers from this company again.

Flowers for my bro in law's service were confirmed delivered (3.5 hours late), and NEVER actually delivered. I was disgusted and outraged to say the least, especially because these flowers were a symbol for the obvious and because I wasn't physically there. The customer service person I initially spoke to was blah and unsympathetic. I was given a refund and a credit, but really NOTHING can replace the flowers being there on-time, as they promised me. I had even gone back and forth with them to ensure the flowers would arrive by 2 pm, at the start of the service. This service was in a small town for a well known family... There is absolutely no excuse, ESPECIALLY because there were not very many flowers sent over. I'm still extremely upset about it, as it can never be undone. PLEASE NEVER do business w/ this company. Call a local florist.

If only I had read these reviews before placing my order. Stupidly, I only read the reviews on the company's site, and assumed it was fine. It was not fine. The "bouquet" they sent was the saddest, most miserable little bunch of half-dead flowers that looked absolutely nothing like the picture. I was embarrassed because it look like I used the cheapest, crappiest company I could find (nope, I'm a broke college student, but I paid $60 because my mom is worth it). I can only imagine how humiliated I would be if I sent these to a coworker or client because it's bad enough with my own mother who knows I'm poor!!
Now the second issue. I ordered the bouquet to go to my mom's for Mother's Day. Then we found out that my grandmother has breast cancer, and my mom spent the day in the hospital helping her after her lumpectomy. So I ordered the flowers to go there instead with an added message of "get well soon". The company assured me that the address and message were changed and I could forget about it. Nope. It went to my parents' house, where my mom was no longer present, so my dad got to enjoy the world's crappiest flowers... not her.
In fact, he actually went out in the fields surrounding our house and picked some wildflowers to try to spruce it up before my mom got back. That's how bad it was. My dad is not a flower-picking guy, he's a mechanic/engineer/welder. To make him put down his machinery and GO OUT INTO THE FIELDS AND PICK FLOWERS HIMSELF, this bouquet must have been even worse than the photo they texted me.
Then of course when I called for my refund, the customer service girl sounded dead inside, because she gets screamed at by unhappy customers like me all day. I thanked her and she hung up on me, no "you're welcome" or anything, just "click". I pray she finds a job where she is happier, like Taco Bell. Do not use this company.

I ordered flowers for my parents and when the flowers were delivered nobody rang the doorbell. My niece found them on the front porch. I asked for a picture of them because I was excited to see what "The Florist's Bouquet" looked like and it was horrible. The flowers were dying, wilted, and they looked like they had been sitting for weeks. I paid for the arrangement, service charge, and delivery fee a total of $50. I didn't expect anything fancy, or huge, but something nice, like it had been put together with care. I paid $29.99 for the arrangement and I just looked at their website and it is $19.99. No way! I will never use this company again. What a waste! Total scam!

I ordered a bouquet to be delivered and the florist said they couldn't find my house. No other delivery has had an issue in 10 years of me living there. The driver did not call me to ask if I can come outside. I even saw the truck drive around the block and the driver did not stop at all. It didn't even look like he was looking for an address. I am very upset with this and I would not use them again.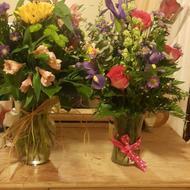 Second time I ordered flowers from them and the website has beautiful arrangements, then they deliver whatever they find (Barely any actual flowers). First time contacted them and of course small prints says based on availability yet they don't try to get close to what you pay. Instead they offer you 15% off next order. This past weekend I decided to give them a second chance and once again my mother-in-law received nothing close to what I paid for. They offer to send actual flowers again or refund 50% of the arrangement, yet once again flowers they sent the second time. Look nothing like what I paid for. Look at these pictures. Will not use them again.

I placed three orders for next day service to the same address and paid the next day service fee from "From you flowers". The next day, no arrangements at all. Day after that, NO arrangements at all. After almost a week talking to so called customer service reps as managers I began to realize they were incompetent and had zero care for their customers because it was the same story over and over. They sent me an email for each order that stated I lived too remote to have my requested flowers delivered. That they were changing my order in order to accommodate my time frame (did not happen and how dare someone "change your order"). The email also stated if I could give a different address to where the flowers could be shipped they could accommodate my order the next day. Since they refused to release the location of the florists they were working with, how could I give any other address that would accommodate their shipping area???
I was promised a new florist to deliver my THREE orders "next day" for four more days and nothing. Each time I received the same email as the first time. Since I do not at all live in a remote area I contacted four florists in the area (gulf breeze) one in Pensacola and one in Navarre to see if they delivered to my address to which they all replied yes AND SAME DAY. A customer service rep even placed me on terminal hold while he "contacted" the florists who accepted my orders to confirm delivery, but alas, I received the exact same unaccountable and nonsense emails as before. So I demanded a refund and informed them of my disappointment and intentions to really inform others of their poor customer service, unacceptable and empty guarantees and poor choices in their contracted florists. They really receive zero stars.

Recently ordered flowers from "fromyouflowers.com" for my daughter who was having an art exhibit at a museum in Virginia. I had planned ahead and they were to deliver them the day before the opening which attracted several hundred people. I called to museum the day of the opening to see if they had been delivered. They had not. I then tried to reach "fromyouflowers.com" and spent several hours trying to get through with no results. Internet gave me conflicting reports that they were "scheduled for delivery" and later that there was "no record of this order." It took almost a week to get verification that they had not in fact been delivered. They did refund me my money, but I was VERY disappointed that on this special event, this company had not lived up to their promise. They also have a serious problem with customers being able to get in touch with them. I would NEVER do business with them again - they cannot be trusted!!!

I paid for a delivery before noon, but nothing happened at 2:30 pm. After a call to complain around 2:00 pm, I got a refund for the expedite delivery. I finally got my package at 6:10 pm, but two items out of three were missing. This company is a catastrophe. The delivery came six hours after the lunch. I do not know what to do with the flowers they delivered so late. Should I eat them as a salad?

This company specifically advertises "same-day delivery". I ordered birthday flowers for my mother in-law after reading their advertisement offering same-day delivery. Many hours after the estimated time of delivery, I received a message from fromyouflowers customer service lamenting the fact that they were unable to find a florist in their network to handle the order and that the order would be complete by no later than 5 days later with an apology letter. Of course I responded in anger and demanded a refund. They gave me 2 options, that either they can cancel the order altogether or complete it at half the cost of the flower price. At this point it is post-birthday and the surprise is already ruined. And while I accepted their pathetic offer, I then realized that while they cut the cost of the arrangement in half, they still charged me for the same day delivery fee.
All of this said it is obvious how this company operates. They never intend to send the flowers/arrangements the day of... They are advertising "same-day" and then negotiating with customers once the same-day doesn't go through, and I'm sure most people just deal with it and do nothing, and the people who do complain and get offered the "50% off" the company is still making out like bandits because their profits are in that delivery charge. It costs much less to deliver something during odd hours on a future date than it does for same day delivery. This is a fact among all flower shops.
This is an obvious scam company. They operate similarly as other 3rd party flower delivery services, but they are specializing in a specific market segment of consumers they can dupe their hyped up same day shipping that is a promise that doesn't exist. And worst case scenario the customer cancels and based on other consumer reviews, who knows how long it will take to receive that refund?
If you are reading these reviews, my advice to everyone would be stop using these 1-800 and online flower catalog companies. Google a local florist to the recipient, check the reviews, ensure they are legit. Call them and place your order by phone, and if they are professional they will be able to handle your order without you seeing a visual representation. Do not trust 3rd party middlemen scam artists like fromyouflowers who purposely mislead customers and whose salespeople and complaint department are 1 and the same.

I ordered this product for my son and family because the description said it was a cake. The picture was not very good, but it looked as if it might be a combination of real flowers and frosting flowers, and after all, it had been described as cake, which was not so unbelievable because they sell a variety of products. I emailed the birthday family that they did not have to bake a cake, Gramma had it covered. It was not a cake. It was a "cake." That's how they should have described it. There was no cake involved. Gramma became the Grinch who stole birthday. And From You Flowers could have cared less. They offered me a few bucks off my next order. Like that's going to happen.

We used this company last year and had absolutely no issues whatsoever so we decided to use them again. We decided to pay a little more this year than last and ordered the "Deluxe Bouquet" for my Mother in law and my Mother. They were scheduled to be delivered for either Saturday or Sunday. We received 2 separate emails on Saturday saying they had been delivered. My Mother called to thank us, I took her out to eat that Saturday and when we picked her up I looked at the bouquet and it was NOTHING compared to the description online plus several flowers were broken. We then drove to my Mother in law's house to give her her present and she had not even received her bouquet at all.
When we got home I called the number included in the emails for "24 Hour customer service", sat on hold for almost an hour and no one ever picked up. So I sent an email which was also included in the email and received verification that it was received and a customer service representative would call us or respond "within 4 hours". We never received any acknowledgement. So we tried calling again the following day and again after 40 minutes of waiting we hung up and sent yet another email. Still no response until 8:30 in the morning the following day.
We missed their call and this time we were not going to waste our time calling. So email number 3 was sent and like clock work they called us back at 8:30 the next morning. We explained what happened and they said they would contact the florist about the tiny, broken bouquet and redeliver a new bouquet but would need the others back. And they said they would schedule another delivery for the missing bouquet my Mother in law never received plus a 20% refund and $20 off on our next order. We said "ok, great." Well guess what? Again the flowers for my Mother in law never showed and the replacement flowers to my Mother were even a smaller bunch than the first set of sickly sticks she previously received AND our refund was never processed! Never, ever again. Their customer service is inexcusable and whatever flower shops they use are crooks!

I ordered flowers to be delivered to a hospital and learned within the hour that my daughter already ordered them. I called to cancel my order and was told that the flowers had been delivered one hour ago. I verified the time on my confirmation email which arrived within a minute of ordering and it was exactly 1 hour and 8 minutes (after being on hold for 9 minutes). I told him it was physically impossible to make the arrangement and deliver it in 8 minutes. The agent proceeded to assure me that it was made and delivered in 8 minutes. I called and they have not been delivered. This company is unethical and unprofessional. Interestingly, they charge an additional $4.99 to have them delivered within 4 hours which I DID NOT do. NEVER ORDER FROM THIS COMPANY!!!


Ordered flowers, premium package with two balloons. They were delivered and when I saw the size I was shocked. Balloons never made it to their destination. Total order was over $71. I emailed about balloons and got credit for one balloon not two. Sent another email and no response. Will never order from this company again and urge you not to as well. Terrible service all around and cannot do anything right.

ConsumerAffairs Research Team
The ConsumerAffairs Research Team believes everyone deserves to make smart decisions. We aim to provide readers with the most up-to-date information available about today's consumer products and services.
From You Flowers has a large network of local partners, working with more than 20,000 florists worldwide to provide the freshest blooms on demand. The company also offers other gifts, like stuffed animals and fruit baskets, to be delivered with or instead of flowers.
Same-day delivery: Customers can have same-day delivery service by placing their orders before 3 p.m. in the delivery time zone. Orders can be placed 24/7 by phone or online. There is an additional fee for same-day delivery.
Holiday-inspired arrangements: Find floral decorations that spruce up seasonal decor in its specialty arrangements.
Guarantee: The company offers a 100 percent satisfaction guarantee, so consumers can buy with the confidence that every bloom will be picture perfect. Unsatisfied customers can call From You Flowers for a refund or replacement.
Discount coupons: From You Flowers offers a variety of discount options and sales depending on the season and availability. Make sure to do an Internet search before placing your order to find the best deal.
Price: From You Flowers has bouquets and arrangements priced at less than $30. Delivery fees are not included in the price shown online.
Best for significant others, friends, adult children and companies.
fromyouflowers.com Company Profile
Company Name:

fromyouflowers.com

Address:

143 Mill Rock Road East

City:

Old Saybrook

State/Province:

CT

Postal Code:

06475

Country:

United States

Website:

http://www.fromyouflowers.com/