Consumer Complaints and Reviews

I was really nervous about my best friend's 40th birthday present. I had no idea what to get her. But I went with flowers. I was scared because I had never ordered before, but they were so beautiful! She loved them. She said they made her feel so special. I will definitely recommend to friends. I love them.

Ordered flowers for good friend. 4 days after expected delivery date, I knew I would hear from friend that she received flowers so I called and was told that delivery had been attempted and homeowner was unavailable. This went on for many days until finally, I called friend who said no note, no call, no notice of any kind that delivery was attempted. I cancelled the order. The only good experience was a quick refund. Unfortunately it was too late to resend from another vendor!

WHEN ORDERING FLOWERS ONLINE MAKE SURE THE FLORIST YOU USE IS IN THE CITY OR AREA WHERE FLOWERS ARE TO BE DELIVERED. FromYouFlowers is based in NY. If you're shipping flowers anywhere else in the country, they farm your order to a local florist and take a cut of what you pay. The fact that sending flowers is almost always time-sensitive and related to an event (holidays, birthdays, illnesses, deaths, etc.) means that TIMELY delivery is of utmost importance. In this FYF is a complete failure as a flower delivery service.
As I'm writing this it is nearly 48 hours from the time I placed my order. Flowers still have not been delivered (in Seattle), and this after paying extra for Same Day Delivery service. There's an 800 number where operators are on hand 24/7 to make excuses for their lousy service and make promises that (so far) they haven't kept, but they have no way of actually seeing that your order gets the attention it deserves. Had I realized that FYF was not Seattle-based, I'd never have employed them. Don't do what I did: USE LOCAL FLORISTS, not Fromyouflowers!

I ordered a holiday gift basket for my pastor and his family to be delivered on Dec. 14. I was informed today by my pastor that it was never received even though I received an email confirming delivery from From You Flowers. I called them and told them that this was never delivered and all they said was, "We can offer you a 20% refund." No you will not! They are already charged my credit card and I have already paid the bill unaware that the basket was never received. Will never do business with this company again. Please beware!!!

Orders flowers for wife's birthday. At 8 am email that it was out for delivery. At 2 pm nothing. Called them. Told it was out for delivery by 6 pm. 5:30 Nothing. Called again. Told they couldn't reach the florist, but would give me a 15% discount if I would accept delivery in 2 days. Um...no not happening. Told them to cancel and refund. Say they can't do anything till they talk to the florist. I call ** and a scam. Looks to me like they subcontract a flower shop for the cheapest bidder. Will not ever use again!!!
How do I know I can trust these reviews about fromyouflowers.com?
672,188 reviews on ConsumerAffairs are verified.
We require contact information to ensure our reviewers are real.
We use intelligent software that helps us maintain the integrity of reviews.
Our moderators read all reviews to verify quality and helpfulness.
For more information about reviews on ConsumerAffairs.com please visit our FAQ.


Our friend passed away and we wanted to have flowers delivered to the funeral. The funeral was on a Wed at 11a.m. Around 2 pm on that Wednesday I received a call from this company saying that they couldn't make the delivery because it was out of their delivery zone (something my husband had asked right upfront and was told could be done). When I questioned them saying that the funeral was ending when they called, he told me we had ordered for Thursday, which was not true. Even adding that there was no change to his order for the Thursday delivery!
The conversation was so dysfunctional I finally just hung up on him. About ten minutes later he called back. Insisting on talking to the credit card holder, NOT me. The credit card holder is my husband. The flowers were finally delivered the next day. The whole process and customer service was awful. I have no idea if the arrangement was bad and given the situation am not going to ask the gal I had them sent to. I gave the company feedback and as of this day have heard nothing. They are horrible to do business with! Unprofessional and not as promised.

Decided to order online flowers for the ease of it all. Found that this is the worst site as they can never get flowers where they are supposed to be when they say they will deliver. Sent me an email 4 hours after I ordered for same day delivery to tell me they can't make it. Found another FTD florist online from the same search page and had them delivered in less than an hour. Please save your money. This is a complete scam.

DO NOT ALLOW THIS COMPANY TO TAKE YOUR MONEY FOR FLOWERS YOU EXPECT THEM TO DELIVER!!! I ordered "You're in my heart" Bouquet for my friend who lost her brother. She send me a picture and a Thank you when she received them. OMG!!! Just a few roses and carnations in a very small vase for $60.00. Nothing like the picture I ordered. When I called to complain they said it isn't their fault the wrong bouquet was delivered. They DID admit some of the pictures of the bouquet are not what is delivered. (admission of fault) Such horrible business practice. I ordered it through their company. They took my money and I have a receipt with the picture of this big luscious bouquet filled with roses and carnation. What a scam!!!
After supervisors realized I was not going to accept this. They told me they could send her a new arrangement in a few day, but she would have to give the other one back (What week old, dead flowers!) that they are going to throw away anyway!! My poor friend is distraught and planning her brother's funeral and now has to worry about exchanging her flowers. NO WAY!! That's not how I roll. I told them!!! This is how this will work!! You will send her the FLOWERS I ORDERED FOR HER, THAT I PAID FOR. And she will not exchange the wrong dead flowers. It's not her fault that I ordered flowers from such incompetent company!!! The reason you send people flowers is to give some joy, peace and love during that time in their life. It's not fair that this company takes all that way because they are taking advantage of our life's situations. DON'T ALLOW IT!!!

I ordered a large butterfly arrangement with 5 blue balloons and one Thinking of you mylar balloon with a sympathy message. Only thing correct was card message, delivery date and 5 blue balloons. I was embarrassed by what was delivered and spent over $100. Only offered 20% refund and $15 online gift card to ensure 100% satisfaction. So tell me does a hand written sympathy message and 5 regular balloons worth 70% of $100. The $15 gift certificate is laughable since their items are well over that price plus have to pay extra for delivery and taxes requiring me to spend more money with them after I have told them I will not order anything ever again from them!

I ordered some flowers at 11:45 am to be delivered to someone I love very much. I even paid extra for them to be delivered within 4 hours! I got home at 5:45 expecting him to have them... not! I called the company and they tried to get in touch with the flower company to find out where they were... The florist was not answering the phone. 9:45 comes... and I call again and am told they were delivered... NOPE! I demanded a full refund... and If that doesn't happen, we'll be going to court.

One star is too much credit. My daughter ordered me flowers for Christmas to be delivered on 12/26. I have never received them. We have an email confirming the order was received and would be delivered. Calling customer service did not resolve the issue. They claimed they couldn't find the order. They could however find her account and charge her 55.97 for flowers that were never delivered. I also have zero tolerance for thieves.

Normally don't have negative feedback to say but with fromyouflowers.com I would not recommend to anyone. In the last year I have had 3 orders that my mother placed for the holidays to have a centerpiece for our holiday dinners and each time something went wrong. First of all it's sad when you can't surprise someone with beautiful flowers because you get asked if they came and you're like, "What flowers?" And it's disappointing. First order was last year I never received the flowers. I ended up getting a call from a nice women who said she had gotten flowers to her house and she believes it's the wrong address as ours is Sycamore St and hers is Sagamore St. I ended up driving to the lady's house and getting my arrangement.
2nd time was this thanksgiving. Never received the order my mother placed and was told that they were delivered and someone signed for them. When asked what name signed for them it was no one in the house. Got delivery the following day but no centerpiece for our thanksgiving dinner. 3rd time was just this Christmas suppose to have received my flowers the 23rd did not. My mother called the 24th they were resending them. Never got them. Was told a lady named sue signed for them. Christmas they were closed and the following day. My mother called back the 27th they said they were sent and delivered they would not give the name this time of who had signed for them and wanted us to pay for the arrangement that I never received.
Now it's the 30th and was told they would be here before 11. It's 1:11pm now and still yet to receive my arrangement my mother paid for, for our Christmas dinner. I am very upset with this and will go elsewhere for flower arrangements for the holidays. The company should be more strict when it comes to who signs and stuff because each day that the delivery was suppose to come I have been home and no one has come but customer service claims they claim. If you order from the same site and the same florist shop delivery they would know the right house by then.

I ordered from FromYouFlowers after Teleflora cancelled an order because they couldn't find a florist to deliver to my friend's address. She is in a rural area. I got an email saying delivery was made. My friend says, no delivery! I emailed customer service explaining the discrepancy. The next day I was called and assured delivery would be made that day. It was! The bouquet was beautiful. Delivery driver apologetic to my friend about snafu and refused tip. FromYouFlowers put a 20$ voucher to be used for future order in my email and refunded 20% of my order back to my credit card. I will use them again and give them another chance to get it right the first time. I'm not giving 5 star rating because of the initial problem.

Company advertised delivery before noon. I paid for the expedited service, an additional $25 over the cost of the product. Delivery was NOT MADE. I called asked why? "Too many deliveries... Will be delivered before 5 p.m." That is NOT what I paid for, nor wanted; nor expected. It is totally UNACCEPTABLE service. CANNOT TRUST THIS ONE.

I ordered an arrangement for my parents who live out of state in a senior community with gated security. On the date of the promised delivery I received an email stating that the arrangement had been delivered. Two days later I arrived at their home and did not see an arrangement. I asked if they had received any deliveries-- they had not. I checked with the security company to see if any delivery attempt had been made-- they had no record. I called the customer service number at from you flowers. It took more than 15 minutes of being on hold before a customer service rep answered. The service rep was courteous and arranged to have the florist deliver the following day.
But buyers beware. I paid extra for a "premium" arrangement which promised more blooms than the deluxe version shown in the photo on the website. The photo had four large roses on the visible side of the arrangement (my assumption is that there would be at least two or three additional large flowers on the side facing away). The arrangement delivered to my parents had only three large roses total. I'm also very disturbed that they lied about delivery. I don't typically press people to tell what they think about gifts I send--I wait for them to acknowledge. If I hadn't been there in person I would never have known that my parents hadn't received the gift and I would have paid for something never sent.

I ordered same day delivery for my sick daughter. Days later they sent email that it was delivered, and it was NOT. I live 3 blocks away and checked. I called them several times. They insisted they were delivered. (Their delivery person lied to them). I had my bank reverse the charges. FIVE days later they finally delivered them... withered, brown, and smaller than what the picture showed I ordered. She was better, flowers, were too late. NOW they have the nerve to bill my credit card again. I will be going to the bank in the morning, and THEN to an attorney. DO NOT BUY FROM THEM. Their same day guarantee is a LIE, as so many, so many people said in the reviews. Their flowers are less quality than what their pictures show, as so many people said in their reviews.

I ordered a Christmas table arrangement for my niece who hosted dinner, and was very embarrassed by what I saw. The flowers were sparse, not as pictured, and half of them were dead. The article was not cheap & I will never use this vendor again. Don't waste your money on this merchant!

I ordered the serenity and bliss bouquet to be delivered to my mother next day for the passing of my grandmother. My mother sent me a thank you text with a picture of the flowers she received. I was livid! The flowers looked NOTHING like the flowers I ordered and were half if not less than the amount of flowers that should have been in the bouquet! I am completely embarrassed and thankful I did not have them sent to the service! I will NEVER USE THEM AGAIN. I wish I would have read the reviews before choosing fromyouflowers.com.

I ordered 2 (2 receipts) arrangements for my relatives out of state for Christmas. What I ordered and what they received were ridiculous! I emailed and complained to them that I was very disappointed and they should really be aware of their out of state vendors. I received $9 and $12 back... should have been more. Next time I'm reading reviews!

We ordered the "Deluxe Belgian Chocolate Covered Gift Tower" which is described on their website as "Treats are doused in rich Milk, Decadent Dark, and White Belgian Chocolates. Gift Includes: One-Dozen decorated Belgian Mixed Chocolate Covered OREO® Cookies, Twenty-One Ultimate Toppings mixed Chocolate Dipped Mini-Pretzel Sticks, approx. 3 ounces Milk Belgian Chocolate Toffee Crunch bark, Six Ultimate Toppings Belgian Chocolate Covered Marshmallow Pops" for our daughter's birthday whom lives in another state. She received the package 2 days later than the promised delivery time and the contents were Large chocolate pretzels, small chocolate pretzels and an over-sized cookies and cream candy bar. NEVER AGAIN.

Ordered flowers for same day delivery. AFTER ordering, read reviews published on this site. Reviews were terrible. Resigned myself to expecting a harrowing experience and chalking it up to stupidity. Imagine my surprise when I learned my order was not only delivered AT ALL, but delivered ON TIME as well. In addition, I received pics from the recipient showing how beautiful the arrangement was and, of all things, exactly as ordered. Moral of story - don't believe EVERYTHING you read.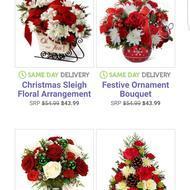 The first time I ordered flowers for the fiance, they did not show up on the scheduled time. The day after they said they will deliver the next day (2 days late) and give me a $20 gift certificate for next time. Well, I ordered flowers the day before yesterday to be delivered today and they just now tell me they won't be here today. Not to mention they jacked the price up when I put in my gift certificate... Just stay away from this company. I just went to 1800flowers and they are delivering some for me today.

I ordered early for a centerpiece to be delivered before Christmas, and they called me AFTER the order was to be delivered saying they cannot deliver it until AFTER Christmas. How can a company stay in business with these practices? At the very last minute, backing out of their agreement, then they put me on hold an unbelievable amount of time! I'm still pursuing a refund, after I found a florist local to my recipient to deliver on time!

I ordered same day flower delivery for Monday paying the extra fee for same day order. The flowers never arrived. I called Tuesday morning for a status update and was told the florist was not open so they would call in 15 minutes and get back to me. I explained how important Monday delivery was and that the once in a lifetime event only occurred on Monday. They never called back so a few hours later I tried calling again and keep getting disconnected when it seemed an agent would pick up. So I sent an e-mail inquiry and received an auto response that they respond within four hours. I never received a response to my e-mail. Finally at 3 pm I called back and got through. I was told the flowers would be delivered Wed and was offered a $15 gift card which I refused since I would never order from them again. They then tried to offer an additional 15% off. I told them I expected the flowers to be delivered for free since they had failed so much.
The manager agreed to do a comp order (essentially different flowers) and I agreed. I was told they would be delivered Thursday. They never arrived Thursday and when I called back today was told the comp order was never placed because I needed to call back to initiate it. Such BS. Now it's Friday, the comp order has been placed and my fingers are crossed for delivery today. I also took the manager up on his offer to call my recipient explaining that it is their error the flowers did not arrive Monday. We will see if that happens. During the entire process they kept putting me on hold to call the florist who never answered. They ensured me the florist was still in business. Not sure how this company is still in business. I am definitely going to stick to the well known online flower delivery sites from now on and not the first result in my Google search. I feel bad for their employees who have to deal with grumpy customers all day long.

I ordered the Christmas tree shaped arrangement & upgraded to the premium. Arrangement was sent to my parents who are "snowbirds" in FL. It meant the world for me for them to have something beautiful & a something that resembled a Christmas tree for the RV. Normally, they would decorate but my Dad was just diagnosed with an aggressive cancer & is not in the holiday spirit. (None of us are.) After the "tree" was delivered I asked for a photo of the arrangement. I could not believe what was sent!!!!
For the sake of my parents I held my tone & my tongue til we hung up. I called customer service & was offered a $15 credit to use on next order.. NOPE! You can keep that! Asked for our $ back & she said (she was very nice & very sorry) my parents would have to return what they had & go & pick it up themselves! WHAT?!!! I was refunded 25% of the order. What makes me even more disgusted is reading the reviews of loved ones passing & what was sent or NOT sent to the service. UNBELIEVABLE!!!! I'm a busy person & have a life... but I swear to write a review EVERYDAY until I just can't anymore!!! I'm sorry to everyone who was "taken" from this company!!! FROM YOU FLOWERS is a load of crap & you're a company of thieves!!!

I sent an arrangement to a close long time friend for Christmas. She sent me a picture and I am so embarrassed... The ugliest arrangement I've ever seen! And I like all flowers so I'm not picky... and it looked tiny and cheap! Used to be a good company but terrible now... Ordered other recently and some took forever to get delivered!

Very unacceptable for a 6:30 p.m. delivery time. I should've read these other reviews before I ordered. I'm sick of these websites not giving you a final price until you fill it all out. Only to find processing or other fees. They can't even throw in a clear cheap vase for free? Go local - it's tricky to find - online places like this make you think it's from a local florist but if you look at their address you'll see most get shipped from other states. I'm not sure how they can still come up when I purposely do a search for a LOCAL florist.

I placed my order the day before expecting the flowers. I also paid the rush delivery fee to be guaranteed by 12 pm. At 1:40 the flowers still had not arrived, when I called the company the florist could not be reached and was informed it would take up to two hours for a response. At 3:15 there were still no flowers and I called the company back. At this time they called the florist again, who could not be reached, offering to check on the order every half hour and personally call me with an update.
After an hour I had not received a callback, so I called back. At this time they called the florist for the third time, who could still not be reached, they then offered me a discount, a reimbursement for my rush fee, and to be delivered the next day. The next day would not work since the recipient would be away, I was then asked for the new address and when informed the recipient would be out of the country then I was offered to hold for approval on cancellation. My order was canceled and I will be awaiting my refund. I am very disappointed with this experience and will not be recommending this company ever.

Used them for the first time this week... Two ugly things... Guarantee delivery in 4 hours (extra charge for that), actual delivery was 7 hours. This was a sympathy floral arrangement for a dear friend. It's arrive a couple hours after that friend had left, so they did not get to see them for two days. The bigger issue is with the wording on the sympathy card. I typed in a certain message and what they actually transcribed onto the card left words out, and spelled two words wrong, to the point the message did not make any sense when trying to read it; it was like a 3-year old was asked to fill in the card.
They offered me a $20 credit for the wrecked ridiculous experience. They have no quality control. I sense this may be some sort of garage based broker who enlists local florists for fulfillment. Buyer beware, they will most certainly ruin your special occasion (or in the case make a mockery of a Sympathy sentiment card meant for a friend). I paid about $30 above the price of the arrangement for processing, delivery, expedited delivery, and same day delivery then they want me to try them again with the $20 credit. HAHAHA... They absolutely suck. Color me furious.

ConsumerAffairs Research Team
The ConsumerAffairs Research Team believes everyone deserves to make smart decisions. We aim to provide readers with the most up-to-date information available about today's consumer products and services.
Owned by operators with more than 35 years of experience in the floral industry, it is no surprise that it also has one of the largest networks of local florists. It works with more than 20,000 florists worldwide to provide the freshest blooms on demand.
Solid reputation: Ranked "Best Value" by CBS News, From You Flowers is a company you can trust.
Holiday-inspired arrangements: Find floral decorations that spruce up seasonal decor in its specialty arrangements.
Satisfaction guaranteed: Its 100 percent satisfaction guarantee lets you buy with the confidence that every bloom will be picture perfect.
Discount coupons: From You Flowers offers a variety of discount options and sales depending on the season and availability.
Price: It has bouquets and arrangements priced at less than $30.
Best for Suitors, husbands, modern women and companies.
fromyouflowers.com Company Profile
Company Name:

fromyouflowers.com

Address:

143 Mill Rock Road East

City:

Old Saybrook

State/Province:

CT

Postal Code:

06475

Country:

United States

Website:

http://www.fromyouflowers.com/