Consumer Complaints and Reviews

I ordered flowers for my daughter's birthday on Tuesday morning for a Wednesday birthday. Well, Wednesday is over and no flowers. I called this evening and the very nice lady told me that the florist was closed for the day! My daughter is 9 months pregnant with 2 other kids. She needed to come home with her boys to find flowers on her porch!! Oh, they will deliver them early tomorrow morning. They even called my daughter and told her they were sorry. I just raised the score to 2 stars because I called early the next morning, canceled the order, and they gave my money back! Wow!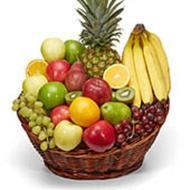 My daughter's birthday just passed this week and I supposedly ordered a lovely fruit basket (so it seemed) from their site. I was excited when she told me she received it, and told her to text me a photo just to confirm the order. I ordered the premium pack--my order in total nearly came up to $76. The image on their website presented a beautiful basket ENTIRELY filled with fruits (bananas, kiwis, grapes, oranges, etc.). The basket she got wasn't even the basket on the website, it was smaller and shaped differently. It was filled with 1/4 of what I was supposed to get. Also, when the order was delivered, it wasn't wrapped. It was exposed. From the many of bad reviews I've come across, the company should go out of business for deceiving people. I wish I would've looked up the reviews before ordering.

I ordered an arrangement for my mother's birthday. I paid for 4-hour delivery and also purchased a box of chocolates. The arrangement was delivered a day late. The box of chocolates had 4 pieces in it and to top it off they were expired. When I called to complain I was refused a refund and asked to send proof as if I would lie and waste my time for a refund. I emailed the pictures over and advised them I would never use their services again. The arrangement was delivered on 04/12/17 and the chocolate expired 01/2017. Gross!!! The only positive thing I experienced was the balloon. Thankfully it wasn't deflated!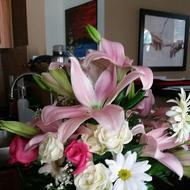 On the positive side, I was able to change the delivery date although I was put on hold twice for a total of 15 minutes. The disappointment came when my daughter sent me a picture of the flowers... The only likeness was that it had daisies and a few pink roses. The florist overpowered the bouquet by adding those ugly lilies so popular this time of the year. Not what I wanted to commemorate an engagement.

I ordered an arrangement of vivid blue and white flowers in a clear blue vase to be delivered to a friend in the hospital. She emailed a picture of what she received - totally different. What she received was a vase of pink, green and white flowers. The arrangement was insipid and pale. I called FromYouFlowers and was told that sometimes the florist would have to make a substitution if the flowers weren't on hand. I was offered a 10.00 credit on a $62.00 arrangement. I asked for a supervisor and was offered a 50% refund and a discount voucher for a future purchase. This is really not acceptable. If the florist can't fulfill the order as pictured, you should at the very least get a phone call to discuss alternatives. I believe they are banking on people just not knowing what was delivered. I will never do business with them again.
How do I know I can trust these reviews about fromyouflowers.com?
740,446 reviews on ConsumerAffairs are verified.
We require contact information to ensure our reviewers are real.
We use intelligent software that helps us maintain the integrity of reviews.
Our moderators read all reviews to verify quality and helpfulness.
For more information about reviews on ConsumerAffairs.com please visit our FAQ.

I purchased flowers from this company for valentine's day 2016. I even upgraded to ensure to get a better arrangement. But I ended up very disappointed when the arrangement came. The flowers plus the vase was a dwarfed 12 inches total. And the arrangement was skimpy in appearance. I called customer support and they informed me that the arrangement had not fully bloomed and the height was correct. They offered me a $15.00 gift certificate to redeem on their website. But I will not purchase anything from them again. Just wanted to warn other consumers to beware.

First and the last time I will order through them. I made the order well ahead of time (a week) so they would get there on time. They did not deliver the flowers I sent to a very special person, ruined the whole day. Rude customer service... will never order nor recommend them to anyone.

I was searching for a local florist in Santa Maria, CA. I saw an Google ad for "fromyouflowers", prices seemed good. And received a free delivery offer, the flower price changed at that point, but it was still cheaper than the original discount. I went ahead and placed the order for delivery the following day. I had never heard of "fromyouflowers" before, so I decided to Google their reviews. Once I read all the negative comments, I regretted my decision to order. I also didn't want to hassle with canceling and whatnot so I let it be. The flowers were delivered today! My friend sent her thanks with a picture attached. I was pleasantly surprised and happy that it was very similar to what I ordered online. Due to so many bad reviews, I just wanted to be sure to leave a satisfied customer review.

Ordered flowers a day in advance for a birthday office delivery. Paid extra for a morning delivery. The flowers never arrived. At the end of the day they sent an email saying that they apologize for the inconvenience and the flowers would be delivered the following day. When I called to cancel they offered a discount instead of cancellation. When I said that I wanted to cancel since the flowers would not be there for the birthday they put me on hold and then dropped my call. I called customer service a second time and was again offered a discount instead. After making it clear that no other deal would be acceptable except to cancel the order they agreed to cancel it. Will be checking my credit card statement to make sure.


Upgraded my order of "You're in my Heart" flowers to deluxe, paid expediting charges and everything else to get them there before 12 noon, total bill was approx. $76. After two phones calls and getting the "it's out for delivery response" they were delivered at 4 pm. This company's idea of deluxe is ridiculous! Received 4-roses, and six carnations... $76? Are you kidding me? Stay away from this company!

If you are looking for your flowers to be delivered on time on the date that you wanted you might want to look for another place. I placed an order to be delivered to my mom for her birthday and chose this place because last year I had a bad experience with another floral delivery service not delivering on time and they had this bright shiny 100% guarantee thing. Well that was just a load of crap.
Not only was my mom's flowers not delivered but I had to fight tooth and nail to get them to give me any kind of refund/discount for the mess-up. They kept saying "well it isn't our fault, it was the florist's fault". Well it doesn't matter whose fault it is. If you can't back the guarantee then don't offer it. I don't get to see my mom often enough seeing how we are on different sides of the US so I wanted to do something real nice for her and ordered a real nice flower arrangement. If I would have read the reviews from the last few months on this place I would have NEVER ordered from them. Use this experience and check a company out before you order.

Believe all the reviews here. Flowers showed up 3 days late after I paid for a specific day. What came was not only almost dead, but mostly odd greenery and not any of the flowers ordered. See images. Pink bouquet is what I ordered. The other is what arrived. They did not even try to make it look similar.

Ordered a spray of flowers 1 week before funeral and they never arrived. Got a call in the middle of the service stating that the delivery never made it out the day before as instructed and never received an explanation as to why. Were unable to ever give me any reason. Someone else called me a couple of hours later reiterating giving me my money back and $70 towards another order. Like I would ever order from this awful company again! Buyer beware. Don't ever order from this company. Avoid the heartache and headache. So upsetting as the flowers were for my niece's funeral.

Do not order your flowers here or you will be sorry. I ordered a very special floral cake arrangement for my daughter in law. I received notification two days ago that it would be delivered today. What a nightmare. First I received a very rude email yesterday stating that my delivery would be on Monday. I wrote back and said this was not acceptable and to cancel the order. Her birthday is tomorrow and they committed to today, one day delivery remember? Within an hour I received an anonymous phone call. There is no phone number so all contact must be thru their customer service email which is a joke unless they decide to call you. A customer service rep called me early evening and explained the flowers in the cake were not available. I picked another cake and was told that would work and delivery would be today. I might add she called the Seattle florist to make sure the flowers were available... on hold for 20 minutes.
Last night while at dinner I received a phone call saying the flowers for that floral cake were not available either. I explained the previous conversation and was again told it could not be done. At that point I asked what flowers I could get and we decided on the flowers that could be delivered today. I asked for confirmation which I never got. I sent multiple emails once I realized no flowers were going to be delivered, no response. Tonight I received two emails saying delivery was Monday. Not one person heard or read what I had said. I am embarrassed, there will be no flowers and this is excusable. It is all documented in the emails that each person wrote to me. This is the most unprofessional florist organization I have ever dealt with. They do not do what they say, they fail to communicate, they lie about the service they will provide and send generic emails that have nothing to do with the original problem. Horrible experience, they need to be stopped.

I wanted to brighten my mother's day by surprising her with a bouquet of flowers, paying (an albeit) small fee for same day guaranteed delivery. Instead, I received an email alerting me that the delivery would occur sometime within the next two days. I contacted customer service, was put on hold for almost ten minutes, then was told that two local florists had rejected my/their order and there was nothing that could be done. I requested a refund and was told that I should look for confirmation via email. Still waiting.

My boyfriend recently purchased a bouquet for me from this website. So, I went online to look at reviews and was met with some pretty terrible complaints. So the bar wasn't set very high to begin with. My bouquet didn't arrive till about 6-7 hours after it was purchased even though he paid extra for same day and 4 hour delivery. The bouquet definitely surprised me after I read all these terrible reviews. It was very sweet and pretty combinations. Granted, it didn't look exactly like the picture from online but they do state it will be similar with season flowers.

Pls. look at the arrangement I ordered. I then went even so far as to order the Premium (the highest quality) of that arrangement. The recipient went and posted it to her Facebook page along with the cards she received (she lives in Ohio and I live in NJ). There was 4 roses and a few tiny carnations (Not one Lily). If you don't believe me, look at the Facebook page of Jenny **, Hilliard OH. The arrangement that was delivered wasn't even what I consider the bare minimum that someone would order. It was worse than that.

Very displeased with this site. Order a simple set of flowers to be delivered to my girlfriend at work. I ordered them the day before but still got charged with same day prices. There was also a minimum purchase amount for the area in which they were to be delivered to. I thought that was kind of strange but I ordered them anyways. When I ordered received an email that they would be delivered between 9:00 am and 5:00 pm.
Now come the next day the order never shows up. Do the order tracking on the site still says it will be delivered at almost 10:00 pm, 5 hours after the latest time it should have been there. Sent a email to them to try and cancel the order and get a refund, said that it would be reviewed and someone would get back to me, still haven't heard anything back yet. Got the flowers as a surprise because she was having a bad week and was trying to cheer her up. Not only did she not get them, but now I'm out $60 and she's still having a bad day and so am I now. Save yourself the trouble and don't order from this site, ever!

Have ordered from this company in the past. Order was messed up. Said I would get a refund and a credit on my account. Never happened. Thought I would try one more time. Ordered edible arrangement for birthday delivery. They delivered to UPS store instead of address given! Told the representative I did not request delivery to go to UPS and she told me there was nothing they could do! Gee, great customer service, NOT!!! This is the last time I will ever order from this business. Orders always get messed up and they never make good on their promises... Save yourself some time, money and, most of all, frustration. NEVER use this company! NEVER!!!

Had to send same day flowers because of a hospital emergency and they took my order but contacted me hours later that they "couldn't find" a florist because of a "remote location" but that remote location is IN THE STATE CAPITAL!! Seriously?! Now my already difficult, sad day just got worse. Thanks, **.

Do not use fromyouflowers.com. Google.com should stop doing ads for them. See all the other reviews. They do not appear to be on Yelp. I am super stressed about this because the person whom I bought these for was expecting a tough day at work. The flowers were supposed to be delivered in the morning per the expedite fee. They were not. I got a refund for that but not for the rest. They said, "They should have been delivered but we do not have a confirmation." Uhh. Okay. They did not call me nor the recipient so I assume there were no problems delivering them. Unfortunately, I am sure many more people will fall victim to their poor business practices. Sadly, nothing will ever be done about it.

Absolute worst customer service EVER! I WISH I had read reviews of this place BEFORE I placed my order! Sadly, I did not! I placed an order early this morning for flowers for my sister's birthday to be delivered within 4 hours, guaranteed delivery! In placing an order, it asks for your contact number in case there is ANY problem with the order, etc so that there is not a delay in processing your order and delivery! IT ACTUALLY STATED THIS AS THE REASON FOR THE CONTACT NUMBER!!! However, when I FINALLY got lunch today, 5 hours after placing the order, I had received an email 4 hrs previously asking for me to call them to confirm the order!!! THEY HAD MY NUMBER!!!
Now, it is too late, so I replied stating to cancel as it is too late in the day for her to receive them, as she leaves work in 2 hrs and the reply I received back was: "We will need to speak to you directly before we can proceed with any request regarding your order. If you are unable to speak directly to us, the pending transaction will take up to 48 hours to be voided. Please be advised that any further emails in regards to this order will be removed until we speak directly to you." Again, THEY HAVE MY NUMBER! I do not have time today to spend on the phone which is why I ordered them before work this morning!!! AND again, THEY HAD MY CONTACT NUMBER TO CALL ME!!! I will never order from these people as they have truly ruined my surprise for my sister on her birthday! P.S. I paid with a Paypal account that I have had for 15 years!!!

This place is the absolute worst place to order anything from. Who said, "Three strikes you are out?" Not going to happen, twice is enough - I'm out! I ordered purple roses (my spouse's favorite color); balloon; teddy bear; and chocolate candy to be delivered for my wedding anniversary. What did I get - dark pink roses; no balloon; no teddy bear; and certainly no chocolates! Besides that, UPS delivered the flowers which had to be placed in the accompanied vase. This was the worse experience, even from the time before this with fromyouflowers. Perhaps this is what I get from straying away from the florist that I've been doing business with for years to save a couple of bucks.
I'm getting refunded for the items that weren't delivered and I've demanded that my name be removed from their e-mail list. Gladly, my spouse has no idea that she missing items from the delivery or the flowers weren't the ones selected as it was a surprise. I'm just annoyed that this part of my anniversary didn't go as planned. What a disappointment! I would not have rated them any stars if not for this system requiring at least one star.

I wanted to order my sister-in-law flowers for her birthday on March 27. I am not in the same city so I googled Richland Center Wisconsin Florists. Of course a number of choices came up and unfortunately because I was pressed for time didn't bother to check reviews. I paid the expedited fee to have the delivery made within 4 hours. When I got back home and logged on to my computer I had an email from the florist explaining that because the address was a business and my sister-in-law was not in they would deliver it tomorrow. OMG the address was my sister-in-law's home residence and she was home all day. Needless to say, I cancelled the order and hope this never happens to anyone else!!!

I ordered flowers for my parents' 60th wedding anniversary. They delivered them on the wrong day. I called to complain and after 20 minutes of complaining they agreed to give my money back. Then, they wrote down that I had canceled the order. The next day, they made my 83 year old mother give back the order! I couldn't be more embarrassed. When I called to complain, they didn't even apologize. I will never use them again.

The arrangement was embarrassment and I am demanding a full refund and they are attempting to give me a hard time. I got 5 flowers in a chipped vase with greenery making a bad attempt to fill in the holes in the arrangement. The order I placed and paid for was consisting of an overflowing bouquet with no added greenery whatsoever. I would NEVER do business with company again and recommend nobody else does either. Remember this is a representation of you to the receiver and FROMYOUFLOWERS failed in every way.

Not only is their website junk. Had to call in my order because their website was faulty and now it's saying I've never ordered from them, so can't leave review on their website. How convenient. Looking at the 1 star ratings here I can see it may be a ploy on their part to avoid bad reviews. I ordered get well flowers for my niece for next day delivery. Well flowers were delivered. Not at all what I paid for, however. Please see photos attached. When brought to their attention, they offered a 20% discount. There was less than 50% of the flowers! Are you kidding me!? Won't be back. Won't recommend.

The worst experience. They ruined my husband's surprise by not delivering the flowers. They did not even notify my husband about it. I found out and had to call. They wanted to deliver the flowers next day... without notifying my husband. They Just don't know about the business and have no experience. I will never recommend them. The customer service is awful! Simply the worst experience...

This is a very unpleasant experience! First, I receive an email at the end of the day stating my delivery was never made which I paid extra to get there yesterday. Second, I respond to this email agreeing that the arrangement be delivered ASAP and agree to the upgrade and for them to call my mother. Imagine to my dissatisfaction that she was never called! I did not drop the ball, they did! Then I asked to be called and was given no response so I call myself and the rep keeps placing me on hold after hold and at one point never came back and disconnected the call! Is this even a real company!? I do not want canned response back! I want some answers! I'm paying for a product I never got!!!

ConsumerAffairs Research Team
The ConsumerAffairs Research Team believes everyone deserves to make smart decisions. We aim to provide readers with the most up-to-date information available about today's consumer products and services.
From You Flowers has a large network of local partners, working with more than 20,000 florists worldwide to provide the freshest blooms on demand. The company also offers other gifts, like stuffed animals and fruit baskets, to be delivered with or instead of flowers.
Same-day delivery: Customers can have same-day delivery service by placing their orders before 3 p.m. in the delivery time zone. Orders can be placed 24/7 by phone or online. There is an additional fee for same-day delivery.
Holiday-inspired arrangements: Find floral decorations that spruce up seasonal decor in its specialty arrangements.
Guarantee: The company offers a 100 percent satisfaction guarantee, so consumers can buy with the confidence that every bloom will be picture perfect. Unsatisfied customers can call From You Flowers for a refund or replacement.
Discount coupons: From You Flowers offers a variety of discount options and sales depending on the season and availability. Make sure to do an Internet search before placing your order to find the best deal.
Price: From You Flowers has bouquets and arrangements priced at less than $30. Delivery fees are not included in the price shown online.
Best for significant others, friends, adult children and companies.
fromyouflowers.com Company Profile
Company Name:

fromyouflowers.com

Address:

143 Mill Rock Road East

City:

Old Saybrook

State/Province:

CT

Postal Code:

06475

Country:

United States

Website:

http://www.fromyouflowers.com/