Consumer Complaints and Reviews

I wanted to buy a plant for my mother for mothers day and was happy to see that they would deliver guarantee in 4 hours. But she didn't get it in even 5 hours. So I called their customer service number and had to wait 30 minutes on hold then got someone who said they would call the store and then my call was disconnected. So I called back again same thing after hold time again 30 minutes was disconnected again. Third time I called they did see why I was upset about the plant not being delivered it was oh they are busy. Will never order from this company again.

Paid extra for early delivery before 1:30 pm. It is now 7 pm, still NO FLOWERS WHATSOEVER!!! This was suppose to be my mother's Birthday flowers... I am FURIOUS!!! This company needs to refund all my money!!! Paid over $80.00.

I ordered a deluxe assortment in a smiley faced mug to be delivered today. When my daughter sent the picture I felt sick. It wasn't even close to the order I placed. I could go to any dollar store to get a mug and stuff some old flowers in it myself. I wanted a professional arrangement and this doesn't come close. How does this operation stay in business? Check for reviews rather than location. I just threw $77.00 out the window.

I ordered from this website to send my grandmother a birthday gift, since I was unable to make it this year to see her. On Sunday *(05/07/207)* I placed an order for a "same day" delivery. Since the florist was not open on Sunday, it would arrive on *05/08/2017* which was the day of my grandmother's birthday. This was fine to me, because that was the day I needed them anyway. I paid for the "express" delivery, stating that it would be delivered early that morning. By *6:00 PM* my grandfather messaged me, saying the flowers had still not been delivered. I called and asked to speak with someone about this, and they didn't really seem to care. I told the lady that I had paid for them to be delivered today *(05/08/2017)* and she offered me a half-assed apology, saying that they would be delivered the next day. If I order for one day, don't give me a half sincere apology and just say that it will be delivered the next day! Terrible.

I ordered my sister birthday flowers on Friday to be delivered on Saturday. I called her on Sunday to see if she liked her flowers and guess what? She said, "What flowers?" I called fromyouflowers.com (after I saw they had already taken the money out of my bank account) and asked where the flowers were? I was told that the florist notified them late Saturday that they would not be able to deliver the flowers on Saturday but they could on Monday! I had not been notified of ANYTHING! So when I complained, the rep asked me if I would accept a small discount and I said absolutely not. The rep again offered me another discount and I said, "I WANT MY MONEY BACK, ALL OF IT." She disappeared for about five minutes and came back and said I would receive a full refund in the next day or two. NEVER AGAIN!!!
How do I know I can trust these reviews about fromyouflowers.com?
765,713 reviews on ConsumerAffairs are verified.
We require contact information to ensure our reviewers are real.
We use intelligent software that helps us maintain the integrity of reviews.
Our moderators read all reviews to verify quality and helpfulness.
For more information about reviews on ConsumerAffairs.com please visit our FAQ.

My husband ordered flowers through this company online from Afghanistan for my daughter first state pageant. It did not come in time and they credited us $5.39 back. They were 3 hours late! My Daughter wasn't even at the hotel anymore when they delivered them. Will definitely not be using Fromyouflowers again and I'll make sure to tell all our Military friends and family!

Mike! The owner??? He acts like a bully and a jerk! I have never in my life filled out one of these forms!!! Ever!!! That is how rude he was! Please please please if you want beautiful flowers delivered to your loved one?? Do not buy them from "Fromyouflowers.com or Mike!!! What a jerk! I have never in my life been spoken to with such rudeness and mean spirited attitude as I did today when Mike who is the owner of Fromyouflowers.com spoke to me on the telephone!
This morning oh he was so so nice when he explained that the zip code was wrong and said that actually he lives on the same street that the flowers were to be delivered too... I told him that this gal's husband is in prison and we would be using his florist often!! Oh he was happy about that!!! Forget it! I wouldn't order flowers for my worst enemy from Mike!!!
This gal has probably never received flowers in her life and we (her church) wanted to surprise her for her birthday! Well when his wife found she wasn't home she left the flowers on the porch behind a bush - right after she told me that in apartments it's very common for someone to steal them!!! I said, "That would not be acceptable, please do not leave them if she's not home!" I asked if they could possibly try to deliver on another day. I would have been so happy to pay another delivery fee.
She said, "I understand. I will text you and let you know if I got a hold of her." (I gave her the recipient's phone number.) The text says: "She did not answer but I left a message and I left the bouquet tucked away behind her bush!" Then I called the florist office and Mike starts yelling and screaming saying, "Hey, if they aren't home, we cannot deliver!"
I told him that I mentioned to his wife that it would be unacceptable to leave the flowers there and to please leave them in the office or take them back to the shop. He said, "Hey, you are the one that provided the wrong zipcode yesterday and I'm not going to do another thing!!!" He said his boss (his wife told me he was the boss) wouldn't allow him to do it anyway. He hung up on me or maybe I hung up on him but either way I've never had an experience like this ever and I hope... You will pay close attention and do not order flowers from this fly by night "wanna be" florist! Mike is his name... Don't forget it!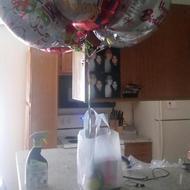 I have NEVER been more disappointed. I ordered the assortment of happy birthday balloons and chocolate bouquet for same day delivery. The order said 8 balloons - I only received 4. The look on the website is NOT AT ALL what the product looks like. I paid $72.18 for a half-assed job that I could have done for HALF the price or LESS myself. The pricing is unbelievably unrealistic. It's a rip off. $43.99 plus $2.99 same day fee plus $4.99 for delivery before 12pm plus $14.99 handling and tax fee and so on - you get the point. I paid the additional $4.99; I ordered the product and called to confirm the address AND delivery at 6:40 am. I even advised if possible 11am would be best. The recipient did not receive until 1:30pm. I would NOT recommend, I was so disappointed and I will never purchase from this company again. Neither should you.

This is the second time I ordered from them. First time they didn't deliver the flowers on time for the funeral. The pastor found them on the steps of the church wind blown over and notified the family. So I get a $14 credit. Go to order again for another funeral and use my credit. Forget it! They can't deliver on time. Their site has false advertising, specially when it says same day delivery! Stay far away from this site!

I ordered an Easter centerpiece to be delivered to my boyfriend's parent's house for Easter dinner. The flowers did not arrive on the day they were to be delivered (Friday), instead I received an email saying they would deliver as soon as possible on Saturday. By lunch on Saturday, they had still not arrived so I called to find out when to expect them since I needed them for Easter dinner on Saturday evening. I was told they would not be delivered until Monday, which was obviously too late for Easter. I was issued a refund by a very rude, unapologetic girl in customer service; but my first time meeting my boyfriend's parents was ruined by their inability to deliver. As you can imagine, it was impossible finding an acceptable replacement at the last minute on a Saturday afternoon. It's a first impression that I can never make again. I wish I had read the reviews on this site before choosing them for this special occasion.

So I received an email informing me that I had earned a $14.11 credit on my next purchase. So, I followed the link, added the flowers and noticed the price. I then went on to a different browser and did not follow the email link. I put the same flowers in the cart... And guess what? NO DIFFERENCE IN PRICE. The email is a fraud and a scam. This company should be sued. Perhaps I will take that on. Disgusting.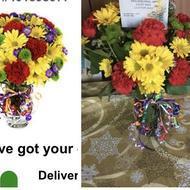 My grandmother turned 85 today and I sent her flowers from this company. Although she loves them I am so disappointed because what she received is not what I was expecting. Some of the flowers are missing from her arrangement. All I see are red Carnations, yellow Daisies and green Button Poms??? Where are the purple Monte Casino flowers??? The arrangement was supposed to also include purple Monte Casino flowers. I am so disappointed. The flowers my grandmother received look nothing like what I ordered. I would like a partial refund.

Ordered my mother flowers and balloons to be delivered for her birthday. I did the order online and received a confirmation. Called my mother that evening to ask her how the flowers looked and found out they never came. I was beyond embarrassed that it looked like I forgot her birthday. Called the following morning and they told me the flowers were not delivered because they were out of the yellow Lily. So instead of contacting me they just didn't deliver the flowers at all. They then offered to have them delivered the following day for a discount. I explained that her birthday is not the following day.

I order flowers then it took forever for them to process them claiming for CC verification. Seriously for a $50. Anyway if that's the protocol to prevent fraud then fine. Now it was supposed to be delivered Sat. They even called to confirm - after 1 hour they called back to say it would be Sunday then come Monday, Tuesday. Since I was busy my cousin left the hospital Tuesday then they claimed that it was indeed delivered Wednesday (after they promised Sat then Sunday then it was really delivered Wed). What a bunch of liars - my cousin was discharged by then so who did they leave the flowers in the hospital with.... Very frustrating - better go to 1800 flowers instead or bigger flower shop. This wasted my time. Didn't deliver the flowers and even lied about it!

I ordered a basket full of goodies for a birthday. I paid extra to have it delivered before 12 pm. The recipient left at 12:15 pm. The basket wasn't delivered!!! Just awful. I will never use this horrible company again. They gave me some cock & bull story about couldn't get past security even though I gave them the recipient's cell number. This company has so many bad reviews that it's time they lost their license. Shame on me for not using FTD or another reputable company!!! I've learned a $65 lesson.

I was scared and worried after ordering on that website and reading all these reviews, but I'm glad of what I got. I wanted the flowers to be delivered on Saturday, but florists in Orlando don't work on weekends so they delayed the deliver to today, but they wanted to apologize to me by giving me a $10 Gift card, a complimentary upgrade on the bouquet, a complimentary box of chocolates and an apology note (for the delay).
The recipient got the flowers at 2 pm today and they were beautiful (Not the same model that I ordered, but one even more expensive and bigger). So I'm very pleased with them because even when the order was late, they did everything on their power to make me feel comfortable and happy. The only thing I disliked was the fact that the vase didn't have the bow. That bow on the "example" picture was so pretty that I wanted it on the bouquet. I added a pic of the received bouquet and the one I ordered so you can compare.

If you order flowers from these people they sell your personal info to another company, "Partner Mags". You will begin to receive monthly magazines from them on a 6 month "free trial" subscription. Of course if you don't cancel before the 6 mo trial is over, you'll be charged on your CC for a subscription with an automatic renewal plan. This is not clearly displayed on their page when you order but is hidden at the bottom as an already checked box that states that you agree to the subscription and the subsequent charges. Beware.

These people deserve their wretched reputation. They do as little as possible and don't seem to care one little bit how they are perceived. Thanks to them, getting roses for my wife on our 54th Anniversary was a total FAIL! These people should NOT be allowed to stay in business.

We ordered flowers the day before my mother's birthday, a Friday. We paid an extra expedite fee. Two o'clock on Saturday rolls around, no flowers. So we called and they said the flower shop did not have anyone to deliver the flowers. So they dropped the expedite fee and they said the flowers would be there Sunday before noon. Sunday 12:00 still no flowers. We called and cancelled. They did not even apologize. Their website said guaranteed satisfaction.

I sent flowers usingFromyouflowers.com online today. The flowers were never delivered. I called their number entered my order number and they said they were delivered. I called my parents who were home all day because my mom has cancer, and they never received any flowers and have not left the house all day. I finally after several attempts got a customer service person who barely spoke english who tried to tell me that the flower shop was looking for my order (I ordered at 7am) it was 5:00pm.
My parents little town and flower shops do not stay open late especially on the weekends. Then I told them to just cancel my order, and they tried to tell me then that the shop was making the order and would deliver within the hour. Another lie, all the shops are closed I have ordered directly from my parents local shops. This place is fraudulent. I kept calling being put on hold automated, to only have it ring and ring then disconnect. Buyer Beware!! Best to just google a local flower shop and order directly from them. Sad a company would do this to people trying to send flowers to their very sick mother!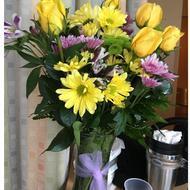 I ordered flowers to send to a friend in the hospital and spent $58$. What was received (photo#1) looked nothing like the photo that I ordered (photo#2). Except for the yellow roses and everything else was not pretty and sparse! I complained as they gave me a 15$ gift certificate. Really... So I could order more ugly flowers. No thanks. They should be out of business.

My friend so thoughtfully sent me roses for my birthday. Lucky me, I happened to be home the afternoon they arrived. Imagine my surprise when I saw they were half-dead. I have been on hold with "customer service" (if you can call it that) for 30 minutes; the gal can't find my friend's name, my name, the order, nothing. Exasperated, I asked for a supervisor at the 20 minute mark, and here I am, 10 minutes later, still on hold. Oh, wait -- finally the supervisor is on the phone. Very nice lady but after giving her the very same information again and again and again, she can't find the order number. I don't want to tell my friend about the experience but figure I will have to so he can refuse to pay the charge. Insane.

Do not waste your time ordering any product from this company. The end result will not be what you ordered and it will not be delivered when promised. I ordered a lovely "Sunshine Garden" arrangement (pictured in a beautiful white scrolled decorative container) for my receptionist for Administrative Professionals Day and paid the expedited fee to guarantee delivery by noon. Long story short, she received the arrangement at 3:30 p.m. in a wood box that said "Home Sweet Home". When I called the 800 number to let them know, they apologized and first offered me a 10% discount then a 20% discount. The discount is not the issue, the end product is! I told them I would not be using them again as unfortunately, this was not the first time I have experienced an issue with an order.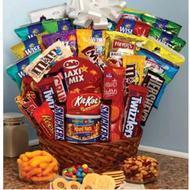 Well to start off with, please note that this was my first time ordering from this company and I regret it! I ordered a candy basket for my sister's birthday and could not believe what she received. I paid $67.00 for the basket and it looked like it was put together by a 2-year old and looked nothing like I ordered. The disappointment was heartbreaking! They told me that they are going to redeliver a new one and said that I will get $10.00 refunded back to my account in 2-3 days. We shall see... although my sister has no idea what I actually ordered for her, she appreciated the thought, however she took a picture of the basket and posted it on Facebook - ugh! You can clearly see by the pictures the quality of what my sister received. I highly recommend not ordering from this company.


Ordered on Saturday for a Sunday delivery. No flowers. Called and told shop they dealt with was closed. Told I could get them on Monday. Too late. Don't act like we are all set when you don't even know if shop is open on Sunday. So bad.


I ordered flowers from, Fromyouflowers, online on 04/20/2017. They were to be order on 04/21/2017 before noon (paid 4.99 extra) and they were not delivered until 1:30 pm. Also I ordered the "deluxe" flowers (eight roses and eight carnations), There were only six roses and 11 carnations, in a vase with dirty water. I felt this was unacceptable due to the 65.00 cost. They did refund some of the cost but this is not acceptable. It took me three calls and several call backs to get this somewhat resolved. This should have been a nice gift to the wife after 33 years, thanks for the flop "FROMYOUFLOWERS".

I decided to order same day flowers for my mom's Birthday. On the website it states business deliveries are from 9am until 5 pm which ensured me that my mom would receive her birthday flowers by 5 pm which is the time she gets off work. Same day means same day. She never received her flowers and she was still there after 5pm. I called in 3 times. 2 agents told me they would return my call. That never happened.
When I spoke with the third agent she researched and found that the delivery stayed 6:22 pm. That defeats my entire plan and purchase at 6:22 pm. Again your website states business deliveries by 5 pm. My mom Birthday is TODAY not tomorrow. How do you think that made me feel? HORRIBLE. My mom is a very special and fantastic lady whom should have received her gift as promised to me by your website. I'm very unhappy with this whole company. I got the runaround from the first two agents then the last agent asked me "what if your mom did get her flowers?" That pissed me off even more. I was offended. REFUND PLEASE.

I ordered flowers from you today and was disappointed. Flowers are not a need for people, they are a want. They are an extra effort to make someone else's day brighter. They offer flower arrangements like purple rain online for $43.99 for the deluxe option which already has a true cost of $73 when all is said and done, which is 63% more than the flowers alone. I knew this doing in. But then I get a picture of what was sent and it was a massive disappointment.
First off the arrangement is called Purple Rain according to your site because "This beautiful arrangement full of purple florals will make your recipient feel like they're walking through fields of lilacs." However, I see more cheap yellow and pink flowers than purple. It is supposed to contain Roses, Lavender Daisies, Purple Iris, Fuchsia Mini Carnations, Purple Gilly Flower, Bupleurum, Purple Glass Vase. There are no roses. The vase is pink and the yellow weeds are filling up most of the vase. This is a complete ripoff and the florists that delivered this should be banned from their service. This is the second time this has happened to me and it will be the last time I use their service. This needed to be a special message and you made it look like a grocery store bouquet.

ConsumerAffairs Research Team
The ConsumerAffairs Research Team believes everyone deserves to make smart decisions. We aim to provide readers with the most up-to-date information available about today's consumer products and services.
From You Flowers has a large network of local partners, working with more than 20,000 florists worldwide to provide the freshest blooms on demand. The company also offers other gifts, like stuffed animals and fruit baskets, to be delivered with or instead of flowers.
Same-day delivery: Customers can have same-day delivery service by placing their orders before 3 p.m. in the delivery time zone. Orders can be placed 24/7 by phone or online. There is an additional fee for same-day delivery.
Holiday-inspired arrangements: Find floral decorations that spruce up seasonal decor in its specialty arrangements.
Guarantee: The company offers a 100 percent satisfaction guarantee, so consumers can buy with the confidence that every bloom will be picture perfect. Unsatisfied customers can call From You Flowers for a refund or replacement.
Discount coupons: From You Flowers offers a variety of discount options and sales depending on the season and availability. Make sure to do an Internet search before placing your order to find the best deal.
Price: From You Flowers has bouquets and arrangements priced at less than $30. Delivery fees are not included in the price shown online.
Best for significant others, friends, adult children and companies.
fromyouflowers.com Company Profile
Company Name:

fromyouflowers.com

Address:

143 Mill Rock Road East

City:

Old Saybrook

State/Province:

CT

Postal Code:

06475

Country:

United States

Website:

http://www.fromyouflowers.com/