Consumer Complaints and Reviews

Flowers were to welcome back to co-worker back after six week bereavement leave. She got off work at 5, but no flowers. Promised would be there by noon tomorrow. Wow they offered me 20% off next order (like there's going to be one). Everyone gets 20% off. It's on the banner of their web page. Refused to tell me who the local flowers were from.

Ordered flowers for my mom's birthday to be delivered the same day and paid extra fees for same day Saturday. They also added a lot of other charges to final cost which I just paid to get her the birthday flowers. Then at the end of the day (4 pm) when it was too late to get another company who would have delivered fromyouflowers.com sent an email stating that they were not going to deliver that day and they would be able to deliver 2 days later. They would refund the one part of the fees for same day charge? GO SOMEWHERE ELSE AND SAVE YOURSELF THE PAIN OF DOING BUSINESS WITH FROMYOUFLOWERS.COM!
By the way I had to wait 20 mins to get the customer service person on the phone to get a refund. Sounds like this is a really small shop that is sub out the business?

My sister ordered an arrangement (Open heart standing spray) for our aunt's funeral and she paid the Deluxe option. It is pitiful when the funeral home assistant asked where they were from, bc they were THAT bad! It barely had flowers and it was filled with greenery to take up space. Take a look at these pictures and no one can tell me this was worth $130. The daisies were wilting and the roses weren't any better. My sister could barely hear the lady at Customer service and after 30 mins. we at least got some money back. Please do not order from this company... Unfortunately we wish we would have looked at the reviews on here before ordering. It's funny how many comments are almost exactly the same... not what people ordered!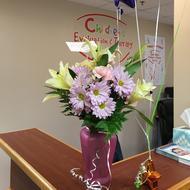 I ordered and paid for a flower arrangement on March 15, 2017. The flowers in the arrangement look nothing like the arrangement I ordered and they are unsatisfactory (I included pictures of the arrangement I ordered as well as what was delivered to the recipient). In addition, some of the flowers were a bit wilted and not as fresh as they should have been. This is very disappointing, especially since I am a first time customer. I am requesting an immediate refund. My Order # is **. Please let me know what other information you need in order to process my refund. Thanks.
In addition, I purchased a premium arrangement which was not the arrangement they delivered. It was woefully missing enough flowers to justify the payment of a premium arrangement. The flowers ordered were going to a business serving special needs children and was brightly colored. The delivered flowers were more neutral in color and not as exciting. In response to my email, they sent me a $15 coupon towards my next purchase. Their website stated they would REFUND THE PURCHASE PRICE or REPLACE THE ARRANGEMENT. They honored neither policy!! I don't trust another arrangement from them, and still want a refund rather than a coupon toward my next arrangement. Never again will I use this company!!! I do not recommend them!!!

I ordered for a dozen rose with teddy bear, chocolates and balloon. They only delivered the flowers which by the way doesn't even look as nice as the picture on their website. I called them to ask them to come back and deliver the rest of the items but they just refunded me for the items missing. I told them I don't want the refund. I just want the rest of the items delivered but they said they couldn't. Very disappointing!
How do I know I can trust these reviews about fromyouflowers.com?
718,469 reviews on ConsumerAffairs are verified.
We require contact information to ensure our reviewers are real.
We use intelligent software that helps us maintain the integrity of reviews.
Our moderators read all reviews to verify quality and helpfulness.
For more information about reviews on ConsumerAffairs.com please visit our FAQ.

My son was sent an gift basket from his aunts for his birthday from FromYouFlowers.com and what he received was an absolute joke. His aunts spent $75.00 for this gift for him and paid extra for floating balloons. A man came to the door with the basket, unwrapped, and basically just handed it to my husband. It's apparent that the florist stopped at the local Dollar General to make up this basket. My aunt was able to get her money refunded to her but not without hassle from them. She was first offered a 30% discount and a $20.00 gift certificate off her next purchase. She demanded a full refund and had to email pictures of what was delivered and had to wait 2 weeks for the refund. This is horrible misadvertisement and I would not recommend using this website for that special you wish to send to someone. If I hadn't have shown my aunt a picture of the messed up greeting on the card, she would never have known what her money was spent on.

I ordered flowers to be delivered same day to a relative in the hospital. Got an email saying they would be delivered next day and they weren't. Tuesday night I received a phone call apologizing and letting me know they would be delivered the next day and one upgrade. They were finally delivered on Wednesday. The same day my husband dropped by to visit his brother in the hospital and he said they were an embarrassment. They were not fresh. All roses were completely opened and it looked old and raggedy. I don't recommend using this site. Their customer service offered a 15% discount - I should have cancelled the order on Monday.

DO NOT order from fromyouflowers for important dates!! The flowers for my father's funeral service were never delivered!! Then, fromyouflowers had the nerve to offer to send "a planter" to the "family". To myself??? No, I want my money back! Horrible company, horrible service.

I WISH I HAD SEEN ALL THE NEGATIVE REVIEWS BEFORE MY ORDER! Paid expedite... nope. Even the second window they promised was missed. This was the first time my new girlfriend had ever received flowers at work and it was for a special occasion at work that day. They arrived at the last hour of her shift. She loved them, but I was HUGELY disappointed with how it went down. Nothing was offered to compensate me except the before noon guarantee that I originally paid for. I was on hold for very long wait times and was disconnected once having to call back for even a longer wait time. It sounded like an overseas based operation, or at least very poor phone service. First and last from this company.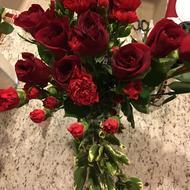 I ordered a red rose and white calla lily bouquet for my sister for Valentine's Day. What arrived was a bouquet of red roses and red carnations. I understand most florists' substitution policy, but carnations are no substitute for calla lilies; in price or appearance. They couldn't even get the color right. I emailed From You Flowers customer service immediately. My email was acknowledged, but no one ever responded. I just got off the phone with them, and they told me they would only refund me 30% and then gave me a patronizing $10 coupon for my next order (which will never happen). They said too much time had passed for them to do anything more, even though I emailed them the evening of Valentine's Day. Shoddy business, shoddy customer service. Save yourselves the trouble and don't bother.

I placed a balloon order with FROMYOUFLOWERS on Friday at 4 pm. Birthday Party the next day Saturday at 1 pm. Paid $3 extra for Saturday delivery. Not to mention the $18 delivery charge they throw on you at the end of checkout!! Saturday 2 pm rolls around, an hour after the Birthday starts. NO BALLOONS. I call FROMYOUFLOWERS and they tell me they have until 5 pm to deliver. Great... Deliver the balloons after the Birthday is over. You can guess what happened. 5 pm comes and still no balloons. "Oh, we're sorry, do you want 30% off and we will deliver them tomorrow?" Stupid... They knew at 2 pm these balloons were never coming. Why not call the flower place at that time to confirm and tell me so I can make other arrangements? Why? Because its extra work and the customer means nothing to them.
NEVER, EVER deal with these middle-man companies. Deal DIRECTLY with the Florist. You can call the florist and they will tell you exactly when your item will be delivered. These middle-man dummy are half way across the country and will not contact the florist unless they dont show up. They dont do anything to confirm the status of your order. DEAL WITH THE SOURCE NOT A MIDDLE MAN!

I ordered a same-day, expedited fee, weekend-rate delivery (all features I paid for) to celebrate an anniversary. The price had hidden fees ("handling" and the aforementioned) so the total was about 150% of the stated price. The delivery never happened. The customer service was extremely hard to get ahold of. When they did the quality of the call was so bad that I hardly understood anything. The customer service representative was not even able to get ahold of the driver. I cannot think of anything more going wrong here. I discourage in the most categorical way possible anyone to use this company's services.

Order flowers for a funeral service and received an email from FromYouFlowers that was sent to me 5 hours after the service was to take place telling me that they were unable to complete my order as they couldn't find a florist to deliver in time for the service. The order was placed 2 days prior. Why could they not notify me sooner so I could use another vendor? Funerals and grief are hard enough. Shouldn't have to deal with something like this happening!

Horrible. You will be overcharged and disappointed. I work in Marketing and I know how hard we all work to get new customers. Fromyouflowers.com, your Google Ad worked, and you got me! I was a brand new customer. I clicked on your Ad when I searched for "Flowers in Scottsdale." I usually never click on the AD/Promoted when I do a Google search, but this company came up first and then I did a quick search of your company up and saw great reviews (on their website!!!) so I decided to order.
I placed my first order on Thursday, March 9th when I ordered an arrangement for my best friend's birthday. It was a same day delivery and I was totally fine paying a premium (for delivery) so she would get them by lunchtime. I spent a half an hour and went through your website and finally selected the Serenity arrangement (photo) and upgraded to the $49.99 arrangement. After I ordered I was sent an invoice which said the arrangement I picked was $59.99, not $49.99 - that was my first red flag. I ordered a simple, sophisticated arrangement in a low vase with light pink roses and white lilies.
My friend got an arrangement with dead daisies that were cheap and COLORED with flower dye (magenta!) and YELLOW lilies and cheap GREENERY/Filler in a $2 ugly case. Which cost me $76. I was happy paying $20+ for same day delivery. But I expected something worth $50 being delivered! Not dead flowers that aren't even the color of the flowers I ordered!
I understand that you sent my order to some independent florists in Scottsdale. I actually used to work at a Florist. But this is NOT a $50 arrangement, or a $60 arrangement and it certainly was not a $76 dollar arrangement. This looks like a sad $10 arrangement from a grocery store and nothing like I ordered. I am so disappointed and I feel like I look like a cheapskate on my friend's birthday, when the arrangement that I selected was subtle and sophisticated. This is not what I ordered. I will not be ordering again and I am going to review your company. Please do not use this florist again in Scottsdale. Thank you.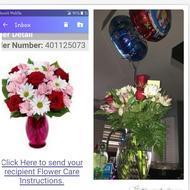 I ordered flowers for sweet 16 for my beautiful daughter's birthday. The bouquet I had purchased was not the bouquet they had delivered. The flowers delivered look like they were taken out of the garbage can and placed in a vase. I would have been better off going to my local grocery store and shipping them through the Postal Service! Nothing at all like what it was supposed to be, not even similar. Do not order from here at this place is a scam and a ripoff. Why are they still operating? This place needs to be shut down.

The picture listed for various flowers is for the most deluxe/premium version you can buy. However, when you click on the different size options, the picture doesn't change! The flowers I received looked NOTHING like the picture online. More like 1/4 of the size... They also sent a Happy Birthday balloon instead of an "I love you" balloon. After contacting customer service, they said they would reimburse for the balloon and 25% of the flowers. If they tell you this, they're just trying to see if you'll take it. If you say you want a full refund, they'll give it to you!! Do NOT be fooled by their manipulative customer service. Their "100% satisfaction guarantee" is definitely not true. After going back and forth via email, it was clear I was not getting anywhere. Whatever you do, do NOT use this company!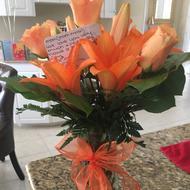 I ordered flowers for my MIL for her birthday and had them delivered to her home. I upgraded to premium (regular, deluxe, & premium were your options). She sent us a photo thanking us and I asked her to check if those were from us or someone else because they didn't look at all like I ordered. I showed my husband what I ordered and he agreed. We contacted customer service (got hung up on twice, had to call the order line to get someone). The lady was very nice and assured us that the flowers we ordered would be delivered the next day. I was happy with that.
Yesterday we get another photo from my MIL of the flowers. While these flowers were better, it's still so small and just not what we ordered. I loved the little embellishments in this arrangement and there were none in either. I understand having to substitute or get creative with what you have, but don't join sites like this if your company can't handle it because it's unbelievably disappointing. $61 later and still received 4 roses and some lilies for the premium option. In the photo on their site it shows at least 5 roses and I upgraded. I ordered the orange sorbet arrangement. I suggest not using this site. Waste of money.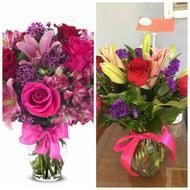 I should've been more diligent and did my research on this company before ordering flowers for my mom's birthday. Someone who is so important to me. I was absolutely thrilled that the arrangement could be received next day. Indeed, she got the arrangement on time. But when she sent me a picture of what was sent, I was absolutely disappointed. On the left is what was pictured on the website and the right is what was sent. I will never order any other arrangements from this company or recommend them. This will be a lesson learned for this dissatisfied customer.

If you want to humiliate yourself order from this company. They are irresponsible, liars. I ordered two bouquets for Mother's Day on 3/8/17. One for my mom which was going to have a surgery the next day and the second one for my mother-in-law that had a party and I promised her I was going to bring flowers. Since I was busy at work I ordered them online. I called twice to confirm same day delivery. Flowers never reached the destinations. Very, Very disappointed. Tried to call them after I left work. I was on hold for 20 min and after that the line got disconnected.
Since I had paid already told them to deliver the flowers. I should have canceled and asked for my money back. Never had an experience like this before. Been dealing with Proflowers and other companies. Been very happy with them. I guess you get the service based on the money you pay. You pay less they don't care. I don't know how they stay in business. Oh well just be careful. DO NOT ORDER FROM THEM. YOU WILL BE VERY EMBARRASSED AND DISAPPOINTED.

I paid extra for the expedited delivery before 12 am and here it is almost 5 pm and still no flowers. Each time I call to check the status I'm told there is no answer from the florist. I did not place the order at the last minute. I made it a whole day in advance. This company has poor customer service and does not stick to their on time delivery policy. You place the order. They deliver it when they get around to it. I would not recommend this company to anyone. If there was a no star box I'd check that one. They aren't worth the one star I have them.

I was terribly dissatisfied with my flowers. I ordered the Sweetheart Rose bouquet and they delivered it with all carnations and an ugly paper cut out in a small square that contained my message instead of a card. I paid for same day delivery and they did not deliver the same day. I requested a refund of that fee. They offered to redeliver the flowers and they did 3 days later stating that it takes some time before the flowers have to be ordered for freshness, etc. However, the flowers looked HORRIBLE and again it did not look like the bouquet or remotely close. I understand there will be some variances but this was just ridiculous. I will NEVER order flowers from them again! Buyers beware. Go with a more reputable flower company... SMH.

Do not use this floral ordering and delivery service! 1st attempt at delivery: dead flowers falling off of the stem. Delivery person agrees with recipient and the delivery is denied. 2nd attempt: There wasn't one-after emailing pictures of the 1st attempt. The email that customer service sent was the delivery was made (it wasn't/total lie). Spoke to a representative (Stephanie) who assured me the delivery would be made the following day (already inconvenienced at this point) and the birthday delivery did not happen as promised. Spoke again to the recipient and the delivery was never made. Spoke to another customer service rep to express my displeasure with the 2nd delivery not being made. Supervisor said they would give me 20% off of my order... really?!?
The inconvenience alone was worth more than that and the rep agreed. She told me I'd get 50% OFF!!! HAHA funny-but we never received that order that was discounted so nicely... Today - I kindly asked for a refund. No order, no email or confirmation, no follow up and a lot of time wasted on hold waiting to speak to someone that knows what is going on... Please don't waste your hard earned money and time on this company!!! You've been warned. They simply DO NOT CARE. This company does not care about "fulfilling the customer request" - they are a sham and I will never use them for any transactions in the future.

Spent $70 on flowers for my aunt who is in the hospital, they did not even deliver the flowers per my aunt and the nurses on staff. When I kindly asked for a refund, they had the nerve to make a response stating the florist went into my aunt's room and read the card to her because she was unable to move. At no point was she unable to move, and there is no way unauthorized personnel would be allowed in a hospital room. Horrible service from a fraudulent company.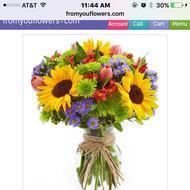 Oh my goodness, I never do this, BUT DO NOT ORDER FLOWERS FROM HERE!!! My mom ordered a beautiful arrangement for $70 to be sent to her sister in law in the hospital after open heart surgery. She also paid extra to have them there before 5:00, they got there after 6:30, even though she got the confirmation saying they were delivered. When they arrived she sent us a picture & we were APPALLED at what she received, it was EMBARRASSING! I think my 3 year old son could have put together a better bouquet together. So my mom called & was successful in getting someone to answer & they said they would send another bouquet. Well they did & they took the other flowers!!! How rude! So when my mom got the second picture she was still pissed & called & demanded a full refund. The lady didn't argue or anything, so we will see if she gets the refund. This place is a joke. Please don't waste your money!!!

Not only were the flowers 1/8 of the size they were pictured to be (yes I understand there will be differences between what's online and what will be delivered) but there were no roses only carnations, that by the way, were wilting. It took weeks for someone to get back to me and when I emailed pictured proof of their shockingly small bouquet she offered a refund. I went to check my bank statement and it was not the agreed refund. You must, I repeat MUST, find flowers somewhere else.

I tried to use this company twice and both times they did not deliver on time. I will never ever use this company again. I tried them twice. They won't mess over me three times. They should be closed down.

I place a funeral arrangement and was never received. I check with the people at the funeral home and they said they didn't received anything. They even let me look at the sign in sheet that the florist sign when they deliver. 3 family members placed orders only 1 was confirmed. Me and my sister in law's arrangements never arrived. Their respond was they were delivered on Feb/23/17 at 11:55 am. Am very disappointed that one of the last thing I would give my grandmother was not delivered. They kept giving me the same respond when I kept telling them they weren't delivered. 3 times they gave me same respond and not able to get thru on phone. I have screen shots of my online receipt. Will never order from this company again.

I ordered flowers for my daughter for her birthday. The arrange I picked out and paid for was completely different than what I ordered and they forgot to even add the balloon. After letting them know all I get is a "I'm sorry." Well doesn't change the fact that I had an expectation for this company to deliver and make a great surprise for my daughter and they ruined it. Never use this company. Not what you expect or pay for.

I was looking to send a congratulations basket to my boyfriend after finding out he passed a huge test in the fire academy this morning. He lives out of town so I wanted something available to him by the end of the day. After purchasing a gift basket for $70 I was notified 2 hours later that "They did not have the item in stock; however, had a cracker and cookie basket available instead." I initially ordered a basket with summer sausage, crackers, cheese, etc. I declined and asked when they could get my initial purchased item to him -- they responded they heard back from a florist that said they could get it to him tomorrow with a $10 extra charge that THEY would cover. That sounded great.
Not within 2 more hours I received an email and a call reporting that "because he lives in a remote location" they were unable to service my needs. WHAT! You saw the address three other times prior to then telling me services were not available. They then said "However, we can have an item to him by the 28th of February." It was my first time attempting to use this service and I would HIGHLY RECOMMEND NOT USING THEM. Terrible customer service (I sat on the phone for over 20 minutes each time trying to reach someone) and I do not believe they truly are able to render services within the same day. Take your business elsewhere!

I ordered a dozen roses to be delivered for my wife's birthday on March 2, 2017. The price was $39.95 with free delivery - not bad. Then you start to go through the payment with your credit card process and they hit you up for another $25 worth of ** fees. By the time it's all over, your $39.95 flowers are now $65! I bit the bullet and just did it anyways. Now the fun part; today, a FULL WEEK before the scheduled delivery date, my wife texts me and tells me that she got a dozen roses today at work. They delivered the flowers on the wrong day!
When I called them to see how they could rectify the situation, instead of a refund, they tell me that the only thing they can do is cancel the order and go to my wife's job and pick up the flowers! So, their answer to my problem is to embarrass my wife in front of everyone at her job by basically repoing the flowers from her desk. Look, anyone can make a mistake but for God's sake, take responsibility and do the right thing! I WILL NEVER, EVER use this company again. The name of the company is FROMYOUFLOWERS. They are located in Connecticut and use local florists for the deliveries. They DO NOT stand behind their work!!!

ConsumerAffairs Research Team
The ConsumerAffairs Research Team believes everyone deserves to make smart decisions. We aim to provide readers with the most up-to-date information available about today's consumer products and services.
From You Flowers has a large network of local partners, working with more than 20,000 florists worldwide to provide the freshest blooms on demand. The company also offers other gifts, like stuffed animals and fruit baskets, to be delivered with or instead of flowers.
Same-day delivery: Customers can have same-day delivery service by placing their orders before 3 p.m. in the delivery time zone. Orders can be placed 24/7 by phone or online. There is an additional fee for same-day delivery.
Holiday-inspired arrangements: Find floral decorations that spruce up seasonal decor in its specialty arrangements.
Guarantee: The company offers a 100 percent satisfaction guarantee, so consumers can buy with the confidence that every bloom will be picture perfect. Unsatisfied customers can call From You Flowers for a refund or replacement.
Discount coupons: From You Flowers offers a variety of discount options and sales depending on the season and availability. Make sure to do an Internet search before placing your order to find the best deal.
Price: From You Flowers has bouquets and arrangements priced at less than $30. Delivery fees are not included in the price shown online.
Best for significant others, friends, adult children and companies.
fromyouflowers.com Company Profile
Company Name:

fromyouflowers.com

Address:

143 Mill Rock Road East

City:

Old Saybrook

State/Province:

CT

Postal Code:

06475

Country:

United States

Website:

http://www.fromyouflowers.com/