Consumer Complaints and Reviews

I paid extra$ for expedited delivery time (before noon). At 12:30 pm my wife had not received flowers and was leaving work (her birthday) so I call Fromyouflowers and they said it was overlooked and they could get them delivered by tomorrow. I said absolutely not that is not an option. I said "we only have two options. Either you can deliver them to my home address or he can immediately refund my money." At which time they said that they would have them delivered to my home address by 5 p.m. 5 p.m. rolls around you guessed it still no flowers. So another call to track my flowers down and was put on hold for 20 minutes and finally was informed that the flowers were in route and would be delivered sometime between 6 and 6:30 p.m. Flowers did finally show up but very disappointed with service.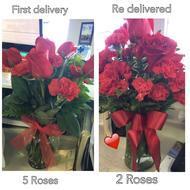 My review is based on my experience of receiving flowers last week. My husband surprised me with a flower arrangement that was sent to my place of employment. The flower arrangement was extremely small but I thought it was very sweet and thoughtful of my husband. I immediately took out my cell phone and took a photo of the arrangement. I texted the photo to my husband to let him know I had received his surprise.
He called me immediately upset saying the arrangement looked nothing like what he had ordered online. The arrangement he had selected was the You're In My Heart arrangement that featured many roses. The flowers that arrived were woefully smaller and different than what was pictured in the order image. One thing is for sure the arrangement was lacking roses!
My husband contacted customer service to complain about the arrangement. This was not the arrangement he had selected and paid! They apologized and said they would send the correct arrangement. They told my husband the correct arrangement would be delivered on Friday. On Friday nothing arrived! It was not until Monday that a new arrangement was delivered to my place of employment. This upset me even more because the arrangement was late and once again the arrangement looked nothing like the photo for the You're In My Heart online arrangement. This arrangement was very small and only had two roses! I do not recommend anyone ordering from this company. They will take your money and send you a cheap arrangement. This was supposed to be a happy surprise for me and instead turned into something horrible that I will always remember.

Placed order and paid extra for same day delivery. It did not get delivered. They said it would be the next day. It did not get delivered on the second day either. Do not ruin your occasion by ordering from this company.

I ordered a floral arrangement for my new baby nephew. I asked my sister in law to send me a picture of the arrangement. It looked nothing like what the picture described. The flowers were cheap and were delivered wilted. The flowers looked like they had been haphazardly thrown into the vase. I ordered a balloon which was missing from the order. I am sooo embarrassed!! I should call my credit card company to dispute the whole charge.

My uncle passed away on Thanksgiving Day. Due to the holiday the local florist was closed for the weekend. On Friday, 11/26/2016, I placed an order for a bouquet of flowers to be delivered to the funeral home on Saturday 11/27/2016. I paid the expedite fee and verified that the flowers were available for "Same Day Delivery".
My dad sent me multiple texts saying that the flowers were not there on Saturday. I was sure they would arrive on Sunday for the funeral. THEY DID NOT. I received notification today - 11/28 (2 days after the order was placed) that the flowers were delivered to the funeral home. The day AFTER the funeral. Do not order from this place!
How do I know I can trust these reviews about fromyouflowers.com?
635,598 reviews on ConsumerAffairs are verified.
We require contact information to ensure our reviewers are real.
We use intelligent software that helps us maintain the integrity of reviews.
Our moderators read all reviews to verify quality and helpfulness.
For more information about reviews on ConsumerAffairs.com please visit our FAQ.

I normally don't write reviews, but had to do it today. I order flowers for my sister's birthday. Spend over $60.00 and got crap. The flowers were nothing like what was showed in the picture nor the vase. It seemed like they picked up a vase from Sam's Club and threw some flowers in there. No bows, no card - nothing. I should have order from different company.

Ordered an arrangement for family that lives in another state, to be delivered the day before Thanksgiving for the dinner table. Was not delivered by Thanksgiving night. Emailed the company to cancel the order and refund my $88.28. Heard back from them within 4 hours, and my money was refunded the next day. Will not be using them ever again. Very unreliable for delivery.

Flowers ordered on 11/18/16, to be delivered on 11/23/16. Flowers were never delivered. This order was very important to me as I wanted the recipient to know how thankful I was for her. I contacted the company and received an email that they would refund my money and it should show up on my credit card in 10 days. They then sent me another email encouraging me to order again from their company. They advertise same day delivery yet the couldn't delivery in five days.

I ordered a Thanksgiving arrangement on November 23, 2016. What was advertised is not what I received. I wish I had looked for reviews beforehand. I never would have ordered through them. Deceptive advertising adding a $10 shipping and handling fee at the very end of the order. I called to find out what it was for and was told it was a guarantee for freshness for 8 days. Shipping and handling? When flowers arrived later in the day, they looked awful - not even close to what was advertised. I contacted customer service and was told "All items are subject to slight substitution according to local availability and season as stated in the product's delivery information." I did not see that message. I want a complete refund. They emailed a 10% gift certificate. I will never order through them again.

Do not order from this company, they have no intentions of ordering same day. In fact, they couldn't order my "same day" delivery the second day. They said "sorry our delivery driver left the area and forgot to drop off your order". This was on the second day of the same day delivery. Not sure how a company like this stays in business with all of the other great floral companies out there. I will never use them again and you shouldn't either.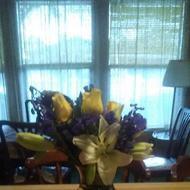 Usually I don't write bad reviews however my experience with the company was so terrible I feel as if I have to warn others. First, although this company claims CNBC gives them a great rating for value and quality I received neither. On top of my regular charges I was surprised at checkout with a $13 "service/handling" fee. I figured since it was for my grandma's 81st birthday it was worth it. So, around 6:30pm I checked the tracker to see if the flowers had been delivered. Nope. Called customer service. The lady apologized, saying something about a funeral being the reason. She told me the flowers would arrive to my grandma within an hour. I called my grandma and chatted for over an hour, still no flowers. At 9 pm I called customer service again. The man I spoke to said he wasn't sure what happened, and offered to email me a 20% discount off my next order (that won't be happening). The flowers never arrived that night.
In the morning while getting the newspaper my grandpa finds flowers left in the rain, wilted. The florist didn't knock or ring the doorbell- just left the flowers in the rain. My grandma sent me pics of the arrangement. It was horrible, looked nothing like what I had ordered. I called customer service asking for a refund. I told them they could have the flowers and that they were completely ruined. Please save yourself the same terrible experience myself and all these other people experienced and use a different company to order flowers.

Ordered a gift basket for my wife's anniversary through fromyouflowers.com that was sent through this company. Not only was it delivered late despite charging me an expedited fee, not only was it delivered after I called to cancel it (my wife had already gone home at 3:00pm), not only did they not issue me a refund, they didn't even give me the right basket.
Her coworker felt bad so she went twenty minutes out of her way after work to try and deliver it herself to my house, and when she got there: 1) they didn't include ANY of the extras I paid for. 2) IT WAS THE WRONG BASKET. Instead of the expensive chocolates I had ordered, they delivered (I KID YOU NOT) a basket filled with MUSTARD, and DELI MEATS, and CRACKER JACKS! Apparently nothing says happy anniversary like freaking mustard and deli meat! My wife was totally embarrassed and cried for an hour because her coworkers all saw that tacky basket! You RUINED my 7 year anniversary. And you will NEVER get ANY of my business or anyone else I know.

This being my 1st time sending flowers, I was so excited to send them for my niece's birth. The company took my order and made sure the card was word for word. Called me back to say they can't deliver that day and would the next day. I let them know she checks out late in the day (3:30) they said that is fine. Once again they call to say they can't deliver to the hospital because she is checking out that day. Fine had them delivered to her house and I picked the flowers (roses and lilies). When the flowers finally arrived they were perfect but the card said "congratulations Shanon and Will", not Lo And Shanon. I called to see if they can fix this for the baby book what a joke. I got the delivery fee back on a gift card and 30% back. I talked to a manager and finally was able to get a full refund. NEVER AGAIN WILL I USE THIS COMPANY NOR WILL MY FAMILY AND FRIENDS.

I placed an order for my mothers B-Day flowers on Nov 1st for the delivery date being Nov 15th. Not only did they NOT show up, the employee lied and said the flowers & balloons were on their way and still never showed up. Very disappointing, they said they would deliver the order the next day with an upgrade and refund me 30% of what I paid. That was another lie, flowers still never showed up and I have yet to receive any of my money back, just a $20 gift card. Like I'd EVER use their company again. I feel very bad that I had my mother, who lives 12 hours away from me and her grand kids, waiting around for her flowers that NEVER CAME!
Do not use this place if you love the person who you are sending them too, because they will never get what you sent & paid good money for. Very disappointing, especially with placing the order 2 weeks early!!! I NEVER write reviews, for anything. However, this was SO unacceptable and straight up BS! Take my advice and save yourself the headache.

Two days late for birthday flowers delivery is not acceptable. The worst part is that they never informed us that the flowers were not going to be delivered that day (due to computer problems at the local flower shop). We had to call and email them our-selves and by the end of the day we finally got someone on the phone with this cheeky excuse of computer problems.
We paid 5 dollar extra to have it delivered before noon - nope not delivered on time. Do not think you can 'just' call or email for more questions! They put you on hold for over 30 minutes, and they are not good in responding their emails in an acceptable time. If you are short staff: Please hire more people or do not give the phone number or email address for further questions. Very disappointed. Do not order from this company! There are other and better options! It is not that they are cheap!

I ordered a birthday bouquet 5:21 a.m. November 12, 2016. I paid extra for same day delivery & to have it expedited. I received an email stating the arrangement would be delivered by 12:00 p.m. My mother died at 1:36 p.m. EST. So she NEVER saw the purple bouquet I sent to her or the balloons and bear! My heart broke twice in one day! Thanks for NOTHING! This is the second time I've had a problem with this company! It won't be a third time. DON'T USE THIS COMPANY! PLEASE!

Every review I have read mirrors my experience in its entirety. First off I ordered flowers for my wife at 145 in the afternoon a little over an hour before their deadline for same day delivery. Received a phone call at work that I was unable to take, and when I call back waiting well over 20 min off of the sales floor to reach someone only to have it eventually ring then disconnect. Literally (not figuratively) did this two other times at work to only have the same thing happen. Finally called them at home later in the evening once I realized my wife hadn't gotten the flowers, balloon, and chocolates I ordered for her only to be told they couldn't do the delivery that day so I asked to have a refund on the delivery charges and handling which they refused and gave me back only 2.99 for same day delivery and a supposed upgrade in flowers with an apology letter.
First off I took the special so have no idea if it was an upgrade or not. I am writing this while awaiting to speak with a customer service rep as I was charged 3 times for my order rather than once and just waited 20 min only to be disconnected on once again. Am calling them back once again! Do not do business with these people!!!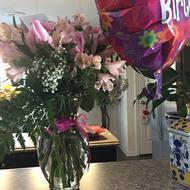 What a terrible experience to buy flowers from here! What was delivered was nothing like what was on the picture. All the flowers are wilted and the Mylar balloon was not even properly inflated! This is worse than one of those Chinese online shopping experience that you see on the internet! Highly recommended to not buy flowers from here!

Two days late for birthday flowers is not acceptable. First day late I received a phone call apologizing for the late delivery and that I would receive the flowers that afternoon. Did not receive the delivery until the following day, late afternoon. These were a gift from my son and his family. They advertise 'same day delivery' but that is only a hoax. How does a company get repeat business when it doesn't serve the customer? If you want to send flowers to someone, I would suggest using a different company.

I ordered flowers for a family member on the first anniversary of the death of her husband. The main reason I ordered from this company was the guarantee of quick delivery. Over 24 hours after the promise for delivery, I received a call from the company on my answering machine asking me to return a call. After waiting on hold for over 21 minutes, I was told the flowers were not delivered yesterday as promised. I was told I could receive a 2.99 credit of the shipping (which was $17.98, outrageous to begin with). I requested the entire shipping amount and was denied. She offered me the 2.99 and an upgraded bouquet. I told her fine.
However, then I found out it could not even be delivered a day late. It would have to wait until they could find an area florist who could create and deliver it. And, it would not be the same bouquet as I ordered as the area florists don't carry those flowers. What!?! Why wouldn't I just order from the area florist, then, to begin with!?! No way. Cancelled the order. Demanded to be taken off email list after she told me she would send a coupon for future use to my email on file. We will see if I ever see my refund. So upset that my sweet family member did not get her flowers!!! :-(

I had ordered flowers for my sister's 14th birthday to be sent to her at school. I paid over $50 for these flowers that NEVER got delivered. They were same day delivery and my sister didn't get them that day. I called the company and got put on hold (15 minutes) and all they told me no they were not delivered and I would receive 20% back and hung up on me. The next day my sister still had not gotten her flowers so I called again. I was put on hold (15 minutes) and when I finally gave the lady my order number she put me back on hold and hung up on me again. I called back and waited another 15 minutes on hold. Gave my information and was put on hold for yet again for almost 20 minutes to be told they have been delivered, even though they were nowhere to be found at the school.

I should have known better than to use this company again. I used them once a few years ago to send Valentine's Day flowers and the flowers never arrived. I wasn't told until the next day that they didn't and at that point cancelled the order after being on hold with them for over 30 minutes. But, I believe in second chances so I tried them again. I selected a simple bouquet and box of chocolates to be delivered to my boyfriend on his 18 month sobriety date. I placed the order in the early afternoon and selected same day delivery. After over an hour on hold in the late afternoon, I was told they cannot make the same day delivery. They offered me a 40% discount on the order, an upgrade to the flowers and assured me the flowers would be delivered the next day with an apology note from the florist advising it was their fault the flowers were not delivered the day before.
The flowers were delivered the next day, however, there was no upgrade and no apology note. I called again and after being on hold for 30 minutes, was told that they can offer me a full refund and have the florist go pick up the flowers. As if this wasn't embarrassing enough already!!! I refused to allow the florist to pick up the flowers and just asked for them to tell me why there was no apology note included and why there was no upgrade as promised. I was placed on hold for another fifteen minutes and was then told I would receive a full refund with no answer to my question. The only reason I am giving 2 stars is the fact that I am at least to receive a full refund, however, I am skeptical this will happen without yet another follow up call. I will never use this company again and I urge the rest of you to look elsewhere for your floral service. The hassle they put you through is ridiculous.

The reason to order fromyouflowers was that they accept same day delivery. I ordered Premium rose & lily arrangement with birthday vase, 3 Mylar balloons for my daughter's birthday. The delivery commitment was to deliver by 12:00 pm today (within the same day) positively for that they charged additional amount as well. My total order cost was $85.96. Now it's 4:30 pm and my order still not delivered. I am out of United States and sending these flowers to my daughter as my only wish for her 16th birthday which is very special to her. I made two long distance international calls to them one at 1:30 pm. After holding for 8 minutes I got the reply that "florist is on the way and you will get delivery at any time".
But at 3:00 pm I called them again long distance international call, after holding more than 10 minutes I got the reply to wait until 6:00 pm. I got very frustrated and asked the attendant that at 1:30 pm I was promised to deliver within next few minutes and now why you are giving me other three more hours to wait for delivery, I asked her to cancel my order and refund my full money which she refused to do so and asked me to call again at 6:00 pm and she will see what to do with my money if delivery not made by then.
The country I am living now is 10 hours ahead of US. To call them at 6:00 pm means I have to wake up until 3:00am while on the other hand my daughter is waiting for her Father's birthday wish for which she is so eager that she is delaying her birthday dinner just to receive flowers. It's too much frustrating and embracing for me that I could not wish my daughter her 16th birthday wish on time because of this great company. Let's see what would happen at 6:00 pm.

I recently ordered a the Trick or Treat Halloween Candy basket for my boyfriend. Spent 49.99 + 14.99 Sh/H. I will say it was delivered on time but was a huge embarrassment. It in no way resembled anything for halloween. It came in a cheap red Easter Basket, and had the 1.00 store boxed candies (juju bees, starbursts etc in it). No chocolate, nothing Halloween. Was wrapped in cheap clear plastic and tied with string. Funny thing is, the local florist who did this order is a couple doors up from the dollar store. I went there and found all the exact items!!! I could have done this myself for 12.00!! Will never order from them again.

Do Not Use This Company!!! You will not save money, plus they will deliver the most disappointing mess and embarrass you, just call a local florist that has delivery. When you go to the website it seems like such a bargain but you will get something horrific and there are hidden fees they don't add until the end. There will be a $2.99 same day delivery fee and a $15.00 handling fee on top. The only reason I paid it was because I needed same day delivery and I didn't have time to search for a local florist. At this point I don't even believe they have same day service, they just take your money and hope you don't cancel.
I paid for Same Day delivery and for the premium arrangement. I called at 6 pm (15 min hold time) to find out why my flowers were never delivered. I was told they would be delivered the next day. This created a huge problem because I didn't know what time my new grandbaby and daughter-in-law would be getting released from the hospital, so I gave them the address to their apartment and told them leave the flowers at the complex office. I was offer a 15% refund and balloon.
The hospital decided to keep the mother and baby an extra day so we sent someone to get the flowers from the apartment office, no flower were there. I had to call the company again (10 min hold time). I was told the flowers were left on the open wide community porch outside by the apartment door. Now my son is annoyed I keep calling him about these stupid flowers when he is worried about his new baby. We sent someone again to hunt for them. There was no balloon as promised, of course. My son sent me a picture of the flowers I was mortified, it wasn't even close. No professional florist would ever send this out, yet I paid professional arrangement prices plus upgraded to the premium bouquet. Ultimately I send Flowers For You an email and they offered to refund 50% off the product which I'm certain means the published price on the site and not what I paid in full. Never again.

Ordered flowers for an early delivery (paid for that) for a surprise birthday on Saturday. Called and spoke with a person so they will have the request on time. That day the person never receive the flowers on time, of course they delivered the flowers really late when there were not people in the house (they knew because I emphasized that).
Called that morning being every time for almost than 20 minutes, sent emails and they replied later. Last but not least they never deliver the flowers that day and the person who was supposed to get the flowers got an email "in how to take care of the flowers" which ruin not only the surprise because never arrived the day of the celebration. Birthdays are once a year, not the next day or the following so we were expecting to have those flowers to be delivered that day as it was shown on the website and advertisement. Not using this website to send flowers. They need to be more reliable especially in this kind of services. Very dissatisfied experience, not recommending this website to anyone.

My husband and I ordered flowers to be delivered on the same day. We are in Florida and sent the flowers to a family member up in Massachusetts. We received an email stating the flowers would be delivered within four hours. However, shortly after placing the order we received another email confirming the flowers were out for delivery. Shortly after that we received a phone call stating our family member was not home and, due to inclement weather, they didn't want to leave the flowers outside on the doorstep. The man on the line was very polite and helpful. In the end it all worked out. We could not have asked for a more pleasant transaction.

I sent my aunt a bouquet for $29.99 plus two mylar balloons for $10 plus shipping and handling and tax. The bouquet arrived with about 6 or 7 flowers and one balloon. It was so embarrassing. It looked like I was cheap when I spent $50! When you email, you get a gift certificate for $10 for more of their cheap, crappy, sparse bouquets. When you want to get something more addressed, they direct you to call Customer Service. When you do, you're met with a recording trying to sign you up for T-mobile. I will never buy from this place again. They don't know what they're doing.

I received a call from an upset friend Saturday morning. Apparently he had sent me flowers Friday, but I didn't call to say "Thank you." Unfortunately, I had never received them. He called in to find out what had happened and after awhile was told I would receive them today. Well, today has come and gone, and no flowers. This time I called. After being on hold for over 20 minutes someone finally answered and said they couldn't reach the florist.
Frustrated I asked to speak to a supervisor. That person said they would guarantee I would receive my "surprise" flowers the next day. The problem is they won't give you the name of the florist and when I asked about mine, I was told they were in the same ZIP code as where I work. Well, unfortunately, there are NO FLORISTS in the ZIP code of my job. I then asked for her manager and after holding over 40 minutes, she transferred me to another supervisor in another office. This person said she could only upgrade my flowers and resend them with a different florist. At least this supervisor gave me accurate information on where the florist was located. I will make sure no one I know ever uses this service.

I clicked on their link thinking it was for my local florist. I placed an order for a same day delivery of an arrangement. The flowers were never delivered and received a call from them after 6 PM advising they couldn't make the delivery that day. Offered to refund the same day delivery fee plus a $20 gift certificate. I said OK if they could make the delivery the next MORNING.
Shortly after noon, I began trying to call them, checked the order status on their website and it said: first no confirmation from florist, then couldn't find the order. Unable to reach them by phone and left on extended hold. Sent them multiple e-mails without satisfaction. By about 2 PM, sent them a note to cancel the order and refund my credit card. I then went to my local florist and purchased the arrangement directly. No acceptable responses from them. After multiple notices to refund my order, finally got a response after 10 days that they would process the refund. They claimed the order had been delivered even though I finally refused the delivery attempt late afternoon a day late. My florist confirmed they have many problems with fromyouflowers and generally refuse to process the orders.

ConsumerAffairs Research Team
The ConsumerAffairs Research Team believes everyone deserves to make smart decisions. We aim to provide readers with the most up-to-date information available about today's consumer products and services.
Owned by operators with more than 35 years of experience in the floral industry, it is no surprise that it also has one of the largest networks of local florists. It works with more than 20,000 florists worldwide to provide the freshest blooms on demand.
Solid reputation: Ranked "Best Value" by CBS News, From You Flowers is a company you can trust.
Holiday-inspired arrangements: Find floral decorations that spruce up seasonal decor in its specialty arrangements.
Satisfaction guaranteed: Its 100 percent satisfaction guarantee lets you buy with the confidence that every bloom will be picture perfect.
Discount coupons: From You Flowers offers a variety of discount options and sales depending on the season and availability.
Price: It has bouquets and arrangements priced at less than $30.
Best for Suitors, husbands, modern women and companies.
fromyouflowers.com Company Profile
Company Name:

fromyouflowers.com

Address:

143 Mill Rock Road East

City:

Old Saybrook

State/Province:

CT

Postal Code:

06475

Country:

United States

Website:

http://www.fromyouflowers.com/