Consumer Complaints & Reviews

This has been the most terrible customer service ever!! I ordered for same day delivery at 11 am. They took the money out right away without a problem. By 5 pm I had no confirmation, sent 2 emails with no reply. I called customer service 3 times with a wait time of at least 20 minutes every time. Was told since my delivery wasn't delivered that day I would receive a free upgrade on my bouquet and a $15 gift card, which were never even input into the computer!!! The 2nd time I called the customer service rep told me that my local florist wasn't able to be contacted but to "just wait it out." Finally at 7 pm I called to cancel the order, was not allowed to talk to a supervisor, and was told it would take at least 5 days to be refunded. Do not waste your time or money with fromyouflowers!!

I ordered these flowers a month ago from fromyouflowers. After seeing the terrible reviews I thought I'd leave my thoughts on this. They arrived on time (with email confirmation), as described, with the balloon. It is my mom's 70th birthday so I wanted them extra special and bought the upgraded Flowers. This is where I'd say they were exactly like the image shown; however, it was close just not perfect. Nothing is perfect and I'm grateful they were not horrible looking.
Next time I will not waste my money on the upgrade. I don't see a big difference as the website claims "they will look more like the picture shown." Not really but my mom loved them and that's what really matters! Just know the flowers come from the local shops (not specifically fromyouflowers) so watch what you order during certain seasons. It being fall right now, it probably wasn't going to be the best arrangement ordering spring flowers. Sooo, will I use them again? YES. Will I upgrade? No. I don't think upgrading makes a difference.

I ordered flowers for my friend's birthday at 9 am and paid extra for the guarantee that they be delivered within 4 hours. They weren't delivered by 1 pm and still weren't delivered by 5 pm when my friend got off work. I sent three different emails and they didn't respond within 1 hour as promised on their website. I also spent 20 minutes on hold in between classes but couldn't reach anyone. Finally I sent an email asking for a refund in accordance with their 100% satisfaction guarantee. I finally heard back from them at about 9 pm. They apologized for the problem and immediately issued a refund to my PayPal account (which is how I paid).
The next afternoon, the flowers were actually delivered, and they were beautiful, even though they didn't come on her actual birthday. I know that this company has been getting a lot of negative reviews lately but I really think they're trying to improve their reputation and make things right for the customer. I still think they're not able to honor their 4-hour guarantee so you probably shouldn't pay extra for that. But they do have very competitive prices, so if the time frame isn't as important, this could be a good choice for you.

I had ordered for flowers with a card on 16th September, 2016. I had ordered one of the famous Mother's day special, regular size which had pink oriental lilies and other roses. The order was delivered the same day but without the lilies. The main purpose of ordering the lilies was because my mother-in-law loves it and this bouquet was for her special 70th birthday. I do understand that some flowers are available only at a particular season, but the final bouquet that was sent hardly looked like it was substituted with other flowers and was surely not worth $90. If certain flowers are not available, it should be mentioned in the website. Having a website for order means that it has to be up to date. I would be happy if they refund at least half the amount.

The company misrepresents what they are selling. I purchased a Premium Fruit Basket costing $76.73. The company they assigned the purchase to delivered cookie, spiced snacks, brie cheese and crackers. Definitely not what I ordered and not worth $76.73. When I called the company and told them they made contact with the company they assigned the order with they stated there was some fruit in the bottom of the basket and they filled the rest of the basket with items to make it worth the cost. If I wanted cookies, cheese and crackers I would have ordered a basket with those contents. I wanted a fruit basket!
How do I know I can trust these reviews about fromyouflowers.com?
596,017 reviews on ConsumerAffairs are verified.
We require contact information to ensure our reviewers are real.
We use intelligent software that helps us maintain the integrity of reviews.
Our moderators read all reviews to verify quality and helpfulness.
For more information about reviews on ConsumerAffairs.com please visit our FAQ.

Placed a order for flowers to be delivered the same day and no delivery was made and I was not notified. It was past the time deadline so it was pushed to the next day where again no delivery was made and I was promised 20% off every time I call which totals to 40% off, and I still did not receive flowers nor discount. But I did receive a email stating that the flowers were delivered which wasn't the case after talking to the company. And they have such a bad communication with florist that it was almost Impossible to get them on the phone to see what's the hold up.They are ripping people off. Don't waste your time nor money dealing with this company.

I order a Classic Dish Garden and they send the wrong one once again. This is a phony, I'm giving a complaint cause fromyouflowers.com doesn't care about their customers. This happen to me before. I try ordering fromyouflowers.com. It was wrong again. All they did was giving me a 10.00 discount. That's not worth it. I will not use the discount cause I will never order from them anymore.

I ordered flowers for my mom's birthday on 9/19 in the evening to be delivered on 9/20 between 9 am and 6 pm, and paid for same day delivery. The order could not be tracked online. The customer service took 40 min to pick up and was not helpful. They offered to deliver flower the next day that was not acceptable to me.
I am extremely disappointed. Will never use this site for flowers.

I ordered flowers this morning for my fiance birthday. I used the PayPal option because I have a credit on PayPal for appox $70.00 that I haven't used. Went thru the steps for the order and also showed $58.42 being deducted from my PayPal account. I double checked the PayPal activity and it had no activity or deductions. I tried to call the fromyouflowers.com number 855.373.7383, pressed option 2 for orders in process. Waited on the line for 93 mins before my cell phone died. I called back and stayed on the line for 47 mins from my office line. Spoke to customer service which was professional and honest. Ordered did not go thru. I ask if I ordered now would they be delivered? He said fromyouflowers.com couldn't guarantee delivery since it so late now. Your website needs help and your phone lines really need help. I am out of state working and cannot deliver them myself. Now she will not get flowers thanks to fromyouflowers.com.

I ordered flowers because I was going to be out of town on my wife's B'Day. They collected my money without a problem. On the day of delivery I was on a flight and they called my wife stating that the delivery guy wouldn't make the delivery because he couldn't read the address (they confirmed during set up). If you ask me he/she was late and opted not to deliver. My wife had to pick up her own flowers at the location after she was called which ruined the surprise!!! To add injury to insult, they provided us some half dead flowers without an apology of their shortcomings. I decided to follow up on this company only to find that they have a horrible reputation for this type of action and lack of quality in their products.
I didn't want to put my information (required to write a review warning others) because I don't want them sending me anything. The customer service and quality is horrible which aligns with their reputation with many customers. I should have done more research on flower delivery, but it's not like I'm purchasing a house or something... Very disappointed and I didn't get what I paid for.

I placed an order for a fruit gift basket for the ladies that recently helped with the refinancing of my home. I also paid extra for Express Guaranteed Delivery. Total charge ended up being $68.00. I placed this order on September 14 and it has yet to be delivered over 72 hours later. From You Flowers has a section on their website to track your order, stating a 1 hour answer. I have filled out that form twice to no avail. I have called their Customer Service phone number half a dozen times only to wait on hold for over 30 minutes and yet to talk to anyone.
I have emailed their Customer Service email with no return correspondence. Email address for Customer Service is "WeCare@FromYouFlowers.com". Exactly opposite what it should be. I had paid for my order with American Express and I am trying to have them refund the charge but not having much success. I'm afraid I have just thrown away $68. If anyone has suggestions on how to contact these people to have my money refunded please advise. Readers, please do not use this company.

I ordered a basket and paid extra for expedited service. Received a voicemail to call about my order. Waited on line 20 minutes before someone answered, only to find out it was not delivered and would be delivered the next day which did not work. I canceled the order and will never use From You Flowers again. Horrible customer service.

I paid extra for the same day delivery that was supposed to take place yesterday. Not only there was no email or any indication that it won't be delivered, but fromyouflowers has charged my credit card, not answering the phone (continuous voicemail, and not responding to the past three emails - This is my fourth since yesterday). Website says one hour to reply. My only question is when you know you can't deliver, why do you take the order and ruin the moment.

I ordered a flower and gift arrangement totaling $93 for my wife's birthday to be same day delivered to the hospital she works at. I was notified while placing the order online that same day delivery requires 4hrs advance notice. I placed my order 6 hours in advance. I received a call 35 minutes before the scheduled delivery time and notified by fromyouflowers that they could not complete the delivery.
The representative told me they would deliver the flowers the next day with 40% off my order. I explained that birthday flowers and gifts through a delivery service are pointless if they are not delivered to the recipient on their birthday, and that I wanted a full refund. The representative then tried to tell me they could not refund me in full. I told them I demand a full refund because I have not received the services or products I purchased. She said I would be getting a full refund. It's been 5 days and nothing.
I called their customer service line 30 minutes before starting this review and I am still CURRENTLY on hold as I am writing it. So, as of this sentence, it's been 45 minutes. Despicable! This isn't a customer service number, it's a customer deflection number. Thanks for the crappy music and the horrible homemade phone messages. Oh God, they just answered. I am on the phone with them now. Welp, placed on hold so they can better assist me. 10 more minutes on hold. I wonder if I can hit the 50,000 characters before they come back. She's back... finally. Okay, now they removed the charge from the system. That was lot of work, should I send them an invoice and bill them for my time? Anyhow, calling the bank now to block them from charging me. Hope this helps. Don't use this service. The service and customer service is a joke.

Flowers arrived dead and dying. Horrible. Can't believe that my friend paid for these. Forget customer service, they don't pick up. Not sure how long you need to stay on hold or if they ever pick up. They need to be put out of business. Hope you see this before having the same experience!

This online florist should be avoided at all cost. They promise the earth and fail delivery on the basics of customer service. The contact telephone number appears to be a scam as you are placed on hold for up to 25 mins whilst you 'ARE IMPORTANT'... I dread to think how long an unimportant caller has to wait... I have bought flowers online for deliveries to friends and family all over the world and this company has to be the least capable of handling the basics. The email response time of one hour is also a joke as is the online tracking of orders which conveniently they divert blame to the delivery agent who has not updated the system... NOT ONE TO BE TRUSTED OR VISITED EVER!!!

I ordered flowers for my daughter who had just had a baby. I wasn't able to track the order online like the website said. The picture of the flowers I selected looked nothing like what she actually received. The arrangement was very small and looked like a kindergartner threw it together. I expected something a lot nicer for the $50.00 I spent!

I ordered flowers for a work friend that was going to have a rough day. I ordered my flowers a day in advance, even though the site claims same day delivery. I checked the box that said deliver before 12 PM since the office is only open until 5 PM and emailed back and forth with the people 3 times before someone confirmed that they would make a note on the order to deliver after 8 AM. When it hit about 3 PM and the flowers had STILL not been delivered, I called their so-called customer service number.
After waiting on hold for over 30 minutes, I finally got on the line with someone. She claimed they had called me but got no answer, which is crazy since I checked my phone and had no missed calls or voicemails. Apparently, the flowers I ordered online, that they said I could purchase and that were available, were not sold anywhere in my area. I then asked for a refund of my money. The woman placed me on hold for another 10 minutes. When she returned she said she has to first offer their apologies. I paused for about 30 seconds and said, "Okay, I just want a full refund."
She asked me my address so they could send me more flowers. I said, "No, I don't want more flowers. The person I ordered them from lives far from me. They would do no good. I want a full refund." She tells me how sorry they are and again tries to offer me replacements. I tell her 'no' and that I want the refund AGAIN. Finally she said that they will refund the full amount and send me a coupon like I will ever use this company again. Thanks for the awful service. DO NOT USE THIS COMPANY. DO NOT BACK DOWN WHEN TRYING TO GET YOUR REFUND. They will try to persuade you into taking other flowers. Don't do it. According to everyone else they will not be what you ordered anyway. Stand up for yourselves and good luck.

I had ordered flowers for my bf's mother and they failed to deliver the flowers to the banquet room as requested on the notes and they supposedly had delivered them to the front desk instead in which the front desk has no knowledge of the flowers being delivered whatsoever!! I am so ** pissed!!! Don't use this service ever, I am so ** pissed!!!

I ordered flowers for a cousin who was having a special birthday. They were suppose to go to her job where she works for Charlotte-Mecklenburg School. The
flowers had not even been delivered by 3:00 p.m. School lets out at 3:30 so the great surprise was ruined because she didn't get to enjoy them, and it was a Friday. The Customer Service Rep could not get in touch with the Florist and she was Rude. Most flowers arrive at a business before or after lunch. I was very disappointed and will NEVER use this company again.

I ordered flowers for my girlfriend's birthday 10 days before her birthday. Flowers, not a huge deal. The site originally said $30. That was too good to be true. After a service fee for $15 and another $5 fee which guaranteed that the flowers would arrive before noon on her birthday, I racked up a $50 bill. Whatever. Pay it, and wait for my girlfriend to get her flowers. Her birthday comes by, and it's not delivered by 11:30. I'm getting pretty antsy, call them from work and get put on hold for 20 minutes. Someone picks up and puts me back on hold, wait another 10 minutes at work. She says she couldn't get a hold of the florist and that they're probably en route. Well my girlfriend won't be there past noon, that's why I paid extra for it to be delivered AT THE TIME I ASKED FOR. She says they will send the flowers tomorrow.
Well, happy birthday flowers don't mean so much the day after a birthday. How can this big of a company have this incredibly poor service? So then the call drops. Honestly, don't use this company. Please, no matter what you do, he'll call me and I have a better chance of delivering your flowers. Just don't let this company continue. They deserve to crash and burn.

First they waited 48 hours to contact me. They couldn't make nor deliver my flowers for a funeral, only to deliver them 2 days later after the funeral. Then I waited on hold for 20 minutes to talk to someone to be told they would refund my money then to have to call back, only to have to call back and them tell me even though they were delivered two day late and they didn't look like anything like I ordered I can't get a refund unless they go to repo the pathetic flowers that they did deliver. Tiffany the woman I spoke with twice has terrible customer service, on top of the company being a ripoff.

For my daughter's birthday, I ordered flowers from what I thought was a local florist, but I was wrong, so that part is my fault. I paid an extra $14.99 for guaranteed delivery before 12 noon since she was going to be going to work. They weren't delivered until 5:30 and came from a town 45 minutes away. I requested a refund on the $14.99 which they refused. They instead offered me a refund of $4.99 which means they told away the $10.00 online order discount. This is not a good company to do business with. Just look up the phone number of a local florist and call them direct. Then you might get good customer service.

I ordered flowers to be delivered to the hospital and paid extra for guaranteed delivery which was stated to be delivered before 12 noon. It is now 3 pm and NO FLOWERS!!! I have tried tracking my order and NOTHING on the website. I have placed SEVERAL CALLS to this supposed number and hear the same recording over and over. After being on hold for over 10 minutes each time, I hung up. I sent e-mails and NO RESPONSE FOR HOURS despite the e-mail message stating they would respond to me within one hour. This is OBVIOUSLY NOT A REPUTABLE COMPANY despite their beautiful website. BUYERS BEWARE!!!

Placed my order on Monday for funeral to be delivered at the funeral home on Wednesday. They called me on Saturday (after the funeral) to tell me the flowers did not get delivered but could deliver them this week. If there was a no star rate your experience I would have selected that. Go elsewhere!!!

Buy flowers elsewhere! I wish I had read these reviews before ordering from this company. I live in Phoenix AZ, nowhere on the site did it let me know that my flowers would be riding in the back of a truck that's probably 150° for half the day IN A BOX!! I thought I had paid for a fresh flower arrangement! I got them trimmed and into water ASAP, but this morning, more than half are bent over at the head, and the outer petals on all of them are already dried! I'll be lucky to get 2 days out of them. For what I paid, shameful!!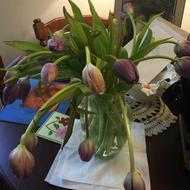 They sent my mother dead flowers and made her cry. Truly horrible ordering interface on the website was just the beginning. A birthday delivery, with date confirmed when placing my order and obviously time-sensitive, was a full day late in arriving. And due to sitting in hot delivery trucks for an extra day, the flowers were DEAD. Wish I'd checked the reviews here before ordering. DO NOT trust them!

Order two dozen roses and a bear from this people for $103.96 and never got delivered. Then they won't stand up for their mistakes and when you call customer service the woman hangs up on you then you call back and they have an attitude with you. They ruin my anniversary and then the manager is gonna tell me that she has no control over the people. Will never do business again with them.

I have used many other flower delivery services in the past and decided to try this service in early August. This is the only service that did not deliver my flowers to my intended recipient. I notified the customer service department and they indicated that the local flower company had talked to the recipient and that they signed off on the delivery of the flowers. My friend never received a phone call nor did she sign off on anything.
I talked to several people in the customer service department in person and via email and asked them to send proof of her signature and they failed to submit this. They then indicated that another flower arrangement would be sent and I thanked them, but this arrangement never arrived either (I had confirmed several times that they had the correct address and phone number as well). I notified them that this arrangement never arrived and they indicated that I would receive a refund - they only refunded me $8.95 on a $65 order. I promptly ordered from another flower delivery service and my friend received her flowers the next day without a problem. I WOULD NOT RECOMMEND ANYONE ORDER FLOWERS FROM "FROM YOU FLOWERS".

Ordered flowers for my daughter's birthday, paid extra for guaranteed delivery on day of birthday. Never showed. No response. Buyer BEWARE. Go someplace else.

ConsumerAffairs Research Team
The ConsumerAffairs Research Team believes everyone deserves to make smart decisions. We aim to provide readers with the most up-to-date information available about today's consumer products and services.
Owned by operators with more than 35 years of experience in the floral industry, it is no surprise that it also has one of the largest networks of local florists. It works with more than 20,000 florists worldwide to provide the freshest blooms on demand.
Solid reputation: Ranked "Best Value" by CBS News, From You Flowers is a company you can trust.
Holiday-inspired arrangements: Find floral decorations that spruce up seasonal decor in its specialty arrangements.
Satisfaction guaranteed: Its 100 percent satisfaction guarantee lets you buy with the confidence that every bloom will be picture perfect.
Discount coupons: From You Flowers offers a variety of discount options and sales depending on the season and availability.
Price: It has bouquets and arrangements priced at less than $30.
Best for Suitors, husbands, modern women and companies.
fromyouflowers.com Profile
Basic Information
Company Name:

fromyouflowers.com

Address

143 Mill Rock Road East
Old Saybrook, CT 06475
United States

Website:

http://www.fromyouflowers.com/