Consumer Complaints and Reviews

This company's login is misleading along with the requested review from them. The review is automatically set at five star, so if you don't click on a star it goes to a five star rating. I spent over 238.00 and the cross spray was very poorly put together. Nothing like the picture on their site. I sent them a picture of what we received and they responded with, I got what I ordered. I sent numerous e-mails in return to no avail. Please do not purchase from this company.

I ordered flowers to be delivered on 1/7/2017. That afternoon they left a message saying that they couldn't find the home. When I called back, they changed the story and said they had attempted to deliver them but the person wasn't home and that they had tried calling. The only problem with this was that she was home and they never called. When we tried to cancel the order, we were told that was impossible. We asked to speak to a manager who never called us back. Then on Monday, 2 days later, I called to confirm they would not be delivering the order. They said it was too late, it was already en route. Then they called to say that again she wasn't home. No attempt was made to leave it on the doorstep or leave it with a neighbor. This company is absolutely horrible. It is a total SCAM. Do not ever order from them!!

Ordered a sympathy flower arrangement for a family member on a Wed for same day delivery. 3 days later and there is still no delivery. They claim no one has been home for delivery but they have a phone number to call and not one call has been placed. I've demanded a refund and they refuse. This company is horrible. Do not use them!! So I guess my family will get their flower arrangement one of these days, I hope!

Never, never, never place orders through Just Flowers! I have never experienced such horrible customer service in my life. Recently, I placed 2 separate orders for funeral floral arrangements for 2 of my aunts that passed within hours of each other. Since I was unable to get back to the funerals in time, I wanted to make sure that my presence was there in some form or other. I ordered 2 funeral floral arrangements to go to 2 separate funeral homes. I gave the viewing times and the time that the flowers must be there. I was assured that it was no problem and that they'd arrive on time. I was charged an additional amount for both to ensure an expedite delivery so that they would be there on time. When I asked family members who were at the viewings if the flowers were nice, the response was "what flowers?" Neither viewing received the flowers.
When I called Just Flowers to question this, I was told that there was confirmation that one floral arrangement had arrived at my aunts' viewing, despite family members stating otherwise. Customer service from Just Flowers told me they would investigate and get back to me. When they called me back, they told me the flowers did arrive; however, they were late. Therefore, the family did not receive them. They told me they would refund me $5 for it being late, despite the fact that the family never got the flowers. Then I was informed by customer service that my other aunt and her family never got flowers, and that they were never delivered. They had the nerve to ask me if I wanted to send flowers somewhere else instead. I told them I wanted my refund for both floral arrangements. I had to wait all day for a call from a manager to get my refund. When the manager called me, again they tried to send flowers somewhere else. They did not want to refund me.
On my insistence they agreed to refund me the one floral arrangement that had never been bothered to be delivered. As for the other floral arrangement for my other aunt, they refused to refund me anything other than the $5 expedite shipping charge, even though no flowers were received. This is no way to run a business. This was a difficult enough time dealing with the loss of 2 aunts. No one should have to put up with this kind of nonsense during a time of mourning or any other time. I won't hold my breath waiting for a refund either if this is the way they handle their business. I guess I need to face the facts that I'm probably out at least $100 if not $200.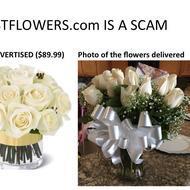 THIS COMPANY IS A SCAM. THEY ARE SCAMMING BOTH THE PUBLIC & THE FLORISTS CONTRACTED. DO NOT USE THEIR SERVICES. 12/31/2016 10:34:41 AM, Order **. I ordered an arrangement of roses. They delivered the flowers but they look nothing like the photo advertised on the website (poor quality). The flowers were wilted, unprofessionally arranged, & the bow was dirty. I asked which local florist they were using but they refused to tell me; I now realize this is a "policy" to ensure that customers cannot communicate with the florist & exchange information about prices. It is clear that they falsely advertise, charge customers high prices, and pay the florist a fraction; therefore, the florist sends low quality flowers because they are receiving a low payment in the exchange. This company is a scam. They are scamming both the public and the florists who contract with them. They should be shut down.
The product delivered was the lowest possible quality but the company is charging regular to high prices. I called customer service to inform them of the clear mistake and they said the reason the arrangement does not match the photo is due to the fact that the florist receives a verbal description of the arrangement rather than the photo. This is not acceptable for an online company that deals exclusively with images/photos as a method of communication. Their customer service is the worst I have ever dealt with. Rude, unprofessional people that are unreasonable.
First, the rep said that I ordered 18 white roses and that is what I got. As if they completed their end of the deal. I argued that I purchased a beautiful "arrangement" of roses, and I expected them to resemble the photo. Therefore, they offered to send a replacement, however, the replacement was worse than the first. Extremely low quality flowers. I paid ~$115.78 and flowers were absolute garbage. I refused to take them and sent the florist back with both arrangements, thus, returning the product(s) completely.
I called customer service for a refund and they refused to give a me refund even though I returned the product to the florist. The "manager" told me that even if I return the flowers he will not give me a refund, it is not his problem that I did not like the flowers etc. I argued that I paid for a product advertised by their company and they did not send me the product I ordered, this is false advertising, and I returned the unsatisfactory item(s) and I want a refund. The so called manager taunted that he would not give a refund and is keeping my money irregardless of the fact that the florist took back the arrangement. A SCAM. They are scamming both the public and the florists who contract with them. They should be shut down.
How do I know I can trust these reviews about JustFlowers.com?
668,849 reviews on ConsumerAffairs are verified.
We require contact information to ensure our reviewers are real.
We use intelligent software that helps us maintain the integrity of reviews.
Our moderators read all reviews to verify quality and helpfulness.
For more information about reviews on ConsumerAffairs.com please visit our FAQ.

I called Just Flowers because they "offer" same day delivery. I ask them if they could deliver in a couple of hours and they said yes. I gave them my information and said the flowers would be there for my uncle's funeral. The flowers didn't arrive. I called they said they were on their way. They arrived 45 minutes late. The funeral director brought them in as the funeral was starting. The flowers were not what I ordered so I called back and told them. I have been two days talking with them finally to be offered a $5.00 discount. I told her I was insulted by that. I had two orders and the cost per basket was supposed to be $50.00. I have now been charged $143.00 for two baskets of flowers. The baskets of flowers were so small $30.00 should have been a lot for each basket.
These people should not be in business. It was a difficult day for me and then not to have proper flowers for my uncle's burial was unthinkable. These people are heartless and should be out of business. The lady asked me if I took pictures of the flowers. I said, "I was burying my uncle and you think I thought about taking pictures?" This is the type of people that run this scam for a business.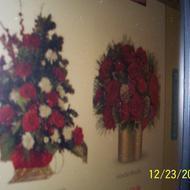 This is a scam. I ordered a Christmas bouquet in a sleigh which was pictured on their website. Phoned and spoke to them directly to assure delivery date and that the arrangement would be as pictured. Two hours later I received an email informing me that they did not have a sleigh and had to substitute a vase and that they did not have any of the flowers and had to substitute all of the flowers for cheaper ones. Then another email stating that they were unable to deliver it on the date I had specified. As of this date it has still not been delivered. However, they refused to refund my money and would not accept a cancellation on the order.
This is a scam operating from another country. I intend to do everything within my power to have them investigated and shut done. Everything on their site is a con and they get your money and you get nothing except, if you are lucky, something cheap bought at a corner grocery. Since they can hardly speak English, I would suppose they are operating out of a foreign country and just scamming the American citizens. I found this site after the fact. Not before.

I have used Just Flowers in the past for friends/family birthdays. Even though I have never seen the actual arrangement, I was never told anything more about the flowers other than they had arrived. Just two days ago, I had ordered a funeral floral arrangement for a very close friend of the family. There were dozens of beautiful floral arrangements on display at the funeral home, and then I looked for the flowers I had sent. They were there. So small they were nearly invisible. The only reason why I saw them is because I asked if the flowers came. I was embarrassed at the size. I had asked and paid for extra flowers. I didn't see any.
I called Just Flowers and complained. A woman asked me for details and did I take a photo. NO I DIDN'T. I'm at a funeral. Bottom line, she needed more information, and I couldn't be any clearer. The arrangement was pretty just like the picture. Only actual flowers are not scaled to look like the photo. And I couldn't count the extra flowers because I didn't see any. Don't trust what you can't see. For a $139.00 I expected a very nice size arrangement, but didn't get what I paid for.

I ordered flowers after visiting their website. The flowers ordered were for an elderly person just admitted to the hospital the prior day. It was important to me to have flowers delivered to cheer up the patient ASAP. I asked the online instant message customer service person if they could confirm delivery the same day as identified on website. The person said absolutely - if the specific flower arrangement says same day it will happen. The flowers did not show up - I had to contact the company several times and they felt that the flowers had been delivered. I checked with the hospital to be sure and they definitely had not received a delivery.
The following day (Sunday) a bouquet was delivered in the late afternoon. It looked like someone had run out and bought an inexpensive bouquet at a local supermarket and shoved it into an oversized vase. It definitely did not appear to be from an experienced florist. The flowers looked to be freezer burned and within two days most of the flowers were drooping or dead. When I was at the hospital visiting everyone coming and going commented on the poor condition of the bouquet. It was embarrassing to say it was from me. I had to ask for the credit for the extra charge for their special service "delivery within 4 hours" or they would have charged me anyway. I emailed them pictures showing them the quality of floral bouquet, dead flowers and the poor presentation and after several days they offered $10 credit. This is a $75 order.
They refused to tell me the florist that represented them in the area. I did not receive the $10 credit in Nov as they said had taken place and after contacting them again I just received a credit towards another flower order - I have never had a problem ordering flower online before. I have never ordered from this company before either. Absolute worst flower delivery experience ever - Really misrepresents products and services offered. The pictures online are not even close to actual. I would never order from them again.

Do not use this company. They are the worst of the worst. They should be shut down. I wish I had read the reviews before I ordered casket flowers from them. I was trying to get flowers at a cheaper price because the funeral costs were already catastrophic. I know better. You get what you pay for. My mother's funeral was in a small town with only two florist shops. I knew they hadn't made the arrangement yet and they said they would reject the order. I called JustFlowers and they would not give me my money back. I called my credit card and they said I can definitely dispute the charge.
This company also tacks on a lot of extra charges. They wanted $4.99 extra to make sure it got there on time. Really! Then when I asked for a total they couldn't give me one. They said it would be in an email. Yup it was supposed to be $119.00. Guess what, it ended up being $146.46. The whole time I was ordering they kept trying to add in extra items. I kept repeating myself. No No No... PLEASE DON'T USE THIS COMPANY. Save yourself the grief....

I ordered flowers to show my condolence to a friend who just lost her father. I paid for same day delivery. I received a message saying due to area it might be delivered the next day (I was ok with this). For the next 5 days they called the recipient every day saying they has a delivery and asked if she will be home. So for 5 days straight she waited for a delivery that never showed (very inconvenient for someone who just lost a parent). So finally when they called her, she asked what florist was it coming from. They told her because she was the recipient that could not give info. So she demanded they tell her who sent them so she can figure out what's going on with delivery. They told her who it was (This ruined the surprise).
I then called to find out the issues. I demanded information. Over the course of 3 days I may have spoken to 4 different people. No one was of any help. Not one person would tell me what Florist they were working with. One person tried to tell me I couldn't cancel because they already had order in with Florist. Not to mention no one seemed to care that this was a problem for me. Customer service is horrible not to mention they failed to deliver product. I told each person that I will write a review, again no one seemed to care. I finally canceled ordered. I will never order from them again!

Last 2 orders were delivered 2 days late. When you call them they blamed the local florist in NYC for not delivering on time. They don't tell you who is the florist so you can't verify whose fault it really was. Then they charge an extra $5 for the delayed delivery again blaming the local florist. What a scam! Awful service! NEVER AGAIN!

Do not order from Just Flowers. This is a scam. They charged me for express delivery and it's been three days and still no flowers. Just every excuse in the world. I called them and they blamed the flower shop. If you want to order flowers and pay good money for the dishonest service you get then Just Flowers is the way to go. You will be charged for the flowers and you will never get them. I ordered flowers for my 10th anniversary and thanks to Just Flowers my wife never received them and I got to pay $90 for nothing. Don't buy from this scam artist business. You will be sorry.

We placed an order and after a week it had still not been delivered. It was for a death in the family. After we called them to ask about it, they told us it was stuck in the system. They finally delivered it but did not deliver the plant we had ordered and misspelled the name. They are a joke and a total ripoff. We ended up paying $76 for a $30 lily (again, not even what we ordered) and they could not care less that it was over a week late. The local florist which actually made the delivery said that these were all typical complaints for this company. IF YOU ARE A FLORIST, DO NOT DO BUSINESS WITH THEM! It reflects poorly on the florist. I hope they either get better at doing their job or go out of business.

I ordered flowers for next day delivery at Just Flowers for my sister who was giving birth at the hospital. The flowers were going to be delivered between 9 AM and 6 PM per the promise but they never delivered the flowers, neither did they contact me to inform me of this. I called several times to advise that my sister did not receive the flowers. They advised they made an honest mistake by not delivering the flowers.
I asked for a refund since my sister was leaving the hospital the following morning. They advised they could not refund as they attempted delivery. They offered a $7 discount. When I asked who they contacted when attempting delivery as I was the one who called them to inquire about why the flowers were not delivered, they said they do not contact patient at hospital so they contacted no one. When I made a complaint to ask that they refund me, a few weeks later, they replied "the flowers were delivered so you will not get the service for free". I was so shocked to realize at that point that the company was a scam. They kept my money (about $75) when the flowers were never delivered. If you want to save yourself some aggravation, do not attempt to purchase from Just Flowers as it is a scam based on my experience with them.

Clearly, I should have checked google reviews before placing an order with these clowns. I would have seen that one star is a very common rating. Here's my story: I ordered flowers via their website to be delivered to a friend post surgery. I specifically told them to check with the hospital to be sure flowers were permitted. They called the next day to say he was in the ICU, so couldn't get flowers - could they deliver cookies or balloons instead. I told them no - to cancel the order and I would call back when flowers were permitted.
The next day, they called again - to say they could not cancel the order. That's just their policy. They had transmitted the order to a florist. I told them to call the florist, cancel the order and get a credit back. Only then did they tell me that this particular hospital does not allow cut flowers or living plants at all, regardless of the patient's room. Since that is the case, it seemed obvious to me that canceling the order was appropriate. And no, once again, I did not want to send cookies or balloons (oops, the hospital doesn't allow balloons) or dancing clowns. I asked if, had the patient expired, they would still refuse to cancel the order - apparently so! DON'T PATRONIZE THESE PEOPLE!

This was my first time ever using Justflowers.com for my flower purchase. I am very disappointed and upset, because I ordered a long slender vase of all sunflowers for my step mother, who is undergoing cancer treatments. Sunflowers are her FAVORITE. To sum it all up, she received a flower arrangement a day late and not on time. When she posted a picture of her flowers on Facebook, I was shocked, because the arrangement of flowers ended up being carnations, mums and some kind of purple flowers. The colors were yellow, pink, orange, and purple. I understood that Justflowers policy says when shopping that their flower arrangements might not be exactly the same as what is posted, but this arrangement was way off from what I specifically ordered... It's like buying a dozen of roses for valentines day and your family member ends up with carnations and lilies and they are not even the same color you ordered.
Justflowers gave me a ten dollar discount and a $4.00 refund for late service. I'm just upset about how they handled the whole experience. They said the local florist did not have sunflowers, so they called Justflowers and Justflowers supposedly okayed the local florist to make some other arrangement up. I'm really upset that they didn't notify me first, since I'm the customer paying for this service. So disappointing and frustrating, when you live 11 hours away. I would have handled this matter myself otherwise.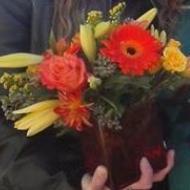 Absolutely horrible. The company left a message on my phone saying they had to use the designer's choice for my flowers that were being delivered to a funeral. The vase was clear and the flowers were a particular color and type. The company put the funeral flowers in a red vase and used completely different colors. I have worked at a flower shop and can guarantee that there is never a shortage of clear vases. I just spent over 1/2 hour on hold with the company and they told me finally they would refund $7 for a $60 order. DO NOT ORDER FROM HERE!!!!

I ordered two deliveries of flowers for my sisters' birthdays. The first was just set on a door step. The chocolates melted. The second was not delivered until the next afternoon. The address was wrong. The phone number was wrong. The ribbon and vase were horrible. I will not use them again.

I ordered a birthday bouquet for my mom for same day delivery. I got the email confirmation and order number so I figured everything was okay and went to work. A few hours in to work I get a few phone calls from a number that I didn't know, so I wait for my break to call them back. It was Justflowers.com informing me they wanted to charge me even more money because my mom's house was too far away in a small town. I spent about twenty five minutes which is well past my break arguing with them about this amount they want me to pay. Finally I call it enough and tell them I'm not paying it and to call my sister if they need further information. Well they never called my sister. A few hours later my mom receives the flowers and guess where it came from? Just down the street. Less than five minutes away. Five minutes is too far?? This company needs to get their act together. Never ordering from this company again.

I ordered flowers that was guaranteed the same day to my family in another state staying at a hotel. The order never arrived, they never contacted me to say it wasn't going to arrive and refused to refund my money since my family had already checked out by the time they called to say it was going to be delivered. Customer service was rude, kept me on hold and continued to offer credit that I constantly refused. I will never do business with these people again.

Tried sending an ill family members a flower arrangement to the Seattle area (very populated). The day for delivery did not happen and I received an email alerting me to the fact that it would need to be the next day. I contacted customer service and asked that since this was not being done on the day I requested could I be sent a confirmation when it does arrive. The next day came and no notifications! It is now the 3rd day beyond the date I requested and I just was told it would be delivered today due to trouble at their end finding a florist that could deliver to the address. Arrrrgggh. This is a populated suburb outside of Seattle, WA. I advised the customer service person that if my arrangement does NOT arrive today I will call and ask for a refund!

Terrible experience. Ordered a spray of flowers for $100 with an extra $10 for a banner for a funeral in another city. Obviously the florists didn't think we would be there but we were. The delivery was almost $20 when the funeral home was two blocks away. There was NO banner and the flowers were puny and wilted. When I called to complain I got customer service in India and I could barely understand them. The bottom line is that they only refunded the amount of the $10 banner that was missing, but nothing for the puny, wilted flowers. I will never use them again. Here's a tip... when ordering flowers in a city far away, look up a local florist in that town and skip the 1-800 guys. All they do is call a local florist and tack on a surcharge. Local florists will also take payment of a credit card over the phone and you get to talk to the people actually doing the work that way. You don't need the middleman!

I am incredibly unimpressed with this company. I just got off the phone with Jill, a manager with this company and though she apologized numerous times she could only provide me with a $7 refund for a failed delivery of my ordered flowers. I placed an order of flowers for my mother-in-law, who lives in a small town, on Friday for a Saturday delivery. As of Sunday night, she hadn't received them, so I contacted the company through their site and they emailed me back a canned email about how the flowers would be delivered the next day. Well it's Wednesday and the flowers still haven't been delivered!!
I called the company and Jill told me they couldn't find a florist shop to make the delivery until today. Yet they never contacted me to tell me any of this! And when I placed the order, it obviously had the address of delivery so they knew it was a small town and still took my money. I have never been so upset with a company before. I mean fortunately for me this was simply a "Thank you" arrangement, but still almost 5 DAYS late on the delivery?! What kind of company does that and then only gives you a $7 refund??? DO NOT USE THEM!!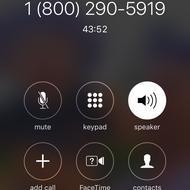 Awful, terrible, disrespectful, shady, dishonorable, waste of money, scam. I've never gotten so mad at a company before - worst customer service ever! After spending $98 on a bouquet of flowers that Just Flowers ensured would arrive in time for a family member's funeral (we even paid the extra $ to make sure), they not only didn't arrive but arrived a whole day and a half late (to an empty venue). After spending almost 45 minutes on the phone with them saying they couldn't refund the money and all they could do was offer a $5 credit towards a future order (as if we'll ever use them again), they put me on hold and never came back. I have never taken the time to write a review before but this company is the absolute worst. Such a terrible company!!

I ordered flowers for a sick co-worker on Sept 29th with a delivery date of Sept 30th. At 3:00 pm on Oct 3rd, I contacted customer service for a status update. First I was told the local florist attempted delivery but no one answered the door. Then after a long hold, I was told that the flowers are not in season. When I asked why I was not contacted about either, I was put on a long hold then the customer service rep Nikki just repeated what she originally said without answering my questions. I asked to have my order refunded but was told that is not an option since the order is out with the florist. I asked to speak to a manager and was placed on another long hold just to be told they were busy and would call me later today. The entire experience has been a beating. I strongly recommend not wasting your time and money with this company.

I placed an order on Thursday evening to have it delivered the next day... I received an email Friday afternoon telling me that they were for some unknown reason unable to deliver them on that day but were going to try to get them delivered the following next day. So Saturday morning I reply back to the email expressing my dissatisfaction of their service... And explained how this was the second time in a row that they failed to do as they promised to do.
Later in the afternoon I called their 1-800 number to find out if my flowers were delivered... And was told "NO" because of my earlier email they were holding up my order. And the lady on the other end of the phone kept trying to make it out as my fault stating because if I hadn't not sent them the email that they would have delivered the order. I think they had no intention of delivering the order and were going to deliver them the following Monday to begin with. This is the second out of three orders that they failed to deliver as promised and so I will never use them again and will either use FTD or Teleflora... Or just call the local florist direct.

I placed this order on Sept 27th, 2016 to JUSTFLOWERS.COM 213-867-0630 and paid $4.99 extra for their so call speedy service! The reason I am very upset they were supposed to send these flowers to my brother's girlfriend for her birthday on Sept 28-2016 at 1:00pm. At about 3:30ish I notice I haven't heard from the birthday girl. So I called JustFlowers to find out the status! I got even more upset because their customer service rep ALAN could only tell me is that they could not find anyone to deliver in that area and they were still working on it!! Well there is a hour difference where the flowers were to be sent in Fredrick CO... So it was already almost the end of the day there! I never received a courtesy call to let me know that they were not able complete this delivery! I asked him to PLEASE LET ME TALK TO THE SUPERVISOR and I wasn't going to hang up till I spoke to him/her!
I was tired of explaining to different reps every time I called back, so I asked him to put me on hold till I get to talk to the supervisor!! Finally 1 HOUR LATER they transferred me over to JILL the supervisor! To my surprise while I was on hold JILL THE SUPERVISOR called Lillian (the birthday girl) while I was on hold to apologize to her, and that my brother FYI who is very ill lying in a hospital was trying to send her flowers but they were not going to be able that day!!! WHAT A EMBARRASSMENT!!! JILL said she can sent her flowers the next day with a apology letter to her!! Well needless to say one day too late. Lilian (the birthday girl) told JILL not send the flowers. It will be too late and because now she will not be able to ENJOY THEM by then! Because she will be flying to California to be with my sick brother on Friday!!!
The next day I called to speak with the MANAGER TERESA to make sure they canceled that order and I wanted a full refund. She is the most RUDEST PERSON!!! First of all I shouldn't be the one to call them. They should have call me! At least to apologize!!! TERESA starts to tell me that they can still deliver the flower today and they will give me a discount of 15$. I told her that doesn't even cover the taxes... Her birthday was yesterday not today!! I told her they are false advertisement because it says you guarantee your service. They are fraud. She goes on to tell me so if FEDEX is late delivery would they also be fraud! I told her first of all I work with FedEx all the time and for her information FedEx has a service for their customer can track item online and they also always give me a courtesy call if there is a prob.
I feel that she was very inconsiderate to my feeling that I was trying to please my very sick brother's wishing to send his girlfriend flowers for her birthday! So I hope you understand my frustration. I did make sure I wrote to the BBB, Yelp, Facebook and all other social media about this really bad service and bad experience! So the customer can BE AWARE! They are better off cutting the middle man (JUSTFLOWERS) out and just going direct with the supplier! I have shopped online for many many years and this has been the worse experience I ever had!!!

Called to place order for flowers for friend's birthday. Wanted to deal directly with LOCAL florist. Asked order taker if she was actually in the florist shop in Sebastian, Fl to which she replied "Yes" (First lie). Then proceeded to place order. Was quoted a price to which I agreed. Immediately after placing order went online and saw offer of $20 discount if order placed within a time limit (my order complied). Within 10 minutes of placing order called back, spoke to same person who took the order and was told discount was already included in price quoted - contrary to pricing I saw online (second lie).
After 10-15 minutes of arguing with order taker I told her I wanted to cancel as I felt their company's business practices were not the kind I preferred to do business with. Cancellation was refused - asked for supervisor - after holding on the phone for 36 minutes a different female got on the phone and I asked her where she and order taker were located and she said Los Angeles. Explained my situation and the fact that I wanted to cancel the order as while I was holding I had spoken to cc company and was informed that I could dispute the charge.
Supervisor, after 15 minutes of heated argument and her being extremely rude said I could not cancel the order as it had already been distributed. She did finally say that she could give me a $15 discount to which I replied that after what I had been through with her and her order taker that all I wanted was the order cancelled. I told her that unless the order was cancelled I certainly was not going to give my business to a company of her ilk. I then sent an e-mail to the service company as listed on their website explaining the whole problem and advising that I was NOT going to pay for flowers if delivered.
Two days later I called cc company again to see if charge had arrived and SURPRISE!!! It had BUT was $25 more than I had been quoted. This company will NEVER get any business from me or anyone else I can contact in reference to this horrible experience. I will take whatever steps necessary to avoid paying and getting the charge disallowed. I ultimately found a local florist IN Sebastian and ordered flowers for friend's birthday which were delivered beautiful and on time. I wish I had read some of the reviews before I even called them. Lesson learned!!!

My order (Sept 17) was to be delivered Sunday, Sep 18th. It was postponed it til Monday. I WAS NOT NOTIFIED. A $10.00 discount was offered on ordering. No code was displayed. Annoying but I proceeded. After order was completed window with the code appeared. Called same day, could only leave a message --- my call was not returned. Called Mon to be told that a $5.00 discount applied to the amount of my order which I don't believe was noted on the website. Supposedly my account will be adjusted eventually --- believe it when I see it.

ConsumerAffairs Research Team
The ConsumerAffairs Research Team believes everyone deserves to make smart decisions. We aim to provide readers with the most up-to-date information available about today's consumer products and services.
More than 16 years of experience in the business shows in its dedication to customer service and 7-day exchange policy. It is a leading floral delivery company in North America.
International delivery: Not every flower arrangement needs to go somewhere local. There are times when a loved one or business associate might be living or traveling overseas, making international delivery very convenient.
Advanced scheduling: For those who have trouble remembering dates, scheduling deliveries in advance can be a life saver. Imagine scheduling your next anniversary gift on this year's anniversary.
Guaranteed fresh flowers: Just Flowers offers a guarantee on all of its deliveries, so you will always be happy with the quality of the product.
Always-open customer service: If something goes wrong with an order, customer service is available 24/7 to help fix any issues.
Four-hour delivery: Its express service is one of the fastest on the market. When available, it usually delivers within four hours of the order.
Best for Suitors, husbands, modern women and companies.
JustFlowers.com Company Profile
Company Name:

JustFlowers.com

Website:

http://www.justflowers.com/