Consumer Complaints and Reviews

I called to place an order on a Thursday for a delivery on Friday the next day. I called because it was not delivered and they promised it would be delivered on Saturday, it was not delivered. They called me Sunday and promised it would be delivered on Sunday. I questioned there was not a florist opened in the area on Sunday and was told they had several open on Sunday in the area. They called and said it would be delivered on Monday and still it is not delivered. They continue to promise and lie and will not refund me the full price of the order. They really not care anything about customer service. They would not transfer me to the manager, they were told that was not an option any longer.

I ordered a wreath for my brother's funeral services a month ahead. Checked on it every week. Well it was never delivered. After an upsetting phone call Just Flowers tried to order it thru TK flowers the day of the services. A local florist and offered half of what I paid not to mention they were trying to get it delivered after the service was done. This people should not be in business.

07_17_17 my aunt ordered a flower arrangement over the phone. Told the person "I want this particular item/in this picture... if you can't deliver it the way this looks then tell me now if it can't be done and we will order something else." "We will make it look like the photo..." Great! The flowers arrived a day late, the arrangement looks absolutely nothing like the photo AT ALL, the flowers used are old and 1/2 dead, the vase is broken/chipped. I took photos for my aunt and sent them to her... she is so upset.
The supposed manager of the company called my aunt to TELL her "you got yours money worth." No apology. Nothing... now, as the recipient? I am used to receiving flowers on my porch in a box, at least... These were delivered "raw", no wrapping, no box just put on the porch... no note as to "who the flower company or florist is." So they obviously know they have sub-par product and don't want to be recognized!! I told my Aunt to call her credit card company and have the charges reversed. So that's how we are handling this... STAY AWAY!!! You will NOT be happy.

I ordered a bouquet of flowers to be sent to our daughter in law for the one year anniversary of our sons death. Prior to making the order I asked if there was any problem with delivery of the flowers for the morning of June 25th. I was told there was no problem with having the flowers delivered on the 25th which is a Sunday. Sunday came and we were not informed the flowers were received. The next day we received a call from Just Flowers asking if we wanted the flowers in a vase or basket.
I informed the caller the flowers were supposed to have been delivered the previous day and again told the reason for why we wanted the flowers delivered on the 25th. I further added that we specifically wanted the flowers delivered on the 25th and if they were not able to, we would go to a different florist. The reply was, "Sorry, do you want a vase or a basket." After venting my feelings (politely) they indicated that they would call the recipient and give them an apology before delivering the flowers. I spoke to my daughter in law later and explained what happened and asked if there was an apology, there wasn't one offered.
The flowers were delivered from within the province of British Columbia. Our credit card bill just arrived and the bill included a currency exchange of approx $40.00. They billed us in US funds even though we ordered in Canada and the product was made and delivered in Canada. There was no mention of this being in US funds. I will never utilize this company again. I fault myself for not reading all the negative comments previous people wrote about this floral business. Had I have read them before ordering I would never have ordered from Just Flowers. When you are still grieving the loss of your son you do not always make the right decision. This business took advantage of this as they were told why we were ordering the flowers, for this they should be ashamed!

My sister in law from Washington State ordered flowers, balloons and candy to be delivered to me in hot Arizona for my birthday which was June 29, 2017 and have still not received what she ordered. She has made numerous calls and gets the runaround. JustFlowers called me last Friday to try to make arrangements to get my surprise delivered after my sister in law kept complaining. JustFlowers told me Friday that someone would call me Monday. Did not hear from anyone. I contacted them this morning and was told they would deliver between 12 and 1 pm. Of course no one showed up. Made another phone and yes they say they are sorry a million times with no results. So Max tells me to stay on the phone while he contacts the florist and he then informs it went to their voicemail and he would call me back and yep he didn't call back.
So my sister in law calls me to ask if it was delivered yet and I said "hell no". So I call back and now I speak with Reggie and yet again, the I am sorry - ** right. So he tells me my surprise should be here this evening, if not I am supposed to call him in the morning and they will assign it to a different florist. Are you kidding me. I told my sister to ask for a refund and I guess that's a joke getting your money back. Buyer beware with this horrible so-called company. I am quite amazed how they stay in business with so many complaints. Everyone needs to spread their horror stories on Facebook, Twitter etc. and yes make a call to the BBB.
How do I know I can trust these reviews about JustFlowers.com?
854,137 reviews on ConsumerAffairs are verified.
We require contact information to ensure our reviewers are real.
We use intelligent software that helps us maintain the integrity of reviews.
Our moderators read all reviews to verify quality and helpfulness.
For more information about reviews on ConsumerAffairs.com please visit our FAQ.

Wanted to send a thank you gift to my sister for having me as a guest at her house. For some reason, 1-800-Flowers couldn't deliver to her, so I tried JustFlowers.com. Their price was $70, too high. They called me back and said "OK, $57." I still said no. They called me back AGAIN and said $45, and ignore the first invoice sent. Sounded strange but I agreed. This was Friday afternoon around 1 - the lady guaranteed me same day delivery. Never delivered. And of course they billed my credit card $57. Saturday came and went - no delivery.
When Sunday noon came and no delivery I called to cancel the order. The frontline lady had me on the phone for 20 minutes, guaranteeing me they would be delivered Sunday afternoon. I told her they had lied to me twice - cancel the order. After 20 minutes of nonsense she told me she couldn't cancel the order - only a manager could. Do I mind being placed on a short hold? TWENTY MINUTES LATER she picked up again - no manager available! I said, angrily "I'll wait all day if I have to!!!" Back on hold for 20 minutes. Angel, a manager, picks up. "Well sir - we did offer to deliver them today, blah, blah." I told her to cancel the order. She went on to tell me there was no way the seller could have offered me a price of $45. I told her to cancel the order. After more blah, blah she agreed to cancel the order. What a hassle! 4 business days later I got my $57 refunded. PLEASE folks - do not use this company. You will be sorry.

Terrible company. My father passed away and we ordered his flowers. The flowers totaled a $173.00. No one received these flowers. His viewing hours were on Sunday... no flowers. His funeral were on Monday... no flowers. I have been going back and forth. I had one customer service rep tell me the priest could not confirm they arrived, I had a manager tell me the priest said they made it. I contacted the priest, funeral home and they all said there were NO flowers delivered. They said the priest received them. They will not refund our money or make it right. How can a company prey on a family that is grieving. How many other people has this happened to and when we are grieving we may not be paying attention to what did or didn't arrive. I am disgusted by this company.

They do not deliver what you order based on photos and item numbers on their website (flowers). I was absolutely mortified to see that a $150.00 arrangement of what was supposed to be 20 stems of purple cymbidium ended up being dyed. Very dark blue orchids that were hideous. I paid extra for a 9 am - 1 pm delivery which didn't happen and called starting at 4 pm asking if they had been delivered. Customer service is robotic and unresponsive. No one would call the so-called 'local' florist and ask if they had been delivered and would not tell me the name of the florist so I could call.
Six phone calls later and a photo sent from my daughter (I had sent these to the family hosting her for a vacation week as a thank you) that I emailed to them and they said they would get (investigate and get back to me tomorrow)... Oh, and who knew that they charged $6.99 if you placed a phone order instead of using the internet... and I did this because I NEEDED TO MAKE SURE THERE WERE NO MISTAKES... WORST COMPANY EVER… NEVER ORDER FROM THEM!!

I ordered flowers for my Mother yesterday and she has Dementia and wanted to do something sweet for her. They never showed up and as I sit here waiting for a manager they said they would have to call me back because busy!!! It was supposed to be delivered today and still NO FLOWERS!!! I want a refund and I will advise you DO NOT order from here ever!!!
I cannot believe you want to do something nice for someone and they do this and make people wait at home as well. This meant a lot to me to do this for my Mother and what a bunch of **! I will tell them how I feel and want my 60.00 refunded or I will do something more about it! Unbelievable!!! They are busy because other people are probably getting ripped off as well! I am so pissed off so DON'T ever order from them!!! Thanks a lot for ruining something special for my sweet Mother!!!

I don't want to give them any stars. I ordered flowers on June 27th for my daughter at a location she would only be for 3 days before she went to a new job. I received e-mails saying they were unable to deliver and when I called they would not let me CANCEL the order. So I've paid $107.00 for flowers that WERE NOT DELIVERED and will not let me cancel. So basically the flowers are going to who knows from me. Great. Thank You JustFlowers. This was a very important occasion and I'm sadden that I was not able to do this one sweet thing for my daughter.

I ordered flowers for my sisters wedding. I got the premium bouquet thinking that it would be very full and nice. What was delivered had about 5-6 open flowers and several closed ones. I don't consider this "premium" at all! If I would have known that this is what I would have gotten for a funeral, I would have ordered from a different florist. I paid extra to get a better bouquet and didn't even receive a "standard" one. I also paid ten dollars for a ribbon (Beloved Sister) ribbon and that wasn't included. This florist is totally not what it says it is. They promise a beautiful arrangement but don't follow through!!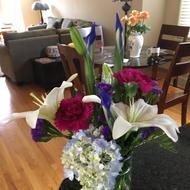 I wish I had seen these complaints before ordering from the online flower company JustFlowers.com. On June 16, 2017 I ordered an arrangement to be delivered to my family in Portland, Oregon. I ordered the Iris arrangement called "Iris of my Eye" which is a purple Iris arrangement with only irises. The arrangement was delivered June 17, 2017. What was delivered was an arrangement with various flowers w/ only 3 irises. I called JustFlowers immediately & they said they were not informed by the local florist that a substitution would be sent so they would call the florist & remedy the situation.
I also called the florist directly since they left their card w/ the arrangement. The florist informed me that she was given an order for an arrangement w/ "some" irises. Just Flowers confirmed my order and asked me to send pictures of the arrangement which I did. They offered me $15 refund when I paid $72.00. The florist & JustFlowers.com assumed zero responsibility. Each company blaming the other. I contacted my credit card company to dispute the payment. I was ripped off!

This company JustFlowers is a total rip off!! I ordered my mom an 89.00 dollar vase of supposedly beautiful flowers. Not only were they several days late they delivered a cheap, wilted, plastic hanging basket of petunias! I have never had worse customer service in my life and the hold time is outrageous. My next call will be with the Better Business Bureau. These people should not be allowed to get by with ripping people off!!

I ordered a flowers my mom's birthday to deliver to my boyfriend's work address (the delivery time for business is supposed to be 9 am - 5 pm). The flowers did not get there till 8:06 pm. When I called them to check on the order between 4 pm to 7:40 pm, they told me same thing every single call, which "the order is on its way, it will be there within 40 minutes". They would not reroute the delivery address because the order is on its way. My boyfriend had to wait for the order at a 95 degree day outside of his workplace for 3 hours. This is the worst company ever. I will never ever order from them.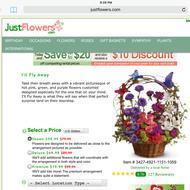 The flowers that were delivered were nothing like the flowers in the picture. When I complained they offered me five dollars off an $81 order. Then they offered me seven, and then 15, and then they said they would take the flowers back and deliver the right ones. The flowers back is not an option when they are delivered to someone in a hospital bed was very ill. A second delivery to make up for the fourth first delivery would have been an order. They refused to do it. The flowers they brought could've been purchased for less than $20 at Winn-Dixie.
I am currently protesting this sale with my credit card company. I have a picture of what I ordered and what they sent. This company needs to be ashamed of itself. They assume that most people who sent flowers do not get a picture of what is delivered. They didn't take advantage of the sick, the affirmed, and those who are compromised and emotional. They had us feel ready about why they could not bring the correct flowers. They weren't even the same color.

JustFlowers ripped me off. They charged my credit card $69.20 when my receipt showed $66.73 Canadian and only paid the local florist $40. JustFlowers didn't fill my order until June 5 when I placed my order on May 31 and requested a June 2 delivery. JustFlowers also gave the florist the wrong information. They called me instead of the recipient and gave them my name as the recipient. I called the number 213-867-0630 and asked to speak with a manager. The manager was never available at the time of my call and I was told a manager would call me back. The "manager" called me back within minutes. When I asked for a refund they refused because the order had already been filled. When I told them they didn't fill the order for the date I requested they tried to tell me there was a delay and that they sent me a email to inform me of the change.
I found it interesting because when I received my order/receipt confirmation email it went directly to my mailbox but the follow-up emails went to my junk mail? I spent so much time trying to get my money back... I'd say at least an hour overall. I am contacting my credit card company to see if I can get a refund. I feel so bad for everyone on this forum. We have all been taken advantage of and learned an expensive lesson. I reported JustFlowers to the Better Business Bureau hoping they will do something about this joke of a business. I also contact Los Angeles police department to seek help from the fraud department.

I ordered flowers on Thursday for the Funeral of a dear friend, paid extra to have them delivered on Friday as visitation and funeral were to be held that weekend. They never even made it to the Funeral. We'll see if they refund my money.

This is by far the worse experience I have ever had. I ordered flowers and it was indicated they would arrive Saturday, May 13th. They did not arrive that day and I didn't receive any notice. I started calling and emailing early Sunday morning, 5/14 with the hope they could still be delivered before the recipient left town. Each time I called, I waited on hold for at least 25 minutes, if not more. Finally, someone answered and could not help, had had no idea where the delivery was and promised to contact me back. I never heard back. I emailed a few times because the voice recording indicated you could email to get a response and no one ever responded. Called again early afternoon. Person was very nice but unable to help me - could not reach florist and basically had no idea when the flowers would arrive.
Not only did the flowers not arrive Saturday as requested, but they didn't get there until MONDAY so 2 DAYS LATE. So I paid over $90 for flowers that did not get there in time and definitely exceeded the time frame requested. The company was unresponsive and I never even received a response when I received the email below. This company was unprofessional at best and possibly a scam.


I ordered flowers at the premium price and the flowers they delivered wasn't the flowers that I ordered, nor did they include any extras they said they would include at that price. The flowers looked as though someone went into their garden and picked them. No disrespect to people with beautiful gardens. When I called to tell them of my disappointment, I was argued with. I asked to speak to the General Manager Theresa but was told she was gone for the day at two o'clock. DON'T ORDER ANYTHING FROM THIS COMPANY! A TOTAL SCAM!!!

The bouquet I ordered simply did not look good. Had I known/seen that the company is located in India I would never have ordered from this company. How can they be in India and accept orders for delivery in Nashville? When I complained they said that I would get a 5 dollar discount (the bouquet cost me 65 dollars) but I have not received any discount yet. Do not use this agency!

My children ordered flowers for Mother's day for me. As of today May 30th still have not received them. The company just says, "We are sorry to hear about your experience." When asked about a refund, they tell you that they do not refund money. So I guess this is theft. My children paid for something and got nothing in return, so I will say they stole from my kids. If you don't want to waste your money and your time on hold then do not use this company, they are totally scammers.

HORRIBLE! Do NOT use this company... A family member of mine lost their son, I couldn't travel to the funeral and wanted to send nice flowers/card. JF guaranteed arrival at the memorial night before, flowers taken to funeral in am. NONE of that happened... Instead, after funeral was over I received a vm stating they could not deliver them and ask if I would like a bouquet sent to their home!! Of course not! I reamed them a new one after my horror and humiliation, so they offered me $20 discount on next order!! I informed them I wouldn't order from them if sending to a dog's funeral. They did, however, charge my account very quickly and said refund would come in 3-4 days. Under no circumstances use this company if important to you.

My mother ordered flowers from out of state for my father's grave. She was told, "No problem. We can deliver today". They were to be delivered to my home so my sisters and I could meet at the cemetery Saturday 8 am to place them. They never showed up. I called. Asked for a manager. Was told they were all on other lines which was a lie. Was promised a call back that didn't happen either. It was 430 pm and the local florists were closing at 5 pm. (My mother thought they were a local florist here in Sumner Wa. She was very confused by their advertising. Actually I find out when I called that they are located in Los Angeles CA. So my mom and sisters and I are very pissed off as this was the only time my sisters and I could go to our father's grave together and my mom explained that to the florist before she completed the order. She was assured everything was taken care of.
When I called I was told they couldn't tell me by law who the local florist was that they contacted locally to do the flowers. So here we are on Friday night with the floral shops closing and no flowers from our mother to our father. I told them that they breached the verbal contract they made and that we were canceling the order. I told them to call my mother in Michigan to verify it. She was able to cancel the order but was tied up for over an hour on the phone with them. They offered her $10 dollars off her next order which is what they offer everyone. What an insult to my mother and my family.
Luckily my sister called a florist in Auburn by the name of Buds and Blooms and they were open until 7 pm. My mom called them and told them what she wanted and my sister had to drive there to pick it up so we would have it by morning. They were very gracious and felt badly for what JustFlowers had done to us. Buds and Blooms were very professional and they saved the day. Do not ever do business with JustFlowers. They will screw you over the way they did to us. Always check to make sure that the florist you are calling is actually located in the city you want and not just an 800 number from God knows where. I am also contacting the Better Business Bureau for the city of Los Angeles to report them. I want everyone to know just how shoddy JustFlowers is.

JustFlowers is a ripoff. Ordered flowers for Mother's Day, they contracted with a local florist that does NOT deliver on Sundays. I paid extra for Sunday delivery. They did not notify me that they couldn't deliver and would not cancel order for Monday delivery or refund my money. Read the reviews for this company!!

It was my mother-in-law's retirement party so I ordered the flowers around lunch time the day before. I paid the extra fee for the flowers to be delivered by 1p. Not only did they arrive hours later, but my MIL wasn't even at the party anymore. I tried calling customer service only to be told the managers were too busy so I'd have to wait for a call back. Just before 8PM, as I was climbing in bed, I get a call in which I let go to voicemail. The next morning around 7 something in the morning, I get a call from the company informing me their florist charges them extra for the delivery so I need to pay them (Just flowers) $14.99 more than what I had already paid. Not only did they fail on getting the delivery there on time while receiving extra payment for the request of doing so, but they had the audacity to call me at the butt crack of dawn to give them MORE money.
I immediately filed a complaint with the BBB and they offered to pay me back HALF of the DELIVERY. She also said they received a call from the florist around 12P the day of the delivery indicating they would be late. Did JustFlowers handle the matter professionally by at least calling to inform me of the delay? No. I told them they were insane to think I'd accept a whole $2 for my stress, inconvenience, time and dealing with their poor service. Their response? "Actually, it'd be $5, not $2... and we can't offer you a full refund." What a JOKE! I wish I had taken the time to read reviews before committing to such a lousy, unprofessional and lazy company. DO NOT LET THEM STEAL YOUR MONEY IN EXCHANGE FOR EMPTY PROMISES!!!

I ordered flowers for my mom's final chemotherapy treatment and ringing of the bell. I ordered flowers on a Tuesday night and paid for expedited service. They were supposed to arrive at the hospital by 1 pm. And actually lied and said they were delivered which they weren't. I will be filing a complaint with my credit card company to dispute this charge. This company is a nightmare. Do not order from this place.

PLEASE BEWARE OF JUST FLOWERS! I placed an order with Just Flowers and paid additional funds to have a express delivery. They did not deliver the flowers at the appropriate time. I called for three straight days to get a refund because a manager could only give a refund, but a manager was not returning my calls. Once I spoke to a manager "Teresa" she was so very rude & nasty! She never apologized for the inconvenience, she spoke with an attitude and a demeaning tone. Then she told me that I should understand that my flowers never made it to my uncle's funeral because it was Mother's Day weekend. Teresa told me that she had to do an investigation before she could give me my money back, that she would call me the next day. She never called back to refund my money.

I ordered flowers on a Fri for Sat delivery. Found out on Sun by the recipient that they never received any. I called, they said the florist tried to deliver but no one answered. The recipient, her husband and daughter never left the house and they have a dog that barks when someone comes to the door. They also had no problem receiving 3 other floral deliveries from other companies that same day. I was told they would deliver on Monday... Nothing. Called at 2 pm - told they were out for delivery. Called at 4 pm, told that they get til 6 pm. Called at 7:45 pm told they must investigate. They called me on Tuesday, told the florist tried to deliver again... Another lie but they will deliver today. It is 2 pm on Tuesday and still no flowers. They will not refund my money because the florist has the order, they will not give the name of the florist. They are thieves and liars!

This scam outfit promised next day delivery of flowers. The day AFTER they were supposed to be delivered I get an email saying that Just Flowers did not deliver the flowers and that they would deliver them on the "next available day." They were finally delivered 4 days after the originally promised date. The florist who delivered them said she received the order from Just Flowers on that day, not on the date when I submitted my order. STAY AWAY!!!

ConsumerAffairs Research Team
The ConsumerAffairs Research Team believes everyone deserves to make smart decisions. We aim to provide readers with the most up-to-date information available about today's consumer products and services.
JustFlowers.com, based in Los Angeles, has been in business for more than 16 years. The company partners with local florists to offer hand-delivered flowers to consumers around the world.
International delivery: JustFlowers.com offers international delivery to many other countries. Interested consumers can visit the website to see which options are available in the destination country.
Advanced scheduling: For those who have trouble remembering dates, scheduling deliveries in advance can be a lifesaver. Consumers can schedule a flower delivery months in advance on the JustFlowers.com website.
Guaranteed fresh flowers: Just Flowers offers a guarantee on all of its deliveries, so you will always be happy with the quality of the product. If you're unhappy, you can request a refund up to seven days after delivery.
Always-open customer service: If something goes wrong with an order, customer service is available 24/7 to help fix any issues.
Delivery speed: JustFlowers.com offers same day delivery on many of its bouquets if consumers order before 3 p.m. Customers can pay extra for express delivery to have to flowers arrive more quickly, usually within four hours.
Best for significant others, friends, adult children and companies.
JustFlowers.com Company Profile
Company Name:

JustFlowers.com

Website:

http://www.justflowers.com/