Consumer Complaints and Reviews

At 6 am 2/14, I ordered flowers. The website said was available for delivery that day. At 12:30 am 2/15, I received an email saying flowers were not sent but they would be sent later with an apology note attached. I wrote 2 emails & left 2 voice mails to cancel. My original instructions said, "If no one was home DO NOT LEAVE at front door, leave at garage, in plain sight." Bottom line, my 84 year old aunt's neighbor called the evening of 2/15 something was on her porch. No apology note attached. I filed a complaint with JustFlowers. I got an email back saying they would call my aunt and apologize. I said no way. I didn't want her to be embarrassed not knowing the back story.
2/18, a man called saying he was a supervisor at JustFlowers and wanted me to tell him my complaint. I asked him to read the emails because my emails were very detailed. He had no access to any emails, mine or theirs. HUH?? So I started on my story. He couldn't keep up and thought I was upset the flowers were left on the porch. Then he wanted to know the name of the person who said they would call my aunt to apologize. I looked through my emails and told him, his company didn't have individual names on their emails. At this point I was exhausted. He offers a $10 refund because the flowers were on the porch, geez-o-Pete. I declined the refund, stating I would dispute with my credit card company. He said ok, in the same dead voice tone he had from the beginning. Bottom line, go online & order from a florist in that zip code. Bypass JustFlowers.com and you will be just satisfied. That's my personal guarantee.

I ordered flowers from JustFlowers on Valentine's Day @ 8:10am. They were the only florists that would deliver on that same day. I purchased a beautiful arrangement of Roses 2 different color pinks. The total was 108.23. The flowers were not delivered until 2/15 and it was a totally different arrangement than the one I ordered. The one that was gotten is no way 108.23. It was a quarter of the size. This place has rotten customer service and the people that work for them are just as bad. They are rude and of no help whatsoever. They say you will get a phone call back and you don't. To me this is stealing. They offer a huge arrangement and then you pay and you get the smallest thing they can find.

God where do I begin!! I ordered flowers to be delivered for valentine's day. They guaranteed delivery for valentine's day. It was NEVER delivered. They sent me an email that it was going to be delivered the 15th (following day). Guesssss what folks? IT was not delivered. I emailed and they responded that they are looking into it. No one followed up. I called and they offered a 10$ credit. I said, "I am not interested in a credit. I want a refund." I was told they were going to call me back. They never did. I called several times and was left on hold. I emailed and got no response at all. COMPLETELY unsatisfied and will never buy from them. I do not usually leave reviews but for something like this I must share the terrible experience I had. STAY AWAY FROM JUST FLOWERS.

I wish I would have checked the reviews for this company before placing my order. The order was not delivered the day it was supposed to have been (Valentine's Day of all days). I have been trying to get a hold of this company since then but never received a call back or an email regarding my order. The flowers arrived a day late and boy were they the worst flowers I have ever bought for my wife. They were all wilted and poorly arranged. Never again will I use this company or even recommend this company. Poor Poor Poor service and quality. Please stay away from this company unless you like poor service and poor quality.

I contacted and ordered flowers through JustFlowers to send to a business on Valentine's day. Of course, they didn't make it that day. The cost of the flowers with chocolates were approx. $140. I contacted customer service and left voicemails and emails requesting them to be delivered on the following day ASAP as having been ordered for Valentine's day I expected them to arrive the following day early. No response from the Customer service department.
I then contacted a local florist to deliver same day on the 15th of Feb. A large gorgeous bouquet with a large stuffed dog, and chocolates. It was delivered 2 hours later. JustFlowers delivery finally arrived 30min before the business closed. The bouquet was small, with wilting roses, and no sprucing. The chocolates were from the local grocery store. And the chocolates were delivered separate from the roses. All in all a total waste of money, and a very poor customer service. Still haven't received response from their automated system. They are scam artists just out to take your money for junk.
How do I know I can trust these reviews about JustFlowers.com?
698,549 reviews on ConsumerAffairs are verified.
We require contact information to ensure our reviewers are real.
We use intelligent software that helps us maintain the integrity of reviews.
Our moderators read all reviews to verify quality and helpfulness.
For more information about reviews on ConsumerAffairs.com please visit our FAQ.

So I ordered two flower arrangements for Valentine's Day. They offered a discount if I ordered them for February 13. I ordered these flowers on Sunday the 12th. February 13 arrived, no flowers delivered. I received an email saying there was a delay that they would be delivered the next business day which was Valentine's Day. Valentine's Day came and went. No flowers. I received another email saying the same exact things the day before. Try to contact them. Just kept getting a recording so I opted for a callback. No call back I opted to be contacted by email. No email.
Now it's February 15. Still no flowers, spent all morning long trying to contact them and I never got through just the same recording. Still no flowers. They sent me another email tonight, which was the same exact email they sent me on the evening of the 13th. Requested my money back. Judging by the reviews that I'm reading, I don't have much hope of ever receiving one let alone my flowers showing up. Do not do business with these people.

Flowers ordered for Valentine Day arrived a day later. Bouquet looks good and effort is appreciated yet the timing negates everything else. I called them nearly a dozen of times on the 14th, all for exclusive opportunity to talk to their answering machine ("we are busy, leave a voicemail"). All those voicemails remained completely unanswered. Zero customer support, fraudulent delivery promises.

Worst company ever. This company was so quick to take my money. I understand Valentine's Day is the busiest day and I get it ordered in the morning of but I made sure with the representative I ordered with that it was going to get delivered within the day maybe not the time frame I wanted but still on the 14th. I've tried to contact these people 25 times and not once was I able to reach them. Not through phone call or through their "online inquiry". I didn't even receive a proper receipt only a receipt from Norton Shopping Guarantee which I don't get what that does for me. NEVER SHOP HERE. Spare your money and your time.

I ordered flowers on the February 13 at a cost $109. The flowers were never delivered or attempted. I called rep. They said driver states address was a bad address but they delivered flowers there a month prior. I called February 14. The rep stated they made a mistake and would delivery early morning. Nothing was delivered. This company is a straight crook... When asked ABOUT REFUND... "We don't do them. Only extreme cases but we will make flowers. Will be delivered..." Nothing. I'm out of $109.

I should have read the reviews about this company before I ordered from them. I ordered Valentine's flowers, candy and a balloon for my loved one on February 14. I knew this was a last minute deal so I searched for a florist who would guarantee delivery. JustFlowers acknowledged my order and promised it would be delivered on the 14th. That's why I chose them. At 7pm that evening I got an email from them stating that they were unable to deliver the flowers and they would deliver them the next deliverable day and that they would apologize to the recipient!
At 8:00pm that same evening I get a recorded message saying the same thing! Why would I want Valentines for my husband delivered a day late? That would be mockery! It would be an embarrassment for his colleagues to see him receiving Valentine's from his wife a day late! I sent them numerous emails telling them not to deliver the flowers and finally at midnight received confirmation that the order was canceled and sometime between 4-12 days I would be receiving a refund. In the meantime, my husband missed out on flowers for Valentine's. Had JustFlowers just informed me earlier, I would have made other arrangements even if I had to deliver them myself!! I will never use this company again especially after reading the other reviews!

DO NOT ORDER FROM JUST FLOWERS!!!! Absolute scam. I found out last night that my husband ordered over $100 worth of red roses to be delivered to my office for Valentine's Day. The flowers were never delivered and we have both been calling Just Flowers since 5 PM yesterday with NO answer. You cannot reach these people and you only get automated responses when you email them. This is truly a company that just scams consumers. They blame the local florists for absolutely everything and refuse a refund for the flowers they never even delivered! Absolutely the worst flower service ever. Only order from local florists!!!!! DO NOT FUND THIS COMPANY!!!!

Promised same day delivery on Valentine's Day to a business location. My partner waited for hours & the delivery was never made. These jerks suck. Don't advertise that you can do something when you know damn well that you CAN'T!

If I could do less than 1 star I would... The flowers I ordered for my wife for Valentines Day showed up a day late broken and not even the right order. The best part is when trying to contact someone they just put you on hold until it hangs up on you. Straight garbage of a company. I would advise everyone to not use this company. Complete and total joke. Worst company I have ever used.

This is the first year I thought I would surprise my wife sending her flowers on Valentine's Day and especially when I am in another state. I looked at various options and florist and finally ordered through JustFlowers.com just because they were promising same day delivery. I ordered an expensive basket of flowers. Subsequently when I went to check my order status, it stated that JustFlower.com will get in touch with Florist and give me an update. I have been calling the number every 30 min and all I get is a recorded message. I have sent them 4 emails and yet no response. I am frustrated, irritated and at mercy of these people who care less to even respond. I am now wondering if these flowers will ever be delivered on time. What surprise will it be if these are not delivered on Valentine's Day?
It waste of my money. They just play around with the emotions of people to get their money. Once they have their payment, looks like they are done. It's your duty them to follow up with them. Their customer service sucks. I want to cancel order and there is no option to do that. If anyone from JustFlowers.com is reading this message, please cancel my order immediately. I don't want delivery on 15th of Feb. A frustrated customer.

Is there a way to give this company a 0 rating? Word of advice, don't buy from them. I ordered flowers for my wife, I paid the express fee so the flowers could be delivered within four hours. They didn't even deliver. I called them to see what happened. After being on hold for over 30 minutes I was transferred to an automated machine. I am reporting them. Never ever buy from them. They are frauds that steal money.

This is one of the worst companies I've ever dealt with. I asked for purple and white flowers for my mother's funeral. When they were delivered they were all white. I called the company and they told me to send them a picture of the flowers. I did this and then they told me that the florist was closed and they would contact them the day. I never heard back from them so I called them again and they called the florist and stated that they would get back with me. The florist then called me and stated that Just Flowers insisted that these flowers be all white and even told her she could use yellow lilies if she didn't have enough white ones.
I called back customer service at Just Flowers and the rep stated, "Yes your flowers were supposed to be white," and I said, "No, they were supposed to have purple in them." And then he said, "Yes that's what I meant," and I asked to speak to a manager and I was put on hold for an hour and 20 minutes. He kept coming back on the phone stating that the manager was busy and someone would call me back and I kept telling him I would hold. Finally a manager came on the phone and stated that she needed to talk to the rep that place this order and she would get back in touch with me in a few hours. I'm not blaming the florist that made up these flowers. I am blaming Just Flowers for their communication. Local florist stated that she has lots of problems with this company and has blocked them from ordering from her anymore. Plus there is no type of receipt sent to you. DO NOT ORDER FROM THEM.

What we received was not what we ordered yet no refund. When a favorite aunt passed away, I ordered a standing spray on behalf of my sisters and me to be delivered to the funeral home. I chose the one we wanted from Just Flowers website. A beautiful, big, full arrangement. Because the deceased was so special to us, I ordered a full upgrade. I also ordered a special ribbon with "Beloved Aunt." When we got to the funeral, we were astonished and embarrassed at what we saw. It was awful and was not what we ordered. Instead of full, it was long and skinny. The flowers on it were sparse and pitiful looking, wilted. There was greenery with white flowers dotting the greenery. Few and far between. Since the arrangement we chose has purple flowers in it as well as white, it had tiny amount of little, purple flowers.
The only pic we had was after the funeral home delivered all the flowers to the cemetery. When we requested a full refund, we were told the flowers in the pic were not the ones they delivered to the funeral home! Our pic showed proof though. You could see the ribbon I had ordered! We were also told it was their policy for no refunds after the flowers had been delivered! How can you see your flowers before they are delivered?
The funeral was a week ago. All week we have gone around and around with calls and emails just for them to offer a $15 refund on a $203 order! Such an insult. They just repeat the same things over and over no matter what you say to them. I believe they are reading a script. You have to do that I guess with customers, over and over, after scamming them. This is not a customer-friendly business. They are out to get your money without delivering the goods. Do not EVER use them! They should be closed down immediately! I wish I had seen the reviews, on ConsumerAffairs online, before ordering. We are sad, frustrated and angry at how we have been treated.

Hi. On dec the 20th I ordered a delivery in SC for the following day. It was to apologize to my boyfriend. I called the company to check if the delivery was made. The operator abruptly stopped the conversation without answering my answer. Never tried to call me back. I used a landline phone. Then I received an email to say the delivery had to be postponed to the next day (22nd). Then another email informed me the previous email was a mistake. The delivery is cancelled!!! I answered that I expect a refund. They say they need me on the phone to process the refund. I was on vacation for christmas period and then busy for a while. I contacted them jan the 14th. No one was available to authorised such request(???).
I called them back today. (I live in France so it is difficult to manage the time difference). I had someone. This person transfer my call to the billing department; then they say that only one manager has the power to allow my refund. The manager was not available. The operator tried 3 times because I pushed her. She said that I would get a callback! I really don't understand how this company work. It is poor services. I will never ever ordered flowers in the USA. I ordered to 3 different florists in order to prevent cancellation. 1 per day. NONE of them made the delivery in travellers rest SC.

WARNING -WARNING -WARNING. DO NOT ORDER FROM THESE PEOPLE. THEY ARE CROOKS... Spread the word and let's put them out of business for their lies and cheating ways. Ordered flowers for a 4 hour delivery. They called back after an hour and said they could not find my plant at a local florists, other options were offered. I declined.
They stated they would call other florists in the area to find my plant and deliver and would call me back to confirm if they could not. They never called back. 5 hours later I call to confirm my purchase was delivered. I was told NO, when I asked why... the salesperson says let me check. I was told they could not deliver today but tomorrow they would deliver my plant. I said "why" and she replied again "let me check." What the hell she was checking for I do not know.
They said it would be delivered tomorrow. I said I wanted a refund and to cancel my order since they did not call me back to inform me of anything they refused to give me a refund. Please do not order from these people they are ruthless and persistent to take your order but have no compassion when they mess up. They want your money and once they get it you are screwed.

Flowers not delivered for family member's funeral services. They were supposed to be delivered on 1/16. I never received a confirmation email of delivery, therefore I contacted them several times very early the morning of 1/17 to make sure they had been delivered. Both times they advised they had to wait til they could reach the florist and then they would call me back with a status. That NEVER happened.
I finally received a confirmation email late on 1/17 stating they were delivered on 1/17. No callback as promised and not delivered on the 16th as promised. So I called them again. Couldn't explain why no one called me back as they had promised twice. They advised the services weren't until the morning of 1/17 so that's when they delivered them. I guess they just decide WHEN they want to deliver and NOT when you request or they guarantee delivery. To top it off, the family advised they never received the flowers at all. I spoke with customer service today and told them I was disputing the charge on my credit card bill. They were very rude and kept talking over me the entire time I was trying to speak. Would not recommend!!

This company's login is misleading along with the requested review from them. The review is automatically set at five star, so if you don't click on a star it goes to a five star rating. I spent over 238.00 and the cross spray was very poorly put together. Nothing like the picture on their site. I sent them a picture of what we received and they responded with, I got what I ordered. I sent numerous e-mails in return to no avail. Please do not purchase from this company.

I ordered flowers to be delivered on 1/7/2017. That afternoon they left a message saying that they couldn't find the home. When I called back, they changed the story and said they had attempted to deliver them but the person wasn't home and that they had tried calling. The only problem with this was that she was home and they never called. When we tried to cancel the order, we were told that was impossible. We asked to speak to a manager who never called us back. Then on Monday, 2 days later, I called to confirm they would not be delivering the order. They said it was too late, it was already en route. Then they called to say that again she wasn't home. No attempt was made to leave it on the doorstep or leave it with a neighbor. This company is absolutely horrible. It is a total SCAM. Do not ever order from them!!

Ordered a sympathy flower arrangement for a family member on a Wed for same day delivery. 3 days later and there is still no delivery. They claim no one has been home for delivery but they have a phone number to call and not one call has been placed. I've demanded a refund and they refuse. This company is horrible. Do not use them!! So I guess my family will get their flower arrangement one of these days, I hope!

Never, never, never place orders through Just Flowers! I have never experienced such horrible customer service in my life. Recently, I placed 2 separate orders for funeral floral arrangements for 2 of my aunts that passed within hours of each other. Since I was unable to get back to the funerals in time, I wanted to make sure that my presence was there in some form or other. I ordered 2 funeral floral arrangements to go to 2 separate funeral homes. I gave the viewing times and the time that the flowers must be there. I was assured that it was no problem and that they'd arrive on time. I was charged an additional amount for both to ensure an expedite delivery so that they would be there on time. When I asked family members who were at the viewings if the flowers were nice, the response was "what flowers?" Neither viewing received the flowers.
When I called Just Flowers to question this, I was told that there was confirmation that one floral arrangement had arrived at my aunts' viewing, despite family members stating otherwise. Customer service from Just Flowers told me they would investigate and get back to me. When they called me back, they told me the flowers did arrive; however, they were late. Therefore, the family did not receive them. They told me they would refund me $5 for it being late, despite the fact that the family never got the flowers. Then I was informed by customer service that my other aunt and her family never got flowers, and that they were never delivered. They had the nerve to ask me if I wanted to send flowers somewhere else instead. I told them I wanted my refund for both floral arrangements. I had to wait all day for a call from a manager to get my refund. When the manager called me, again they tried to send flowers somewhere else. They did not want to refund me.
On my insistence they agreed to refund me the one floral arrangement that had never been bothered to be delivered. As for the other floral arrangement for my other aunt, they refused to refund me anything other than the $5 expedite shipping charge, even though no flowers were received. This is no way to run a business. This was a difficult enough time dealing with the loss of 2 aunts. No one should have to put up with this kind of nonsense during a time of mourning or any other time. I won't hold my breath waiting for a refund either if this is the way they handle their business. I guess I need to face the facts that I'm probably out at least $100 if not $200.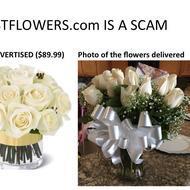 THIS COMPANY IS A SCAM. THEY ARE SCAMMING BOTH THE PUBLIC & THE FLORISTS CONTRACTED. DO NOT USE THEIR SERVICES. 12/31/2016 10:34:41 AM, Order **. I ordered an arrangement of roses. They delivered the flowers but they look nothing like the photo advertised on the website (poor quality). The flowers were wilted, unprofessionally arranged, & the bow was dirty. I asked which local florist they were using but they refused to tell me; I now realize this is a "policy" to ensure that customers cannot communicate with the florist & exchange information about prices. It is clear that they falsely advertise, charge customers high prices, and pay the florist a fraction; therefore, the florist sends low quality flowers because they are receiving a low payment in the exchange. This company is a scam. They are scamming both the public and the florists who contract with them. They should be shut down.
The product delivered was the lowest possible quality but the company is charging regular to high prices. I called customer service to inform them of the clear mistake and they said the reason the arrangement does not match the photo is due to the fact that the florist receives a verbal description of the arrangement rather than the photo. This is not acceptable for an online company that deals exclusively with images/photos as a method of communication. Their customer service is the worst I have ever dealt with. Rude, unprofessional people that are unreasonable.
First, the rep said that I ordered 18 white roses and that is what I got. As if they completed their end of the deal. I argued that I purchased a beautiful "arrangement" of roses, and I expected them to resemble the photo. Therefore, they offered to send a replacement, however, the replacement was worse than the first. Extremely low quality flowers. I paid ~$115.78 and flowers were absolute garbage. I refused to take them and sent the florist back with both arrangements, thus, returning the product(s) completely.
I called customer service for a refund and they refused to give a me refund even though I returned the product to the florist. The "manager" told me that even if I return the flowers he will not give me a refund, it is not his problem that I did not like the flowers etc. I argued that I paid for a product advertised by their company and they did not send me the product I ordered, this is false advertising, and I returned the unsatisfactory item(s) and I want a refund. The so called manager taunted that he would not give a refund and is keeping my money irregardless of the fact that the florist took back the arrangement. A SCAM. They are scamming both the public and the florists who contract with them. They should be shut down.

I called Just Flowers because they "offer" same day delivery. I ask them if they could deliver in a couple of hours and they said yes. I gave them my information and said the flowers would be there for my uncle's funeral. The flowers didn't arrive. I called they said they were on their way. They arrived 45 minutes late. The funeral director brought them in as the funeral was starting. The flowers were not what I ordered so I called back and told them. I have been two days talking with them finally to be offered a $5.00 discount. I told her I was insulted by that. I had two orders and the cost per basket was supposed to be $50.00. I have now been charged $143.00 for two baskets of flowers. The baskets of flowers were so small $30.00 should have been a lot for each basket.
These people should not be in business. It was a difficult day for me and then not to have proper flowers for my uncle's burial was unthinkable. These people are heartless and should be out of business. The lady asked me if I took pictures of the flowers. I said, "I was burying my uncle and you think I thought about taking pictures?" This is the type of people that run this scam for a business.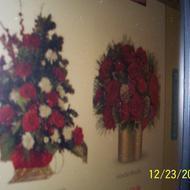 This is a scam. I ordered a Christmas bouquet in a sleigh which was pictured on their website. Phoned and spoke to them directly to assure delivery date and that the arrangement would be as pictured. Two hours later I received an email informing me that they did not have a sleigh and had to substitute a vase and that they did not have any of the flowers and had to substitute all of the flowers for cheaper ones. Then another email stating that they were unable to deliver it on the date I had specified. As of this date it has still not been delivered. However, they refused to refund my money and would not accept a cancellation on the order.
This is a scam operating from another country. I intend to do everything within my power to have them investigated and shut done. Everything on their site is a con and they get your money and you get nothing except, if you are lucky, something cheap bought at a corner grocery. Since they can hardly speak English, I would suppose they are operating out of a foreign country and just scamming the American citizens. I found this site after the fact. Not before.

I have used Just Flowers in the past for friends/family birthdays. Even though I have never seen the actual arrangement, I was never told anything more about the flowers other than they had arrived. Just two days ago, I had ordered a funeral floral arrangement for a very close friend of the family. There were dozens of beautiful floral arrangements on display at the funeral home, and then I looked for the flowers I had sent. They were there. So small they were nearly invisible. The only reason why I saw them is because I asked if the flowers came. I was embarrassed at the size. I had asked and paid for extra flowers. I didn't see any.
I called Just Flowers and complained. A woman asked me for details and did I take a photo. NO I DIDN'T. I'm at a funeral. Bottom line, she needed more information, and I couldn't be any clearer. The arrangement was pretty just like the picture. Only actual flowers are not scaled to look like the photo. And I couldn't count the extra flowers because I didn't see any. Don't trust what you can't see. For a $139.00 I expected a very nice size arrangement, but didn't get what I paid for.

I ordered flowers after visiting their website. The flowers ordered were for an elderly person just admitted to the hospital the prior day. It was important to me to have flowers delivered to cheer up the patient ASAP. I asked the online instant message customer service person if they could confirm delivery the same day as identified on website. The person said absolutely - if the specific flower arrangement says same day it will happen. The flowers did not show up - I had to contact the company several times and they felt that the flowers had been delivered. I checked with the hospital to be sure and they definitely had not received a delivery.
The following day (Sunday) a bouquet was delivered in the late afternoon. It looked like someone had run out and bought an inexpensive bouquet at a local supermarket and shoved it into an oversized vase. It definitely did not appear to be from an experienced florist. The flowers looked to be freezer burned and within two days most of the flowers were drooping or dead. When I was at the hospital visiting everyone coming and going commented on the poor condition of the bouquet. It was embarrassing to say it was from me. I had to ask for the credit for the extra charge for their special service "delivery within 4 hours" or they would have charged me anyway. I emailed them pictures showing them the quality of floral bouquet, dead flowers and the poor presentation and after several days they offered $10 credit. This is a $75 order.
They refused to tell me the florist that represented them in the area. I did not receive the $10 credit in Nov as they said had taken place and after contacting them again I just received a credit towards another flower order - I have never had a problem ordering flower online before. I have never ordered from this company before either. Absolute worst flower delivery experience ever - Really misrepresents products and services offered. The pictures online are not even close to actual. I would never order from them again.

Do not use this company. They are the worst of the worst. They should be shut down. I wish I had read the reviews before I ordered casket flowers from them. I was trying to get flowers at a cheaper price because the funeral costs were already catastrophic. I know better. You get what you pay for. My mother's funeral was in a small town with only two florist shops. I knew they hadn't made the arrangement yet and they said they would reject the order. I called JustFlowers and they would not give me my money back. I called my credit card and they said I can definitely dispute the charge.
This company also tacks on a lot of extra charges. They wanted $4.99 extra to make sure it got there on time. Really! Then when I asked for a total they couldn't give me one. They said it would be in an email. Yup it was supposed to be $119.00. Guess what, it ended up being $146.46. The whole time I was ordering they kept trying to add in extra items. I kept repeating myself. No No No... PLEASE DON'T USE THIS COMPANY. Save yourself the grief....
JustFlowers.com Company Profile
Company Name:

JustFlowers.com

Website:

http://www.justflowers.com/