Consumer Complaints and Reviews

Sadly, FTD did not deliver the flowers I sent for my sisters 50th birthday. I ordered on November 18th, to be delivered on November 23rd, and by 27th the flowers never arrived. Now, I called the customer service and the poor workers keep saying "I'm sorry ma'am", but they are not sorry because its not their issue. I am sorry because I missed an important day to send a colorful arrangement to say I am thinking of you. Now, after two calls I still don't have refund from FTD, and they keep saying "we're trying to contact the flower shop". Its like an insult, because I trusted them to send flowers and cant even get a quick, respectful money that belongs to me. VERY disappointed with FTD. I have used them before and this left bad taste in my mind. Wish me luck trying to get a refund soon.

I ordered flowers 1 week before our anniversary to be sent to my wife's place of work. Needless to say, our anniversary day went by with no delivery. I called FTD.com customer service to find out what happened and received the typical response of "We don't know but we'll find out" and "Will call you back." Well, two hours later, at nearly 6pm, I receive an email confirmation of delivery. I asked my wife, since the surprise was gone by now, to call her work and find out if the delivery was actually made. You can guess what the answer was, NO.
So I called FTD customer service again and get the same person. Again, she tells me how sorry she is. At this point, sorry doesn't cut it. Keep your apologies for all the buttercups. I asked if they would be delivered the next day, before noon, since I know my wife will be getting off early. She assures me they will. Well, here it is 1pm and guess what just showed up. This is the last time I will ever use FTD, online or florist, ever again.

While the arrangement arrived on time - via FedEx the flowers inside were crushed, mashed and all over the inside of the box. I have reached out twice via email for help and once via live chat. Bottom line is they have my money so could care less about the quality of the product delivered.

My review is based on specific experiences in the past year+ in contrast to the previous 2-decades. Flowers that arrived were woefully smaller and different than what was pictured in the order image (This happened more than once but repeatedly for the past 3 years). Refused to deliver flowers to Falmouth MA funeral home on two separate occasions (Dec. 2015 and July 2016) in spite of my having an FTD "GOLD MEMBERSHIP" for which I paid a premium.
Customer service is offshored which is bad enough but they do not understand what you say and just keep repeating scripts back to you such as "I understand you are upset" or "That is terrible" and endless "I'm sorry that happened to you" but the end result is a coupon for your next purchase rather than fixing the current situation. If you are lucky, they take 15% off which is not off your total price but for the base price before taxes and delivery which equates to $22 on a $167 order. USELESS... AND you have to spend as I did today... 56.5-minutes on hold to get a Manager to even get that far. I demanded to have a US based FTD manager call me.... see next two points.
FTD renewed the "gold membership" on their own without my permission. NO, it was not set up to rebill and I had already been told that would not happen in a prior call to complain related to my father's and brother's funeral arrangements that never happened. I FINALLY get a call from a US based Customer Service Specialist but not the manager I requested. Nancy ** in the Northeast at **... and she was just as drippingly sarcastic and unhelpful. This time... it wasn't second language issues, it is just lack of integrity and lack of customer service skills.
The nicest things I can say about her: She is RUDE, patronizing, condescending and dismissive. She literally hung up on me when I wouldn't let her rephrase the problem statement to only being about the "Gold Membership" renewal. She didn't want to address the larger issue of NON-delivery, poor customer service and hour+ waits to get to anyone that can do anything. Now we have a name and inbox, feel free to call and let her know your horrible experience directly.

I really wished I would have read the reviews about FTD Florists before I wasted my money! I had an arrangement sent to my mother for her birthday what I paid for and what she received were two different things the picture of what I thought I was sending was beautiful & colorful. My mother's arrangement had very little color and very few flowers! They should be ashamed of themselves falsely leading people to believe they are purchasing what is shown. Oh they state on their site that they might have to substitute some flowers but geez my arrangement looked like every flower plus the basket was a substitute!!
Also I almost forgot the arrangement was packed or should I say shoved into the box so that what looked like the two of the only big colorless flowers were laying in the bottom of the box. I wish I could just return the pathetic-looking flowers and just get a refund. I will never order from FTD Florist again nor will I refer FTD Florist to anyone that is considering their service.
How do I know I can trust these reviews about ftd.com?
636,825 reviews on ConsumerAffairs are verified.
We require contact information to ensure our reviewers are real.
We use intelligent software that helps us maintain the integrity of reviews.
Our moderators read all reviews to verify quality and helpfulness.
For more information about reviews on ConsumerAffairs.com please visit our FAQ.

Ordered flowers from Canada to be delivered in Canada. Did the largest upgrade. Printed the invoice. Credit card was charged in US$. Customer service all but conceded that they paid the Canadian Florist in Canadian funds! No reason for an exchange rate and will NEVER use FTD again! If they paid the florist in US$ would be reasonable. They made about 20% profit just on exchange. Lesson - look up a florist in the area, read their reviews and use their website directly!

I ordered from FTD and was completely embarrassed when my recipient received the flowers for her birthday. Ftd was not even interested in seeing pictures of what the local florist had sent out. I could have bought a much less expensive arrangement that looked much more attractive at the grocery store.

Worst flowers ever!! I ordered flowers for my mother's 84th birthday. Waited all day for them to be delivered. Called customer service twice. First time at 3:30 - was told they could not reach the florist but there was a note that they had been delivered. Wrong. Waited another hour. Called back again. The florist could not be reach and was told they had until 7 pm to deliver. Flowers showed up at 5 pm... worst flowers ever. Top photo is what I got. Bottom is what I ordered for $49.99 plus $17 service charge. Don't use them. Call a local flower shop.

I ordered flowers online to be delivered to someone grieving the loss of a loved one. I chose the "Peaceful Passage" arrangement. The "Simple and Sweet" arrangement was $99.99. However, I upgraded to "Bountiful Blooms" for $139.99. Unfortunately, the arrangement that was delivered looks nothing like the flowers I paid for. This is really not good business practice. I will never send flowers through FTD again. What a disappointment!
Below: 1st image is what I thought I was buying. 2nd image is actually what was delivered. Sorry... receipt could not be fully uploaded. FTD Peaceful Passage, ORDER NO.: **, DELIVERY ON: Wednesday 11/02/2016, DELIVER TO: **, ITEM COST $139.99, SHIPPING/SERVICE FEES $17.99, TAX $9.48, SUBTOTAL $167.46. TOTAL CHARGE $167.46, CREDIT CARD TYPE VISA.

My husband was sending me roses for my 60th birthday, which I was happy about, and he really wanted to do something nice. He usually gets me grocery store flowers, but this time, he wanted to do something SPECIAL and have flowers SENT to me. But, what came in the FTD box DIDN'T make me happy. First, the flowers were very poor quality, and were very wilted. He ordered the multicolored roses bouquet with a vase. The pink roses were brown, the other roses were small, with very crooked stems and had disease on all the stems, and all the buds and leaves were wilted or dead, as well as the thorns still being ON the rose stems.
I grow a garden, so I know what plant diseases look like. Plus, the vase was so small and so short, that either the flowers had to be cut down to little shorties, or I needed to use another vase. I chose to use one of my own vases so the roses could still have some length to them. I know my husband paid a fair amount for something he could have paid a FRACTION for (and better quality) at the local grocery store. I felt bad to get this as poor as it was, but felt WORSE for my husband because he really TRIED, and being ADHD, it takes him some extra effort to do these things.
This company has ALWAYS had a reputation for quality, and speedy delivery, but the past few years the poor quality has almost but totally DESTROYED this company's good name. A Mr. Robert S. Apatoff runs this company, but obviously he doesn't realize how bad things ARE, and that his company is almost now synonymous with "POOR QUALITY." I don't like giving bad reviews at ALL, online, but when I saw how MANY there were and counting, I had to add mine as well.

I ordered flowers from FTD for my mother's birthday the day before. The flowers didn't come until 4, which is fine but when the came they were nothing like the picture and the note was poorly written. When the flowers were delivered the wrong name was written on the card!! When I called to complain about the flowers that looked nothing like the picture and note that was horrible I was told that I was wrong and then after further conversation told all they could do was send another arrangement and we could keep the bad one. Then they came to the house the man was very rude took the flowers and 4 days later and still have not received new flowers! When paying 70+ for an arrangement I expect it to be a little like the one advertised!!! Will never order through them again!!

I am beyond disappointed!! My girlfriend was leaving for school today to another state so I wanted to have flowers delivered to her job to wish her luck. They said it would be delivered by the time I needed... it never was. Called again. They upgraded the flowers and were going to send them to her house... they never arrived. She left without getting them. They never called or emailed to like they said they would to let me know the status. Never again.

I ordered flowers and a balloon for a birthday dinner. They were delivered on the wrong day and were very poor quality. The balloon went flat on the first day, and the flowers were pitiful. It was such low quality that the restaurant (where the flowers were delivered) told me that FTD should give me a full refund. I won't use FTD again.

FTD didn't mention when confirming my flower order online that there is $18 for delivery on top of the $40 of flowers. I only found out when I received a text message from my credit card provider with the amount withdrew to be $58! I was surprised so then I checked my email confirmation from them, it was mentioned there. I immediately cancelled my order because this is absolute theft when they didn't mention the correct amount that they will end up withdrawing.


There's absolutely no reason to use this "service." The flowers look nowhere near what those displayed do, and the customer service is terrible. I called to change a mistaken order minutes after placing it and they were unable to contact their local florist? I called back 2 more times to check in and got the exact same runaround "We cannot reach our local florist, but will send them a message, and follow up with you." There was never a follow-up. They also refused to provide the information for their local florist, so I can safely guess either they never called, or that the local florist is some fly-by-night shady business and they wanted to hide that. Every florist I call answers or returns calls promptly so why can't they reach them when they try 3 times but can reach them immediately to place an order? The website looks so professional, but they are far from it.
It is obvious when you call for customer service it is a call center where the employees with a shaky grasp of the English language are taught to just repeat the same phrases and tricks in hopes you just give up in frustration. I'll never order through them again and will advise anyone I know to also avoid them. I have had much better luck just calling local florists myself. A quick google search will reveal this company's stock is plummeting and it's no surprise why. Attached are pictures of what was promised, and what was actually delivered.

I placed an order for flowers on October 3, 2016. My daughter was supposed to receive them on her birthday October 4, 2016. I called her to see if she received them and she had not. I called and spoke to Nakiya (FTD staff) on October 4th - she placed me on hold and came back on the line stating the local florist was closed for the day. Over the course of that day and the next few days - I spoke with Sherita, Rowell, and Brianna (FTD supervisor staff). In each case I was made promises that were not fulfilled.
I received two e-mails of flower delivery - the last one gave a name of Esai as the person signing for the flowers. My daughter has never heard of this person. I am hoping FTD does the right thing and refunds my money. In any case, I will NEVER use their service again and will encourage all of my family and friends to do the same. All I wanted was to surprise my daughter with beautiful flowers for her birthday. I am saddened by what I thought was a reputable company's customer service.

I submit "unsubscribe" so many times already and I called customer service center for unsubscribe Email but they are still keep sending me promotion email everyday except weekend. I almost hate this company. I really don't want to use their service any more. Just send flower, not email everyday!!!

Do not use this business. I have been ill and my daughter has been wonderful in caring for me. I wanted to surprise her on her birthday by sending her flowers, balloons and a stuffed animal to her job to say thank you. FTD ruined it. I paid $85.00 and the flowers were not delivered until right before she was leaving work. Do not use this company!!

Ok... so I have literally never posted anything online review before this, but I am really angry. I have used ftd several times in the past couple of years, and most experiences were satisfactory, but the company has gone down hill. I ordered flowers this past week for a friend of mine whose husband died unexpectedly from a heart attack. The bouquet was blue hydrangeas (the flowers she had at her wedding) and white roses. It wasn't cheap. It was $128 and change. The bouquet she got had no hydrangeas. It had white lilies, some cheap yellow filler flowers, and some other pink cheaper flowers. How did I go from white roses and blue hydrangeas to pink and yellow bs??? It wasn't even the vase they advertised. Also, it showed up a day late.
In addition to that bad experience... I ordered two bouquets of flowers this last Mother's Day. One for my mother and one for my boyfriend's mother. I got a confirmation email that one had been sent so I looked into it because I hadn't gotten a second confirmation. First off, they one that was said to have been sent hadn't even been sent. My boyfriend's mom got them a day or two after that email. As for the flowers for my mom, I had missed an email from ftd canceling the order because it wasn't available. However, I ordered the flowers over a week in advance and they didn't tell me until last minute that it wasn't available. Also, they didn't automatically refund me the money for the order they canceled. I had to spend 45 minutes on the phone to get my money back.

My husband wanted to have flowers, chocolates, and bear delivered to my office on my birthday. He ordered on line specifically so that he could verify that the flowers would be delivered on my birthday. He specifically choose the second choice of flowers so they could be delivered. I called to find out why and was told that they were NOT sent to my office until 6:24 p.m., by the way we close like other business in the area at 5:00 p.m. No call to check time. I requested that the flowers be delivered to my home since I would not be at work the next day and was told that was fine and that they would upgrade the flowers. Next day by 2:00 no flowers, I called to find out that they were refusing to deliver to my house. No call from FTD. No follow up whatsoever if I had not called. Also it is interesting that my husband account was debited the amount in 1 day but takes 5 to refund. I would highly NOT SUGGEST to ever use this company!!!

I ordered a $70 total bouquet online, which was supposed to be the "upgraded" BEST bouquet. What was delivered was equivalent to a $9.99 grocery store bouquet of flowers. I was so embarrassed when my friend sent the photo that I contacted FTD. They offered to "swap out" the flowers. I declined, as it was a surprise gift for a friend and a swap out is less than acceptable. They then issued a $20 credit after sitting on hold while the customer care representative called the florist and proceeded to tell me I only paid $40 for flowers so I got what I paid for. Again, I told her that I ordered the largest bouquet and asked if I was able to send a photo of the bouquet that was delivered so that she could see for herself. She declined and said all she could give is $20. I would have expected a much larger credit for the embarrassment of the situation.

Ever since her 1st birthday, I have given my daughter roses on her day. First time she didn't receive them was on her 22nd birthday, thanks to FTD. Ordered them a day in advance and asked for morning delivery. I received no emails confirming delivery throughout the day, so I constantly checked their website and was told the order was "in process." When I called my daughter at 7:30 PM, she had still received nothing. Called FTD, and was told the florist who was supposed to deliver it was probably closed, and would it be OK to deliver them the next day. At $62.81 for 6 roses, the answer is no, it wasn't OK. It took me a generation building a memory, and it took FTD only one time to destroy it. Thanks for nothing.

My wife received horrible news that something was wrong with her heart. She is having a hard time and I was trying to cheer her up as she likes flowers. I can't get it right now due to a recent back surgery less than a week ago and I wanted her to know how much I loved her. Worst customer service. They don't deliver as promised. They never called me to tell me my wife would not receive her flowers. Kept giving me excuses say long no local florist would accept order. Of course FTD didn't call me to tell me they were not making delivery. I had to call them and all the customer service manager kept saying was he was sorry. You think I would have learned since this the second time? This has happened a year ago. The unhelpful manager just said they take 1000's of orders a day and they just made a mistake on my order again.
I asked for their company policy. Of course the Manager didn't know the policy. Manager told me the Top bosses if FTD including CEO do not speak to customers about these types of problems. I asked him multiple times to have his boss call me and all he wanted to say is they will not be able to help me. FTD customer service is the worst company I have dealt with. Not hard to call customer to tell them they are not able to fulfill order but FTD doesn't care about this. Unless I hear from FTD corporate office bosses I will continue to call and request they change their company policy. Don't order from FTD.

I ordered my flowers on 9/16/16 for 9/17/16 to be delivered to my mother on her 57th birthday, since I couldn't spend THAT day with her. When I saw her the next day I asked how she liked the flowers and she told me she never got them. When I called their 24/7 customer service line that night, I was on hold for about an hour before I became tired of listening to their hold music- assuming the 24/7 was a typo or recently changed. I then called this morning 9/18/16 and got in touch with someone almost immediately. The man barely spoke English and informed me that they could not find a FTD certified florist near that location. Which is all fine and dandy, BUT WHY DIDN'T ANYONE CALL ME?! He gave me a half sympathetic apology and asked if I'd like to place another order... Why would I place another order through a company who over promises and under delivers? No, I asked for a full refund.
Since then, they've sent me SIX emails offering me free shipping... SINCE THIS MORNING! Between their limited selection, poor customer service, lack of communication, and their $18 service charge, they'll never receive my business again! I DO NOT RECOMMEND THIS PRODUCT OR COMPANY TO ANYONE. I'd pay an Uber driver to deliver flowers to my mom before I gave this company another penny. After reading everyone else's reviews, this would explain my challenge of finding where to leave a review on their own website- that says a lot about a company.

I order flowers, a stuffed bear and a card from ftd.com, for my 18th wedding anniversary and these bums did not deliver on the day they said, so I called and talked to some rude ** that informed me they could not fill the order! They never called, texted, or emailed me to let me know this! Rude Bastards!

Ordered flowers to be sent in time for a viewing 2 hrs. prior to a funeral. Flowers arrived in a broken vase a half hour before the funeral so not in time for the viewing as it was promised. I had specifically asked if it would be delivered in time for the viewing and was told it would be there in time. The top edge of the vase had chunks (large pieces) missing from it.

I ordered a sympathy flower arrangement to arrive the next day. This was for a family gathering between 12 pm and 6 pm. Called customer service between 12 pm and 4 pm (that day) four times looking for status. Each time they would put me on hold for 30 seconds to reach the local florist. Each time I was told they are not answering and they will send them an email. Something was definitely not right so went online and saw all these frustrated customers. Called immediately (5 pm now) and requested a cancellation and refund.
Was put on hold for 30 seconds again so the local florist could be reached. Big surprise no one is answering. Was offered an upgrade if I agreed to have the flowers delivered tomorrow but I declined right away and requested a cancellation/refund. I requested a specific day for a reason! I will now have to wait until tomorrow so "FTD" can contact the local florist and put in the cancellation. The flowers look nice online but as one reviewer mentioned, "You do not get what you pay for".
This was embarrassing as I was not able to send my condolences for the family gathering. Should have saved myself from a headache, called a local florist directly. FTD is not reliable and should be considered scammers. It is amazing how this company is still in business after seeing all these single star reviews. The customer service appears to be outsourced to India. However, the people I spoke to did not have that heavy an accent and were courteous.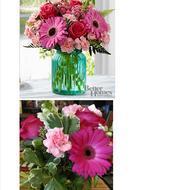 I wish I saw this review site for FTD before placing my order. I used a Groupon to place my order and also found out that they offered a promotion that day for free shipping on a specified set of flowers. I placed my order only to find out that I had been charged for shipping and the flowers that got to the recipient were different from the ones that were advertised. When I called to complain about it, Joe the manager offered to give me a $20 coupon to reorder from FTD in the future (what a slap in the face)! Would not order nor recommend FTD to anyone.

I ordered a large bouquet and upgraded it to "full and lush," with a teddy bear, for someone in the hospital. The bouquet was supposed to include lavender stock, Matsumoto asters, iris and daisy poms, and a lantern style vase with a clear glass cylinder. But the bouquet received was nothing like the photo of the one I chose, and there was no lantern style vase - it was a total embarrassment. I contacted customer service and basically got the runaround. No discount, no apology, no refund; just a lingering feeling that I was robbed and there was nothing I could do about it. How can this company get away with such blatant disregard for their customers?
Company Name:

ftd.com

Website:

https://www.ftd.com/