Consumer Complaints and Reviews

I only gave 1 star because there was no option to give zero stars or better representation of my review negative stars. I did this twice, in hopes that two different states, many occasions apart, that results would've been different. I hope to help you save your money or find a different company to send flowers through. They advertise 3 or 4 different grades of bouquets, for increasingly higher prices. Last year, I sent flowers to my adult daughter for her birthday. I gave her up for adoption when she was born and I wanted to make a nice impression with a large bouquet. She lives in Arizona. She was grateful and sent me a picture and it was the cheapest bouquet with lots of the green filler not flowers. I called and complained and was given a refund of part of the purchase. They wanted to go pick them up and give the right bouquet to her.
Second chance my husband sent me the big bouquet (most expensive). I live in Colorado. They sent the cheapest looking small bouquet. They are a rip off. Save your money and buy from ANYWHERE else, even King Soopers has better flowers. For what I paid them for their junk, I could have bought all the flowers at the supermarket. Their advertising is a big fat Fibber McGee!

First of all I wish I could give a ZERO star rating for this company. They ruined all the excitement that I had for my sister's birthday and they never responded to the survey that I did. I ordered a small teddy bear, some sweets and a card for her. And all she got was some crumbled sweets mixed up together with the teddy bear. The only thing that they did good was the card, which I should of gotten one at Stop & Shop for $2 and not spending $85 for some stupid stuff. I would never recommend this company. I have been waiting for a phone call or email from them and I haven't heard anything. I requested a full refund and to speak with the manager and I've got nothing. The worst website ever.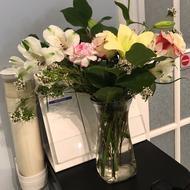 What was sent looked NOTHING like the photo online. Now, I know each flower is different and I am not asking the flowers to be identical, I understand sometimes you have to make substitutions BUT these flowers looked so ugly that I felt embarrassed when I saw through photos what my friend has received. I wish I never made the order altogether. Adding on, vase looked nothing like the one I ordered. The vase received was in a completely different shape! Also, the amount of flowers are nowhere near the amount of flowers shown at the FTD website. This is nothing but FALSE ADVERTISING!!

They wrote me an email that delivery is done. After few hours I find out that nothing was delivered. I called customer service few times. They gave me the option to redeliver in 3 days. I asked my money back... They said to try to redeliver that night and promised to call. The delivery was made in 2 days, nobody called me or the receiver. This is a worse experience I ever had with the flowers. Please don't order flowers with them!!!

Ordered a floral arrangement for a 50th wedding anniversary. Choose FTD thinking it was a highly reputable company. The flowers delivered was extremely sparse compared to the expensive arrangement pictured online. When I contacted customer service, the out-sourced representative was unintelligible. I had to repeat myself several times. I had to ask him over and over again to repeat himself, could not understand a word. The problem was not resolved. I will NEVER order from this company again, and no one else should either.
How do I know I can trust these reviews about FTD?
766,190 reviews on ConsumerAffairs are verified.
We require contact information to ensure our reviewers are real.
We use intelligent software that helps us maintain the integrity of reviews.
Our moderators read all reviews to verify quality and helpfulness.
For more information about reviews on ConsumerAffairs.com please visit our FAQ.

Can't deliver flowers. Can't be civil. Took 5 phone calls to determine that the florist had no intention of delivering on the day promised. 1st FTD employee said they tried to deliver to my address (the sender). 2nd employee said that they did deliver to the recipient who didn't answer the door or phone. Untrue. The recipient cannot leave the house and there were 2 people awaiting the delivery. These FTD employees were irritable and unwilling to help. Repeated that the florist tried to call and knocked on the door and that's what it is. The florist would not deliver until Monday. There will be no one to answer the door on that day which is why the agreed upon day was so important. If someone had been honest in the first place, I could have cancelled and called elsewhere. Dismissive, poor customer service. DO NOT TAKE THE CHANCE WITH THIS BUNCH IF YOUR DELIVERY MUST BE TIMELY. HORRIBLE.

I've used ProFlowers.com for years, for sending fresh, reasonably priced flowers to people. Recently an elderly relative's birthday sneaked up on me so I ordered a $70 bouquet to be delivered by FTD, same day delivery. She texted me to say that she had a voicemail from someone who didn't speak English, who wouldn't deliver until the next day. When the flowers finally arrived, it was 7 roses and some filler flowers. I got a refund from FTD when I called and complained, but what the heck! FTD used to be the standard for fresh, beautiful, timely flowers! If I need to send flowers in the future, especially for a birthday, funeral, etc, I will call the flower shop directly and skip these shyster middle-men!

I ordered flowers ($60) to thank my aunt for taking me on a wonderful vacation that she spent about $5000 on. The flowers I ordered were not AT ALL like they were pictured. They are embarrassingly ugly and I can't believe that any florist would allow that to be delivered. Never ordering flowers again. Huge waste of money!!!

FTD.com automatically subscribed me to a free 1 yr subscription with Better Homes/Gardens, without warning or my permission. There's no option to decline! Via their online help chat I was informed that they could not cancel the subscription. I had to do so myself via calling Better Homes. Is this legal for them to subscribe me/give my personal info to other companies without my consent??? I am PISSED as I do NOT want the magazine, period & FTD has not helped at all to cancel it.

Paid around $92 for some gorgeous flowers. Received flowers worth maybe $30. But called to explain, and sent an email with what was received, and they gave a full refund. Not happy with the product, and I would not recommend, but they at least understood and made things right.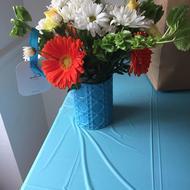 Ordered flowers for birthday for daughter and relied on photographs they showed on the FTD website. I spent almost $100. The flowers arrived on time but were nothing like the photographs. And although I knew they make substitutions, these flowers were close to their shelf life, the design was ugly, and there were not anywhere near the number of flowers the FTD website showed. FALSE ADVERTISING and just plain BAD SERVICE. Shame on them for ripping people off especially when you want the gift to be something special for a special person. NEVER AGAIN will I order from FTD.

I called to order a gift basket for my mom. The first representative that I talked with was not helpful at all. He told me to order first online and then call for the refund. I told him why would I do that, so he transferred me over to a different representative who was helpful but at the end he said I can't use both of my gift cards for the transaction. So I talked with their manager named Jason who was really disrespectful and he said that he doesn't care if this is my first time ordering or second time, and that I should've known that you can't use two gift cards in one transaction. I am really. I work retail and I know you could use multiple gift cards. And, said that they can't override the system for me. This is the worst place to go to for special occasions. Don't spoil your occasion by using their service. I am really regretting buying two gift cards each $25 worth.

I ordered 3 dozen long stem roses from them for my wife. The arrangement on their site looks great. It's the "Exquisite" version, with the most flowers they had to offer for the long stem roses. As you see in the pictures, it looks like a group of children got together and each of them prepared a few of the flowers, then they put them in a vase. I could have easily gone to the grocery store and gotten a nicer arrangement than I received. Please don't order from these guys.

I ordered a bouquet that specifically stated would be delivered by a local florist. I received an email that the flowers "shipped". I called customer service to find out that what I ordered is not what they were showing. Regardless, the bouquet they were saying I ordered was supposed to be delivered by a local florist also, and was comparable in content. They stopped the shipment with FedEx and said a local florist would deliver my flowers. I said the flowers had to be yellow. They were yellow... but NOTHING like what I ordered. I wanted yellow roses, she received yellow daisies. Not even close! I have contacted customer service and have received NO RESPONSE. Oh, and I also became a "gold member" on my original order, as I order flowers throughout the year. Bottom line... don't waste your time with this company!

I placed an order for my mom's birthday 3 days from the date of delivery. The agent, named Eddie, told me that my mom's address was wrong and that the flowers could not be delivered. After being placed on hold about 6 times he said he had found a florist who would deliver the flowers. After this assurance we ended the call. For the next 10 minutes he called my cell and landline insisting that I give him a high rated feedback. I refused. The flowers were never delivered. I had trouble getting customer service to give me a refund. The agents do not speak English very well. After being disconnected 3 times I tried again with Darnell. Again, no understanding of what happened. No apology. Nothing. I'm still trying to get my 78.82 refund. What happened FTD??? I can't believe you can't speak with a manager. They just disconnect your call then you have to call again and go through the prompts. I nor my company will call on FTD again ever.

This year so far, I have used three different flower delivery company. I have been robbed all three times. I thought FTD would have been different, that they would show some respect. Oh Boy, was I wrong. I ordered a $100 flower and I received a small $30 value for my money. The pictures they use is terribly misleading. I contacted them and I was promised $27 refunds. This without discussion. I am starting to believe these businesses are not honest and are out to rob people. I am exceedingly disappointed. I believe some Highpower ethic lawyer should look into these businesses... just unacceptable.

I ordered flowers online for a friend's funeral. I wanted a live plant his family could take and plant in a memorial garden. What I ended up with was something Walmart wouldn't sale. It was old, wilted and half dead. It was only one of 4 arrangements there and I was embarrassed to see my name on the card. I will never order from them again.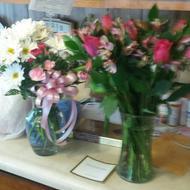 A family member was having surgery on a Thursday. On the Sunday prior, I placed an order for two arrangements to be sent to the same address for Wednesday, one for her and one for her parents. The two arrangements I picked out were primarily pink because of the nature of her illness. On Monday, I received a call from FTD telling me that their florist could not fulfill the arrangement meant for her parents. I was told that I would have to pick something else, and that they would cancel the original arrangement and I would have to re-order my next choice.
I explained why I needed them sent at the same time and in a particular color scheme, and I asked if I could place an order through FTD for the replacement and then have the florist's info so that I could call them myself and make sure they could fulfill the order. I was told no, they are not allowed to give that information to me. I received an email indicating that the cancellation had been made and that a refund would be issued. I placed another order at FTD.com, which I believe was fulfilled by a different florist - "fresh from the farm", I believe the description said. I upgraded to a $49.99 arrangement to get the vase. Both arrangements were delivered today to a residence near Uniontown, PA. I have a picture of them.
Arrangement for the family member having surgery looks nothing like what I ordered. I understand that substitutions are allowed; this looks NOTHING like what I ordered. The one that I ordered was all different shades of pink. It was called "Sweet Surprises" - bright and vivid and young looking like the person it was sent to. What she got was almost entirely white, not the same ribbon, not the same vase, not the same flowers. I don't even think there were roses in it at all, from the picture I received. It looked like what I would have grabbed on the fly out of a hospital gift shop for my grandmother. Not even close. And this is the one the florist said that they COULD fulfill.
Second arrangement is done sort of with the same flowers that were pictured. "Dreamland Pink". It is nothing like the picture of the $49.99 arrangement, and in fact looks like someone took the $39.99 arrangement and cut it in half. In short, it sucks. Judging by the picture that I received, I could have picked something similar up at the local grocery store for about $15, and driven the four hours to PA and delivered it myself for less than what I paid for the one they got. Shame on you, FTD. That is called "bait and switch". Buyer beware, what is delivered could very easily not look anything close to what you ordered and most likely won't look anything like what you paid for. DO NOT WASTE YOUR MONEY!

I went online to ftd.com to browse flowers for a funeral. I began filling out the online order but was interrupted and closed out. I never hit the submit or confirm order button. 1 week later the charge shows up on my credit card. Contacted customer service and they confirm that it was delivered - oh well I sent 2 floral orders - OK, I will take responsibility for it since the recipient supposedly got it. I ask for a receipt (3 times via phone with customer service). Each time they promised to email it to me. I went online and requested receipts. Still don't have it. This is so wrong! Be wary visiting this site.

After my sister's father-in-law suddenly passed away on a Sunday who already had a plot at a mausoleum, since I live in another state and wasn't able to go to the funeral, I wanted to pay my respects. I searched for standing sprays and placed an order on ftd.com. I thought I had selected the delivery date for 2 days later, and luckily, FTD had contacted me on Monday to confirm the details (and I had accidentally selected a date the week after the funeral), the florist was able to deliver the standing spray to the funeral home the following day! Not only were my sister's family impressed with the spray, but when I spoke to another family member, she remarked about the lovely white flowers.

I am very disappointed in this company and their poor customer service. I recently ordered an arrangement for me best friend's birthday to be delivered by a local florist. I paid extra for the "full and lush" arrangement and what she received was not full and lush. It appeared that the smaller arrangement was delivered instead and I was shocked that they would charge for a more expensive arrangement, I thought it was dishonest of the florist to do that.
I emailed customer service and after 4 days I receive a response that stated the following: "We do regret that your item received wasn't as pictured. Our flower arrangements follow a specific recipe by our florists. For this bouquet the florist did follow the recipe". Really FTD!? This is all you have to say? They didn't even ask to see the pictures of the arrangement that was delivered. I paid $80 with fees and taxes for a mediocre arrangement with 4 small blooms in it that I could have paid $10 for at the grocery for. Will never do business with FTD ever again.

FTD Customer Service is totally ineffective and incompetent. My recent FTD order was placed on 2/10/17 for delivery on 2/13/17 - and I am still waiting for delivery... My repeated attempts to obtain customer service regarding this order only resulted in more disappointment and frustration. The Customer Service agent could not speak intelligible English, and when eventually transferred to the Supervisor, her English was equally poor - only adding to my frustration regarding the incompetence of the FTD organization.

Out of town service for friends parents passing away. Ordered flowers 2 days before funeral. Used florist right from the funeral directory. I received an email on the day of delivery. They were not able to fill the order. Well I should of called the florist myself to fill the order. Then they ask if flowers can be sent to their home. If I wanted it sent to the home I would have! My family was not represented with flowers. Ridiculous service.

Funeral flowers were ordered with options for delivery either Sat or Sun. They never made it to funeral home. Had my husband not attended this funeral (1000+miles away), FTD/local Gaithersburg MD florist would have pocketed $90. I repeated asked for explanation (#calls). To date, no one has explained. I was finally told flowers were delivered to the HOME - AFTER the funeral. I had to contact the bereaved family and bother them with questions regarding flowers that completely missed the funeral event. How horrible is that? Shame on FTD and the Gaithersburg MD florist for botching this. FTD would not tell me the name of the florist so I could have merely called and addressed this. No, I had to contact a grieving family and say, "Hey, did you get those flowers that did not show up at the funeral?" Never again. Never again. No more order to FTD for me. I will be using social media to forward this.

I ordered a dish garden for $66.00 which totaled $99.00 with fees, etc. The flowers not only looked NOTHING like the picture I ordered from, they also didn't have our names anywhere... so nobody knew who they were from! The picture was lovely but the actual dish garden looked limp and "thrown together" and did not contain the plants that were in the picture. My relative who was at the funeral finally figured out who they were from by texting back-and-forth with another relative, but the funeral was nearly over by that time.

I ordered flowers to be delivered to my sister for her birthday. Ordered an arrangement from a picture and description. While I understand at times certain flowers may have to be substituted, the arrangement that delivered was NOTHING like the picture. They charged a great deal of money and sent something that looked cheap. The response from the company was "We're sorry. We'll do better next time." There won't be a next time for me. It's a shame they don't take more pride in what they do. Evidently they're just out to make money and don't care about customer satisfaction.

This order was placed through FTD and delivered on 3/2/17 by a local florist. The bouquet that was delivered did NOT look like the one I paid for. Red carnations, pale roses and lavender flower did not look like the brightly colored bouquet I obviously overpaid for. And to top it all off, the BIRTHDAY bouquet was delivered with a GET WELL SOON balloon. I paid for a Happy Birthday balloon (it is a birthday bouquet) and the kicker...this was delivered to my mother in law, who unfortunately is sick. Yes, that's right. Someone delivered a GET WELL SOON bouquet to a woman with cancer on her birthday. How nice, right?
I immediately contacted FTD for a partial refund and redelivery of correct flowers and balloon. I then contacted the local store. 5 ATTEMPTS and no one answered. I decided that if you all don't answer your phones for customers, how will I know you got the message to redeliver? So I contacted FTD again to demand full refund and just forget about the redelivery. I was put on hold for almost 20 minutes and transferred around while waiting to speak with a supervisor. I finally called FTD again from my other phone line while I was still on hold. I was then told I could not get a refund unless the local florist picked the flowers back up from her or they could reach them for negotiation. Well, no surprise...they couldn't manage to get through either. I refuse to allow to allow them to take flowers that have already been delivered. I was offered delivery of the "correct balloon" so I guess I'll take what I can get.
There are no words for how upset, disappointed and angry I am. This is completely unacceptable. I have filed numerous complaints with FTD for their horrible customer service and suggested they rethink their contract with a florist that does not answer phones, fill correct flower orders or deliver appropriate balloons. Today was someone's birthday. Someone I love. Someone that has CANCER. And she got the wrong bouquet, with the wrong balloon. And I'm out $80 for a less than stellar gift.

My daughter's 30 birthday - had flowers delivered to her work (paid over 100.00). Attaching picture of what I thought I had ordered and photo my daughter sent me when she received them. I was so disappointed. Not wanting to spoil her day as she was grateful for anything she would get - I discretely called FTD customer service. They contacted their florist who replied that they sent exactly what was in the picture. They would not replace, but would pick them up and give me a refund. I immediately stated that "I do not want them picked up (it's her birthday), can we send her roses instead?" Thinking, how bad can you screw roses up? Well, as I was talking to the FTD agent my daughter was trying to call in.
After getting off the phone with FTD, I returned my daughter's call. As I was talking to the FTD agent the florist had returned to my daughter's work, made a big scene stating, "Your mother does not like the flowers, so we are picking them up". This happened in front of all her coworkers, on her birthday! So upsetting and embarrassing on her special day. I thought with FTD they had a guarantee you would get what is pictured. I paid extra for THE BEST to be sure it was nice. Had to make a shout out as I would hate others to experience the same fate. Unfortunately, we don't normally go to ConsumerAffairs until after a disappointment. Will not be using FTD again. Best to research on ** first, then go directly to the florist with great reviews. Then post your satisfaction. FTD will not disclose the florist they used so these partnered florists hide under the radar. BUYER BEWARE!!!

On Valentine's day I had flowers delivered to my wife's job which were delivered with some damaged and I contacted customer service the next day and the operator was nice and offered to redeliver the but I explained they were for that occasion so she said they would give me a refund but I have not received the refund she promised even after talking to her twice. So I will not be using them again unless I receive promised refund.

I ordered The FTD Exquisite Standing Spray, BEST quality. It arrived late, wet and with less than 50% of the promised flowers in bloom. My family was saddened and embarrassed. This was ordered for a family member's funeral. The funeral of a child. We can NEVER fix this! They offered us another bouquet of flowers free of charge - of course, they would likely use the flowers that were supposed to be used on our original order!!! Our family will NEVER use this company again.

ConsumerAffairs Research Team
The ConsumerAffairs Research Team believes everyone deserves to make smart decisions. We aim to provide readers with the most up-to-date information available about today's consumer products and services.
FTD was established in 1910 when 13 florists joined together to offer flowers across the country that could be ordered by telegrah. Today, the company delivers flowers and other gifts around the world. Orders can be placed by phone or on the company's website.
Guarantee: FTD guarantees their flowers will stay fresh for seven days. If a consumer isn't satisfied with their order's freshness, they can receive a refund or replacement.
International delivery: FTD offers deliveries internationally. Consumers can visit the website to see countries where the service is available.
Same-day delivery: FTD has same-day delivery bouquet options. Consumers must order flowers by 2 p.m. in the recipient's time zone on weekdays. Hours vary for holidays and weekend orders for same-day delivery.
Corporate accounts: Large businesses that place frequent flower orders can sign up for an FTD corporate account. These accounts can save companies money, and they allow multiple people to send flowers and gifts using the account.
Other gifts: FTD has a wide selection of gift items to be sent with flowers or instead of flowers. Options include fresh fruit, chocolate, gift baskets, jewelry, wine and more.
Best for significant others, friends, adult children and companies.
Company Name:

FTD

Website:

https://www.ftd.com/