Consumer Complaints and Reviews

This has been a very upsetting and frustrating experience. I was on the phone in the last hour trying to speak with a representative. I explained the situation to her regarding the order that was processed incorrectly. She apologized and offered to place the order with a free delivery for the item no. #30001652. I began giving my personal information but there was a huge communication barrier. She couldn't understand the basic English language. After more than half an hour speaking with her, spelling out addresses and names, it became very frustrating. The moment I asked to speak with a manager she began saying that there was a problem with the phone line. She kept on placing the call on hold and my patience finally ran out. I never even placed the order. A very dissatisfied customer!

Tuesday I made an order online for next day delivery for a bouquet of flowers for my lady. Get an email stating that there needs to be a modification as what I ordered was out of stock. Called ProFlowers, the customer service rep was really nice and told me that she'd call me the next day (day of delivery) and find a florist to deliver because she suspected that many of the area florists were closed. The issue she said was that the vase I chose was unavailable, in which I replied that I wasn't picky about the vase or the flowers, just as long as a nice set of flowers with a vase are delivered, that's all I care about.
Next morning, (day of delivery) no phone call from the rep as I was assured I'd receive. So I called ProFlowers again. I simply could not understand the reps I'd speak with over the phone. It was really frustrating. Compound that with the fact of being placed on hold over and over again. Finally after about an hour on the phone I'm told the flowers can't be delivered on that day-- the DAY OF expected delivery... I send an email voicing my displeasure, and get a call and email from a really helpful guy named Zak. He offers a courtesy bouquet to be delivered the next day, that Friday. And I'm happy and thankful.
Well, the next day, Friday, I called to make sure my lady would be delivered the courtesy bouquet as promised and after some time on the phone I was told they would be unable to do so because of an issue with the florists in the area. So they tell me that they could do so on Monday, as it was a Friday... Well today is Monday and after an hour on the phone to once again confirm they'll be delivered, I'm told they can't deliver them and if I want something delivered I'd have to pay for the flowers to be sent. I explained to the customer service rep that these were granted as a courtesy bouquet and that this is the 3rd failed delivery in a week. I was told there was nothing that could be done and that I'd simply need to pay if I want flowers to be delivered.
This is the worst customer service experience I've ever had... The reps were cordial, but they aren't very helpful whatsoever. I was actually partly relieved after speaking with the last customer service rep I'd spoken with, as I either wanted them to tell me that the flowers they promised would be delivered or that they couldn't do what they'd told me so I can hang up from wasting HOURS of my time with this company and wash my hands from ever doing business with them and warn others to stay away from this company. That's saying something when you don't even care about receiving free flowers from a company and just want to be rid of them once and for all just to be able to never have to deal with them again.
You expect for someone you hired to do what they say, not having to call them every day to make sure they will follow through on what their business is supposedly built on which is delivering flowers. If you're foolish enough to order from ProFlowers, I'd highly recommend you call before your delivery date to make sure these are scheduled to be delivered because they have no problem not carrying out what they said they would and simply issuing back a refund sending you into a scramble for a plan B. I highly recommend going straight to a local florist and never using ProFlowers.

Valentine's Day ordered flowers, chose selection about $50, with coupon code you got free delivery. When the bill finally came it was over $100. They charged me for the flowers but added a $19.99 vase, charged me for delivery, handling and express for delivery in morning. The recipient was thrilled with the flowers so I didn't make an issue. Now with Mother's Day coming I ordered again, a $19.99 special and with radio code you get free delivery. I just got the notification through PayPal. They are charging me for delivery, an upgraded vase, handling charges and the bill being posted was well over triple the offered price. I called them, they would not accept the code for free delivery and apologized for the added vase, they would cancel but will take over five days, which was past the delivery date. I contacted PayPal and canceled myself before they shipped.

I'm very disappointed in the flowers that I spent $76 that were sent to my mother for her bday. They look nothing at all like your pictures and I feel like they were not even worth the $76 that I paid for them. She said the vase was way too small for the all the flowers and she had to put them in a larger vase. I will never in my life use this company again.

I placed an order on 4/28/17 set for delivery on 5/11/17. To my surprise I received a call from my Aunt thanking me for the flowers she received on the same day 4/28/17. This was a surprise for Mother's Day week and it was ruined! I called and spoke to 10 plus people who do not speak English. I was disconnected twice, hung up on and could not reach a supervisor. 2 plus hours on the phone and no luck. Horrible experience, horrible customer service. Doubt I'll get a refund because the senior consultant Aljon couldn't tell me what card my money will be refunded to.
I also used a Groupon voucher and he told me I didn't. It took me 2 hours to get to him, another 45 minutes speaking to him and 20 minutes while he looked for a supervisor. He told me there was not one available. Horrible experience, ruined the surprise. Oh the best offered me 20% off my next order, a joke right. I'd never order from ProFlowers.com ever again and would tell you never to either because it's an absolute mess and nightmare!!!
How do I know I can trust these reviews about ProFlowers?
763,773 reviews on ConsumerAffairs are verified.
We require contact information to ensure our reviewers are real.
We use intelligent software that helps us maintain the integrity of reviews.
Our moderators read all reviews to verify quality and helpfulness.
For more information about reviews on ConsumerAffairs.com please visit our FAQ.

I was reconciling my credit card statement and came across a charge that I did not recognize. I called the number on my credit card statement and waited 25 minutes to only get someone from off shore. I asked to speak to someone that I could understand. After 4 people that were very hard to understand including a supposed supervisor, attempted to help, I asked for On Shore Customer Service. They left me on the phone with no resolution. This is the second call today to customer service (other was AT&T Internet). I am so frustrated and WILL NOT use ProFlowers anymore and will cancel AT&T. This is not the first time I have had to deal with such incompetent people. Three years with AT&T and about 7 years with ProFlowers.

Do not order from this company. They advertise free items with the order and then notify you that they are not available. I called the company and spoke to someone who hardly spoke English. It was a very frustrating experience. Not to mention that after I got off the phone with them the "deal" that I had originally sought after was "available". Very shady business. DO NOT ORDER FROM PROFLOWERS!!!

A friend treated me to a gorgeous arrangement of flowers from ProFlowers for my birthday, so I decided to use them and their 20% off coupon to order birthday flowers for my mother. I placed the order for a beautiful arrangement of purple orchids, and couldn't wait for her to get them. I paid extra for a Saturday delivery, because they don't deliver on Sundays, which is when her birthday was. The flowers were not delivered. When I called the next day to see what was wrong, they told me that the delivery address was wrong. It was not wrong. I double checked it, and it is the same address she has had for 20 years. They also had her house phone number if they needed to call for more information, directions, etc, as well as my cellphone number. Customer Service apologized and promised it would be delivered by end of day.
By 4:45 pm, she still did not get her flowers. I called back, and they told me they could not deliver the flowers because the address was wrong. They had no indication that the flowers would be delivered that day, or ever. Customer Service was not helpful at all. They asked if there was another address they could deliver to. There isn't another one. My mother is 81, that's her valid home address. Frustrated, I just asked for a full refund. I got an email stating I would get the refund in 5-8 days. I ended up ordering a lovely flower arrangement from another company.

My friend sent me tulips for my birthday with a box of chocolates. I live in Florida, the temperature was 90 yesterday and when the box arrived the tulips were under considerable stress from the heat and chocolates melted and stuck to the lid of box. I have pictures of wilted, sad tulips. When I called to ask why no ice pack in the box, I was told that Pro Flowers NEVER uses any cold packs. I could not believe it!! They said the tulips should come back after a couple of hour in water and offered to send me another box of choc., which I refused because without something to keep it cool it would look the same, a melted mess.
These flowers will never last 7 days. This is day 2 and they have not bounced back, I'm so sad. I don't want to make my friend upset, so I will not let her know. I want Pro Flowers to change this policy and add ice /cool pack or vials of water to the stems for shipment. Common sense to me but what do I know? I know I will NOT be ordering from this company. You're not making people happy with the flowers they receive and causing undue stress to the beautiful flowers.

I used ProFlowers once. About 7 years ago. They charged by credit card and then did not deliver the flowers to an out of state wake for the mother of my college classmate. They willing rectified the matter -- after I found out six months later. I haven't used them since and I have the story to everyone who would listen.

I placed an online order from a promotional price from Brad's Deals. Four days later I received an email that there was an issue processing my credit card. I sent an email to Customer Service to notify the site of my correct address, as a very old address showed up when I placed the order, and I assumed this was the issue. I also called the Customer Service number. The woman I spoke with was difficult to understand. I gave her the order number several times, and after being on hold for 10 minutes, the woman said she was having computer problems and I should call back later.
Since ProFlowers had all of my contact information, they should have called me back to straighten out the order, per my request. The response to my email stated someone would contact me within 48 hours. No one ever did. They obviously don't need the business, and since the occasion for the flowers passed without a delivery, I won't bother ordering from these schmucks again.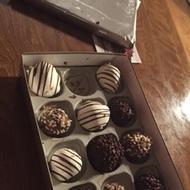 ProFlowers and Shari's Berries. Ordered flowers for delivery on daughter's birthday 4/13 - never received. Originally told "The receiver does not want the product and refused the delivery. DELIVERY WILL BE RESCHEDULED." Received "canned" apology and offer of refund. VERY DISAPPOINTED!!! Ordered chocolate covered strawberries for son and wife on Valentine's Day - received and looked nothing like the pictures - small and ugly - picture below. Very disappointed!!! Have ordered from both for years, both for business and personal. Will never do so again!!!

I wish I had read the reviews before placing an order with this company. Delivery fees are outrageous! I found a coupon on Groupon which is what led me to them. I ended up paying $24.00 for "standard" delivery of a $50.00 plant. Yes, I could elected not to place the order but I had already purchased the Groupon coupon. I will spread the word... Do not use ProFlowers. I promise I will never order from them again.

When the flowers arrived it was droopy and less flowers count than expected. Not nearly close to what was shown on advertised company website.

First off, ProFlowers has outsourced their customer service to some foreign country with people that do not care or work directly for the company. The last three orders with ProFlowers have been a nightmare to say the least. I used to be a long standing customer of ProFlowers. ProFlowers has been declining and going downhill fast. I placed an order with ProFlowers two months ago and it was delivered after hours, after the business was closed, and so the flowers were ruined the next day, because a warehouse worker just put them on my wife's desk.
The second to last order was not delivered and delivered the next day. I called the customer service line and they wanted to argue that it was delivered, without realizing that it was delivered the day after it was supposed to be. This was due to a language barrier, when you help an English speaking customer clientele, speak English. Then the only thing they did for me was to refund a $4.00 delivery fee. Not really the best way to rectify the situation. So I swore off of them and ordered from another company with no issues.
I mistakenly typed ProFlowers into my web browser yesterday and instead of going with my gut and the other company, I decided to give ProFlowers a second chance. I placed an order for delivery today. It never arrived, yet again. I will never be using this horrible company and hope this changes someone's order strategy.

Will NEVER use this business again. Ordered flowers for a work colleague on the birth of his baby. 3 days later I receive an email saying there is a problem, so I call to find out what it was. They ask for my name, I give it. They refuse to communicate what the problem is because I gave the incorrect name. What they actually wanted was the billing address details, which in this case is a totally different thing. Finally reach them and find out that 'the florist couldn't deliver the flowers due to the recipient not being at this address'. "Not home?" I asked. "The recipient isn't at this address." Maybe they are at work? This is the incorrect address, round and round in circles with no helpful outcome AT ALL. HOPELESS.

The key is to place your order in advance. A good selection and prices are fair market. The shipping, handling and processing fees are getting ridiculous.

I have ordered from ProFlowers before and they have been great, so of course I had no problem ordering from them again. Wow, was I wrong. I received an email saying that the flowers would not be delivered on time. So I called customer service and spoke to a gentleman that assured that the flowers WOULD be delivered on the original date. I was so happy. Ordered them on a Thursday morning, for a Sat delivery that I paid extra for. Sunday morning I called my mother to see if she had received anything and she said no. I called customer service and spoke to another gentleman saying that he was going to call the florist. When he came back on the line he apologized and said that he couldn't reach the florist because they were CLOSED so they would be delivered Monday. I hope you can understand why I was very irritated.
I asked to speak to the manager and asked if I could just speak and try to work it out with him, I said again I wanted to speak to a manager. He did agree... then hung up on me. I called back and let him know he hung up and I still wanted to speak to a manager. After a hold for a while I got a woman and she was as caring as she had to be.
When I asked for a full refund I was granted one, the one thing that I did not like was that they said a confirmation email has been sent to me. I said that I wanted to stay on the line so I can confirm when I received it because I did not want to have to call back. They wouldn't confirm MY email address to me on the phone saying it was for privacy but they were still refunding my money? Very confused. I did receive the email. I wanted to make sure that I had evidence of the refund. They said up to 5-6 business days... of course. I will report them to the BBB if my refund does not come. I will be going elsewhere for flower services from now on, and I will spread the word not to order here ever again!

I received flowers from ProFlowers, and they were lovely. They came in a box, but they were very securely packed and had packing materials to ensure the flowers had water. They've stayed fresh for several days. The blooms aren't quite open, so I think they'll continue to look nice for several more days.

First off, I attempted to send an arrangement listed as 'same day' on website and was told not available until the next day. A picture of the delivered bouquet, sent to me by the recipient, bore no resemblance to the company website. It looked much smaller and very unprofessionally done. I was dissatisfied and even embarrassed at my attempt to send a lovely arrangement to a friend. 2 months, 4 emails, including pictures, 5 phone conversations, and still only response from company, via an FTD phone call, was the offer of a 15% discount on my next order.

Have used this floral service several times. And, as always am very happy with their product, pricing, and delivery. S&H is always problematic. Would prefer to deal with local concern, but most times they're just not competitive on price.

The flowers were not delivered! Order was made 36 hours before expected delivery day! I received a message, that flowers were delivered! But call next day after delivery (after my sister-in-law birthday) I found out that she didn't receive any flowers!! ProFlowers wasn't able to send flower in urgent case after my complaint. So they are processing a refund. Even I had before one successful delivery after this case, I will never use their service again.

ProFlowers offers a wide variety of floral arrangements for all occasions. The flowers are always fresh and they usually last at least a week. Also look for special promo codes. The closer to a special holiday they have better offers just check on the delivery date shipping costs. Also Groupon has great specials up to 50% off! I order several times a year.

It was great. The service was great. The only thing was the delivery. The person had to know because needed to be at the house. The surprise was not there.

I ordered a Peace Lily that was to be delivered to the funeral of a dear friend's husband. I ordered 36 hours in advance (can't hardly order much sooner in the event of something as unplanned as a death) and I chose next day delivery so it would arrive before the 4 pm visitation. I got an email notification the EVENING of the visitation that it just left via FedEx and would arrive the NEXT day by end of day. WHAT? I paid $25 for shipping and it literally missed the entire funeral! He was buried by the time the funeral home got the plant. I am so embarrassed! They reimbursed me $23 but I still paid $40 for a plant that didn't arrive for its intended purpose. I'm not happy!! Horrible place - stay away!

Ordered flowers for my mom's birthday 5 days in advance. On the day of delivery, I was checking my emails waiting to receive confirmation that they had been delivered. Called a couple times for status updates. At 9 pm when the flowers still had not been delivered they realized my flowers had never been placed on the delivery truck and they could not get fresh flowers to me till 3 days later. I canceled my order and requested a refund. 3 days later they delivered my original flowers that were dead by the time they got to us. My mom loves flowers, and I was so excited to give her the beautiful ones I had ordered. I've attached a picture of what I ordered and what I received.

I ordered flowers to be delivered the same day which never got delivered, so they got delivered the next which were white roses that were browned. I never got the same day delivery fee. Plus when I called the next day after the bad quality of flowers that got delivered a day late. I called this company back and they informed me that they could not get in touch with the florist but they would send a message to come back and get them and to deliver some more, but my question was you can't even guarantee that this next arrangement will be any better plus what reputable business would send that kind of poor quality stuff in the first place?
This company clearly are just there to take the orders but have no close communication with these florist companies nor do they have any sympathy or empathy because they want to take the flowers back from the recipient and bring some more. How embarrassing is this. And if I wanted it to be delivered the next day I could have more for less money plus I used a Groupon so that's like 80 bucks for no same delivery and poor quality flowers as well as a incompetent customer service representatives.

Whatever you do, don't place an order with these guys. This past Monday (2/27) I placed an order with ProFlowers for delivery on Wednesday (3/1). The occasion was a birthday, so the delivery date is important. When Wednesday came around, I called late in the afternoon because they were not yet delivered. The person I spoke to on the phone said, "A florist had not yet been identified for the order." One would think 3 days to find a florist would be enough? I should have cancelled the order then. But, in light of a late delivery, they promised to send a larger bouquet at no additional cost. I decided to let them deliver.
Of course on Thursday at noon they were still not received. When I called again, the person I spoke to said, "They were out on delivery." Three hours later they were yet to be delivered. When I called a third time, they said, "The florist had the wrong delivery address. I asked what address they had, and she couldn't tell me. I asked why me or the recipient was not called to get the correct address? No answer was given. I asked for the name of the florist and they couldn't give it. When I told them I would cancel the order if she did not provide the florist name, she said, "They still couldn't give that information." So I cancelled the order. Shortly afterward I received an e-mail of the cancellation. Later in the evening, I received another e-mail claiming the flowers were delivered. Except they weren't. These guys suck. They can't be trusted.

I orders some flowers for Valentine day a week prior to that day and paid for it and they never delivered it. I called for refund and never got it yet. We in March first and nothing returned to me. The worst people ever. Called and they lied saying I will get the refund in 10 days and never got it. Don't deal with them ever again. Those thieves screwed up my Valentine and the girl I wanted to date now think low of me and never talked to me again. All because of them.

Seriously, I give up on this company. The first few times with mistakes and hidden charges and rude, long, slow customer service. I thought was just mishaps, not the case, it's every single time I make an order with them. I will never be ordering again from them. They make a mistake, they have me on hold forever, no one speaks English well there, they can never hear me on the phone, their phone quality is terrible, long wait times, no resolutions to ever any problem. They suck. And to top it off, their flowers sometimes don't make it on same day delivery even if you pay the extra money for it and the quality of the flowers suck. The people are so rude on top of that! So expensive!
ProFlowers Company Profile
Company Name:

ProFlowers

Website:

http://www.proflowers.com/