Consumer Complaints and Reviews

First off, the flowers I ordered were 30 tulips. The order was WRONG. Do these look like tulips to you? My recipient got some wilted roses, puffy green things, and bunch of green leaves stuffed into a red vase that was 3x the size of the picture shown. If you're going to ** up an order, or replace, at least make it look presentable?! This was just downright ugly and RIDICULOUS! Absolutely horrible looking, on top of my order not being what I purchased. The price was also charged for "Standard Delivery" "Morning Delivery" "Guaranteed Day Delivery". $60 in delivery fees which ended up using FEDEX as the delivery method.

Ordered bouquet for Mother's birthday. Was delivered on time after paying 18.00 in delivery charges. When flowers were received the tulips were dead and couldn't even stand up straight and the Irises were so tiny. Not to mention the amount of the flowers were half the amount it said I would be receiving. Called immediately after arrival and was told they were sending me a new fresh order with the correct amount and was also being refunded my delivery charge which would take 5-7 business days to appear back on my account. Took a week for new order to arrive which was correct this time but never received my refund.
After 7th business day and calling 3 times I finally spoke to a manager "joe" who said the refund for delivery was never processed and now would be refunded my full amount and would take 3 business days. Had in computer system I was receiving refund for delivery but no one actually did it. Now it's 3 business day and still no refund. All they do is lie and no one really speak English, do not order from this company!!!

Of course, you expect extra charges when ordering flowers. It's never "just" 19.99. We thought we got a good deal with nice flowers for $34. Total fee to deliver very close to our home: $58! Extra fees tacked on: handling and Monday delivery. These were added on top of a regular delivery fee ($12.99) and tax. What is special about Monday that ProFlowers collects $4.99? What extra "handling" is needed? These fees were *not obvious* from the web interface. Sent complaint letter to customer service, got a form reply that was nothing but a copy of shipping rate policies (which still did not mention "handling" costs). No actual words were sent to me addressing my complaint. Plenty of other companies to choose from, like 1-800-Flowers. Not cheap, but these bogus extra fees don't occur. You can recognize the full cost before you click "submit".

Scam! I ordered flowers for my mother for valentine's day... To be delivered 5 days from day of order. I thought my order would come to 30.00 with the delivery charge, I didn't see any other charges until I hit the submit button. I hit submit and my 30.00 order jumped to 47.63!!! It was too late for me to change anything, I had to call to cancel the order and that was a horrible experience, I couldn't understand the customer service rep and he clearly couldn't understand me! When we finally got it straight that I wanted to cancel the order, I was told that I would get my money refunded to my card in 5-7 business days!!! Unacceptable considering I didn't know that I was going to be charged the extra shipping fee and certainly didn't authorize it, but he told me that was all he could do.
I asked for a cancellation email and was told that they would send me one in 1-2 days... I have never felt like I was the victim of a scam until today! I wish I had read the reviews of "ProFlowers". The only thing they are pros of is ripping people off!! I only hope that I get my money as I am disabled and live off of a fixed income and every penny counts. Do NOT order from this company of scam artists!! I am so upset, how are these people still in business??

Phone ordering center - Worse experience ever. The girl barely spoke English almost as if it was on a translator machine. I asked for someone who spoke better English, she ignored me or didn't understand. I gave up as I had no confidence in her for placing the order correctly... I called back getting a different operator... boy did I! I think his name was Lo **. I know I hung up after that... I'll just buy my roses from the store from now on.
How do I know I can trust these reviews about ProFlowers?
693,146 reviews on ConsumerAffairs are verified.
We require contact information to ensure our reviewers are real.
We use intelligent software that helps us maintain the integrity of reviews.
Our moderators read all reviews to verify quality and helpfulness.
For more information about reviews on ConsumerAffairs.com please visit our FAQ.

I ordered flowers today on the site at 7:30pm, and realized that I was charged $56.62 and not $43.59. The reason I made the error was because the $43.59 was bolded and highlighted in green which lead me to believe that was the total $43.59. I didn't realize that I was charged $56.62 until after I had placed the order. I called ProFlowers at 7:35pm to cancel my order and was told that my order couldn't be canceled because the order had already been sent to the florist.
Are you kidding me, so you mean to tell me within less than 5 minutes my order was sent to the florist. They haven't even charged my credit card yet. So after going back and forth with the customer service rep, I was told that I should call back in 24 hours to cancel my order. However that makes no sense. You couldn't cancel the order within 5 minutes but you can cancel the order in 24 hours (Thursday) when the order is supposed to be delivered Friday. What a rip off, I will never ever ever order from Proflowers again, they are the absolute worst!!!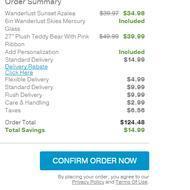 I was placing a Valentine's order and upon bouncing back and forth to confirm delivery methods, the website kept changing the amounts that it had assigned to the specific dates (February 13th, February 14th etc.). They will not show you the final pricing until you enter your Credit Card information, at which point (I think) they are hoping that you are already committed to whatever price they reveal. I had added two $35 items, and was prepared for the "the worst case scenario" being around $100. The final reveal was $129 with 6 additional line items. Four of those were somehow just for delivery, then they added "Care and Handling" (Which is inexplicably not included in the first 4 delivery items), and then they still add taxes at the end. So yeah, a medium-sized teddy bear and a medium flower/vase for $129. I did not submit the order, and I tried to toggle the delivery methods, but it was of no use. This site is a hustle for sure.

Charges not Included. I placed an order to buy two dozen roses for $74.95. After I confirmed the order, the total amount charged was $105.92. They added three delivery charges not approved. Real scummy.

This organization advertises $29.99 for Valentine's Day flowers and chocolates, but after all the additional fees, it's actually $55.00. There are plenty of other respectable companies that will honor their advertising.

I ordered the Lemon Groove Deluxe flowers from here and what was received looked nothing like the picture. Not only that, it was delivered a day late. I complained with no response. Again I complained and was told the florist was busy this time of year (2/3/17... What holiday) and that it did indeed look just like the picture. I complained again citing they must both be blind if they think these look the same.. I will try to post the pic and you all decide. As of now I do not have a refund.

The flowers that are pictured have nothing to do with what you receive. The pink roses that were delivered today are of the quality they sell near the metro stop for $5 - they are sad looking with black edges on pretty much every leaf. The stems are too short to fit in the vase that is suggested with the arrangement. I would not shop with them ever again.

My family always sends my wife flowers. With children and grandchildren she gets about a dozen orders every holiday. They all come from several online and telephone companies. ProFlowers are consistently of the poorest value, the worst condition of all the flower shippers. It is bad form to complain to the giver, and complaining the PF Corp I have discovered is a waste of my time. It is not a mistake on their part, it is Company Policy to increase their Company profits and screw the public. As with a lot of the time, it seems to be working. They are still going strong. So this is my warning to my friends and neighbors. Do Not Do Business with ProFlowers. Their flowers will arrive in bad condition, half dead and a poor value product, shipped from Mexico to save even more cost, and increase/make more profit for them. Customers beware of ProFlowers!!!

A couple yrs ago, I ordered flowers for my mother. I thought the arrangement was going to make her very happy. The first disappointment was that the flowers came in a box with a vase. Not delivered as the picture you see on tv. Very disappointing. Then, the flowers were already wilted and within 2-3 days, they were completely dead. However, I called the company and they were very helpful in giving me a refund. They offered to resend the flowers but the moment was gone. Would not order flowers like that again.

Do NOT start ordering flowers promoted through deceptive ProFlowers Valentine Day TV ad (promo code: FOXY) unless you are prepared to pay 300% + upon checkout!!! That is the reason they start with a "teaser" i.e really attractive offer but do not let you see the summary until the very last moment and before you are about to pay that you realize that confusing double dip delivery charge and other "service" surcharges your order has tripled in price!!!
Be watchful since they present in bold "your savings". At the end of the bill that could be omitted with the total amount which is much higher!! Was able to detect this sleek joke just before clicking "Order now" but still unsure if OK since all info, together with the entire credit card information, already provided. I have gone through very unpleasant experience just when ordering a Valentine present- DON'T DO IT, save yourself from such a horrifying predatory practice! Real shenanigans, not real business operation!

I made the HUGE mistake of ordering from this company (I didn't see this website - UGH!) AND I ordered two of the SAME arrangements being delivered in two different states. I upgraded to the largest arrangement (premium) which was close to a $60 arrangement. I had to pay a $14.99 fee for delivery on a weekend... And also another $5.99 fee for one that was delivered the same day and also on a weekend ($20 extra to deliver - eeek there goes that savings they brag about). The first arrangement arrived in my state to a friend and looked like 40% of the flowers weren't even there - no spray roses, no filler flowers. I called ProFlowers and they offered to pick it up and give me a $10 refund. That would be silly - as the recipient wasn't complaining and I didn't want to inconvenience her as she was sick (hence the flowers).
I let ProFlowers know I ordered the same arrangement in the second state for delivery a couple days later and asked that they make sure the florist follows the list of flowers that are in the arrangement - they said they can't call them because they haven't made a mistake yet and that's pre-judging a completely different company in another state? Well guess what... I just made a trip to my friend's house for the celebration and saw the arrangement and it looked WORSE than the first one that was delivered locally. There were literally only 8 flowers in the whole thing. Really? $75 total for 8 flowers? This place is a complete rip off.
STAY AWAY and don't waste your time. I found WAY better arrangements at our local grocery store. I will be sure to tell all my friends to avoid this place like the plague. All they do is offer to fix only the people who catch them and offer to give them $10 and then fix it "if caught" - inconveniencing the recipient by picking the old arrangement up first? Talk about awful customer service and cheap arrangements.

After accepting their variating level of service for over ten years, I'm tired of the quirks of their on-line cattle-shoot complicators or just re-stumbling into infuriating process-blocking events (can't satisfy their vague card message requirements??? Well, stop right there, partner!) for their on-line ordering protocol... I'm so done with them. No more. I love sending flowers, but not this company's systems anymore.

I am writing this review to warn others to stay away from this company! I placed an order the other day, while shopping on their website a banner flashed on the screen stating I would receive 20% off today's order, said the discount would appear at checkout. I placed the order and the discount was not applied so I immediately called their 800 customer service number. I explained what had happened and was told it would take 7 days for the discount to be applied, I explained I had just placed the order 2 minutes ago, went round and round with the customer service rep and I finally said I'll just cancel the order, now I'm told it will take 7 days to get my money back! She then tells me my credit card was not yet charged but still is claiming it will take 7 days to see the credit on my account. I asked to speak to her supervisor because she clearly has no idea what she's talking about.
At this point she decides to just stop talking! I can tell she is still on the phone, I can hear noise in the background but she won't answer me, obviously she's just waiting for me to hang up. I finally did and called back, got a different customer service rep and have to explain the situation again and am told my card was never charged so there shouldn't be a problem. I told him "yes there is a problem, your company is offering an false discount and never does the offer to apply the discount to the order!" I hung up and emailed the customer service dept and they assure me my card was never charged, but again nothing said about the friggin' discount! No one seemed to care less that they have lost an order and a long time customer.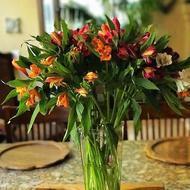 I wish I would have read the reviews before I ordered from www.proflowers.com. The flowers came on time. However, it was a sorry looking bouquet and the card I had instructed to go with it wasn't there. My friend who received it was confused as to who sent it. I was so embarrassed by all of this. I had them resend. No different. Still crap!!! I will NEVER EVER USE THEM again!!!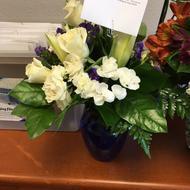 Ordered what was supposed to be a beautiful arrangement for mother's retirement. An embarrassing arrangement was delivered, and currently five phone calls later, all I get is a 20% discount and nothing to resolve the issue except a regurgitated "We will call you when we hear from our florist". I was even hung up on. This is a Google Trusted Company? Yikes. Don't order from here. Go to the store and get your own for $30.

I ordered a bouquet for my daughter as her dad passed away. When she received them they looked like someone picked them out of a yard (it is winter here and I could have gone to local grocery and would have been better). I was so embarrassed I cried - what did she think! I will NEVER order from them again and hope everyone reads the reviews as I did not or I would not have ordered from them. Paying the amount we do as consumers and a handling fee etc for limp/dying flowers and I even ordered DELUXE size - these people should be ashamed of themselves as people who order flowers are using giving to loved one would they bring their daughters, mothers, wives the flowers they deliver for us? BET. NOT. Cannot get a hold of anyone who speaks English - outsourced?

I have never had a problem with ProFlowers or with credit card charges or delivery. But when they advertise to send a dozen roses and chocolates for $19.95, one has to question when you order 2 weeks prior with their special and find out when you go to buy them, the total charge turns out to be $43.00. Cost more for delivery care and handling plus taxes than the damn flowers. That is when one has to call BS and throw the card out. Make it one damn price and stop the false ads so you can get your profit money back. Hell I just ordered a large item from Canada that will weigh 80 pounds and it will not cost me anything extra to mail. ProFlowers and all their other products need to lower this outrageous delivery charge and other crap charges for profit.

I received a message this morning from Proflowers to call about an order I placed almost two weeks ago. The message was vague and didn't give my order number. After considerable time was spent on the phone tracking down the order, I was told that the flowers were never delivered... to the funeral home!! They said they left a message however I never received an email or a phone message. They did not contact me! They sure took the money out of my account right away, and now I'm told I have to wait 3-5 more days for a refund. To make matters worse, these flowers were for a funeral service I could not attend. Really poor excuse, and poor business practice. Never will use them again... always support your local florist. Not this ridiculous company.

Never order here! Are the worst! Your flowers never will be on time and as an apology they will offer you a free "re shipping" for another day when the special day is over! They messed up my surprise.


I recently placed an order of birthday flowers for my mother's 86th birthday. The order was placed several days ahead of her actual birthday, so there was plenty of time for delivery. In fact, when placing the order, ProFlowers confirmed that indeed the gift would be delivered on her birthday. There was no mention of possible delay. Then I received an email the day BEFORE her birthday saying the flowers had been picked up and were on their way to be delivered. I thought, WOW, they'll probably get there on her birthday in the morning, which really made me happy as I wanted her to enjoy the bouquet all day. Again, she's 86! I don't know how many more of these special days she'll have.
I didn't pay much attention to it after that thinking that if the flowers were picked up in the city where she lives A FULL DAY IN ADVANCE, there should be no problem. I should have read the reviews on this site first. Her birthday came and went and I didn't receive any confirmation that the gift was delivered. But I thought maybe they just don't send a confirmation, so wasn't worried. But then the day AFTER her birthday, I get an email from ProFlowers that says they just delivered it! A day late! After I paid all that money to have it delivered on time for this special day. I spoke to Customer Service on the phone and they had no explanation, just a "We're very sorry, but she has them now" type response.
STAY FAR AWAY FROM THIS UNRELIABLE COMPANY. I informed them I would never use them again - and hopefully you won't either unless of course you're sending flowers for the purpose of disappointing yourself and missing important dates. I'd give them zero stars or even negative rating if I could, but this site requires at least one star. For ProFlowers, that's generous. Adios ProFlowers - there are MANY other competitors out there, and they will get my business now.

I wish I would have read the reviews before ordering from ProFlowers. Such an embarrassing arrangement. I wanted to order flowers for someone as a thank you gift. The flowers were delivered and my friend sent me a photo of the sorriest looking arrangement you have ever seen. I called customer service, sent a photo, and was told that it did not look like the arrangement I ordered. They said they would either send another arrangement or reimburse me for half. They would need to call me back. When they called back, they said "technically" the right number of flowers were in the arrangement so they wouldn't be able to do anything about it. They would compensate me $6 and email me a coupon for a future purchase. I told them I would not be needing the coupon as I would never be ordering from them again.

My husband ordered flowers for me in November. He used a local florist, who then called Proflowers. The amount charged to us was $117.47. In reviewing my credit card statement in December, Proflowers charged our account $117.47, THREE times. Also, they charged us $72.47 for an unknown reason. BEWARE of their fraudulent practices of triples charging credit cards.

When I ordered flowers to be delivered to my cousin's funeral, I chose standard delivery. Well standard delivery stated it would be delivered on Tuesday which was the next day. I chose that since with standard delivery with most floral companies that does mean next day or within 48 hours. It never showed me an actual date of delivery when placing the order. No, it showed up a week later after the funeral. I'm so frustrated and annoyed beyond belief. I will never use ProFlowers for a floral arrangement and delivery ever again. I should have ordered from a local florist in the funeral homes town.

I have ordered flowers for out of town relatives from this company for many years. However, the last 3 orders have not lived up to expectations for the price charged. My Mother's Day order of 2 dozen flowers arrived in very poor condition. I contacted the company and they offered a partial refund. My most recent holiday order of roses arrived in a different vase than what I ordered, and had a red plaid ribbon that read, "Merry". I think that for the final price charged (the roses were a good price, but then the extra charges of delivery, taxes and other fees which really add up) was a bit much for the product. I will not be ordering again from this company.

Before I retired, I worked in customer service for about 40 years. I need to say ProFlowers has the worst customer service I have ever encountered. I received a bouquet of flowers from my son in Michigan today. The envelope that says "Someone is thinking of you" was empty. I have more than one son who uses ProFlowers and I thought that was something that customer service should know so I called and spoke to Shawn. He kept saying he could read me the message and I said that was not the point. He kept talking about your privacy policy. I did not know who to thank for the gift. He could not understand why it was important to know who sent the flowers to me.
I called back and spoke to Rolian and he said about the same thing. Neither rep could understand why that is important for the recipient to know. He kept talking about the privacy policy and that this is a busy time of the year. I asked to speak to a supervisor and he said none was available. I asked to have one call me and he said I should call back later and hope a supervisor would be available. A female supervisor finally came on the line and she said her name was Sam. No one spoke to seemed to think this was important. I will tell my son not to use ProFlowers again. It has always been my experience that if you receive good customer service, you will tell 3 people but if you receive poor customer service, you will tell 11 people. This is a shame... I think I only wanted someone to say they were sorry.

ConsumerAffairs Research Team
The ConsumerAffairs Research Team believes everyone deserves to make smart decisions. We aim to provide readers with the most up-to-date information available about today's consumer products and services.
ProFlowers was founded in 1998 to connect flower buyers directly with growers. The company is now a part of a larger family of brands, including ProPlants, gifts.com and Sheri's Berries. It offers a wide variety bouquets, delivered by florists and by shipping companies.
Delivery options: Consumers can choose bouquets that include flowers cut and sent directly by growers or ones that are hand-delivered by a local florist.
Guarantee: ProFlowers guarantees that bouquets will last at least seven days and live plants will last at least 14 days. If the flowers or plants die before that time, consumers receive a refund.
Flower subscription: Interested consumers can sign up for a ProGifter™ flower delivery subscription. It allows them to order multiple flower deliveries at once. This option can save them both time and money, and it helps consumers avoid forgetting to send flowers on an important date.
Reminders: ProFlowers offers a reminder service to help interested customers remember important holidays as well as birthdays and anniversaries. Consumers sign up online and then receive emails, with special offers, reminding them as the date approaches.
Include a snack: ProFlowers offers several gourmet food options including cookies, chocolates, wine, fruit baskets and more, all of which make great corporate thank-you gifts.
Best for significant others, friends, adult children and companies.
ProFlowers Company Profile
Company Name:

ProFlowers

Website:

http://www.proflowers.com/