Consumer Reviews and Complaints

I order a week in advance to guarantee arrival for my mom's birthday and I kept seeing that UPS had only the shipping label created on status so I kept calling and being told that the delivery would be made. Needless to say, my mom didn't get the $100 plus shipping and handling fee gift I sent her because item was never even delivered to UPS. Oh, but the customer service lady still had the nerve to tell me that due to my issue she could try and refund me the shipping fee? Really?
Package was not delivered, so my mom got nothing (she lives in another state) and they are considering refunding me the shipping. Don't order from website, try other places first. ProFlowers pays a lot for radio, internet, and tv ads but the reality is that they are overpriced, the customer service department's only response is that the item will be delivered as stated in confirmation email, and your loved one will most likely not receive anything. I should have seen the other reviews first.

On 9/6/2017 my daughter sent me a dozen roses for my birthday. That night the roses started to droop. 9/8/2017 the petals are falling off and the leaves are curling up. I was given roses the same day from Walmart. They are alive and look great. ProFlowers charged almost $50.00 for their dead roses!!!

This is a very bad service. They add lots of discounts and get you to order and once you pay there are so many little charges that from what they advertised of a dozen roses delivered for 30 bucks it ended up being close to 60 dollars! It's shady and worst once the flowers came two were practically dead. I will never ever order from this horrible place. I added both the receipt and the initial offer of discount that said 33 dollars and the final receipt for 60+ dollars!!! It's a ripoff and shady and they should be shut down.

I tried this company as I always want to support the little guy. First time was good, not great. After a major foul up on my third order followed by unapologetic customer service, best one goes to the competition for flowers. One can judge a company's worth when there are problems and how they handle them, well PF blew it. To top it off they still sent me my flowers but they were not fresh. If I could personally return them to their CEO I would have, but now I just send my flower business elsewhere NOT to PF.

I have used ProFlowers now for a lot of years. The flowers always arrived when they said they would and the flowers were always carefully packed and fresh. The plants I sent were also delivered in tip top shape. I will use ProFlowers again.
How do I know I can trust these reviews about ProFlowers?
884,672 reviews on ConsumerAffairs are verified.
We require contact information to ensure our reviewers are real.
We use intelligent software that helps us maintain the integrity of reviews.
Our moderators read all reviews to verify quality and helpfulness.
For more information about reviews on ConsumerAffairs.com please visit our FAQ.

DO NOT USE. Horrible customer service. I paid for same day delivery. The next day (i.e. the day after the flowers were supposed to be delivered) I received an email saying no florist would fill the order and I was being refunded. No florists in the entire city of Houston?!? They seemed to think refunding me would make up for the fact that my delivery was not made. Shows they have no concept of how to make things right. Maybe they should have done everything possible to get a replacement arrangement to the recipient, as soon as possible.


I had received a lovely bouquet for a gift. I picked out one of equal value for my sister and sent it. Delivery was prompt, but the flower selection was ugly. White pompous with fake royal blue foliage, In June! ProFlowers stated you would get in season flowers of better quality since they would determine what was more abundant. A bouquet sent in June should not look like something one had scrounged up from the grocery store. So disappointed.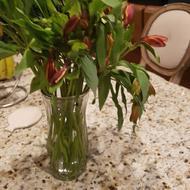 Ordered 24 roses and box of chocolates for my wife's birthday and paid top dollars. I got a bunch of almost dead miniature lily and melted chocolates! There was supposed to be a card with it but it was missing. When I emailed back no response. Then I telephoned. I was told I will get a replacement bouquet in two days. Roses arrived and they were not too bad but chocolates were totally melted and instead of a card a sticky note with my message!! It ruined my wife's birthday. :(
This company does not care so avoid at any cost.

I bought flowers one time from them and they will not leave me alone now. Emails come daily, sometimes twice a day. I've unsubscribed a dozen times and nothing works. I've called twice and they said my name would be removed. I'm still getting emails daily. I would never buy from them again for this sole reason.

Crooks. They overcharged me over $22 by adding items I did NOT order (BUYER BEWARE: apparently at ProFlowers.com, items can magically add themselves to your order even after it's been submitted), gave me the run-around on the phone when I called customer service and brought the issue to their attention, then couldn't rectify their overcharge for "5-7 business days." My bank was charged for products that I never ordered and the best they could do is make me wait over a week for my funds to return? Also, I paid extra for a pretty, lace-wrapped vase and the arrangement came in a normal, basic vase! Why pay the extra for NOTHING? Customer service was inept and rude. Look for a better, more reputable company that doesn't try to rip off their customers.

Buyer beware!! When ordering flowers today ($31 for the flowers, $8 for the vase), I followed all of the steps on the website. Prior to confirming my order, there was NOWHERE that showed that I would be charged 14.99 for delivery, AND money for taxes and worst of all, money for "care and handling." I am appalled. I was charged an additional $23, more than HALF of my actual purchase. There was absolutely no indication that I would be paying for those things on top of the price of the flowers and vase. These are charges that should have been displayed prior to confirming my purchase. I will never use your site again, and I will do what I can to dissuade others from using it as well. Do not be swayed by their great deals and offers for money off of the original prices.

I ordered flowers for a friends funeral. ProFlowers downgraded the order without ever talking or emailing me. All I received was an email after-the-fact telling me they sent a different bouquet and gave me a 25% discount (which was the cost of the lesser bouquet). I sent 2 emails telling them that was not acceptable and I wanted a larger bouquet sent - they NEVER responded. Do not use this company. I was embarrassed by what they sent to this funeral! ZERO customer service.


A good friend of mine was having surgery. Proflowers sent me an email saying tada! That they had been delivered. When I called my friend she hadn't received any flowers because none had been delivered. When I reached out to the company at 350pm they said that they would send them at 3pm... How? It was 10 mins until 4pm. Horrible horrible customer service!!!

It was my Father's wake and funeral. I ordered a spray. They have 3 levels, standard, deluxe, and premium, I believe. And they show you a picture of each one and what it is supposed to look like. I ordered the highest level - the premium. When it got there, it looked worse than what they pictured for the lowest level. I was appalled. It was my Dad's funeral and I had the worst looking piece of garbage flowers there. I tried calling to complain. Good luck if you can ever get someone and this company. This company is 100% joke. PLEASE don't ever use them.

I ordered flowers for my mother's birthday four days ago. I ordered her sunflowers. I received an email that they were out for delivery at 5:30 am the morning of her birthday. They were not delivered until after 3 pm. When she opened them she called me and asked me what they were because they were shriveled up and she couldn't recognize a sunflower. I mean everyone knows what a sunflower is. She sent me another picture today and they aren't any better. I will never buy from ProFlowers again and will advise anyone I speak to to skip right over this company. I paid over $60 for these flowers and I live hours from my mother, I'm so disappointed and saddened that her gift from me was ruined.

Ordered Mother's Day flowers with a Groupon. The Groupon was never applied accordingly to my bank AND the receipt from ProFlowers. Emailed customer service 3 times, called 6 times and all of them claim that it was done, it takes 6 days for the Groupon to apply, etc., etc. Lies, basically. I finally was able to get them to refund me my money. They followed up with a 20% off code for a purchase within the month. I had a reason to purchase, so I decided to use it. The discount was applied to the flowers, the total was showing. I picked a delivery date and then once my card was processed, the site tells me there is an extra $30 applied due to extra "Monday" shipping (not disclosed when I chose the day) and processing fees and taxes, etc. This company is VERY dishonest and are crooks. I will never recommend them to anyone moving forward.

Spent $100 for flowers. They delivered and left them in 120 degree weather on a front porch. They did not call me to see what to do, they did not call recipient, they did not leave at neighbors, or the guard house. A company that delivers a perishable product should know better. They gave me back my money but refused to take any responsibility and to redeliver flowers. Horrible company, DO NOT USE!!!!

I ordered Mother's Day flowers for my mom. She received the flowers but a week later told me that she never received a food packet to go with the flowers and that the flowers never bloomed and died. I called ProFlowers about this matter, they apologized and said they would send another bouquet of flowers to my mom at no additional cost to me. Well, my mom just told me that half of the flowers bloomed but the other half never bloomed and died. That is unacceptable in my opinion. She ended up receiving dead flowers twice. I will be contacting ProFlowers tomorrow to try and get my money back. Very dissatisfied. Never ordering from them again.

I ordered my mother some flowers that arrived today. They were on the UPS truck "out for delivery" since 5:23am and just arrived 12 hours later. The flowers were so limp and practically dead. They also didn't look anything like the picture that I ordered due to the fact it seems only half the flowers arrived. The picture was full. NOT WHAT WAS RECEIVED! Incredibly disappointed. I ordered them because the family cat had to be put down. Nothing cheerful at all receiving practically dead flowers for the mourning of a dead cat. I will not be recommending ProFlowers to anyone.

My review is from Mother's Day of 2016. I just found the card and I need to let you know not to order from them. The baby roses my son sent me last year died in days and I suspect had carpet beetles in it. I sent them an email and NEVER received a response. Social media use to let others know not to waste their money is great. This business should be ashamed of themselves and put out of business!!!

My children sent me flowers for Mother's Day. The flowers were dead when they arrived. I spent 1 hour on the phone with a person that was difficult to understand nor did he care that the flowers were delivered dead. He was very robotic and asked me the same questions (like my address) numerous times. He asked me if I wanted different flowers. I said I would like flowers that were alive and if he had a recommendation that would survive delivery then I was fine. He told me the flowers that were delivered are very "strong" and live "forever." Maybe I didn't pick them up right away. My husband picked up the package and helped me open it immediately. They were dead. We put them in water right away but after a day they were in worse shape than when they were delivered.
The customer service agent said we can send you replacements next week. 4 days after Mother's Day. The flowers arrived 4 days after Mother's Day. 4 of the 12 flowers arrived alive. I could not bring myself to call again so I enjoyed my 4 flowers for 3 days until they died. My son's also called to complain and got the same run-around. Pro-flowers used to be a reliable service but they certainly have changed how they do business. I did not purchase the flowers so I do not have receipt or order number.

Paid $1.99 for card with message to son opening new business. No calls, card was blank and son did not know who the ProFlowers were from. When I emailed could not get a response from the company other than numerous emails back and forth that did not correct the error. Company's reps are not in the USA are in South Africa, Philippines, etc. and even though they are under USA LAW REQUIRED TO TRANSFER MY CALL BACK ONSHORE TO THE USA they refuse.

Ordered 100 blooms with a watercolor vase. What was delivered was a clear vase with 20 sad flowers which looked worse than what I could get for a fraction of the cost at the gas station. Nothing in the order was correct.

Ordered a live plant over a week ago to be delivered tomorrow. Today got an email saying the item was unavailable and my order had been cancelled. Called customer service about a substitute. Was told they can't make a substitution on a cancelled order. I had difficulty understanding the woman's broken English. Asked where she was. Philippines! Asked to speak with a supervisor. She hung up on me. Called back and did speak with supervisor. All 3 ladies simply recited info in the email. English so poor they really weren't able to converse. I used to order from ProFlowers. Never again.

A few years ago I had used ProFlowers to send a multicolored rose bouquet to my best friend for her birthday. Although she did receive them on time, when she showed me the picture of what she got it was way less than what I thought I had purchased. At the time I let it go thinking I had made a mistake somehow. A month ago the guy that I am dating placed an order for a tulip bouquet to be delivered to me today, it was to be a surprise... When I got them at 7 pm via FedEx... they came in a box, with no water, no card... wrapped in paper with the vase packed at the bottom of the box. The flowers were, wilted, bruised... Needless to say half dead.
I called him to let him know how I received the flowers and sent him pictures. He said that the amount of tulips was way less than what he thought he has ordered and that he had received an email saying they shipped the flowers on Friday... Today is Wednesday, in transit for 5-6 days? No wonder they look like crap. I will never ever use this company again. I will go direct to my local florist and I intend to let everyone I know not to use this company either.

I ordered a bouquet of lilies as advertised on their website. I got an email that they were out for delivery on time. 2 wks. later I hadn't heard anything, so I asked the recipient. She said nothing had arrived. When I called the 800 #, I had to answer 6 security questions before they would talk to me. THEN they had no reason for not delivering. Allegedly I will be getting a refund. Complete disappointment, waste of time, nothing accomplished.

I'm very disappointed in the tulips sent to me for Mothers Day. On day one the stems bowed out from vase, unattractive! Not straight!! I waited for the tulips to open during the week. Few actually opened, most just dried up before opening. They did come in a cute painted fruit jar motif.

My daughter ordered flowers for me for Mother's day to be delivered Friday May 12th two days prior to Mother's day. Not only did I not receive them on the day requested, but I received them the Friday following mother's day. The flowers were to come with a small box of chocolates. This was a UPS delivery. I received them on my front porch in a box that was sitting evidently in a hot truck all day, as it was extremely hot, and the chocolates had melted. The flowers were yellow and half dead. I had to throw away half of them which were unusable... The order number of this delivery is **. I would appreciate if you would reimburse my daughter (Traci ** in Corvallis Oregon) for the cost of this order.

ConsumerAffairs Research Team
The ConsumerAffairs Research Team believes everyone deserves to make smart decisions. We aim to provide readers with the most up-to-date information available about today's consumer products and services.
ProFlowers was founded in 1998 to connect flower buyers directly with growers. The company is now a part of a larger family of brands, including ProPlants, gifts.com and Sheri's Berries. It offers a wide variety bouquets, delivered by florists and by shipping companies.
Delivery options: Consumers can choose bouquets that include flowers cut and sent directly by growers or ones that are hand-delivered by a local florist.
Guarantee: ProFlowers guarantees that bouquets will last at least seven days and live plants will last at least 14 days. If the flowers or plants die before that time, consumers receive a refund.
Flower subscription: Interested consumers can sign up for a ProGifter™ flower delivery subscription. It allows them to order multiple flower deliveries at once. This option can save them both time and money, and it helps consumers avoid forgetting to send flowers on an important date.
Reminders: ProFlowers offers a reminder service to help interested customers remember important holidays as well as birthdays and anniversaries. Consumers sign up online and then receive emails, with special offers, reminding them as the date approaches.
Include a snack: ProFlowers offers several gourmet food options including cookies, chocolates, wine, fruit baskets and more, all of which make great corporate thank-you gifts.
Best for significant others, friends, adult children and companies.
ProFlowers Company Profile
Company Name:

ProFlowers

Website:

http://www.proflowers.com/