Consumer Complaints and Reviews

I ordered online an arrangement on Monday to be delivered the next day to a relative in the hospital. Unfortunately, she was discharged sooner than she expected, so they could not deliver that day. I was completely ok with that since it wasn't their fault she was no longer there. I spoke with a Customer Service Rep on Tuesday and provided her with the home address to redirect the delivery to. I gave her a home address including the city and the state of LA and guaranteed the flowers would be delivered on Wednesday. I received a call on Wednesday stating they had an incorrect address because they had the city correct but listed the STATE as Los Angeles instead of Louisiana. So there was another delay in delivery. CSR stated she would refund the delivery fee and again guaranteed delivery for Thursday.
Now, today, Thursday I get another call from them to say there was an issue with the order. I asked what the issue was and was put on hold for 10 min for them to come back and tell me they are going to deliver flowers on Friday. Still, not knowing what the issue is, turns out the issue is still the fact they are listing the state LA as Los Angeles. I had to have repeated the address at least a dozen times, none of the CSR's I spoke with, 5 in all, spoke English as a first language and could barely understand the questions I was asking so they would just give me a generic answer and say "OK". No, NOT OK, I had to argue with the CSR for them to provide me a credit for their incompetence. CSR stated they were going to credit half the cost of the flowers and send a $20 coupon. She again verified the credit and stated the flowers would be delivered on Friday.
Not 10 minutes after hanging up I received an email stating the flowers were DELIVERED but shows a date of 5/19/17, which is tomorrow. Approximately 15 minutes later I get a call from Carlos who wants to advise me that the flowers were delivered today. I asked him to verify that the credit was being processed to my account, he stammered through the rest of the call. That question was too difficult for him to answer. All of that information should have been right there with notations from all of the CSRs that called. I work for a large corporation as a Customer Service Supervisor and have never experienced this level of incompetence. This is what occurs when you outsource to foreign countries, they need to provide better training so there can be a seamless conversation about your account. It should not matter to whom you speak with, they should all be providing the same information.
As far as the $20 coupon they are sending, even after I told them not to, it will be destroyed with pleasure because I will NEVER and I mean NEVER use this company again. I submitted this order through my company's website that is used by employees to shop with 100's of different companies. I have already set warnings about using this company for any reason. If I can help anyone else avoid this frustration and make sure they utilize a different company I will tell anyone and everyone about this awful experience.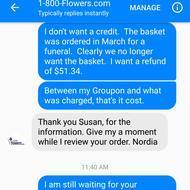 I ordered a sympathy basket for my neighbor. I found out weeks later that they never received the basket. I called the company and they confirmed that the basket was not sent. They refused to give me a full refund! In addition, there was no compensation for the mistake. They only wanted to give me a credit towards a future purchase. I would never use this company again! I reached out to them eight times. Every agent including a manager said they would take care of it, however, after hanging up the phone, I got an email saying they could only give me a partial credit. Unreal!

My husband ordered flowers for Mother's Day, to be delivered at my office the Friday before. They never showed up. He received a phone call at approx 4 pm that day explaining that they were sorry but were unable to deliver the flowers that day. Nice. Too late in the day to come up with Plan B. They said they would deliver them on Monday and he would receive a full credit. Monday, no flowers. Tuesday, no flowers. He called late Tuesday afternoon and wanted to know what was going on. They said they didn't have a florist in the area. Really? That took DAYS to figure out??? Then they said they would have them delivered the following day and would 'upgrade' the bouquet, at no addt'l charge. Well, it's now Thursday - nearly a week later - and still no flowers. And to really add insult to injury, they have charged his credit card TWICE! Seriously, who does that??

I ordered my flowers this past Thursday morning for Friday delivery. They gladly took my money out of my account immediately at 9:10 a.m. but never followed through with the order. When I called them Saturday morning to find out why my flowers were not delivered by the end of business day on Friday I was told that they would give me a $14.99 credit for the delivery fee and they would resend the flowers by the following Tuesday. Mind you this was a special occasion and a surprise and those flowers needed to be delivered on the agreed date of Friday May 12th, 2017. Not only was my surprise and special occasion ruined but when I ask to speak to a manager I was given a different resolution. After being on hold for approximately 25 minutes he came back and told me that he could send flowers that following Tuesday and he went to the extreme of picking out the bouquet that he could send on that date.
Flowers are very personal and by no means should somebody leave me on hold that long only to come back and pick out what they can and will be able to send me 5 days late! They offer thousands of bouquets so my question to management is this, what makes you think that you can pick out my flowers for me after you didn't follow through with my order and ruined my surprise, plus took the money out of my bank account and then only offer me a 14.99 discount? I didn't want the bouquet that you picked out for me. I wanted the bouquet that I picked out and to be delivered on the date I had requested and on the date that I had paid for. I paid $75 for a bouquet that I could have went down to my local store and purchase with a vase for only $30. I paid the extra money to make this special occasion exciting for the person I was giving it to.
This was a horrible experience for the second time in a row. I'm sorry I gave them a second chance and I would never ever recommend the service to anyone. On top of that when you call them you don't even speak to somebody from America. Why are they employing Americans who need jobs? They were even on the show Undercover Boss trying to figure out all of the issues going on in their company several years ago. Apparently that didn't even help them. I guess they need to hire a new CEO! Since my order has been refunded after all of the brain damage that I had to go through and trying to come up with a new surprise for my loved one, my order number has been removed from my 1-800 Flowers account.

I ordered flowers for my step mom to be delivered the day before Mother's Day. When the flowers were not delivered on the day I chose, I called and they assured me that it would be delivered the next day. The flowers never made it, so I called again and got a different representative who promised me that the flowers would be delivered on Sunday and even gave me a new tracking number. Sunday came along and no flowers again. I called once more and they said they did not have any record of me calling and the flowers will be delivered the following Friday, well after Mother's Day. I told them to refund me the money at that point. I will never ever use this company again.
How do I know I can trust these reviews about 1-800-Flowers.com?
762,878 reviews on ConsumerAffairs are verified.
We require contact information to ensure our reviewers are real.
We use intelligent software that helps us maintain the integrity of reviews.
Our moderators read all reviews to verify quality and helpfulness.
For more information about reviews on ConsumerAffairs.com please visit our FAQ.

I ordered flowers for my mom's bday. I received an email that it was delivered, and just like the reviews. When called to ask if she liked the flowers, it never arrived... When I called 1-800-Flowers, just like the reviews again, being on hold for an hour to find out what happened... Uhmmm on top of ruining my gift, wasting my time, arggg. I will never order from them EVER, and will read reviews before ordering anything! Horrible!!

Do not order from these folks. I had flowers ordered with a Mylar Balloon saying Happy Mother's Day to be delivered on the Wednesday before Mother's Day. Well the Balloon was in Spanish and we don't know what it said. I called and they told me they would send out the right one. Still waiting as it hasn't been delivered. They lie on the phone to you and can barely speak English. One agent even called my Mother to tell her she would be getting a special gift. Well, she is still waiting to get it. I will never use them again!!!

So decided to use 1800Flowers to send flowers to my mother for Mother's Day. I live In Oregon and she lives in Illinois. Shop they used tried to deliver some flowers but the setup they sent my mother turned away due to them being unacceptable. I contacted customer service and they refunded me some of the money and promised to deliver them a day or two after Mother's Day. This was very irritating as I placed the order in enough time to ensure they would be delivered on or before Mother's Day. So now my mother waited around these two days we were promised they would be delivered, and still no flowers. I spoke to customer service again today and was placed on hold for 10 minutes so I called back. The next woman proceeded to hang up on me once I started to express my irritation. I have now disputed the charge on my PayPal account. Thanks a lot 1800Flowers.

I ordered 7 dozen roses Thursday, 5/11/17 to be delivered Friday, 5/12/17 to Reno, NV for my grandmother and family. Nothing showed up and no email with any explanation has EVER been received. I spent 8 HOURS (and have phone records to prove this) trying to get things resolved Saturday, 5/13/17, finally concluding at 4:30 pm with the agreement that I would received 100% refund of all charges due to 1-800 Flowers' inability to fulfill the PAID IN FULL order of $284.65 and an apology bouquet would be sent on Tuesday, 5/16/17 to my grandmother at 1-800 Flowers' expense for ruining my family's Mother's Day gifts, as well as the hassle and stress I had to endure trying to get this resolved.
On Sunday, 5/14 $40.67 was refunded of the $284.65 I was charged for the roses that never arrived. Today is Wednesday, 5/17/17, still no emails, no full refund, and no apology bouquet. I am reporting this company for fraud. Mother's day was ruined and 1-800 Flowers has stolen my money and failed to keep ALL promises made! I'm appalled at the conduct and unprofessional attitude of this company. I would think they would want to make the bad situation 1-800 Flowers created right but they do not seem to care as I was hung up on this morning when I attempted to question why no promises were kept. I want what was promised. A full refund and the apology bouquet sent to my grandmother at 1-800 Flowers' expense. It's the ONLY right thing to do at this point.

If I could give them no stars I would. I ordered a gift basket on May 10th for my mother for Mother's Day. I paid an extra delivery charge of $14.99 on top of regular shipping charges to have it delivered on May 13th. I got a confirmation that the order was received. The order has never been delivered. I sent an email on the 14th, and got an automated reply that the order would be delivered by 8 pm that day... still no basket. Tried calling numerous times, and all I got was a busy signal. Sent another email this morning. At this point I am going to dispute the charge with the credit card company. Maybe they will take notice when they don't get paid.

I received a bouquet of flowers, the lilies were wilted and the water was dirty like when it's been in standing water for days. I called to complain and the owner, I guess, at Central Florist 2404 Central Ave Alameda Ca 510-864-0809 questioned me and told me to send her a picture of the bouquet in question. I said once I received it I cleaned out the water and plucked the dead leaves off the flowers and placed it at my business.
Offered to send me another bouquet tomorrow. I refused because I said that's not the point. She didn't take responsibility and asked me who the driver was. What does that have to do with anything? Basically not believing me. I know what a vase of standing flowers look like. Horrible customer service and old flowers. She told me it was made up this morning. SURE. I know that this was a costly arrangement sent to me by a friend that does not make a lot of money. And knowing that she was taken advantaged of makes me very upset with the Florist and 1-800-Flowers.com. Very disappointed.

This is now the second time I have had a problem with this company. The first time was online with their website... I went through the entire process of ordering flowers for my 83-year-old mother's birthday and when I clicked the final "Send" button... Nothing happened. I assumed it went through but I was mistaken. So for Mother's Day today... I CALLED hoping that would work... But I couldn't have been more wrong. This time they took my order and charged me $84.41... But my mother never received the flowers AGAIN!!!
When I called to attempt to rectify the problem... I was given the run around by 3 different representatives. I spent almost 2 hours on the phone mostly because only one of them spoke English. They made no attempt what-so-ever to make things right for THEIR mistake. The only thing that "Pope" could tell me was that he was fairly certain that I wouldn't be charged.... Despite the fact that the transaction was currently being processed by my bank. I tried to make it clear to him that I was more concerned about what they were going to do for my mother... And not the refund... But still nothing. TOTAL JACKASSES. Every one of them!!! Don't EVER make the same mistake I did!!! Stay far away from this company and WARN EVERYONE YOU KNOW!!! 1-800-FLOWERS SUCKS!!!

The worst service ever. I ordered flowers for Mother's Day. Paid a service charge and a second charge for delivery on May 14. I received a confirmation that promised delivery between 8am and 9pm. That long delivery window and late end point was bad enough but then they failed to deliver. When I called to ask where the flowers were the customer service agent simply apologized and said they had no vendor available. We live in the Washington DC suburbs. It is not like florists are a rarity here.
Postscript: I asked to speak to the customer service representative to speak to my supervisor. She then hung up. I called back and was told that I could not speak to a supervisor because the prior agent had left the matter open and therefore only her supervisor could access it. As they would not identify anyone for me to talk to, refused to let me talk to any supervisor, and refused to give any identifying details (such as an ID number) other than the fact that they were in one of several call centers located in the Philippines, I am pretty much out of luck - though I will call VISA and ask them for a full refund and NEVER use this company again.

I ordered flowers to be delivered on Mother's day. Spent over $150. When nothing arrived I called 1-800-Flowers to find out where my order was and was told they tried to deliver the day before and no one was home. We were home all day. Called back again and was told they would be delivered by 7 p.m. on Mother's Day. Nothing. Now 6:54 p.m. called again and was told that they were set to redeliver on Monday the day after Mother's Day. I will never use 1-800-Flowers or refer anyone I know to use this site ever again. Worst customer service I have ever experienced.

I'd used 1800 Flowers before this. I had a bad experience, had to raise a little hell to get my refund but I did eventually get refunded, and while I was unsatisfied with the service, I didn't write a bad review because I did get a refund and I'm not the sort to do that kind of thing. This time was the last straw. I'd placed an order for Mother's Day flowers. The day of delivery I received two messages from 1 800 Flowers. The first an email at 7:15 a.m. PDT saying that my was being prepared to go, and the second two minutes later by phone, the message was that my order was being canceled because an overabundance of orders and could not be filled.
This caused me to have to drop at work (it always happens inconveniently at work when your hands are tied) and try to find someone to deliver the day before Mother's day, so HERE IS WHAT YOU NEED TO DO... DO NOT USE 1 800 Flowers, Google the area of the recipient's, find local florist in that area, order locally, eliminate the ineffective and expensive middleman.

I ordered flowers for Mother's Day and paid extra to have them delivered on Saturday They arrived on Friday, which would not be a big deal except I paid extra to have them delivered on Saturday. 5 phone calls to customer service and multiple attempts to talk to a supervisor, only to be put on hold for 50+ minutes. All I wanted was for my shipping fees to be refunded. Have been promised a larger refund with email confirmation but impossible to get. Have been told 5 different stories about when and how money will be refunded. Will never use 1-800-Flowers again and will do my best to make sure no one I know has to deal with such terrible customer service.

I ordered flowers to be delivered by today 05/13/2017 and I get a email stating that it was delivered. Once I made a call to my mother to see if she like the flowers that were delivered I felt beyond stupid to know that she did not receive anything. I call 1-800-Flowers and I was told that it was delivered and I got an email confirmation stating that it was delivered and sign by a person that does not live at my mother's residence. Now 1-800-Flowers is trying to get in touch with that florist that deliver the flowers to the wrong address and nobody seems to answer the phone. So I guess I just send someone free Mother's Day flowers and balloons.
Thank you very much 1-800-Flowers for you wonderful service especially with your customer service. How do you guys take someone's money and don't have a clue where the delivery goes to... And to top it, I was on the phone with their customer service and I'm having the time of my life trying to get a refund and have to argue to see if I can get one simply because they can't reach the florist they got to delivered my flowers to the wrong address and I'm being charged for it. Great service 1-800-Flowers. I will definitely keep you in mind and make sure that I refer you to every person that I know that are dead in a cemetery. Maybe you will get better business from them.

For starters, these were boxed up in New Jersey & then FedExed to Buffalo. How crazy is that? Who does that with FRESH FLOWERS??? Then, they weren't even arranged, they were delivered in a long rectangle box. In the photo on the website, they are beautifully arranged, but with 1-800-Flowers, you have to arrange them yourself. That's absolutely nuts!!! Lastly, they didn't even look anything like the photo. Check out the photos. Thank you for ruining Mother's Day... way to go. NEVER EVER EVER AGAIN!!!

How this company is still in business is beyond me. They are no better than online con artists by the way they take your money, maybe deliver your product; if they feel like it, and mysteriously never answer the phone or refund your money when they say they will. Word of advice, if your product is not delivered by the promised date, you are within your rights to dispute the charge as they didn't fulfill their contractual obligation (once they take your money, they have entered into a contract with you). If they get enough chargebacks, it sends a red flag to Visa/MC and their card acceptance privileges could be revoked. If they can't accept credit cards, then they can't do business.

I contacted customer service on Saturday 4/29 because I was unable to place my order and receive free shipping. I had paid to join the Celebrations Passport which I thought entitled me to free shipping for one year. When I spoke to the customer service representative he took all of the information and informed me that I would be credited for my shipping charge. On Wednesday 5/3 I received a phone call from a customer service representative because my order had not been sent because of an invalid address. I informed her of the correct information and she informed me that I would be charged only $19.99 and my order would still arrive to my friend on 5/4.
On Monday 5/8 I see that I have not been charged for any flowers and thought it was strange that my friend never acknowledged receiving her gift. I then called in to customer service and asked to speak to a supervisor. The supervisor was busy and he was not able to talk to me. The customer service representative was very nice and informed me that I would not be charged the $19.99 for my order and that I would also receive an email with a voucher for $20.00 off a future order. I have yet to receive the email and my credit card has been charged $19.99.
By the way the only way that this order ever got processed was because I did it online myself while on the phone with the representative. I did not and do not trust any of the customer representatives to do anything that they say they are going to do. Today 5/9 I called customer service again around 9:30 am E.S.T. and spoke to Charles. I informed him that I would like to speak with a supervisor and he checked to see if she was available. He said his supervisor Jalyn was not available and would call me back. It is now 12:10 pm E.S.T. and I have not received a call.
I have always used 1-800-flowers in the past but am questioning my decision. Please respond and let me know why I am having these problems. I still have not received a call from Jalyn. I did get an email in response asking for additional information, name, email etc. I replied with, "Did you read my email?" No response to my original questions. Later today I received this response. "Your gift will soon be on its way! Our florists are hard at work preparing it, and will let us know as soon as it's ready to go out. Look out for a confirmation email from us. Thanks again for letting us deliver a smile for you." Still no answer to refund for my inconvenience or special offer that I was to receive by email. Do not place an order with them by phone. None of the information will be correct and order will never be filled.

I ordered a flower arrangement through 1-800-Flowers. It was supposed to be an arrangement in a cute little teapot. I paid almost $80. The next day I received an email that the teapot wasn't available, but they would substitute another container. I called to cancel the order. The teapot was the whole reason I ordered that specific arrangement. As soon as I told the customer service representative (Shanniese) that I wanted to cancel my order, she HUNG UP ON ME. I immediately tried calling back and got an automated message that the call center was suddenly closed.
I spent the next hour arguing with "May **" in chat, trying to get her to cancel my order. She obviously didn't speak English very well, and kept trying to get me to accept a partial refund or some alternative container for my flowers. I very clearly told her I wasn't interested in any substitutions SEVERAL times. I clearly told her at least 5 times to cancel my order and refund all of my money. I also had to prompt her to respond to me after every message. She finally told me that my cancellation was being processed and that I would have to wait 3-5 banking days for my refund. I paid with a credit card, so they should have been able to refund it immediately. I'm pretty sure I'm not going to see that money in 3-5 days. 1-800-Flowers is ROBBING people. I don't even know how they stay in business. I will never order from them again. If I could have rated them with zero stars I would have.

I ordered a $75 bouquet for my daughter's birthday to be delivered to her work. It was supposed to contain a dozen roses and stargazer lilies. Fortunately I asked my daughter to send me a picture of what was delivered. She received 12 daisies! I called to complain, spoke with someone at a call center, and they will be delivering a replacement bouquet tomorrow. They also are going to give me a $20 coupon toward a future order. I seriously doubt I will ever use their service again!
I asked for and was denied a refund which the call center blamed on the florist. If it was a local florist. I would not be so unhappy. But the flowers were sent FedEx so I suspect they came from either their own warehouse or a wholesaler. I would strongly advise that you request a photo of any flowers you send so they don't get away with this kind of scam.

My sister broke her leg and was sent to the hospital on Friday evening, May 5, 2017. On Saturday, May 6 at 9 am I ordered flowers to be sent to the hospital. 1-800-Flowers.com lied to me, said the flowers were out for delivery. Here it is Sunday... still no flowers. They constantly told me, they were out for delivery... LIARS. SHOULD BE SHUT DOWN IMMEDIATELY. Are they in this country? Shameful. AND THEY BETTER REFUND MY MONEY IMMEDIATELY!!!! I'm in Miami and my poor sister is in Rochester, New York.

When 1-800-Flowers.com screws up you have only 7 days to get them to compensate or resend item. My mother lives hours away so for her birthday, easter and mother's day I've sent flowers. But these 3 times the items I've bought off their website shows numerous flowers on them yet once again item delivered is not what I purchased. At easter her roses had only one measly rose but because I didn't find out from her as it was a gift out of town and didn't contact within that 7 days THEY won't do anything and this is just how they roll. This last order I told them if it had less flowers than what was pictured what I paid for I wouldn't be ordering anything from them anymore and true to fashion it was supposed to have 8 flowers and the camillas I sent her early for mother's day only had 3 flowers on them.
Ordering from these fools is like going to a burger joint. You see the picture you're ordering from the picture only. When the tray comes out you have no fries, drink or pie. You're not getting what you paid for at all and they're con artists. What I've decided to do is look around in her area for another florists and order directly from them since 1-800-Flowers.com doesn't honor the products they're selling.

Same experience as others I've read. Ordered online, got a call at 1 pm the day they were supposed to arrive stating they have no florist in the area and that I need to pick another location. ARE YOU KIDDING ME! It was for my mom's birthday and I wanted to surprise her to have the flowers delivered to her hotel while she was away celebrating her birthday. They were saying, "Well we could deliver to her house." REALLY? Who would receive them, no one is around, they are away! After them trying 3 times to get me to accept having them delivered to her house they said, "Well we can hold your order and give you 5% off for your future order." WTF! Um no! Give me my money back so I can make other arrangements!
After yelling at the one person they finally transferred me to a supervisor (no refund acknowledged). Supervisor tried the same thing (delivering to my mother's house???) then after me saying 'NO' she said, "Well we can hold your order and give your a 20% discount for your future order since there is mother's day coming in a few weeks." I'm sorry **! I'm not made of money and I'm not going to SKIP her birthday because you won't let me buy her something else and arrange something else. THIEVES! Oh you better believe I screamed at her **! Screamed and cut her off and said, "GIVE ME MY MONEY BACK OR I'LL DISPUTE IT ON MY CREDIT CARD!" She immediately said, "We will refund and send you refund confirmation by email". I just said, "You refund and send me the email and we won't have a problem." WORST COMPANY EVER! DO NOT USE THEM! Wish I had read the reviews before I ordered from them!

Last week, ordered two arrangements, a birthday arrangement for a friend and a new baby boy arrangement. Paid for what looked like an elegant, tall arrangement of sunflowers in a dark bamboo vase to accent the dark centers of the sunflowers for my friend. Paid an upcharge for that specific vase. My friend sent me a picture of an arrangement that I could have made by going to Shoprite, buying a bunch of sunflowers, and shoving them in a cheap glass vase. The baby arrangement was not even remotely as pictured. I wanted light blues and yellows. I got pinks and purples. I paid $140 for these two arrangements that looked as if they cost $15 at the supermarket. AVOID 1-800-FLOWERS like the plague!

For THE SECOND TIME, 1-800-Flowers has created difficulty for me. I ordered flowers for a family funeral, and received the order date confirmation via email. 1800 flowers decided to change the date of delivery to the following day, which arrived minutes before the funeral instead of the viewing the day before when I was told they would be there. This same thing happened the last time I used them!!! Unbelievably embarrassing for me!!! I won't be using this company again, as they are unreliable, and have no regard for their clients or the promises they make to their clients. Also, no satisfaction via phone with their representatives. I recommend you take your business to a professional service company, and not this amateur "organization."

This is the most horrible & undesirable company. I am a new retail florist in GA. I was offered an opportunity to try this company as a wire service / floral service provider. I have called to complain many times. I have never been compensated for any of the floral arrangements I have designed & delivered for this company. This is a total scam of a company. I do not recommend it for retail florists or consumers. They are completely dishonest... not only to the many customers I have read the horror stories & reviews posted here, but also to this retail florist who has in good faith filled countless orders to not be paid one cent for my floral arrangements which I have completed and delivered on their behalf. I have demanded to be compensated for my work & services to them with NO response whatsoever.

I placed an order on 5-2 to be delivered on 5-5. I checked my bank account today 5-4 and I see the money has been credited back to my account. I called 1800 Flowers and they stated I cancelled my order yesterday and now the earliest they can deliver the flowers is 5-9. They couldn't tell me who called to cancel the order but it was not me. I asked to speak to a supervisor and the agent asked me, "Why???" "Why you might ask?? My order was cancelled. You can't tell me how and now you can't deliver the flowers until the 9th. That's why!!!" She put me on hold. She never came back.
I called again. The next agent told me the florist cancelled the order. So the florist didn't have 12 roses and y'all didn't send me an email saying it was cancelled. Then she tells me it can't be delivered until the 30th. So the agent offered me another arrangement. Which was 59.99 then she tells me the total is 74 plus. I told her I am not paying more for something I didn't do wrong. I could go on and on. Was my issue corrected? Yes, after a 30 minute conversation with an agent reading for a script. Will I order from 1-800-Flowers again!! ABSOLUTELY NOT!!!!

I ordered flowers for my Aunt who was turning 86 while she was in the hospital with pneumonia. I received confirmation that the order was received but I never received confirmation that order was delivered (which my Aunt confirmed). When I spoke to customer service I was told that florist attempted to make delivery but couldn't find recipient. First, this was a hospital that is used to taking delivery of flowers for patients. I never received notification of this. The customer service rep that I spoke to (a lovely girl in foreign call center) apologized and offered me $20 off my next 1-800-Flowers purchase. I had to ask repeatedly if the flowers would be re-delivered and the best I got was that they would try.
I have to say that 1-800-Flowers used to be a great company. I don't know if this was the fault of the affiliate or the company but either way I felt that I was getting a line of BS about the delivery attempt. The last few times I've dealt with them their service has been degrading. I may use my $20 off for my last order that I ever make with 1-800-Flowers.

ConsumerAffairs Research Team
The ConsumerAffairs Research Team believes everyone deserves to make smart decisions. We aim to provide readers with the most up-to-date information available about today's consumer products and services.
In business since 1976, 1-800-Flowers sells a wide variety of gifts, including gift baskets, keepsakes and bouquets. The company offers standard bouquets and bouquets with fair-trade flowers that can be scheduled for same-day delivery or delivery at a later time.
Same-day delivery: 1-800-Flowers offers a same-day service. Consumers enter the recipient's zip code to see all the available bouquets.
Seasonal arrangements: For home or the office, seasonal decorations are a must. Expect to see spring blooms, pumpkins, evergreens and more as the seasons turn.
Shop by occasion: Unless you are a floral enthusiast, it can be difficult to tell what bouquet is suitable for which occasion. 1-800-Flowers takes away all the guesswork by breaking down its arrangements into convenient categories.
Personalize gifts: Sending flowers can feel a little impersonal, but not when they come with an engraved candle holder or embroidered teddy bear.
Go beyond flowers: While it has tons of lovely arrangements, it also offers a selection of keepsake gifts, from wine sets to picture frames.
Best for significant others, friends, adult children and companies.
1-800-Flowers.com Company Profile
Company Name:

1-800-Flowers.com

Website:

http://www.1800flowers.com/