Consumer Complaints and Reviews

I placed an order for delivery on Valentine's Day, but sometime during checkout it had changed the date to the day after Valentine's Day. I called customer service to correct it, and was placed on hold. While I sat there on hold, I tested checkout again, and was able to choose the 14th and watched it through checkout to make sure it stayed. When the agent came back on the line, I asked for the old order to be cancelled, but she refused saying that it was Valentine's policy that NO ORDERS COULD BE CANCELLED. I asked for the manager, and she told me the same thing.

WAS A CUSTOMER BUT AFTER THIS NEVER GONNA BUY AGAIN FROM THEM. I bought flowers for my wife bday. The lady quoted me 80 dollars. After I purchased I checked my bank. They charged me 81.99 and 91.99 total of 170 bucks for flowers. Wow I could have just gone to a flower shop and spend less and same kind of quality. So when I called in they was rude about it and said nothing they can do. It was gonna take 5 business days for me to get my money back. Well thank you 1800 Flowers. That was suppose to be my gift money for my wife tomorrow. Now I have to wait 5 days to buy her a gift. I got ripped off hard. Don't ever make business with this company. They will charge you with no permission.

I ordered flowers, and they were not delivered on the date they were supposed to be delivered. I called to check on the status of the order a day after the flowers were supposed to be delivered. After four phone calls to different representatives, we received no concrete answers, no set delivery date. The people we talked to barely spoke English, and seemed to not understand our problem. Anytime we brought up the idea of a refund they claimed to not be able to hear us. Finally, we got through to the billing department, who claimed we would get a refund. We are still waiting to receive it, but I am not sure if and when we ever will. I am doubtful.
I find it troubling that this company refuses to give confirmation numbers to account for the phone calls. There is no accountability. This seems to be a very dishonest and untrustworthy company. And after reading the other reviews, I see our experience is not exclusive to us. I will never use their services again. I encourage others to do the same.

Based upon the nightmare experience yesterday, this public company should get a new CEO and CIO. The technology on the website is inferior and deceptive as it does not include promo discounts but yet puts out a message that the discount has been added. Even though Chris McCann (current CEO) has only been in place for about a year he may want to view Yelp or any of the other review sites to see what a pathetic public company he has on his hands to turn around. Will not be using them again.

My husband ordered Flowers for my birthday that were never delivered. He spent 3 hrs trying to get a refund for the flowers that never showed up. $170!!! The manager was horrifically rude and it was so disappointing... I WOULD NEVER ORDER FROM HERE!!! Again!!! Terrible customer service... Rude... and incompetent. So disappointing...
How do I know I can trust these reviews about 1-800-Flowers.com?
695,474 reviews on ConsumerAffairs are verified.
We require contact information to ensure our reviewers are real.
We use intelligent software that helps us maintain the integrity of reviews.
Our moderators read all reviews to verify quality and helpfulness.
For more information about reviews on ConsumerAffairs.com please visit our FAQ.

Went on 1-800-Flowers website, added to cart a gift for my daughter, the promo code didn't work. I called the number, they told me to call the next day to get the issue resolve. Even though they couldn't resolve my issue, I was asked to give credit card to hold the order. I asked for a reference/confirmation number, the man said he didn't have one to give, only an order number.
After all those red flags I decide to check my credit card, it showed a pending charge, so they did put my order through. Called again and asked for a confirmation number, I was told he couldn't give me one. Gave the order number, said it didn't exist, 5 minutes later found it, and said I authorized the order. I couldn't get the order cancelled or refund back. I've read and personally seen posts from friends on social media the bad reviews. The best and guaranteed way to get your money back is to call the credit card company the order was placed. 1800flowers is the worst customer I've ever experienced.

Damn I wish I would have found this earlier. I wouldn't have ordered. I ordered $90 flower package for my wife at 8:30 AM today and needed it by 3 PM. I talked to 3 people, used the Facebook messenger and even used their website chat. I wanted to verify that it would get there by 3 because my wife was flying out for work and I wanted to surprise her. At 2:30 PM, the person over the chat said they were done at noon and were on their way. They haven't arrived yet, and my wife is on her flight and these flowers are absolutely useless now. I emailed the customer service to complain about my experience, and it just got worse. Here's a sample of their customer service skills.
"I'd really like some proof that they actually left. I don't believe they've even been made. SLC is very small. You say "out for delivery" to prevent people from canceling the order when they screw up. Literally, it's like lighting $90 on fire and throwing it away. SMILE Guarantee. Whatever..." RESPONSE. "Good Day! As of the moment we're still communicating the florist and as soon as they update us about this order you'll be automatically notified via email. Thank you for reaching out to us". I would expect a refund, but that's obviously not going to happen - so buyer beware - they ruined my weekend.

I am sorry to read all the negative reports on 1-800-Flowers. My experience, and the experience of several of my friends, has been quite different. My son ordered flowers from you while he was overseas. The flowers arrived on time but sat on my front porch for over 15 hours. There was no notification by the FedEx delivery person that they had arrived. No Email, no call, no note on door, no ringing of doorbell; nothing! When I discovered the box so much later I was disappointed with the contents in the box, and admittedly, quite angry. It had been out in the 20 degree weather for over a good 15 hours. Called 1800 and they immediately set up another delivery for the next day.
I was quite happy with their response to my issue. Thank you to the rep who assisted me. He was very professional. Sorry, I forgot his name. Now I would suggest that 1-800-Flowers work more closely with and monitor their delivery companies, FedEx and UPS, or whatever other means of delivery they use. I am willing to bet that a lot of the problems arise from these delivery companies. 1-800-Flowers, instead of passing the blame to their delivery companies, took full responsibility for the error and made good on their own. Thank you, 1-800-Flowers, for doing the right thing this time. I sincerely hope you can work out the other negative issues you seem to have because I want to use you for any flower orders I will need in the future.

I ordered flowers for my son's first anniversary. He lives in Germany. Flowers.com rep gave me discount in the amount of $20.00 towards my next purchase, apologized and promised that order will be processed ASAP after I called them several times. My order was not delivered and I did not get my money back.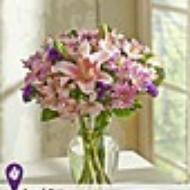 I ordered flowers on Saturday for delivery on Sunday to a funeral home b/c a friend's mother died. I received a call from 1-800-Flowers.com saying they did not deliver on Sunday but they could deliver on Tuesday, which was fine because visitation was on Tuesday and funeral was on Wednesday. Yesterday I emailed 1-800-Flowers.com to ask about delivery AND THERE HAD NEVER DELIVERED THE FLOWERS! How embarrassing for me. At first they tried to say they were sorry – no reason given for not delivering – and they were going to give me a $20 gift card. Like I'd ever order from them again. I told them to give me a full refund and they could tear up their gift card. It looks like they refunded my PayPal account. What a crappy company.

I ordered an arrangement and balloon for a new mother in the hospital and paid the additional surcharge for next day delivery. It wasn't delivered for 2 days and when she sent me a picture of the flowers there were 4 red roses, 1 white rose and a few greens. I had ordered the large baby boy arrangement with an "it's a boy" balloon totaling nearly $100. What she received couldn't have been more than $15 and looked so cheap! I will never use them again. Thank God she sent me a picture otherwise I would have been so embarrassed. Don't use them!!!

As a first time customer, I had a horrible experience and would never recommend using 1-800-Flowers. I spent the better part of yesterday trying to track down an order and all of the customer service reps spoke broken English at best. I was given the run-around all day only to learn at 7pm that the order would not be delivered. They offered to try it again the next day at "no charge" for the inconvenience. It has been a nightmare to try and get a full refund as they charged me for the flowers even though they did not deliver. I would be happy to pay more if it meant hiring people who speak English and understand the first thing about customer service. Totally incompetent and no clue how to take care of customers. I called a local florist myself and had flowers delivered by 10am the next day. It's not that hard especially if that is what your business does. Pathetic excuse for a business that claims they bring "smiles" to your face. NOT!!!

At 11:30 am I placed an order and paid extra to have flowers delivered on a Saturday. I received and email an hour later stating that they tried to deliver and got no answer. I called the recipients. They were home - four people, all awake. They have two dogs that never barked. 1-800-Flowers also claimed that they called the recipient. Not true. I contacted 1-800-Flowers and they left telling me they would try again. I asked for a supervisor on several calls. No return calls. They refuse to allow me to cancel. They will deliver flowers next Tuesday. They refuse to refund the extra delivery charge. I paid with PayPal so I hope they will get my money back.

Not a happy customer! I ordered a sympathy arrangement for a funeral my bosses father's funeral to be exact. This order was placed on January 26 to be delivered on January 27 which was a day ahead giving your company plenty of time to deliver. I received the email stating unable to deliver on the 27th. Why would you not call? After lucky checking my email this morning I called to clear up problem and confirm delivery today at noon and told the customer service "Doing this to ensure that delivery was made on time".
I called an hour later to check on the status of delivery. The new customer service rep told me that the flowers will be delivered by 1 PM. So not understanding why delivery is 1 pm when I asked for delivery at 12 to ensure on-time delivery I was all of the sudden disconnected. I called back and asked for a customer service rep supervisor and the young lady was adamant that she is qualified to help me. By this time I am upset and trying to figure out how 1-800 flowers decides when delivery is. And demanded a discounted bill due to failure to deliver twice. Not one time did your reps say I'm sorry for the mess up!
This had happen before with your company, late delivery. The florist decided because they called funeral home and was ahead of schedule and they had time to deliver, thus waiting to last minute or ran into traffic or whatever. A delivery which could have been early was now late. This funeral was my father's. I was in attendance and witnessed the late delivery. But in the scheme of things I let it go. Things happen. I know understand why! Your company and or florist don't respect delivery time request. You decide and this is what happens. So I wanted compensation in the form of a discount since apologies are not part your very qualified customer service reps training.

I ordered the Comforting Gardenia Bonsai plant as a sympathy gift for a close friend who lost her 47 year old husband to an aggressive lung disease. It was supposed to be delivered to her two days after I ordered it. When I called 1-800-Flowers to ask why it hadn't been delivered they said, "Oh that's a specialty item and it takes about a week to be delivered." So okay, I'll accept that. Then a week later, when it still wasn't delivered, I called 1-800-Flowers again. They told me the order had been canceled and they didn't know why! I am embarrassed and heartbroken that our expression of sympathy never arrived. What my dear friend must have thought; we didn't think of her at this tragic time in her life. The woman with whom I spoke to at 1-800-Flowers was very sweet and apologetic. She offered to call my friend to let her know what happened which I accepted. Now I'll resend something else even though it's two weeks later.

Ordered flowers to be delivered on mother's b-day. Received confirmation the day after they were supposed to be delivered that they had been delivered. After not hearing from my mother, I later learned that she never received any flowers despite the delivery confirmation. What a scam!! Wonder how many people use this service to have flowers delivered to people and funeral services, etc. who never receive a thank you and assume it was the recipient who didn't thank them when, in reality, it was the flower scam who didn't make the delivery.

One of my best friends father died and I wanted to send flowers to the church service which was held on Friday, Jan 13, 2017. The representative was hard to understand because she didn't speak American English. It was as though she was reading from a script and if I interjected with a question, it threw her off and she had to start all over. She guaranteed me that the flowers would be delivered in time for the service at the church. They never arrived and I was not notified until 3:30 that the 9 am delivery didn't happen.
I called the company and again had to speak with a very limited English speaking person. I asked for full reimbursement and he tried to tell me that of the $69.98 that I spent he could only reimburse the shipping fee of $14.95!! I explained that this was unacceptable because they did not deliver the product. They wanted to deliver the next day and I had to explain that the Funeral Service was over!! I no longer needed the delivery and I expected a full refund. Lavina (name given) kept saying she understood my upset and she would make sure I received a full refund. It never happened.
I contacted AMEX and asked them to hold payment, instead AMEX accepted a partial payment (1/2) from 1-800 FLOWERS and I was livid! AMEX reimbursed me the balance, but that wasn't fair. I paid for receiving nothing! AMEX assured me that they would go after 1-800 FLOWERS and keep me apprised of the outcome. NEVER AGAIN.

I ordered flowers to be delivered on January 21, 2017. I received a email saying they tried to call me to let know they needed to substitute a different color of rose. For one they never tried to call me on my cell phone, they lied. So I call them to approve a different color of rose at about 3:00 pm and to make sure the flowers would still be delivered on that day and they said yes the delivery man was out on a delivery and would send a confirmation at 8:00 pm. Well I sent them a email at 11:00 pm to let them know the flowers were not delivered!! So there was no response by January 22, 2017 so I called and the flowers were still not delivered and they said the flowers might be delivered by 7:00 pm. I told them to just refund my money. The flowers I ordered were for a funeral. So my advise is never order from 1800flowers! They are rude and uncaring.

At Christmas I ordered 4 separate Flowers/Gift Baskets for 4 different addresses. I even added their Celebration Passports deal that gives you free Shipping and handling. 2 of the items arrived on time, 1 arrived 1 day late and 1 got stuck in Minnesota for a week before I was able to figure out it hadn't been delivered. I found out when I called the intended recipient a week later and asked how she liked the basket. She replied "what Basket". So I called 1-800-Flowers to find out what happened. I'm going to make a long story short and just need to vent on this...
After 3 separate days, 1/2 dozen transfers and about 8 call reps I am hoping that today is the day it ends. My main complaint is that no one I spoke to spoke English as their main language. NOT one of them didn't have an accent too thick to decipher. I am used to dealing with businesses who use all types of people who come from different countries. But they at least require them to speak clearly. The whole experience made me dread having to call when things weren't corrected. Trust me there is so much I haven't typed here because I'm pretty exhausted over the whole fiasco. The sad thing is that their products are pretty good. Nice sizes, fresh sweet fruit... I saw the Roses and 1 of the baskets and was very pleased! Too bad the phone experience is such a headache.

I ordered an arrangement from 1-800-Flowers. The arrangement I ordered is not what was delivered. If you notice it should have had lilies and not chrysanthemums. Lilies are more expensive than chrysanthemums first so there should have been a price adjustment. Secondly for many including the recipient of these flowers chrysanthemums signify death. This was for a special occasion, not a funeral.
Also the day the arrangement was to be delivered I received a message from the local florist that executed this arrangement that it had not been delivered. When I received this message it was after hours. I contacted 1-800-Flowers about this as well as the local florist. No one followed up with me to let me know what was going on. Today I contacted the recipient of the arrangement and she sent me a photo which I have attached below. I reached out to 1-800-Flowers and was told no refund that they would pick up the flowers and redo them. That is not acceptable as the event is today the 15th which is why I ordered them in advance on the 9th.

Called the day previous to ask my flowers be delivered the next day during the day. The next day after not hearing from my girlfriend about it all day I call and ask what's going on around 4 pm. I asked them to please deliver them as soon as possible. They promised to have them delivered before 7 pm. I got an email 6:55 telling me they were being prepared. They hadn't even left for delivery. I called customer service to cancel the order at exactly 7 pm. The guy starts arguing with me saying that they had been delivered at 6:30 pm. He was literally calling me a liar. The flowers didn't arrive in my girlfriend's hands until 7:15 pm so he is completely and utterly lying through his teeth to me while he's sitting there calling me a liar and refusing to transfer me to a manager.
I was astounded that my girlfriend who has a four-year-old little girl she lives alone with is going has someone knocking at her door late at night in the pouring rain. He wouldn't even try to get a hold of the driver to stop them when he had 15mins to do so. I called and asked to talk to a manager after a few minutes arguing with that guy and the next person wouldn't transfer either. They just let me sit on hold for a few minutes and then asked if I was still there and said it would be a few more minutes. Basically, if you ask to talk to a manager they'll just brush you off. My grandmother goes to bed at 6:30, good thing I didn't order anything for her! On top of all that I had ordered chocolate covered strawberries that they didn't even deliver. So half my order was missing. So sad.

I ordered a Christmas centerpiece that came in 3 sizes. I ordered the medium size for a relative for Christmas dinner. When I saw the centerpiece I was embarrassed. It was the smaller size and I was charged for the bigger arrangement. I sent cookies to my son for a Christmas gathering. They were supposed to be sent by December 23. They still haven't arrived (it's now January 7). I sent them a letter because I could neither understand the person on the other line and it was a bad connection. India outsourcing? The total bill was $200. I gave them plenty of time to take care of the problem. Their idea of reconciling was giving me a $75 credit and no cookies. I will never order anything from them or anyone associated with them.


Pic doesn't look like the product you're buying. I ordered a $79.99 fruit basket. It arrived on time but with very little fruit in it. It looked nothing like I ordered. They sent out 2 more baskets that looked better, but still looks nothing like I ordered. I emailed them and told them, "Thank you for sending out 2 baskets," but will not do business with them again. I never got my $20 off either.

My sister-in-law husband passed away. She had told us she wanted blue flowers to dry out and save them since that was their favorite and wedding color. We ordered the arrangement on Sunday the 1st of January saying it would arrive Wednesday. I made a mistake with the recipient name and changed the name by calling them. I call Wednesday to ask where the flowers were and they said I cancelled the order. I said if I cancelled where is my refund? They asked if I would like to send them and I said yes they apologized and offer me $20. Coupon. I never received the coupon not like it matters and she got her flowers on Friday except they weren't blue. They were purple and looked dead. Such a shame!

The funeral spray that was delivered was dead, wilted, discolored, and also had several substitutions from the photo on 1800Flowers site. They refunded my money, but that doesn't erase the horror at what was displayed next to the casket. They refused to give me the name of the local florist who delivered. Their customer service said they would contact the florist, but never asked for a photo of the product. How could they give accurate feedback if they never ask for a photo? This is the second time they disappointed me. The previous funeral flowers were never delivered. They offered to deliver it to the deceased's home since they missed the funeral parlor.

My husband needed emergency surgery and my brother-in-law paid big bucks to have flowers sent from California to South Carolina on Wednesday 1/4/2017. They never arrived. Had they not told me they'd sent them they'd be out of money and we'd still get NO FLOWERS from 1-800Flowers.com. I called them TWICE on 1/5/2017 and first was told the flowers would "arrive today" but they never did. Hours later I called them AGAIN and was told the local vendor "chose not to fulfill the order" but they wouldnt tell me who the local vendor is. Still, no flowers. Not a single stem. This company is awful! Nobody cares and nobody does anything! Please shut them down!

My family and I had ordered flowers to be delivered to a friend's funeral. The delivery that we got were not what we ordered. We ordered a large bouquet. A small came in with the wrong color flowers. They were all wilted. We were very embarrassed by this. When we call to notify them of this they wanted to know if we wanted them to deliver them the next day. We let them know now that was too late. This is a very unprofessional company. Will never use them again nor will any of my other relatives or friends. Thank you.

Well we ordered a flower basket for mom and arrival date 12/22/2016. It showed up 12/24/2017 only after calling every day. And when it did show was not what was ordered. Looked like the florist threw leftovers in it and was half dead. I contacted 1-800-Flowers they said "we will send new ones out 12/26/2016." Guess what... Yes they are a no-show again and will not refund money. BS.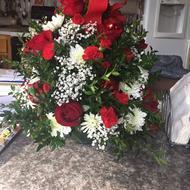 I ordered the large Holiday Flower Tree. On their site it shows as a Christmas tree made with pine and roses. The large shows as all tree and you can't see a planter. What they got was a blob of eucalyptus, no pine and scattered roses. And it was not large! NOTHING like the photo! I called and wrote an email. I did receive a credit but for what was sent still felt ripped off. I sent them a picture of what they have posted on their site and what my parents got. The next day someone called to rectify the problem but when I called back I got the runaround again. I decide to send them another email. They respond apologizing and offering to send another tree at no cost BUT NEVER followed through with it. I send yet another email and never heard back again.
1-800-Flowers.com Company Profile
Company Name:

1-800-Flowers.com

Website:

http://www.1800flowers.com/