Consumer Reviews and Complaints

I ordered a corsage for my son's girlfriend. This was their first homecoming dance. After 6 calls throughout the day and the run around each time, corsage was never delivered. I was/am so upset. I will never, ever use 1-800-Flowers again. BUYER BEWARE.

August 25, 2017 I ordered a gorgeous Thank You fruit basket for my boss, it was set to be delivered on August 26. On August 26th I received a phone call, after 3 separate phone calls (I was left on hold for so long, my calls got disconnected) they finally told me what the problem was "oh, the florist we use is unable to deliver your basket today, but we will deliver it tomorrow (Sunday). What??? Just like that, THANK GOD this wasn't a Birthday, or Anniversary or other critical date that my fruit basket had to be there for.
TODAY: Sunday, August 27, they delivered the fruit basket, when my boss sent me the picture, I was SOOOOOOOOOOOO enraged, embarrassed and disappointed. It was nothing like the pretty picture they have on site and the picture you assume is what your recipient would receive. I kept hearing a lot about 1-800-Flowers and their shoddy business practices, and I hope to never, never, never order from any company that has anything to do with them. My fruit basket was made by Flowers by Marianne and it was absolutely a 3 from the 10 I thought I ordered, because I went by the picture and I was heartbroken it was nothing like the picture.

Ordered flowers for my cancer fighting Mom's 75th birthday. And put order in 2 days in advance. After numerous calls and the complete runaround. She never got her flowers. At the end of the day they said there was confusion with what I had requested on card. It was simply a defaulted message from their site. Happy Birthday and many more, Love -----,------. Also take note they have until 7-8 to deliver. Who wants flowers delivered in the evening. Birthday is over by then. Never again for me!

I ordered flowers and a balloon for my wife to celebrate our 25th Wedding Anniversary. The flowers were not delivered. When I call the customer service I was told that they would deliver the next day and that it was better late than never. For a service like this they should never miss a delivery date, they ruined a once in a life time celebration. They should be run out of business to ensure that they are unable to do this to anyone else.
Their service was horrible. They kept me on the phone for over an hour with no real resolution, they kept telling me that they did not want to get off the phone while I was still frustrated - really? They screwed up my 25th Anniversary. How could they possibly think anything they could do would make up for that. Again I cannot stress this enough if it is an important event do not order from 1-800 Flowers because they do not deliver. And better late is not true.

My husband's office ordered flowers for my mom's funeral - to be delivered for the Friday Viewing as the service was the next morning. No flowers came... We buried her Saturday and funeral flowers arrive at my HOUSE on Monday. Not plants, but a funeral arrangement?! When I called 1-800-Flowers it was stated matter of fact that the 'sender' agreed to this? What? Would any sender agree to have flowers 'miss the funeral'? Would anyone think it would be OK to send funeral arrangements to a house? Very poor taste.
My mom meant the world to me - would have been respectful for 1-800-Flowers to deliver on time and if not, refund the sender the money. It was VERY POOR TASTE to believe that it would be fine to deliver these flowers 3 days after the funeral. Seems like they wanted to keep their money. His office (who orders flowers for many of their clients) will no longer do business with this disrespectful, tasteless, and greedy company. This was NOT good customer-recovery.
How do I know I can trust these reviews about 1-800-Flowers.com?
882,235 reviews on ConsumerAffairs are verified.
We require contact information to ensure our reviewers are real.
We use intelligent software that helps us maintain the integrity of reviews.
Our moderators read all reviews to verify quality and helpfulness.
For more information about reviews on ConsumerAffairs.com please visit our FAQ.

I placed an order on August 9, 2017 for a Casket Cover for my father's casket for 249.99. The order was promised for August 10, 2016 but was not delivered on time for my father's viewing on August 11, 2017 at the funeral home. After many phone calls to 1-800-Flowers and being put on hold or my phone calls dropped, I was able to talk to someone on my fifth call and told them to cancel the order since they could not deliver it on time. Then a get an email saying the order had been delivered. What I order and what was delivered from Flower Basket by Becky, 204 Russell St, Darlington, SC 29532 looks nothing like what was advertised and what I ordered!!! We were so embarrassed by the casket cover, my wife went and ordered another casket cover for the casket. My wife and I were so disappointed with your customer service and the delivery of our order that I will never use 1-800-Flowers again.

The flowers that I ordered had a very short shelf life. Almost immediately after they came out of the box they became limp and had to be thrown out in a week.

I previously had good experiences with 1800flowers for holiday occasions but that all changed in the month of June 2017. I had sent out 2 gifts on father's day and one at the end of June. However, the people I sent them to never received them. I tried to file a complaint to the company to see if they could resolve the issue. I never received a response from the company, or a refund, or even an investigation to see if the order was sent but not picked up for some reason. I am deeply disappointed with their services and will not be using them again.

I have used this service before but I won't be using it again. I hate to give the review to 1-800-Flowers but their confidentiality agreement will not allow them to divulge the name/location of the florist. Therefore they will have to bear the brunt of my ire. I am sadly disappointed in the service we (didn't) received. It soured my wife's birthday and I have recourse. Getting my money back just doesn't do much for satisfaction. The delivery person actually let an unknown person sign for the flowers. The signature did not match my name or my wife's. How can you do that when somebody is depending on your professionalism? It doesn't say much for the florist or the inconsiderate moron they employ. This will be the last time I will use their service, and I will make sure that everyone I know will hear this tale. P. S. - Can you believe the soulless act of the dirtbag that would sign for and keep somebody's birthday gift? That goes beyond evil.

I ordered a plant a week before my Grandma's memorial service. They could not deliver it until the day of the service. I called 1800flowers at 8am the morning of the service to verify the delivery would be made before the 10am service. They said it would be delivered by 9am. It was delivered at 1pm, service over. I called requesting a refund, was told I would receive one. Received a call the following morning saying since it was delivered, I would not receive a refund.
I stated the order was made so it would be AT THE SERVICE, not sitting in the funeral home AFTER the service had ended TWO HOURS previously. The caller then said they would reroute the delivery it to a home address. Really? I ordered it for the SERVICE, not for the home!! He then offered to give me a $20 gift certificate, for a $70 order! Please call a local florist directly. These people are a joke, and how they handle failing at their commitments is even more of a joke! Especially don't order for a funeral service, how embarrassing and hurtful not to have your plant at a loved one's service. Would give them a zero if it was possible.

Classic collection gourmet gift basket ordered. This collection contains chocolates and cookies and it was a gift from us to our son for his birthday. Unfortunately the gift box did not contain any of these items. After speaking to the customer care I was promised that they would send the correct items this time. Once again the local vendor calls and asks my son as to why he opened the gift box and as to why he did not like what was there in the box! For heaven's sake it's a gift and how would he know what we had ordered! The minute we came to know that all items were different and not as described on the website we contacted the customer care. How can this local vendor talk to my son like this? You need to seriously reconsider having them as your vendors. Very very disappointed.

1-800-Flowers email advertising promoted product in specific region. After placing order and confirming availability, I was called later in the day and told that it was not available. Ordered flowers for same day. I was called after placing order and told it would take a week. Called customer service line and was on hold 5 minutes. I hung up and called back. It took 20 minutes to cancel order and re-credit account. Amount re-credited was incorrect. Phone operators have no resources or authority to resolve problems.

This is the 5th time I have ordered flowers in the last year from them that were never delivered. And when I call to tell them, I am offered a partial credit. I cannot believe that nothing has been done to shut them down. I was a fool for believing their nonsense excuses all these times but never again. They are dishonest and dishonorable. I have never seen such blatant fraud go unpunished. I will NEVER use them again. Please do something other than collect complaints.

I ordered flowers for my wife at 9 AM for same day delivery but the flowers never arrived. I waited till 8 PM which is their cutoff for delivery and still nothing arrived. The next day I reached out to 1800Flowers via phone and they never answered. Tried emailing them next and the response I received was the florist changed the date of delivery to the next day. No notification was sent to me by the florist or 1800Flowers until I reached out to them myself. My recommendation is to use someone else because 1800Flowers is a rip-off.

Placed an order for sympathy flowers to be delivered on 7/12/17 and they weren't delivered. Called on 7/14/17 and they assured me that they would be delivered on 7/15/17. Again, flowers weren't delivered. Called on 7/17/17 and they told me they were changing the florist company and the flowers would be delivered that day. Today is 7/19/17 and no delivery has been made! Unbelievable!!!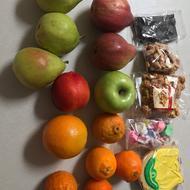 Absolute scam! Paid over $130 for this basket + shipping and they delivered a basket that looked like no more than $20. See images below. This was suppose to be a thank you gift for our grandparents who let us stay in their home for free for three months. I was utterly embarrassed. They did offer to replace it. Let's see what gets delivered next time.

I ordered flowers for my niece for her birthday and was overcharged (4times). I had To call twice to place the order. The first call was disconnected shortly after I provided my credit card number. No one called me back however the order was placed. The second attempt I was able to successfully place the order. I found out later after checking my account I was billed three extra times. When I called to notify and complain I was told I had to call back on Monday because there was no one available to assist with refund on Sunday.
Only after I threatened to go to the media was I transferred to accounting. Accounting said they were unsure if they could help (only after again I threatened to go to the media did they help). The gentleman conference called my bank explaining that there were three unauthorized cards that he needed credited to my account. At that time I was so frustrated but also now with my bank. They refused to release or reverse the charges saying I would have to wait 24 to 48 hours although the merchant advised they made an error. It is Monday and I have not received a courtesy call from 1-800-Flowers.com. And I remain overcharged and account overdrawn.

I am mid-hassle, trying to have a Get Well Soon flower arrangement delivered to my sister. My sister had a very major surgery a few months ago and is staying home for the next few months while she heals. I thought it would be sweet to send her a flower arrangement shaped like a cat (her favorite). I ordered on Friday to have the item delivered Monday (plenty of time, so I thought). I get an email Monday that says the recipient was not home but they would try Tuesday. The email said "I did not need to do anything" so I shrugged it off. Following morning I get about four phone calls from 1-800-Flowers.com.
I call their customer service in India and they say the florist in the area would not deliver until they got in touch with my sister and knew she was home (this is supposed to be a surprise by the way, half of the point I did it in the first place). The fact of the matter is, when I called my sister to confirm her address, she also confirmed what I already knew: I KNOW she is home everyday and her father-in-law works from the house too. I am 99% sure that the delivery service COULDN'T BE BOTHERED to get their butt out off the car and ring the doorbell or knock on the door. Neither my sister nor her FIL are deaf. They are both mobile. And they are not fearful of answering their front door. I explained to customer service that I don't know anybody who picks up their phone for unknown numbers when they are not expecting a call... and considering this was supposed to be a surprise, she would not be expecting a call...
Meanwhile, I am painfully aware that these $75 flowers are now two days old and I am not pleased. I told customer service to tell the florist to deliver the flowers. I told them again that the recipient is home. Awake. And now eagerly awaiting a delivery. Goodbye surprise effect. Have not heard anything or received a delivery confirmation from over 6 hours ago. They have until tonight to deliver, or I am canceling. In the future, I will simply send my sister a check and have her go buy her own flowers from the nearest Walmart - they would probably be fresher (and an 1/8th of the price) than the ones she may or may not get...
Highly would not recommend this service. I suggest calling a local florist directly. My godmother once sent me flowers on my birthday from a local florist and the delivery man spent half an hour looking for me in multiple buildings (I just happened to have a meeting in another area of the hospital) and he STILL tracked me down! It was a beautiful surprise and so unexpected. With a company like 1-800-Flowers.com, I do not expect them to go above and beyond for their recipients, and instead I probably spent more time calling them, my sister, and emailing back and forth than they did delivering the gift. Never Again.

I placed an order on Friday July 7th for a large floral arrangement for a co-worker who tragically lost her pet. I was assured delivery for Saturday the 8th. Never showed up! I called on Monday when I learned they were never delivered to get false promises of a $20 credit and deliver promised for Monday July 10th. Again, flowers never showed up. I called last night, was told they can't refund me without cancelling the order. After requesting to speak to a supervisor I was assured a full credit and delivery today. So far, no delivery updates and no flowers. This has a been a $150 nightmare! They could care less about the inconvenience they caused and actually got rude with me! The only nice person I spoke to on 1 of my 4 calls was the supervisor!

I was sent roses for my birthday. They arrived in good shape but were left on the porch in the direct sunlight on a 90*+ day for several hours as no one was home to bring them inside. One dozen was more open than the other but none of the flowers really opened (bloomed) at all and sadly there was no fragrance which was a bummer. I know that roses do not have a strong fragrance but I was surprised at no beautiful smell to liven the room. They were just for looks. I followed all of the trimming and water additive instructions and just tossed the remaining flowers out today. Most of the flowers lasted 10 days before wilting but with no fragrance. Almost like plastic flowers. The receipt directed me to a website with a survey which also does not seem to exist.

I received the Passion for Purple Roses as my 50th birthday present. The roses were wilted, had dead spots and in less than 24 hours, they are ALL wilted and dying. This is ridiculous as the amount you pay for this arrangement is not your grocery store purchase. They "guarantee" satisfaction, they should never be sending out sub-par merchandise and charging the prices they do. This was extremely disappointing and from the looks of this website, this is commonplace for this company. Will not ever use or recommend this company to anyone I know.

It is my mother's birthday, I ordered flowers for next day delivery. They charged me, sent me an email that order was received... Got an email saying that order was being delivered. No word from my mother on any delivery. I call them and they say that in fact, they could not find a florist to deliver today... or ever. But they would kindly offer me a 50% refund on my next order!!! Are you kidding me. This business is a scam.

On Friday the 12th I ordered flowers for mothers day, I called the call center to place the order and it was accepted and Saturday the 13th was the delivery date. On Saturdays the 13th no flowers were delivered. I had to call again and the call center assured me they were out for delivery. The flowers were delivered on the Monday after mothers day. I recommend to all that this company should NOT be used. It turns out the call center did not capture the correct address - note the call center appears to be outsourced another country I suspect China but could be wrong. I also suspect that this is the reason for the wrong address. This is the first review I've written and I strongly urge all to not use 1-800-flowers. Customer service is not here.

Ordered flower arrangement by phone for funeral services of a relative. Was told they needed to go a day early to be able to deliver and I said that would be fine. No call, no email, nothing telling me order was not filled. Son called from viewing and told flowers were not there, I called and was told, "Oh sorry," mistake made but they would be glad to deliver on Monday instead of Saturday. Since funeral is Monday morning I guessed they would not get there in time and just had to cancel order. Oh yippee, they give me a 20 dollar credit for the mistake. Does not make up for the disappointment to me, and family. Never will trust again.

My daughter sent me a Gardenia plant for Mother's Day. It arrived with black spots on the leaves. I cleaned them but a few weeks later it was covered with webs and bugs. My daughter called them and they said they would send a new one, call me to apologize and credit her account for $20. I never got a call but did get another plant. This one arrived with chewed leaves, black spots on leaves and 2 live caterpillars. This time my daughter was told they would give her 1/2 her money back. And I have two bug infested plants.

I wanted to do something special for my best friend. I tried to get on their website and the item I wanted wasn't going to deliver on time. So I called them. Their customer service department is a joke. I ordered some flowers then changed my mind. I cancelled the flower arrangement and they charged my card. I was told this was an authorization. Then why did you charge my card when I never authorized it. I called them Sunday and Monday and even spoke with a manager to get my credit. She was a joke too. Here it is Tuesday and that charge is still on my card. Please save yourselves. I did order from them a second time but got no order number. The worst customer service I have ever dealt with.

I ordered my mother a birthday gift on 6/14/17 to be delivered on 6/18/17. I waited around ALL day on the 18th for the arrival of the balloon, chocolate, and birthday bouquet I ordered, only for it to never show up. I emailed their customer service and was informed that there were no florists in my area to fulfill my order!!! Thanks for the heads up!!! I requested I be refunded my money only to have them reply two or three times ignoring my request, pushing a new bouquet and a $20 voucher on my next order. Yeah right. They refunded me, but omitted the tax I paid for some reason. Showing them I paid $5.68 in tax, they say I paid no tax and that they already processed my refund. So now I'm out the money I paid in tax on a service I did not receive AND my mom ended up empty handed on her birthday. Worst company experience I've ever had BY FAR!!

I ordered a sympathy arrangement from 1-800-Flowers to be delivered next day. I find out the delivery was never made so I called and I was told the delivery is was being done until the following weekend. Not only that I paid extra for them to delivery next day I never got an email or a call to let me know what was going on. Very unconsidered from their part, never got an apology or try to fix the problem. I will never ever will order flowers from 1-800-Flowers again! The worst is not the first time that happened.

What I got was not even close to what my fiance ordered for me. Was supposed to be calla lilies, pink Stargazer lilies and a white rose with an actual card!!! What they delivered was rainbow roses, not equal to what he even paid for. The rainbow roses that came were wilted, one was actually broken off. Instead of a card, I got a small printed message. Do yourself a favor, use Google to find a local florist. Sooo disappointed and saddened???

Twice I have tried to use this company and on the special day the flowers were to be delivered they either didn't show or called to say we don't have the flowers, which is fine, but then they went on to say that they couldn't deliver until the following day, completely missing the special day. I would rather explain to my mother that she isn't getting flowers from me than to support such a failure of a business model as this one. I gave them a second chance and on the day they tell me they can't do it. Absolutely worthless company. I don't expect them to be around for much longer.

ConsumerAffairs Research Team
The ConsumerAffairs Research Team believes everyone deserves to make smart decisions. We aim to provide readers with the most up-to-date information available about today's consumer products and services.
In business since 1976, 1-800-Flowers sells a wide variety of gifts, including gift baskets, keepsakes and bouquets. The company offers standard bouquets and bouquets with fair-trade flowers that can be scheduled for same-day delivery or delivery at a later time.
Same-day delivery: 1-800-Flowers offers a same-day service. Consumers enter the recipient's zip code to see all the available bouquets.
Seasonal arrangements: For home or the office, seasonal decorations are a must. Expect to see spring blooms, pumpkins, evergreens and more as the seasons turn.
Shop by occasion: Unless you are a floral enthusiast, it can be difficult to tell what bouquet is suitable for which occasion. 1-800-Flowers takes away all the guesswork by breaking down its arrangements into convenient categories.
Personalize gifts: Sending flowers can feel a little impersonal, but not when they come with an engraved candle holder or embroidered teddy bear.
Go beyond flowers: While it has tons of lovely arrangements, it also offers a selection of keepsake gifts, from wine sets to picture frames.
Best for significant others, friends, adult children and companies.
1-800-Flowers.com Company Profile
Company Name:

1-800-Flowers.com

Website:

http://www.1800flowers.com/