Consumer Complaints and Reviews

They only had ONE JOB: to deliver nice flowers, but nope, couldn't do it! I ordered flowers for Mother's Day with more than 4 days prior and when they arrived, my father had to given them back to the driver because they were terrible! The driver said he will come back later but it never happened. Paid 120 bucks for nothing. Got my refund after one hour with an agent. First and last time I use them for sure.

1-800-Flowers.com is a rip-off. I ordered flowers, chocolates and balloons early in the morning for an advertised "same day delivery". I was called back that the florist did not have the flowers I ordered. No problem, right? Well, they couldn't deliver anything for three days! I asked them to cancel the entire order. They would not. They instead offered a delivery 3 days from today, and a 50% discount. I was on the phone a total of EIGHT HOURS, with 6 phone calls and 5 emails. THEY WOULD NOT GIVE ME MY MONEY BACK. Half back, yes. Full? No way. The people on the phone have a horrible command of English. RIP OFF!! Steer clear!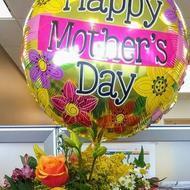 Ordered flowers, candy and a mylar balloon for Mother's Day. Received a delivery confirmation, however mother never received the flowers. They indicated a re-delivery the next day...no delivery. Here we are on day three - no delivery, but offered 50% refund. Maybe someone stole - no...sent to her job which must go through security. No one ever even called her to confirm the re-attempt.
Now I believe that they outsource to India. I was sent to the executive something or another and spoke to an American, who indicated they tried to reach the florist shop that was initially used to no avail. She offered to send via a different florist and full refund. THAT was customer service! I was initially going to bash them because of having to deal with the outsourced area and no resolution except 50% but the transfer worked it all out and my mother received beautiful flowers, candy and balloon on 4th day. In addition the new florist called to advise they were on the way...so since these flowers are sent via a 3rd party they just have to take certain florist off their list that's giving them a bad wrap!

Ordered flowers for funeral services, prior to services online on May 6 2017 morning, scheduled for morning service at church. May 7 called at time of arrival to church they won't be able to fulfill order and stood us up. Very rude on phone. Today is 5/20/2017. No refund yet of 244$. Won't even give them one star. They should not be in business.

I messed up for Mother's Day. All my fault. I ordered flowers from 1-800-Flowers for 5/19 delivery date. I called, they said they cancelled because they ran out of tulips. I didn't receive a call or email about this. I am so upset. It's not funny.
How do I know I can trust these reviews about 1-800-Flowers.com?
766,190 reviews on ConsumerAffairs are verified.
We require contact information to ensure our reviewers are real.
We use intelligent software that helps us maintain the integrity of reviews.
Our moderators read all reviews to verify quality and helpfulness.
For more information about reviews on ConsumerAffairs.com please visit our FAQ.

I ordered flowers May 1 for Mother's Day to be delivered May 14th. However, despite ordering 2 weeks early, the flowers were never delivered to my mother nor did I ever receive any tracking notice or email regarding their lack of delivery. The following Monday (5/15) I called to figure out where my flowers were. The customer service rep had no excuse of why they were not delivered. We agreed he would send me the flowers anyways with a full refund, plus would call my mother to apologize. Nice gesture, right? Sure-- until those flowers ALSO FAILED to turn up more than a week later, my refund was NOT processed, and my mother received no said apology call. So, customer service agent ** completely lied to me. 19 days after ordering… still nothing.
I called one last time, requested a full refund yet again and I no longer will even bother trying to get my flowers delivered. I'm very disappointed. This was the worst experience I've had with a flower delivery place ever. Do not bother with this place. The "100% Smile Guarantee" phrase on their website is complete bogus. I should have checked their reviews online – avg of 1 STAR (shocking!). Trust me. Don't make the mistake me and many other customers did and go to a local florist instead.

I had ordered flowers from 1-800-Flowers in the past and forgot what a horrible job they did. I just placed an order for Mother's Day and the flowers that arrived were half the number of flowers that were supposed to come in the bouquet. The color was different and they looked nothing like the flowers pictured on their website and the roses were dying when they arrived. I emailed customer service and they said they would send a new one out first thing Monday. The replacement flowers never arrived. I emailed back and they said it would arrive Tuesday and they never arrived.
So I called and they guaranteed a Wednesday delivery. Those never arrived. After 6 emails and 2 phone calls, it's now Thursday and still no flowers. I called again and they said they would send them on Friday. At this point I don't believe them and I requested a full refund. They said they would refund me in 3-5 business days. Let's see if that actually happens. I feel beyond disappointed that they ruined Mother's Day since I live on the other side of the country away from my mother. Do Not Use 1-800-Flowers. Find a local florist that can deliver.

I ordered online an arrangement on Monday to be delivered the next day to a relative in the hospital. Unfortunately, she was discharged sooner than she expected, so they could not deliver that day. I was completely ok with that since it wasn't their fault she was no longer there. I spoke with a Customer Service Rep on Tuesday and provided her with the home address to redirect the delivery to. I gave her a home address including the city and the state of LA and guaranteed the flowers would be delivered on Wednesday. I received a call on Wednesday stating they had an incorrect address because they had the city correct but listed the STATE as Los Angeles instead of Louisiana. So there was another delay in delivery. CSR stated she would refund the delivery fee and again guaranteed delivery for Thursday.
Now, today, Thursday I get another call from them to say there was an issue with the order. I asked what the issue was and was put on hold for 10 min for them to come back and tell me they are going to deliver flowers on Friday. Still, not knowing what the issue is, turns out the issue is still the fact they are listing the state LA as Los Angeles. I had to have repeated the address at least a dozen times, none of the CSR's I spoke with, 5 in all, spoke English as a first language and could barely understand the questions I was asking so they would just give me a generic answer and say "OK". No, NOT OK, I had to argue with the CSR for them to provide me a credit for their incompetence. CSR stated they were going to credit half the cost of the flowers and send a $20 coupon. She again verified the credit and stated the flowers would be delivered on Friday.
Not 10 minutes after hanging up I received an email stating the flowers were DELIVERED but shows a date of 5/19/17, which is tomorrow. Approximately 15 minutes later I get a call from Carlos who wants to advise me that the flowers were delivered today. I asked him to verify that the credit was being processed to my account, he stammered through the rest of the call. That question was too difficult for him to answer. All of that information should have been right there with notations from all of the CSRs that called. I work for a large corporation as a Customer Service Supervisor and have never experienced this level of incompetence. This is what occurs when you outsource to foreign countries, they need to provide better training so there can be a seamless conversation about your account. It should not matter to whom you speak with, they should all be providing the same information.
As far as the $20 coupon they are sending, even after I told them not to, it will be destroyed with pleasure because I will NEVER and I mean NEVER use this company again. I submitted this order through my company's website that is used by employees to shop with 100's of different companies. I have already set warnings about using this company for any reason. If I can help anyone else avoid this frustration and make sure they utilize a different company I will tell anyone and everyone about this awful experience.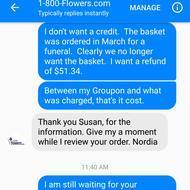 I ordered a sympathy basket for my neighbor. I found out weeks later that they never received the basket. I called the company and they confirmed that the basket was not sent. They refused to give me a full refund! In addition, there was no compensation for the mistake. They only wanted to give me a credit towards a future purchase. I would never use this company again! I reached out to them eight times. Every agent including a manager said they would take care of it, however, after hanging up the phone, I got an email saying they could only give me a partial credit. Unreal!

My husband ordered flowers for Mother's Day, to be delivered at my office the Friday before. They never showed up. He received a phone call at approx 4 pm that day explaining that they were sorry but were unable to deliver the flowers that day. Nice. Too late in the day to come up with Plan B. They said they would deliver them on Monday and he would receive a full credit. Monday, no flowers. Tuesday, no flowers. He called late Tuesday afternoon and wanted to know what was going on. They said they didn't have a florist in the area. Really? That took DAYS to figure out??? Then they said they would have them delivered the following day and would 'upgrade' the bouquet, at no addt'l charge. Well, it's now Thursday - nearly a week later - and still no flowers. And to really add insult to injury, they have charged his credit card TWICE! Seriously, who does that??

I ordered my flowers this past Thursday morning for Friday delivery. They gladly took my money out of my account immediately at 9:10 a.m. but never followed through with the order. When I called them Saturday morning to find out why my flowers were not delivered by the end of business day on Friday I was told that they would give me a $14.99 credit for the delivery fee and they would resend the flowers by the following Tuesday. Mind you this was a special occasion and a surprise and those flowers needed to be delivered on the agreed date of Friday May 12th, 2017. Not only was my surprise and special occasion ruined but when I ask to speak to a manager I was given a different resolution. After being on hold for approximately 25 minutes he came back and told me that he could send flowers that following Tuesday and he went to the extreme of picking out the bouquet that he could send on that date.
Flowers are very personal and by no means should somebody leave me on hold that long only to come back and pick out what they can and will be able to send me 5 days late! They offer thousands of bouquets so my question to management is this, what makes you think that you can pick out my flowers for me after you didn't follow through with my order and ruined my surprise, plus took the money out of my bank account and then only offer me a 14.99 discount? I didn't want the bouquet that you picked out for me. I wanted the bouquet that I picked out and to be delivered on the date I had requested and on the date that I had paid for. I paid $75 for a bouquet that I could have went down to my local store and purchase with a vase for only $30. I paid the extra money to make this special occasion exciting for the person I was giving it to.
This was a horrible experience for the second time in a row. I'm sorry I gave them a second chance and I would never ever recommend the service to anyone. On top of that when you call them you don't even speak to somebody from America. Why are they employing Americans who need jobs? They were even on the show Undercover Boss trying to figure out all of the issues going on in their company several years ago. Apparently that didn't even help them. I guess they need to hire a new CEO! Since my order has been refunded after all of the brain damage that I had to go through and trying to come up with a new surprise for my loved one, my order number has been removed from my 1-800 Flowers account.

I ordered flowers for my step mom to be delivered the day before Mother's Day. When the flowers were not delivered on the day I chose, I called and they assured me that it would be delivered the next day. The flowers never made it, so I called again and got a different representative who promised me that the flowers would be delivered on Sunday and even gave me a new tracking number. Sunday came along and no flowers again. I called once more and they said they did not have any record of me calling and the flowers will be delivered the following Friday, well after Mother's Day. I told them to refund me the money at that point. I will never ever use this company again.

I ordered flowers for my mom's bday. I received an email that it was delivered, and just like the reviews. When called to ask if she liked the flowers, it never arrived... When I called 1-800-Flowers, just like the reviews again, being on hold for an hour to find out what happened... Uhmmm on top of ruining my gift, wasting my time, arggg. I will never order from them EVER, and will read reviews before ordering anything! Horrible!!

Do not order from these folks. I had flowers ordered with a Mylar Balloon saying Happy Mother's Day to be delivered on the Wednesday before Mother's Day. Well the Balloon was in Spanish and we don't know what it said. I called and they told me they would send out the right one. Still waiting as it hasn't been delivered. They lie on the phone to you and can barely speak English. One agent even called my Mother to tell her she would be getting a special gift. Well, she is still waiting to get it. I will never use them again!!!

So decided to use 1800Flowers to send flowers to my mother for Mother's Day. I live In Oregon and she lives in Illinois. Shop they used tried to deliver some flowers but the setup they sent my mother turned away due to them being unacceptable. I contacted customer service and they refunded me some of the money and promised to deliver them a day or two after Mother's Day. This was very irritating as I placed the order in enough time to ensure they would be delivered on or before Mother's Day. So now my mother waited around these two days we were promised they would be delivered, and still no flowers. I spoke to customer service again today and was placed on hold for 10 minutes so I called back. The next woman proceeded to hang up on me once I started to express my irritation. I have now disputed the charge on my PayPal account. Thanks a lot 1800Flowers.

I ordered 7 dozen roses Thursday, 5/11/17 to be delivered Friday, 5/12/17 to Reno, NV for my grandmother and family. Nothing showed up and no email with any explanation has EVER been received. I spent 8 HOURS (and have phone records to prove this) trying to get things resolved Saturday, 5/13/17, finally concluding at 4:30 pm with the agreement that I would received 100% refund of all charges due to 1-800 Flowers' inability to fulfill the PAID IN FULL order of $284.65 and an apology bouquet would be sent on Tuesday, 5/16/17 to my grandmother at 1-800 Flowers' expense for ruining my family's Mother's Day gifts, as well as the hassle and stress I had to endure trying to get this resolved.
On Sunday, 5/14 $40.67 was refunded of the $284.65 I was charged for the roses that never arrived. Today is Wednesday, 5/17/17, still no emails, no full refund, and no apology bouquet. I am reporting this company for fraud. Mother's day was ruined and 1-800 Flowers has stolen my money and failed to keep ALL promises made! I'm appalled at the conduct and unprofessional attitude of this company. I would think they would want to make the bad situation 1-800 Flowers created right but they do not seem to care as I was hung up on this morning when I attempted to question why no promises were kept. I want what was promised. A full refund and the apology bouquet sent to my grandmother at 1-800 Flowers' expense. It's the ONLY right thing to do at this point.

If I could give them no stars I would. I ordered a gift basket on May 10th for my mother for Mother's Day. I paid an extra delivery charge of $14.99 on top of regular shipping charges to have it delivered on May 13th. I got a confirmation that the order was received. The order has never been delivered. I sent an email on the 14th, and got an automated reply that the order would be delivered by 8 pm that day... still no basket. Tried calling numerous times, and all I got was a busy signal. Sent another email this morning. At this point I am going to dispute the charge with the credit card company. Maybe they will take notice when they don't get paid.

I ordered flowers for my mom for mother's day and they never showed up. They apologized and said they would be delivered a few days later which really defeated the purpose, but they said they would also give 50% refund which I never got. Then a few days later the flowers did not show up and I asked for a full refund which I have not received. This is a really bad company. Do yourself a favour and save yourself the hassle and do not order flowers from them. They don't deliver on their service... literally.

Worst customer service EVER!!! I called and got the runaround so many times. The first time "there was a system error", the second person told me I would receive it in 15 to 20 minutes, the next person said, it would take 2 days and the last person I spoke with said I would have my receipt by the end of the day. He told me several times he had processed it and I would have it soon. I told him I wanted to speak to a supervisor and he said they were on another call and didn't know how long they would be on the call. When I refused to hang up he told me I could wait on hold for an hour. He then came back to the phone and told me he was processing the order again. I told him, "I thought you said you processed it 10 minutes ago?" He said, he spoke to someone else and there was, once again, you guessed it, "a system error". It has now been 50 minutes of me being on hold and I have finally received my receipt.

On May 2, 2017 I ordered 2 dozen roses and a box of chocolates to be delivered on May 12, 2017 for Mother's Day. The flowers never arrived on the 12th. I called the 1-800 number and was told they would be delivered on the 13th to ensure they would arrive for Mother's Day. The flowers never arrived on the 13th. I called the 1-800 number on the 15th and was told that they would give me a $20 credit and the flowers would be delivered that day. The flowers never arrived on the 15th. I called the 1-800 number on the 16th & was told they would be delivered that day. The flowers arrived by FedEx and when I opened them, there was 1 dozen tulips and not 2 dozen roses - also there were no chocolates.
I called the 1-800 number again to tell them of the order discrepancy and I was on hold for over 30 minutes. I was told they would only be able to refund 50% even after explained that the order was completely wrong. I saw the owners of 1-800-Flowers on 'Undercover Boss'. I am so disappointed with my experience and how I was treated. Saddest of all was that this was a gift for my mother. I am a business owner of a 60 year old company and if I treated my customers the way I was treated with misrepresentation and an inferior products, I would be out of business. If I could give my experience less than 1 star, I certainly would. I will never use this company again when ordering flowers. I will gladly share my experience with everyone I know.

Order Number ** was not filled. I placed the order and paid in full on May 11, 2017. This was a Mother's Day gift for my mom. It is 6 days later and my mom never received anything from this company. Furthermore, I have requested a refund twice and I have never received it as of yet! They have horrible customer service.

1800flowers will not honor 100% Guarantee. I ordered a Waterford Crystal Flower from 1-800-Flowers.com. My wife does not like it so we want to return it. 1-800-Flowers Guarantee states "So if you, or the person who receives your gift, has any issue at all, we'll do whatever we can to make it right - No questions asked." All I wanted was for them to honor their own words.

Such a terrible experience. I ordered flowers for my mother for Mother's Day, which cost $100 and were never delivered. Even worse is that the company actually SENT ME A DELIVERY CONFIRMATION. If I hadn't checked with my dad to ask if they had been delivered, I wouldn't have even known; how is this not considered fraud or theft? I paid for a product and service and was told it was provided when in fact it was not. I then called customer service the following day, they offered to deliver them that day and give me 20% off my next delivery, which was absolutely unacceptable since I will never be ordering from them again.
I spent 20 minutes of my lunch break on the phone with them before they agreed to refund me completely and deliver them same day, which was still late. The next day I check in with my mom- STILL NO FLOWERS. This company literally has one purpose- to deliver a product on a specified day and they can't even do that. I will never order from them again and don't recommend anyone else send them a single penny, since you have NO guarantee you will actually get anything for it. Late flowers and your money back do NOT make up for the fact that my mom assumed I'd forgotten to send her something on Mother's Day.

My daughter send flowers to me the Wednesday before Mother's Day. They arrived in a long box in 2 separate bouquets that I had to sort through and put in an arrangement. The flowers were two dozen long stem yellow, white and red roses. Most of them hadn't opened yet... still buds. Two days later I noticed most of the flowers were drooped over and none of the buds had opened yet. Today, one week later, they look dead and the buds still haven't opened yet. This arrangement was on special for Mother's Day. Does that mean low quality product? Looks like it to me! So now I have to let my daughter know the flowers she proudly sent me are dead already. Such a shame.

I have been extremely disappointed on Flowers that were SUPPOSE TO BE DELIVERED on MOTHER'S DAY and they are still not delivered. They have charged my account and I am going to have my credit card fight the charges. They keep sending e-mail saying they have delivered the flowers. But they have NOT delivered ANYTHING! I will never use this company again and would recommend that no one else does either. You will get absolutely NOTHING!

If I could give 1/2 a star, I would. I ordered flowers for Mother's Day to be delivered to a hotel my parents were staying at for a few days. Sunday came and went without any flowers. When I called Sunday evening I was told they would have them delivered on Monday. I was also told they would refund me my money. Monday came and went and still NO FLOWERS!!! After four phones calls to the call center in the Philippines, 45 minutes on hold waiting for a supervisor, and being disconnected 3 times (no exaggeration), I finally gave up trying to get a supervisor and I spoke with Lhon. She said she saw a refund for $17.00 on my account - WTH... They were only refunding me for shipping when I spend over $78?!? I demanded a FULL refund AND the delivery of flowers still to my mom. She said she couldn't do a delivery but could give me 50% off another order (seriously!!!!). I demanded flowers be sent at no charge!!!!
She spoke with her "monitoring" department and said they would send flowers!!! I guess we'll see if either my refund or the new flowers ACTUALLY happens. When I asked for the corporation address - so I could mail a complaint - I was told they could not give out that information!!!! Seriously - with the internet they didn't think I could find that info. I actually found corporate number in New York (1-516-236-6000) and will be calling tomorrow morning to voice my complaint!!! DO NOT DO BUSINESS WITH 1-800-FLOWERS!!!

I cannot even begin to describe how disappointed I am in your company. I placed an order for Mother's Day delivery giving you guys an opportunity to either deliver on Saturday or Sunday. Not only did you fail to deliver on Saturday and Sunday but, on Monday I was told that my order was cancelled. It is very disappointing to know that you ruined my mother's Mother's Day. I will not only never use your company again but I will make sure that people know what poor customer service you have. It makes me believe that the CEO and president of one 800-Flowers is pretty much a cheap man Because he is chosen to have us call center in a foreign country. Do you want to start making one 800-Flowers great again bring those jobs back.

I ordered a mother's day bouquet for my mother and am so disappointed in this service. They didn't come from a local florist and it wasn't arranged. They had nothing saying who they came from and had no instructions or information about the flowers that were in the arrangement. My mother lives in Michigan and they came from Ohio. Will not be using them again.

I received a bouquet of flowers, the lilies were wilted and the water was dirty like when it's been in standing water for days. I called to complain and the owner, I guess, at Central Florist 2404 Central Ave Alameda Ca 510-864-0809 questioned me and told me to send her a picture of the bouquet in question. I said once I received it I cleaned out the water and plucked the dead leaves off the flowers and placed it at my business.
Offered to send me another bouquet tomorrow. I refused because I said that's not the point. She didn't take responsibility and asked me who the driver was. What does that have to do with anything? Basically not believing me. I know what a vase of standing flowers look like. Horrible customer service and old flowers. She told me it was made up this morning. SURE. I know that this was a costly arrangement sent to me by a friend that does not make a lot of money. And knowing that she was taken advantaged of makes me very upset with the Florist and 1-800-Flowers.com. Very disappointed.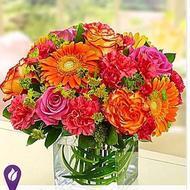 For Mother's Day, I decided to order flowers and have it be sent to her on Thursday, May 11th. I've ordered from 1-800-Flowers in the past, but have never seen a picture of the final result. I requested my mother to send a picture to me, and I was rather disappointed in the result. For what I spent on this order, that wasn't even worth the value. The flowers that are in the vase are very pretty, but I don't believe I got my money's worth! I ordered the medium sized arrangement, and it looks like it's a small version. I called customer service and was fine with the response. They offered to resend the flowers and provide a discount (20%) for the next order. I called to just voice my concerns on this particular order. I will reconsider ordering from this site again. Overly pricey for something that is provided from a third party, therefore creating inconsistency on the final product.
1-800-Flowers.com Company Profile
Company Name:

1-800-Flowers.com

Website:

http://www.1800flowers.com/