Consumer Complaints and Reviews

The flowers were NOTHING like pictured. In the photo about 12 to 15 Iris and some Tulips. Was beyond disappointed and EMBARRASSED when my colleague sent a photo. It was all green with ONLY 3 Iris'. They even used ugly green filler that you see with cheap flowers. I could have bought a beautiful arrangement for a fraction of the cost at the grocery store. After wasting more of my time contacting the company, they offered a terrible discount of 10%, thank for the $6 back or to send another arrangement, I would have looked like a fool. It was cost them less to give me more of my $ back. How awful...

We placed an order for a floral arrangement on 4/15/2017 requesting delivery for same day 4 PM delivery. The person taking the order assured us that this would be no problem. Even spoke as if the flowers were being arranged at the location the phone call was being answered. Turns out Avas is nothing more than a money taking location. If they even have flowers on site it is probably only pictures. They take the order as if they are a florist then sub out the job like FTD and Teleflora. Then their customer service continues the SCAM. After canceling the order we received an e-mail with the new delivery date. Each attempt to get a confirmation of the cancellation is met with dead ears. I located the delivering local shop and confirmed with them they have received the cancellation from Avas.
Avas still claims the credit is to be paid by the local florist. The local florist has not even received our CC info from Avas, how can they credit or charge the card. Avas in my book is a scam and needs to be avoided. The section below ask for the receipt to be added. I cannot add the receipt as Avas has never provided a receipt and refuses to provide a credit for what has not taken place. No flowers were delivered. The charge is showing on the credit card and we are in the process of disputing the charge.

Our daughters ordered Easter Lilies for us but we still don't have them and Avas Flowers insist on delivering them but it is 5:15 Easter Sunday afternoon. We want a refund but they refuse stating they can still deliver them. Their records show a delivery date as Friday, driver Leroy, now they say John will deliver the flowers.
Our daughter in Canada has tried to reach them since Friday but no response. I have never encountered such poor service but reading their reviews show there are many more like us. Please do something with this company.

I ordered an $85 bouquet of flowers to be delivered to my grandmother for Easter before 1 pm. They showed up at 8 pm, woke her up, and delivered the wrong flowers. When I called customer service, they offered me 10% of my order as store credit to resolve the issue. Unacceptable.

I ordered a bouquet of Easter flowers and was guaranteed delivery the day before Easter. I agreed and offered that the day before, or on Easter Day was fine. Avas rep said not to worry and guaranteed delivery specifically by 5:00 pm EST the Saturday before Easter. Later on Saturday I received a text saying to call Avas and was informed they could not deliver the Easter flowers until Monday! I told them that was unacceptable and to cancel the order. The Avas rep said it would take 3 to 10 business days to credit my account and I would receive an email confirming cancellation. The cancellation email did not arrive but an email stating that the delivery was still scheduled for Monday. WHAT A SCAM!
How do I know I can trust these reviews about Avas Flowers ?
744,488 reviews on ConsumerAffairs are verified.
We require contact information to ensure our reviewers are real.
We use intelligent software that helps us maintain the integrity of reviews.
Our moderators read all reviews to verify quality and helpfulness.
For more information about reviews on ConsumerAffairs.com please visit our FAQ.

Placed an order at 9:12 AM April 14, 2017 Same day order/delivery never happened. Someone called back a total of six times to find out when it would be delivered... This was for Easter. Last thing told, could not find a florist shop in the area... Canajoharie, NY 13317. Put me on hold to speak with someone in authority. On hold for 45 minutes. No one on to speak with me. Finally hung up. Very, very disappointed. My daughter will not be getting the flowers I ordered.

Okay, I'm not the one to write reviews good or bad but this place deserves it. I found out about Avas Flowers online, obviously, because I wanted to send my in-laws flowers for Easter. I was in a hurry this day but had come across their website and decided to give it a chance. The first red flag, I had called Avas flowers and the consultant that answered the phone did not speak English very well (not his fault but continuing). I couldn't get a word in without this guy speaking over me. Annoyed but again in a hurry so I continued. The 2nd red flag - When I was done with the call that should've taken me all of 5 minutes but in reality took 20 minutes, the consultant promised me an email confirming my purchase yet NEVER ASKED FOR AN EMAIL until I said "Well don't you want my email?" and his response "OH! Yes that's a good idea." Well no**!
Fast forward to the next day, which leads me to Red Flag #3. After checking my emails I was worried as to why I had not received a confirmation email from Avas Flowers as promised so I called in. Different guy, same language problem, gave me my order number and had told me that I never gave the first guy my email... What? Excuse me? Oh and of course on top of that guy #1 had spelled my name wrong, the people that I was sending the flowers to names wrong and also the wrong address. By this time I was fed up which takes us to red flag #4. I asked the consultant to cancel my order in which he INSISTED not to do by badgering me with deals and discounts on my order. After about two minutes of this I wanted none of it and simply just cancel my order so he transferred me to his supervisor.
Which brings me to the 5th and final red flag. Their supervisor was very nice and wanted to help. BUT like his workers he insisted on giving me a discount so I wouldn't cancel my order. After I had said no he placed me on hold for a couple minutes (just about 5) to only tell me that it would take 3-10 business days to receive a refund. Now, this wasn't the problem. The problem was that he told me I'd receive an email regarding my cancellation INSTEAD I received an email confirming that my order was still in place and that the order was still set to go through and arrive on the set date. Now why was I getting this email when I specifically told them not to is beyond me. Long story short I ended calling back, spoke to a manager and he cleared everything up for me. Time well wasted people. DO NOT BOTHER WITH THIS PLACE!!!

I wish I had researched this company before ordering flowers. There are many other review sites where people had my identical bad experience. Compare what I ordered versus what they delivered. When I found out, I called the company and asked them to deliver the correct flowers. They put you on hold for 30+ minutes and never let you speak to a manager. Instead of correcting the order, they waited several days and went behind my back and called the person who I ordered the flowers for and talked them into accepting the poor flower arrangement. Then they told me what they did and said the problem was resolved and that my friend agreed to accept the "beautiful flowers." When I told them that was unacceptable, they said they would call my friend and take the flowers back -- a week later -- and then replace them.

I placed an order with Avas Flowers 3 weeks ahead of time of delivery. Delivery never occurred. I phoned and spoke with Michelle who was very apologetic and stated there was a "glitch" in computer system and my order didn't go through (and I did the order over the phone with a Live agent!) She assured me of a re-delivery and a little something extra beside to apologize for the error. This was for my friend's special 60th birthday. I chose Avas because they specifically advertised they delivered to my friend's place of work among other local businesses and schools in Worcester, MA. Only now finding out they aren't even located in MA at all!! The RE-DELIVERY NEVER HAPPENED EITHER!
I now need to attempt to get a refund and from reading other reviews here doesn't look promising. Very unhappy and very sad couldn't give my friend a nice surprise floral arrangement on her special day, and I live 3,000 miles apart, so now she didn't get a gift from me at all. Guess I will have to check out Consumer Affairs site before using any On-Line companies again!!

When I placed the order, I specified that it HAD to be delivered on Friday by noon. I was assured that it would be. It was not. It didn't get there until after 4:00 PM. The doctor that it was going to was leaving at noon, and she is moving to another practice. I STILL don't know if she ever received the flowers. I am extremely disappointed in the service - not at all what I expected for a $137 order!!

First of all, the website advertises this as a "local" company... They are not. It is a call center. I ordered a bouquet to be sent to a friend at school (she is a teacher). I placed the order by 10 am and was assured "same day delivery" by 3 pm. I then received urgent emails and phone calls (over and over) starting at 2:40 pm to notify me that they had been unable to locate a florist to complete the arrangement and delivery. I requested a refund. The customer service agent (who had extremely poor English) told me that was not possible and offered to send the arrangement the next day. I told him, "No, she was having a bad day TODAY, and will not need the arrangement tomorrow. I want a refund."
He then tried to get me to give him her home address to be delivered that evening. I asked how he planned on locating a local florist (who close between 4 and 5 pm) to do the delivery if they had not been able to locate one all day. He stuttered with that question and then offered me a discount on my next order. I became furious at this point and told him (again) that I wanted a refund. He put me on hold.
I explained that no delivery attempt had been made and that per their company's policy, I (the customer) had the right to request a full refund. He then put me on hold again (for 5 minutes) and came back telling me I would receive a refund in 5-7 business days and a confirmation email of a refund within 24-48 hours. Needless to say, I never received either. I am, however, still receiving daily emails and phone calls trying to coerce me into still sending the arrangement, in lieu of giving me a refund! I am filing a complaint with my credit card company today and looking into any other measures available for my rights as a consumer in regards to this company. This is FRAUD!!!

I placed an order for my grandpa who was hospitalized out of state which was delivered on 3/8. I received a picture of the flowers from a family member that was visiting on 3/11. If I lived local I could have bought a nicer bouquet from the grocery store. Honestly, nothing like what I ordered! I also received a follow-up email on 3/11 from Avas flowers to which I responded to with pictures of what I ordered and what was delivered... did not hear anything back. I sent another email on 3/17 and then again on 4/6, neither of which was responded to. I ended up leaving negative feedback on Trustpilot and received a reply from Trustpilot stating that Avas disputed that I was actually a customer.
After providing my receipt Trustpilot reposted my feedback and only then was I contacted by Avas. After several emails and a couple of phone calls they offered me a 10% refund. I found this offer insulting. I told Avas to keep their money that I would rather share my story on social media in an effort to save someone else the aggravation and disappointment. My grandpa passed a couple weeks later and I ordered flowers from 1-800-flowers for my grandma. They were beautiful!!!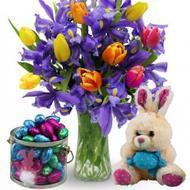 My husband ordered the Easter Tulips & Irises Deluxe Bouquet & had flowers delivered to our home. We were having friends over for an elegant dinner in a few hours & wanted purple Irises & yellow Tulips... When he walked into the room with the bouquet I immediately noticed NO Irises!!! The flower arrangement also looked like it was just thrown together & very few flowers for the amount we paid. So I went into my garden & cut what few flowers the cold snap did not get & made mini flower arrangements for our dinner party! Will NEVER order flowers here again!!!

I ordered flowers for a funeral and when I attended the funeral my flowers were not there. Afterwards I contacted them and they said they would redeliver. Redeliver to a funeral that had done passed? I had already been embarrassed that all had seen that I hadn't sent any flowers, but I said okay to redeliver to the family's home instead. Well they never showed up there either. After several call, hours on hold and getting the runaround, I think I am going to get a refund. I'm still not sure. What a horrible experience with this company and at a most vulnerable moment. How did they get such a good rating? Do not use this company!

Ordered flowers at 11:48 am for same day delivery. Received an email at 2:31 pm stating that the flowers had been delivered. When I contacted my wife to see how they were, she told me she had not received anything. I called and spoke with someone who had stated that sometimes the delivery confirmations were sent prior to deliveries being made and that I should wait an hour. I received a call stating that the flowers were delivered to another address. I requested a refund, as I paid $61.93 for a service that was not delivered. I spent 43 minutes on hold waiting to speak with a manager, as the people I was dealing with were not understanding that a refund should be issued due to lack of delivery.
I called again and spoke with a "floor manager" whom did not understand that in the company's own terms and conditions on the website state that "In the event that no delivery attempt was made and the order was not delivered on the requested delivery date, we will offer the customer (i) a re-delivery attempt; (ii) a credit towards the purchase of Products; (iii) a full refund, at the Customer's option." After 19 minutes of explaining that I was indeed due a refund, he put me on hold and finally issued a refund. All told, it took roughly an hour and a half of my day. Never again. I was pleased that a refund was finally issued, but the amount of attempted bartering was ridiculous - 10% off the next order, "beautiful extra roses" in the order already botched. By the end, I felt sorry for these phone bank operators with heavy accents and little experience. Not worth the time or frustration.

Ordered from Avas Flowers because they said they were local, looked local when I was ordering. I had a very specific arrangement I had picked. I left the house after the order was placed and my phone started ringing. The first call was that they didn't have the flowers I had chosen and they wanted to substitute. They said they would upgrade the order to the largest flower size. I had picked the medium size. Because I was no longer in front of my computer I had to deal with this situation. This was a Friday and supposed to be delivered that same day. I agreed to the different style flowers.
About 30 min later, I'm still away from home, can't get in front of a computer for hours, I get the call that they can't deliver them until Saturday. So I gave in. Then about 30 min after that, I got another call that they couldn't be delivered until Monday. Ridiculous. The online options for flower deliveries all look like they are local and clearly are not. THIS COMPANY SUCKS!!! If it would allow me to give 0 stars that would be what I would give them. FLIM FLAM operation.

The worst ever. It is 6:45 p.m. I ordered these flowers at 10 a.m. this morning and of 6 p.m. tonight they're NOT delivered. The same old line "Driver is working on it." In addition they claimed free delivery and then charge me $13.95 for "handling." What a nightmare. I am calling Visa tomorrow and claiming fraud.

Ordered flowers for my brother's funeral. Ordered a large cross of red and white roses, they never called to change order. Did not get what I ordered. They sent some cheap mums with 5 red roses. I had given a list of my children and their family and husband and I to go on card. Floral card had no name on it. This is after 20 min. spelling all the names. Therefore I had no floral for my brother's funeral. I ordered red and white roses because it was his favorite flower. They act like my brother will have another funeral and they can try again. They quoted me $133.00. My card was charged $262.90. So embarrassing not to have flower for my brother's funeral. They wanted credit $20.00 for the difference in flowers, what a joke of a company.

There should be an option for less than one star... We placed a flower order to be delivered the next day. We did not get a copy of the order placed, as promised, so I called on the delivery date. The new sales lady said our original order was ready to go and provided a price higher than we were quoted, and for a smaller arrangement. We ordered their Deluxe display. Getting nowhere with her, I asked for a supervisor to talk to. She claimed the order was for a small size as well, a card, and the NEVER-mentioned SERVICE FEE of $13.95. Even then, the total order did not match the quoted order. AvasFlowers supervisor offered us $10 off our next order, but we would still need to pay the Service Fee on this order.
After recognizing the Bait-and-Switch process, we doubted we would ever reorder from them. We declined and asked for a refund. They asked if they could call us back in 1 hour as they wanted to speak to the agent that sold to us. We agreed to wait. They called back in about 10 minutes and claimed they listened to the tape of the original sale and that our order was for a small display. (We surmised that they searched for our original order based on our phone or order number.) They couldn't have listened to the entire tape as our original order conversation lasted longer than it took to call us back. My wife & I wrote down details and read them back at the end of our original order.
We doubt that Avas was able to contact the original seller and discuss any details in such a short time. Rather than lose us as customers and risk a bad, but honest, review, they chose to refund our money, which is $5 less than their originally quoted price, but $20 short of what they wanted to charge us. All we asked them to do was to honor the original price quote. Instead, all we got was frustration on our part, and their apologies, which really doesn't cut the mustard.

I ordered flowers online from Avas. I ordered daisy dreams bouquet. It was supposed to be in a square glass vase with short stems and a lot of flowers. I paid for the deluxe at 54.99 plus a balloon for 7.00 and handling for 14.00. My daughter received a vase of daisies and some carnations and not what I paid for. I've tried talking to them 3 times and they haven't called me back. I have emailed them twice and given them ample time to respond. I want a refund. This was for my daughter's birthday!

They don't even deserve 1 star. I ordered 30 tulips for $69.95 for my sister's bday. She only received 12 tulips that will not last longer than one or maybe 2 days. At first they said they couldn't do anything about it because 'the Invoice is not stating how many tulips were ordered'. Well I'm not the one who wrote the Invoice so nice try. They don't write a detailed invoice so they can cover their behinds if you complain. After 25 minutes on the phone, a supervisor wanted to first pick up the flowers (the next day) and then issue a credit which will take at least 10 days to process. Nice try again! I simply called Amex to dispute the charge. Never, ever trust this company. They rely on the fact that usually people receiving the Flowers say thank you to the sender without going into the description of the flowers and that's how they get away with stealing but they got busted this time. I should have looked at the poor reviews before I ordered.

I placed an order for a 11 am service on 3/30/17 and then received an email stating the actual delivery time was 3:35 pm, 4 1/2 hours after the service. I spent several hours going back and forth with emails as they tried to convince me the order was delivered before the service, even though their email states otherwise. I requested a full refund several times but they would only offer a 10% refund even though their "late delivery policy" states a full refund could be obtained. This business advertises as a local florist. They are in NJ. I live in SC and the order I had was for NC. I am very disappointed in the service I received.

I ordered tulips for a friend. I ordered the "Premium" bouquet, which promised 25 stems. She received a bouquet with about 10-11 stems and filler. The photo had ONLY tulips in the bouquet, which is why I chose Ava's. The arrangement was definitely NOT what was promised. This is deceitful marketing. It was advertised for $69.99. With all "service" charges, etc. (they said they do not charge for delivery), my total was $92.92. I called yesterday and spoke to a customer rep. After about 25-30 min of explaining the mistake, waiting on hold, etc., I sent a photo of what was delivered.
Today, I spoke with yet ANOTHER representative, at which point I asked to speak with a manager. After waiting on hold for over 10 minutes, I spoke with now a 3rd person, who said she was a manager. After explaining what I had ordered and what had been delivered (for the third time), I was told that they would deliver the remainder of the tulips. I said that this was unsatisfactory and that I wanted the ORIGINAL order, as promised (25 stems of tulips), delivered all together.
She finally agreed to do this (after being put on hold numerous times to talk to their floral designers, etc. ), BUT ONLY AFTER GOING TO PICK UP THE ORIGINAL BOUQUET. So, I had to call my friend who received the flowers and tell her they were going to pick up the first bouquet from her before they deliver the correct one. TERRIBLE CUSTOMER SERVICE. I DO NOT recommend using this florist. EVER. Unless you enjoy the adage "the customer is always wrong" and wasting your time and money.

I ordered a premium flower arrangement for my sister in-law's father's funeral. The price, including delivery, was $90.00. The arrangement was not even close to what I ordered. The company called me to let me know they did not have all the flowers, so I told them to do something comparable. They used cheap flowers and still charged me premium price. When I called the company to complain, they offered me a 10% discount. The arrangement was below standard quality and the price should have reflected such. They charged me full price for a product that was not premium quality. The local florist said they filled the order with less than premium quality flowers, so wouldn't you think, I would have been given a discount? Or charged accordingly for the quality of flowers used? Never will I use this flower service again.

The flower arrangement options online have a sharp discount. However, the 'handling fees' made the $39.99 flower arrangement slightly more than the privately owned florist in the delivery town. Further, I had to speak with 3 customer service agents before getting my order cancelled. The 1st two put me on hold; followed by a recording asking for a callback number; after entering my number I heard "No callbacks are available". Then, I heard the survey which would not accept negative responses. (Hmm.) I might have ordered from them again, but not after this. I have NO confidence in this organization. I'd rather sit through a timeshare offer than deal with these people again.

I went online to a "local" florist to order roses for my sister's birthday. I like to support local business. Anyway to make a long story short, not a local company but a company from NJ! My gift arrived at 8pm via UPS. The driver had received bad directions for delivery. He called me and I gave him proper direction to the delivery address. Poor guy was on his way home but took time to make sure flowers were delivered. Please make sure when ordering local that it is truly local. AVAS FLOWERS is not local to Holbrook, MA.

I was called by someone from Avas and told they could not complete my delivery. They said they would do it the next day. The floral arrangement I ordered was for the opening of my granddaughter's show. I could not attend because of illness, so I was counting on the arrangement to let her know of my support. Then some manager came on and said he would try to find another shop in the area to complete my order. Then Avas called back and said they could only do it the next day. If I had read the reviews before I ordered, I would know this company was not good and this is a scam. I do not recommend this company to ANYONE. I am heartsick that the order will not be completed as ordered. Dissatisfied? Broken-hearted!

After paying for same day delivery of a lovely flower arrangement, their rep called to say they couldn't deliver the order today without an additional $10. When I protested, he was flustered and then said something about not being able to do the order as pictured. Again, I objected and said I would cancel the order. I was put on hold, then apologies were made, and suddenly they could do it all as planned today.
I sent a polite but firm and threatening email to customer service, and called my credit card company immediately. The flowers were delivered and look great, but I am not sure if this order would have been satisfactory if I had not been all over them. I won't use them again, especially now that I see the other negative reviews.

I ordered flowers from Avas florist. They delivered two days late. They also wrote the card wrong and had it addressed to the wrong person. I ordered a large mixed flower in a large oversized coffee mug. A small, tiny, old flowers arrived two days late. I was embarrassed to give this present.

My California-based boyfriend found this company when he searched for florists in my home city of Bridgeport, CT. He ordered an arrangement of sunflowers for our anniversary and had them delivered to my home. When they arrived on Wednesday a couple of the stems were a bit wilted and the head were curled into tight balls (which I assumed was from the protective mesh sleeves used for shipping). I trimmed the ends and put them in water, assuming that they just needed a little time to perk up.
When I got home on Thursday evening, 4 of the 12 stems were wilted and the heads were still tight balls. I called the customer service number to make a complaint. I spoke with a woman based out of a call center who said that she would arrange to have a replacement delivery made on Friday, but said I would need to give the old flowers back. I changed the delivery address to my office and told her that the delivery had to be made by 4:45. At 4:30 Friday I called the company to find out where my delivery was. After spending the better part of 20 minutes on hold, I was told that they weren't able to deliver on Friday but would definitely do so on Saturday. Saturday came and went, still no flowers. My boyfriend said he would call them today to get a refund, but I told him about the reviews I read on this site and the experiences people had, so now he intends to just handle it with his bank instead. When a disappointing experience!
Avas Flowers Company Profile
Company Name:

Avas Flowers

Year Founded:

1977

Website:

http://www.avasflowers.net/