Consumer Complaints and Reviews

I ordered flowers at 11:00 am for my daughter who had one day surgery, I was guaranteed delivery by 5 pm the same day. I spoke with a person named Ray and explained how important this was to me and he assured me she would get the arrangement. At 4:30 pm I was contacted and told they would be unable to deliver the same day but would deliver it tomorrow. The flowers were already paid for, and they did offer a 10% discount, but that wasn't the point. When you order something and are told it would be delivered the same day then it should be done. At 4:30 pm, I didn't even have time to call around to see if I could get the flowers from somewhere else, and it didn't matter, they were to be delivered before 5 pm that day. Very upset with this company and will never use them again, nor will I recommend them. As a matter of fact, I will go out of my way for people to know just how unreliable they are.

These people are not reliable. On 8/06/17 approximately 1:00 pm, I ordered flowers to be delivered to Swilley Funeral Home in Tampa FL. before 6:00pm. They guarantee that it would be delivered at least 15 minutes before 6:00pm. I waited until 6:00pm and the flowers never arrived. I call 1+ (877)638-3303, and spoke to the supervisor, he told me that they couldn't delivered them for 6:00pm, but would for the next day, after the same day delivery.
I told him that when I placed the order I made it very clear that my "brother would only be watched at the Funeral home from 6:00pm to 8:00pm, then he would be cremated". I reside in NYC and it wasn't possible for me to be present at the funeral home so I decided to send flowers to him, I will never forget how incompetent these people are. A refund is due, but it's not about the money, it's the hurt one feel. The note on the flowers' arrangement was supposed to read: "FROM YOUR BROTHER PEDRO YOU WILL BE MISSED DEARLY", These people have no heart. In conclusion, I add, No one should do business with this firm. "THEY HAVE NO SYMPATHY."

Buyer Beware... This company will be very accommodating during the ordering process. Everyone department that you talk to "apologizes" that they don't have the blooming plant so talk you into a different plant. A couple of hours later they call back and say we don't have that one either but proceeds to say we can send a different one. I agreed. When the arrangement was delivered, it was totally different than discussed. It wasn't even close to what I ordered. After sending them an email about the arrangement being wrong they said "We will make this right and will deliver another big beautiful arrangement, but we will need to pick up the wrong one." So the next day they went to my friend's house to pick up wrong arrangement and told her that I had cancelled the order and it wasn't going to be replaced. I told her do not give it to them until they have the replacement arrangement.
After approximately 2 hour phone conversation with Avis Flowers (transferred at least 4 times) about the issue, I will never use them again. The person said again they would make things better by sending something very beautiful, pick up the other arrangement and give me a refund of $15.00. I said no! Four days of phone calls and apologies had been enough. I just wish that I would have looked at these reviews before calling Avis Flowers. My friend loved the arrangement... The problem is that's not what was ordered and for the price, it wasn't worth it. Here's the funny part... I just had another call from them about sending another arrangement or giving me a store credit. Are you kidding... I will never even consider calling them for anything. They all apologized every time I spoke with them... I think each employee has a script "How to apologize to customers" because they all said the same thing.

I am writing this review with hopes that anyone who reads will make the smart decision and order from any other flower company. I recently purchased flowers from this organization for a close relative's funeral. I paid a decent amount of money. The flowers were delivered late, and would not have ever made it out during view hours if I didn't call. They snuck them in the flower room. Additionally, the arrangement although beautiful on the website showed up looking like a grocery store special. The message I composed for the card wasn't included and the additional sympathy ribbon was also not included. I have gone back and forth several times with customer service and have yet to reach a resolution. Even with delivery confirmations and text messages at 4:00, they continue to retort with the flowers were delivered at 2:00. Save yourself the headache and go anywhere else.

I visited my mother the next day and was shocked to see what I paid 57.00 for looked NOTHING like the picture online with the price beside it. They delivered equivalent to two bags of flowers from Walmart stuck in vase with tons of ferns as a filler. The picture had no ferns. To fix the problem they want to give me 10.00 off on another order! I told them I wouldn't ever order from them again so what good is 10$ off. Then, I requested the shop I googled to be the one do the job. They assured me they would fill the job. They did not. So, I want what I paid for. Another delivery.
How do I know I can trust these reviews about Avas Flowers ?
848,010 reviews on ConsumerAffairs are verified.
We require contact information to ensure our reviewers are real.
We use intelligent software that helps us maintain the integrity of reviews.
Our moderators read all reviews to verify quality and helpfulness.
For more information about reviews on ConsumerAffairs.com please visit our FAQ.

I ordered flowers for my anniversary but they never showed up. They took my money out right away. After calling 4 or 5 times without getting anywhere they finally showed up 4 days late. Horrible Co. Horrible customer service. Felt more like a scam than a florist shop. Do not use Avas Flowers.

I placed an order at 08:30 yesterday, to send flowers to my mother in law, who was in the hospital. I paid the extra fee, to have guaranteed delivery by 13:00, because I didn't know if she would be discharged yesterday afternoon or this morning. My mother in law was sent home at about 14:00, and her flowers had not arrived. I got a text from Avas at 14:30, saying the flowers had just been delivered. I called the Avas customer service line today, and was only offered a 10% refund for my order. I stated that I wanted a full refund, as the flowers did not get delivered by 13:00, as the extra fee was supposed to guarantee. The customer service rep agreed to the full refund, and ended the call, but still only refunded 10% to my credit card. I am not impressed in the least with this company, and will be vocal, to everyone I know, about not using their services.

I contracted (two days early) to have a vase of flowers delivered for my sister's birthday. The transaction was done online. I supplied the delivery address and received a confirmation that the flowers would be delivered to that address on July 31. My credit card was charged. At 8:00 pm on the night of July 31 (the day of the contracted delivery) I phoned Avas Flowers to inquire as to when the delivery would occur since it was so late on the delivery day. After being put on hold for 14 minutes the Avas representative stated that I needed to pay an additional $10 for the order to be delivered to the home address I supplied two days earlier. Had I not called the flowers would not have been delivered as contracted. I refused to pay additional money for the contracted delivery. The flowers were never delivered as contracted.

Do not ever order from Ava's Flowers!!! I have used them 3 times and all 3 times: VERY POOR QUALITY!!! The 2nd time, the flowers were dead and This last time, they did not deliver my arrangement and I ordered the day before!!!

I selected and paid for Same Day Delivery through Avas Flowers. I received an email stating that the flowers were delivered; they were not. When I called the customer service line they were not helpful at all. They did not speak clear English and the entire time all they said was that they would deliver the flowers the next day and refused any type of refund. Don't waste your time or money on this scam.

I placed an order before noon on 7-26-17 and was told it was same day delivery. I received a call from a foreign sounding representative and was told that they could not do same day delivery and that it would be Saturday before it would be delivered. I informed them that it was not okay and that I would like my money refunded. She told me they couldn't do that and that she could do next day delivery, add extra roses and add a box of chocolates at no cost. She then asked me for a secondary address to which I gave my house address. This was NOT the delivery address, it was a secondary address. They already had the delivery address.
Upon contacting my wife today when it showed the flowers had been delivered she informed me she had not got them. I called to try and find out where the flowers were and I was informed they were sent to my house. First, there was no one home at that time to receive the flowers, second they left the flowers on the front porch and it is 100 degrees here, and 3rd there is chocolate in that box! There is not anything right with this order!!! The flowers are wilted!!! The chocolate is melted!!! The flowers weren't delivered to the right place!!! After my wife sent me a picture of the flowers they WEREN'T EVEN THE RIGHT FLOWERS!!! I ORDERED A YELLOW ROSE BOUQUET AND SHE RECEIVED RED ROSES! This whole order has been a disaster and I would like my money refunded! There are pictures of what was received!

Ordered flowers on a Wednesday night before going into work the night shift. Needed them for my girlfriend who was menstruating hard, and super upset about how long I'd been working on the road. I knew she had to be at work at 11, and I had requested how important it was that they get there before she went to work. They went the extra mile and got them there before she left. Worth every penny. Will use this place for all my flower needs.

I ordered flowers for a sick friend. Avas sent me an email telling me that the address was incorrect so they could not deliver. I called and assured them it was correct but they made no attempt to deliver the flowers again. I sent an email and received no response. The only way I could talk to a customer service person was to call and push the number for a sales person who takes orders. He sent me to a person who would try to resend my flowers. This company has around 200 call takers who take your order and send them to small florists around the country. They seem to be overwhelmed and poorly managed. I would NOT recommend using them. My friend still doesn't have her flowers.

I ordered the Butterfly Fields arrangement for a funeral and received a totally different arrangement. Not only was it the smallest arrangement at the service, it was by far not even close to what I ordered. It was too late to return it so I called after the service and complained. Their resolution was to send me a 10% refund on a $100 order. I will not order from them again.

Worst experience with a florist, ever. Will not be doing business with this company ever again. Here is the email I sent to customer service. Someone did call me and apologize. Unfortunately, that didn't do much to make up for the unnecessary stress I was put through. "I have had the most frustrating and stressful experience with your company today. Yesterday morning, I ordered a plant basket to be delivered for a funeral service that took place today at noon. I called your customer service number about 30 mins prior to the service starting to make sure it was delivered and it had not been. I was then told a mistake in your system had happened and that it was being delivered tomorrow instead of today. Well, that wasn't going to work bc the funeral service was today. I was told a fruit basket would be sent to the family's home instead. As irritated as I was, I agreed to that and gave the delivery address.
An hour later, the representative called me back to let me know the local florist was delivering the original order to the funeral home within the next 5 or 10 minutes. Better a little late than not at all. Another hour later, I called the funeral home and was told it hadn't been delivered, so I called your customer service number AGAIN and was told (after being put on hold for a brief period) that it had, indeed, been delivered at 12:20 pm to the funeral home, but that instead of the plant basket I had originally ordered it was a dish garden plant.
For my own reassurance, I called the funeral home AGAIN and was told that it had been delivered. I'm glad it got delivered, but what I had to go through today was just ridiculous. I don't even know what the florist sent! There isn't anything on your website called a dish garden plant. How much does a dish garden plant cost? I'm just so frustrated with this whole experience. This wasn't just some birthday flowers... this was for a funeral service! There is absolutely no way this is an acceptable way to do business and I can't imagine leaving anything but bad reviews for what I've been through these last couple of hours." The order on my account doesn't even reflect what I ordered. They changed it to the fruit basket and that isn't even what was delivered. So many things wrong here... This company needs to call it a day.

I ordered flowers for my mother to be delivered every month for one year. The cost for this was $500.00. She received flowers maybe 3 times and they didn't last more than 2 days. I have made numerous calls to their company and listen to the same line of bull every time. I only wish I had read the reviews before ordering. I am now out $500 and my mother doesn't receive flowers while she is in a nursing home. Shame on you Avas Flowers for stealing money from me!!! It's probably too late to contact my credit card company since I placed the order September 2016 and have been calling Avas since February 2017 to correct their mistake.
NEVER BUY FROM AVAS FLOWERS!!!

I placed an order on Saturday and they promised a same day delivery. I so happened checked the status on Monday and it said it hadn't been delivered, so I called and was told that the local florist wasn't going to deliver. On the day of the services, I found out about this and nobody called me. On top of that they said they would give me a 15% discount and deliver to the home. The flowers were for a funeral service, but you still trying to keep my money. In conclusion, Avas and its affiliates are terrible!!!

We ordered congrats flowers for a co-worker and the experience was embarrassing. The flowers died within one day and the watervase that showed up was actually dirty. I would never order from them again.

I ordered flowers online for a funeral service. I am heart-broken that Avas Flowers have let me down in such a profound and irreparable manner. I provided accurate information regarding the funeral home address and the deceased two days before the delivery was scheduled. I have discovered that the flowers were never delivered. My son was attending the funeral and he could confirm that our flowers were not there. The flowers were scheduled for delivery on July 20, which was the first day for visitation. The funeral was on July 21 at 10:00 am. At 2:00 pm the website said my flowers were still scheduled for re-delivery.
Delivering flowers after a funeral is over is just ridiculous. Not only is the company incompetent but they are fools a well. When I called customer service, they put me on hold for 12 minutes. They are now claiming the flowers were delivered, even though their website and my son say differently. I asked for an immediate refund, which they did not agree to. Their solution is to investigate and they will get back to me. This is unacceptable. On top of heartbreak I now have to deal with lack of business integrity and poor customer relations.

I thought I was ordering flowers from a local flower shop in Southern California to send flowers to my mother in law for Mother's Day. She never received the flowers. When I called to find out what happened, I was told they would look into it and call me back. I called a second time and was told the same thing. I then called my bank, and had them reverse the charge. Two months later, today, I saw a reversal of the reversal and was recharged the amount of $58.94. I called Avas flowers and was told that since I placed the order, they would not refund me, but would deliver the flowers over 2 months late and offer me a discount of 10%. WTF! I screamed and yelled and was told they would refund my money. We will see. Not Acceptable!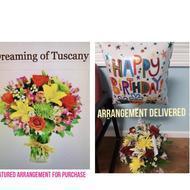 This was by far the most horrible birthday surprise flower arrangement experience I've ever had. Where to begin... for starters I placed the phone order from Los Angeles, California for delivery to Alice, Texas under the reassurance from sales person that I was in great hands and the choice I made in picking the "Deluxe Dreaming of Tuscany" was an excellent decision to surprise my mom for her 61st birthday. The clerk reassured me that for my approximately $90, it would be money well worth spent. We talked about the "Deluxe" delivery mirroring the photo I was looking at online... it's a gorgeous bright arrangement with vibrant oranges, yellows, greens! We added a balloon and card to make the arrangement even more beautiful. Needless to say, I was certain this arrangement would be the most incredible birthday gift my mom would receive on her birthday. I was excited and waited patiently to get updates.
I received a text message from Ava's stating that I could modify / check my order and it provided a link. I found it odd that I never received an email confirmation for my order so after a few hours I used the link in the text. It is where problems began. I realized the sales clerk put down the incorrect email address despite me telling him for assurance the correct spelling of my email I never got the initial confirmation. If it hadn't been for your text safe fail that gave me information, I would have a tough time locating my order. I made my modifications to change my email address, add my phone number and thought everything was good to go.
However... when it came time to surprise my mom with the flowers, not only did the floral arrangement look nothing like the "Deluxe Dreaming of Tuscany" arrangement I agreed to with the sales clerk but when I called to inform your staff that the arrangement sent looked like "funeral flowers", I was met with a very rude, resistant and combative clerk who called herself "Mae". There isn't enough time to explain how rude she was and I have yet to come across anyone who has been this terrible with customer service. She raised her voice which made me raise my voice and repeatedly denied my request to speak with a supervisor. Further she acted like the flowers my mom received were fine! It was a horrible long conversation.
Finally after many many minutes "Mae" transferred me to a supervisor but the phone hung up soon after:( I called back immediately and asked for a supervisor - I was transferred to "Dania" who unfortunately wasn't much better. She admitted all of this was a company error and did apologize but her solution was lazy and felt very insincere. She offered a 10% discount or for the flowers to be replaced with ones that looked like the photo but the driver would have to "take back" the ugly arrangement to replace the new one.
Fine... but when I asked her my options for a refund she said the options she gave are the only ones. I asked if she was certain that the options she gave were the best she could do because after all, the surprise I was so excited about was totally ruined by now and in her words entirely due to company error. I said so let me get this straight, you're admitting error on your side and this all you can do to correct things... it didn't feel right! I asked to send her a photo of the arrangement so she could see how bad the color pallet was vs me just describing it. When she opened the email and saw the photo she was horrified saying I was right - they look horrible. The call ended.
I received an email a few moments later stating "half my money" would be refunded. Well what a surprise that suddenly there was a different option vs the ones she gave me earlier! Equally shocking is that it's only half a refund after nearly two hours of my time wasted to fix your company error! Finally, my mother is still sitting at home looking at flowers fit for a funeral:( on her birthday week. You tell me... does any of this read up to the standards you boast about?
Unfortunately I am left with no choice but to never do business with Ava's again nor can I recommend you. Finally, I will write a review to inform others of the tragic experience my mother and I had for what was supposed to be a beautifully memorable birthday experience. UPDATE: No one ever followed up after the review. Instead I received an additional email stating I had been credited for half the amount of the $90 spent. Very bad customer service!

Do NOT order from this place!! I should have checked the reviews and ratings before I called this place to order flowers to be sent to my daughters baby shower.
They were not delivered for the Saturday shower until Monday!!! When they arrived they were worse looking than 5 day old Gas station flowers. In a $1 store vase. These people are brokers and they contract your local flower delivery store. Ridiculous place. DO NOT CALL THESE THIEVES.

I paid twice as much for an order that costs $248 only because the delivery time to be after 10:00 pm was absolutely critical and they were the only company that agreed to the time. I was assured multiple times that it would be delivered after 10:00 pm... It was delivered at 5:00 pm ruining the whole experience. After calling "customer service" they apologized and offered me a whopping 10 percent discount on my next order. Seriously!!! Horrible horrible. So pissed that I wasted that much money.

I ordered flowers from Avas for a 50th birthday because they claimed to be a local/family business with free delivery. They called at the last minute to say there was a change and the flowers would be delivered a few days later. However I couldn't understand the person on the phone due to heavy accent. After numerous calls and requests to speak to the "owner" of this "family" business, I was exhausted and furious. Avas is located in NJ and you'll never get anyone on the phone who can handle a complaint, solve a problem or make the situation right. DO NOT use AVAS flowers. It's a scam!

I hope to God someone is smart enough to look online for reviews before ordering!!! I ordered a $107.00 bouquet of flowers from my 83 year old mother to her friend of 60 years that unexpectedly passed away. I ordered online because we are in Texas and the funeral was in New Hampshire. The services were on July 15th, 2017. I received a text to call Avas Flowers on July 18th, 2017 letting me know they were not delivered. They wanted to give me a $10.00 discount and send flowers to a family member's residence. I am heartbroken over this since I ordered and trusted this company. They advertise flowers they don't have available. Now I have to tell my mother who on top of that was devastated by her friend's passing.

DO NOT order from AVAS Flowers. On 7/11/2017 I ordered a flower arrangement from Avas to be sent to a sick coworker in the hospital. Even though they did deliver an arrangement, it was NOT what I ordered. EVERY flower was substituted from what was on the website. I ordered a tropical arrangement and what was delivered was something which could have been picked up from a local grocery store. After 6 calls with so called supervisors the best they could offer was a $30 refund on an $83.00 order so I'm stuck paying for something I DID NOT ORDER. Do yourself a favor and do not order from them. I will NEVER order from them again.

July 4th, I ordered (by phone) a Deluxe Funeral Spray for my sister-in-law's service on July 6, 2017. The service was to be held at her church, which was confirmed by the sales agent. On July 5th (next day) while driving 5 hours, I received an email from Avas Flowers, stating the flowers were delivered. I thought all was well… Arriving for the service on July 6th, went to see the spray and other flowers at the church. To my surprise, there wasn't a spray from Avas Flowers anywhere. The burial was 2.5 hours drive from the church. There wasn't anything from Avas Flowers at the grave site either. Embarrassed & confused, I made the first of five different phone calls to Avas Customer Service.
Making a L O N G story much shorter, the spray was delivered on the 5th to the funeral home, NOT the church, and according to the funeral home, there wasn't a card (which I paid $4 extra for) or any other identifying information on the spray. The funeral home had no way of telling to whose funeral they were for or no florist info either. I've tried to get a refund (multiple times) and promised a call-back to resolve the issue. As of today, no refund OR call-back. In my opinion, Avas Flowers is NOT worth doing business with, ever...

I ordered an hydrangea plant which was originally $49.99 and ended up costing 72.99 (overpriced) from Avas Flowers in Aurora CO, they delivered a peace Lily, which is the cheapest plant u can possibly get. Really people! If I had of wanted a peace Lily I would have had the recipients' family go to Lowe's and get a $12.00 peace Lily. Their customer service people are foreigners in a warehouse, loud noise in background and you can't understand them or hear them, had to call back 4 times, didn't deliver plant on correct day, and wrong plant! They only gave me back $20 on my CC, and $10 towards new order. I will not order from this scam company ever again!!! They need to be put out of business!!!

I ordered flowers on Friday, July 14, 2017 to be delivered on Saturday, July 15th. Called late in the evening of Saturday to inquire the status of delivery. A woman answered and said she put me on hold telling that she will check with the local florists and let me know the status. After a long hold, she came back and said that she is unable to reach the local florist and hence cannot tell me what is going on. However, she said she will call me back in an hour, but never called me. I called again, and the result was same. In the similar fashion four people lied to me between Saturday and Sunday. This company should not be in business. Please don't ever order from this people, all they do is lie to you.

I called a day early to have flowers shipped to recipient for her birthday. Was told delivery would be made in the a.m. This is a PRICEY florist that did not come through as promised and it was a bummer to have the order tracked. Calls were going back and forth, wasting time. I don't even have the order number that was supposed to be sent and never was. I would NEVER use again and cannot recommend this florist.
Avas Flowers Company Profile
Company Name:

Avas Flowers

Year Founded:

1977

Website:

http://www.avasflowers.net/