Consumer Complaints and Reviews

Ordered Flowers for my anniversary. They claimed they were a local shop, and promised delivery before the end of the day. Never happened. So I called, and they started giving me the runaround. Offered to deliver one day later, offered $15 off. Then they left me on hold for 1/2 hour while I was waiting to talk to somebody who handles refunds. I finally hung up and cancelled the charge through my credit card company. In short, these guys are total scoundrels and liars. Don't waste your time and money.

Do NOT, I repeat do NOT order from Avas Flowers. You will not get the advertised discount, will not be told up front what you are being charged (you will get invoice in email $$$) AND you will not get what you ordered! The first order that was delivered was a tiny red wagon full of cut flowers which I specifically did not want. The second order, a tiny basket of plants, came with a sympathy card from a list of widow's names.

Searched for a local florist in a nearby town to order flowers for a funeral service of a good friend. AVAS said they could fill the order on the same day before service started. We received a confirmation of delivery. When we arrived at the service, our flowers were not there. Upon inquiry we were told that the flowers were delivered but to the wrong town. The funeral home had 3 locations. The issue, the flowers were for a specific person's funeral and the location we were told that they were delivered to was not open on the day of the service. So AVAS in fact could not have delivered flowers as they said. This was confirmed by the Funeral home.
AVAS would not refund the over $130 fee. When they tried to deliver the flowers to a business that was closed, a simple phone call could have fixed the problem. AVAS represented themselves as a local (Iowa) business when in fact they are in New Jersey. We are now contesting charge to credit card and will not deal with this company again.

Ordered flowers online specifically ordering arrangements that per the website were available for same day delivery because they were needed the same day. After completing my order (being careful not to accept all the automatic add-ons it tries to hit you with), I paid and all seemed fine. An hour and a half later, I receive a message that they will not be able to deliver my flowers that day and want to deliver them the next day. I called to cancel the order. I was put on hold, transferred to another department, waited on hold and then was hung up on, only to receive their survey yet without getting any help. I called back, trying to get straight to the same department and was disconnected again except for the survey. (Needless to say, I wasn't providing any good reviews.)
I called back a third time, was assured I would not be hung up on and I would be taken care of. Transferred again to someone who kept trying to get me to accept delivery on a different day. I had to tell them at least 10 different times, that any delivery other than the day I requested was not acceptable. I don't want a discount or credit because I have to go buy them myself and deliver myself so I don't need to have a discounted delivery for flowers that I don't need.
After 15 minutes (seemed like an hour) of arguing, I was told she couldn't process a refund and would get a supervisor. I was on hold for another 10 minutes and then told that a supervisor would have to call me back. I asked when, they said within the hour. It was 2:30 PM. At 4:00 PM, having not received a call back, I called again, finally getting through to a supervisor, who again tried to get me to take delivery on an alternate day. Once again I had to tell them that there is only one option for resolution. I want a refund. He finally agreed and I was told I would receive an email to confirm the cancellation and refund. I checked my email a number of times only to see emails about phone call customer service surveys they wanted me to complete but no refund. Still waiting for refund.

Paid over 70$ including $3.50 for a card, and what was delivered (not in a timely fashion as paid for) was what appeared to be a 5$ bouquet from a gas station. It looked nothing, I mean NOTHING like the picture. It was also not wrapped in any way. The card that was to be sent was a paper message zigzagged cut and taped to another small piece of paper, a preschooler could have done a nicer job. It's very insulting that this company can provide such poor quality product for what they charge. When I called to complain, they only offered a 10$ credit off next purchase which is a waste. Will never use their services again.
When asked to speak to manager, they made an excuse on the phone, caught them in several lies and was told they will call me, which they never did. Please, please do not get fooled to use this company. It truly is a scam and I wish the people who work there taking money from their innocent customers will only get the karma they deserve.
How do I know I can trust these reviews about Avas Flowers ?
791,307 reviews on ConsumerAffairs are verified.
We require contact information to ensure our reviewers are real.
We use intelligent software that helps us maintain the integrity of reviews.
Our moderators read all reviews to verify quality and helpfulness.
For more information about reviews on ConsumerAffairs.com please visit our FAQ.

Absolutely terrible service. Flowers ordered for anniversary weeks in advance. Day comes and no flowers. Called to see, "oh well we were unable to make delivery today, they will be delivered tomorrow." Next day comes, get a text that says flowers were delivered, still no flowers. Called to see-customer service had zero clue, kept saying they were delivered while I was at the residence they were supposed to be. Offer a 10% discount on an arrangement that wasn't delivered on the day it was supposed to. Never again. Go local.

I called from out of town to order flowers for a funeral that was 48 hours later. I thought I was ordering from a local store. The salesman and I agreed a $60, medium-size arrangement would be suitable. When I questioned the final $92.91, I was told the bow, "which would add color", was extra, as well as the card. I thought this was highly unusual but was traveling so I went along with it. Our son saw the arrangement at the funeral and said there was no bow. And then I noticed part of the extra charge was for a "rush order". Wow. The flowers were "nice" according to our son but not worth $92. I will NOT use this company again. They are deceptive.

I ordered a peace lily for a funeral. The man I talked to couldn't understand me and I couldn't understand him. I had to repeat everything about ten times, literally, and when I got off the phone, I was so uncomfortable, I called back to get another person and go over the order. Of course, it was all messed up, plus he didn't give me a confirmation number or send a copy to my email, which he promised. This girl finally found my order (which I also had difficulty understanding her) and found out my email address was wrong, plus the message on the card, and even our name and the price. I asked for the special advertised price of 45 percent off. He said that didn't apply to what I ordered, so I said "ok, tell me what I can order for the discount." He said $49.99. I said "what size is that," he said "small". I said "no, I want the medium," he said "that is $66, but with discount and tax $53.94." I said "ok, but make sure it's the medium."
We went to the funeral and it was the most pitiful, small, embarrassing plant with one bloom. When I got home I checked my credit card, and there was another entry from them for $10.00, which made the total cost $63.94. I called again and told them how unhappy I was and still hadn't received an email with a confirmation. She checked and they still had my email address wrong and when I finally received it, it was for a small plant, and the additional charge for $10.00 was to upgrade to medium size, which they didn't. She said they would refund the $10.00. Really? That's nice. I told her I wanted a full refund because I didn't get what I ordered, I was embarrassed by the skimpy plant and my blood pressure was through the roof.
She referred me to her boss, who was also hard to understand with everyone talking in the background. She called me back saying I would get the $10 refunded plus 25 percent off the order. I told her for $63.94 I could go to Kroger's and get something a whole lot better. I will never, ever use this florist again. I asked for the number of the local florist, and they wouldn't give it to me.

The flower arrangement was not even close to the arrangement I had picked. I ordered 4 balloons and a card with it. My mom only received the card. The lilies were wilted and damaged. When I called the rep constantly interrupted me and talked over me. I could have got a better arrangement at Albertsons for less money.

My boyfriend ordered flowers for my birthday and was promised (paid extra) for next day by 1pm delivery. Well, my birthday came and went and I never received my flowers. At 2pm, Avas Flowers contacted my boyfriend to say that they would not be able to deliver the flower today, but will reschedule the delivery for tomorrow. Tomorrow came and went, no flowers in sight and no phone call to reschedule either. This time, I called Avas Flowers to complain. They stated again that they would need to reschedule for the next day, because ALL of the florists in the Richmond area had left for the day. Meanwhile, there is a florist directly across from my business who receives orders from companies like this and stays open until 6pm (I know the management there). Here it is, two days after my birthday with no flowers or refund for my boyfriend. Do not order from this company. It is a scam!

Bought flowers from them because their website says they can deliver to the Navy Base (Lie). Order was to deliver before 1PM. Obviously no flowers were delivered. The Tier 1 (BSer) tells me they weren't able to get on the base and they would try again tomorrow. I said, "No thank you that will be too late please just refund my money." Then he starts with a litany of lies, starting with the recipient is expecting, then to, "We talked to your wife" (which they hadn't) (more lies). Finally I had to get nasty with him to have him pass me to the Supervisor, who started his Tier 2 BS, wanted to give me a discount, try to deliver tomorrow, yada, da do day. Finally got my refund which will process in 10 days. I remember that I told them about the fraud on the website before (similar problem a couple of years ago). They should be made to take the fraudulent statements off the website.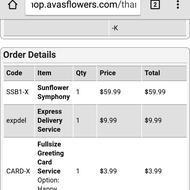 I ordered flowers for a girl who has never had flowers in all 22 years of her life for her birthday. I ordered them 5 days in advance and paid extra for a delivery before 3pm. Long story short, they were never even delivered! Luckily, a family member got her flowers instead and she was so happy she cried but I'm pretty upset I wasn't able to give that to her. I paid 100 dollars for nothing and that one thing caused many many inconveniences. I am now on vacation and have no cell service. I have had to travel to a spot to make calls to customer care 6 times now because the call drops while I'm on hold and since they don't attempt to call back, I have to go through the long menu and holding prompts.
After haggling with a representative trying to give me 10 percent off and 5 dollars store credit to have them delivered today (pointless as the special occasion is far gone now), I was transferred to a manager who I haggled with about him insisting on giving me a gift basket instead. They did refund me, and I am thankful for that but the hassle and important occasion really bites.

The "5 Star Rating" on their website is fraudulent at best. This firm is not "local" in any fashion, based in New Jersey, and the customer service is pathetic. Their response to their poor service was inadequate. While the actual quality of the flowers appear from photos to be good, Avas personnel were extremely difficult to communicate with during the order process. English comprehension was poor and they ultimately put down the incorrect address for the delivery even though I spelled out the street, city, and zip code slowly and repetitively. The customer rep was more interested in trying to shame me for not spending more money on this "once in lifetime event".
Upon me contacting them to report the incorrect address, it took over 30 minutes to resolve the issue and was on hold an extended portion of this time awaiting a "supervisor" to take my call. For the incorrect address, late delivery, and my time spent trying to rectify their mistake; the "supervisor" provided a 10% discount. Completely insufficient...

TERRIBLE! Order was supposed to be delivered yesterday, but they called me and said they didn't have the flowers for that arrangement and asked if it would be OK if they made a similar arrangement to be delivered the following day. Sure, I said. Well, they delivered the flowers today and it looks NOTHING like what I ordered. Additionally, the $25 bear was not delivered. I called the company and they transferred me to some guy in India who barely spoke English. He offered me a 20% refund on my order, which would have been $17. Again, the bear was $25. I told them that was unacceptable and that I wanted the bear delivered. After keeping me on hold for 15 minutes, he came back with NO ANSWER.
I was told someone would call me back within the hour - no one did. So I called back. This time they only offered me 10% off my purchase! I asked about the bear and they finally admitted they didn't have any bears. Then they gave me a hard time about wanting a refund on it. STILL waiting on that refund. Am beyond disappointed in the customer service. Very sketchy business. Why would you sell products you don't even have?

I am very upset and will never use Avas Flowers again. Last week I ordered 6 bouquets from Avas Flowers for my niece's funeral, and they decided to split up my order among 3 different florists. When I asked for the florists' phone numbers, they refused to give them to me. In the end, I did not receive my entire order, and my flower arrangements did not match. Despite calling them 4 times, they never sent me a receipt for my order and kept lying telling me my last bouquet was "in transit". I will never use them again!

This company took my money last Thursday 06/02/2017. It's now Monday 06/06/2017. Still no flowers! Called many times only to be told no one answers so they can't deliver. They do not belong in the FTD!

I wish I had read all these complaints before I ordered flowers from Avas Flowes. I ordered flowers for same day, Friday delivery and received a phone call saying they did not have a driver available to deliver that day but would be delivered the next day. NEEDLESS TO SAY-- THEY HAVE NOT BEEN DELIVERED, yet my order online shows they have been. When I called Saturday asking about them I got told they could not get a hold of their flower shop but would send an email. So I call back again today, Monday and get the same answer from Alex **. And he tells me the email never got sent on Saturday -- surprised -- not. And he will not refund my money until he gets a hold of the flower shop. Can their website be taken down as a fraudulent business?

This is the worst customer experience I've ever experienced and I'm in my mid 50's. I ordered a bouquet of flowers. They couldn't deliver in time that they advertised. I asked them to cancel the order over and over again, and they wouldn't hear it. They kept saying "we order on Monday, OK?" "We order on Tuesday OK?" Etc. I said "NO. NO. NO...CANCEL ORDER. CANCEL ORDER. CANCEL ORDER. I DON'T WANT YOU TO DELIVER THE FLOWERS." They put me on hold and came back on and said they would deliver on Monday. I reiterated over and over again... "No. Cancel the order!!!" I was talking to a wall.
Then they said they were putting me on hold... and they disconnected. They never delivered the flowers. I did receive an email stating they delivered the flowers which they DID NOT!!! Insult to injury, I just received the bill for the flowers that I cancelled and they didn't deliver. I called them again today, and they said, "Well we see you just put that order in today." (I PUT THAT ORDER IN ON MAY 6). They then said it was a system glitch. So they have promised me that my credit will go in tomorrow. Nightmare experience. First time ever I actually used language that I would normally never ever ever do. Awful. Awful. Awful.

I ordered flowers from Avas Flowers for a friend's 40th birthday. I paid for the rush delivery to have it delivered by 2:00 pm. It just went downhill from there. I received a message saying that the flowers had been delivered but in the notes it said it had been cancelled. I called the 1-800 number and the customer service rep assured me it had been delivered right up until he called the local florist and they had chosen not to take my order. This was at 11:00, I started this order at 9:00 am.
Then they sent my order to a florist that was an hour away from where the flowers were to be delivered. That florist contacted me and assured me she could get them there by 3:00. I said "Okay" and was a little skeptical but was assured they would get there. Well, 3:30 came, 5:30 came and the flowers were still not delivered. My friend had left work by now. I finally get a call around 6:00 saying that they were delivered. I proceeded to tell her that my friend was no longer at work and she said "Oh yeah I know we left them with a coworker", I said "Um did you get a name?" She said no they did not get a name or signature for flowers that cost over $100.
They left them with a coworker who may or may not have known my friend. I called the florist obviously upset and she said she would make it right and discount the flowers or something since my friend never received the flowers, but to let her know if the coworker gave her the flowers. When I called Avas they said the only thing they would do is give me back the $11.00 I paid for express delivery. To make a long story short my friend got her flowers at 9:00 pm, the florist ended up yelling at me about how much money and time she lost out on with this order and never refunded me any of my money. This was a florist in Urbana Ohio.
Avas Flowers thinks they are so big that you the customer doesn't matter. If they mess it up and don't do what you want they are going to charge you and they don't care because they have thousands of other customers. I will never go to them with my business again, and I order a lot of flowers for family. I would not recommend them, in fact I would avoid them at all costs.

Flowers not delivered on date requested. Ordered on 5/17/2017 large bouquet (24 pink long stem roses, 3 white roses in middle, baby breath, vase, and large pink bow) to be delivered 6/3/201 by 11am. To be delivered to my granddaughter for celebration of her high school graduation. *Note: her graduation is on 6/4. The purpose of requesting 6/3 for delivery was to ensure she would be home at time the flowers would be delivered. Avas took the full amount due from my account on 5/17/2917 for arrangement. On 6/3 I called their customer service to check on delivery of flowers (this was at 1:30pm). The person answering, placed me on hold "while she checked with the local flower shop handling the order & delivery." When she finally got back to me (still holding) she indicated "sorry, we were not able to make contact with the local flower shop, so we left them a message". Then I was told to check back later.
SO, I waited till 4:10pm, called back customer service for Avas Flowers and received same response, with an apology, stating "we will make sure the flowers are delivered tomorrow". Well, I tried to explain to them that my granddaughter well not be home tomorrow, 6/4, because she will be at her graduation ceremony. That is why I requested be delivered 6/3 to ensure she would be home!!
Then I asked to speak to a supervisor or manager. Placed on hold again then told would be transferred to a manager. Guess what. Rang multi times with no answer, then just about the time I was getting ready to hang up... I received a generic voicemail message with an extension number to leave a message. This was very frustrating. Left a voice message with great detail of situation, including the order #, and my direct contact... never heard back. Also indicating I will never use Avas Flowers again, nor recommend them to anyone. Oh by the way, still have no idea if my granddaughter will get the flowers I paid for. Terrible service!!!

My experience was absolutely horrible! After selecting my flowers and where I wanted them delivered to and what day I paid. Well the next day I got a call saying no, that I needed to pay $3 more to have it delivered that day. I told them no, that's what was told to me when I first purchased the flowers and if there was a shortage they needed to cover it. Then I was told to hold and when the rep came back on the phone I was then told that I actually needed to pay a minimum of $65 to have flowers delivered to that address. Again, this was NOT required when I ordered the flowers.
I was ordering these flowers for my 92 year old great grandmother who was just released from the hospital due to a bad fall resulting in broken bones. I am going through enough already and then to hear that I need to pay more because their company got it wrong, not what your customers should go through. Whichever "manager" I talked to to get this matter resolved was so unprofessional and showed no compassion at all. So I requested that my $61 order be canceled and take my business elsewhere all over the fact that they weren't willing to cover a $3 difference that was never disclosed to me. This is THE WORST service I have ever gotten!!

We ordered the largest arrangement of roses and lilies for a family funeral. The flowers cost nearly $120. They arrived and had 2 or 3 roses, and 1 or 2 lilies. The arrangement fit in the palm of the hand. It was the SMALLEST arrangement at the funeral, and according to the director, one of the most expensive. I called customer service, twice was placed on hold over 30 minutes, and then the call ended. I kept calling back asking for a supervisor, and that supervisor would hang up too. I emailed photos of the tiny arrangement, which was barely larger than the accompanying card. I will contact the bank to dispute the debit.

Do not use this company. My son ordered flowers for Mother's Day (the 14th) on Wednesday the 11th. The flowers didn't arrive. We understand that Mother's Day is busy so we gave it an extra couple of days, by the 16th the flowers still didn't arrive. I talked to the customer service rep and she tried to talk me into another delivery for 10% off. I asked for a refund since Mother's Day had come and gone. The rep told me she needed to contact the "local delivery company" and she'd call me back the next day. On the 18th I called them. They tried to talk me into another delivery for a 10% discount. I asked for a refund and they said they would process it.
Today is the 30th. I called again and they asked me if I wanted another delivery for a discount. I said no. They told me the refund would take 5-7 business days.
Meanwhile my son and his mom are both saddened by this as they have a continent between them. This company is not just stealing money. They are hurting people w/ their failure to meet their commitments and fraudulent business practices. I hope to get a refund through my credit card company as a fraud protection but reading these reviews I'm surprised they haven't been shut down already.

I ordered flowers for my friend's 60th birthday. They looked horrible!!! I was embarrassed. I asked them to make it right and the best they could go is give me a $5 refund. They also advertised themselves as a local florist and they aren't. They lie and deceive and I paid good money for a bunch of junk.

I ordered flowers for a funeral and they were never delivered. Six phone calls later the recipient still has not received the plant. Avas Flowers has now told me three times they are going to redeliver the plant and still no delivery. I have spoken to sales reps and managers and all they do is apologize and humor you. I was also hung up on when I requested a refund. Flowers were suppose to be delivered today and now just received a call. The flowers were delivered on Friday before 12:00 p.m. That is really amazing because the flowers were not ordered until 1:08 pm. They also claim they will send an email upon delivery, never received any email with this confirmation. DO NOT ORDER FROM AVAS FLOWERS. TOTAL SCAM!!!

Flowers ordered for my mother in law for Mother's Day were never delivered. Received a refund upon multiple request but then my account was billed for someone else's order and a refund was refused. The company claimed to have no record of any other orders using my account. I have involved my banking institution and received a provisional refund. I regret not checking ConsumerAffairs before trying out a new company for this yearly purchase.

Very poor service. They are NOT a local florist as advertised on Google. I placed an order 2 days ahead of delivery date for my daughter in Az. The flowers never arrived at all. Waited for 4 days and spoke to representatives each of those days post delivery date. They never did anything they promised. Canceled my order and I am now contacting my credit card to be sure I receive credit. NEVER order from this company!!!

My sister's fiance passed away so I decided to send her a white bleeding heart bush that could be planted. I was assured that the bush would be beautiful and delivered to her in a timely manner. I should have known when all the info I gave over the phone was incorrect on the email confirmation. I updated all the info and figured that was that. I live in CT, my sis is in CA. I get a delivery confirmation. I call my sister and nothing was delivered. I call Avas and spoke with a gentleman who seemed to be very concerned and very helpful. He put in notes and supposedly made a call to the designer that there was nothing delivered even though I had a text message saying that it was. He then gets back on the phone and says that the designer is closed and to call back tomorrow.
While face timing with my sis she gets a delivery. She shows me not knowing what it is supposed to be and it is NOT EVEN a Bleeding heart!!! It's a bunch of flowers and plants thrown together in some sort of bowl! I am beyond livid right now and will be calling back tomorrow when everyone is hopefully open and getting a full refund while leaving them with unkind words about the way they take advantage of people. I will never recommend this place to anyone! HORRIBLE.

Terribly deceptive. They show good reviews through other sites. No way they are true. Look at their BBB rating and ConsumerAffairs review. 1.4 stars out of 5 stars. The flowers are depicted as large in the pictures and come in tiny. Not worth the money. A true ripoff.

It was an awful experience. I ordered what they called a premium Bouquet. I cannot believe they charged 82.00 for that. I called and complained on the following Monday. I could not understand the girl on the phone because of the background noise of where she was at. So I e-mailed them and they told me to call the 800 number. I all got was 10% discount off something. Could not understand this lady either due to background noise. I would recommend not to order from here ever!
Avas Flowers Company Profile
Company Name:

Avas Flowers

Year Founded:

1977

Website:

http://www.avasflowers.net/