Consumer Complaints and Reviews

I ordered flowers and chocolates for my daughter-in-law. They never arrived and I was charged twice on my AMEX for products I did not receive. Calls to resolve things were evaded. STAY AWAY FROM THIS COMPANY, IT'S A SCAM.

So far I have to say these guys are scam artist and stay away from. No flowers and I was overcharged. They advertised one price and charged another. It's now 7pm and still no confirmation on their website.

Ordered a Deluxe Everlasting Soothing Lavender Bouquet with 4 yellow balloons for a very special 60th birthday. What was delivered was a small vase with green carnations and 2 pink roses, and red, white, and blue balloons. Their idea of a "similar" bouquet to my Lavender bouquet was not only horrific but ABSOLUTELY embarrassing. Their solution for the mistake after sitting on hold for over 30 minutes and multiple phone calls was a $15.00 credit to my Avas Flower account. The Deluxe Bouquet cost me $79.94. What was actually delivered wasn't even worth $15.00. I will never use them again and I strongly advise others to do the same. DON'T USE THEM EVER!!!

Forget about not even being able to deliver on time, they just don't deliver and claim they did! I was supposed to have some flowers delivered to my wife at work for her 50th birthday on or before 1:00 p.m. and paid extra for this service. Well, they never showed up EVER, but still managed to charge my credit card. They also sent me a text message at 6:41 p.m. informing me the delivery was made! These folks are thiefs and will argue with you on the phone. I was even told I should have read the fine print! I would also like to add that on the day delivery was scheduled, I called at 11:30 a.m. to confirm everything was OK, which I was told it was.
By 2:30 p.m. still no flowers, so I called again. They said they were now in route, and I told him not to bother and cancel the order as my wifes work day was now over and she was gone from the office. They told me they were NOT going to cancel the order and were going to deliver the flowers whether I liked it or not! Well, at 6:41 p.m. they sent me a notice claiming to have delivered the flowers to my wife's office which closes everyday at 4:00 p.m. The next day my wife said there are NO flowers in the office. These type of people are the most dangerous! They will steal from you if they can get away with it! STAY CLEAR OF AVAS FLOWERS!!

My husband ordered flowers for me to be delivered to my business address. Next day he was surprised that I didn't thank him. Finally, he asked me if I received something. I responded that I didn't. He then stated that I was supposed to receive flowers from Avas Flowers and he received a confirmation email stating that the flowers were delivered. I've decided to call Avas Flowers and women told me that the flowers were delivered to ME!!! I was shocked. I asked for investigation, who received the flowers, signature of the recipient and requested this case to be escalated. The company told me to call back 2 days later. When I called, they said that the flowers were "attempted" to be delivered, but actually there was no recipient!!! What a lie!!!
Since they confirmed that flowers were not delivered, I had requested FULL REFUND. They didn't apologized, but said, "OK. Don't worry - money will be refunded back to you." 3 weeks later, my credit card showed NO REFUND. I called them back, they kept me on a phone for 45 minutes, passing my call from person to person, and finally stated to me, "Your flowers were delivered!" Here we go, I went over the same circle. I told the company, that I will press charges against them for the FRAUDULENT ACTIVITY and lying to me for 3 weeks! I also told them that I will write to BBB and post review on a website. They got manager on a phone and after another 25 minutes hold they agree to do refund! BE AWARE! THIS COMPANY IS NOTHING BUT FRAUD!!! DON'T LOSE YOUR MONEY! STAY AWAY!
How do I know I can trust these reviews about Avas Flowers ?
722,349 reviews on ConsumerAffairs are verified.
We require contact information to ensure our reviewers are real.
We use intelligent software that helps us maintain the integrity of reviews.
Our moderators read all reviews to verify quality and helpfulness.
For more information about reviews on ConsumerAffairs.com please visit our FAQ.

My husband order roses and was sent an arrangement with three dead rose and wilted flowers. It was one of the worst I have ever seen. I talk to four different people who argue with me about the flowers. I would never come back and would not recommend them to anyone. Customer service was horrible. I could not get my money back. I work at a diner and everyone that saw the flowers said they were bad.

Don't get fooled by the pretty website & prices. I ordered flowers for my very sick mother at 6.30am this morning to be delivered today, I ordered a pretty $60.00 arrangement. At 8.15PM I received a phone call saying that because the arrangement has roses in them they can't be delivered today as they have to be delivered on a special truck. Not only that, because today is Friday, the earliest I can have them delivered is on Tuesday. Never heard such hogwash, I might of believed it if it were hot outside today. To say the least I am very disappointed, I asked for my money back which they did refund. I do not recommend using this company.

Purchased flowers at 8 pm on 3/15/17 for daughter's 16th bday as she was in MN on spring break and we are in TX. Stated they would deliver by 3/16 by 1 pm. Never happened. Called, spoke to man who could hardly speak English. He didn't offer refund for guaranteed time so I told him I wanted it. He said it was around corner and be delivered shortly. 2 hrs later my mother said still not there. Called again, spoke with guy who called delivery truck and was going to be there in a hour. Mother told me still not there at 5.
Husband called Ava's and was mad. They were apologetic and offered a 10% coupon to be used by Mother's Day. My husband said we would never use them again. After he asked for full refund she said "I can't do that but I can give you 20%" which they didn't! So still waiting for 9.99 delivery charge back and 20% back. They sent a text that it was delivered at 4:11 pm. We called my mother who said no and finally at 5:17 pm delivered. The flowers were not same as picture; I even called people who delivered and they told me how awful online flower companies are and lie about flowers and upcharge. She said "call local flower shop".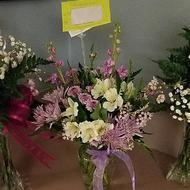 I ordered flowers for my daughter who was having surgery yesterday. I asked for a 50.00 arrangement and that her favorite color is purple. After going over everything I was told the arrangement would be 50.00 plus 23.00 for the vase and taxes. I said that was fine and was looking forward to an amazing arrangement. As you can see below is what 73.00 gets you, I was not impressed. Will never use them again. I was also never emailed a receipt or confirmation that it was delivered.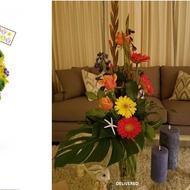 I recently (March 4, 2017) ordered a "Birthday Bouquet" product code BC-X from the Avas Flowers website. I'm in Australia and the flowers were going to Pismo Beach Ca. USA. This particular bouquet included a vase with colourful ribbons and a little Happy Birthday banner sticking out the top. It was a colourful bouquet at a good price.
Unfortunately the bouquet that was delivered was so completely different my first thought was there must have been a mix-up in the delivery and someone else received our flowers. The bouquet that arrived was nice enough and my sister was still surprised and happy to receive flowers, but it wasn't even remotely what we ordered. I've tried several times to communicate with Avas Flowers but I'm only getting the standard email replies that so many other on this site have described. I haven't received any offer of partial compensation.
I won't be using Avas Flowers again because it appears the floral bouquet examples on their website are totally misleading and they cannot/will not guarantee you will get what you order. They have a disclaimer in the T & Cs that effectively gives the florist license to do whatever they want. The Customer Service amounts to no more than lip service with no intention of actually resolving the problem to your satisfaction.

I ordered flowers for the death of my aunt on 3/3/17 to be delivered 3/3/17... Checked 3/6 no flowers. Tried to call... incredible wait! On the 3rd, wait of 20 min. I speak with a young man who can barely speak English or understand English. So, he tells me they will send an upgrade of "2,000 roses"! Do I want red or mixed colors!!? Just wait until he connects me to the "upgrade" line... like not!!! On 3/7 I receive a customer service e-mail from Dania ** offering a delivery that day at 10% off. I say ok. Today, 3/8 I called my credit card to dispute their charge. Time wasted, a personal moment of sentiment lost! Frustrated but used by a scam!!!

I placed an order to be delivered on Sunday and it never arrived. I called three times to get put on hold 15 mins and hung up on twice. The third time the guy said it would be delivered Monday before noon and it would be upgraded. It still never got delivered even though they sent me a confirmation saying it had been. I called again and they wanted it to be delivered Wednesday. I said, "This is for someone in the hospital that may be discharged by then." So he schedules it for Tuesday and offers me $20 store credit. I asked if they could just add $20 worth to her order and he says no. I ask for $20 refund and he says no. I said, "I don't want store credit because I'm never using this company again." When she finally gets it, it IS NOT what I ordered and from the looks of it worth less than what I ordered.

Purchased flowers at 7:57 am on Friday March 3, 2017 flowers did not arrive until the late evening 5-7 o'clock approximately. However when flowers arrived they were dead. Called back Monday the 6th of March they will not bring a manager upon the phone. Waited on the phone for 20 min still no manager. I am asking for a full refund who wants dead flowers. Horrible experience. No excuse to do business like this. Totally not worth $20 bucks. Definitely not worth $120 plus bucks.

It was a sympathy arrangement for my dear, departed brother from me and my family. I placed my order 4 days ahead and asked for delivery by 12 Noon; it was not delivered to the funeral home until 4 PM. This is inexcusable. I picked them because of their proximity to the funeral home and good reviews (guess I didn't check well enough). It was not only embarrassing but extremely upsetting for me at a time when I was already stressed. AND, I picked that particular arrangement because of the COLOR – peach, and the BASKET – the fireside basket. The name of the arrangement is Peach and White Sympathy Fireside Basket. There were NO peach flowers in the arrangement; it was primarily white with just a few ORANGE flowers and an ORANGE ribbon, and the basket was an ordinary basket, NOT a fireside basket.
The bouquet was full and the flowers were fresh but that did not make up for the other expectations I had or money I paid. I called their store at 3:15 from the funeral home the date of the scheduled delivery and the person I talked to could not even tell me WHEN the arrangement would be delivered!!! It was a funeral; nothing can be done to make up for the disappointment I feel. Obviously, I would not order flowers from them again.

I placed a "same day" order yesterday (3/4). The online form stated that there was a flex time guaranteed delivery. The flowers would arrive on 3/4 or 3/5 (as the max late delivery). I received a confirmation of this in my email - see attached receipt. It was for my mom's birthday and she's leaving town on Tuesday. I wanted her to have a few days to enjoy the flowers before she left town. I received a confirmation today (3/5) with information to track my delivery. When I looked into the account it showed that they were not going to be delivered today but rather tomorrow 3/6. I called customer service immediately.
The first representative said she would call the flower shop and then returned to the line stating the shop is closed today so there's no way they could be delivered. She told me my options were to cancel the order completely or have them delivered tomorrow. Her English was incredibly broken and I had a hard time understanding her. I finally asked for a supervisor. After a long wait, a Supervisor came on the line and told me the exact same thing. However, she tried to say that they have the right to deliver until January 6th. I assume she meant March but she kept saying January. She clearly had no idea when I placed the order and kept mentioning wrong dates and said there's nothing she can do because the shop is closed. I told her I would like a full refund or at least a partial refund because they failed to deliver on time. She said that was not possible.
She said if we deliver flowers on any day (regardless of what they promised) they'd charge me the full price. They clearly had one script to follow and very little to no knowledge of the business or floral industry. She refused to acknowledge anything I was saying. This place is more like a call center and not a business. If I could give them zero stars I would. It's one thing to make a legitimate mistake (those happen), it's another to completely refuse to take ownership and to try to make it right.

First of all, the site is completely deceptive. They make it sound like they've got good reviews but there's no place to even post a review. They're overpriced, upsell you ($2.50 for a card to write your message?!) and they are absolutely unwilling to make any changes. Their site says you can cancel if your delivery is two days out (mine was). They just grind you down by putting you on hold and then telling you they're taking care of it and will send you an email (you never get one). They're such bottom feeders as much of their business is for funerals. Buyer beware!

This place is a rip off!!! Before you order from this place please read the reviews!!! Bad customer service. Bad place. I spent $92.92 on a bouquet of flowers. What was delivered looked to be about 30$ worth. I had paid for the flowers to get delivered on February 23. They didn't get delivered until February 27... 4 DAYS LATE and this was not the arrangement I ordered.
When I emailed them to complain (because you can't call... no one answers the phone... first red flag) this was the response: "Good Afternoon Sandy, After reviewing your order, emails, and photos, I see that the designer filled you Deluxe arrangement by recipe. Sincerely, Shannon **" Well Shannon what the heck does that mean?? It means they don't give a crap!!! They enjoying ripping you off!! Go to a reputable florist that will take pride in what they do and care when a customer is unhappy FOR GOOD REASON!!! The first picture is what was delivered 4 DAYS LATE. The second picture is the one I picked FROM THEIR WEBSITE!!!

I ordered the White Carnation Vase to be sent to my sister in law after her mother passed away. She sent me a picture of the arrangement and I was embarrassed by how cheap it looked. I contacted Avas and sent a copy of the picture. The rep apologized profusely and said a replacement would be sent. The next day when I called I was told by a supervisor that the florist refused to send a replacement as the "recipe" was correct. I was offered and given a $10.00 refund, also was offered a $20.00 store credit which I turned down as I will NEVER shop here again.

I ordered roses days before Valentines for $93. Valentine comes and goes and no flowers. I waited until the end of the week and called them. They said the local florist delivered them and gave me the day and time. We were home and no one came. I offered to send them my security camera footage as well ring doorbell log for that time frame. Not necessary, never heard from them again. I don't need the money back, I apparently need it less than they do. But, I am on a vendetta of social awareness about this company. They essentially said I am a liar. Not nice.

If you're smart do not ever order from this company. Yes, on their website their reviews are fantastic. But ONLY on THEIR website. I ordered specifically sunflowers for my daughter's 20th birthday, which on their website it stated there were only 2 left for availability. Great! I placed the order 0730 East Coast Time, to be delivered by 1300 West Coast Time, plenty of time to be delivered and to contact me if there were any complications. My daughter received the arrangement... not even close what I ordered and no sunflowers, her favorite. So, I call them and ask for a refund. I was told there were no sunflowers available even though they're advertising them on their website (and still are).
No refund but instead they apologize, call my daughter and apologize and offer to send a dozen of sunflowers as compensation. Great!! Until... the sunflowers arrive. All dead. Every single one. I have never been so mortified. I called them back, they again apologized and offered another arrangement to avoid the refund. No way. I have been fighting them, they have given me only 50% of my money back and offered $20 store credit. I was told I cannot get a full refund because she kept the flowers. I will NEVER use their services again and I suggest the same to anyone else.

I placed this order a day in advance. I did my homework and asked all the questions before placing my order because I needed the flowers to be at the hospital before noon since that was the time my friend was leaving maternity. My first call was around 10:30 am and consecutively until 2 pm. They couldn't get a hold of the florist at all in between the six times I called.
When I ask for a refund one of your agents had a smart attitude and even had the nerve to tell me that they could give me a $20 credit! From a $110 flower arrangement! That's is when I was not in a friendly mode anymore and asked to speak with a manager several times before he stopped talking over me and finally put me on hold so that I can speak with higher authority. I'm extremely disappointed with your service; you guys ruined a special gift for a special occasion, which never got delivered. I will not be buying from Avas Flowers again and will make sure neither my family and friends don't do business here!

This is the first, and last time, I will order through Avas Flowers. I ordered a delivery for my mother on 2/14 which did not arrive on that date. Attempting to contact them proved difficult. When I was able to, everything was to be updated and flowers redelivered. That did not happen. I called again, and when I got hold of someone, I let them know that I wished to cancel the order, at which time I was told that I would refunded my money minus $32 for attempted delivery.
At that point, not wanting to lose my money, I asked for an attempted reschedule. I was then told that the flowers, with an upgrade, will be delivered the very next day. This time, I took the person's name and extension. Again, no flowers! I called again. The order number was under a different name. They could not find the order under my last name. Only after taking down the last 4 of my credit card number were they able to find the order.
Then I was told that the delivery was due to be made tomorrow (9 days after the original deliver). I gave the previous person's name and extension to the person who last answered the customer service call. They did not transfer me. I then asked to speak with a supervisor, which did not happen. I was finally given a tracking number with UPS, and told it would be delivered today!! I am beside myself at this point. If no flowers are received today, I plan to take it up with my credit card company. I will never order from them again!

Overall very poor. Example the birthday bouquet greeting, exact same picture and item was $77.92 on Avas Flowers and $40.48 on FROMYOUFLOWERS. Exact same flowers with all costs and their bait and switch discounts (add in $13.95 handling charge). Happened to get an email from the second site which prompted me to check. Attempted to call then cancel immediately and what an experience transferred to customer service and cut off or they hung up ten times. Was finally told they canceled but never received cancellation email. Horrible experience. The customer service has a very poor command of the English language so I think they just don't understand what you're telling them, very poorly trained. In addition they present themselves as a local florist when you perform a search and they are not. They are a call center and a very poor one at that!

Ordered flowers on Valentine's Day. Website warns that, because it is busy, may not get delivered until next day. Fine. Flowers don't show up on 2/14 even though the order status app said they would be delivered on 2/14. Was willing to accept them on 2/15 since website warned me but they tried to deliver them on 2/16. Refused delivery. After trying to reach them for two straight days, I reach someone who tells me they will only refund $85 for a $116 order. Why? Because they tried to deliver and that cost them something. My problem because they tried to deliver Valentine's Day flowers two days late. BAD SERVICE BAD ATTITUDE. VERY AGGRAVATING EXPERIENCE. WILL NEVER USE AGAIN.

I purchased flowers for my wife's birthday and requested "no lilies". However lilies were sent as part of the arrangement. As my wife is allergic to lilies her reaction put out of action for 2 days. I sent 2 emails to Avas asking if they maybe able to replace the flowers and got no reply. Best if you avoid doing business with this company.

Please take my advice and NEVER order flowers from Avas Flowers. I placed an order for my aunt's funeral on Saturday tonight. I went to the visitation and they were not there. After sitting on hold for 45 minutes I was informed that their system somehow cancelled my order and they would not be able to deliver them before the funeral tomorrow. Crooks!!!

I ordered an arrangement 10 day in advance of the desired delivery date. It did not arrive and when attempting to find out why every avenue of contacting them is automated - with the same reply "Our driver hasn't contacted us yet". They are NOT a local company and customer service is a joke. I would not use them again.

Ordered flowers. Asked for a specific flower... HEATHER, for a Scottish family thank you gift. I asked when my order was taken if heather was available, at least 4 times! They said yes. As I was going to call another florist if they did not have heather... the order was sent out... NO HEATHER. When I called they told me it was equal value and they have a SUBSTITUTION POLICY. I did not want a substitute and they knew that. I disputed this with my credit card company and Avas denied the claim. They would give me a $20.00 company credit. I would never go there again, or order again, at first, I am out of state, and second was not satisfied with the order. KNOW BEFORE YOU ORDER... THERE IS A SUBSTITUTION POLICY!

To place my order took forever as the person I spoke with barely spoke English and getting my name spelled correctly was a process within itself. I still do not know if he got the name right. The next day I received an email telling me to urgently contact the company regarding my order. I did so and the person I spoke to was hard to understand and we got cut off. I called back and got another person who was very difficult to understand and after being placed on hold for several minutes informed me that there was no problem. It was very apparent the person was in a phone bank as the background noise added to the distraction of his not speaking English. Because of the total confusion, I doubt if my order gets delivered. Avas Flowers is something and someone I will never call again.

DO NOT USE THIS COMPANY!!! I ordered a flower arrangement from avasflowers.com, as they said they were in the same city I was looking for in Idaho. Placed the order without problem. I was very specific about my order, as it was in honor of my best friend's 26 year who passed away. I requested only white and pink roses with a bow to be delivered around 10 so it would be there prior to the memorial service. My friend sends me a picture of a heart-shaped wreath, sitting on floor. The arrangement was NOTHING like what I had ordered. Had all different kinds of flowers with only a few roses, no bow and I ordered something that could sit on their table. The follow-up customer service calls were worthless. Called multiple times with the offer of $30 off of my $225 order... DO NOT USE THIS COMPANY!!!
Avas Flowers Company Profile
Company Name:

Avas Flowers

Year Founded:

1977

Website:

http://www.avasflowers.net/