Consumer Complaints and Reviews

I ordered flowers early May 6 2017 for my daughter's birthday which was on the 7th but since I knew that would be a problem I wanted them there a day early. I received a confirmation on Saturday around 6 pm that the flowers had been delivered. Called my daughter and she came informed me that she had not received the flowers. I called customer service and they confirmed they had a confirmation that they were delivered. I asked for a refund but was told that they had to contact the driver about the flowers. I called Monday morning and was told they talked to the florist but the driver was not in and they would call me back.
Eight hours later I called them and they told me the driver said there was no one at home which was a lie because they were aware that there would be a delivery on Saturday and even if that was the case which it was not there should have not sent a delivery confirmation. I once again asked for a refund but was told that they were delivering the flowers on Monday. I told them that I don't want the flowers delivered 2 days later and I want a refund. They told me they would give me 10% off my next order. Are you Kidding me???? After this I am going to make it my personal mission to trash this company for the poor customer service and the deceptive practice that they used.

I ordered Sunflowers for my Husband (with a hurt back) to be delivery the same day (Friday at his apartment) from the website. I got a phone call from the Avas flowers stating that they did not have the arrangement and would upgrade my order to roses and it would be delivered the next day and not the same day. I agreed. I get a text message for stating that the flowers were delivered. Checked with Hubby. No flowers. I called Avas and first rep tells that the flowers were delivered. Just left at the door because the person was not sure which door. There was no phone call to even let my Husband know that the roses were at the door.
I state to them I want a refund because that was not happy the service that I paid for. Then she puts me on hold for 5min, comes back with an offer for another arrangement and a discount. I stated no thank you and that I just want my full refund. I get placed on hold for 10 min and I am transferred to another rep and he does the exact same thing with another offer exactly the same, after I have already stated that I am not happy with service. Then I am told that I will only get refunded 40.00 and that they would keep 18.00 because they would lose out because the flowers were delivered.
If they are even concerned how a product is delivered why should I the consumer still get penalized for their mistake. I asked my Husband to check the door. He got his roses and the thorn were still on the roses! I went this place because they are local. I live in Alabama. Never again and I will do better research on the customer service. I advise everyone to the same.

I don't like to slander anyone especially if I can give them the benefit of the doubt. But this company is a scam! Their 5-star rating on their website is only due to their nice customers who are obviously clueless as to how bad this company is. Scenario: Ordered a plant for my daughter... no email confirmation (first clue this was going bad!), delivered wrong plant. Promised email confirmation never received... was on the phone so much with "supervisors" …joke. They tried to swoon me into taking offers... NO! Will probably never get my refund. Am going to have to eat this one... PLEASE, PLEASE, PLEASE do not order from this scam of a company! They are a scam. My favorite is that they have to talk to their "floral designers". WHAT??? SCAM... PAY ATTENTION!!!

I ordered a funeral plant to be delivered to a church for a family member. I asked the lady on the phone several times if they were located in the city and she said yes. I ordered and she gave me a price and sent an email with a receipt. A few minutes later I got another email that said to contact them. I called and was told that I had to pay an additional $20 to have the plant delivered. I was told that the fee I was quoted, all in, including the "service fee" including delivery was $62.92. They wanted an additional $20 because the local floral shop they were using would not deliver to the church unless they had the $20. What a scam, I had them cancel my order and refund the money, still waiting on the refund!

I ordered a flower arrangement for my sister 50th wedding anniversary. The arrangement cost $214.95. I asked for the delivery on May 3rd. It is now 9 P.M. No flowers have been delivered. I made numerous calls. When I call questing my order. The floor supervisor said they will call me tomorrow to let me happened. What good will that do. THANKS AVAS FOR SCREWING UP MY ORDER. Depending on what Avas says tomorrow. I will be calling my Credit Card Company. I will never order from them again.
How do I know I can trust these reviews about Avas Flowers ?
763,773 reviews on ConsumerAffairs are verified.
We require contact information to ensure our reviewers are real.
We use intelligent software that helps us maintain the integrity of reviews.
Our moderators read all reviews to verify quality and helpfulness.
For more information about reviews on ConsumerAffairs.com please visit our FAQ.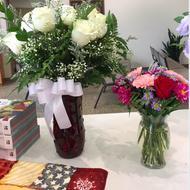 My family ordered a Carnation/Rose flower arrangement for my aunt's funeral. The regular $79.99 arrangement was on sale for $44.99; With added charges we spent $68. Imagine our surprise when we arrived at the funeral and found a tiny bunch of flowers in a tiny vase. The arrangement on their website looked to be 4 times as large as the sad little thing we paid for. My sister contacted customer service and was told we could have $9 back. We could have gone to the grocery store and paid $10 for a bunch of flowers and it would have been nicer. This was a clear case of bait-and-switch. Do not use Avas Flowers; you will be sadly disappointed.

The flowers I paid almost $100 for would have been better chosen from the grocery store. When I contacted 'Customer Service' to tell them how unhappy I was, they said they no longer service that area (I thought they were local!!) so they sent an arrangement in a box. This 'arrangement' did not match the picture at all and I was embarrassed in front of the people receiving the flowers. They would never believe what I spent for what they got - What a waste. I will never use this florist again and I recommend that you don't either.

My husband works in AL, and wanted to surprise me with flowers. He asked for a specific arrangement. They sent a photo of what it would look like. They were suppose to come on Tuesday, they came Wednesday. And was nothing like the picture. I gave an opportunity to replace them and the second delivery was worse than the first. I called for a refund. First it took them 8 tries and three people to locate the order then they offered to use a different florist and when you refuse and just want a refund and be done with it they tell you - you don't qualify for a full refund unless you allow them to use a different florist. I did that. They were suppose to be here Friday before 3pm. They were not. I called Monday (today) to again request a refund and they said I had to wait 24 hours to get approval from another person and wanted me to call in and see if they got a response. The worst customer service...
I just don't get it. Takes them 5 seconds to take your money but you have to go through an obstacle course to get it back after they mess up. I would not EVER recommend this company to anyone who is looking to get what they request, good quality, on time delivery, and good customer service... If you don't care call them up. Otherwise my suggestion is just go with another place.

I ordered a plant to be delivered on a specific day because any other day after specified day the recipient was leaving Texas for her father's funeral in California. I explained this to the man taking my order and he assured me they would arrive the day I specified. (I could barely understand him. Very heavy accent.) When the flowers didn't arrive, I spoke with 7 different people and got nowhere! Finally, the plant arrived 3 days later and I was charged $82.00 instead of $49.00. Avas Flowers is a total scam!! Very unprofessional!! Stay away from them!!

This company presents itself like a local company online and when you call but their call center is outside the US (seems like in India) and I've had the worst experience with them I've ever had. I ordered sympathy flowers for same-day delivery at 8:30 am. After 3 phone calls and two texts they've now told me at 1:30 pm they can't deliver it. They asked if a different bouquet tomorrow would be okay and I said "No. If that's the best you can do, cancel the order." They said they would "try" to deliver it today. Then 3 hours later telling me they cannot but they will deliver what I ordered tomorrow "for the same price". Unbelievable. I insisted on a discount and got a whopping 5%. I only hope the flowers are not as awful as their service. Don't be fooled and order from these people. They had good reviews on Google but now I think they have to be made up reviews.

4/24 delivery was to be made for my daughter's anniversary by 1 pm. I called 3 times and was hung up on 3 time. No one spoke clear English. I sent over 10 email and got same generated response. They called my daughter and upset her, insistent for her to stay at work today. Finally canceled and they wanted to keep money for future purchase. Then said 7 days to get a credit. Very bad faith.

This is Not a REAL Florist. It is a call center located at 300 Corporate Dr, Mahwah, NJ. They take your money and order, then Call a Real Florist in the City and State that you want your flowers delivered. They will promise you anything to make the sell, charge you service fees AND make a commission off the order. Actually, off of you. Call a real Local Florist in the City and State you want flowers delivered. Get FULL value for money spent and keep flower costs lower!

The flowers were NOTHING like pictured. In the photo about 12 to 15 Iris and some Tulips. Was beyond disappointed and EMBARRASSED when my colleague sent a photo. It was all green with ONLY 3 Iris'. They even used ugly green filler that you see with cheap flowers. I could have bought a beautiful arrangement for a fraction of the cost at the grocery store. After wasting more of my time contacting the company, they offered a terrible discount of 10%, thank for the $6 back or to send another arrangement, I would have looked like a fool. It was cost them less to give me more of my $ back. How awful...

Do not purchase from this company. Total rip off. Purchased $101 arrangement for 70th birthday delivery. The flowers were not fresh and droopy! Customer service gave us a complete runaround. Said they'd deliver a new plant and never did. Held online for supervisor for more than 30 minutes to be offered a $10 refund. Do not buy from this co. Call a local reliable florist!

WORST EXPERIENCE! JUST DON'T! Like many others have stated, I wish I had the option to rate this farce of a company, zero stars. This operation is a total & complete scam & ripoff! For starters a $54.99 arrangement -- which was supposedly a "discounted price" with "free delivery" ended up costing nearly $100. When I questioned them on why the price jumped up so high, when delivery was supposedly free, I was told there was a "handling fee", AND it sounded like they also charged me to include a message, of all things. Suffice it to say, the entire experience was a nightmare. Ultimately, what was pictured as a beautiful arrangement, on their website, was absolutely nothing like the pathetic, 1/2 dead, ugly, unrecognizable "arrangement" that was delivered. It didn't even remotely resemble what was ordered. I was embarrassed that my name was on what was received by my best friend.
In trying to resolve the situation with these scam artists, I wasted nearly 45 minutes on the phone, on hold, and being passed from department to department. Each time, I was assured I was being transferred to the "correct" department that could resolve my issue. That was not the case, but each time I was transferred, I was required to repeat all the pertinent, identifying information. Out of sheer frustration, I finally agreed to allow them to contact their vendor in an attempt to re-deliver the correct arrangement "within the next 2 days". That time period has passed, and it is no surprise to me that a second arrangement was never delivered. What was supposed to be a beautiful bouquet of flowers, was a total and complete waste of nearly $100. This place should be shut down. STAY AWAY!

I ordered the flowers online and upgraded to a more expensive arrangement of the flowers and somehow the computer sent in order for both the regular and the upgrade. They delivered to the same person, from the same people, on the same day both bouquets. My phone number was on the order. They never called me to ask about it even though they should have figured it was totally stupid that anybody would order two bouquets to the same person. When I responded to their inquiry about rating their service I never got a reply. If they don't have any better sense than to do business this way I don't know what else they might do. I will never do business with them again. Wished I'd have checked more reviews before I ordered from them.

I ordered flowers to be delivered to my son and daughter-in-law for Passover. They arrived at a non-delivery time, were not as pictured/ordered. Half of the plant material was brown and dead. I paid top dollar for this arrangement. I complained. Today I was contacted by a representative from Avas, who said they will refund $10 to my charge card and give me a $15 credit on my next order. Really? A $10 credit is an affront, and as for a credit... Would I use this company again? No way!

My mom thought that AVAS was a flower company in NV. Very disappointed about this delivered service of the flower shop. They charge for an 8x11 sheet of paper folded in quarters $3.99 for a greeting card, not even decorated with color and the ribbon was $3.99. The flowers went wrinkled in 5 days. My mom paid above and beyond. Will not use the service again and will remind my friends not to use them... very disappointed.

My order was not delivered and they tried VERY hard not to give me a refund. I still haven't gotten one as of yet. $100.00 down the drain. No responsibility for mistakes. Now I will simply have to pay someone else for the same thing.

Avas was very unprofessional in sending me an urgent text to call you. When I did call, no one knew what I was referring to. I got the impression that you would not be able to deliver the flowers I requested and paid for on time or at all. I kept up my end of the bargain but you could not. All I got from you were excuses like "we had a lot of funerals to do early in the morning." Why should I care about that? I already had a bad feeling about Avas Flowers when I first called in on the internet special and Avas pulled a bait and switch with higher prices. With the made up fees or flower artist fee? I don't pay an extra artist fee when I get my sandwich made at Subway, so I shouldn't have to pay extra for an artist to make my bouquet.

I will not give this company even one star. They are terrible. What I ordered and what was received were two completely different items. Initially I did not know this was an internet company. I called what I thought was a local florist and they assured me I would get exactly what I requested. I then got a call from the recipient who told me they arrived. Later that evening I got a call from a gentleman who spoke very poor English. I couldn't understand him. As it was late I called the next day and was told the flowers were not delivered as I did not give the correct address. I knew then that this was going to be an awful experience.
The flowers were absolute garbage and I was mortified! Not close to what I expected. I then purchased more flowers from a very trusted local florist and hand delivered them. To anyone going online or calling for flowers, if the name Avas comes up, do not and I repeat do not place an order with them. They are nothing more than a scam!

It took me at least 1.5 hours on the phone with their broken English speaking customer service that seems to be located in a barn to get them to refund my money. I called 3 different times and spoke with 4 different people 3 of which kept beating around the bush trying to get me to not cancel the order and allow them to deliver the order 2 days later. Their ad online stated SAME DAY DELIVERY, and then only on your receipt (after you place your order) you can find fine print that the delivery time initially given to you is not guaranteed. They charged my credit card instantly after I placed the order and sent me an order confirmation email about an hour later, about 4 hours after that they sent me another email saying that my order will not be delivered on time and that it will be delivered at a later date, which was not given to me. I called customer service.
At some point of my fight for a refund I seriously thought that it's a scam and they don't even deliver flowers, how bad they were trying to keep the money. Horrible experience, rude customer service representatives who I could barely understand, moreover they talk over you and completely ignore anything you say, especially when it comes to a refund.
They are also liars. The second person I spoke with told me that he had processed my refund and I will get a confirmation email in 5-10 minutes, which didn't happened, so I had to call back twice more until I got a person who legitimately processed my refund and I received the confirmation email before I got off the phone with him. I have never been treated so disrespectfully by any business in the past, it's unacceptable. Will never use them again and do not recommend them to anyone at all whatsoever. Take your time to do your research and make an educated decision on who to use if you're new to ordering flower delivery.

This has been the most unorganized, disaster! They did not deliver when they said they would. Made false promises and then showed no concern that they would not be delivered in time for an anniversary gift. They then try to offer a 10% discount for a future order as some type of compensation. On the 3rd day, they show up in a box dropped off by UPS flown in overnight from New Jersey. (We live in Florida) They are now withered and discolored. They are definitely not worth the hassle. This is also the review that I left on their site, and all it said was it had been submitted for review. It will never make it public.

Nothing I ordered was right. $4.99 for a full size greeting card, received a printout of what I wanted in the card. $4.99 for a green vase received a clear one. Only one flower that was received was in the picture. When it says rose and carnation bouquet one would think some carnations would be included but none were. I spent almost $90 on something I could have bought at the grocery store for $6 and they would have looked better. They didn't even deliver by the time they said they would. I was mortified when I saw what I had paid for walk through the door. I am disputing the charge through my card and am going to try and speak with the company but from what I have read today I am sure it is a waste of time. I also did a review on their site but it looks like they only show the good ones which I am amazed there a really any.

I placed an online order for flowers to be delivered to my sister for her 40th birthday, flowers were supposed to be delivered by 4 pm, I called them 3 different times and they kept saying delivery was in transit. The flowers were never delivered. I contacted them for a full refund and they said they couldn't refund me the money instead they offered a 10% discount. Really?? Anyhow, I finally spoke to a Supervisor and he said he would refund me minus the cost of goods sold. And I quote "the flowers I picked out for you". What kind of business does this?? Buyers beware - Use a reliable flower shop!! This business will not refund you even if they are at fault. WORST EXPERIENCE EVER!!

This flower company is a joke. I placed an order for my mom and I am very, very disappointed. In the end result the item that she received was nothing like what I ordered and was charged for. I took pictures of item I ordered and the item that was delivered and sent them to customer service. I called as requested by customer service. And after expressing my displeasure with the item received the representative insisted that there was nothing they were going to do. So I asked to speak with a supervisor and she stated that she could not do that. I went to my local florist which is the one that delivered the order. I was shown the order they received from Avas and so I showed them my actual ordered which was confirmed via email with total price that I paid, and the actual order they received was much less.
I was also told from local florist that they have had issues in the past but nothing like this. And they will from today forward will reject every order they receive from them. I do not want anyone else having to go through the dissatisfaction that I have. PLEASE PLEASE DO NOT EVER ORDER FROM THEM. Their website looks legit and states they are a family owned florist for forty years. And they state if for any reason you are not happy with the product that you receive call customer service for a resolution or refund. NOT TRUE IN THE LEAST. Please pass this information on to everyone you know. Photos attached. #1 arrangement ordered and paid for. #2 arrangement received.

I was trying to send flowers to funeral of a friend that I had not seen in many years. I know I was somewhat late in ordering the flowers. It was 10:30 AM and the service was at 3:00 PM. Being in a hurry, looked online for a florist in the town as the service. I chose the first one that came up as a florist in Rockdale Texas. I should have known something was wrong because the agent taking the order did not seem familiar with the Church or the Funeral Home but I put my trust in him. I stayed on a long hold while the agent, "checked with his designer" to be sure they had the flowers in stock and that there would not be a problem filling the order. I was assured that the designer was going to get right on the order and they would be delivered to the church before the service.
At 1:30 PM I received a call from AVA'S saying that the truck had broken down and that they would not be able to deliver the flowers that day. They wanted to know if it would be OK to deliver them the next day. Hello!!! the funeral was not the next day. I told them to get in their car and deliver them. That is when I found out that they were in New Jersey. They offered to send two dozen roses, THE NEXT DAY!!! I told them I just wanted a credit to my credit card. They still tried to convince me to take delivery the next day!!!
Finally they transferred me to the department that could process my refund. He tried to convince me to take the delivery the next day!!! They should have informed me that they were just a go between agent and I would have called a true local florist. As a result my friend's family did not get any flowers from me. Two lessons learned from this. NEVER do business with Ava's Flowers and make sure that I am talking to someone who is actually in the city of the funeral.

We placed an order for a floral arrangement on 4/15/2017 requesting delivery for same day 4 PM delivery. The person taking the order assured us that this would be no problem. Even spoke as if the flowers were being arranged at the location the phone call was being answered. Turns out Avas is nothing more than a money taking location. If they even have flowers on site it is probably only pictures. They take the order as if they are a florist then sub out the job like FTD and Teleflora. Then their customer service continues the SCAM. After canceling the order we received an e-mail with the new delivery date. Each attempt to get a confirmation of the cancellation is met with dead ears. I located the delivering local shop and confirmed with them they have received the cancellation from Avas.
Avas still claims the credit is to be paid by the local florist. The local florist has not even received our CC info from Avas, how can they credit or charge the card. Avas in my book is a scam and needs to be avoided. The section below ask for the receipt to be added. I cannot add the receipt as Avas has never provided a receipt and refuses to provide a credit for what has not taken place. No flowers were delivered. The charge is showing on the credit card and we are in the process of disputing the charge.

Our daughters ordered Easter Lilies for us but we still don't have them and Avas Flowers insist on delivering them but it is 5:15 Easter Sunday afternoon. We want a refund but they refuse stating they can still deliver them. Their records show a delivery date as Friday, driver Leroy, now they say John will deliver the flowers.
Our daughter in Canada has tried to reach them since Friday but no response. I have never encountered such poor service but reading their reviews show there are many more like us. Please do something with this company.

I ordered an $85 bouquet of flowers to be delivered to my grandmother for Easter before 1 pm. They showed up at 8 pm, woke her up, and delivered the wrong flowers. When I called customer service, they offered me 10% of my order as store credit to resolve the issue. Unacceptable.
Avas Flowers Company Profile
Company Name:

Avas Flowers

Year Founded:

1977

Website:

http://www.avasflowers.net/