Consumer Complaints and Reviews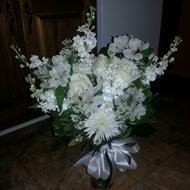 I called Avas Flowers in Suwanee, GA to order an arrangement for a very dear family friend who had passed away. I first looked at the pictures online and chose the large arrangement size in all white. They charged me $125.00... and when I saw the arrangement at the funeral I was stunned and not in a good way! It was so small!!! I called to complain about the size and they told me that I would need to send them a picture of it and they would review my complaint and get back with me with their decision... wait, I thought it was satisfaction guaranteed? I send the picture anyway, and guess what? I have not heard a word from them and it's been weeks!!! Then I went online and read all of the bad reviews they've gotten... I'm talking hundreds of bad reviews... boy, do I feel like an idiot!

Arrangement was supposed to be delivered Friday 12-23-16. It was not. I called on Saturday 12-24 and was promised a delivery date of 12-26 at 930 am. It was not delivered either. The runaround to get through to a live person was horrific. No one would help. I spoke with 8 different people, several multiple times. Not My department, then they transferred me to a "help department" which never answered the phone. I estimate I was on the phone more than 3 hours trying to get help. I got so frustrated that I decided to cancel the order. Another 1.5 hours to get through. I would never recommend anyone to use this company. They give you a runaround like you wouldn't believe and the customer service was absolutely horrible. Save yourself the aggravation and order from a reliable florist.

I ordered a arrangement at approximately 6pm on 15 DEC '16. I was told it was too late for same day delivery but was assured it would be delivered the next morning. I called at 4pm on 16 DEC '16 to find out the arrangement not only had not been delivered. The operator said they tried to call the delivery driver but they were not answering the phone so a text was sent. I called back around 5pm for a status and was told the arrangement was not available. It was never created or loaded on a truck! I asked for a supervisor and got put on hold. The hold system asked for callback number and then hung up on me when I didn't input one. I called back a third time and asked for a supervisor and got put on hold again. I guess there are no supervisors at all because I was again forced to leave a callback number, which I did. It is very poor customer service to not provide the paid for items at the agreed upon timeframe and not notify the customer.

I've used your service now for the 5th time which began in December of 2015, and have been very impressed with your on-time delivery among other things. The feedback from the recipients, had been very good. I've had comments about the quality of the arrangements and how good it made the recipient's felt. Thank you so much for the way in which you lift the spirits of those individuals who may not be feeling positive, and for providing same day service that is affordable...

DO NOT PURCHASE FLOWERS WITH THIS COMPANY. I have never felt so ripped off in all of my life. I paid almost $130 for a premium (the largest one they offer) pink and purple bouquet of flowers, along with a greeting card, a medium teddy bear, 3 red latex balloons and a get well Mylar balloon. What was delivered was absolutely pathetic. There was about a 12 inch tall bouquet of flowers, along with a SMALL teddy bear, NO GREETING CARD, NO BALLOONS (NO RED OR MYLAR BALLOONS). Not to mention the horrible horrible customer service that they have.
They all REFUSE to get you to a supervisor, they say they are as high up in the company as my complaint will go. Even though on their website it clearly states that they will give a refund if you are unhappy. Which is more than unhappy. I am angry for such blatant false advertisement and disrespect from customer service and they also state that you can get a refund if there was a partial delivery. Which there was.
I will take this to every social media site you can imagine. I work for reputation management and I know how to make this situation go viral. Not to mention my sister that works for a news channel who monthly does a segment on scams from internet companies and how they rip you off. She has already agreed to air this piece. I have photos and pictures of everything that I purchased and what was actually delivered. So feel free to contact me with your refund if you care. Which I do not believe that you do. I have spoken to your "supervisors" a few I didn't get their name but all refused to help and refused to get me to someone higher. Names were: Carmen & Heidi at ext. ** & Dorothy who has never returned any of my calls as promised. My email is ** and all of my contact information has been connected to my order to Florida Hospital Rollins.
How do I know I can trust these reviews about Avas Flowers ?
668,849 reviews on ConsumerAffairs are verified.
We require contact information to ensure our reviewers are real.
We use intelligent software that helps us maintain the integrity of reviews.
Our moderators read all reviews to verify quality and helpfulness.
For more information about reviews on ConsumerAffairs.com please visit our FAQ.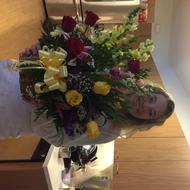 I live in Sydney, Australia and phoned Avas Flowers to order an arrangement for my daughter's 21st birthday, as she is studying at university in the US. I order a deluxe arrangement with flowers, teddy bear, chocolates, balloons and large card. I was assured they would be delivered that day. What she received later that day was a bunch of flowers in a broken vase. No bear, no card, no balloon, no chocolates. The next day she received more flowers in a basket to make up for the broken vase. When I contacted customer service, all they could say was "we care about customer satisfaction, sorry about the vase, here's a $10 credit." This was my first experience of ordering flowers in the US and I hope it's not typical of all florists. I won't be using them again and am reluctant to use US online businesses now.

I ordered flowers from Avas Flowers in Morgantown, WV after a death in the family and what was received was not anywhere remotely close to what was ordered. I had asked for a fireplace basket with at least a dozen, assorted colored roses, 2 candles, a little bit of greenery and filler flowers to make the arrangement full. I was quoted a price of over $100 and reiterated several times that I wanted at least a dozen roses and was assured they would prepare a beautiful arrangement for the occasion. I did not see the flowers until 2 days after as I live in a different state several hours away. The arrangement was in a basket but it only contained 5 fully bloomed roses (all red), a few filler flowers and the rest was greenery which looked like huge palms and the arrangement did not contain any candles.
After completing their survey I was asked to send a picture and received a reply that the arrangement was represented according to the receipt and therefore met the Product Description as well as their Substitution Policy. I wish someone could explain how 5 red roses and zero candles are a substitute for "a dozen assorted color roses and 2 candles." And, why did they need to substitute if that was case. Surely the florist had 12 assorted colored roses. There was also a mix up and another arrangement was delivered at the same time incorrectly and the grieving family and myself had to endure numerous phone calls to try to get it straightened out with no apology from Avas for their mistake. I hope my review saves another grieving person their time and money. I would not have given one star if it had not of been required.

I ordered a florist designed arrangement that was supposed to be at the value of $79.99 for a discounted price of $59.99. I called customer service after I placed my order and requested specific colors and flowers in the arrangement. The arrangement then was delivered and was not a premium arrangement. There was only one rose and lots of filler flowers. After telling customer service that I was unhappy with the arrangement, I was told that the arrangement was within the guidelines for the price paid. This would mean that the online discount is a scam and you will not receive a better arrangement with the discount. I am very disappointed in the integrity of this flower shop and I will never order from them again.

I ordered from Avas flowers for an 80 year old friend's BD. They were to be delivered on Sept.27th. Instructions stated early morning or late afternoon. If not home leave on porch. Very clear. Well attempted delivery 1pm. Of course no one home and did not leave on porch. No second attempt. It is a small town not big city. Called because they state deliver up to 7pm local time. This is when I found out what they did and did not do. Said they would be delivered next day not happy at all. Then offered to give me % off next order. Are you kidding? I told her there will not be next time. She put me on hold and came back with 10% off my order. Whoopee. You pay 13.95 service charge and you do not receive the service. But I did receive $5.19 off my order. Enough said. Will not be ordering from this company again.

When a family member passed away, I wanted to order flowers for the funeral. On August 5, 2016, I ordered two sets of floral arrangements from a florist I located online that advertised "Same Day Flower Delivery" in the same county as the funeral. Since the funeral was not until August 8, 2016, and I was assured by a customer representative named "Mayra" that the flowers would be on-time for the morning service. I expected all would go well with delivery, but it did not. The morning of the funeral, I was outside the church several times calling Avas Flowers trying to ascertain where the delivery was and to be certain the flowers would arrive on-time. Each time I was told that they were "on the way". However, no flowers when the service started and no flowers during the service.
Those flowers did not arrive until AFTER the body was loaded back into the hearse and on its way to the cemetery! To wit, the flowers and the attached cards were sitting in the back of a near empty church AFTER the service was over. I was disgusted! I paid $243.93 and $85.03 respectively for each one of the floral arrangements I ordered, and when I asked them about a refund, they said that they don't refund, but as compensation, this company would offer me a discount on the next set of flowers I bought. The nerve! What in goodness name would they think would possess me to order from them again after this first time customer buy had been a disaster??
The order numbers are ** and I will NEVER order from or recommend them to anyone ever again, and I feel it only right that I inform the paying public about their horrible service and lack of professional behavior. The customer service representatives I spoke with on the phone informed me that they could not reach the drivers once they left the business location, so how exactly were they to track my order?? No cell phone? No walkie talkie device? Needless to say this situation totally ruined my ability to rest flowers from the family on the family member's grave that day and cost me more to get more flowers due to the distance of the gravesite.
The only appeasement I would accept is a full refund from this company. I was so upset by this that it took me weeks to finally write this review, looking into possible methods of recourse. The false advertising is what upsets me - "Same Day Flower Delivery" indeed! I was on the phone with a live representative so many times, so why couldn't they just be honest in the first place, admit they couldn't meet the deadline, and offer me a refund? It seems to me they want your money so badly that they'd lie to a customer to get it. Very disappointed!

DO NOT USE THIS COMPANY! This company creates the image that they would be competent and they are very good in selling things they never deliver. They are not even able to confirm what they delivered. Basically they have no idea what they are doing and the so-called customer service is either not available, incompetent or not able to provide any details.
We ordered a specific wreath with a dedicated banner for a funeral. Several hours after we placed the order we received an email telling us that we should call back. It turned out the company was not able to deliver although a local company advertised the same product on their web page. When I called back they first tried to come up with excuses that the order was not placed 4 days before although it was advertised as "same day delivery product" and was ordered 36 hours before the funeral. We then agreed to change the product under the condition of proof by a picture to something similar they "were sure" to be able to deliver. But even several hours after the funeral we did not receive any notice nor picture and the online "order and delivery status" did not confirm that the wreath was delivered.
Calling the so-called customer service was useless as they did not even know whether wreath had been delivered and whether the banner we had ordered had been attached. There are always excuses and you always talk to a different call center agent, but there never was any useful information. What a miserable experience!! Several hours after the funeral we still do not know what we paid for!!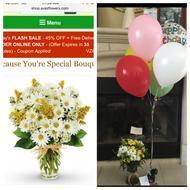 My experience with Avas Flowers was AWFUL to say the least. In fact, had 0 stars been an option, I would have chose that. I ordered a "Deluxe" bouquet of flowers to be delivered to my mother in law for her 60th birthday. In addition to the flowers I ordered three YELLOW balloons to go with them... needless to say, she received something entirely different. Not only would AVAS FLOWERS not helpful... they refused to resend flowers or reimburse me. I was told on SEVERAL occasions that I would get a follow up phone call. I'm still waiting on that.
Do not use this company, they are crap and their product is crap. They refunded me $13.95 and gave me a $20 store credit... as if I would EVER used their services again!?!? Their customer service gave me the run around and today I spoke with the "highest" manager WHO ARGUED BACK WITH ME? Avas Flowers is a piece of crap company and they offer crappy product and service... DO NOT USE THEM! THEY ARE ABSOLUTELY AWFUL.

This is the worst flowers I have ever ordered! They are pitiful! The arrangement was supposed to be $39.99 with free delivery and still ended up costing almost $70. I am embarrassed that I sent them to my friend for her birthday!! I am VERY disappointed and will not be using Avas Flowers EVER again!!!

First, I googled local florists for a town and Avas appeared as a local company, which they are not. I should have checked them out first, but they were offering a discount and free delivery, which it was not really free. I ordered a plant with a few blooms. There was an extra service charge besides a delivery charge, so that should have made me stop the order right there. I ordered early enough to get same day delivery. I then received an email that the plant was delivered. It was not actually delivered until the next day, over 24 hours later. The plant arrived with the blooms brown and wilted. My Aunt mentioned it to the delivery person, who just shrugged and was like "oh well."
I then received an email to rate their service and said the same things I said here. I later received an email about how sorry they were and someone would get back to me. Two weeks later I still did not hear anything. So I replied to the email. The next day someone called and I missed the call. I tried calling back. It was a ridiculous phone tree that went nowhere. I called again and chose a different option. After being on hold for over 5 minutes then I get an automated message that they will call me back. Let's see if they really do call. If all I get offered is a coupon for a future purpose, they can keep their coupon because I will never use them again.

I ordered a peace lily from Avas online for a funeral four days prior to the actual funeral date. I made it very clear to Avas that the plant had to be at the church by 9:15 A.M. It was never delivered. I called Avas and they said they would try to contact the driver and call me back. They called back and said they could not reach the driver. Long story short, the plant never arrived. That's the first time in my life I have ordered flowers for any occasion and they never showed up. If I could give them 0 stars, I would. They're a ripoff. Avas called me back again and said they would deliver the flowers to one of the family members. Seriously? I told them I want a refund. Period. Do not ever order flowers from Avas if you expect them to arrive.

I ordered flowers for my sister's 50th birthday. Below is the image of what I ordered and what she received. I was embarrassed. There are no orange lilies. The flowers they did put in never opened. The balance of the flowers is non-existent. I had to call multiple times each time over 30 minutes with no resolution. Initially, someone was emailing me and telling me to attach images which I did and then he stopped emailing me. The 3rd time I called I was told a supervisor would call me back and no one called. The 4th time I called, the rep kept saying the designer followed the recipe. I said, "I would like a refund, I am not happy, you can see by the picture this is not a quality arrangement." He just kept arguing with me. I said what about your satisfaction guarantee and I was told the flowers were delivered on the 3rd and I didn't call until the 6th and you need to call within 24 hours.
Well, my sister was not home so she received them on Sunday the 4th and the 5th was Labor Day. I was offered a $20 store credit. I told the rep, "I don't want to do business with you again, why would I want a store credit. I will take a $20 refund." That is a compromise. He would not budge. I asked to speak to a supervisor. After she answered I was put on hold for another 15 minutes. At this point I had now been on the phone for 50 minutes counting. Alice ** the supervisor told me I needed to call in 24 hours or I couldn't receive a refund. They claim they are a local company, but they are not a local company. Alice proceed to insist the flower arrangement looked like the picture. Then she went on to say the flowers must not have opened because my sister didn't take care of them or water them! Unbelievable.

Please avoid this florist. I paid for a "deluxe" arrangement on Tuesday for a Saturday delivery. On Thursday I was contacted that they couldn't fulfill my order as requested but will substitute something equivalent. My mom sent a picture of the arrangement... three roses and some alstroemeria among baby's breath. I mean, really pitiful. For $71, extremely pitiful. Oh, and by the way, they were going to charge extra for delivering it before 1 pm on Saturday. I did not take that option, as any time on Saturday would have been fine. So they deliver it at 3 pm Friday.
Hmmm... did I need to pay extra to get it delivered on the actual day I requested? For understandable reasons, I have tried repeatedly to contact them to express my dissatisfaction, but all of a sudden there is no one to answer my calls. They are no longer on Google maps. Their number is no longer on my caller ID, even though they called me five times on Tuesday... in a row... after I dialed their number and then hung up, deciding to order online. I should have known then that this was a sketch business. Please do not make the same mistake I did. I only wish I could save more people from making the same mistake.

If you value your time and money do not do business with Avas Flowers. They advertise as a local flower shop but are far from it. I placed an order that was not delivered and I never received a phone call until the following day. Only to be offered an in store credit for future use. No thank you. I was told that myself and the recipient were contacted the day of delivery which was a straight out lie. Of course my phone records would prove that if they were to claim otherwise. After all the waiting, I was told by a manager he would issue a refund. Called back a day later and the system states it hasn't been issued. Such a waste of my time.

I wanted to send flowers to my father yesterday, it was his 90th birthday and he was in the hospital. I contacted Avas Flowers and placed an order with guaranteed same day delivery. I ordered him a plant and a box of chocolates. I placed the order at 1:13 pm. I was contacted later in the day, I think around 4 pm, and Avas told me they would not be able to delivery that day but would deliver the next day. I told them I wasn't happy with this because it was his birthday THAT day, not the next day and I didn't even know if he would still be in the hospital the next day. They told me they would check and get back with me. That raised flags right there, no doctor or hospital is going to release that information. Obviously they never got back with me but I contacted them several times and all they would do was apologize.
Get this, I couldn't get my money back because they don't refund money on same day delivery orders (this in spite of the fact that they didn't deliver)! So here it is today and I receive a text from them telling me the plant and chocolates had been delivered. My dad was at home by this time and I had provided Avas with his home address. I called and there was no delivery made to my dad, my stepmother even walked all the way around the house to see if they set it somewhere and it wasn't there. So I called them and it turns out they delivered it to the wrong address and tried to blame me for giving them the wrong address. They offered to redeliver but I would have to pay a second delivery fee. I told them I would not pay an extra delivery fee for their screwup and I asked to speak to a supervisor.
After being on hold for 15 or 20 minutes, the supervisor admits that someone wrote down the address wrong and they delivered to the wrong house. But the lady they delivered to was "nice" and they could give me her address and I could have my 90 year old father who just got out of the hospital go to her house and get them. I told them that wasn't acceptable, he was 90 years old and just got out of the hospital and her response was that if he was that old she was sure there was someone with him who could do it for him! Yeah, his wife is there but that isn't the point. I paid Avas to deliver HIM the flowers, not some stranger! What really got me was how little this woman cared, she acted like it was my fault this was an issue, not their fault because they screwed up.
I pointed out to her that I was looking at my email to her with my dad's home address and it was the correct address, not the one they delivered to and she got angry and said, "Yeah, I told you, we dropped the ball but you could just go get them." "No, I can't, I'm 50 miles away and I don't even have a driver's license." And if that wasn't enough, they still haven't delivered the plant. They say tomorrow...

Extremely upset!! They never delivered flowers to a special 21st birthday party & never received call or notification that they were not delivering. Found out after I asked if she liked the flowers ordered for her.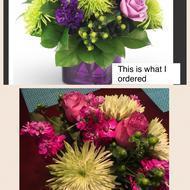 I placed an order online on Sept 10,2016 for a SAME DAY DELIVERY. I then received a confirmation of my order through email that it will send on Saturday Sept 10 by 7 pm. By 4:30 pm I called to reconfirm if it will be send out by 7 pm, shockingly I was told by two different employees and a manager at three different calls I made that my order will not send out on the same day on Sept 10 instead will send out on Monday Sept 12. I then requested to cancel my order but again was told by all these three different employees they are not able to cancel my order and insist to send it out on Monday. So I then told the manager that I will call my Bank to dispute this charge.
After long hours of all the arguments I received an email that the flower was sent. So I called my friend to verify it, my friend was surprised to hear from me because the card that I have to pay $2 for (must include in the order) was NO NAME and no message! She did receive the flower but was completely different than what I ordered online from the picture shown. Bottom line this company AVAS FLOWER is a BIG SCAM! Please save your money to buy it from grocery store. Please refer to picture attached.

I ordered flowers for a sick friend in the hospital on a Friday to be delivered same day as advertised on Avas website. Later that same day I received an email from Avas explaining the delivery wasn't made but they promised to deliver the following day. I contacted my friend 4 days later to ask if she liked the flowers I sent. She told me she never received any flowers!!! If I hadn't contacted her to ask I would never had known they were never delivered. BUT Avas took my money just the same. I would call that "swindle"!! I contacted Avas and I was put on hold many times. I insisted on a refund. They wanted to give me a 10 percent discount on the flowers they would send to my friend. Asked my other option - store credit!!
Are you kidding!!! I will never ever do business with Avas again. It was my first time using them and the last. I only wish I had read the reviews beforehand. I am hoping I see a refund in the days ahead. If someone does use Avas I would advise you to follow up with the recipient to be sure the flowers arrived! Or you'll be in the same situation! Whether it's $25.00 or 100.00 we all work hard for our money. I wonder how many other customers got swindled!!!

This is the biggest CON artist operation I have ever seen. Order at 10 that morning and needed to happen that day. Calls me at 3:30, says "isn't going to happen." Talk to a manager and he says "well it's out for delivery," but isn't going to make it today??? Bunch of foreigners running a racket. I said, "well, just give me a refund." I should've got it local and then wouldn't give me a refund just in store credit!!! DO NO BUSINESS WITH!!!

As a owner of a flower shop I have to say all the things I have to say about Avas are not good! If you want to order flowers order directly from a shop not from wire services. Why because they take most of your money that you give them and then they send it to a shop with less then what you have paid and expect us to fill the order for what you have paid if we ask for money they don't want to give any more now understand you have paid for it they just keep most of it. Avas flowers want the customer to think it's the florist messing up but really they do not know what they are doing. I would not even giving them a 1 star but had to. Remember order direct from a florist in the area not from Avas flowers.

I ordered a simple floral bouquet in a simple white coffee mug. My friend's dog companion of 14 years passed and I thought the simpler the better. When It arrived, the white mug had been replaced with a bright yellow happy "Smiley Face" mug. HAPPY!!! She sent me a picture and I was so embarrassed I didn't know what to do. I complained thru e-mail to supervisor and such but the apology just did not seem to be enough. The reason for the flowers was SYMPATHY. Plain and simple. My note was a condolence and said nothing happy anywhere it. Where did they misread THAT... or maybe their staff doesn't read English. I am not happy and will Never use them again... EVER. Seems they delivered Order number ** HAPPY MUG.

Run. Do not order from Avas Flowers. Horrible experience!! My sick father never got his basket I ordered for him & a refund has yet to be received. These people are awful to deal with!!! They hang up on you when you call them. They told me they attempted to deliver the basket I ordered but, no one was home. The delivery address is a hospital rehab... open 24-7. Really upsetting. Hopefully this post will save someone the aggravation I have been put through.

I wish I had read the reviews. I ordered flowers online after they assured me that they were local. When they sent the verification text, I noticed that they spelled our city incorrectly. WOW. Not local. I then read the reviews - apparently poor quality and bad business practices. I wanted to support a local business. I called and asked them to cancel my order 20 minutes after I had made the order.
Flowers were scheduled to be sent the next day. Rep told me that they had a policy - no refunds made in first 24 hours. WHAT??! She told me I would have to call back tomorrow. I said - "but the order will have been shipped tomorrow and it will be too late to cancel". She said "I'm sorry that is our policy." I then asked her what would happen if I called back tomorrow and the order had already gone. And she said - then no refund. WHAT A SHAM. Put them out of business. Sleazy Sleazy Sleazy. I had to call my bank and have this handled. This is a fraudulent company. POS operation. Steer clear, folks.

Found this florist when I looked online for a LOCAL florist in McKinney Texas. They presented themselves as local in their online ad. They are in NEW JERSEY. Unless you live in Mahwah, NJ, they are NOT local. BEWARE!!! I chose a flower arrangement from a picture on THEIR website and ordered. They advertised "No Delivery Charge" on their website. However, when I placed the order they added a hefty $13+ "processing" charge. It seemed very deceptive to me. That should have been my first clue. Not an up front and honest company.
When my friend in the hospital received the floral arrangement I sent her, she emailed me pictures. What she received looked nothing like the picture I ordered from; different vase, different height of the arrangement, not the same colors I ordered and not the same flowers in the picture. I was totally disappointed. I called the company and was offered a $20.00 credit with their company. So, in order to use the credit I would have to order from them again. Why would I even consider doing that? I wouldn't ever order from them again.
They told me that they have a policy that they can make changes with anything in their online pictures and the customer has to accept that. Then, why have pictures in the first place if they change what you order? I will never order again from this deceptive company and want to let anyone who is considering an order know what it's like doing business with Avas Flowers. My experience was TERRIBLE!!! Don't let this happen to you.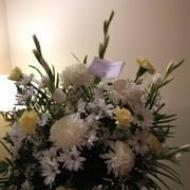 BEWARE DO NOT ORDER FROM THIS COMPANY!!! SPREAD THE WORD!!! Wow, wish I would have found this site before ordering from Avas Flowers. Family funeral in another state and needed to order flowers. I googled a florist for the city the funeral home was located and Avas came up. Even RAY the person I spoke to said they were in the city. Ordered the PREMIUM arrangement and was assured it would look like the arrangement.
A family member took a picture of it and I was so embarrassed of what was delivered. Not only was it dinky and a lot of empty areas where flowers should be it did not even have a shape to it. NOT EVEN REMOTELY LIKE THE PHOTO!!! Was suppose to be ALL WHITE and had a few white roses (in the photo) they substituted yellow carnations and the there was a big GAP where the white bow should have been. NO BOW, just a hole!!! When I emailed to complain they stood by the arrangement they sent even calling it "my beautiful arrangement". Copied their policy as they did with other people who had the same problem and said they stood by their arrangement!!! So so upset by this and can get no satisfaction from them. I wish there was some other location I could complain to as this company should not be allowed to stay in business!!!

My husband order a bouquet that was to be delivered to me at work. He gave specific instructions that the delivery had to occur before 4:30 pm as it was a business. Avas advertised same day delivery and told my husband the flowers would be delivered between 10 am and 4 pm that same day. The flowers did not arrive. The next day my husband checked the order status and was told the arrangement would be "redelivered ". We tried to contact customer service by phone and discovered that you do not have the opportunity to speak with a live person when you call. Rather you must make an appointment to receive a return call which was scheduled for 7 pm that evening.
The bouquet finally arrived at 4:20 pm that afternoon and they were not quality flowers. I sent an email to Avas to report the poor quality and received an apology and was told the local florist would be contacted to determine a "resolution". That was three days ago and I have yet to hear the resolution. My husband never received a call from customer service during his appointment that was scheduled. I highly recommend others to shop elsewhere. Avas cannot meet the commitments they make for same day delivery, quality flowers, 24 hour customer service and customer satisfaction guarantee. A local florist may be more expensive, but it is worth the extra cost to avoid the disappointment and frustration.
Avas Flowers Company Profile
Company Name:

Avas Flowers

Year Founded:

1977

Website:

http://www.avasflowers.net/