Consumer Complaints and Reviews

We ordered flowers for a memorial service, and they let us know late afternoon/early evening the day before they were scheduled to arrive (a week+ after we ordered) that they would be canceling the order / couldn't fulfill it. Words cannot explain how appalled I was with the service provided. We wrote in explaining how upset we were and they never even wrote us back.

The first time I ordered from The Bouqs, I sent two bouquets, and neither of the recipients ever said anything negative about them. I did not see either bouquet, so I don't know if they were just being nice. One of them was my mother, after all. This time, I purchased a license code from DudeIWantThat.com. It was a deal where you pay them $35 for a $50 code that you can put toward purchasing a bouquet on Bouqs. I went online to Bouqs and began placing an order for a $50 bouquet, and it said it could not put it in my cart, but didn't say why not.
I called customer service who, after several holds and a promise of a callback or an email notification (neither of which ever happened), when I called them again said they had "a bug in their system" and they would try to fix it, but in the meantime, I could log out and order the bouquet as a guest instead. They offered to give a $15 gift card to cover the shipping on the bouquet. When I asked if a license code and gift card would work on the same transaction, they said they would not. Here's the problem.
I already paid for the bouquet, I paid $35. I already have an account on their website, and when you order on your account, you don't have to pay the $15 shipping. So if I use my account, and use the license code, I pay $35 total. But their system has a bug, so I can't do that, and they can't bypass it. If I pay as a guest, I can use either the license code or the gift card, but I have to pay shipping. If I use the license code, I still have to pay the $15, and then what was supposed to cost me $35 total ends up costing me $50. But their system has a bug so I can't do that either.
If I use the gift card and not the license code, then I pay $35 for the wasted license code, and $50 for the bouquet with free shipping, so I pay $85 total. This was not a financial solution, this was simply the company saying they had a problem with their system and they wanted me to pay for their problem. It is not my fault you hired a sub-par IT team. If in the hypothetical situation that all of your equipment and systems are working properly, I get to buy a bouquet for $35 - then in the very real situation where none of your systems are working properly, you should make good and make sure I still get to buy a bouquet for $35. That's called customer service. Welcome to running a business, instead of running one into the ground. At this point, it seems I have to eat my $35 license code and will be getting no flowers. I would only do business with Bouqs again if they made good on this ridiculous joke.

I ordered a few bouquets from Bouqs.com that were beautiful. But the third and fourth orders were so disappointing. I sent an email with pictures of the third bouquet and they did give me a credit. I recently used the credit and ordered the same bouquet from their website to be sent to a different location. The bouquet I ordered from their website had roses, hydrangeas, pink accents and beautiful filler. (Picture below)
I ordered the bouquet on Friday, July 21 to be delivered in Scottsdale on Tuesday, July 25 between 9-11 am. The bouquet, picture below, was delivered around 2:00 pm (hours later than requested) and this is what was received... no roses, no hydrangeas, (those could be seasonal, but roses are not). I need to reiterate the same feelings I had on the previous bouquet I sent, I could have gone to the grocery and picked up ten bunches plus delivery and had an amazing looking bouquet for $75, instead of what was delivered.
I have referred their company, spoke highly about it on Facebook and shared with friends across the country how great they were. My last complaint told them I DID NOT want a credit, I would not refer their company or use it again and I would review it with these facts. I am truly sad that the concept of their company could not be reflected in the product they deliver. I'm beginning to understand why they do not have a customer service telephone number on their website, possibly too many complaints?

First, I sent these to a friend who lost her spouse. Never heard anything. I assumed they were delivered. Second time I sent them for a friend who was just diagnosed with cancer. First a week after I placed order they were cancelled because the date I was able to select for delivery was actually more money than on the website was showing... So they just cancelled it.
A week later I finally placed another order. She posted pictures of her bouquet and it was the small size when I paid over twice as much for the large size with vase. No vase was delivered, just a box. Third time shortly after that I was sent a mix of tulips and iris from my birthday from a friend who thought I liked Bouqs. They came warm and dead. Flowers are brown and wilted. Printer ink was even running out when my card was printed and I had to decipher it. Later I found out that the first person I sent flowers to received something totally different. Their smallest cheapest bouquet available. I spent so much time choosing the perfect bouquet and every time the order was wrong. I will never use this company again.

Terrible service. Flowers arrived dead and late. Then I called for a refund and couldn't get a hold of anyone after ringing for 15 minutes. Still haven't received a callback or email. Going to the bank for a refund!!!
How do I know I can trust these reviews about The Bouqs?
848,010 reviews on ConsumerAffairs are verified.
We require contact information to ensure our reviewers are real.
We use intelligent software that helps us maintain the integrity of reviews.
Our moderators read all reviews to verify quality and helpfulness.
For more information about reviews on ConsumerAffairs.com please visit our FAQ.

I am now dealing with my second disappointing experience with this company. The first go-around, I ordered a standard bouquet of roses. The roses arrived on time, but were wilted and nearly dead upon arrival. I immediately followed up with customer service. I was assured that the roses would come back to life once put into a vase with the proper nutrients. Well, 5 days after doing so, the flowers never regained life and were basically dead. I was never offered a refund or alternative (100% satisfaction guarantee?).
The only reason I gave The Bouqs a second chance is because their company listed Peonies in stock during the off-season. I ordered a bouquet of peonies on a Thursday afternoon and paid extra to have them delivered on a Saturday. On a Friday afternoon (a full 24 hours after I placed the order), customer service reached out to me. They informed me due to an increase in demand, they would not be able to send the Peonies. The Bouqs listed 3 different bouquet options on their website, and I find it hard to believe all 3 were sold out within 24 hours of me placing an order.
I am most appalled with the level of customer service. Instead of offering me a replacement (at no additional cost) or a discount on a future order of some sort, I was given nothing but a refund and apology. Never have I experienced such lackadaisical and careless customer service. I will not be ordering from them again and will spread the word that this is not a company you can rely on.

I ordered a few bouquets to see how they looked before my good friend's bridal shower as I knew Bouqs would be perfect for wildflowers. Easy transport and they last long. When they arrived to my office I was surprised that Bouqs sent extra flowers! Everyone in the office was so happy. Our day was a little brighter because of the Bouqs team. Amazing. I adore Bouqs.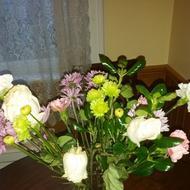 My sister in law sent flowers to my mother, who happened to be out of town so I picked up the flowers. I was appalled by the poor condition of the flowers and contacted the company (with photos), assuming they would be happy to have the opportunity to send a replacement before the sender or recipient even knew what happened. Not so. They told me the best they could do would be to credit the sender's account for $15. When my mother arrived, I gave her the flowers. She obviously appreciated the thought but we both felt bad for my sister in law, and didn't want to tell her what a mess it was.
A few weeks later, an ad from Bouqs was directed at me on Facebook. I told them, publicly, to take me off their lists and why. They reached out and said they would like to make it right. "Great," I said. "I simply wanted my mother to get a replacement bouquet." "No problem," I was told. I would just need to put give them a credit card number to create an account, they would then give me a credit to use toward a replacement bouquet, and they would remove the $15 credit from my SIL's account. Alternatively, my SIL could contact them and they would give her the full credit, which she could use towards a future purchase or to resend a replacement bouquet. Really? They can't simply replace the bouquet? I decided the whole thing wasn't even worth it. Would never deal with this company.

1.0 star rating 6/4/2017. First to Review. I ordered what looked to be a beautiful expensive orchid from this site and it showed up broken and without most of the flowers on it. 4 emails back and forth asking for a refund from The Bouqs garnered nothing more than asking for more pictures. I did send pictures with the initial email and they still refuse to refund me OR offer a replacement. With the number of online florists out there you would think they would do a better job at keeping their customers happy. Never again.

After receiving a very sad looking bunch of flowers I decided to call Bouqs.com - how convenient they don't have a contact number!!! After reading the reviews it became quite obvious I wasn't the only disappointed recipient of gifts sent from this company. How are they still in business?? My flowers arrived the day after they were sent but were in shocking condition. The roses and other flowers were all damaged and wilted. It looked like something you would send someone you didn't like!! This is not acceptable. Friends paid good money for this nice thought. Unfortunately, their delivery of this product leaves a lot to be desired. Long story short - Stay away.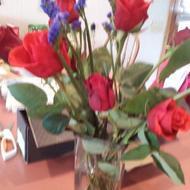 We ordered flowers through The Bouqs, with a delivery date for the Friday before mother's day. They didn't make it that day, but we were promised they would get there on that Saturday. They were not delivered at all and from the tracking data appear to have died in a Fedex warehouse in Denver. We received a voucher to reorder and placed the order again. The flowers did NOT arrive on the promised delivery date the second time either. They did show up a couple days later, after I complained and had to really argue to get my money back. The Bouqs almost didn't give me money back and blamed the delivery issues on FedEx. I am glad I called when I did because the flowers she ended up getting were hideous. They looked nothing like what we ordered, were sparse, and mostly dead. They definitely did not look professional. I will never use this service again and would discourage anyone else from using them too.

I have been the recipient of flowers from The Bouqs company on more than one occasion and have been extremely disappointed the last few deliveries. I have not complained to the company nor written a review as I did not want to disappoint my son which is the sender of the flowers. However, after the last shipment this week (tulips) I must voice my concern. The flowers were weak (broken stems upon removal from the box), wilted and of such poor quality I must toss them after only 3 days. I will recommend to my son to use another company.

I ordered a one year subscription to Bouqs for my wife's birthday. The flowers were to arrive every month on the same date. The first month, the flowers were great, but the quality declines every subsequent month. By the 3rd month, the flowers wilted after a day or so. The 5th month the flowers didn't arrive. When I attempted to contact Bouqs to inquire about the flowers, I got no response. I tried multiple times, but they appear to have no customer service. Frustrated, I cancelled the subscription and requested a refund. Still no response - of course there has been no refund. I have escalated this with PayPal and am hoping for the best. Please save yourself the aggravation and don't buy from this company.

I ordered Mother's Day flowers for my mother in Arizona. They were left at her door without notification in 95 degree heat. They were dead when she found them. I contacted customer service and got a standard form email stating that they would contact me within 24 hours. No reply, sent another email, still no reply. Out $100. I won't order from them again.

I spent about an hour trying to decide which flowers to send my mom for Mother's Day. I ultimately chose the "Class Act" mainly because of the muted colors which I thought looked very happy! My mom texted me to say thank you when she got her flowers and said they looked very healthy (at least they were healthy) and she sent a picture. I was very surprised to see that the roses which were supposed to be a very light pink, were very dark red.
I understand that substitutions are sometimes necessary with florists, I just don't understand why Bouqs posts nine pictures of a very specific bouquet on their site and doesn't mention substitutions anywhere on the page. Why bother spending the time choosing if the end result won't look anything like what you ordered? I reached out to Bouqs directly and they responded with "Because flowers naturally vary in shade, we cannot guarantee the exact color that will be in your Bouq," and gave me a 10% off promo code. I like what the company stands for but I just don't think I could trust them with another order.


If I could give less than one star I would. I ordered from this company and spent $70 and received dead flowers. I've emailed the company multiple times and haven't heard anything back from them. Don't waste your time or money.

Received very generous bouquet as a gift. Would have been thrilled BUT the 13 roses look as if they had been picked & packaged weeks ago. Wilted, browned & bruised. The carnations not much better. The company offered to put a 15.00 credit in senders account... For the cost, the entire order should be replaced.

So the first time I used The Bouqs I had bought a Groupon and that order went just fine, decent flowers arrived on time to my aunt's place. I liked that they were sustainable and used the source, the growers. Well I bought another Groupon and paid a bit extra for a mother's day bouquet. It never arrived. They couldn't find my order because I had done it as a guest instead of linked to an account. I had to send them my bank statement as proof. 13 emails later they finally admitted it was their fault and they would refund me, which they have not, and to use the Groupon again but it has since expired. I'm out $32 and no flowers for my mom. I have them a 2 only because the first order went through fine. I am very frustrated with this business customer service.

Absolute worst floral delivery experience ever. They have no phone numbers to call customer service, so you are left to sending emails and receiving inadequate responses. Supposedly they offer same-day shipping, but my order for Mother's Day was supposed to be delivered an entire week ago and is still nowhere to be found. Originally, I decided to take advantage of an offer for a "free" ($40 discount) bouquet. They made up for the discount by charging $20 for shipping and $12 for a vase. I had to place the order by email to customer service since the website kept clearing my cart before the order would process.
On the day that the flowers are supposed to deliver (one week ago), I receive an email in the afternoon that due to "unforeseen circumstances" my delivery won't make it today and they'll try again the next day. Well, being as the delivery was going to my mother's workplace and she doesn't work on Saturday, that wasn't going to fly. I sent an email to customer service to see about changing the delivery address and was instead told I could use a $100 credit that would be good for a year.
I see that FedEx is having some problems that could have affected delivery, so I decide to try again with the store credit. This time, the backup delivery is scheduled for Tuesday (3 days ago). To date, NEITHER bouquet has arrived. The original order had a shipping label created but does not appear to have actually left the warehouse and the second order says it's "en route" but doesn't even have a tracking number so I highly doubt it has actually been shipped. Thanks for ruining the Mother's Day present to my poor mom. Absolutely awful.

Ordered The Bouqs about a year ago - great experience first one/two times. Shared my experience. Have received flowers from them multiple times since then as gifts and every time I have written to complain. They give you credit - but don't allow you to use it unless bouquets are full price. Mother's day flowers were received and the next day, after of course water/food, they started to die and never opened.

Mother Day's Special Not honored. Tried to purchase a "free" bouquet with a $20 "shipping fee" as a first time customer. None of the 3 $40 options were available and by the time their terrible customer service people responded it was impossible to get an arrangement delivered on time. No apologies, always a different rep responding to my email. "Nothing we can do". Terrible policies, extremely vague promotion details, no follow through and no attempt to better the situation.

My daughter ordered Mother's Day flowers from The Bouqs Co. Not only did they not come when promised, but when they finally arrived 8 days late, they were blackened and had petals falling off the flowers. Have used other mail order flower companies and have had good results, but this one is deplorable. They shouldn't be in business.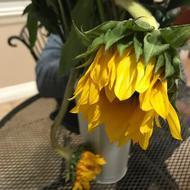 I ordered what I thought was a beautiful bouquet for my daughter's first Mother's Day. The flowers arrived on time. The colors were beautiful BUT they died two days later never blooming. I tried to contact the company and there is NO phone number to speak to anyone!!! I submitted an email. I again submitted a second one with pictures! So sad wanted to leave this company!!! All I can say is the ProFlowers my son sent me are blooming and beautiful. I won't order from Bouqs again. I am going back to ProFlowers.

My son who treats me extremely well would throw a fit if he knew what was delivered to my home for Mother's Day. 3 carnations and 3 roses made up the arrangement, and the roses died before ever opening up!! Wow, seriously? This floral arrangement was the ugliest I have ever seen. Shame on you for charging my son anything for this crap. I am still considering whether to tell him or not. Really pissed off.

Ordered two Mother's Day bouquets. My mother in law actually text me a photo and wrote 'Thanks, they are fine'. I was absolutely abhorred by what was sent to her. When I notified customer service they weren't going to do anything but send her a video about flower care. This is not a joke. And then after I got very steamed they offered me $10. Unbelievable. ***Do not do business with this company***

Please don't depend on this company! If your flower delivery is timely, find another flower delivery service. On Mother's Day, probably the MOST important "flower holiday", they screwed up! Ordered for delivery 3 days early JUST TO ENSURE THAT WE'D HAVE THEM IN TIME. When they didn't arrive, contacting them is restricted to email. They do respond, but several hours later. They asked me to wait so they could research the delivery problem. No further response. Next day I make another inquiry. Again I'm asked to wait with much apology.
They respond (email) the day before Mother's Day that there's a problem with Federal Express. I check with Federal Express and apparently, FedEx rec'd ONLY the notice of an order from Bouqs, but never rec'd a formal order for pick up. So Bouqs never released the flowers to Federal Express! SO frustrating when a company not only fails to provide a service, but makes delaying excuses making it impossible to make alternative plans in any timely manner. Mind you this was a $150 order and put quite a damper on our Mother's Day having to explain the situation. So find another flower vendor!

My sons sent 24 roses to me for Mother's Day! 12 sad, wilted petal, dropping, brown leaf roses arrived! I loved the thought and didn't want my boys to know how awful they looked so I contacted the company instead. Well apparently it was because I didn't know how to care for these specially grown and nurtured roses!!! I should watch a video link they provided! I'm 60 and have cut and arranged a lot of flowers and these were the worse ever received by mail!! And I would have let it go if the company had responded with "We are so sorry. We will refund your son's account and send you more so you can see our usual quality" but NO! They said "not possible for the flowers to be low quality and NO not refunding unless the buyer request a refund!"
Didn't want my guys to know how sad these looked! I loved their effort and sweet thoughts!! Didn't want to complain to them! Also only found out 24 were ordered and 12 delivered after sending my son a strategically taken picture to make the flowers seem to look OK! He asked where the other 12 were!! Who knows but maybe the video would have helped me with that mystery also!! Horrible... blame the recipient... customer service and worse flowers and this is not an unfair review! Mad Mama! Took my kids' money and sent trash!

Don't order flowers from Bouqs.com. Two separate orders placed on bouqs.com for Mother's Day flowers were totally unsatisfactory. The flowers were not those that I ordered (as depicted on their website). Not only were they entirely different - and less attractive - flowers, they were mostly wilted or near-dead. Both of the recipients felt it necessary to tell me I ought to complain and try get my money back. When I contacted bouqs.com (twice!), all I received was an email stating they were sorry. I wasn't satisfied. Be warned.

Worst flower delivery ever! My daughter ordered flowers for me to be delivered the day before Mother's Day. She's in another state but checked online and learned they had not been delivered so she followed up with them. They then promised a Sunday delivery. When she saw I still had not received them on Mother's Day, she called to apologize because I was feeling very forgotten. She explained the horrible customer service experience she had with them and said she was still working on it but that the flowers would be very nice, including a plant that I could then pot and keep.
Fast forward to the Tuesday after Mother's Day. A box arrived with tacky colored roses (which I never like because they die so quickly). This was clearly surplus product past its peak not only from the appearance of the flowers but also the fact that they were wrapped in cardboard that said "Mother's Day Bouquet". I really appreciate the thoughtfulness that my daughter put into timely ordering something I would enjoy and feel horrible that she feels as though she let me down, all because she decided to use The Bouqs Company.
The Bouqs Company Profile
Company Name:

The Bouqs

Website:

https://www.thebouqs.com/