Consumer Complaints and Reviews

Terrible flowers and a rip off. Flowers were smaller than my hand, vase was cheap, cost was over 100 bucks but when I asked for a refund they said I could take 10% off my next order. No phone numbers, no person to talk to, all automated. Not happy with this company and seems a huge trend looking at various reviews.

When ordering a Valentine's Day flower arrangement, I did research to find a better company than the ones like 1800Flowers, or FTD as they do not vet the florists they have contacts with. With that I discovered 'The Bouqs' through my Facebook recommend sites, and through articles on Google. I made my Valentines order to surprise my spouse and then I received a text saying "Thank you for the dead flower arrangement. Hope I mean more to you than this dead arrangement." I was horrified that my Valentines had just been ruined by a flower delivery company AGAIN, which seemed to have good reviews (which I now believe are false reviews). I made contact with "The Bouqs" which did not replace the arrangement but only supplied a company credit, not even offering to refund my cash I paid.
Then I decided a few days ago to use up the company credit only because I wanted to send a 'Just Because' arrangement as a surprise to my spouse as it was a very happy day for us. Once, again I was in amazement that NO flower arrangement was made on the Friday between 3:00P to 7:00P. I waited for 4 hours, giving excuses to my spouse as to why we could not leave for dinner and was asked why I was continually checking the door.
Finally that Friday night, I contacted 'The Bouqs' company only through email, as they do not provide customer service contact number(s). I did receive an email back stating the florist their company has the contact through in my area 'Forgot the Order'. He did refund my money finally from the first order placed for Valentines Day, and stated that a flower arrangement delivery would be made on Saturday.
Well, as I am sure you have guessed, Saturday came and went with NO arrangement delivered. Sunday came and went with NO arrangement delivered. Monday... Same repeat, Tuesday... Same repeat. Finally contacted 'The Bouqs' company again expressing my dismay to their customer service. The response I received through email was "Well, I did refund your original payment for the first flower arrangement'. As to date, NO flower arrangement has ever been made and NO compensation for ruining 2 special occasions in which Flower Arrangements were in order, nor the wasted Friday night, 4+ hours of waiting time, and my explanation to my spouse as to how horrible the delivery company I decided to use was. DO NOT USE THIS COMPANY!!! Please do not waste your money, time, nor your special persons expectations of having a wonderful special occasion.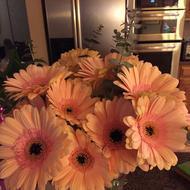 I received the Hermosa Gerbera daisy/eucalyptus bouquet as a gift from my daughter. It arrived on the day she told me to expect it. The blooms were the most amazing color and what really impressed me was that by following the care instructions for changing the water the flowers looked as good as new a week later and lasted 12 days!! That is amazing for any cut flower bouquet but especially Gerbera daisies.

I set up a subscription and was mad at myself because I did not read the bad reviews. I am thrilled with my purchase and received the most beautiful Ecuadorian flowers. They smell lovely and the roses are very full. I highly recommend this wonderful company. I sent a bouquet to my friend last week and she was thrilled as well! Thanks to the whole staff at Bouqs.

Last year I set up for my mother to receive flowers on both her birthday and mother's day through Bouqs. Unknowingly, this set up an annual plan for her. Last summer my mother was diagnosed with terminal cancer and when I realized they were sending her birthday flowers I quickly cancelled all future orders as she may not be here but figured the birthday flowers would be nice. That is until she gets a bouquet of white lilies without a card. I cannot imagine her worry as white lilies are generally present at funerals but then an anonymous sender too! What should have been a happy birthday surprise (well not too much of a surprise as my card should have said Happy Birthday from your daughter) turned out to cause much distress to a dying woman. TERRIBLE.
How do I know I can trust these reviews about The Bouqs?
716,078 reviews on ConsumerAffairs are verified.
We require contact information to ensure our reviewers are real.
We use intelligent software that helps us maintain the integrity of reviews.
Our moderators read all reviews to verify quality and helpfulness.
For more information about reviews on ConsumerAffairs.com please visit our FAQ.

Where to start? I ordered my wife Valentine's Day flowers as my first order through The Bouqs and it arrived a day late. They responded to my customer service request several days after the fact and offered me a credit when I asked for a refund. The flowers last a few days tops. So since I did not get my money back I figured maybe that was a fluke and I would use the credit for flowers for her birthday. They screwed me again!!! The flowers are not going to be delivered on time, customer service is nonexistent and whatever arrangement they have with FedEx who is normally pretty reliable sucks. Do not order from them, I don't care if it is free. You will be disappointed and pissed off.

I purchased the Groupon to get $40 of flowers for $20. The first laughable point is even finding flowers for $40. While the site had a few options that were $40 it's not as black and white as you may believe. The $40 bouquets were very small and only included a few stems but for an extra $15 you could get a normal-sized bouquet which I did because at $35 still seemed like a deal. Then to my surprise it was going to cost an extra $12 for a small, crappy tin can they called a vase. I didn't spring for that option because I was obviously trying to save money by using Groupon and I could buy a much nicer and cheaper vase with the money saved if needed. Still with a total of $35 I was feeling pretty good and went to checkout. This is where things got worse. I set up the delivery date and applied my coupon and checked out only to find that they charged my credit card the full amount of the flowers which was $55.
I had to contact Support who told me they would get that taken care of. They then responded letting me know that they were only refunding $30 of the $40 coupon because there was a mandatory $10 delivery fee when using a coupon. So now my expectations of getting a deal at $35 on flowers was now at $45 on an order that normally costs $55 and includes free shipping when not using a coupon. At this point I was frustrated but didn't let it bother me as I was still saving $10.
Then on Valentine's morning the flowers arrived, in a box, on the ground, outside. These were for my fiancee who had to go retrieve the box and cut it open only to find the flowers strapped down with ZIP ties and half crushed. It looked like someone put the flowers in the box then set something heavy on them which made a straight crease line through half the buds.
Thinking this wouldn't affect the flowers we took them out and arranged them in a vase we had. They started to open the next day and by day 2 had all full blooms. However by day 4 most of the flowers just started turning brown and falling off and before a full 7 days all the flowers were gone. I tried reaching out to The Bouqs Company twice with an email from them stating they would have someone contact me shortly which we are now 2 weeks from Valentine's with no contact of any kind. Very disappointed with The Bouqs Company and disappointed with Groupon for advertising a company like this.

I ordered my mom a bouquet of flowers and what she received looked NOTHING like what I ordered online. I totally understand that local florists need to swap out flowers based on availability but mine was 80% filler flower. There's no excuse for this. The company really wasn't helpful. All they offered was a credit for $15 in my account. I'm never using this again - there's no way to trust you'll get what you paid for and what I received was not even close to $100 worth of flowers. I live in a different city than my mom so I honestly think they thought I wouldn't see this in person and could get away with this. But I was home for the weekend and saw it. Totally disappointing.

Ordered from The Bouqs twice. Both for Valentine's Day in different years. Both times several of the flowers were damaged during packaging and had to be discarded. The undamaged flowers were of good quality. The count was correct but they should include 1 or 2 extra to replace those that are damaged during negligent packaging or be more careful to package flowers so they are not damaged. They also send nearly daily emails until your order arrives and continue to send many of them after you unsubscribe. Multiple "thank you" emails, multiple "package arrived" emails, marketing emails, review requests, etc. Not a single email offered any incentive to offset the annoyance.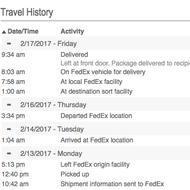 I ordered flowers for my wife on Valentine's Day. The order shipped and was held in TN for no explainable reason. I contacted Bouqs twice. They responded the second time and said there was nothing they could do as I had asked for a refund. The package finally arrived almost a week late. The packaging had been damaged, the vase was dented and very cheap metal. The flowers had no source of water and were dead upon arrival. I have never experienced such terrible service nor a company not willing to make right a wrong. Had they even offered to send another as a replacement I would have swallowed my frustration, but they just said there was nothing they could do. I will never use them again and will advise other not to as well.

DO NOT ORDER FROM BOUQS!! EVEN AT A DISCOUNT! I ordered a deluxe Valentine's Day Bouquet for my wife for delivery February 13. The flowers arrived dead. My wife watered them and hoped they would recover. They didn't. She wrote to Bouqs and sent pictures on Feb 13. They responded with a form letter saying that we need to follow care instructions and should send pictures within 3 days of delivery. We wrote again stating that we had sent pictures and attempted to revive dead flowers. We got back another form letter that was same as the first. If you can find their phone number don't bother to call as they won't answer. Lost $60.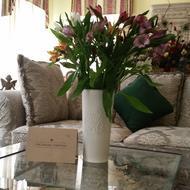 I'm only writing my review to WARN someone who might be like me who loves beautiful flowers and just expects to receive their money's worth! Well, that will NOT happen when ordering from Bouqs.com! I was offered a FREE bouquet of flowers from Fandango movies for my receipt of 2 movie tickets for my husband and myself. I ordered the bouquet from a picture that was delivered to my door looking NOTHING like the picture! They didn't even use the same flowers! I chose to pay extra for a vase for the flowers b/c it was going to be delivered on Valentine's Day! When the flowers arrived, I cried!! The bouquet was HORRIBLE!! I was in tears! This was late Tues afternoon. On Wed morning, I began my efforts of trying to get this DISGUSTING BOUQUET OUT! I contacted the customer service line which indicated, "due to high call volume at this time, we are unable to take your call at this time!" NOT A GOOD SIGN, FOLKS!
The operator indicated to leave a message via their website and I would have a response within 24 hrs! NOT!! It was 72 hrs! It took a computer generated response 3 days to get back with, "Thank you for contacting us, someone will be getting back with you momentarily!" The End of this HORRIBLE CUSTOMER SERVICE story with BOUQS.COM is this: they offered no refund, no replacement of my shriveled up, withered seven 7, total stems bouquet of weed looking flowers that came in a box that I arranged myself in a tin can that I paid for! The solution that BOUQS.COM provided was $15.00 to be used TOWARDS another bouquet! Are you kidding me! What a joke! BUYER BEWARE! DO NOT BUY ANYTHING FROM THIS COMPANY UNLESS YOU LIKE LOSING YOUR MONEY, FRIENDS!

Bouqs wants to give me a credit because the flowers my son ordered for his sister were left "at the front door" of her campus and never received by her. This is 2/3 times that Bouqs has more than missed their mark of quality flowers. You can not reach them by phone and only after 3 emails did they respond 2 days later. I will never again go with Bouqs.

My fiance ordered me two dozen roses with pink red and fuchsia pink on Valentine's Day. He paid $65 and we ended up with 6 roses... He complained and only got store credit. Can you believe these scammers??? He should get fully credited back because we NEVER want to use their service again. They are by far the worst florist scam out there. Your business will be sued for sure. WORST business.

Decided to order flowers for my wife for Valentines. Usually get them at store near house. Have used Bouqs half dozen times with pretty good results. I had ordered them a week before VD with delivery on 14th. The flowers never showed up. No call or message from company. After two emails, they got back to me two days later to say they would credit my bill. No "sorry we will send you some flowers" or credit me with anything. 2 weeks earlier sent flowers to my mother and she complained how terrible they were too. Hadn't had a problem with them before but I've deleted their app and will buy elsewhere. Cannot even find a phone number to call and speak with someone.

I placed an order with The Bouqs flower company a few days prior to Valentine's Day. They had advertised a deal on Groupon that was too good to pass up. That being said - my expectations were set low because of the discount. I placed my order online using my iPhone (which could not be more user friendly). They post pictures of your choice of flowers in 12 (standard), 24 (deluxe) and 36 stems. It's pretty easy to tell what your order will look like by counting the blooms (a previous review stated this was misleading - I don't see how if you can count). I ordered the deluxe "fortified" volcano roses. They arrived on time, well packaged and were breathtaking.

Flowers that were to be delivered for Valentine's Day just didn't arrive. Next day a condescending email saying "Oops! Your order was a little delayed!" You cannot get a hold of a representative by phone. They threw me a bone saying they would give me 20% off next time. I refused delivery the day after Valentine's day and now have had no indication that I have been refunded at all. So much for their ad of little Mom and Pops who care! They blew it, hid behind email correspondence... The whole group are frauds! WHEN YOU CAN'T ADMIT A MISTAKE, YOU HAVE NO BUSINESS BEING IN BUSINESS! Do not put your confidence in this company!

I ordered flowers to be delivered on Valentine's Day. Promised time was 9 to 5. At 6, I sent an email saying I never received them. No reply. At 9 PM I sent one last email saying I never received them. No reply. The next day, the order status said they were delivered. However, they never arrived. Ultimate disappointment and possible fraud.

I ordered a dozen roses for Valentine's Day (2017). When they arrived, one was broken and another one was moldy. By the end of the day TWO flowers were dead. On day two a third flower died. So disappointing. What a waste of money. I contacted Bouqs.com & asked for a partial refund. I was given a $40 in-store credit to buy more flowers instead. Like I'm going to do that! NOT. I would have been happy with a 20% refund.

I ordered two orders: One for my wife, and one for my office. The order for my wife never arrived. The order for my office arrived at the office at 6:00 p.m. the day after! What a ripoff. I am calling my credit card company to reverse the charges. Never... Never... NEVER again will I use Bouqs.

I bought a dozen roses for my wife for Valentine's day from bouqs.com. They showed up via UPS in a box. That's fine I guess, but the flowers were dead. She thanked me for the gesture and then threw them away. Nothing like spending $60 for dead flowers.

I ordered a bouquet from The Bouqs Co. website for Valentine's Day and I received something completely different! The roses were dry, crusty, and falling apart. It looked nothing like the bouquet I ordered. My girlfriend and I were really disappointed. I tried contacting them multiple times through e-mail asking for a total refund with pictures of the horrible bouquet they sent me attached and no response. I also tried calling them multiple times but no answer. Just an automated message stating to contact them by e-mail. After a few days I received 1 message stating that I would get store credit. I replied back telling them I wanted a full refund and not credit because I don't want to buy roses from them. On their website they advertise 100% happiness guaranteed but I am not happy and they don't respond to my e-mails!

I have had 2 horrible experiences with this company. I am extremely upset about the flowers sent to my grandmother for her 102nd birthday!! I ordered 24 red roses to be delivered on 12/10/16 (the day of her birthday) and they arrived, still half not bloomed. The following day, 12/11/16, my grandmother informed me that nearly all the flowers were now wilted or dead!! I requested a full refund on my order. My grandma threw out the flowers only 2 days after receiving them because they were mostly wilted. The flowers were also small. Not what I expected. I sent flowers to my grandma so that she could feel special on her 102nd birthday; instead, all she got were some half wilted flowers. Terrible. I ended up receiving a credit to my account for the amount I paid for the order.
I am beyond disappointed with this company. I first used them to send my grandma flowers for her 102nd birthday back in December. When she received those flowers they were all wilted and they gave me a credit (in the amount that I paid for those flowers) to be used for a future order, as a way to make good on the poor quality of flowers my grandma received for her big birthday. I decided to give them a second chance and use my credit to send my grandma flowers for Valentine's Day. I am disappointed yet AGAIN! My grandmother still has yet to receive her Valentine's Day flowers and it's already the next day (no longer Valentine's Day). I tried to contact customer support a number of times in the last 24 hours and have received no response thus far.

So I ordered flowers for my wife on valentine's day to be delivered. Never showed on valentine's day so I have to go and spend more money so she has flowers. Bouqs says they will give me 20$ store credit. Then the flowers arrive a day late and they are a dead. So now they won't return my emails at all. So valentine's day was twice the money and ended up with dead flowers. Do not order from this place. It is terrible.

I ordered a bouquet of roses to send to my wife on Valentine's day 7 days in advance to hope that it would get there at a reasonable time that I would be okay. Obviously, it was very important that the flowers were delivered on Valentine's day. They weren't. I proceeded to email them 3 times that day to see the status of the order and got ZERO response. I got a random email at 10 pm saying that they were sorry for the delay and there will be a $20 credit in my account. Don't want it and don't need it. Won't be using you guys again. Awful customer service and am working on a full refund on the order.

I wrote a review about a flower delivery company Bouqs Co (Bouqs.com) on February 15th. I had ordered flowers for Valentine's Day for my girlfriend and due to a delivery problem, they could not be delivered until February 15th, the day after Valentine's Day. I had a great deal of frustration because I could not get in touch with anyone from the company to explain what happened and what would be done to address the problem. I received a very nice email from Bouqs Co. apologizing for the situation and they agreed to issue me a complete refund in 3-5 business days to my original form of payment.
I understand that things sometimes happen that lead to unintended bad results, as was the case with my flower delivery. However, the company acknowledged the error, apologized for such error and granted my request for a full refund which is the best that I could expect considering the circumstances. So I would like the record to reflect that I withdraw my earlier review about Bouqs Co. whereby I gave them a very poor rating and I want my review to reflect the complete record with respect to how they handled the situation to my total satisfaction. I highly recommend Bouqs Co. as a very good flower delivery company. A very satisfied customer.
Original Review
I placed a flower delivery order on February 10th with the company to send flowers to my girlfriend for Valentine's Day. I ordered 2 dozen roses with a vase for approximately $70.00 to be delivered to her house on the 14th. At approximately 2:00pm on the 14th I checked their web page to see the delivery status of my order and it indicated that my order was filled and was in the process of being ready to be shipped. At approximately 3:30pm on the 14th, their web page indicated that my order was out for delivery to the recipient. At approximately 5:30pm I did not hear anything from my girlfriend about her flowers, so I checked the web page again and it indicated that the order was still out for delivery.
I was able to check the FedEx tracking number provided and when I clicked on that link it indicated that it there was a delivery exception with respect to a label issue at their facility but it was fixed at approximately 4:00am on the 14th, however, the FedEx delivery date was noted for the 15th. Like everyone who sends flowers for Valentine's Day, the expectation is for the flowers to be delivered on Valentine's Day, the 14th, not the day after Valentine's Day, the 15th. I tried to contact Bouqs Co to find out why their delivery tracker indicated (and still does as of this morning the 15th) that my order will be delivered on the 14th, but according to FedEx it will be delivered on the 15th, the DAY AFTER Valentine's Day. However, they do not have a customer service number for one to speak with a company representative, you can only send an email to their customer service department.
I sent an email asking for help and to understand ASAP when my order would be delivered. I got an acknowledgment that my email was received and I was directed to the company web page while I wait for their reply. If there was a problem with the delivery I still had time to call a local florist to send flowers to my girlfriend for Valentine's Day if my order could not be delivered on the 14th. At approximately 7:30 I spoke to FedEx and the representative was very helpful. I was told that my order was not put on a local delivery truck and it would not be delivered until the 15th. Keep in mind that flowers are perishable items that are not made to sit in a delivery facility for an extra day and that the whole point of sending flowers for Valentine's Day is for the flowers to be delivered on Valentine's Day!
The FedEx representative attempted to call Bouqs Co directly to tell them that I felt that the flowers would be dead and that I was going to cancel the order because they would also not arrive until the 15th which was not acceptable. However, all they got was a recording directing them to the Bouqs Co. web page due to high volume. I then had to make a very unpleasant call to my girlfriend that her flowers would not arrive for Valentine's Day, which was very upsetting for me. At approximately 8:30pm I wrote another email to Bouqs Co informing them of my displeasure and that I wanted a full and immediate refund due to nonperformance. I have not received an answer from them as to both of my emails and it is 10:40am on the 15th.
I am writing this review because I did not get the service that I paid for and even worse, I have not had any communication with the company despite my repeated attempts to reach out to them for an explanation. This whole experience with Bouqs Co. is totally unacceptable and I wish I knew about their lack of professionalism before I decided to use them.

At the end of Valentine's Day, when no flowers showed up as ordered, I get an email from them saying "The Farm missed your order". Really? This is professional? They are claiming to be giving me a refund (in 3-5 days)... We'll see if that happens. Meanwhile, their error caused a lot of embarrassment. Will never use them again.

This is the only review I have ever written (that alone could probably sum up how I feel, however let me explain further). Normally I don't care enough with bad service here and there, but the product and service I received from bouqs.com was downright horrible to say the least. I ordered an original size bouquet of flowers (12 flowers - although I noticed it says "12 mixed stems" on their website, thought they were being "politically correct", no they were being dead serious). The flowers (a.k.a. stems) arrived at my girlfriend's workplace for Valentine's Day in a cardboard box half dead! Put them in water ever so gently so the petals would all fall off, but still flopping over almost as if a child had stomped all over his mother's garden. Also not to mention, this "bouquet" included THREE roses...and FOUR other flowers half of which were dead, not even the full 12 flowers it should be, but then again they did say stems.
They filled the rest of it up with some cheap green leaves as a filler, but doesn't quite fill up the vase whatsoever. I tried to "fluff-up" the flowers, but whatever which way I fluffed them there is just simply not enough flowers or stems to remotely fill the vase. In the end it looks like a half-assed job and quite frankly I was extremely embarrassed to have my girlfriend receive them at her workplace, not just for my sake more so my girlfriend's sake (I felt absolutely horrible that she received these in front of her peers). The bouquet is by far the most pathetic product I have seen in years and says anything BUT I love you. Before I forget let me backtrack a little, that is mostly about the product I received. I didn't mention the best part of my experience...dealing with the customer service or should I say disservice.
First off they treat you like a moron. Let me explain, I tried to request a specific delivery time, as the place it was being delivered to doesn't open until later in the day. When I requested a delivery time, customer service responded back with my tracking number saying I can track my order (well duh, if I haven't ordered something in the last 10 years that hasn't had a tracking number I'll be damned). Completely avoided answering my question, politely I thanked them and asked my question again. Again responded back with my tracking number. At this point, I was getting slightly annoyed, avoiding my one question twice and gave me the same information they had just previously gave me. The third time I asked they responded with an estimated delivery time around 10 am to 11 am which partially answered my question and raised my concern as I mentioned in the first email that the workplace the flowers are being sent doesn't open until 1 pm.
So AGAIN (fourth time asked the same question), I asked if I can request a specific delivery time. Try to guess what the customer service responded with, if you thought it you're probably right...Gave me my tracking number again and added that I can pick up the flowers at the drop-off site later that night. That clearly defeats the purpose of the delivery/surprise of the flowers and plus I work nights and the drop-off site is closed when I would be available to pick them up. At this point I tried to cancel my order a WEEK IN ADVANCE, they responded saying it is too late to cancel my order and they need "ample" amount of time to cancel. If a week isn't an ample amount of time to cancel an online order, can someone please tell me what would be? Also if they are cutting and shipping the flowers a week in advance, they aren't really fresh flowers now are they?
Then again when my girlfriend received them they were half dead, so in that case maybe they do cut them a week in advance. Long story short, I don't know which is worse the service or the product, all I know is this was by far the worst experience and purchase I've ever made and I've made some rough purchases, but this one definitely tops them all. Unless you have someone you purposely want to embarrass or break up with this would be a great opportunity to do so. TOTALLY FORGOT, they didn't included the letter I wrote to my girlfriend with the flowers, the only thing that might have made her feel better about the crappy flowers. When I got home and saw the flowers I was ashamed, embarrassed for my girlfriend and myself, frustrated, and extremely annoyed at this point. If the flowers were somewhat decent it would have made up for the horrific customer service and expense.
These flowers were not cheap and being completely honest I have made much better bouquets from my own garden and would have done so except for it being winter and being covered by a foot of snow doesn't help. Should have went to stop and shop down the block and gotten 4 dozen FLOWERS for a fraction of the cost and put it together myself, would have been a much better option. Learned my lesson the hard way and certainly won't be doing that again.

Had flowers delivered from my kids for Valentine's Day. It was a disaster because no vase was enclosed even though my kids paid extra for a vase. I had to scrounge around my office to find 2 large cups to put them in, so sad. My kids were very disappointed when I sent a picture of the flowers to them.

They never delivered anything. Ruined Valentine's Day. I ordered the flowers on February 8th for a February 14th delivery, and nothing ever showed up. They accepted my PayPal payment, but never send any sort of confirmation or delivery window or anything. You are much better off with your local florist instead of this fly-by-night operation.
The Bouqs Company Profile
Company Name:

The Bouqs

Website:

https://www.thebouqs.com/