Consumer Complaints and Reviews

Ordered a dozen multi-colored roses. They were delivered on the specified day. The flowers were dried on the outside petals and I needed to remove them. Followed the directions to cut under water and use the packet the flowers came with. 4 days later, only 3 flowers had opened. Nothing special about this company. It's just like all the others.

Got my flowers on time and that's the only reason my review has 1 star. The actual flowers were terrible. They arrived dying and were not even the correct color roses either. Please do not buy. I would never recommend to anyone! My husband spent $75 for dying flowers.

My 18 long stem flowers were delivered yesterday. They are a gift, poor quality, brown outer petals that are falling off. These were a gift and were a waste of money. I have contacted the company, but haven't received an answer. Don't order flowers from this company. Terrible! Rip off. I did get in touch with company and send photos.

I ordered 24 roses from The Bouqs Company. What I received today was 9 wilted roses, 4 wilted Gerbera daisies (one that fell completely apart and had a brown stem), and some small "filler" carnations. They advertise "fresh from grower" flowers. These looked like they were taken out of the garbage in a hospital room that someone discarded, boxed up, and sent to me. I called the customer service # several times. There is a recording telling you to email the customer service department. I spent 6 hours emailing this company, each time giving detailed information, photos of what I received, and asking for a refund. Two separate people emailed me telling me I would get credit to use on the site, but no refund. I told them that this was unacceptable.
In two emails I asked to speak with a supervisor. They didn't respond to my request. I have never seen a company conduct business in this manner. The customer service, if you can call it that, is horrendous. I am wondering if this is even a legitimate business, or have I just been taken? If there is a class action lawsuit against this company, I want to join it. My receipt is my credit charge on my credit card. I was not emailed or sent a receipt with the order. I do have an order # and photos which I will provide. Also, this company has 2 different addresses. In my credit card charge the address is Marina Del Rey, CA. On their website, it says they are located in Venice, CA.

I placed one order with this company in December. I was supposed to receive 24 lily blooms but only received half. The person responding to the complaint asked a few questions about the packages, etc... and requested photos. I sent the photos and they credited my account for $50. I wanted to spend the credit so ordered a 24 stem bouquet for $65. There was a $5.00 discount on the order and with my $50 credit, I was charged $10. Well guess what? Again, just as the last time, I received HALF the flowers I had paid for. So... for what was their $65 dollars, I got 12 stems. Around 4 roses, a couple other flowers, and a few other filler stems. I was supposed to get 24 stems. Twice in a row. I was the sender AND the recipient. How many other senders are sending flowers and only getting a loving "thank-you, the flowers were beautiful" not realizing the recipients were only getting half of what the sender purchased?
How this company remains in business is beyond me. I sent a complaint email to the company with my concerns and advised that I would not accept a company credit and wanted the credit to my payment method. Within 3 minutes -- I got an email advising of a $10 credit. What a waste of my time. Writing them, sending photos, etc. In the long run, I paid 50 dollars for two bunches of flowers. They probably still made a profit. Do yourself a favor and go to your local supermarket for your flowers. Or, if you are sending, buy from a reputable florist or other reputable online flower provider. These people need to be out of business. Buyer beware, Steer Clear.
How do I know I can trust these reviews about The Bouqs?
694,519 reviews on ConsumerAffairs are verified.
We require contact information to ensure our reviewers are real.
We use intelligent software that helps us maintain the integrity of reviews.
Our moderators read all reviews to verify quality and helpfulness.
For more information about reviews on ConsumerAffairs.com please visit our FAQ.

I made a first time purchase. There was and is a problem with their online purchasing. Once you made a purchase, just stays loading, doesn't give you any confirmation. You tried it again, same thing. Then I look at my credit card and I got two transactions pending. I messaged them. They said I had no purchases. I explained myself and sent them pics of my bank record and nothing. Same response, I made no purchases. I waited until today and the purchases have went thru. I messaged them again and send the new pics and again they give me the run around and tell me no purchase has been made.
So where did my money go. I got proof pics and even messages from them. Not caring at all. I'm still waiting for a respond. I don't recommend buying from here. No way of getting in contact and if you do they just give you the runarounds. As you can see in the pics, on the day of purchase they are pending. Next one next day they were cleared as paid off. So what is the problem. As you can see I paid. How come you can't find my transaction or help me.

DO NOT ORDER FLOWERS FROM THIS COMPANY! I decided to treat myself to some flowers in February and got royally ripped off. FedEx delivered and left them outside in 22 degree weather (we were at home). I had ordered a DOUBLE BOUQUET and received eight roses with some greenery. The order cost $70 with their "HERO" DISCOUNT. I will never order from this company again! I hope I can save other people some money. Go to a local florist or grocery store and get your flowers there. When I e-mailed the company they gave me a credit for more crummy flowers. Major disappointment!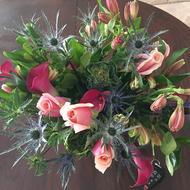 Ordered these flowers after purchasing a Groupon. The online ordering was very easy. The flowers arrived on time and were very pretty. Flowers were packaged very well. After a little trimming, they looked beautiful!! I recommend upgrading to their deluxe bouquets, the little extra money is completely worth it.

They cancelled my order because of a glitch on their end after they confirmed the order. I asked them to replace the order and they refused?! I had a coupon and they refused to honor the coupon for later either. I missed out on other deals and could not get flowers delivered in time after 2 days of going back and forth with them. They have a guarantee they also refused to honor. Terrible customer service... Terrible disappointment... Terrible experience... Do not trust them. They go back on their word and do not deliver flowers- that was my experience.

Went through a fandango promo to get a free Bouqs arrangement with ticket purchase. I knew I'd have to pay the $15 shipping fee but the arrangements to choose from were lovely and delivery was available on Valentine's day so I was happy. Ordered and thought all was well. Fast forward to a day later. Bouqs canceled my order for no reason and then sent me another promo code for a free arrangement (with $15 shipping). This time there were literally only 4 cheap looking bouquets to choose from and no delivery on Valentine's day. This was a deceptive bait and switch and I will never do business with this company again!

Ultimate ripoff -- After trying to use my LivingSocial voucher today I got to the last step and I was asked to provide a credit card number. I already purchased the voucher (40.00 value) and the flowers I was trying to purchase are 40.00 with free shipping and no tax... Seems simple enough, yes? Well not exactly... I could not advance to the final step without giving them this very private information. And after reading the other reviews I only regret not reading them before I bought the voucher. I will "eat" the money I spent at LivingSocial and will tell anyone that will listen what a piece of crap the customer service is at this company. I have sent two emails today with no response. And I have already contacted LivingSocial. The flowers may be nice but I will never know because of this very annoying snafu. I hope others will think twice before using this company. I consider it stealing.

Received the flowers today 12/24/2016. The flowers were awful. They are already dying looks like they were frozen. They were a gift. I am embarrassed to tell the sender. I tried to send an email and it said possible scam. Tried to call them and they would not accept any calls and said you email which I am unable to send message.

The flowers that are delivered are what I order and are never a surprise. I love that some bunches arrive in bud form and become increasingly beautiful as the days pass by. The bouquets are generous, the selections of flowers are uncommon yet gorgeous, and delivery is fast and reliable. That the flowers come from select, responsible farmers is an added plus. This is not just any online flower shop. Bouqs is best in class and value for money. I need not look elsewhere for special occasions.

Totally satisfied with this online service. Arrived fresh and in great condition. Online ordering... enough of flowers for 2 bouquets... customer supplies vase(s) so no money wasted on overpriced vase.

The first time I ordered a dozen roses as a surprise gift for a friend. The friend sent me a picture and a "thank you." Was shocked to see only eight roses in pix. Called her and asked about # and she confirmed there were only eight. Called Bouqs and spoke to manager who said they could send another bouquet. Told them it was supposed to be a surprise and I wanted a refund. They refused and said I could only have a credit. Should have filed Consumer Report complaint at that time.
Almost year later and not wanting to lose my credit I decided to bite the bullet and order again. This time I upgraded and paid for a vase as I didn't want the recipient to have to scramble to find one. Ordered 2 dozen roses to thank my doctor (should never have used Bouqs to do this). Stopped by office 15 minutes after delivery of bouquet and to my horror I saw one of the nurses peeling dead petals off a bunch of scrawny roses. She said she didn't know who sent it as my card was not included! I almost didn't want to tell them it was from me because the bouquet was terrible. The outside petals of 90% of roses were crinkled and dark brown and the leaves were wilted! It was so embarrassing!
Tried to call Bouqs but there is no contact number only email! Sent five emails to Bouqs with pictures and description of the rubbish they sent. The first response I receive from Bouqs said they need more pictures and information. Furious I responded that I was not going back to my doctor's office to take more pictures and that I would like a full refund for this second horrible experience. They refused and said they would only credit me for the upgrade. I will never do business with this company ever again! THE PRODUCT IS TERRIBLE. Their customer service is even worse and they do not refund for blatant errors made in their part!

Like others, I tried to use the Living Social voucher. After getting most of the way through, I noticed that I was going to get a first-time user discount of 10 percent, so I went back and upsized the bouquet to deluxe, but when I got back to the payment page, the first-time discount was gone. Like others, I tried calling and had the same experience of being placed on hold and then asked to leave a message and then never received a callback. The recording says "for faster service, you can email us." But the email form generates an auto-reply saying to expect an answer in 24-48 hours! Fortunately I got a response earlier than that, but it didn't answer all my questions.
I went back to my original plan and ordered the standard size. It wouldn't let me use both the new customer discount and the Living Social voucher I'd bought, so I just used the voucher. When it came time to pay, it showed a $0 balance after the voucher, but it wouldn't let me place the order without entering my payment information anyway. So I went through the PayPal interface and thought I was done. Then I get an email saying my order was complete and I'd paid $40 through PayPal!! I'm waiting for a response on how and when they're going to correct this.
One more thing to mention: the photos of the flowers are totally misleading. They list the cost as $40, for example. Only when you click through do you find out that what you're seeing is DOUBLE the number of stems of what you would get for $40. There are far, far better online florists out there offering similar deals. Avoid this one.

I have a favorite online florist I usually use but there was a special offer through LivingSocial so I bought a gift certificate for Bouqs. Initially I had trouble with my shopping cart, unable to remove a selection I no longer wanted. The next time I tried I lost the order I wanted to place. I switched computers thinking there may be an issue with the browser, etc. I finally made it through the shopping cart process but then my order would not submit... no explanation. I tried finding a way to contact Customer Service, the website only provided an email. Sorry but I wanted instant support during working hours. I found a phone number online but the only option was to leave a message and they would call me back. Still waiting on a call back. Obviously there is no concern about customer service and therefore I will be cutting my losses and going back to my favorite online florist, sorry I ever tried these people! Don't waste your time, money, or energy.

I ordered the flowers for same day delivery between 2 and 5pm and was told that I would receive an email confirming delivery. Nothing arrived so I tried contacting them as everyone else has said not obvious phone number or chat line as is mentioned on the top of their web site page. Eventually I found a phone number 1-888320-2687. Got an auto answer "all our specialists are busy etc etc eventually leave you name and we will call you back"... Nothing. Sent an email. Was told they would get back. Told me they had been delivered but the florist was busy and forgot to update the system. Still no flowers. Now a day late. Emailed again and phoned again (got the same response of leave a message). Got an email today saying they had been deliver between 3 and 6. No mention of which day. Checked again still no flowers. What a disaster. Now waiting for a response to my STILL NO FLOWERS email and please refund my money.

Received flowers from my sister for my birthday. Flowers arrived smashed and brown. I sent customer service the pictures they requested. They said they would rectify the problem. I assumed they would send a fresh batch of flowers. Never heard from them again. No flowers no refund! Spoke to Patrick, sent name and address.

Hadn't heard from my friend re: birthday flowers sent. Only to find out message card missing! Specifically remember making the message, even capitalized all letters of one word. Company offered to send message card DAYS later. How about a credit for future flowers? However small. Won't patronize again. Bad first impression.

On their website they claim to "make it right". They do not care about customer service. After purchasing two $75 bouquets successfully, I ordered the "florist's choice". It was horrible. I ordered the deluxe, and it was half the size of the other deluxe bouquets I had ordered. The flowers were unattractive. Customer service told me that I should not have purchased the florist's choice. That's it. No apology. No offer to help. No future discount. They lost my business for good.

I ordered flowers for a friend and they were not delivered to her. After countless email exchanges and an inability to reach them by phone (it redirects you to email) trying to track the flowers down, I finally had to ruin the surprise and ask my friend to check with her receptionist (flowers were a no go there too). Then more email exchanges later and the only thing that Bouqs offered was a store credit. The moment that my flowers were not received by the correct recipient, Bouqs should have ensured that flowers were immediately sent out again and delivered. It's been almost a week and there are still no flowers to be found and the company refuses to refund me for the flowers in the original form of payment. If you would like your flowers to be delivered to the recipient and a company that stands by their product and shipping company choice, then this is NOT the company for you.

They helped with any question I had about anything. They helped me decided what I wanted and made me feel comfortable. Very big variety. Everything you could think of. Literally they had every flower I know. It was very helpful to know I can go there when I need to find something. Very nice and healthy. Not dead. Very helpful and pretty. It was very perfect. I would highly recommend to anyone and everyone to need help. They have a very helpful delivery options. Anywhere at any time. I am so lucky to have found them for my needs and needs of others.

The website and delivery people answered all my questions and delivered very fast. I would recommend to any of my friends that also wanted flowers delivered for their special someone. They had more flowers than almost any other flower store in my local areas or online. There were very many different colored flowers and varieties. The perceived value of my bouquet of flowers was highly rated compared to many other flower shops and online stores. I was highly satisfied with the value. The delivery options were fast easy and plentiful.

Ordering was easy. Never had an issue that required customer service to resolve. Great experience all around. Would definitely recommend. The choices were great for what I was looking for. I liked the way they were presented. Looked like how they'd be in real life - unlike other shops. The flowers were awesome but I can see how some may be put off by the price. Some arrangements priced at a premium. Overall I was happy. Love the free from farm. Makes ordering feel like I'm supporting local business and farmers. Doesn't feel as stuffy as the discount flower places on the web.

Great customer service. They were very helpful. Got my order fast and they were just beautiful. I now highly recommend this place for flowers to anyone. They were awesome and so pretty. Last a long time as well. They have so many choices to choose from. Its great. You really have a hard time figuring out what to pick from. I wanted them all to tell you the truth. So colorful and perfect. I just love them. It was a great value you for what you get and I just couldn't thank them enough. I will order from them more and more. Makes my home even better with these flowers. Very fast delivery and that was great cause I could wait to get them. They came just when they said they would which was great and I really enjoyed them.

I liked how friendly and helpful they were if I had a question. Plus I loved how I received a discount for my first order plus free shipping so that was great. They have so many different flowers which is great because I can purchase different ones for people I know since everyone has different tastes. It meets my needs. I do believe the price for certain flowers was a big expensive but seeing the quality in the pictures I could see why and I took the risk and was not disappointed the sunflowers I ordered were perfect so I'm not complaining. I liked their shipping because it was free no cost unless you order on the weekend but still pretty awesome. I do love how they had next day delivery and always delivered when promised.

Customer service was ok although it took a while for them to get over to help me but once they did things were fine and they took the time to answer all of my questions and help me decide on the best flowers to buy. Very wide selection of flowers and that was nice that there was so much to pick from cause normally there is not that much but there was a lot of different type of flowers as well as colors to pick from. Was a bit high for my liking but I guess overall the price was reasonable. Just a bit overpriced for me but a wide range of prices too depending on what flowers you brought which is a good thing. I would definitely recommend the delivery option as it may cost more but then you don't have to carry all those flowers home with you if you brought a whole lot. In other words dont have to worry about them fitting in your car.

When I ordered flowers for my daughter, I specifically asked for the delivery to be later afternoon and asked that the flowers NOT to be left outside in the hot heat. Instead they delivered the flowers early in the day and then actually placed them in the backyard (had to even open the gate to the fenced yard) and placed the flowers in the garden. My daughter did not even discover them until after 8 pm when she went out to water her garden. To make matters worse, it is impossible to contact Bouqs.com. There is no phone # listed, nor an email address. When I filled out the Contact Us form, it errored out. Finally it went through and someone eventually called me back. They said I had to send a photo (which I did) and am still waiting for them to reply to my email. VERY frustrating!! Will not order from them again!!!

They were very nice and helped me decide what to order. They told me about special deals and went thru all my options with me. Dozen or half a dozen of roses in many colors to pick from. There were many options for all kinds of occasions. I got a vase of mixed flowers. Very nice fresh flowers. All different colors for 59.99 which was a good price because of the variety of flowers that I got and many colors. The delivery was on time and the person was extremely nice and took care of the flowers nicely. The flowers smelled great and were very fresh.
The Bouqs Company Profile
Company Name:

The Bouqs

Website:

https://www.thebouqs.com/