Consumer Complaints and Reviews

Simple request, deliver African violets to my sister's office same day. Got an email at 5:00 p.m., they couldn't deliver. "OK, when can you deliver..." "First thing next day." I had 12 emails back and forth with them, they couldn't find out what the eta would be (my sister wasn't in the office for the full day), they couldn't tell me the florist so I could call and check, and after the dozen emails they tell me the flower should be delivered by 5:00 pm and suggested I request priority delivery if I needed it earlier! Well dear, if you would have done it right the day before priority wouldn't have been necessary. They did respond to each email (each email had a different person responding) so that was good but probably need to find better local florist. $70 for an African Violet that took 2 days to get there. I can't wait to see what it looks like!

I ordered a nice large wreath for my Dad's funeral. I received confirmation that they were delivered on Friday. When we arrived at funeral home no flowers. Took me 3 days to argue with them for a refund. 1st person said they would give 60% refund, 2nd one 50% and finally talked to a lady from Corporate who did refund my money and had shop send a plant to my step mother. All foreign and barely speak english. Never will I ever order from them again. EVER.

Placed a same day delivery order at 9:15 a.m. with an additional charge for before 1:00 p.m. Ordered Deluxe bouquet. Flowers did not arrive until 3:20 p.m. and the bouquet was the Smallest version available and the flowers were NOTHING like I ordered. Customer service took 20 minutes to answer and the best they could do was offer me a 20% disc. Personally I felt they should have refunded me the entire order. They could have cared less that this special moment was completely ruined and a whole 20% disc. was going to make it better. No! I WILL NEVER ORDER FROM THEM AGAIN. I just wish I would have read the reviews prior to ordering. What went from a celebration ended in total embarrassment and COMPLETE disappointment.

This is the worst possible flower delivery company, hands down. I ordered flowers for mother's day with delivery to my mom and wife. I got confirmation that the order had been processed. Then I received an email some time later saying that part of the order could not be processed. I called the number given and was put on hold for 20 minutes. When someone came to line, they could not speak English. I could not understand what they were saying and I had to repeat my inquiry multiple times. The customer rep could not understand that there was one order and could not explain to me why the order had been separated.
I asked that my order be canceled and she refused to do it, saying that she could fix it. I asked her to cancel it again and she said she could fix it. I asked for a supervisor. She put me on hold for 15 minutes and never came back and then hung up the line. No call back. What shame and sham. I wrote to customer service and asked that the order be canceled. No response. So went on live chat and asked for order to be canceled. Run, don't walk, away from this horrible company.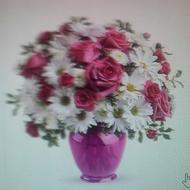 My Mum's 75th birthday was the other day. Her friend ordered flowers from Teleflora to be delivered during the day. He ordered a beautiful arrangement of white daisies and pink roses with a lovely card. What actually arrived was a bedraggled, half dead, scruffy looking bunch of yellow daisies with a HOMEMADE card attached. She called them to complain and was told, "No refund, tough luck!!!!" She was sobbing on the phone to me and I am furious. Way to ruin an elderly lady's birthday you jackasses!! Never, ever use this service or you will get to listen to your mum crying on her birthday.
How do I know I can trust these reviews about Teleflora ?
763,773 reviews on ConsumerAffairs are verified.
We require contact information to ensure our reviewers are real.
We use intelligent software that helps us maintain the integrity of reviews.
Our moderators read all reviews to verify quality and helpfulness.
For more information about reviews on ConsumerAffairs.com please visit our FAQ.

I ordered a birthday bouquet. Let me first say that I live in TN and the flower arrangement was going to Maui. It was my sister's birthday. I placed the order well in advance and was given a confirmation number and my debit card was charged. On her birthday at 2:30pm her time and 7:30pm my time, I received an email from Teleflora telling me that my delivery could not be made on my requested date and that I should pick a new one. I was told that my arrangement would be delivered the day AFTER my sister's birthday and that they could offer me 50% off my next purchase with them (like I would ever use them again). I said no and was told I could be given a 30% refund price.
It took a while and several phone calls before I got them to give me a full refund. I thought they had a good reputation but I was very wrong! If you are even a little worried about getting your arrangement there on time - don't use Teleflora. They have no remorse. I was even told "coming the day after her birthday will REALLY surprise her".

I ordered flowers for a friend of mine after we got into a tiff and I wanted to apologize. I told Teleflora she worked for a big company that had a few buildings so they needed to make sure they located the correct building. They didn't locate her or the correct building but left it at the customer service desk! AFTER 5PM when all the employees were gone! She didn't receive the flowers and when I told them who drops off flowers after business hours they said they would refund me the flowers' costs price and it would be 10 business days for it to clear. I NEVER received my refund and when I told them that they told me "I don't know what to tell you. Your refund was processed???" UMM forget this company - it has horrible customer service and bad order fulfilment training. DO NOT USE. YOU WILL WASTE YOUR HARD EARNED MONEY!!! THEY ARE THIEVES!

I placed two simultaneous orders to be delivered to the same address, with different messages. The daughter received hers. The mother did not. People send flowers usually for emotional reasons, and this was a very emotional situation. When I called they said the florist was closed for the day, and therefore it would be sent tomorrow. They offered me a 50% discount on my next order. I said, "never mind", because I will never use Teleflora again.

I ordered (3) different arrangements for Administrative Asst. Day. Teleflora placed the order with (3) different florists, even though I placed everything on one order! The 1st arrangement arrived timely from a local florist. The 2nd arrangement arrived in the afternoon, after the person to receive it already left for the day. The 3rd arrangement finally arrived at 4pm, and it was for the most senior person on staff!! When I looked at the business card, I saw that the florist delivering the last flowers was from a town 45 minutes away! I spent 1/2 hour on the phone throughout the afternoon trying to find out why the arrangements were not ordered at the same time, and did not get an acceptable answer. The only option I was given was to cancel the orders, but then I'd have to run out to buy something else, which I could not do. On top of the late flower delivery, the flowers were already wilting! I will not be ordering from Teleflora again.

Like most of the reviewers here I had a horrible experience. The flowers I ordered for my wife showed up late, and that was after I called 3 times to figure why they didn't get there by 1 pm. Secondly when they arrived the flowers were completely different from what I ordered. I will never recommend this company, nor will I use them again after this experience.

If I could rate this company a zero or a negative I would. One star is being generous. Ordered flowers yesterday for a patient in the hospital. This was for same-day delivery. Got confirmation that they were delivered. Family members stated no flowers were there. Contacted the company. They were going to check into it. Received 8 AM phone call the next day stating the flowers were on the truck for delivery. By 8 o'clock that evening still no delivery. They seem to have no compassion or were unable to give me a reason of why the flowers still were not delivered.
I canceled my order and asked for a refund. That is a whole different department that does the refunds. They stated that I will get the full amount back so we will see. They contracted this order out to a local florist that is near the hospital so they stated. When I asked for the name of the company so I would not be using them when I re-order these flowers they stated they could not disclose that information. I then proceeded to tell them that I would not use their company again either. And I would be leaving my review with all the review sites.

I purchased a flower arrangement Friday 4/21 for my 30th anniversary on 4//23. The flowers were to be delivered to my wife Saturday 4/22. As of 6:00 the flowers hadn't arrived so I was getting worried and decided to call. I was told that they couldn't locate a shop that could fulfil the order. I received absolutely NO notice that they wouldn't be able to deliver my flowers. So I'm writing this on my anniversary with no flowers. In the interest of full disclosure, after raising hell with the representative on the phone they agreed to refund my money and deliver the flowers on Monday.
I put worthless in the subject line because even though they are providing flowers tomorrow and a refund the impact of the flowers was completely lost! I don't really care about the money. The damage was done. I live in Metro Austin and find the excuse that they couldn't locate a florist difficult to believe, also, if they had notified me that they couldn't deliver, I would have located an alternative. I WILL NEVER USE TELEFLORA AGAIN.

On April 17th, 2017 I purchased a bouquet of flowers from telelflora.com to be delivered to my mother-in-law the next day. I ordered the How-Sweet-It-Is bouquet. This bouquet is pictured on the website as a full bouquet with fourteen visible orange/yellow roses of different sizes, ten pink daisies, twelve red carnations, and is filled in between with what appears to be small green flowers (I have attached a photo). I selected the Premium Bouquet for the price of $54.95. The Premium Bouquet size is described as being 14 inches wide and 14 inches tall. I was charged a service fee of $30.99 and paid for priority processing to ensure delivery before 1 pm which was $15. I was given a discount of $10, my total order is $75.94.
On April 18th I received a photo from my mother-in-law of the flowers that had been delivered at 1 pm. I noticed immediately that the bouquet was not the one that I had ordered and was much smaller, and appeared to be a cheaper arrangement (I have attached three photos). This bouquet was mostly made of fern leaves on the outer edges, contained two pink carnations, two small pink roses, three red roses, and six small tiger lilies. This bouquet measured 11 inches high and 7 inches wide. I was working a 16-hour shift that day so I was unable to contact the company about the delivery until the next day April 19th.
At 9:13 am I sent this message through their website to Customer Service, "I ordered the 'How Sweet It Is - Premium' bouquet, what was delivered looks nothing like the picture on the website which shows a full bouquet with orange and yellow roses, and other flowers. What was sent had four red roses, some small orange flowers, and was very small and cheap-looking."
At 10:20 am they emailed me back, "Hello Kathryn. Thank you for contacting Teleflora. I'm so sorry that you were disappointed in the arrangement that was delivered to the ** family. Teleflora's goal is to provide excellent service and we apologize that we fell short on this order. Please accept 40% discount on a future purchase. You will receive a separate email with the promotion code. We value you as a customer and we hope that you will give us another opportunity to give you the experience you deserve. Again, please accept our sincere apology. Best regards. Skyler **, Teleflora."
At 10:28 am I sent them this message and attached the picture I had received from my mother-in-law of the bouquet she received and one of from their website of the How-Sweet-It-Is bouquet. Here is what I wrote, "I do not want a discount, I would like to have the correct bouquet delivered or my money refunded. I have attached pictures. One is of the bouquet from the website. The other is what was delivered. I really would prefer to have the correct bouquet delivered but if you cannot do that I would accept a full refund of my money. Thank you. Kathryn **."
They responded back by email at 10:34 am with "Hello Kathryn. Thank you for contacting Teleflora. I'm so sorry that you were disappointed in the arrangement that was delivered to the ** family. Our goal is to provide excellent service and we apologize that we fell short on this order. A 25% refund has been issued on your order. Please allow 2-10 business days to process and the refund should appear on your next billing statement. Again, please accept our sincere apology. Best regards. Vee **, Teleflora / Sears Flowers by Teleflora / Flowers by Sears." I responded at 11:40 am by emailing "A 25% refund is inadequate, you did not provide what I paid for. I am asking for you to either provide the bouquet I paid for or to give me a full refund. If you cannot do either of these things I will contact my credit card and dispute the charge. Thank you. Kathryn **.
At 12:06 pm they responded, "Hello Kathryn, Thank you for contacting Teleflora. Your satisfaction is extremely important to us. This email is to confirm that we have received your request for redelivery of your floral order. We have requested the information from our delivering florist and you will receive confirmation by email once the florist reports back to us. It has been a pleasure to assist you. Best regards. Res.**, Teleflora." This was our last correspondence on April 19th, as I stated in my emails, I would have been satisfied with my purchase and would have gladly paid the $75.94 if the correct bouquet, or even one of similar value would have been delivered.
On April 20th I was working another 16-hour shift, I am a nurse, and at 9:38 am I received a voicemail from the number ** which stated, "Hi Kathryn, my name is Aaron with Teleflora. I'm calling in regards to the order that you were sending out for on the 18th and you had a few, you know, complaints about the order, and we've been trying to do the best that we can to make sure that you are righted for the wrong that was ordered. Um, I called the shop and they will do a $10 credit, um but they, they think that the arrangement was fine. You can give me a call back about what you would like to do as far as canceling your order or receiving the $10 credit and having a pickup redelivery or pickup cancel. It's all up to you. Um just give us a call back at 1-800-822-9547. Your order number **. Thank you, hope have a wonderful day. Please get in contact with us as soon as possible."
Because I was working a 16-hour shift I did not have time that day to call back, so I sent an email explaining this at 12:15 pm stating, "I just received a voicemail from a representative of your company, I am working all day and am unable to return the call until tomorrow. Since he indicated that the florist would not be able to send what I ordered I would like a full refund for my purchase. Thank you."
At 12:47 pm they responded, "Hello Kathryn. Thank you for contacting Teleflora. I'm so sorry that you were disappointed in the arrangement that was delivered to the ** family. Our goal is to provide excellent service and we apologize that we fell short on this order. A 50% refund has been issued on your order. Please allow 2-10 business days to process and the refund should appear on your next billing statement. Again, please accept our sincere apology. Best regards. Vee **, Teleflora."
Because I was at work I was not able to respond again until my next break which was at 6:01 pm, "A 50% refund is insufficient, you did not provide what I ordered and when asked to provide what I ordered you stated you cannot. I need a full refund for my purchase since you did not provide the service I paid for, which was a premium-sized bouquet for the "How Sweet It Is" arrangement, which is described to be 14 1/2 inches tall and 14 inches wide. I have attached more pictures of the bouquet that was sent, it has different flowers and is a small, cheap arrangement. I have given you multiple opportunities to correct this, if you do not give me a full refund I will dispute the charge on my credit card. I was really hoping to resolve this with the company and had tried multiple times to either be refunded or to get the bouquet that I paid for."
On April 21st, 2017 at 2:15 am I received this email, "Hello Kathryn. Thank you for contacting Teleflora. Unfortunately, to receive a full refund, your order must be picked up by the local florist and a cancellation issued within 48 hours of original delivery. Please reply with how you wish to proceed. For further questions or comments please reply to this email or refer to our website. It has been a pleasure to assist you. Best regards. William **, Teleflora." This is the only time that I was told by the company that in order to receive a refund that the cancellation and a pickup would have to be done within 48 hours of the delivery. This is despite the fact that since April 19th I had asked them multiple times for a full refund. Since they waited to tell me this until after the 48 hours passed they are refusing to refund me for the $75.94, despite the fact that they never provided the bouquet I purchased.

I recently ordered a bouquet from the pictures online for my sister's funeral. They were supposed to arrive on Monday and the funeral was Tuesday. They were delivered a day late and they looked nothing like the picture that they had online. They sent me an email apologizing and offered me 40% off my next order. I told them that was unacceptable (like I was going to order anything from them again) and then they offered 20% refund. I told them that talking to them was like getting blood out of a turnip and that I was obviously wasting my time. I only wish I had checked reviews before I ordered but won't make that mistake again.

I ordered sympathy flowers for a family member. On the day they were to be delivered, I received a call from Teleflora saying no florist in that area had the arrangement I had ordered, so I gave them guidelines for substitutions. When I learned the flowers hadn't been delivered the next day, I was confused, but thought I'd give it one more day. Two days after the delivery was supposed to happen, I checked my bank account to find that my money had been refunded. I was not notified by anyone that my order had been canceled. I wrote to customer support and never received a reply. This is a terrible way to work with customers, and I will not be using Teleflora again.


I am completely disgusted with the service from Teleflora. I ordered a flower arrangement in the shape of a "birthday cake" to be delivered to my daughter who is away at college. I placed the order OVER a week BEFORE it was to be delivered! A WEEK BEFORE! I was informed via email the morning the arrangement was to be delivered that they were unable to fulfill the order and was asked to pick a replacement arrangement. I picked a replacement arrangement and then was told that they would be unable to deliver that order the day I asked for it to be delivered! Which, remember I placed the order over a week ago.
What a disgrace and horrible customer service! I WILL NEVER USE THIS SERVICE AGAIN! I will never, ever recommend this service to family, friends or complete strangers. I am disgusted that Teleflora thinks this is okay! I then called customer service to have the order cancelled and a credit charged back to my credit card... I was told that they couldn't even get into my account and that someone would have to call me back with a cancellation number. I refused to let the representative hang up and asked to speak to a floor manager. I told her I want the cancellation number now while I was on the phone, she proceeded to tell me to check my email and I told her I want the number over the phone from her. I did not trust that they would cancel the order. She finally gave me the cancellation number and said the credit will appear on my credit card. We will see. BUYER BEWARE find a local florist rather than going through this service...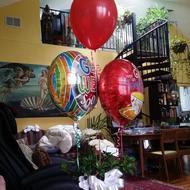 I ordered a money plant for a sick friend with a beautiful marble container with decorative stones (as per the picture). I ordered balloons with it and paid a hefty price (over $60). Didn't matter it was for a sick friend. I chose this plant so it would be in the house and easy to care for. When my friend came back to work he sent us a picture of what he got and I almost blew it! It was a plastic cheap pot with a Gardenia in it!!! This is probably a $2 plant that cannot grow in a pot nor in the house - I was furious!!! When I called Teleflora I waited endlessly with "MAX" an automated voice service that kept coming back and telling me that I had another 1 to 2 minutes before my call would be answered. Then after another minute of music "MAX" came back on to tell me that I now had another 4 to 5 minutes to wait. This went on with various amounts of time I had to wait.
Eventually I got the phone answered and got hung up on!!! Infuriating!!! I called back and went through the ENTIRE process again and spoke to a woman named "Jeremiah". I wanted either another plant sent or a full refund which I got none of. They said it was the local florist that messed up and they would only be able to give me $50 and no other plant. I fought hard but was unable to get anymore more. This is unacceptable. I paid by paypal and might just call to have the rest of it removed by my paypal grievance process. They promised to remove the florist from their list but that doesn't help me at all. DO NOT USE THIS SERVICE - They are horrible!!!

I am very upset and disappointed with Teleflora. Will NEVER use them again. Had my deliver scheduled for Apr 04 (Birthday) including an extra fee that I paid to have an expedited delivered. The flowers never arrived although I received a message saying that was "hand delivered". When calling for complaint, I was told that the flowers were left on the porch. Note: the house does not have a porch and the birthday person was working at home for the whole day. TELEFORA needs to better qualify their contractors.

Do not use this company. Ordered flowers for my daughter's birthday two days ahead of time. Asked for morning delivery by 5 pm, still no flowers delivered. Spent $80, not given the discount implied with the order. Customer service spoke broken English. Manager could not give me a customer service number that would call me the next day. Very disappointed. It's 10 PM my daughter still has not received any flowers. Don't use this company. I'm planning to report them to the Better Business Bureau.

Teleflora is very expensive and depending on what flower shop your order is coming from, the flowers are usually old and don't last long and there is no solution provided to help keep them fresh. Also what you order you may not get on the other end. If a Florist is going to deal with Teleflora they should be able to provide what is offered by Teleflora through their catalog.

I ordered the Pretty in Peony arrangement for a friend. The next morning I got a call saying that the florist did not have peonies but they could replace the peonies with another flower, stay with the same color scheme and everything else. I was upset because I knew peonies were her favorite flower but there was nothing I could do, unless I wanted to cancel the order. After calling back, I asked if I could know which flowers would be in the arrangement and because I paid $70 for the arrangement with the peonies I wanted to make sure I was getting an arrangement worth what I already paid. I was told there was no way to know which flowers would be in the arrangement and I wouldn't know anything until it was actually delivered but that the vase would be filled "to value" and that it would look similar to what I ordered. That was a lie.
My friend loved the flowers, and I am very happy for that. However they were nothing like what I ordered and paid $70 for. The arrangement looked more like a $30 arrangement. I called immediately and was told I never specified what flowers I wanted, when I was told the day before I did not have that option! After expressing how unhappy and disappointed I was with how the situation was handled and the flowers that were sent for the money I spent, I was able to get a 50% refund. I still feel that this is not enough considering what I ordered and what was delivered. I will never use Teleflora again.

This company is a joke! I ordered flowers for my girlfriend and when they arrived we were both shocked! The flowers look almost nothing like the flowers I ordered online. I called to complain and Teleflora said that they outsource their orders to a local florist. The local florist then contacted me and told me that they would need to pick up the flowers so that they could resell them to someone else if I was to get any kind of refund.
So, to make a long story short, the local florist came to my girlfriend's place of work and Repo'd her flowers!!! The person said that they were indeed going to resell the flowers to someone else because "they hadn't made any money on them". This is a joke!!! The first time I have ever heard of having your flowers Repo'd!!! Stay away from this company at all costs. Unless you want someone to show up at your work to Repo your flowers so they can sell them to someone else! Below is a picture of what I ordered, and the second on of what I received!!!

I ordered flowers to be delivered to a business on February 14, 2017 to my fiance. The company that Teleflora recommended was right in the vicinity of the business district of New Orleans. Well no flowers got delivered. This was Already a bad day because this was a first VDay away from one another and now Teleflora made me look like I didn't even care about VDay but offered 3 days later to resend my order. For what? The damage is done!

Yesterday, Friday, I ordered over the phone a money tree plant to be delivered to family moving to Texas. They assured me it would be delivered by 5 pm yesterday. Two hours later I received an email stating delivery date needed to be changed so I chose this morning, Saturday which appeared to be fine. Around noon today I happened to check emails and saw an email from Teleflora stating the plant I originally ordered was not available and unless they heard from me in a few hours (this was sent at 8:30 a.m.) they would "choose a lovely floral arrangement to be delivered instead". I have spent the last 30 minutes on the phone with the agent and finally supervisor stating I did not authorize FLOWERS (which die) to be delivered.
It was a housewarming gift - a plant that would LIVE. "I'm sorry" is what I got and then excuses. I demanded my card be refunded which they did. I should have researched this further before using this company. Highly disappointed I couldn't have a plant waiting to welcome my family on their arrival because this company doesn't seem to have their heads on straight. NEVER again. Run the other way if you are considering using Teleflora. There are other "parades in town".


The flowers were for my Grandmother on her 90th birthday. They were unable to give her the flowers as I ordered them. They called me to ask if I wanted to substitute a flower or be refunded. I told them she loves daisies. They added a lot of daisies, upped the size of the arrangement, included a free vase, added balloons & a sampler of chocolates. All for no added cost. I was so impressed. They really were wonderful.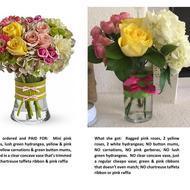 If I could give zero stars, I would! I ordered Teleflora flowers to be delivered to a friend who just had major surgery. I selected a lovely bouquet from their website, however the flowers that were delivered were nothing like the website showed. The attached photo says it all. I emailed a complaint (with comparison photo) via the Teleflora website, and received an email offering me a refund of $11.99 (Uh, what?) to which I responded saying that was unacceptable. Not sure where they come up with that amount, since the 'service fee' alone is $15.99. I then received a call back from a customer service rep who informed me that he felt the bouquet received adequately represented the ones I ordered. Again, see photo.
He then proceeded to tell me that if I wanted more than the $11.99 refund that was offered, the florist would have to go back to her house and pick up the unsatisfactory bouquet. Again... WHAT? She's 1 day post-MAJOR surgery and would have to GIVE BACK the flowers? Round and round we went, with the CS Rep telling me he thought they looked fine. Absolutely shameful. I'll let you judge for yourself... End result is that I spent over $80 for flowers that I wouldn't have spend ten bucks for. The grocery store florist does a better job for a fraction of the price. I wish I'd read these complaints before I ordered from Teleflora. NEVER AGAIN.

I placed an order with Teleflora on my mother in law's birthday, the flowers that I picked said same day delivery the order as long as order was placed before 3, I placed the order around 11:30 AM. My husband and I showed up to my inlaws for a birthday dinner, when I walked into the house I noticed a small flower arrangement on the table, I assumed that it was the one we sent, except it didn't look like the picture I saw on the website. I proceed to ask my mother in law if those were the flowers we sent her (my concern was that they had sent the wrong flowers) to our surprise she says, no Anthony (my father in law) got me those this morning.
Embarrassed I start looking around to see if there was another arrangement somewhere else in the house. Needless to say the flowers were never delivered, I received an email saying that my order could not be processed with no explanation as to why, when I called the 1800 number I got a message saying "do to the high call volume, hold time will exceed 5 minutes" right there I knew everything I needed to know about this company. I felt so embarrassed with my mom, if they are going to cancel an order they need to let their customer right away not wait 6 hours later. Moral of the story don't use this flower company. They don't stand by their word... Oh, and did I mention that they said it would take up to 10 days for my money to be refunded! yea, tell me about it... I wanted to give them no stars but unfortunately it's required to submit the review, I give them -1 stars.

I would not use this Flower delivery service. It was a week late and 10 hours of my time. This is what was sent for 100.00 dollars. Corporate was contacted and this was what they thought was "above and beyond".
Teleflora Company Profile
Company Name:

Teleflora

Year Founded:

1934

Website:

http://www.teleflora.com/