Consumer Complaints and Reviews

We had a Thanksgiving centerpiece delivered ahead of time to a huge family gathering in MD. When we arrived and saw the arrangement on the dining table, it was pathetically small. The standard arrangement width as shown on the Teleflora website is 22". This was barely 14". For $61.00, it was shocking. The 16" height was because of the candles, not the flowers. Very sad and embarrassing. I will never use them again. Do not order with them. Also ProFlowers was bad, very deceiving. They are harder to deal with on the phone. The best Teleflora could do was credit me back 50% on my card. I have not seen any positive reviews of them.

The order that I placed doesn't match with the one I received. It was terrible. I requested Heart and Soul and they delivered I have no idea what. I am very disappointed. I would like to give them a -1 star rating.

I ordered beautiful flowers, 15 roses in a beautiful vase for my daughter's birthday. What she received was pitiful. She received 6 roses in an ugly 6 inch vase. Not real baby's breath and partially dead greenery. I am SO EMBARRASSED. I am demanding a total refund. DO NOT USE THIS COMPANY!

My flowers did not arrive on the day specified. They lied to me on the phone blaming the florist, however when I called the florist they stated they did not receive the order when Teleflora said they placed it. Local floral shop was kind and helpful. Teleflora was supposed to credit a discount as I paid for same day delivery - have not gotten the email confirming the credit although I called twice and they said they sent the email confirmation. I received a survey - but no credit. Will NEVER use them again.

I wish zero star was the option. Extremely dissatisfied!!! I ordered the bamboo last week and it was supposed to be deliver on Monday 10/31/2016. I emailed their customer service two times before delivery date and asked them about my order but they never replied and I just got confirmation that "we received your emails. We will contact you as soon as possible." but they never did it! They called me today on 11/1/2016 and told me "we are sorry we couldn't send it yesterday and we canceled your order and your money will be refunded." I called them and said "I don't need the money, I wanted the flower to be delivered on exact date I requested!"
If there is an order that you cannot send it on requested date, let the customer know before the delivery date then the poor customer can at least find another place to order the flower, not one day after the delivery date!!! The refunded money can never bring the day 10/31/2016 to me and give me a chance to send the flower to my wife. Please DO NOT rely on their business for your important events and occasions!!! You may be greatly surprised by them!
How do I know I can trust these reviews about Teleflora ?
635,598 reviews on ConsumerAffairs are verified.
We require contact information to ensure our reviewers are real.
We use intelligent software that helps us maintain the integrity of reviews.
Our moderators read all reviews to verify quality and helpfulness.
For more information about reviews on ConsumerAffairs.com please visit our FAQ.

Ordered birthday flowers for a very important client. Paid the additional fee to get them delivered by 1pm. I called Teleflora to check if they had been delivered by 1PM. They had not since they couldn't locate a local flower shop to deliver the flowers and ASKED if I wanted a refund on the additional fee. I called a couple hours later to see if the flowers had been delivered. They couldn't find a local flower shop that had the flower arrangement I wanted. I explained that it was my client's birthday and they needed to be delivered by 5PM when the office closed. The Teleflora woman guaranteed it would happen.
I called back at 4PM because I had yet to receive a delivery confirmation. They still had not found a flower shop with the flowers I had ordered. WHY DID THEY NOT CALL ME AND TELL ME THIS? GIVEN ME ANOTHER OPTION OF FLOWERS? EXPLAIN THE SITUATION. It's customer service 101. Now I look like a jackass to not only my team but my client because I have to give her flowers THE NEXT DAY.

I have ordered flowers several times from Teleflora and once the flowers were not delivered on the day scheduled (two days late), twice the flowers ordered did not look like the picture online, this past order the flowers weren't the color I ordered. This is the worst company as a florist. I will never use this company again.

I placed a flower order for my grandmother's 88th birthday, and paid extra to have early delivery. I received an email 3 hours after the delivery time was suppose to take place. They did not contact me prior via phone to let me know...nothing...just an email that they were not able to make the 'deadline'...wanting me to select another date. I was on hold over 20 minutes with customer services waiting to try and get a refund. I just hung up and filed a dispute with my cc. DO NOT USE THEM.

If I could give 0 I would. The flowers were half dead and smushed. It wasn't what was ordered at all... The company won't give more than a 50% refund. Wasn't in the shape of a heart. Didn't even have roses as the photo shows... Order elsewhere. 66$ for carnations is ridiculous. False advertisement from the website photos.

Compare the pictures. What was ordered, in my opinion, bears no resemblance to what was delivered. Though Teleflora emailed that the flowers were to the value of the order, I received a full refund of $73.27 which was a 20% discounted price. I strongly suggest that if you order that you investigate as to what is delivered. I emphasize that I received a full refund.

I ordered good luck bamboo for my mom for her birthday and 4 days later she still had no order. I was told everyday that they were sorry. When my mom finally got order it was incorrect!! I am very dissatisfied. I will never use Teleflora ever again!! They ruined my mom's day!! They don't even deserve 1 star!!

Last night, I ordered a deluxe flower arrangement for well over $64 including everything. This was being sent to a hospital for my gravely sick sister. As you can see from what the order was supposed to look like and what was delivered, my sister received an ugly arrangement that looked like it was put together by a 2 year old. When my sister's husband texted me this photo with a thank you, I about fell off my chair. I am beyond embarrassed.
I immediately emailed Teleflora who promptly replied with them taking 40% off my total price paid as a refund. This is why I am giving them 2 stars but in all honestly, they should be paying me for the price that I have paid in feeling horrible and clearly cheap for what was delivered to my sister in trying to put a smile on her face! I ordered by credit card last night so I have not received my monthly statement yet to add the receipt as a verified buyer but my photos speak louder than this proof.

If I could give no stars - I would. This was my first time using Teleflora. I ordered a premium, beautiful, big bouquet for my mother's birthday three weeks in advance. It was to be delivered on a Sunday. I selected the Premium Sapphire Skies Bouquet. The delivery man called me around 2:20 PM that day and left a voicemail saying he didn't have a clue as to where the recipient's address was and he didn't know where to go. I saw the missed call and called back no more than fifteen minutes later. I left a voicemail, called again, and even texted him. He never responded. Then mysteriously I received a delivery confirmation email around 4 PM which said that the flowers had been delivered. My mother comes home that night and finds no flowers. I call the next morning because Teleflora has inconvenient customer service hours, and they assure me that the flowers will be sent out today.
They ask for two more phone numbers in case the delivery guy gets lost again! They also said the florist shop mistakenly stated the flowers were delivered - yea right. I then get two strange emails throughout day stating they are having problems again and I call around 3 PM and they tell me that there were problems, no one was there to take the flowers. I try to keep calm and say I wrote instructions with my order saying leave them with the concierge of the building. The customer service representative then goes, "Oh! Yea, I see that now, well the flowers were delivered, in fact your mother personally received them." Lie. She was not there but the doorman of the building was able to finally take them.
After all of the calling she finally receives them, I'm relieved - for a moment. I ask for a picture and what I see is absolutely horrible. Instead of the lush, vibrant bouquet I thought I ordered, I got a few minuscule white roses with lilies in bud form, in a tiny blue, cube vase. The description on the site did not explicitly state that the lilies would arrive in bud form, nor did the picture have such a striking and pathetic contrast with the excuse that was delivered for my mother's bouquet. I immediately emailed them asking for a full refund because the aggravation and disappointment had reached a boiling point. So you know what they said? "We'll give you only a third of what you paid, back. Why? Well if you want a full refund, we'll just come back to your address and take those flowers from you."
Very classy, Teleflora. That's Teleflora's "solution" to someone who shelled out $75 on a bouquet as a nice birthday gesture for their mom, only to have it arrive a day late and then offered to be taken away after causing so much disappointment. Keep losing customers - I wish I had known the trouble I was getting into. Your customer service is incompetent. Your products are crap. Your entire corporation is a joke.


I placed an order for a birthday delivery in the late afternoon but before their 3 pm deadline for same day delivery. I received an e-mail the order was successfully placed. 20 minutes later I get a call there was a problem verifying my CC. They continued to relate it was now too late to send the flowers same day (her birthday). They offered me a 30% off code as their apology. I tried to place the same order again 2 days later as the birthday recipient mentioned she would be home that day for 1 day. I tried using the code but it would not work. To comply with the 3 pm deadline, I placed the order online and completed it. I then called customer service to apply the code but was very specific that I placed the order online first in order to make the same day delivery cut off. She goes to apply discount, which ended up not being much of a discount at all so I told her not to apply that. I would use it another time.
I then speak to a supervisor who informs me the discount was not applied but because I called in to apply it and it was just resolved, that it is now too late to have the flowers delivered same day. I related the first thing I mentioned was the flowers need to be delivered today and it was your agent's responsibility to inform me that attempting to use the code may affect if the flowers are delivered today and logically I would have not attempted. The agent and supervisor were senseless and rude. The supervisor insisted over my disapproval that she "successfully" assisted me and that it was "my fault" the flowers were not being delivered today (for the second time!).
What kind of motto do they have there??? Client is always wrong and the business is always right? Take responsibility that your employees are the reason the order was canceled twice and why I will never use your awful business for my flower delivery needs. Waste of time!! At least hire supervisors who know how to conduct business, not lose it!!!

I placed an order 2 days ago for a birthday delivery and late afternoon, ON the day of delivery, I get a notification to say they cannot deliver today. When I called I got a string of apologies, which are of zero use to me, when I now have no time to arrange for anything else. Their excuse was that all the shops in the area have done their deliveries for the day and they'll include a note of apology with the delivery. How, with 2 days notice, was the order NOT placed in good time for delivery on the right day? And you have the balls to charge me a service fee for a service I didn't receive? Really??
I'm so pleased my mom wasted her birthday sitting at home waiting for a delivery that didn't come. And do NOT send me another e-mail saying 'Thank you for your business' because this company will not receive another damn penny from me. When they offered a partial refund I asked them to rather keep the refund and upgrade the flowers instead. Nope. Don't be ridiculous, that would involve customer service so why do that?

My folks used Teleflora to send me flowers for my retirement but they never arrived. Teleflora said they'd deliver the next morning to my house, they never arrived. I called them and didn't even receive an apology. My folks are canceling the order.

I ordered flowers from Teleflora for my wife for our anniversary the week prior, as I had to be out of town on that date. On the day of our anniversary I get an email late in the afternoon that I couldn't read immediately because I was working. When work was over I read it, only to find out that the flowers would not be delivered that day. No alternative solution, no apology. I called them, and after trying to make them realize how useless late anniversary flowers are, and having to escalate it, they offered what they thought was a generous 20% off. What a joke. Then I get the customer service survey email asking how "Keith" did, but the CS person was a woman. They obviously have a severely broken customer service model that needs overhauled, and obviously poor execution. They proved they can thoroughly ruin a special occasion for you and not feel bad about it. People need to understand the consequences of dealing with this company.

Ordered exotic arrangement flower delivery and my recipient got something I didn't order. It just slightly look like the order. It is very upsetting to order something and get a very cheap looking arrangement. And when I sent them the picture of what I ordered and received, customer service response is "We can substitute to similar if the exact flowers are not available. No refund or exchange." My intent of the complaint was not to get a refund... It was simply to express my experience. For almost $100 to get this?? Will never use their service again.

So I ordered flowers to be delivered on Sunday. I was home all day and received an email that my order was delivered. Went out my door and nothing was there. You did replace it. But what I received was horrible for $50. dollars - I daisies and 1 lily. REALLY!!! I could of done better going to Costco.

There is no place to track an order online! Didn't come to mind even to check if Teleflora has an order tracking system because in our days it's available everywhere. Called customer service and they told me that they cannot check the order till tomorrow either due to the systems maintenance and delivery was scheduled today. With so many flower sites available, it's obvious that we won't use Teleflora ever again.

I ordered flowers on 8/25/16 to be delivered the next day to my wife's work. I made sure to leave her cell number on the order so they could contact her and have her come down to the desk to get them. I was so excited, since they were to congratulate her on her work assignment and I wanted her to have the experience of receiving the flowers in her office. They called her an hour before she would normally leave work, to tell her that they tried to deliver to the house but were turned away. (The address was for a commercial building, not a residence). My wife unknowingly, said it would be okay to deliver to her residence instead.
I called Teleflora and immediately asked them to cancel the order (being that it was a Friday and the surprise was blown). They said, "but your wife said it was okay to deliver elsewhere." I said "my wife didn't order the flowers, I did, and they were supposed to be able to be part of the experience at work where she could put them on her desk, and have her co-workers talk about it, but that experience is lost now, isn't it?" I haven't received a refund or cancellation confirmation yet, but Erica assured me it would happen. I am certainly disputing the charges with my CC if not. No thanks Teleflora. Never again.

I was disappointed with the product purchased at Teleflora and with their customer service. I bought a Money tree that seemed like a delicate product, but when it arrived it was a ugly tree that looked like a plant someone could pick up in a public park in NY... completely different than what I paid for. In the picture the container looked like a square wood and when we got it it was a cheap/horrible plastic... Their answer to my complaint: "I have reviewed the attached photo and the delivered item appears to be very similar and with acceptable substitutions." I highly recommend you to stay away from Teleflora! Their product's pictures are taken to cheat on customers and they provided a poor customer service response!

I placed an order for an arrangement (1948 Ford Truck as the vase). After I placed the order, I realized I wanted to confirm that the vase would not be substituted but I was flexible on the flowers. I googled Teleflora to obtain a phone number and came along the reviews. My heart sunk when I read all the negative reviews and I was ready to cancel the order. As a matter of fact, when the gentleman answered the phone the first words out of my mouth was "I would like to cancel my order". I explained I read the reviews and I no longer wanted to keep the order as I feared what would show up. I happen to live in an area with pretty good flower shops and after speaking with him (he could not disclose which shop would be handling my order) but he placed me on hold and confirmed that the local flower shop had the vase I wanted and it was ready for delivery.
I didn't cancel the order because what really sold me was the vase. My husband received the flowers and sent me the picture. They were even more beautiful than I expected. I don't normally write reviews but with all the bad reviews Telefora has received, I felt compelled to do so. I know they contract the arrangements out to a local florist in your area and perhaps I was fortunate enough to have an amazing florist. Regardless, I received wonderful customer service and a beautiful arrangement.

Ordered Mother's Day flowers in May and as of August my card got used twice for other people's orders. They are not supposed to keep your credit info in their system. I have been getting jerked around by their sucky customer service reps. I was supposed to receive a fraud letter by email which never happened. I have been asking since the 15th. I wish I read reviews before I used this place. They suck and I am letting everyone know.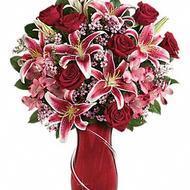 Terrible experience. My husband ordered a $130 premium flower arrangement and we got an arrangement with 3 lilies and 6 roses. I have included pictures for reference. Talk about false advertising. When I complained about the arrangement they offered me a 25% refund! While in the complaint process, the actual flower shop called me telling me that I had to give them a good review and tell them how beautiful their flowers were. So ridiculous. I could have gotten the same arrangement of flowers from Publix for $6.99. In addition to a ridiculously small flower arrangement, teleflora's customer service was terrible. Every email they sent to me was from a different customer service rep... a total of 4 of them. I do not know how this company is still in business!


I ordered flowers for a friend in north Carolina on a Saturday evening to have the flowers delivered for a Monday afternoon. I chose teleflora because the slogan proudly stated on the website banner "Next day and same day delivery available on all bouquets. After choosing a bouquet of daisies, I checked out without a problem and sent an email confirmation being told they would be delivered Monday. Monday at 3 am, I received an email saying that the bouquet could not be arranged for Monday and requested another date for delivery. I was given the choice of three dates, the following Tuesday, Wednesday, or Thursday for delivery. I chose the following Tuesday.
That same Monday at 6 pm I received an email saying that the chosen bouquet could not be processed. I was directed to choose two new options, one, to have the florist arrange a new bouquet for delivery, or two, this option would not satisfy my needs. I chose the latter. I was not given any indication that a refund would be given or that anything would be done to compensate my frustrations. I waited a few minutes to see if I would receive an email explaining the teleflora policy on refunds, but received no new information. I called teleflora directly, the only saving grace of this story. Within 5 minutes I was speaking to a representative and the representative promptly awarded a refund with no questions or qualms. If it were not for the representative being friendly and helpful and prompt, this would have received one star. Very disappointed in the service. Would not use again.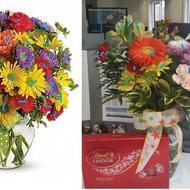 I wish no stars was an option. I wanted to send an arrangement to a co-worker in another city, and thought Teleflora would be my best option as I wanted to make sure I could see what I was sending. I spent quite a bit of time on the website, looking at different arrangements, and deciding on size. The site allows you to select standard, deluxe, or premium, and the appearance of the arrangement changes as you change your selection. Obviously, the conclusion one would come to (and clearly Teleflora's intention) is that this would represent what you'd get. I understood that there may be some substitutions (i.e. pink instead of purple, carnations instead of alstroemeria, or so on).
I opted for the Make a Wish - Deluxe arrangement, pictured on the left below. I thought it was a beautiful arrangement, appeared to have a healthy ~30 blooms. Given that it was primarily mums, asters, and carnations, I thought the $43 price tag made sense. I got the arrangement on the right. A total of 16 blooms, generously counting given that they are mostly cluster flowers. 16.
Extremely disappointed, I contacted Teleflora customer service. I included pictures, screenshots of what I saw when I selected the different price levels, and even highlighted the total # of blooms in their pictures. Given my earlier statement of wishing I could give them 0 stars, I imagine you can anticipate the response. I will never again use Teleflora.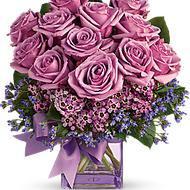 I ordered an arrangement for my Mom's 60th birthday. WOW - what I ordered and what arrived was so disappointing! I contacted them and shared photos of what was ordered and what was delivered - and they said it was acceptable. RIGHT - needless to say I will never order from them again. I do understand that materials may vary from each location - but REALLY - this arrangement is a bit lacking for the price that I paid! At least it was delivered on time. Teleflora is not willing to compensate for this lackluster arrangement. Stay clear of Teleflora!!!

ConsumerAffairs Research Team
The ConsumerAffairs Research Team believes everyone deserves to make smart decisions. We aim to provide readers with the most up-to-date information available about today's consumer products and services.
With more than 78 years of experience in the floral industry, Teleflora has gained a reputation as one of the top providers in the business.
Intuitive website: A clean and easy-to-read website makes shopping online a pleasant experience.
Shop by occasion: Find a flower arrangement custom-designed for any occasion, from birthdays to weddings.
Sort by price: Finding a floral arrangement in your price range has never been easier. Teleflora allows you to quickly sort floral arrangements by price point.
Unique arrangements: Its holiday and seasonal displays go outside the box for plants, using colorful maple leaves and sheaves of wheat.
Leave it to the experts: If you are unsure about what to pick, you can always go with the Deal of the Day. Florists put together an arrangement just for you, at the price point you specify.
Best for Suitors, husbands and modern women.
Teleflora Company Profile
Company Name:

Teleflora

Year Founded:

1934

Website:

http://www.teleflora.com/