Consumer Complaints and Reviews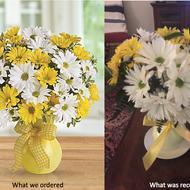 We ordered flowers for a friend who just had surgery. We wanted a nice bright sunny arrangement and found one on Teleflora. The flowers were ordered and delivered and the recipient thanked us for them. Later, we received a picture of what was received and were totally embarrassed. The arrangement was not anything like what was pictured. Calling Teleflora we received the treatment described by many others here. After being on hold several times for 15 - 30 minutes, we went through a series of offers. 1-"How about 20% off your next order." "Um no thanks. Just want the flowers we ordered." 2-"How about 15% refund for this order." "Um no thanks. Just want the flowers we ordered." 3-"How about we deliver an even nicer arrangement." "Great. That would be nice." "Oh, by the way, we will need to pick up the old ones." Really? I need to tell the recipient to hand back the flowers they received? What exactly will the florist do with them??
Anyway, we reluctantly agreed and waited another 20 minutes on hold. The rep came back and said the florist refused to redeliver because the correct 'number' of flowers were already sent. Escalated to a supervisor. After another 15 minutes on hold, the florist agreed to redeliver the exact same arrangement but would have to have the old ones back. We reluctantly agreed but asked how Teleflora would ensure the arrangement looked like how it was presented on their website. They said they "told the florist". I'm not very hopeful. After reading the other complaints on this site (should have done that first!), I realize this is not unique. If anyone is reviewing before your order, DON'T ORDER FROM TELEFLORA unless you're happy with the picture of what was sent compared to what was ordered.

Please use your head before posting reviews. First of all, Teleflora DOESN'T guarantee ANY timed deliveries & USUALLY all orders are delivered before 7 PM, however it may be later. It all depends on how many orders the LOCAL SHOP has going out that day & I'm sure you wouldn't want the local shop to put off delivering a funeral piece so she can get your arrangement to your Mom early (& I don't think your Mom would want that either).
Second, Customers, you should look at the orientation of the flower arrangement, found on Teleflora's website under product description before purchasing. If the item is only to be 'one-sided', & the shop arranges it 'all around', which the shop has full ability to do w/out being penalized, then it is going to look like less flowers when the recipient snaps a pic & sends it to you. The shop can also substitute containers, products & flowers for equal or higher quality items. Most of the times you are also cut a deal when you call in to place an order with Teleflora. Come on people, even I know this information & it's not that hard to understand.

Placed an order on 01/30/17 for a sympathy flowers. Tuesday I got a call that flower color was not available. Told CSR that is ok to change color of flowers. Called Wednesday. They even did not know that was ok to change color of flowers, at least that was their excuse. Called Thursday flowers still not delivered. Could not tell me reason. Called Friday flowers still not delivered. This is the worst company that you could purchase from. They do not follow up with their customers, flowers do not get on time and they are ok with their system. When I asked the supervisor how their confirmation process is completed he could not even tell me. Big mistake. I should have gone to a local flower shop instead purchasing from them. Will never ever use their service.

On January 26th 2017 I ordered flowers to be delivered to my daughter for her Birthday. They took $62.58 off my card when I placed the order. About an hour or so later I received a phone call that they could not do the delivery on that day. They offered to deliver the next day I said "No cancel my order. I don't want flowers delivered a day late." She said ok and canceled the order.
Today February 1st I tried to find out where my money is. First call I made to Teleflora around 7:30 am she said she would send me an email showing my cancellation and that I needed to check with my cardholder. So I called my bank she said Teleflora had a hold on my money. So I looked at my email it said they would keep the money for my next order. So I called Teleflora again and told them I will never order from you again and it's not my fault you couldn't deliver the flowers so I want my money put back on my card, he said "We have to verify." I said "Verify what?" You didn't have any trouble taking my money so put it back on my card. Then I get a text saying they are having trouble finding my order so they needed more information. So I text back the order number and the reference number for the cancellation. Have heard nothing back and the $62 is not back on my card.

First, this shouldn't even get a star, but that isn't an option. My daughter turned 25 on 1/27/2017. She was born 6weeks premature. She now lives in Texas. I wanted to send her flowers to mark this milestone and let her know how much I love her. I ordered the "Arrive in Style" standard bouquet. A gorgeous white and pink arrangement of white lilies, pink roses and some smaller white flowers, very little greenery in a clear round vase. This Really represented the Angel that I received 25yrs ago. I ordered her flowers for deliver on 1/28/2017.
On 1/28/17 at approximately 04:30hrs I received a call from Teleflora in Utah, that the florists in her area were unable to make the deliver due to being closed till Monday 1/30/2017 and if it was Ok to have the flowers delivered then. I was disappointed. The website guarantees next day delivery. I said ok to the Monday delivery, and the representative hung up.
Well when she received her flowers they were not what I ordered or anything close. She received an arrangement that looked like some left over flowers thrown into a green vase with a lot of greenery for filler. There was no symmetry to the arrangement, the colors were just a bunch of different dyed flowers. No lilies, no roses, no sophistication. It looked like last minute funeral flowers.
I called to complain and was told that they tried to reach me via email to let me know that the florist couldn't fulfill the order I requested. Since I never answered they left it up to the florist's discretion. I asked why they would email me when they had my phone number. She said, "We don't call, only email". I said, "Well you called to tell me that it couldn't be delivered after the florist closed on Saturday, why wasn't I told you didn't have the right flowers for the bouquet." She said she didn't know. Then I asked if I specifically chose a color theme, like white and pink, which is listed under the white arrangements, why would the florist send this miss-mash of colored flowers. She said that the florist doesn't get a color request. I asked if they don't get a color request how can they refuse to fill the bouquet as asked? She said it doesn't work that way, none of the florist in Texas had the flowers or color flowers that I requested and since I didn't choose an alternative they allowed the florist to choose. The best she could offer me was 40% off my next order or, 30% refund. I took the refund. Will not be using them again.
How do I know I can trust these reviews about Teleflora ?
694,519 reviews on ConsumerAffairs are verified.
We require contact information to ensure our reviewers are real.
We use intelligent software that helps us maintain the integrity of reviews.
Our moderators read all reviews to verify quality and helpfulness.
For more information about reviews on ConsumerAffairs.com please visit our FAQ.

At 8 am I placed an order for delivery. It was not a special holiday. At 5:37 pm I received a dicey confirmation by email. At 7:20 pm I checked with recipient and no delivery!! I called Customer Service and was placed on hold for about 10 minutes. The representative said the flowers were en route. The recipient is 76 yr old female who lives alone and doesn't answer the door after dark. I asked the rep to call me back in a few minutes while I phoned to verify delivery. It is 70 minutes later and no return call. Save yourself some frustration and do not use Teleflora.com. Twelve hour delivery is absurd.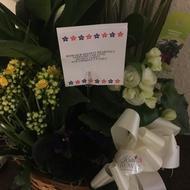 I placed an order for a bereavement on Jan 15 for a delivery date of Jan 16. I ordered a "Blooming Garden Basket", chosen specifically for the bright colors and the option to be replanted outside. On Jan 23 I discovered the arrangement wasn't delivered. After many phone calls, they agreed to deliver the basket with an apology letter for the delay. It was finally delivered on Jan 26, but not at all what I ordered. I placed a complaint and the Teleflora representative was totally defensive, talked over me as I was explaining the reasoning behind my choice. I had the arrangement sent to a home. If I had it sent to the funeral, I would have never known it was not delivered. I wonder how many people have ordered without their product being delivered.

I placed an arrangement on the 1/11/17 to be delivered on my daughter's birthday 1/19/17. No email all day, not a phone call, nothing. I went to lunch, came back, called at 2:18 pm. The person I spoke with said "you should have received an email". I said "I didn't receive anything." So she said "ok the arrangement you ordered is not available. We can make one that would be similar." I said "yes that's fine." I waited an hour to call back to make sure the flowers were deliver prior to 4:30 like I had specified to find out that everyone they called said it passed the delivery time and refused the order.
Now correct me if I'm wrong. Shouldn't I have received a call back saying no they were not able to make the order by the early. Am like "what kind of Mickey Mouse company are you guys running here. YOU GUYS SUCK **!!!" When I called back you want to apologize and see if you can deliver another day. NO her birthday is today not tomorrow or next week. This is a special day. You guys sure know how to ruin it. If this was a funeral arrangement and the service was today would you wait to tell someone that the arrangement was not available. Hello and to deliver at a later date HOW INSENSITIVE OF YOU PEOPLE.

The facts: From the time the florist purchases a membership to fulfilling your order. Teleflora has a business model that makes it easy and somewhat affordable upfront to start a flower shop. The Membership application and Rules and Regulations state all fees and commissions. Both documents are in a Contract form and disclaimer to seek legal counsel does not appear on either document. The membership is two parts, clearing house and technology. Each part has its own separate set of fees. Teleflora statements are sent each month breaking down the cost of clearing house, technology, membership, publications, eflorist, outside marketing and Teleflora fees.
With the membership in place orders for flowers come across the technology side from flower gathering companies. The order you placed has fees added to your purchase and a total is charged to your credit card. The florist then receives that order minus the fees you were charged and less than the purchase price, plus the florist needs to deliver your order. Your order now goes through a cycle of florists that accept or reject the order. When your order is rejected enough times, more of your money is placed on your order, and again it is cycled through. If there is enough money your order is filled.
The Teleflora code of conduct states that all arrangements have to be filled to 100 percent of their value. If you purchase a $100.00 arrangement plus fees, the receiving florist's net amount to fill and deliver your order will be between $65-85 noting that the order needs to be filled to 100 percent. The florist two choices are make it look like $100 dollars or fill the order to $100 dollars with a budget amount of $85 dollars. I hope this helps with understanding where it starts and my complaint about Teleflora.
My florist's actual November 2016 Teleflora Statement, 30 orders sent out for a net total of $1,784.00 of which the florist filled the orders, purchased the flowers, vases, ribbon, cards and delivery. Then only to receive a check in the amount of $412.00 dollars is ludicrous and legal. Note I have a degree in Accounting and Construction Management. And I am certainly impressed with Teleflora's accounting practices and interpretation of full disclosure on a contract with a consumer who clearly needed legal advice.

Extremely disappointed and embarrassed. I was not able to take a picture because I was at a mortuary. The arrangement was surrounded by beautiful ones and I was disgusted for the appearance of simple and cheap. It was NOT cheap. NEVER AGAIN!!! I bought the Deal of the Day for Funeral. They would use "the best flowers of the season." It seemed like a $6.99 deal from Ralphs or Vons, but arranged in a vase.

I placed an order on 1/4/17 to be delivered on 1/5/17. Teleflora called me and said they can't have it delivered until 1/6/17. I agreed that would be ok. Got called back saying the florist did not have the flowers I ordered and would I accept a different arrangement. I agreed. on 1/6/17 my order was NOT delivered. I called Teleflora. They said they would research and call me back. After not hearing back, I called them on 1/7/17. I was told that they were looking for a florist to complete my order. Again, said they would call me back.
On 1/9/17 I called them to cancel my order. They said they would send me confirmation of my cancellation and will credit my bank account. As of 1/10/17, I have not gotten a confirmation, or my refund. I called again, they said their policy is to refund within 7-10 business days. I told them that was unacceptable, and asked to speak with a manager. I was put on hold for over 20 minutes until I gave up. HORRIBLE SERVICE!!!

I found Teleflora on Groupon. I had no problem making my order and applying the Groupon coupon. The Teleflora website and floral arrangement prices were very attractive compared to local florist. It seems Teleflora is online and acts as a third party to work with your local florists. Since they did not deliver to the recipient's ZIP code I had the delivery sent to myself. Hence the reason I was the recipient.
I received a confirmation of a hand delivery at 1:39 p.m. It was 4:30 p.m. when I actually saw the email and at that time I still had not received a delivery. I called and requested to be placed in a virtual queue for a call-back, as opposed to waiting for the 20 minute wait they stated. To date (20 hours later) I have not been called back. I also sent an email at teleflora.com describing the nondelivery and I still have not heard from anyone. After the fact I then checked reviews for Teleflora to find out they were a 1 star company. I'm sure that's only because you can't choose half a star or no star at all. Based on reviews they are processing orders and not delivering at all.

I ordered the zen artistry arrangement because "white orchids were not available in that service area". The purple orchids were substituted with what now... discolored bamboo and WHITE orchids. The arrangement falls flat. The vibrant green is not present in the bamboo, it is BROWN and not all the same length. The other pop of color that was to be represented by purple, was replaced with white. It's way too busy on the bottom portion. It looks like they just threw extra junk in there to compensate for the ugly bamboo and the non-colored orchid. Where are the GREEN berries? Why are they red? And even so... why aren't there three bunches instead of just one? The fronds on the right side look thrown together, not neatly arranged. Do the florists they have hired even know what "zen" means? This is NOT what I consider to be a "premium arrangement", it gives me a headache just looking at it!

We ordered flowers for our grandmother's funeral. My husband was deployed and couldn't be at the funeral. This was the least we could do. We ordered them to be delivered on 2 Jan for the visitation. We were NEVER notified that no one was open and the ordered wasn't even processed. We didn't know the flowers weren't there until we called our family. We were hoping they would make it for the service. I got a call early the morning of the service, telling me they couldn't be delivered until today (3 Jan). I was upset, but I was all right since they would at least make the service. NOPE, I WAS WRONG!!! They called again, quite a bit later, telling me they couldn't get the flowers I ordered and if another arrangement would be all right. At this time it was 2:45 pm; the funeral started at 2. Now I had to give them another address to a family member's home and they are suppose to be delivered to them tomorrow (4 Jan).
I asked at the minimum to be compensated for their lack of communication and tardiness. All they wanted to give me was 50% my next order. I WILL NEVER order from them again and recommend no one else does either. I've used FTD before and I recommend everyone use them, but don't ever use Teleflora. I will be telling everyone I know to never ever use this company.

I placed my first order with this joke of a company earlier today LONG before the 3 pm cutoff for same day delivery according to their site. Several hours later, late in the day I get an email and a call that they can't find a florist in the city to do the arrangement and delivery. This was absolutely ridiculous considering I could have called about half a dozen local florists and had it done the same day had Teleflora notified me sooner. I canceled my order and was told it would be 7-10 days before I got a refund. Oh yeah... that was after paying $18 for delivery.

I purchased a discount on groupon for Teleflora thinking it was a great deal. Well, I have no problem with groupon, but I certainly do with Teleflora. On 12/20/16, I ordered the Thomas Kinkade Jolly Santa Bouquet Premium to be delivered on 12/23/16. With the $40 discount the arrangement was $78. The arrangement was not delivered the day it was supposed to be, yet I received a delivery confirmation for it. I then phoned Teleflora and waited over 20 mins. for someone to come on the line. Once I got someone live, he wasn't very much help insisting that the flowers were delivered (funny I got the delivery e-mail on a Friday evening after 8 pm. I don't know of any flower shops that are open that late). He then stated he would contact the flower shop and see what was going on and call me back within 2 hours.
Well 2 hours came and went with no response so I called them back and this time of course spoke with another representative whom I also waited for over 20 mins to speak to. She also said she'd call me back in a few hours when I said... "no I don't think so... I'm not playing that game." She gave me her name and assured me she would take care of things and call me back. Again, no callback. Saturday, the 24th I received a call from the flower delivery person and the flowers were finally delivered. The arrangement although pretty, the flowers were definitely not the same as in the picture... not even close. I believe for the money paid, it was definitely not worth it. I would like a total refund for all the bull I had to put up with getting it delivered to begin with!!!

My order was delivered 4 days late and looked shabby. It took more emails than I can count and 2 phone calls to convince Teleflora my order was never delivered by the local florist. All my emails were answered by a different service rep, and they basically said "that order has been delivered". When I replied "no it has not," they would say "Oh I'll look into that." And I never heard back from that rep. Finally today a Teleflora rep actually got through to the florist and they delivered a arrangement that looked like it had been in his car since Friday. For all this Teleflora is giving me a 40% discount off the bill. I am never using them again.

I ordered a Christmas bouquet for my best friend's family for Christmas. I ordered 2 weeks in advance. When they were delivered I get a picture thanking me for the flowers but the flowers were wrong! I called customer service and they said they could either give me 50% off my next order (which is an existing Groupon) or they could pick the flowers up and redeliver them. I have never in my life heard of such a thing! Save yourself the trouble and don't order from here. One more customer lost.

Quality is horrible, customer service is horrible! The flowers that were delivered were nothing like the picture online. When I called they told me they would redeliver the flowers, that was a lie! The flowers never arrived!!

I ordered an arrangement online on 12/21/2016 for my 93 year old aunt. It has never been delivered. Now I find out today, after days/hours of trying to get through to a human being at customer service, that the order was canceled on the 21st because none of the partner florists in her area had the materials to create the arrangement. On the order form I specifically put in my phone number and requested a call if there was a problem with order/delivery. To date, no call.
I put in a customer service email inquiry on 12/22 about the status of the order and a request to notify me by email as to when the arrangement would be delivered. No email replies, not in inbox, spam, junk, or anywhere. When I called the customer service number on 12/21, 12/22. 12/23 I could never get through to anyone or any recorded information about the order status no matter what buttons I pushed. The selection for order status was a recording and when order info was entered, it simply stated that they appreciated my business and were assuring me the order would be handled, or some such. Finally today, I spoke with a human who informed me that she was sorry that things didn't go well and that my money had been refunded. So far, my PayPal account shows no refund. Horrible experience. Will never order online through Teleflora again.

I ordered flowers for a friend going through a rough time. Paid slightly over $45 for the arrangement and all shipping/extra fees. Once the flowers were delivered I asked my friend to send a picture and it was missing more than half the flowers depicted in the photo online. The colors were definitely a bit off - or even missing - from the arrangement and I just wasn't happy with what I paid for.
I called Teleflora the next morning and spoke with a woman who offered me 30% off my next purchase which I refused because I will not be using them again. I next was offered 50% refund and I instead chose to send my friend ANOTHER arrangement that would be customized by the florist. I was put on hold while the operator called the florist and held for 15 minutes until I had to go back to work. Telaflora had my phone number and email from my original order but I was never contacted again.
Later that afternoon I called Teleflora back to continue my original call to find out the earlier operator put through my EXACT SAME ORIGINAL ORDER again to THE SAME EXACT FLORIST who screwed it up before (after I was told it would be a new arrangement) but I was never contacted. It was already out for delivery and I was not notified but I will receive an email once it's delivered. But here's the kicker.. The florist will have to confiscate the old flower order that I complained about. Yes, not only did the place the order without telling me and put the exact same order out today - that was supposed to be customized - but if my recipient is not there to take the old arrangement they will NOT deliver the new arrangement. Instead, it goes back to the florist and they will continue to try daily to take the old flowers back before they deliver the new ones.
My problem is I have no idea if my friend kept the flowers. What if they brought them to work? Or they died by the time Teleflora catches my friend at home and they've been thrown out? I have photos to show them which I mentioned to my first operator. I was told if they cannot get the old bouquet that they have a "special team" to handle those matters.
I have used Teleflora one time previously and had no issues. My flowers were delivered as I expected them to and I had no complaints. I did not have second guesses on using them again. While my arrangement showed up on time, to me it was missing more flowers/color then what I expected and had ordered. I will not be using their services any further due to the multiple phone calls - and headache - I had today and the fact that a florist saw what I ordered and continued to deliver basically half of the flowers shown in the arrangement and that's okay by Teleflora standards. I am disappointed what was supposed to be a nice gesture for a friend turned into this.

I too like others ordered flowers for this Christmas as a gift and ordered the premium. When they were delivered and posted on Facebook I was devastated. The flowers were different and looked like a child picked them and put them in the vase. I will NEVER order from Teleflora again. I was disappointed and embarrassed because it looked like I was cheap. I sent an email to their customer service, but haven't heard back yet.

I ordered flowers, the Holiday Splendor, for a dying friend and his wife. I paid extra for next delivery. The picture shows a beautiful Christmas arrangement with white roses, Red Carnations and greens. They got 6 pink flowers delivered 3 days after I ordered. I complained. They offered my 40% off my next order. I complained again. They offered me a 20% refund... I will never order from Teleflora again.

I ordered a Premium holiday bouquet for my sister in Florida. She sent me a picture, and the quality of what was delivered didn't come close to what was pictured online. The bouquet looked like a few straggly flowers that I picked up at a supermarket and tossed into a vase. They didn't even look like they were arranged by a florist. I contacted customer service requesting a credit or a re-delivery of a bouquet that looked like what I ordered, and they offered me a 40% discount on a future order. Needless to say, I will NEVER be ordering from them again.

I am giving one star for now, until I get appropriate feedback from Teleflora. I wish I had read reviews on Teleflora first, as I would not have ordered from them had I seen all of the bad reviews. I put in an order on Sat the 17th of Dec for a Christmas flower bouquet to be sent to my parents on Mon Dec 19. The order went through fine, no messages came up that it wasn't available for delivery today in their zip code. I talked to my dad later tonight, just called to basically check in & thought he might mention the flowers, he never did. Asked if they had been home all day, he said yes, except for about 15 min. Had to let the cat out of the bag for him to check the front door just in case flowers came while they were gone - nothing. Now it's not a surprise for my parents anymore.
I received no call, no text, no email from Teleflora today letting me know that the flowers weren't available and wouldn't be delivered. Called them about 7 PM. Was on hold for 20 min. When rep answered, she put me on hold some more, then finally said they will call me when they receive call from florist, then after pumping her a little more, she finally said the flowers weren't available and they (I guess Teleflora) were trying to find another flower shop.
WHILE I WAS ON HOLD WITH TELEFLORA, I had enough time to send 2 emails to them expressing my dissatisfaction. They indicated I would hear from them promptly. I requested partial refund in my email (By the way, I paid $17 for the handling fee). Three and a half hours later, no response to my email. It makes me wonder if they are just trying to get people to order from them and once they have the order decide they are going to do (or not do) whatever they want to from there and not stand behind themselves, AND not reach out appropriately to their customers.
I am very dissatisfied with this company and WILL NOT order from them again if they do not resolve this appropriately and professionally (and I still may choose not to). If I'm able to, I will update this post once I get feedback from them, to be fair. One other thing, I have received about 3 emails tonight from them for advertising. My question is, why would I want to use them again, when this whole experience so far has been very unprofessional?

Fast convenient, on time, large variety. Whenever I sent flowers, they take care of everything. I trust them so much. I let them do the flower arrangement, and it always looks great. When they are out of stock, they have good ideas and you can trust them. I pay later because I use my Fingerhut account.

Standard arrangement was $34.95 and supposedly measures 12" wide by 12" high. I paid an extra $30 for the Premium arrangement upgrade, which supposedly measures 16" wide by 17" high. (See photo). What was delivered looked like my toddler took a bouquet of grocery store flowers and shoved them into a vase. It was tiny and pathetic and measured even SMALLER than the standard arrangement. (See photo). So much for my $30 upgrade!

I paid $375 for 4 premium sized arrangements to be delivered to family members. I was charged twice for one order and Teleflora insists I have not been charged twice, yet I can see the duplicate charge and the funds have been taken from my account. Additionally, I ordered the premium sizes of all orders and my family received small arrangements that should only have cost a fraction of the price. Ridiculous. I can't begin to express my anger. I will NEVER buy from them again. And they better be refunding the duplicate charge. Attached are images of just one of the four arrangements. One is the picture of what I ordered, one is the item that was delivered. The item delivered would be somewhat understandable if I had ordered the standard size, but I paid a lot of money for 4 PREMIUM arrangements.

I ordered online a week ahead of time to have a large poinsettia delivered as a gift Dec. 1. It arrived a day late and was embarrassingly scraggly. This is the response I received from Teleflora when I asked that a replacement be made. I only wish my lovely mother would have told me that this arrived a day late and was an incredibly crappy, ugly plant.
"I do apologize, but unfortunately a refund or redelivery is no longer possible. Either option requires that 100% of the order be returned to the shop within 48 hours of delivery taking place. If the item is returned within that time frame, we can get it canceled with the current shop to either refund you in full or send to another shop to be replaced. We did ask the shop if they would be willing to exchange the item to the address on file. While we cannot guarantee they will be, they did state they would talk with the manager to see if it's a possibility. IF they do it will be between them and the recipient over the next few days. For further questions or comments please reply to this email or refer to our website. It has been a pleasure to assist you."

Please for important days that you might need flowers i.e. anniversary, valentines, birthday... DON'T RISK IT WITH TELEFLORA! They were supposed to deliver on the day of and they decided not to show. Then they said they will look into it and decided never to respond back. I emailed them and they said they will deliver it 3 days later and begrudgingly agreed because I told my gf the flowers were coming late. Then they didn't show AGAIN!!! WTF?! If you're like me and you want flowers but aren't sure, let this be your warning, don't go to Teleflora. It's a 20% chance they will actually deliver the flowers.

ConsumerAffairs Research Team
The ConsumerAffairs Research Team believes everyone deserves to make smart decisions. We aim to provide readers with the most up-to-date information available about today's consumer products and services.
In business more than 78 years, Teleflora is an experienced flower delivery service. The company offers same-day delivery on many flowers, but also allows consumers to schedule their orders up to three months in advance.
Intuitive website: A clean and easy-to-read website makes shopping online a pleasant experience.
Shop by occasion: Find a flower arrangement for any occasion, from birthdays to weddings, using Teleflora's tools to search by occasion.
Images: The Teleflora website shows images of what different sizes of the same bouquet will look like, and it shows estimated measurements too. This information can help consumers select the best size for their recipient.
Unique arrangements: Teleflora's holiday and seasonal displays use non-traditional foliage like colorful maple leaves and sheaves of wheat to provide unique holiday looks.
Leave it to the experts: If you are unsure about what to pick, you can always go with the Deal of the Day. Florists put together an arrangement just for you, at the price point you specify.
Best for significant others, friends and adult children.
Teleflora Company Profile
Company Name:

Teleflora

Year Founded:

1934

Website:

http://www.teleflora.com/