Consumer Complaints and Reviews

I am completely disgusted with the service from Teleflora. I ordered a flower arrangement in the shape of a "birthday cake" to be delivered to my daughter who is away at college. I placed the order OVER a week BEFORE it was to be delivered! A WEEK BEFORE! I was informed via email the morning the arrangement was to be delivered that they were unable to fulfill the order and was asked to pick a replacement arrangement. I picked a replacement arrangement and then was told that they would be unable to deliver that order the day I asked for it to be delivered! Which, remember I placed the order over a week ago.
What a disgrace and horrible customer service! I WILL NEVER USE THIS SERVICE AGAIN! I will never, ever recommend this service to family, friends or complete strangers. I am disgusted that Teleflora thinks this is okay! I then called customer service to have the order cancelled and a credit charged back to my credit card... I was told that they couldn't even get into my account and that someone would have to call me back with a cancellation number. I refused to let the representative hang up and asked to speak to a floor manager. I told her I want the cancellation number now while I was on the phone, she proceeded to tell me to check my email and I told her I want the number over the phone from her. I did not trust that they would cancel the order. She finally gave me the cancellation number and said the credit will appear on my credit card. We will see. BUYER BEWARE find a local florist rather than going through this service...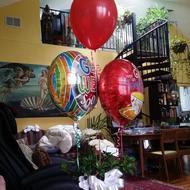 I ordered a money plant for a sick friend with a beautiful marble container with decorative stones (as per the picture). I ordered balloons with it and paid a hefty price (over $60). Didn't matter it was for a sick friend. I chose this plant so it would be in the house and easy to care for. When my friend came back to work he sent us a picture of what he got and I almost blew it! It was a plastic cheap pot with a Gardenia in it!!! This is probably a $2 plant that cannot grow in a pot nor in the house - I was furious!!! When I called Teleflora I waited endlessly with "MAX" an automated voice service that kept coming back and telling me that I had another 1 to 2 minutes before my call would be answered. Then after another minute of music "MAX" came back on to tell me that I now had another 4 to 5 minutes to wait. This went on with various amounts of time I had to wait.
Eventually I got the phone answered and got hung up on!!! Infuriating!!! I called back and went through the ENTIRE process again and spoke to a woman named "Jeremiah". I wanted either another plant sent or a full refund which I got none of. They said it was the local florist that messed up and they would only be able to give me $50 and no other plant. I fought hard but was unable to get anymore more. This is unacceptable. I paid by paypal and might just call to have the rest of it removed by my paypal grievance process. They promised to remove the florist from their list but that doesn't help me at all. DO NOT USE THIS SERVICE - They are horrible!!!

I am very upset and disappointed with Teleflora. Will NEVER use them again. Had my deliver scheduled for Apr 04 (Birthday) including an extra fee that I paid to have an expedited delivered. The flowers never arrived although I received a message saying that was "hand delivered". When calling for complaint, I was told that the flowers were left on the porch. Note: the house does not have a porch and the birthday person was working at home for the whole day. TELEFORA needs to better qualify their contractors.

Do not use this company. Ordered flowers for my daughter's birthday two days ahead of time. Asked for morning delivery by 5 pm, still no flowers delivered. Spent $80, not given the discount implied with the order. Customer service spoke broken English. Manager could not give me a customer service number that would call me the next day. Very disappointed. It's 10 PM my daughter still has not received any flowers. Don't use this company. I'm planning to report them to the Better Business Bureau.

I ordered the Pretty in Peony arrangement for a friend. The next morning I got a call saying that the florist did not have peonies but they could replace the peonies with another flower, stay with the same color scheme and everything else. I was upset because I knew peonies were her favorite flower but there was nothing I could do, unless I wanted to cancel the order. After calling back, I asked if I could know which flowers would be in the arrangement and because I paid $70 for the arrangement with the peonies I wanted to make sure I was getting an arrangement worth what I already paid. I was told there was no way to know which flowers would be in the arrangement and I wouldn't know anything until it was actually delivered but that the vase would be filled "to value" and that it would look similar to what I ordered. That was a lie.
My friend loved the flowers, and I am very happy for that. However they were nothing like what I ordered and paid $70 for. The arrangement looked more like a $30 arrangement. I called immediately and was told I never specified what flowers I wanted, when I was told the day before I did not have that option! After expressing how unhappy and disappointed I was with how the situation was handled and the flowers that were sent for the money I spent, I was able to get a 50% refund. I still feel that this is not enough considering what I ordered and what was delivered. I will never use Teleflora again.
How do I know I can trust these reviews about Teleflora ?
741,284 reviews on ConsumerAffairs are verified.
We require contact information to ensure our reviewers are real.
We use intelligent software that helps us maintain the integrity of reviews.
Our moderators read all reviews to verify quality and helpfulness.
For more information about reviews on ConsumerAffairs.com please visit our FAQ.

This company is a joke! I ordered flowers for my girlfriend and when they arrived we were both shocked! The flowers look almost nothing like the flowers I ordered online. I called to complain and Teleflora said that they outsource their orders to a local florist. The local florist then contacted me and told me that they would need to pick up the flowers so that they could resell them to someone else if I was to get any kind of refund.
So, to make a long story short, the local florist came to my girlfriend's place of work and Repo'd her flowers!!! The person said that they were indeed going to resell the flowers to someone else because "they hadn't made any money on them". This is a joke!!! The first time I have ever heard of having your flowers Repo'd!!! Stay away from this company at all costs. Unless you want someone to show up at your work to Repo your flowers so they can sell them to someone else! Below is a picture of what I ordered, and the second on of what I received!!!

Yesterday, Friday, I ordered over the phone a money tree plant to be delivered to family moving to Texas. They assured me it would be delivered by 5 pm yesterday. Two hours later I received an email stating delivery date needed to be changed so I chose this morning, Saturday which appeared to be fine. Around noon today I happened to check emails and saw an email from Teleflora stating the plant I originally ordered was not available and unless they heard from me in a few hours (this was sent at 8:30 a.m.) they would "choose a lovely floral arrangement to be delivered instead". I have spent the last 30 minutes on the phone with the agent and finally supervisor stating I did not authorize FLOWERS (which die) to be delivered.
It was a housewarming gift - a plant that would LIVE. "I'm sorry" is what I got and then excuses. I demanded my card be refunded which they did. I should have researched this further before using this company. Highly disappointed I couldn't have a plant waiting to welcome my family on their arrival because this company doesn't seem to have their heads on straight. NEVER again. Run the other way if you are considering using Teleflora. There are other "parades in town".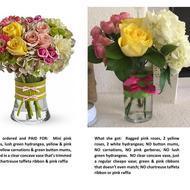 If I could give zero stars, I would! I ordered Teleflora flowers to be delivered to a friend who just had major surgery. I selected a lovely bouquet from their website, however the flowers that were delivered were nothing like the website showed. The attached photo says it all. I emailed a complaint (with comparison photo) via the Teleflora website, and received an email offering me a refund of $11.99 (Uh, what?) to which I responded saying that was unacceptable. Not sure where they come up with that amount, since the 'service fee' alone is $15.99. I then received a call back from a customer service rep who informed me that he felt the bouquet received adequately represented the ones I ordered. Again, see photo.
He then proceeded to tell me that if I wanted more than the $11.99 refund that was offered, the florist would have to go back to her house and pick up the unsatisfactory bouquet. Again... WHAT? She's 1 day post-MAJOR surgery and would have to GIVE BACK the flowers? Round and round we went, with the CS Rep telling me he thought they looked fine. Absolutely shameful. I'll let you judge for yourself... End result is that I spent over $80 for flowers that I wouldn't have spend ten bucks for. The grocery store florist does a better job for a fraction of the price. I wish I'd read these complaints before I ordered from Teleflora. NEVER AGAIN.

I placed an order with Teleflora on my mother in law's birthday, the flowers that I picked said same day delivery the order as long as order was placed before 3, I placed the order around 11:30 AM. My husband and I showed up to my inlaws for a birthday dinner, when I walked into the house I noticed a small flower arrangement on the table, I assumed that it was the one we sent, except it didn't look like the picture I saw on the website. I proceed to ask my mother in law if those were the flowers we sent her (my concern was that they had sent the wrong flowers) to our surprise she says, no Anthony (my father in law) got me those this morning.
Embarrassed I start looking around to see if there was another arrangement somewhere else in the house. Needless to say the flowers were never delivered, I received an email saying that my order could not be processed with no explanation as to why, when I called the 1800 number I got a message saying "do to the high call volume, hold time will exceed 5 minutes" right there I knew everything I needed to know about this company. I felt so embarrassed with my mom, if they are going to cancel an order they need to let their customer right away not wait 6 hours later. Moral of the story don't use this flower company. They don't stand by their word... Oh, and did I mention that they said it would take up to 10 days for my money to be refunded! yea, tell me about it... I wanted to give them no stars but unfortunately it's required to submit the review, I give them -1 stars.

I would not use this Flower delivery service. It was a week late and 10 hours of my time. This is what was sent for 100.00 dollars. Corporate was contacted and this was what they thought was "above and beyond".

I read many negative reviews about Teleflora, but thought they have been in this game for many years, so maybe my experience will not be bad. I ordered a fruit and nut basket for my grandma's birthday today, but it's now 4:26 pm and nothing has been delivered. I called the Teleflora customer service number and was told the floral shop assigned to do the delivery has closed for the day. What??? I was then asked to give them until 7 pm tonight for delivery.
I reminded the customer service agent that he told me the shop is closed, so how are they going to deliver anything today. He explained away about giving them the time to see if the order will still be delivered today. He went on to tell me if the order is not delivered today then they can reschedule the delivery for another day. I then went on to tell him the SAME DAY DELIVERY was for my grandma's birthday which is today, so it defeats the purpose to send it on another day. We concluded the call with the agent telling me if the delivery is not made today that he will submit my request for a refund. So I have now joined the many people who have filed complaints about not receiving items that were supposed to be delivered same day. This company is unreliable and I will never again order from them unless there is a major improvement.

I searched several online florists and went with Teleflora. Their site said the package could be delivered the next day without a problem. The next day came, and I kept waiting for my wife to react to the surprise flowers. Finally I get an email whose subject read "Teleflora Order ###," not "Problem with your order, contact us immediately!" I read it and find out they couldn't find a florist who had what I ordered. I emailed them instructions to find something similar and sent it quickly. No answer. I email again asking them to confirm they read my response. No answer. Finally, I called them. "Yeah, I called a florist, and they're gonna deliver something you didn't want, but not today, but tomorrow. It's too late (it was only 2:30 pm) for any more deliveries today. Is that okay?" No, that was not okay. I will never use Teleflora again, nor do I recommend anyone else ever use them. They ruined Int'l Women's Day for my wife. Completely unsat!

Please do not use Teleflora when ordering flowers that are important to you. (And frankly, when are they not?) My husband ordered flowers to be delivered to my office on Valentine's Day. He was so disappointed when after talking to me when I got home and me not saying anything about it that he finally asked if I got my flowers, which I had not. The next day I got a phone call from some florist delivery that was trying to deliver my flowers to the wrong number and street. I told them they had the wrong address and that they were supposed to arrive on Valentine's Day.
My husband called to get a refund and they first told him that they had tried to deliver them 3 times and I had refused them -- not true. Then they just told him I refused them once and their policy says if they are refused at all they do not have to refund the purchase. Wrong day, wrong address -- Teleflora with the win for $70 without having to provide a service. I have used ProFlowers in the past and never had any issues. Use them to avoid this kind of disappointment and false advertising that allows them to receive payment without services rendered.

I recently used Teleflora through a Groupon purchase to arrange for the delivery of flowers a couple of days before Valentine's Day while my wife and I were out of town. To their (the local florist's credit) the arrangement was delivered to the right place on the right day. HOWEVER, the flowers were brown around the edges and wilting. I sent an email to Teleflora's Customer Service and have yet to get a reply.

I have no idea how Wells Fargo partnered with this company to offer a $15 discount. I placed my order on the 12th of February and it was to be delivered on the 14th. The order was not delivered and I emailed the company to tell them I was dissatisfied. A few days later, still no order delivered. I've tried calling and the line is always busy. I have been on hold for 40 minutes. I've emailed the company that I want my money reimbursed and still nothing. I wanted to surprise my mom for Valentine's Day and this company took advantage of that. Teleflora is a scam. This should be reported and the company needs to shut down. They are not helping anyone.

I ordered flowers corn Valentine's from Teleflora. They said they delivered them but didn't. I spent literally five hours cumulatively on hold trying to get the issue resolved without ever speaking to a person. I sent an email using their complaint form online. Never received a response. Two weeks and three phone calls later they admitted to not having delivered the flowers and 'offered' to give my money back rather than deliver them three weeks late. I never received even an apology. The worst customer service I've ever received. Never order from them.

Ordered flowers to be delivered on Valentine's Day at work. Flowers were never delivered. Sent several emails with no reply. Finally took the time to call. CS Rep was good and said they would investigate. Apparently, it is their policy that they require a signature and they would give me the name of the person who signed for it. Nearly a week went by. Then I received two voicemails with different explanations. First said flowers were delivered and left at the door. Let's be clear: the location is a major road in Brooklyn NY. What idiot would leave flowers on the sidewalk in front of a business on Valentine's Day? Also, this would be exactly in contradiction to the "someone must sign" policy.
Before I could call back, I received another voicemail saying the flowers were delivered and signed for by "Mike." This a fully owned and operated Chinese business and there is no "Mike" (or anything close to it) there. Finally after 3 phone calls I asked for a supervisor who relatively quickly processed my refund and personally called the recipient to apologize. So they eventually handled my request, but totally not worth it. I only used this company because they had something closer to what I wanted than 1-800-FLOWERS. I've sent many flowers through 1-800 and have a 100% on time delivery record with me. USE THEM INSTEAD.

I ordered flowers for my daughters for Valentine's Day, they were to be delivered to the workplace and high school. Neither of my daughters received their flowers on Valentine's Day, though my son got his gift. This leaves my girls thinking I didn't get them anything. I did, however, receive a delivery confirmation that both flowers were hand-delivered on Feb. 14. On Feb. 15, I spent over 2 hours on the phone with Teleflora during which time my oldest daughter's flowers were delivered to her workplace around 4:15 (I had been on the phone for at least an hour at this point). They were ridiculous looking small flowers in a 12" square vase. Nothing like what I ordered.
When I finally speak to the CSR, she claims the other flowers were delivered to the high school at 3:40. My daughter didn't get them. Those flowers showed up on the 16th. They were worse than the first flowers. Some were even wilted and drooping. I finally got to speak with a supervisor, and he said they strive for 100% customer satisfaction, and offered me a 70% refund for my purchase. I checked my account, and I was only given the refund for 1 order of the flowers. This is not the first time Teleflora hasn't delivered. In May 2016, they didn't deliver the Mother's Day flowers I ordered for my mom in another state. I will NEVER do business with them again, and I strongly discourage anyone else from doing business with them. 3 orders and 3 screw-ups is unacceptable.

This is by far the worst online company I've ever dealt with. I had a sympathy basket sent to a friend at her place of business. Correction, I **attempted** to have one sent to her. I provided explicit instructions. Since she works in a Government building, she needed to be called to come down to sign for it. And I gave two numbers where she could be reached. The following day that it was **supposed** to have been delivered, I started calling Teleflora to see if it was. What a joke. That first call, I was on hold for 30 minutes and eventually gave up. I called again the following day. Same thing. 30 minutes on hold and hung up. I e-mailed them asking for a confirmation and if my friend signed for it. I get an e-mail that simply said "Your order was delivered." Nothing about my friend.
I get a text from my friend about 2 days later about something non-related. She never mentioned the basket. So I asked her and she never received it! She went downstairs to ask the front desk. They said they never got an order for her. I called Teleflora again and this time I was given the option for them to call me back. Which they eventually did. I don't know where they are located and what nationality that CSR was, but I could barely understand her. She kept saying that I would get a 50% refund and 50% off my next purchase. I told her I was reversing the charges and contacting the Better Business Bureau. Not two minutes later, I see in my bank account a full refund. I'm sorry I didn't do my research on this company before doing business with them. Because the reviews here are the worst I've ever seen.

This company sucks!!! Didn't deliver my order on Valentine's Day... I had to follow-up with them - took a few days to respond and all they offered me was a refund. Still didn't deliver any flowers or refund. Gave them the opportunity to make it right - which they did not. Stay away - customer service or reliability is not part of their culture.

We ordered flowers for Valentine's Day for a friend who is a recent widow. We ordered them 2 days early and requested a confirmation email. The flowers never arrived, we never got a confirmation email. Called the 19th of February and we were told there was a mistake, the order was lost. They would deliver on February 20th, the flowers never arrived and we did not get a confirmation email. Called today the 21st was told they would deliver them today. No thanks, what is the point. Asked to talk to a supervisor, still on hold 40 mins later. No supervisor is going to get back to me and they are not going to do anything to make me happy. This company is a scam. I hope to heck I don't have trouble getting a full refund. I will tell everyone I know how awful this company is.

I can't even begin to describe how awful this company is. I ordered sympathy flowers for my sister and brother in law on February 10th to be delivered on February 11th. I received a delivery confirmation email on the 11th with a different order number listed than my original order number. My sister never received any flowers. I called Teleflora early this morning to see what was going on. The representative didn't have a valid excuse as to why I received a delivery confirmation when the flowers weren't even delivered.
When I asked to speak with a manager I was told they were "busy". I also asked which florist was processing the order (so I could save time and call directly) and was told that they are not allowed to provide that information. That is absolutely absurd! Especially because I chose a specific florist at checkout. WHY can't they give me a name of a florist!? I even called the florist that it was supposed to be processed by and they didn't have any record of my Teleflora order. I will NEVER use this company again. I could've driven from NC to NJ and hand delivered the flowers myself before this scam of a company even did anything. Still no flowers delivered after 10 days.

My family went through this "company" to send flowers to family funeral we were unable to attend and they never got delivered. We called Teleflora and asked what happened and if we could get a refund since the flowers were never delivered. They told us they could deliver the next day but the funeral had already happened so we told them no and that we need a 100% full refund. They kept telling us that they are only able to give us a 40% off a future order and 20% refund, but the flowers were NEVER DELIVERED. We called multiple times and asked to speak to a manager and never was transferred to them. This company is a scam and should not be in business! DO NOT USE THIS COMPANY IF YOU WANT YOUR FLOWERS DELIVERED.

On Feb. 10th, I ordered flowers for a Feb 13th delivery. On Feb. 13th, I received a delivery confirmation. Unfortunately the flowers were no delivered. I e-mailed and called Teleflora. The evening of Feb 13th, I spoke to a representative of Teleflora who assured me that the flowers would be delivered on Feb 14th. Again, no delivery. Again, I e-mailed and called Teleflora. I was on hold for forty-five minutes before I finally hung up. I received an e-mail response on Feb 16th, but still no flowers. On Feb 17th, I asked for a refund, I purchased flowers elsewhere. I received an e-mail today Feb 19th, telling me that the issue had been resolved except I haven't gotten a refund nor have the flowers been delivered. The last e-mail I received stated the flowers would be delivered tomorrow... President's Day!!! Nobody will be there to receive the flowers I no longer want. Teleflora stinks. I agree with all the other one star reviews.

Placed an order, took my money, failed to deliver the order ever. Tried calling phone system, leaves you on hold forever or cuts you off. No person ever comes to the phone. This is fraud and theft.

Teleflora is a total fraud. My order was never delivered. Wrote several emails to customer service but not a single reply. Called several times as well but no representative was there to answer at all. I am sure this company pays a fortune to Google because it was placed as the 1st result when I searched for flower delivery. But its service is as bad as it gets. How I wish I had looked at these online customer reviews before I bought product from this fraud.

Save yourself the frustration. This company is a scam! On February 12, 2017, I ordered a featured standard floral arrangement to be delivered on 2/13/17 to a heart surgery patient at Emory Saint Joseph's Hospital in Atlanta, GA. My American Express card was also charged $56.46 on 2/12/17. I received a voicemail from Teleflora on 2/13/17 at 4:00PM that the delivery was not made. I called and held for 35 minutes and was told delivery would be made on the following day, 2/14/17.
On 2/14/17 after holding for over 1 hour in 3 tries, I was told that due to it being Valentine's Day no florist would pick up the order. On 2/15/17 I called and held for 33 minutes and spoke to a representative who PROMISED the order would be delivered by 6:00PM to the patient in the hospital. The rep called to ensure the patient was still there. No delivery was made! On 2/16/17 I called 2 more times, holding over 20 minutes each time. I spoke to a representative who promised delivery by 2:30PM and that I would receive an email and a phone call to confirm this. Each day I asked for a manager to contact me and no one has done so. After 16 telephone calls since 2/13/17 and several hours holding on the telephone and speaking with representatives who offered me 10% off, 20% off and cancellation of the order; as of 2/17/17 no floral delivery has been made and the patient is released from the hospital.
Today, 2/17/17, I received a voicemail from Teleflora stating that they could not find a florist to pick up the order. My level of frustration of being lied to on a daily basis is at a high level. Teleflora is scamming us and reputable florists are no longer participating. I filed a complaint with the BBB of California to stop their fraudulent business practices. I have also alerted American Express, but it will take weeks to get my money back.

My flower order was not delivered. Going on day 4 of no delivery and no explanation. Have called 3 times and always on hold for long period of time. Cannot get through. Also sent several e-mails to customer service with no response. One was even a request for delivery confirmation. I have no idea how to get my money back for my order that was never delivered. I will never use their "services" again. I am angry that I do not seem to have any way to resolve this situation.
Updated on 02/22/2017: I received an e-mail from Teleflora on February 20 in response to a request I made for a delivery confirmation. The told me that the arrangement/balloon was confirmed delivered on February 14. This is not true. It has been one week and one day and there has been no such delivery of any kind. I was wondering what ConsumerAffairs next step would be in this process. I demanded a complete refund for services not rendered within the next 5-7 business days. I also requested the name of the local florist who was supposed to have made this delivery and did not. I just sent this e-mail today so I will see what happens in the next 5-7 days. Needless to say I will never again use their services and I will tell everyone I know not to use them and tell them to tell everyone they know not to use them.

Valentine's Day! Pretty big day in the flower world and I made the unfortunate decision to use Teleflora for my romance needs. I placed my order around 9:30am on Feb 14, got an order confirmation email, and thought to myself, "Great, that was an easy process, now I wait." And I waited. End of the business day is approaching and I haven't received a delivery confirmation yet, so I go submit a ticket to Teleflora's customer service page asking for an update. The only notification I get that day is an auto email sent to my Promotions' mailbox titled "Our Sincere Apology" with a coupon in the email for 25% off my next order. It doesn't provide any details about my order, though.
So I submit another ticket that day, asking for details. No reply, and no flowers on Valentine's Day. I submit another ticket on Feb 15, asking for details regarding my order. Still no reply that day, still no flowers. Feb 16, just before 4pm, I get a reply informing me that my order had been canceled "because the shop cannot deliver your order because they are already out of the recipient's area." Very disappointed in the company's ability to respond quickly and accurately, as it would have been nice to know my order was canceled. It was my first experience with Teleflora and I won't be entrusting them with my romance business anytime in the future.

ConsumerAffairs Research Team
The ConsumerAffairs Research Team believes everyone deserves to make smart decisions. We aim to provide readers with the most up-to-date information available about today's consumer products and services.
In business more than 78 years, Teleflora is an experienced flower delivery service. The company offers same-day delivery on many flowers, but also allows consumers to schedule their orders up to three months in advance.
Intuitive website: A clean and easy-to-read website makes shopping online a pleasant experience.
Shop by occasion: Find a flower arrangement for any occasion, from birthdays to weddings, using Teleflora's tools to search by occasion.
Images: The Teleflora website shows images of what different sizes of the same bouquet will look like, and it shows estimated measurements too. This information can help consumers select the best size for their recipient.
Unique arrangements: Teleflora's holiday and seasonal displays use non-traditional foliage like colorful maple leaves and sheaves of wheat to provide unique holiday looks.
Leave it to the experts: If you are unsure about what to pick, you can always go with the Deal of the Day. Florists put together an arrangement just for you, at the price point you specify.
Best for significant others, friends and adult children.
Teleflora Company Profile
Company Name:

Teleflora

Year Founded:

1934

Website:

http://www.teleflora.com/