Consumer Complaints and Reviews

I ordered a bouquet of violet flower plants for my mother-in-law for Mother's day this year (2017) - about $69 total. She received a cheap bouquet of yellow daisies in a cheap clear vase. NOTHING like what I ordered and looked like something you could pick up at a gas station. I was NEVER contacted that there would be an issue in fulfilling my order properly. My first complaint email resulted in an offer of 20% off my NEXT order. As if I would ever order again.
About 8 emails later, they finally offered me a full refund - but when they refunded, they did not refund the shipping charge or EXPEDITED shipping charge I paid. So about $22 less than I paid. I will NEVER order from here again. I usually use ProFlowers (GREAT customer service). Teleflora has no idea how to deal with their OWN errors. Yes - it was probably the local florist they contracted through - but that is THEIR error. It was embarrassing and I still was never fully refunded. Stay away and call a local florist directly.

I ordered flowers for my stepmom's birthday yesterday and I get a call in the morning that they are unable to deliver as they can't find a florist (lol). Why in the world wouldn't they have called yesterday so she could have at least had them a day early, instead of letting me know day of. So we reschedule for today, I get an email saying the bouquet I picked out is unavailable today so is there a different one we would be okay with, at this point I said just deliver something! Now I get an email an hour later saying that they can't deliver at all today. How in the world does a company stay in business that pulls this crap when there are SO many other great floral companies out there. The only reason I tried them out was a deal with American Express. NEVER AGAIN. Now I have to pay double to order them through a different company and get same day delivery. BS.

I ordered flowers to be delivered to my sister in Flower Mound TX... Zip code 75022. The flowers are stunning!!! I wish I knew the name of the local florist that designed this arrangement. I reached out to Teleflora to get the contact information. Unfortunately due to a contractual agreement they were unable to provide this to me. The only information with the flowers was an "FTD" flower pick. So this review is not for Teleflora, it is for the local florist in Flower Mound TX. I wish I had their information because I would not only recommend them, I would order direct.

Saw a nice ad for Teleflora same-day flower delivery. Around 8 am, I contacted Teleflora via internet. In Florida, we selected a nice bouquet including roses for my daughter's anniversary at her home in Georgia. I paid for bouquet and delivery. At 5 pm, my daughter got a call from a local florist telling her to come pick up her bouquet at their shop!! Certainly not the outcome I was hoping for. What happened? Last time I use this "service??"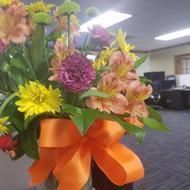 I order my boyfriend a $90+ value flower and he received something NOT EVEN WORTH $20. The arrangement was very poor and the flowers were empty. There was nothing special about the flower and when I email them about it they ignored me, which I emailed them about 5-8 times. AND when I bought the flowers they also lied to me that their car was broken because they didn't want to deliver my flower. It took them 3 days to deliver the flowers (which then the flowers were not fresh anymore). THEY ARE MONEY HUNGRY PEOPLE AND THEY JUST WANT TO STEAL YOUR MONEY AND CHEAT YOU. Please don't be cheated by them. They will not help you if something goes wrong.
How do I know I can trust these reviews about Teleflora ?
823,111 reviews on ConsumerAffairs are verified.
We require contact information to ensure our reviewers are real.
We use intelligent software that helps us maintain the integrity of reviews.
Our moderators read all reviews to verify quality and helpfulness.
For more information about reviews on ConsumerAffairs.com please visit our FAQ.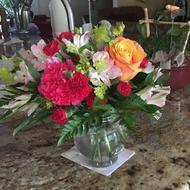 Flowers that were ordered a good number of days earlier were not delivered until very late in the afternoon and after an email to the company inquiring about why they had not been delivered. The Florist selected by Teleflora has a terrible reputation for bad service and product. Of course, the consumer has no idea what Florist will be used by Teleflora. One would think they would take some time to check the reviews of their customers.
The bouquet that was delivered was a skimpy version of the advertised item. The flowers from a supermarket Florist would have been more appealing. Teleflora says in their ad that they will provide something equal in value if the item ordered is unavailable. Not true. After my complaint, I was offered a 50% refund. To date I have received a 20% refund. Not only are they poor at selecting representatives for their company, they also have difficulty with math. It is a shame that something that was supposed to give pleasure to my good friend was so blatantly of no concern to this company. Shame on them!

I ordered one week in advance. They were late 1/2 past business hours to deliver the flowers. I ordered a 5.00 balloon that never made it upon delivery. Lastly, the flowers look absolutely nothing like I ordered!!!! This is not beautiful in blue!!! Do not ever order from here. Wal-Mart flowers probably look better.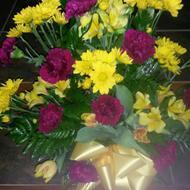 Ordered a spray $153 for my aunt's funeral out of state. It was supposed to contain 7 different flowers, many colors - gorgeous on website. What got delivered was pathetic - 2 flowers very sparse, actually, some look wilted no stand, crumpled ribbon. It has 7 family members that went in on it listed. I'm embarrassed beyond words to have sent that. See photo of what I ordered and what I got below. After arguing with company I got 30% then 50% refund and they would not go higher. They said it was because it was accepted! Really? Do you know anyone who is grieving in another state would actually even know what we ordered let alone, say no this is too ugly. The bad part is they won't tell me which florist they used so I can avoid them in the future. I will never use this company again.

I was to have flowers delivered to my Mom. She is 84. The delivery person just left them at the doorstep and did not knock or ring the bell. She found them 2 days later all dead and no water. She sent me a picture of them and the card that came with them. The card looked like a 5-year-old wrote it and the picture was dreadful. The ribbon around the vase was like pink yarn! Very embarrassing and degrading way to show my love for Mom on Mother's Day. All the florist will say is they delivered them... Please don't trust Teleflora with your business. What's the point of them asking for her phone #?

I ordered a standing spray for a funeral 3 days in advance and it was NEVER DELIVERED. It was an international order so I had to place it over the phone. I was told that I could choose the kind of flowers I want, I told them that I didn't really care just something of red or white color (not a complicated order). I received an email with the order confirmation and the payment went through. I decided to call them the day of the funeral to get a status update on my order only to find out that the flower shop that was supposed to fulfill my order couldn't do so. And nobody even bothered to inform me of that. The service was already over when I found out. Horrible experience. I wish I read the reviews prior to placing an order.

I ordered a flower arrangement to be delivered to my mom for Mother's Day. The Teleflora website had a photo and detailed description of the arrangement I ordered. Something completely different was delivered. I emailed them over and over again. First I asked for the correct order to be delivered and they had the audacity to respond by saying I could have a discount on my next order! Numerous other emails were ignored then they refused to send the correct order. Now they are trying to give me just some of my money back. My mind is blown by how awful they treat their customers and would never recommend anyone have to deal with a company like this!

I ordered a "flower cake" 6 days early to be delivered to my mother in a nursing home for her 98th birthday. I traveled to be with her, and no flowers were delivered on her birthday or the 3 following days. Teleflora sent me an email saying my item was "no longer available" & so they were delivering a substitute. They did not deliver anything. I replied to their email, saying it was now too late and I did not want anything from them, and not to charge my credit card.
Four days later, Teleflora telephoned me, still wanting me to order a substitute with a note of apology. I said it was already far too late - also my mother is too blind to read their note. The Teleflora rep kept persisting to get me to order something now or in the future with a 15% discount. I have never had such poor service. Any respectable company would at least have provided free flowers after such poor service. I will never order from Teleflora again. It is false advertising to show an item as available, complete confirmation 6 days early, and then on the delivery date to send an email saying the item is not available.

I ordered Mother's Day flowers two days prior & the earliest I could get them delivered was a week after... Not happy about that, but moving on. My card was charged the following day, but the day the flowers were meant to deliver, I get an email saying that the arrangement I ordered was not available for delivery in that area. Now I'm irritated because that should have been communicated the day I tried to order it! Or, at least a few days afterwards, not THE DAY it's supposed to deliver!
I called the number in the email & the woman I spoke with was very understanding & agreeable; but I suppose you'll say anything to get an upset customer off the phone because when the flowers finally arrived, it was obvious that she didn't listen to a word I said. We agreed on a large amount of daisies (mama's favorite flower) to be added to the arrangement which was available & it would deliver same day - 5/20. Later that day, I get another email saying that the 5/20 delivery is now unavailable & to choose a new date... Fine (she said through gritted teeth) delivery on 5/22.
The flowers finally reach my mother on 5/23, no daisies in sight, with a card signed Monica... My name is not Monica. Thankfully, the correct name was on the paper that arrived with the flowers or she would have been very confused because she doesn't know a Monica. My name was misspelled, which I don't understand because I TYPED IT OUT FOR YOU! And the arrangement was unattractive & thoughtless; nothing that I would have picked for her in a million years.

On May 5, 2017, I ordered a large bouquet of flowers (at a cost of $106.00) for my mother to be delivered to a Nursing Home in Slidell, Louisiana on the day BEFORE Mother's Day (May 13th.). On May 13th, I received an email from Teleflora stating that the address "Was Not Complete." This prompted me to recheck my ordering information. I thought that perhaps there was a major problem that was incorrect in the address because of how the email had been written. Upon reviewing the delivery address, I discovered that the numeric street address, the street name as well as the city and state were all correct.
The telephone number of the business was also on the order and it was correct also. The zip code may have been incorrect. This email was written as though the address did not contain vital information. I then called them and spoke briefly to a customer service representative. I thought that the matter had been resolved.
I then received another email the next day (Mother's Day) stating that they were unable to deliver the flowers on MOTHER'S DAY but, that they could deliver them on Monday, Tuesday or Wednesday. I was appalled!! My mother is 88 years of age and is ill. Mother's Day, May 14, 2017 may be her last Mother's Day. I was so very hurt and disappointed!
Teleflora offered NO COMPENSATION nor did they apologize. I then told Teleflora that Monday, Tuesday nor Wednesday was Mother's Day! I told them that I did not want the flowers to be delivered AFTER Mother's Day!!! I demanded that they cancel the order. Then, I immediately called American Express and made a formal complaint against them. I am EXTREMELY disappointed with Teleflora and I will NEVER AGAIN order flowers from them!!!
I have also informed my family and friends of this situation and they too will not do business with Teleflora. If a fraction of a star was offered, TELEFLORA would get the smallest fraction. They are not worthy of receiving a whole star! Hopefully, this review will help others to be aware of TELEFLORA! As they attempted to place the blame totally on me! The email read as though I had not given them a "complete address." They offered NO APOLOGY and AGAIN NO COMPENSATION. I should have ordered from FTD!!

Ordered flowers from here for a funeral. They ordered Sunday and supposed to be delivered on Monday. I never heard from the person they were being delivered to. I then received a call TUESDAY morning from the company stating that the flowers could not be delivered Monday but they would still deliver them today if I'd like, with a 20% discount refunded to me (after I asked). I agreed. Here, at 6:35pm the flowers were still not delivered! I called the company and they tried calling the local florist (who they wouldn't name) and said they couldn't get an answer and that they never even received an "out for delivery" confirmation from them. They canceled and refunded my order. If you check their FB page there's NOTHING but complaints. This company needs to be shut down as this is unacceptable.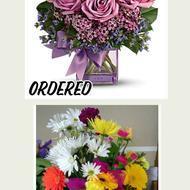 I will never order from this lousy company again. I spent almost $70 on what would have been an amazing floral arrangement only for my aunt to receive a bouquet that looked nothing like what I had ordered and that I could have bought for $20 at the grocery store! After several emails with customer service I was only offered a 30% discount ($20). When I responded that was unacceptable, I got no further response from their customer service department. So basically I paid almost $50 for a cheap bouquet. Nothing but a bunch of crooks! Shame on to them!

I will never order from them again. I placed an order for my boss (I'm his assistant) for flowers to be sent to his girlfriend for her birthday this morning. $300 order. I received an email confirmation for the order and the charge showed up on my credit card as "pending". When my boss never heard from his girlfriend that she received the delivery, I called customer service at the end of the day (of course there was no phone number listed on their website). When I finally found the number and called, they informed me that my order had been CANCELED "for my protection" because it looked suspicious. Really? No notification or question to me? Now it looks like I didn't do my job and no flowers for her birthday. Seriously BAD CUSTOMER SERVICE. I will never use this company again. Never.

Teleflora cancelled my Mother's Day order and neglected to notify me. I even ordered the flowers before the holiday to ensure delivery. They did nothing to make up for their lack of professionalism and competency. I have an email confirmation which, for this company, does not have any value. Very disappointing experience. Customer service said they would send the delivery the next day with a note of apology, which also never arrived.

This is the second straight year Teleflora have not delivered what I ordered, disappointing not only myself but my mother in law. This is a simple case of a company not being able to fulfill what they advertise and this time I asked for a FULL REFUND and they directed me to a customer service number where a rep put me on hold for 15 minutes and then I just hung up. TELEFLORA IS DISGRACEFUL! In today's day and age of social media, they should be smart enough to appease consumers, especially ones that know where to reach the masses and leave negative reviews on their services. I will never use them again!

If it were possible to give it no stars I would. There was no contact as to the fact the flowers weren't going to be delivered on my relative's Birthday. None. Then the first 1800 number wouldn't work. Then the customer service rep told me I would have to call back in an hour to cancel my order. After spending a ridiculous amount of time even getting to that point. We are dealing with people's feelings and emotions here. And if the ratings for Teleflora hadn't been so far from the site that I didn't see it, I would have never ordered from them in the first place. Ridiculous.

No delivery - Order was placed in the morning, the recipient never received it. No communication that product would not be delivered. No reply to emails. Exceptional hold times (Over 20 mins). Apathetic. Spoke to Stacy and George. Reported my refund will take up to 10 days. Will never, ever order again.

I ordered mother's days flowers 2 days in advance of the event bc I am aware of the rush on that day. When I called bc it was mother's day and my mom had not received any flowers, I was told that there was a mother's day rush and that I would have to wait until next weekend. "NO WAY" I said. I paid an extra $22 for ahead of time delivery and it's already late. I want them delivered NOW! Well long story short not only were delivered very late that night, they were dead and totally not roses and daisies in a pink vase with a ribbon and a card like I ordered. They were wilted dead cheap flowers that anyone could have picked up from any field and thrown in a cheap glass vase from a family dollar store.
Now after 4 telephone calls of complaining and *itching, I was told that they can re-deliver for an extra delivery charge. Are you kidding me? I paid more than enough for dead cheap flowers, $22 extra for a same day delivery that was 2.5 days late and now you want to charge me again? So now they want to offer a 30% in future purchase as a "reward" for my inconvenience... right, as if I will ever use them again.
Updated on 5/24/2017 - Simple order... pink vase with daisies and pink flowers. Received instead a cheap vase with flowers that seem to have been picked out of a wild field, wilted, ugly and shameful. Second time around, wrong again! This time purple wilted "'roses" cheap clear vase and carnations... wtf? I write them, send them pictures of the absolutely unacceptable junk I received, and they are offering me a 50? Discount. In other words, I end up paying $50 for flowers that were picked out of the trash and a vase from a 99 cents store. NEVER again!
I do NOT recommend this service and I hope they go out of business. They are very nonchalant, uncaring and rude. In other words, "eff you now, we already have your money"! Below pictured what I received v. what I ordered. HUGE difference not only in look but also in quality. On top of all that, they did not even include the card and delivered three days late, ONLY because I called to bitch and complain and demand my order be delivered at once because that was what I paid for; they also had the nerve to catch an attitude!!!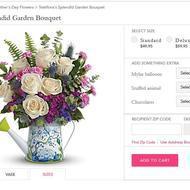 Teleflora Reference #: **. On 11th of May, I ordered the flower that called "Teleflora's Splendid Garden Bouquet through online with Teleflora website (http://www.teleflora.com/bouquet/telefloras-splendid-garden-bouquet?prodID=P_T17m300a&skuId=T17M300) but it was not able to get it through with my credit card so I decided to call Teleflora via Relay Service and it was succeeded. Also, I was advised that it will be possibly booked up on Friday that might delay to Sat afternoon which it apparently was reasonable for me to accept and notified one of my family to keep eye on deliver to surprise for my memaw's surprise for Mother's Day and her Birthday on 15th. On Sat evening, my aunt texted me that she never received any delivery from Teleflora and I immediately called customer service to file complaint against the delivery that was never delivered promptly at all.
We verbally agreed thru phone by using Relay Service that they will make sure that the delivery will be on Monday afternoon for my memaw's birthday which is today that included the changed address and Guess what!!! It was NEVER DELIVERED to my mom's birthday at hotel, AGAIN!!! Of Course!!! I got upset!!! They have their own nerve to embarrass me for what they did to my MEMAW who just turned 84 years old. NO TRUST for TELEFLORA and POOR SERVICE!!! It does break my heart... I highly recommend for everyone to avoid this business. Even, they charged me 80 dollars (18 dollars for service fee - What do they use that for????) for that without any presence gifts for my memaw. ALSO, MISLEAD ME for their offer 'DELIVERY ON SAME DAY!!!' But two days in a row, they didn't promptly delivery my order to my poor MeMaw... What a shame!!!

Placed an order 2 week in advance with Teleflora for my wife from our kids for Mother's Day. Was to be delivered Friday. My wife is a teacher and was out to lunch when they showed up. According to the front office a gentleman walked in asked for my wife. They told him she was out at the moment and he turned around and left. I got an email Friday saying they were delivered but with the busy weekend I did not ask her about them till today (Monday) and she tells me she did not get any. Called Teleflora and the lady I could barely understand wanted me to wait so they can try and send them at another date. I told her Mother's Day already passed and what good would it do so please give me a refund. Of course she did not want to till I asked to speak to her manager or supervisor then she decided to give a refund. I will never use them again and neither should you.

This company does not provide their own flowers. They assign a shop closest to the recipient's address. I order 3 sets of flowers. Only 1 showed up and the other 2 are God knows where. The arrangement I ordered looks horrible, I could've went to Publix for the crap they provided. Horrible customer service. Don't order from them!!!

This was the WORST experience I have had with ordering flowers. I ordered them a couple of days in advance and the day of delivery I had heard nothing from my sister, the recipient. I called the company and they said they could contact the florist and request a delivery confirmation. Shortly after, I received an email saying they had been delivered. This in fact was NOT true. I called the company back and asked details of the local florist and was told they could only click a button to contact them and had no details (weird and poor partnerships with business if you ask me). I said I would accept delivery through the next day and still NO flowers. I was beyond upset at this point.
I called back and stated I wanted my money back. They told me they could give me half my money back yet no flowers... are you kidding me??? I told them I wanted to speak to a supervisor and would only accept the full amount back and to not offer me a coupon because there was NO way I was ordering from them again. After an hour on hold I finally got in touch with someone, got my money back, and 2 days later flowers that didn't even look like the ones I ordered, in a brown paper bag, with a terribly handwritten note were delivered to my sister. They claim to have cut ties with the florist but if you believe that you must be crazy, I would NEVER order from this place again. Terrible service and terrible customer service.

On April 24th I ordered an arrangement to be sent to my 101 year old mother for Mother's Day. The arrangement was to be delivered on Sat. May 13. It did not arrive on the 13th or by mid afternoon on the 14th. I called and sent 2 emails regarding my displeasure. I was told the flowers could be sent on Monday between 11 a.m - 7:00 p.m. I wasn't happy with that but didn't feel I had much of a choice. The Teleflora representative offered me a 40% discount and advised me that she would contact the florist in Boca Raton to have the flowers delivered on the morning of the 15th. I called at 12:30 p.m. on the 15th to check on the status of the delivery, sat on hold for 20 minutes only to be told that because the delivery date had been changed and Teleflora now had to find another florist. Are you kidding me? I didn't change the date, they didn't deliver them.
I cancelled the order, waited online until my credit card was credited. I was then told that they credited my account and would like to provide me with a 30% discount on my next order. Fat chance of that happening. My poor mother is 101 years old, I live in another state and could not spend the day with her. At the very least I wanted her to have something special on Mother's Day.

Flowers ordered 5/11/17 to be delivered on 5/12/17. Flowers not delivered, Teleflora asked if they could deliver on 5/13/17 and I agreed. Teleflora contacted me mid-day on 5/13/17 and said they couldn't deliver until 5/15/17. I said NO that was unacceptable and asked for a refund. I confirmed with recipient the flowers were not delivered on 5/13/17, emailed Teleflora again to ask for a refund so I could order flowers with a local florist.
Teleflora emailed on 5/15/17 stating the flowers were delivered on 5/13/17 to someone with initials that do not match my mother or her husband. Teleflora missed the delivery date entirely, were told to cancel the order due to their inability to perform, and are still charging me for flowers which were never delivered. Teleflora missed the date, the order was cancelled, no flowers delivered. They need to issue a refund.

Horrible Customer Service. I feel bad for the people that work for that company because they must have to talk to mad customers all day long! They couldn't fulfill my order on the day requested, so they wanted to give me another date. I said, "Give me a discount and I will agree." They said yes, they would give me a discount and send the flowers the next day. I get an email about the cancellation of the order a few minutes later.
I didn't ask for a cancellation. I call them back and wait forever on the phone for a second time to find out they want to charge my credit card a second time to send the flowers TWO DAYS after the initial day of Mother's Day and I get no discount and have to wait two weeks for a refund of the 1st order. What!? Oh, hell no! Cancel the order! Ya! Piece O' Crap company!!!

Ordered flowers on Wednesday and more on Thursday. The flowers from Thursday's order was delivered and the flowers ordered on Wednesday was not!!! I used the same card number to order both and was told I had to order the flowers that did not arrive as paid for and guaranteed again and they would be the following day for delivery, the day after mother's day. Too late for the party for my wife. At our address that the bills come which they never miss that date or address but the actual delivery of paid for and guaranteed delivery never arrived???!!! Frustrated husband and crying mother of 4. Thank you for your inability to take care of you paid in full clients that keep your business running Teleflora.

ConsumerAffairs Research Team
The ConsumerAffairs Research Team believes everyone deserves to make smart decisions. We aim to provide readers with the most up-to-date information available about today's consumer products and services.
In business more than 78 years, Teleflora is an experienced flower delivery service. The company offers same-day delivery on many flowers, but also allows consumers to schedule their orders up to three months in advance.
Intuitive website: A clean and easy-to-read website makes shopping online a pleasant experience.
Shop by occasion: Find a flower arrangement for any occasion, from birthdays to weddings, using Teleflora's tools to search by occasion.
Images: The Teleflora website shows images of what different sizes of the same bouquet will look like, and it shows estimated measurements too. This information can help consumers select the best size for their recipient.
Unique arrangements: Teleflora's holiday and seasonal displays use non-traditional foliage like colorful maple leaves and sheaves of wheat to provide unique holiday looks.
Leave it to the experts: If you are unsure about what to pick, you can always go with the Deal of the Day. Florists put together an arrangement just for you, at the price point you specify.
Best for significant others, friends and adult children.
Teleflora Company Profile
Company Name:

Teleflora

Year Founded:

1934

Website:

http://www.teleflora.com/