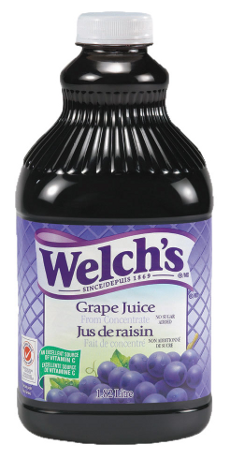 A consumer advocacy group takes issue with Welch's slapping a heart-health icon on its grape juice and other products.
In fact, says the nonprofit Center for Science in the Public Interest (CSPI), not only does Welch's juice not improve heart health, it may, on balance, do harm by contributing to insulin resistance and obesity.
Welch's said CSPI made "a number of misguided accusations regarding Welch's messaging." 
"At Welch's, we take great pride in the quality of our products and go to great lengths to ensure that all our communications are truthful, well supported by science, and easy for consumers to understand," Karen Mitchell, Director of Marketing, Strategy for Welch's.
CSPI has told Welch Foods, Inc., that it will face a lawsuit unless it stops making heart-health claims on its juices, spreads, fruit juice cocktails, and fruit snacks.
Welch's relies on the presence of polyphenols and vitamin C in grape juice to justify its statement, often placed inside a red heart shape, that the juice "helps support a Healthy Heart." But CSPI argues that Welch's cites only studies that were uncontrolled, conducted on animals, or that actually showed that grape juice was ineffective at providing the cardiovascular benefits associated with polyphenols. And the National Institutes of Health's Office of Dietary Supplements found that studies of vitamin C gave no indication of cardiovascular benefits.
Making matters worse, says CSPI, is that Welch's encourages consumers to drink juice in lieu of eating fresh fruit, stating that "Getting enough fruits and vegetables each day is important for overall health — but everyday life often gets in the way … Welch's 100% Grape Juice makes it easy to squeeze in more purple fruit each day as part of a healthy diet for the whole family."
Mitchell noted that USDA guidelines say that "100% juice is one way to add more fruit to the diet as a complement to whole fruit intake.
"When it comes to heart health, the substantial body of research conducted over a 15-year period supports the cardiovascular benefits of 100% grape juice made with Concord grapes, including many placebo controlled, human studies," Mitchell said. "In addition, a recent comprehensive review of the science published in Nutrition Today concluded that consuming grapes and grape juice can support cardiovascular health without adversely affecting weight in healthy adults."
Too much sugar?
The effects of too much sugar and too many calories negate any possible health benefits from Welch's products, the group wrote in a letter to Welch Foods Inc. president and CEO Bradley Irwin. An 8-ounce serving of Welch's grape juice contains 36 grams of sugar and 140 calories, about one-third more than the same amount of Coca-Cola.
"Most Americans concerned about their weight and risk of diabetes would actually do well to drink less juice," said CSPI executive director Michael F. Jacobson. "It's deceptive and misleading for Welch's to claim that grape juice has any special benefit to heart health."
Mitchell again took issue with Jacobson.  
"Contrary to CSPI's view on the role of 100% fruit juice, the United States Department of Agriculture and the Department of Health and Human Services 2010 Dietary Guidelines for Americans recommend that everyone – adults and children – get more fruit each day.  The guidelines also say that 100% juice is one way to add more fruit to the diet as a complement to whole fruit intake," she said.
"Furthermore, equating the nutritional value of 100% grape juice to soft drinks is not only misleading but potentially harmful to the public.  Calorie for calorie, 100% grape juice packs more nutrition than soft drinks and delivers essential vitamins, minerals, and beneficial plant nutrients – to help promote health," she said.
CSPI's letter invites Welch's to resolve the issues it raises without litigation but says that if Welch's does not respond, CSPI will pursue litigation.
CSPI's in-house litigation unit is currently pursuing cases to improve the labeling or marketing of products made by General Mills (fruit snacks, Nature Valley granola bars), Coca-Cola (Vitaminwater), and others. It has negotiated improvements in Kellogg's food marketing to children, the labeling of Aunt Jemima blueberry waffles, and the labeling and advertising of Airborne dietary supplements.