---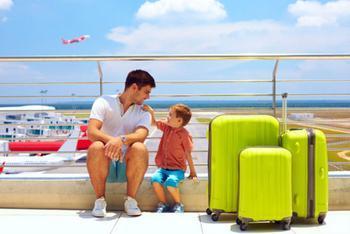 It's a general rule that safety always comes first when you're a parent. Making sure your little one is strapped in during car trips and taking all the right medicine as part of the daily routine becomes second nature to most, but the results of a new poll show that this vigilance seems to take a break when families are on vacation.
Researchers from the University of Michigan conducted a poll and found that parents tended to be much more lax about safety when traveling for the holidays. They stress that it is just as important for parents to be attentive to safety on trips as they would be at home.
"Parents are typically vigilant about safety measures, making sure toddlers are always in car seats and that medications and cleaning supplies are locked up or out of reach. But they may be less fastidious while on vacation, leaving medications in open suitcases or on hotel tables or not childproofing a relative's house," said Sarah Clark, M.P.H. and the poll's co-director.
Neglecting safety precautions
The researchers found that car safety was particularly lacking for small children while traveling, especially when families decided to take a taxi or call for a pick-up on a ride-sharing app. Fifteen percent of parents who answered the poll said they decided not to use a car seat for their toddler on every car ride of a trip.
"Car crashes are a leading cause of injury and death among toddlers, which is why it's critical that parents plan ahead to make sure their child is properly restrained during every car ride on vacation. Planning for car seats can be inconvenient in certain destinations, but going without is never worth the risk," said Clark.
Additionally, the researchers say that 25% of parents weren't careful about how they stored certain medications while traveling, with many just leaving them in open suitcases where a child could easily get to them. Thirty-three percent also said they didn't properly secure cleaning supplies or other dangerous items when staying in a hotel, and another 33% said they neglected to check the hot water temperature where they were staying.
"Traveling with a toddler can be a daunting task. Many parents spend quite a bit of time planning ahead to avoid meltdowns by scheduling days around naps and packing items that will keep their kids entertained. It's just as important that parents plan for measures to keep kids safe on the road," said Clark.
Safety tips
In order to keep children safe while traveling, Clark and her fellow researchers have made several suggestions that parents should consider. They include:
Bringing a car seat or renting one while traveling;
Asking family, friends, or hosts to store medication, cleaning supplies, or other dangerous substances out of reach;
Packing portable safety devices, such as cabinet latches or baby gates to use as barriers; and
Conducting a thorough review of any place the family is staying for potential safety hazards;
The C.S. Mott Children's Hospital has published the full report here.
---