An animal rights group has filed a lawsuit against a Minnesota slaughterhouse that it says abuses pigs, saying its investigators saw "conscious pigs being dragged, improperly stunned (i.e. ineffectively stunned and double stunned), abused with electric prods, maliciously beaten, pushed, kicked and otherwise severely mistreated." 
Compassion Over Killing Inc. filed the suit against Quality Pork Processors Inc., alleging violations of Minnesota's anti-cruelty statutes, Courthouse News Service reported. 
The animal rights group says its undercover investigator was hired by the slaughterhouse in May 2015 and collected evidence of repeated incidents of unnecessary cruelty towards pigs being processed by the plant, which says it is a supplier to Hormel.
"The investigator ... documented many instances of abusive conduct towards pigs in livestock area, including many flagrant violations of Minnesota's cruelty statue," the lawsuit states. "Even non-ambulatory animals (known as 'downers') were driven by excessive force, such as by use of electric prods or forceful contact, despite the workers knowing and having available to them more humane methods." 
"Callous and sadistic"
According to the complaint, one QPP supervisor acknowledged that workers are supposed to use "sleds" to move disabled animals, but claimed they "don't have time for that."
Another QPP worker admitted to purposefully ineffectively stunning and "sticking" hogs, "in callous and sadistic disregard of the pigs' extreme suffering," according to the complaint.
In November 2015, COK released a video allegedly showing QPP employees inflicting cruelty on pigs in violation of state law and food safety regulations.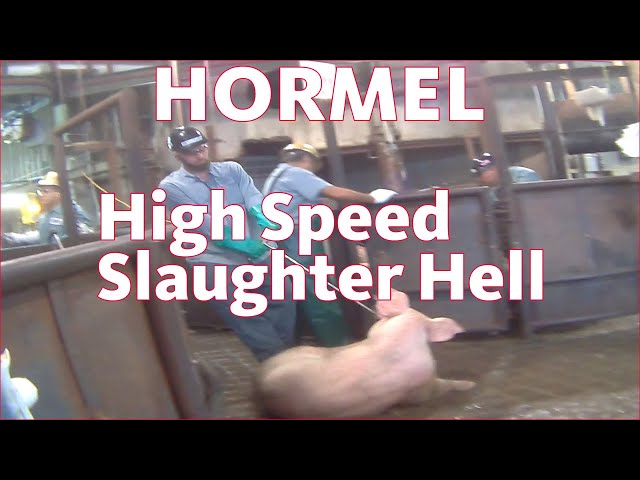 Compassion Over Killing says the plant is one of five in the country operating under a USDA pilot program that allows for high-speed slaughter and reduced government oversight. It kills about 1,300 pigs per hour.
The group says the high speed encourages workers to use inhumane shortcuts, causing suffering for the pigs and jeopardizing food safety for consumers who eat pork products.
The suit asks the court to issue a warrant and order an appropriate investigation into the alleged abuses.
Cheryl Leahy, general counsel for COK, said the group filed the lawsuit "because we believe our investigation of QPP clearly shows egregious and unacceptable animal cruelty, which is a violation of Minnesota state law."
"To our knowledge, local authorities have taken no action against QPP, or even conducted an investigation based on our evidence. We hope this filing is the first step toward changing that," she said.