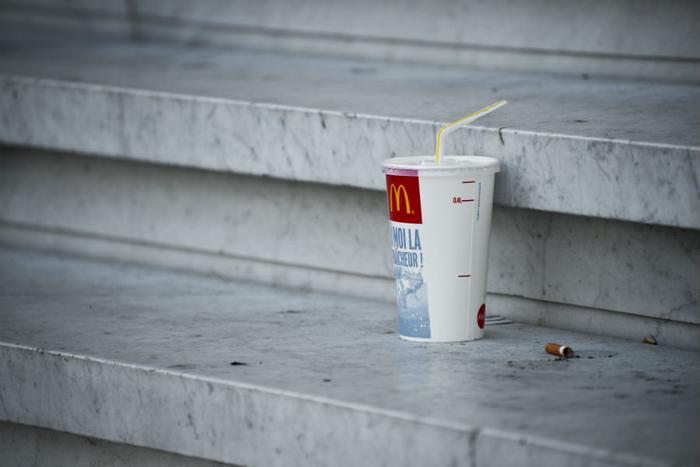 After moving to paper straws instead of plastic in its locations in the UK and Ireland, McDonald's says it plans to test the use of paper straws at select U.S. locations later this year.
In March, the global fast food chain announced the phase-out of plastic straws in Europe in an effort to reduce its contribution to plastic pollution. Last month, McDonald's restaurants in the UK and Ireland began replacing plastic straws with ones made from recycled paper. It now says 100 percent of restaurants there will be using paper straws by sometime next year.
In addition to U.S. restaurants, some McDonald's locations in France, Sweden, Norway, and Australia will begin testing the use of paper straws later this year.
"McDonald's is committed to using our scale for good and working to find sustainable solutions for plastic straws globally," said Francesca DeBiase Executive Vice President, Global Supply Chain and Sustainability. "In addition to the exciting news from the UK today, we are testing straw alternatives in other countries to provide the best experience for our customers. We hope this work will support industry wide change and bring sustainable solutions to scale."
Single-use plastic common at fast food restaurants
Fast food restaurants, in general, are huge users of single-use plastic. In addition to straws, a meal at a fast food restaurant might be served on a plastic plate, with a plastic top, with plastic utensils, wrapped in plastic.
It's bad enough that plastic tossed into landfills never degrades, but billions of tons of plastic have ended up in the world's oceans over the years. Straws are but a small part of plastic pollution, but they have garnered most of the attention in recent months.
Malibu, Calif., and a few other cities, have already banned the use of plastic straws at restaurants. The New York City Council is currently considering a similar proposal.
For its part, McDonald's say it is committed to tackling the issue, beginning with straws.
Straws only by request
"In addition to testing alternative materials, in several markets including Malaysia, we will begin tests to offer straws upon request only," the company said in a release. "We are eager to learn from these tests around the world to develop solutions that are scalable across the globe."
The company has set a goal of sourcing 100 percent of its food packaging from renewable or recycled sources in all of its locations by 2025.